Here's a sweet recipe if you're looking for something to make ahead of time that you can pop in the oven on Christmas Morning. Or any morning. Like tomorrow morning. I created these for the December issue of Ladies' Home Journal and they are amazing swirls of chocolate and cinnamon bathed in a delicious and easy vanilla glaze topping. And I totally want to make them again right now. Every time I make cinnamon rolls I wonder why I don't make them more often. Oh my gosh. They are so good and simple for such a luscious result.
Sorry, I don't have step-by-step photos for these since they were photographed by the magazine, but feel free to take a look at my pumpkin cinnamon rolls if you want a visual guide.
Okay… here's the recipe.
Let the chocolate cinnamon rolling begin.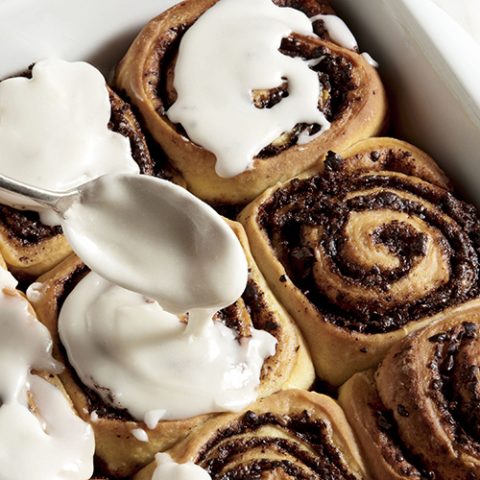 Yield: 18 rolls
Chocolate Cinnamon Rolls
Prep Time 5 hours

Cook Time 20 minutes

Total Time 5 hours 20 minutes
Ingredients
ROLLS
1 cup milk, warmed
5 tbsp unsalted butter, melted
1/3 cup granulated sugar
1 pkg active dry yeast
1 large egg
1 tsp salt
4 cups sifted all-purpose flour
FILLING AND ICING
1/2 cup granulated sugar
1/2 cup light brown sugar
1-1/2 tbsp ground cinnamon
6 oz chopped bittersweet chocolate
6 tbsp unsalted butter, melted
Vanilla Icing, recipe below
Instructions
In the bowl of an electric mixer combine warm milk, butter and sugar. Sprinkle yeast on top and let stand 2 min until yeast softens. With the bread hook attachment stir in the egg, salt and 3 cups of the flour. Mix well, then add remaining flour and mix until dough pulls away from the bowl edges, about 5 min.
With floured hands form dough into a ball and place in a buttered bowl, turning to coat all sides of ball. Cover bowl with plastic wrap and let dough rise in a very warm place until doubled in size, about 3 hr.
Make filling by combining the sugars, cinnamon and chocolate. Butter two 8-by-8-inch pans and set aside.
Turn dough onto a lightly floured work surface and roll into a 14-by-24-inch rectangle about 1/8 inch thick. Spread with the melted butter and sprinkle with the cinnamon mixture. Starting with one long end, roll dough tightly to form a long spiral. Pinch the seam together. Cut into 18 slices, about 1-1/4 inch thick each, and place 9 in each prepared pan. Cover with plastic wrap and refrigerate overnight.
In the morning remove rolls from refrigerator and bring to room temperature in a warm place, 1 hr. Heat oven to 375°F and bake until rolls are golden and cooked through, 18 to 20 min.
Let rolls cool slightly then spoon on some Vanilla Icing. Serve warm.
Vanilla icing - Whisk 2 cups confectioners' sugar with 1 tbsp melted butter, 1/2 tsp vanilla extract and 3 tbsp milk until smooth. Makes 1 cup.
NOTE: If you make and bake them on the same day, don't refrigerate after rolling; just let the rolls rise a second time before baking.

Notes
Source: Contributed to Ladies Home Journal, December 2013
Thanks Ladies' Home Journal. I'm thrilled to be featured this month in the magazine.
And guys, if you want more yumminess, grab a copy before they are gone. Because you will totally want to make this Peppermint & Vanilla Cream Cheesecake from Clara, too.
There's just too much deliciousness in December.
Wishing you guys a Merry Christmas and the happiest of holidays. Sending big hugs!!!!
Photo credits: Ladies' Home Journal