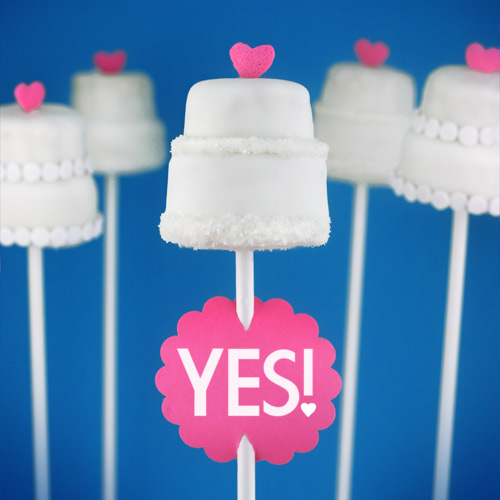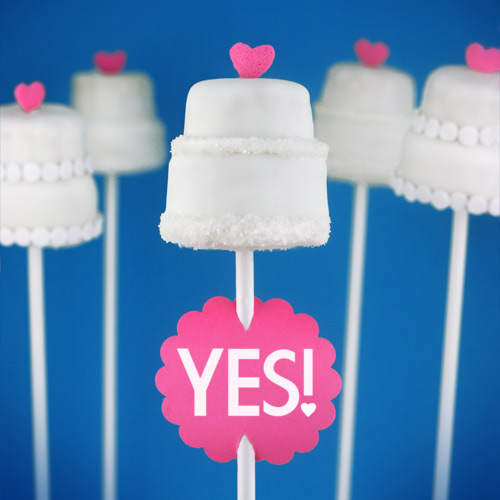 And I'm so glad. That could have really been embarrassing.
So here's a little background on how this wedding proposal came to be.
Several weeks ago I received an email from a guy named Rich. He really got my attention…
1. he was a guy and I don't get too many e-mails from boys
2. the subject line screamed read me… literally… just like this …
Hello – PLEASE LOOK HERE :) (Friendly and intriguing at the same time.)
Now, I eventually get around to reading all of my emails, but I did have to move this one to the top and read it right away.
The email went something like this…
Hi Bakerella,
I hope all is well with you. I must be honest, the only reason why I know of you is because my girlfriend is such an avid fan of yours! Every Monday she shows me your latest creation. Feeling inspired, she proceeds to either replicate one of your creations or put her own twist on it. I of course benefit from the delicious goodies
Anyhow, my girlfriend's name is Melissa and she's began her own blog recently and has been enjoying it immensely. I bought her a fancy camera to document her process as well so it's been a great experience for her. She spends countless hours in the kitchen baking and then on the computer updating the blog.
Melissa and I have been together for almost 6 years now and I would like to take the next step and propose to her! As a guy, we must think of that genius way of how exactly to pop the question. Well, I had a thought and this is really just a thought but was wondering how open you were in assisting me with that process?
This is a complete shot in the dark and just one of my ideas but I thought she'd really enjoy it. Once again, no obligation and please do not feel compelled to assist…after all I am a complete stranger!
Looking forward to hearing from you soon!
Rich
Needless to say, I was excited at the chance to help.
I think he had me at "fancy camera." That's my kind of gift. Then after talking to him more, I found out he also bought her a brand new stand mixer for her hobby. So sweet.
We discussed a few ways to propose through the site and settled on an idea, which I then changed at the last minute when I decided on cake pops. (Rich… hope that didn't make you more nervous.) The post had to be orchestrated in a way so that Rich would be with Melissa when it went live. Hoping that Mel (I feel I can call her that now since I did help propose.) would casually look on the computer on her own without any prompting.
If only Rich were so lucky. It turns out Sunday night would test his already nervous nerves.
Mel is a teacher and usually bakes on Sunday. But not on this Sunday. She was grading papers. And nowhere near the computer.
On top of that, she had made group dinner plans with Rich's aunt & uncle without Rich knowing. Again nowhere near the computer.
When they returned from dinner, Rich had a backup plan ready. He bought her the Martha Stewart Cookies Book after seeing it on last week's giveaway post and had it ready to give to her, hoping the baking book would prompt her to go the computer.
But no. Mel just showed Rich all the yummy pages from the book and went back to grading papers.
So out of desperation… Rich goes, "Doesn't Bakerella post something new on Sunday nights?"
Mel: "No, I think it's Monday morning."
Rich: "Are you sure? I think it's Sunday night. You should go check." (Definitely not suspicious.)
For the record, it is usually Sunday night, but Mel doesn't get an alert until Monday.
So they both went to the computer. Together. (Again, not suspicious in any way.)
Mel clicked on the wrong site at first because Rich was making her nervous. (If she only knew how nervous Rich was right then.)
Then she read the post still unaware of what was about to happen. When she got to the proposal, she said she was like Niagra Falls. And when she turned around, Rich, also teary-eyed was waiting on one knee to make it official.
Afterwards, Mel asked Rich, "Is this just for me or can everyone see it?" (I think that's just sweet.)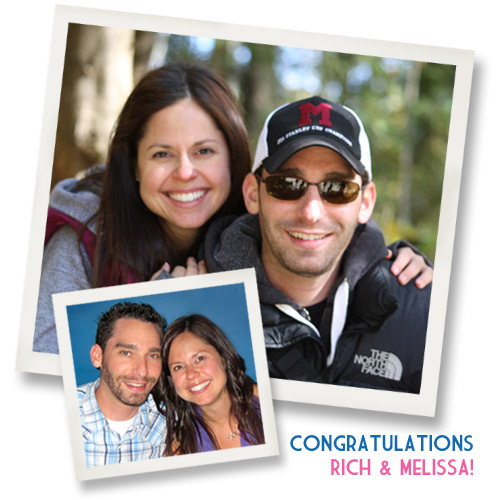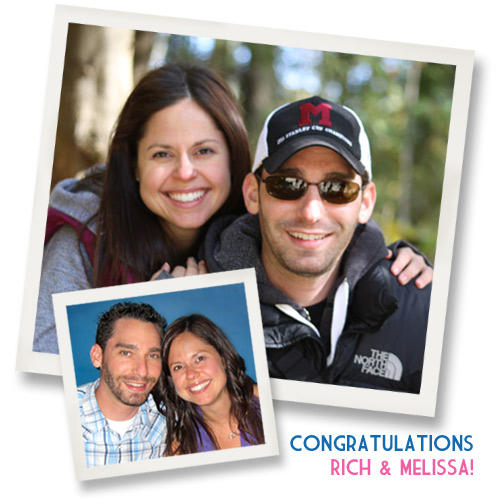 Mel and Rich, I wish you both all the best. This was so much fun to be a part of. The internet is amazing. Here I am sitting at my computer in Georgia and helping carry out a marriage proposal in Canada. Everyday is a virtual adventure. Thank you.
And, I just want to finish by thanking everyone who commented over the last few days. I get to read your sweet messages all the time. But this time it was even more meaningful, because you made two other people feel extremely special. They were overwhelmed by all the kind words and warm wishes. Thank you for that… and for being such fantastic readers… no… friends.
P.S. Here's Melissa's baking blog if you still want to congratulate the happy couple.