S'mores equal ooey and gooey and yummy. To make them, all you really need is some marshmallows and melted chocolate to sandwich between a couple of graham crackers for a quick and easy treat.
But, I wanted to make something more. Something s'more I guess you could say… by using the star players in this sweet treat and baking them into cupcakes.
I originally wanted to make cupcakes with a marshmallowy frosting that I could use a kitchen torch thingy on and toast the surface. However, I don't have a kitchen torch and that's probably a good thing. But I had to get these flavors out if my mind. And the only way I could do that is bake. So this is what I came up with instead.
Marshmallow stuffed graham cracker and chocolate cupcakes. Mmmmm. Mmmmm. Gooood.
First, I added a little graham cracker cupcake batter in the bottom of the baking cups. And then I topped it with a butter, graham cracker and brown sugar mixture. Ohhhh yeah.
Then I cut some marshmallows in half and placed them right on top of that.
Lastly cover the marshmallows and fill the baking cup about 3/4 full with the chocolate cupcake batter and more of the graham cracker crumb mixture.
When they bake, the marshmallow will mostly melt away into the cupcake, but a little will make it's way to the surface and peek through the topping.
When you take them out of the oven, use a toothpick to separate any of the cake from the edge of the pan while they are still warm. They may stick a little from the marshmallows. But if you go ahead and do this carefully while they are still warm, then you can remove them without the cupcake tops tearing.
Then when you unwrap them, they will be perty! These looked too tempting right out of the oven so I may have had one or three while they were still warm. You could definitely stop here and serve them just like this.
But the chocolate lover in me, convinced me to make some ganache. It was a struggle, but the chocolate won as usual.
You can just use a spoon and pour it on randomly so you can still see some of the textured tops underneath. You can also dunk them for complete chocolate coverage.
But, I like the messy look on these. The non-precise, shove in your face look.
And I also like them with the extra marshmallow look.
Not as easy to stuff in my face this way, but I managed.
S'more Cupcakes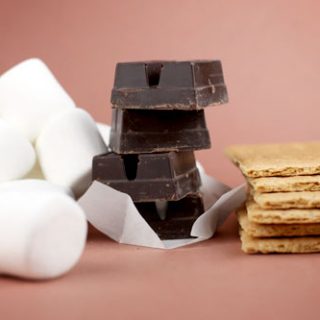 Yield: 12-14 cupcakes
S'more Cupcakes
Ingredients
Cupcakes
1-1/2 cups all-purpose flour
1-1/2 cups sugar
1 teaspoon baking powder
1 teaspoon baking soda
3/4 cup cocoa
3/4 cup graham cracker crumbs
1 cup milk
2 eggs
2 teaspoons vanilla
1/2 cup oil
6 jumbo marshmallows cut in half, plus more for decorating
Graham Cracker Crumb topping
1/2 cup brown sugar
1/2 cup graham cracker crumbs
1/4 cup butter, melted
Ganache
4 ounces semi-sweet chocolate
1/2 cup heavy cream
1/2 cup butter
Instructions
Preheat oven to 350 degrees F.
Cupcakes: In a bowl, mix flour, sugar, baking powder and baking soda together with a wire whisk. Separate the mixture in half into two bowls.
Stir cocoa into one bowl and the graham cracker crumbs into the other.
Add 1/2 cup milk, 1 egg, 1 teaspoon vanilla and 1/4 cup oil to the cocoa mixture and beat on medium until combined.
Repeat adding the same ingredients to the graham cracker crumb flour mixture.
Prepare the graham cracker crumb topping. Add the brown sugar and crumbs in a small bowl and pour on the melted butter. Stir until combined.
Assemble: Pour a little graham cracker cake batter into the bottom of your baking cups and then sprinkle the topping mixture lightly on the surface.
Place a marshmallow half on top and then cover the marshmallow with the chocolate cake batter until it is about 3/4 full.
Sprinkle with more topping mixture.
Bake cupcakes for about 15 minutes. Place a cookie sheet underneath when you bake just in case. I had a little bit ooze over into the oven. Oops.
Let cool and top with ganache.
To make ganache: Heat the butter and cream on the stove. Heat until just before it boils. Remove and pour over chocolate. Stir until completely melted and smooth. Pour over cupcakes and add more marshmallows if you desire.
Enjoy!
P.S. These are not gluten-free. But thank you so much everyone for all of the great gluten-free links and resources on the previous post. I do think I will give a go at a recipe sometime once I get my hands on the right ingredients.