Cookies or cupcakes? That is the question.
Well, I couldn't decide either. You see I've been mesmerized by a recipe for snickerdoodle cupcakes from Martha Stewart's Cupcake Book. But, seeing as how I have never made snickerdoodle cookies, I had to make them, too. It's only fair. Or at least it's a good excuse… right?
These cookies were really easy to make and I'm not sure why I've never tried them before now. Maybe their name made them seem difficult or too fancy or something. Or, maybe it's because they don't have any chocolate in them. Yeah, that's probably why. Recipes without chocolate usually get moved to the bottom of the list.
The cookie dough is rolled in cinnamon and sugar, which gives them their signature look when baked.
Simple and pretty!
Here's the original Snickerdoodle Recipe from marthastewart.com. It makes about 4 dozen cookies.
And here is how I tweaked it slightly to make about 20 cookies.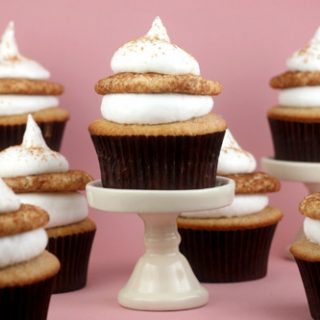 Snickerdoodle Cookies
Prep Time 20 minutes

Cook Time 10 minutes

Total Time 30 minutes
Ingredients
1-1/2 cups all-purpose flour
1 teaspoon cream of tartar
1/2 teaspoon baking soda
1/4 teaspoon salt
4 Tablespoons unsalted butter, room temperature
1/4 cup shortening
3/4 cup sugar
1 egg
1/4 cup sugar
2 Tablespoons cinnamon
Instructions
Preheat oven to 375 degrees.
Line baking sheet with parchment paper. (I used one 14 X 20 and was able to get all 20 cookies on one sheet. Place about 3 inches apart and they won't bake into each other.)
In a medium bowl, sift together flour, cream of tartar, baking soda and salt. Set aside.
In a mixer, cream butter, shortening, and sugar on medium for about 2 minutes. Add egg and mix until combined. Add the flour mixture and beat until combined.
In a small bowl, mix sugar and cinnamon.
Use a small 1-1/4 inch ice-cream scoop to form balls. Release in the cinnamon-sugar mixture and roll until covered. When coated, you can shape them in a nice round ball and place on the baking sheet. (reserve any leftover cinnamon sugar to top the cupcakes)
Bake for about 10 minutes or until the cookies begin to crack. Remove and let cool on a wire rack.
Now… time to make the cupcakes.
Here's the original recipe from marthastewart.com that makes 28.
And here is how I tweaked it slightly to make enough for 12 cupcakes and 12 mini cupcakes (not shown).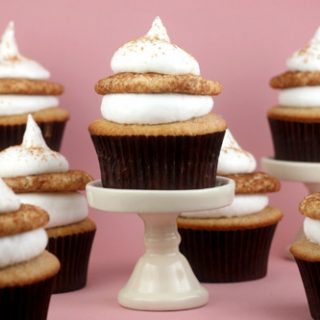 Snickerdoodle Cupcakes
Ingredients
1-1/2 cups all-purpose flour
1-1/2 teaspoons baking powder
1/4 teaspoon salt
2 teaspoons cinnamon
1/2 cup unsalted butter, room temperature
1 cup sugar
2 eggs, room temperature
1 teaspoon vanilla
3/4 cup milk, room temperature
Instructions
Preheat oven to 350 degrees Fahrenheit. Line regular and miniature cupcake trays with paper liners.
In a medium bowl, sift together flour, baking powder and cinnamon. Set aside.
In a mixer, cream butter and sugar on medium for about 2 minutes. Add eggs, one at a time and mix until combined. Add vanilla and mix until combined.
Add flour mixture to creamed butter and sugar in three additions. Alternate with milk in two additions.
Fill baking cups about 3/4 full. Bake for about 15-20 minutes. Remove cupcakes from trays and let cool.
Notes
Make this seven minute frosting. To decorate, pipe on frosting, place one cookie on top and then pipe another dollop of frosting on top. Sprinkle with leftover cinnamon and sugar from the Snickerdoodle cookie recipe.

Store in an airtight container.
While the cupcakes are cooling, make the frosting. I used the same one Martha recommends. It's a Seven-Minute Frosting. Recipe here.
I've gotta tell you… I'd definitely make the cookies and cupcakes again… they were yummy. But I think I would have to try them with another frosting. The seven minute frosting was kind of a pain to make and couple that with the fact that I'm not a big fan of light and airy or meringue-tasting frostings… well, I don't think I'll be making it again anytime soon.
But they sure do look cute.
By the way, did you even notice these super adorable cupcake pedestals? They come in a box of 6. Thank you Naomi, for sending me the link. And, the brown cupcake liners are from www.confectioneryhouse.com.
Cookies or cupcakes? Cupcakes or cookies?
Hard choice, I know.
Here – let me make it a little more difficult with a few pictures from the inside of each of these books.
Do you want one?
Enter for a chance to win one of these books:
Martha Stewart's Cookies
or Martha Stewart's Cupcakes
Just leave a comment on this post and let me know which book you would rather have. You get to choose. Easy.
Leave your comment with a way for me to contact you if you win.
Deadline to enter is

Tuesday, October 13 at 7 p.m. ET

One winner will be chosen at random and announced sometime Tuesday evening on this post.
Good Luck!
OK… TIME'S UP! I actually started counting all of the entries to see how many people wanted the cupcake book vs. how many wanted the cookie book. But, I stopped after a couple hundred comments because there was no way I would be able to get that done tonight in time to announce the winner. But fyi, in the first two hundred plus entries, cookies were slightly edging out cupcakes.
That's good news for about half of you. Because all you cookie lovers are going to get another chance another day. The winner of today's giveaway is a cupcake lover.
Congratulations Bailey! 1,751 is your lucky number.