Last month, the fun folks over at General Mills invited several bloggers to create something sweet and spooky for Halloween using some of their cereals and to possibly be chosen to appear on bettycrocker.com. (Ummm… cool!) And after just returning home from a tour of the General Mills headquarters and the Betty Crocker test kitchens, I was super-psyched to play along.
I was all, "sure" and "no problem."
They sent us a box full of cereals to experiment with and get inspired.
I just wish it was as easy as it first sounded.
I started out overwhelmed by some serious cereal decisions.
Which one? More than one? Bake with them? Decorate with them? I had lots of ideas, just not many Halloween ones.
After several days of staring at cereal, I decided to go with Trix.
Mainly because I'm drawn to color. But, you've probably guessed that about me by now. I separated each color in a plastic bag. My first thought was to make Monsters somehow. Fun monsters. Friendly monsters. Colorful monsters. I tried out a few things and they turned out as not-so-hot-looking monsters. Okay, they were ugly. And not in a good monsterly kind of way.
So in a last minute effort, I grabbed a bag of cookie mix I had in the pantry (by Betty… pretty convenient), ran to the store to get a can of chocolate and vanilla frosting (keeping with the theme) and decided on using the Trix cereal puffs in orange and green for simple spider bodies.
The chocolate cookies ended up super cute with a burst of fruity taste from the Trix. And the punch of color on the graphic spider webs topped it off.
If you don't want to use cereal or cookie mix, then just use the following as a guide for decorating. Any cookie or colorful round candy can be an inspiration for something fun.
Here's how to make them.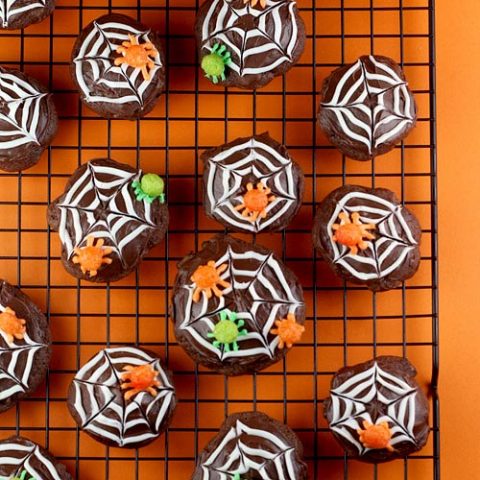 Yield: about two dozen cookies
Trix or Treat Spider Cookies
Prep Time 10 minutes

Cook Time 8 minutes

Additional Time 1 hour

Total Time 1 hour 18 minutes
Ingredients
1 package Betty Crocker Double Chocolate Chunk Cookie Mix
1 can of chocolate ready-made frosting
1 can of vanilla ready-made frosting
24-48 Trix orange and green sweetened corn puffs
Toothpicks
Re-sealable plastic bags
Instructions
Preheat oven to 350 degrees Fahrenheit.
Mix ingredients for cookies as directed on the package.
Use a small ice cream scoop to get similar sized cookies or just use a spoon and vary the amount for different size cookies.
Place cookie dough on a parchment covered baking sheet.
Bake for about 7-8 minutes. Cool completely on a wire rack.
To decorate: Spread chocolate frosting on the top of each cookie.
Fill a re-sealable plastic bag with a couple of heaping spoonfuls of frosting and snip a tiny hole out of the bottom of one corner.
Pipe on three circles of white frosting for each cookie. Start in the middle with the smallest circle and work your way out.
Take a toothpick and beginning in the center, drag it lightly through each circle. Repeat all the way around the cookie.
Take remaining frosting and separate it into two bowls. Tint one frosting with orange icing color and the other with green.
Fill two re-sealable bags with the orange and green frosting and snip off the corner of each.
Pipe eight small legs with each color and place a matching orange or green Trix Cereal puff on the top of each pair of legs. Add one or several spiders on each cookie.
Enjoy!
Here's the best part … you can play, too.
Visit the Cereal Spooktacular for more information, cereal coupons and a chance to appear on bettycrocker.com with your own spooky cereal treat. Maybe you can make some better monsters and make me proud. Have fun and let me know if you end up playing.