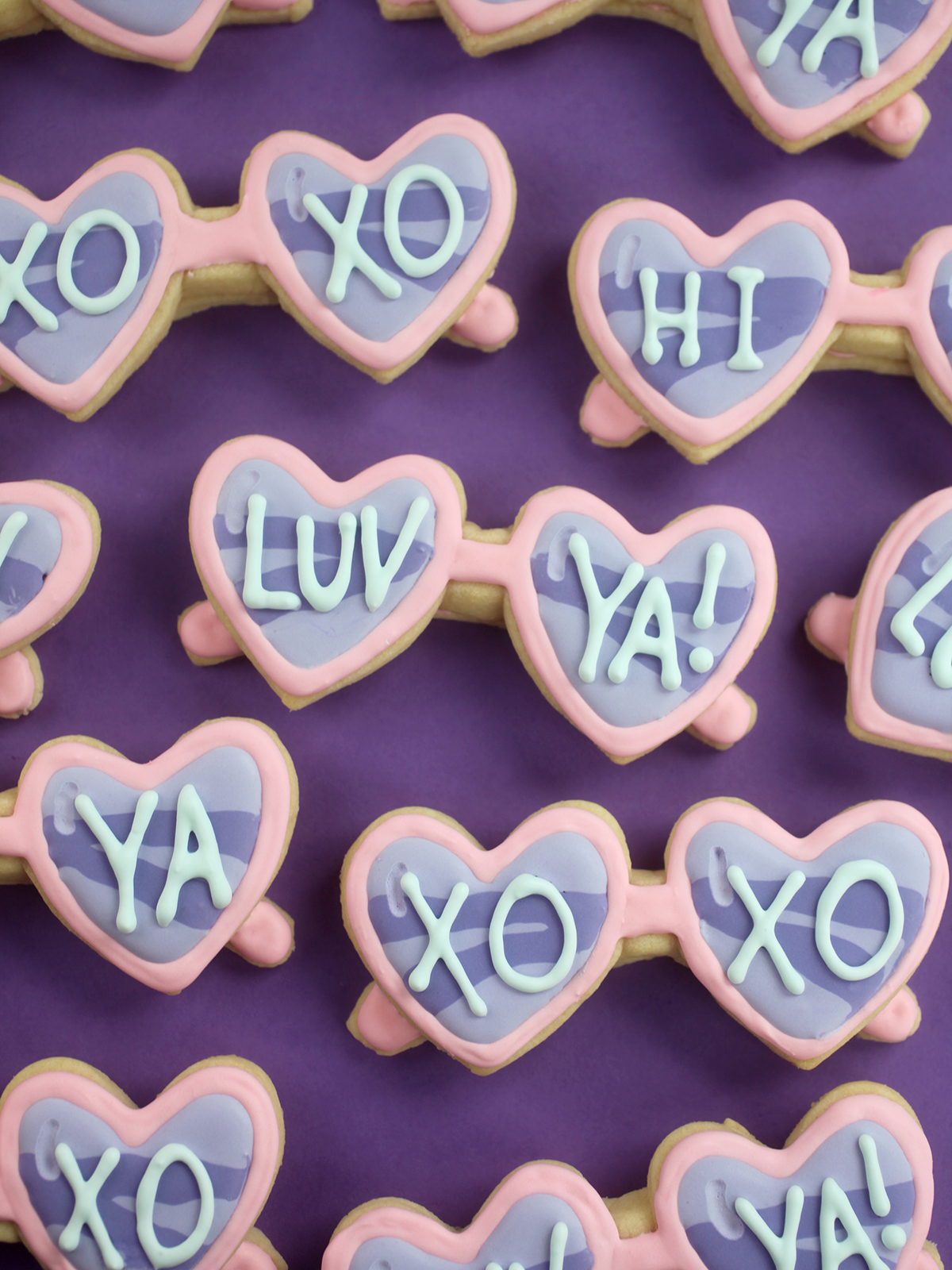 Want a sweet way to say hi or send someone your love? Well, I have the answer with these super cute sugar cookie sunglasses.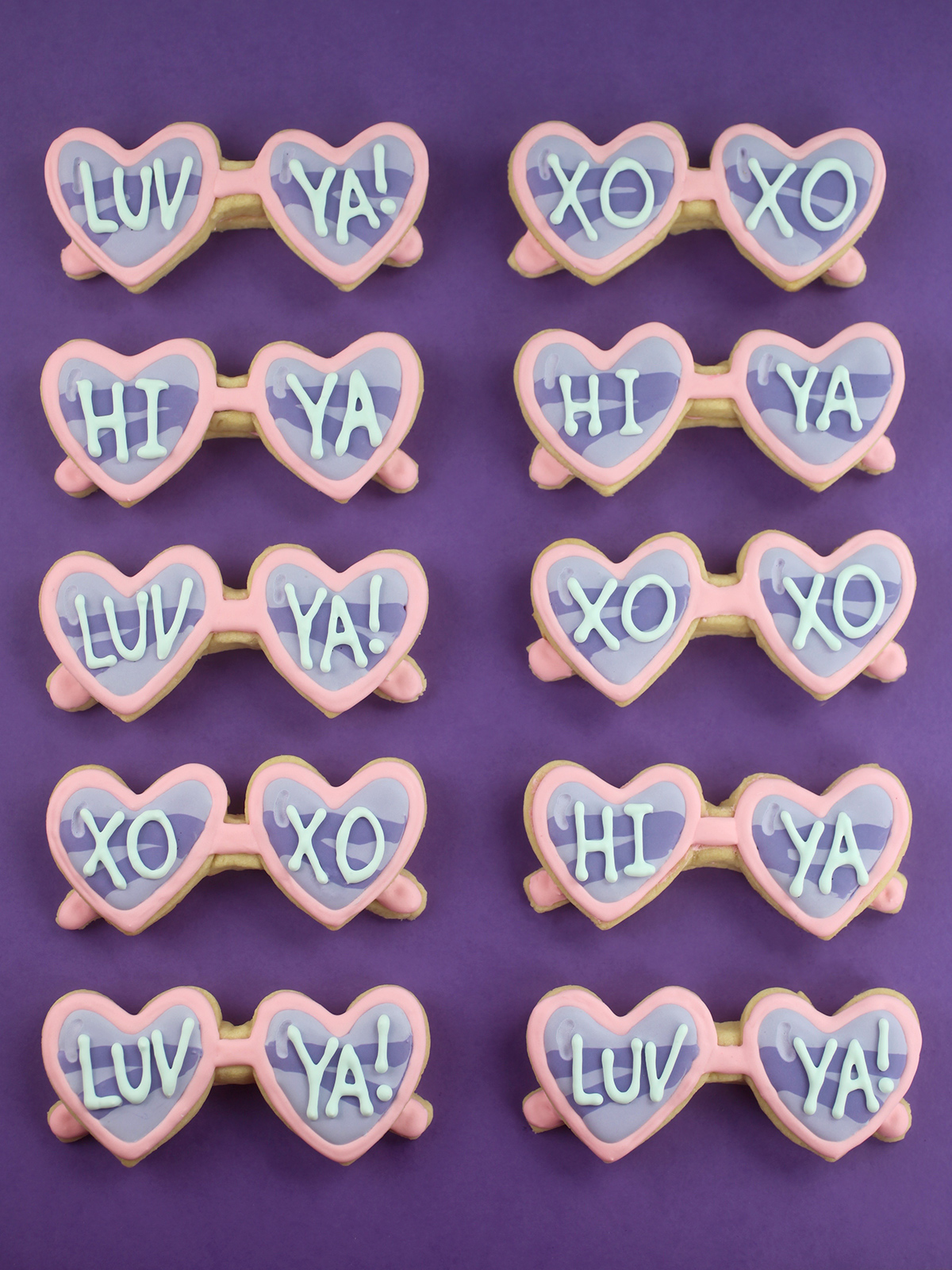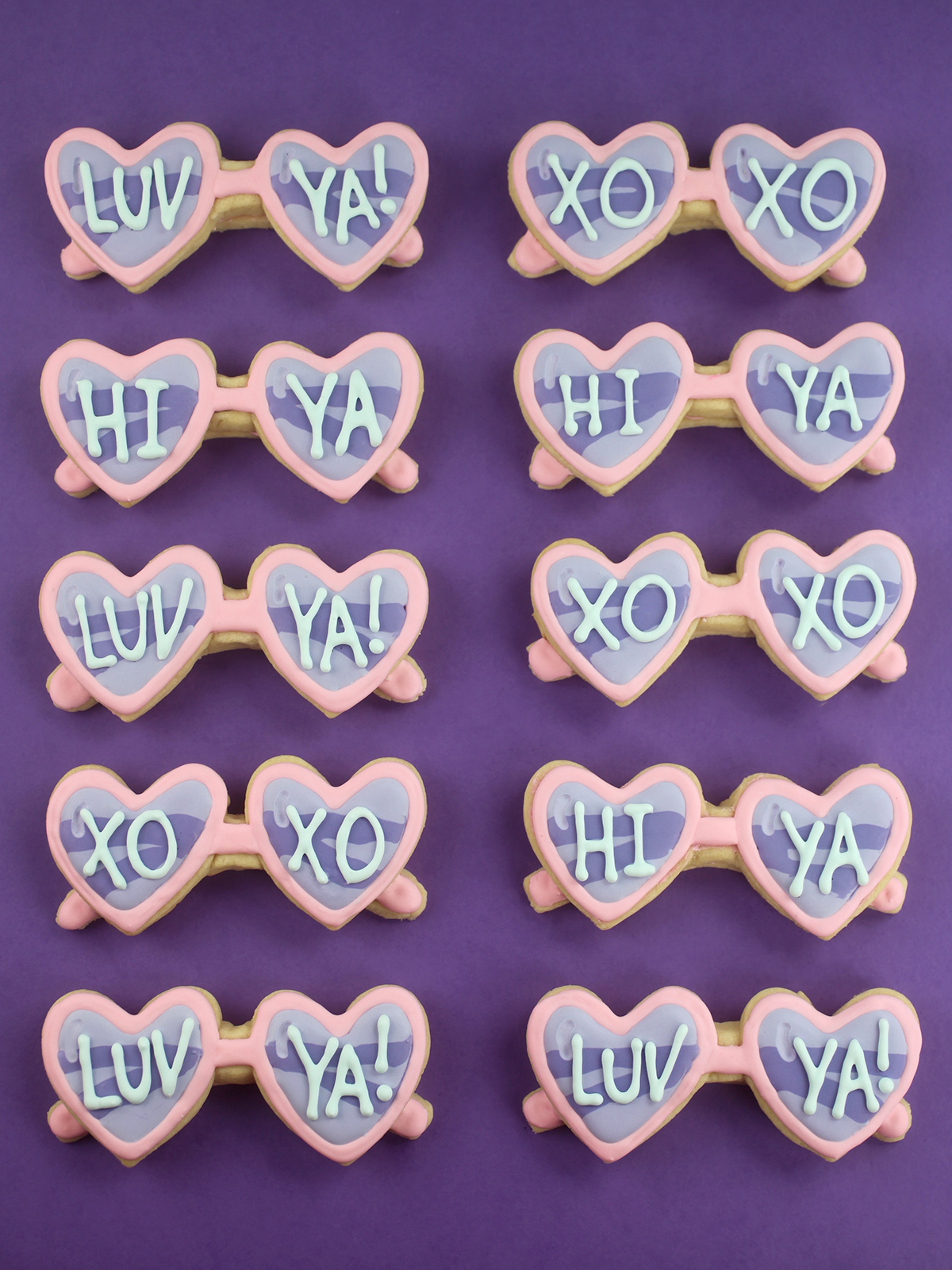 I really love they turned out. I was inspired by this illustration that I came across on instagram and immediately knew I wanted to try to bake them one day. And today's the day.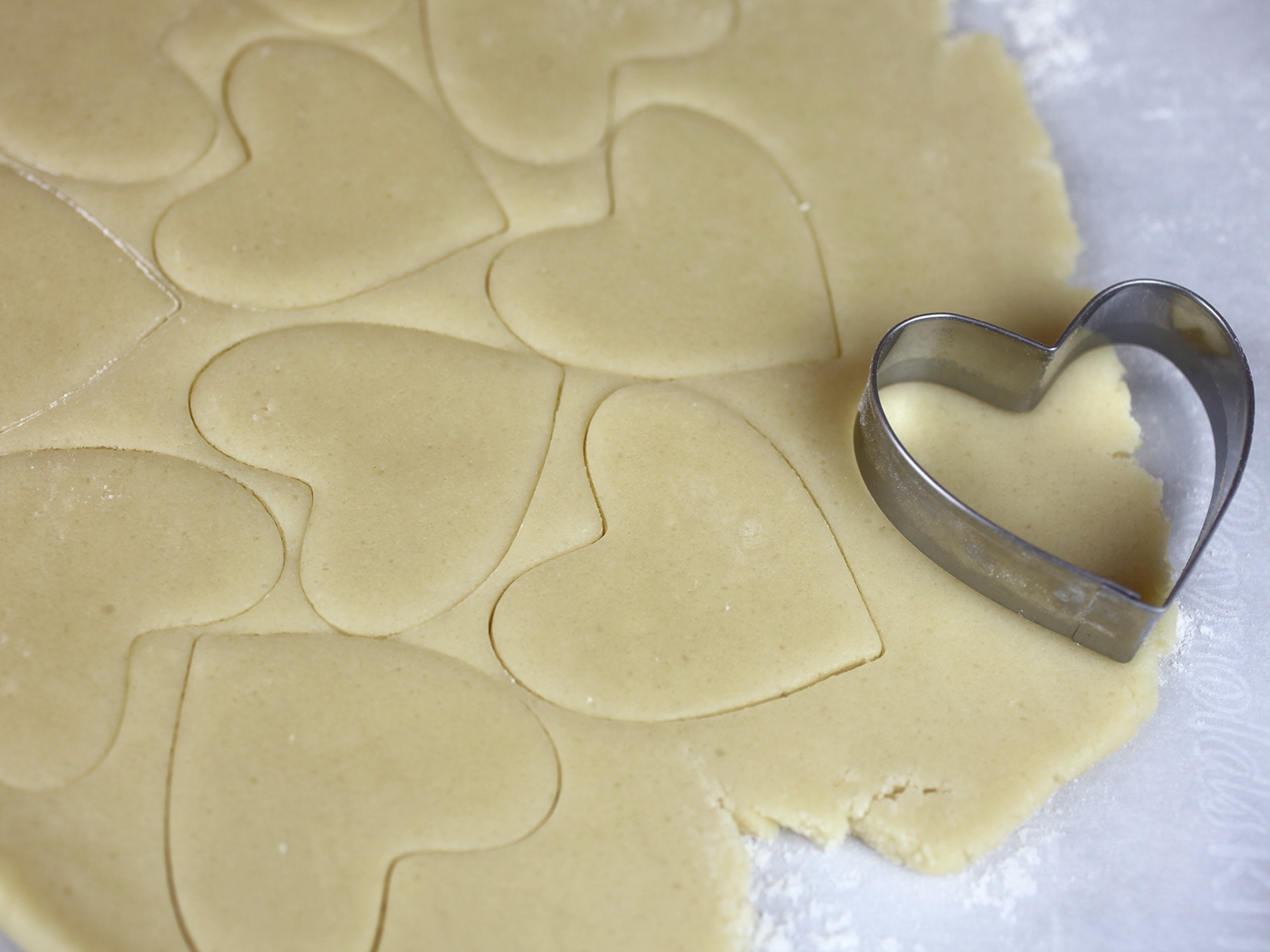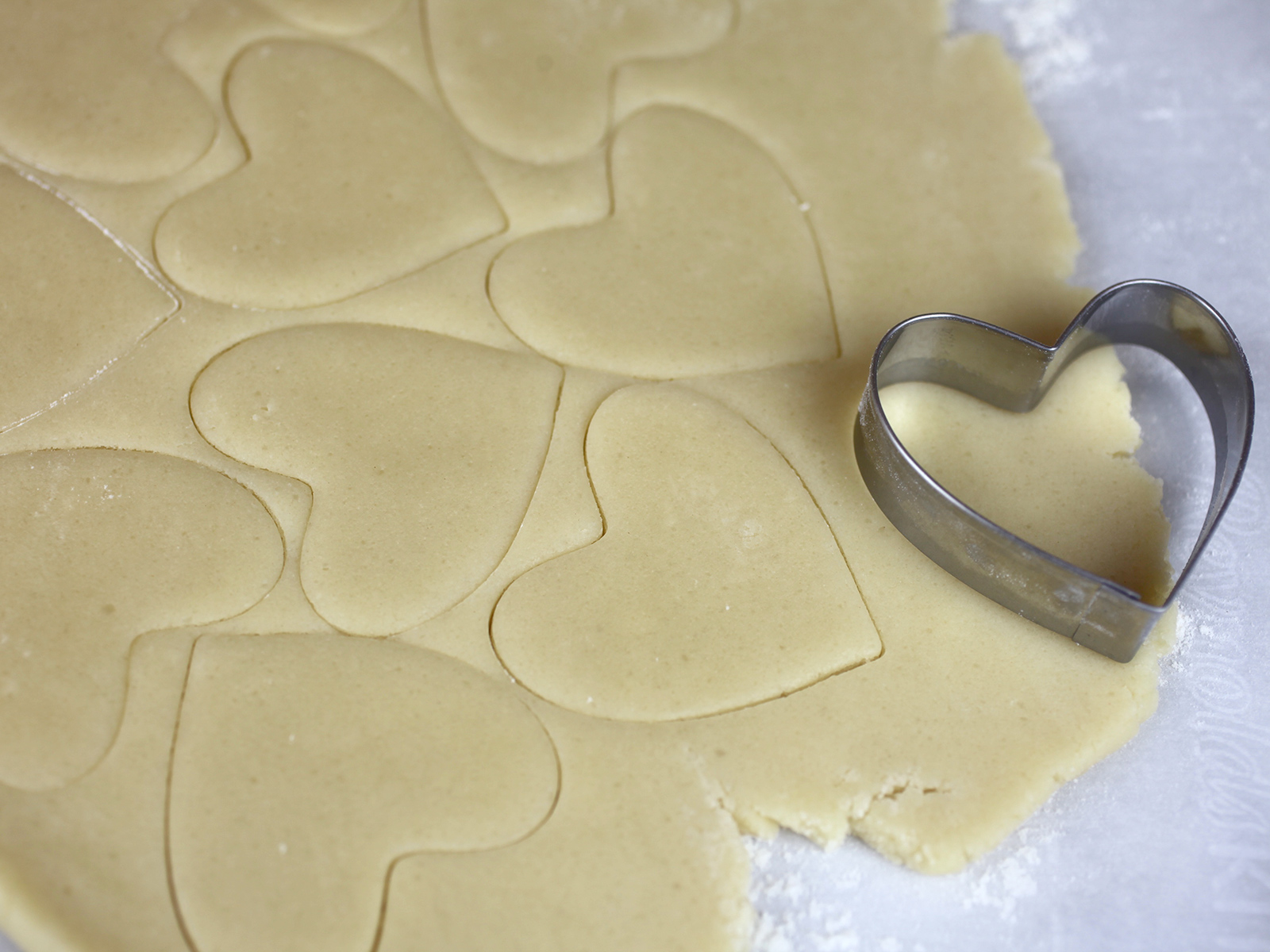 Start out with around a 2-1/2 inch heart-shaped cookie cutter and the easiest sugar cookie dough.
Here's the decorated sugar cookie and royal icing recipe I use all the time and love. It's from my friend Bridget at Bake at 350.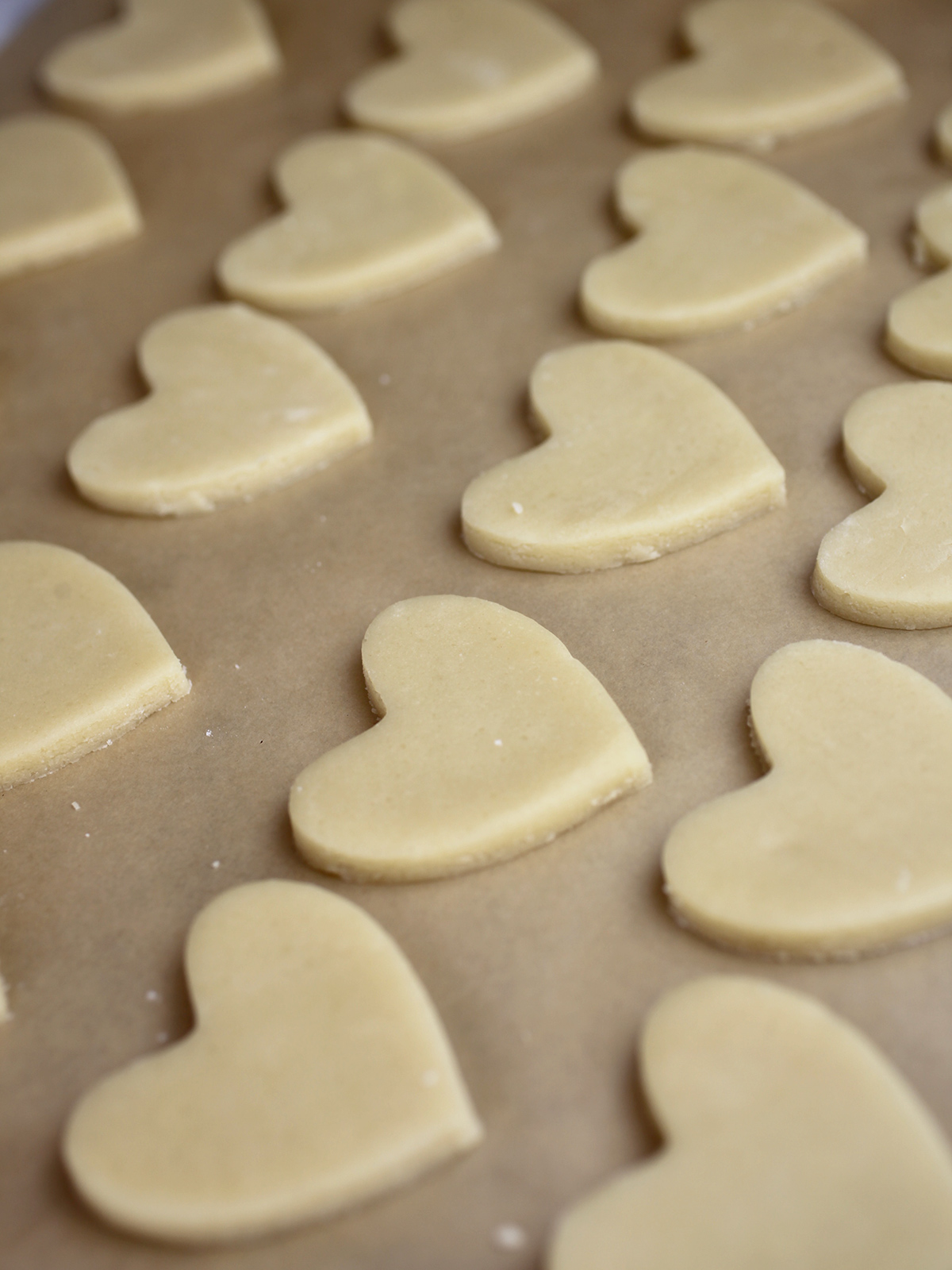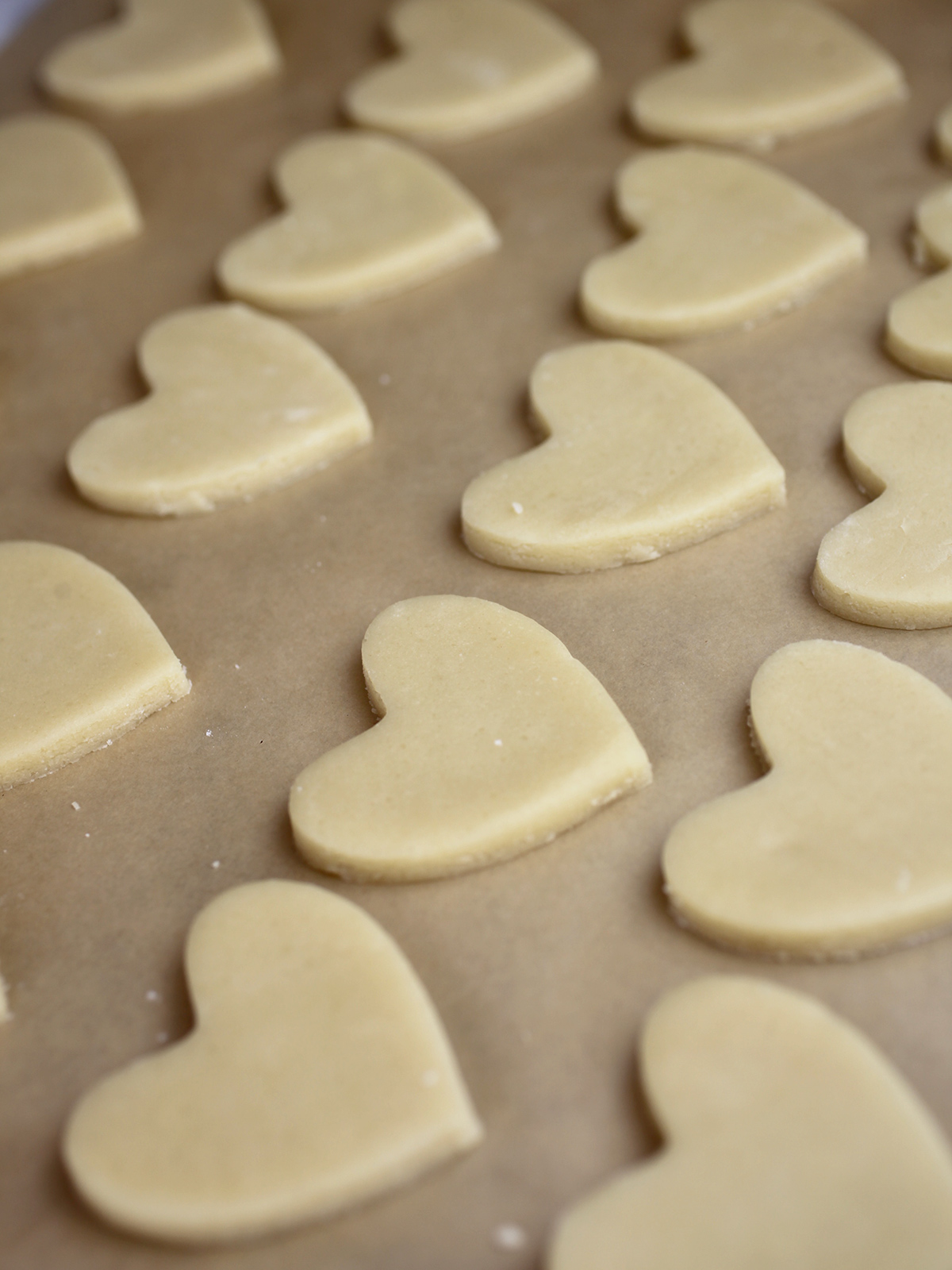 First, cut out 24 hearts for 12 pair of sunglasses. Cut out the hearts and transfer them to a parchment paper covered baking sheet until ready to assemble for baking.
Since I don't have a sunglasses shaped cookie cutter, I used another small cutter shape to make the connector piece for the bridge of the glasses.
You can hand cut small squares or use a small random cutter to start the shapes like I did below.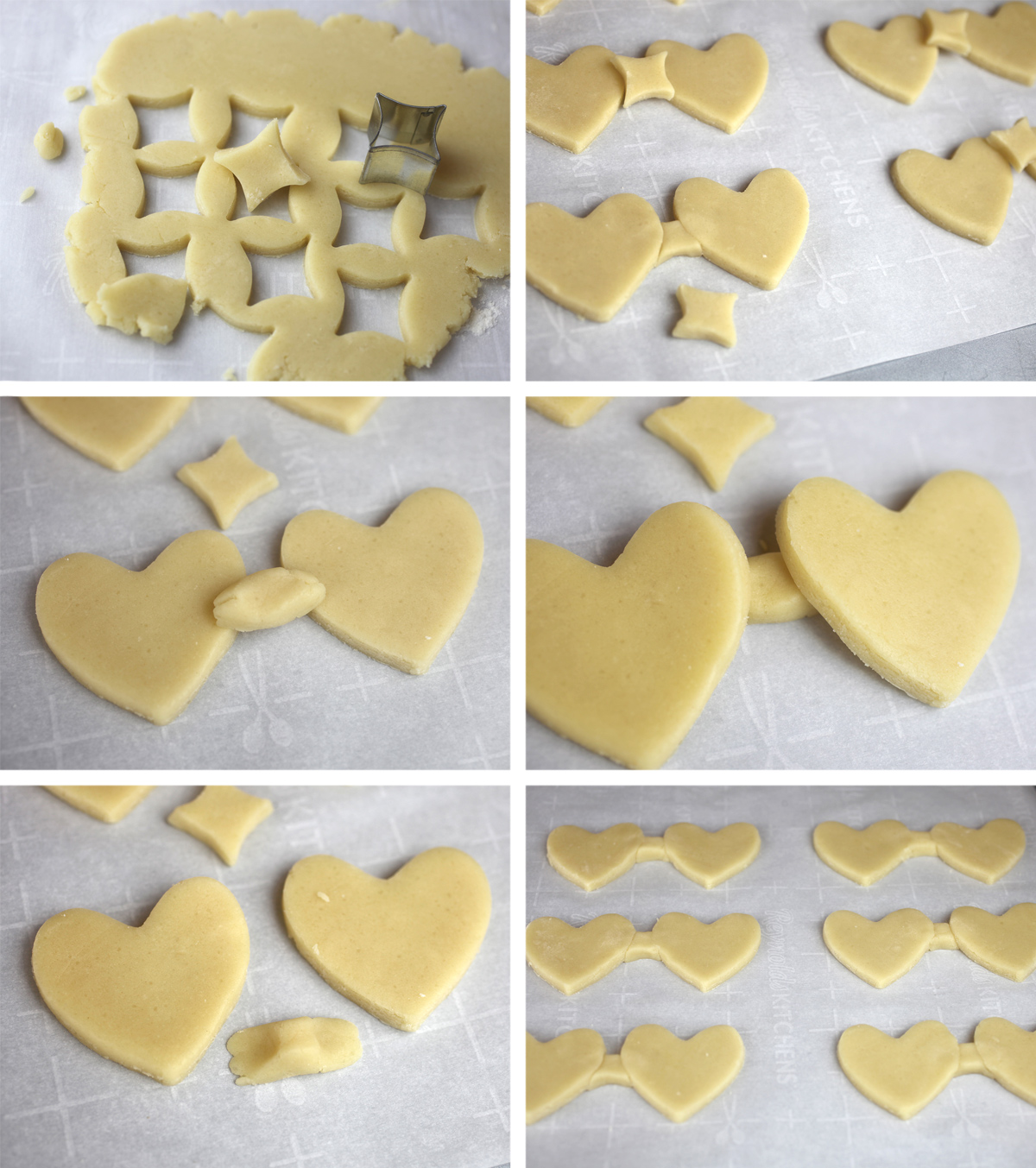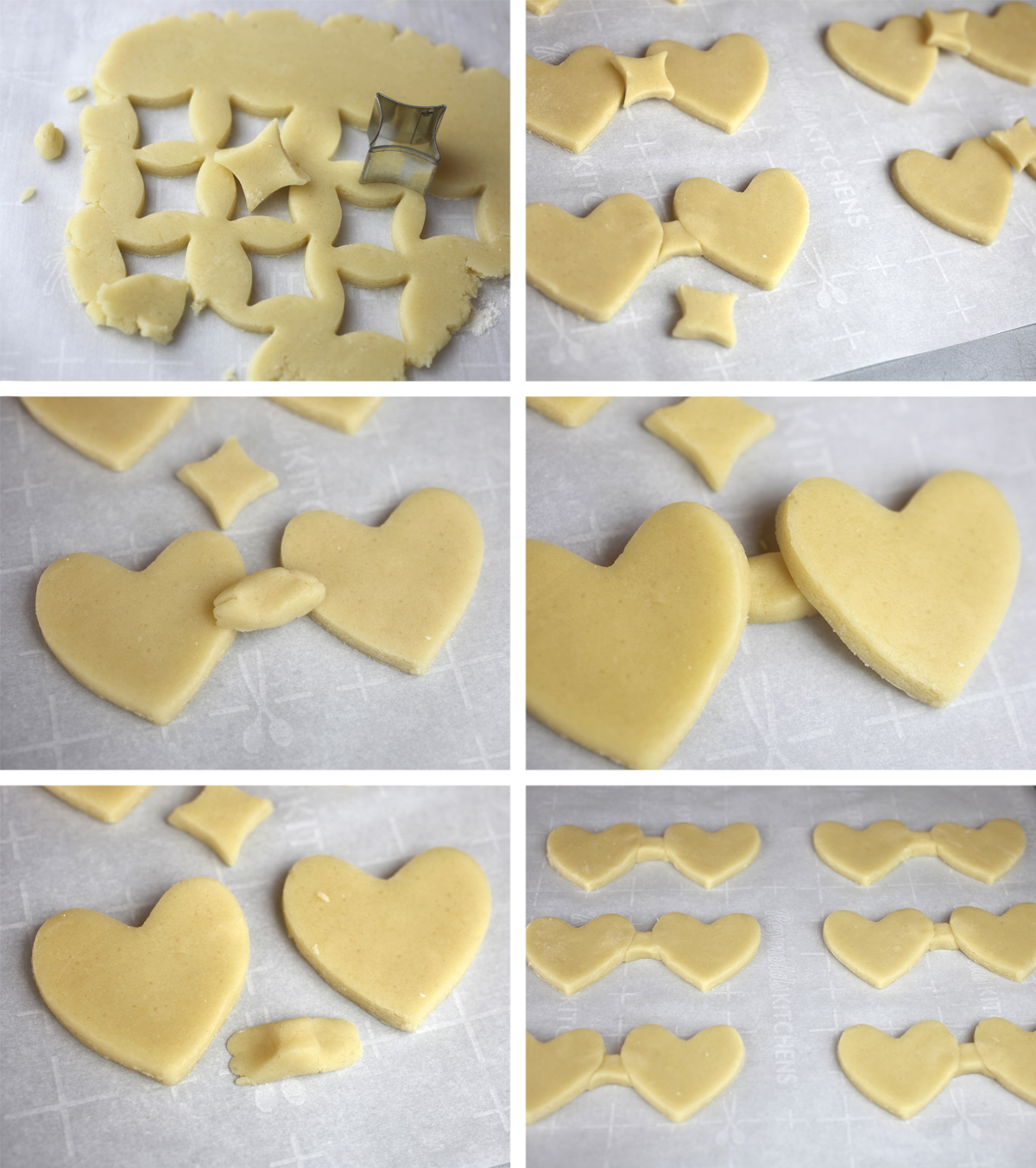 Now, place pairs of hearts on a parchment paper covered baking sheet with enough room to bake and enough room for the bridge of the glasses to be formed.
To make the bridge, cut out 12 small square-like shapes. Reshape them slightly and press the ends so they taper down almost flat on the left and right side. Do this so the tapered edges can be placed underneath a pair of heart cutouts. Then just gently press the dough together and flatten the center so the thickness of the connector shape is the same as the thickness of the hearts. You want to make sure all the shapes meet and touch each other securely. Shape these in position on the cookie sheet so you do not have to move them around.
Bake them at 350 degrees F for about 12 minutes. Cool completely before removing from the cookie sheet, because they will be fragile in the center while still warm.
And to make sure they won't break in the center, I made a second cookie to place underneath. Plus, it really helps to finish off the look of the glasses.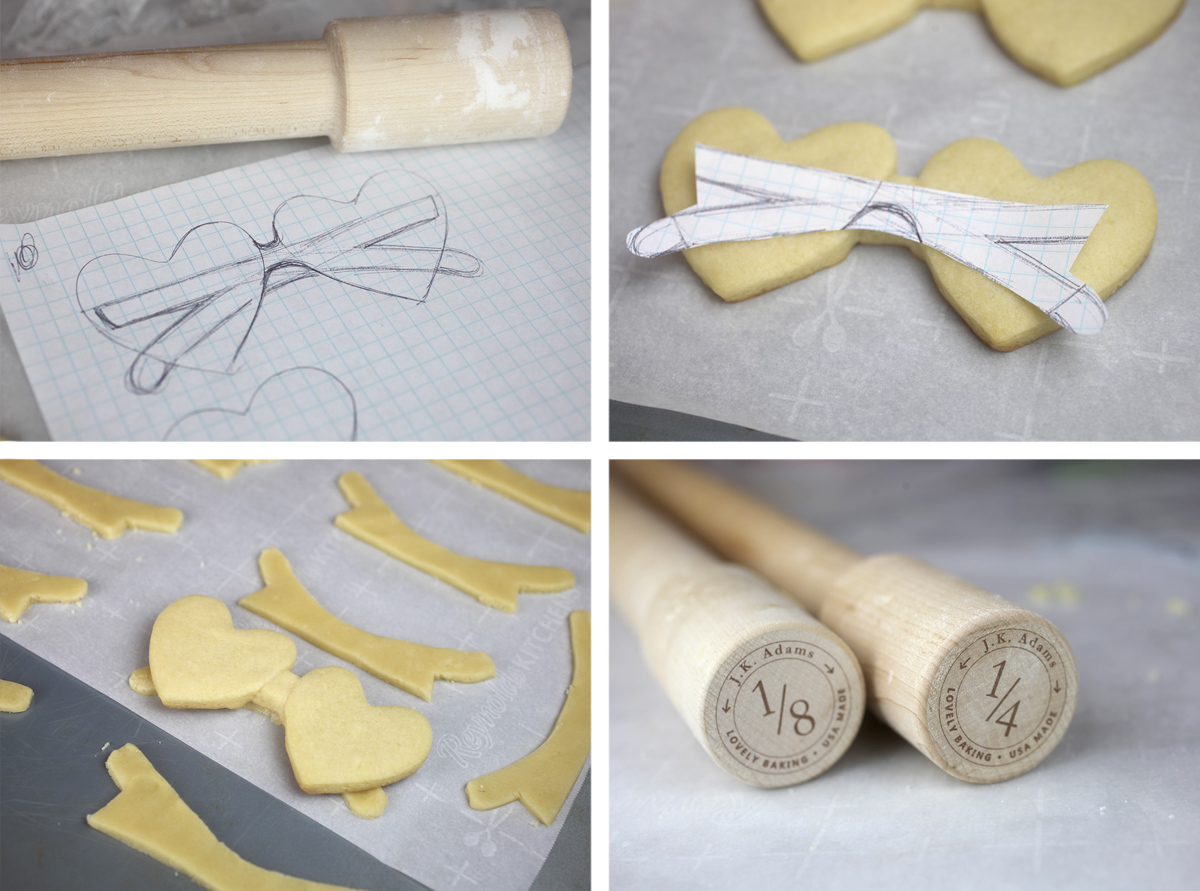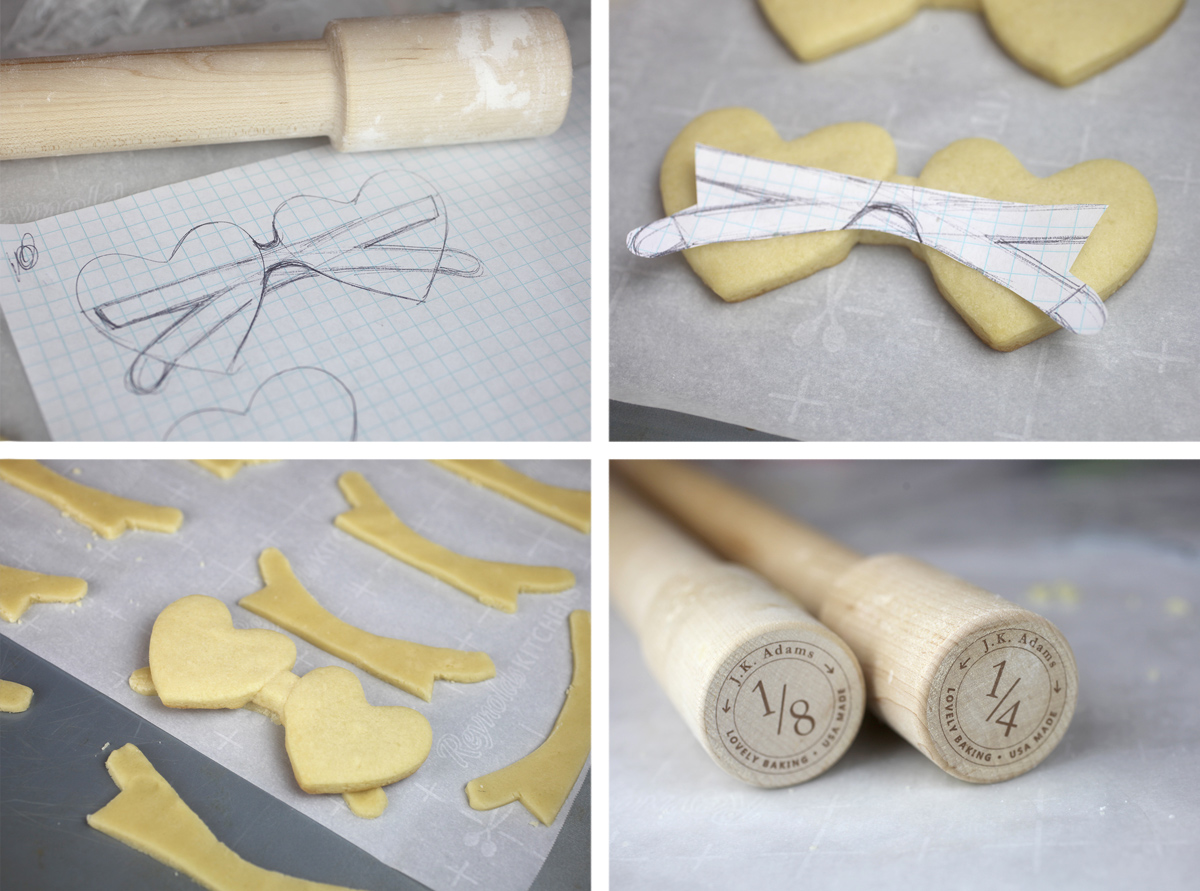 Draw a shape on paper to use as a template and cut the dough out around the shape using a sharp, non-serrated knife. Place a pair of baked cookie hearts on top to double check your sizing before baking.
I used the 1/4 inch roller for the hearts and the 1/8 inch roller for the support piece.
P.S. These rollers are awesome. I like them so much better than using thick rubber bands to control the thickness of cookies when you are rolling
them out.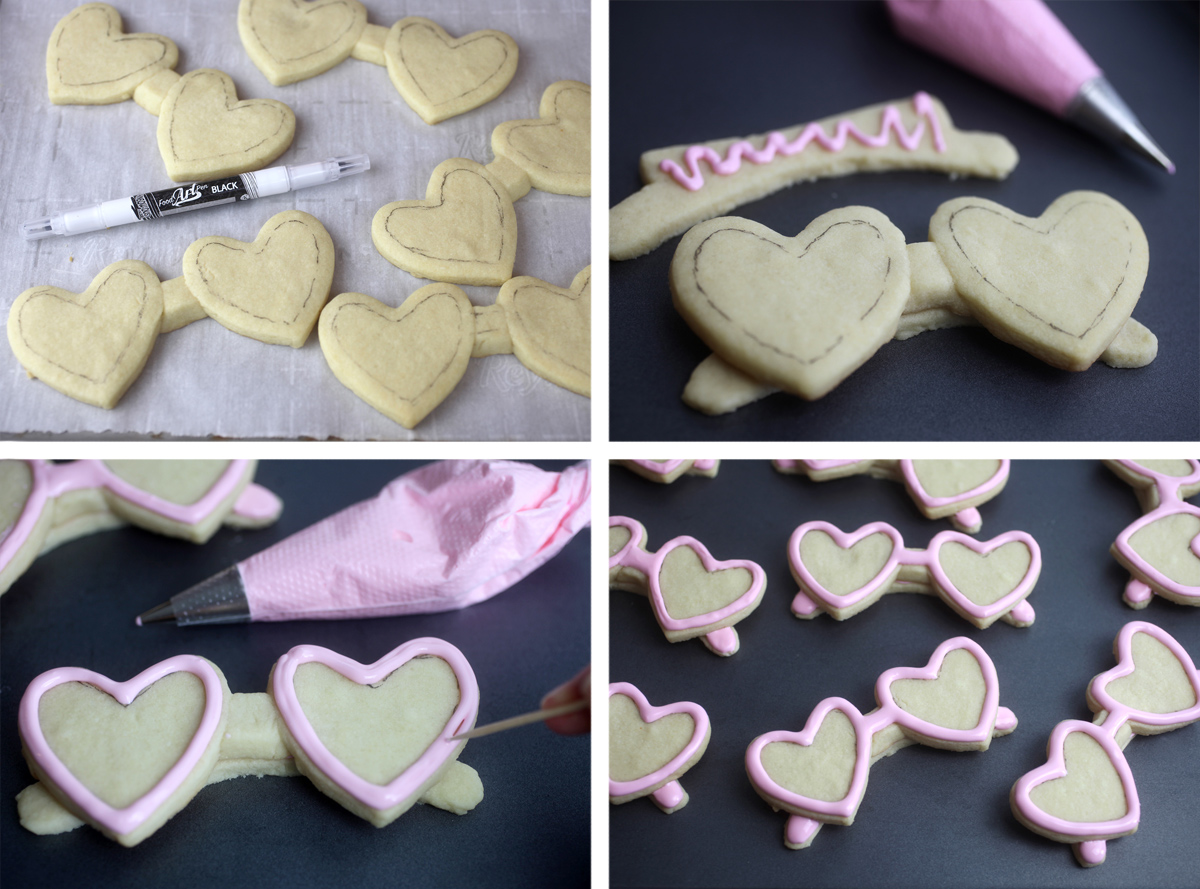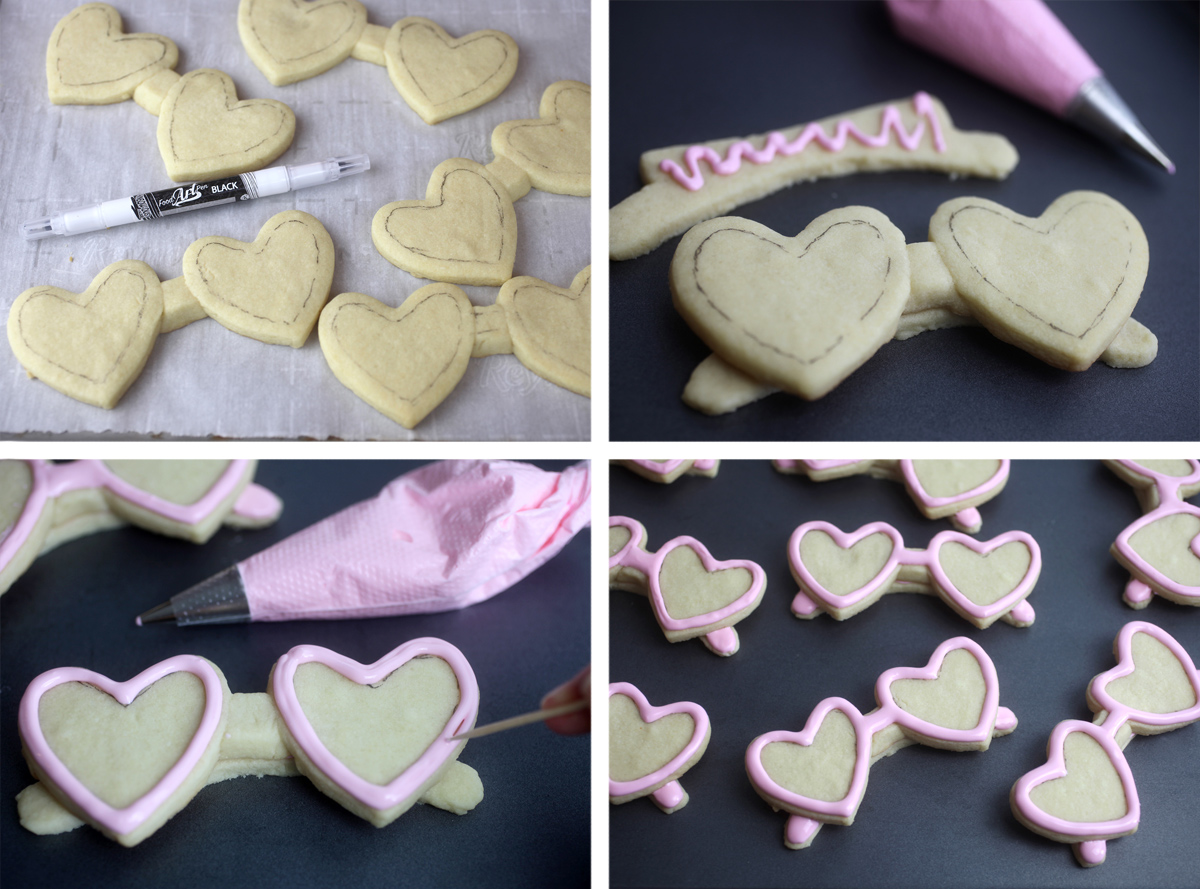 Now, let's decorate.
Draw smaller hearts inside each cookie heart with a black edible-ink writing pen to use as a guide for the frame of the glasses.
Pipe royal icing on the support piece and attach a pair of hearts on top. Press gently to secure and let dry.
Pipe the frames with light pink tinted royal icing and a #2 or #3 decorating tip using the pen marks as a guide. Note that I went around each heart shape twice using a consistency of royal icing that was in between an outline and flood stage to make it easier to smooth and close any gaps using a toothpick.
Allow the piped frames to dry for a few hours before piping the lenses.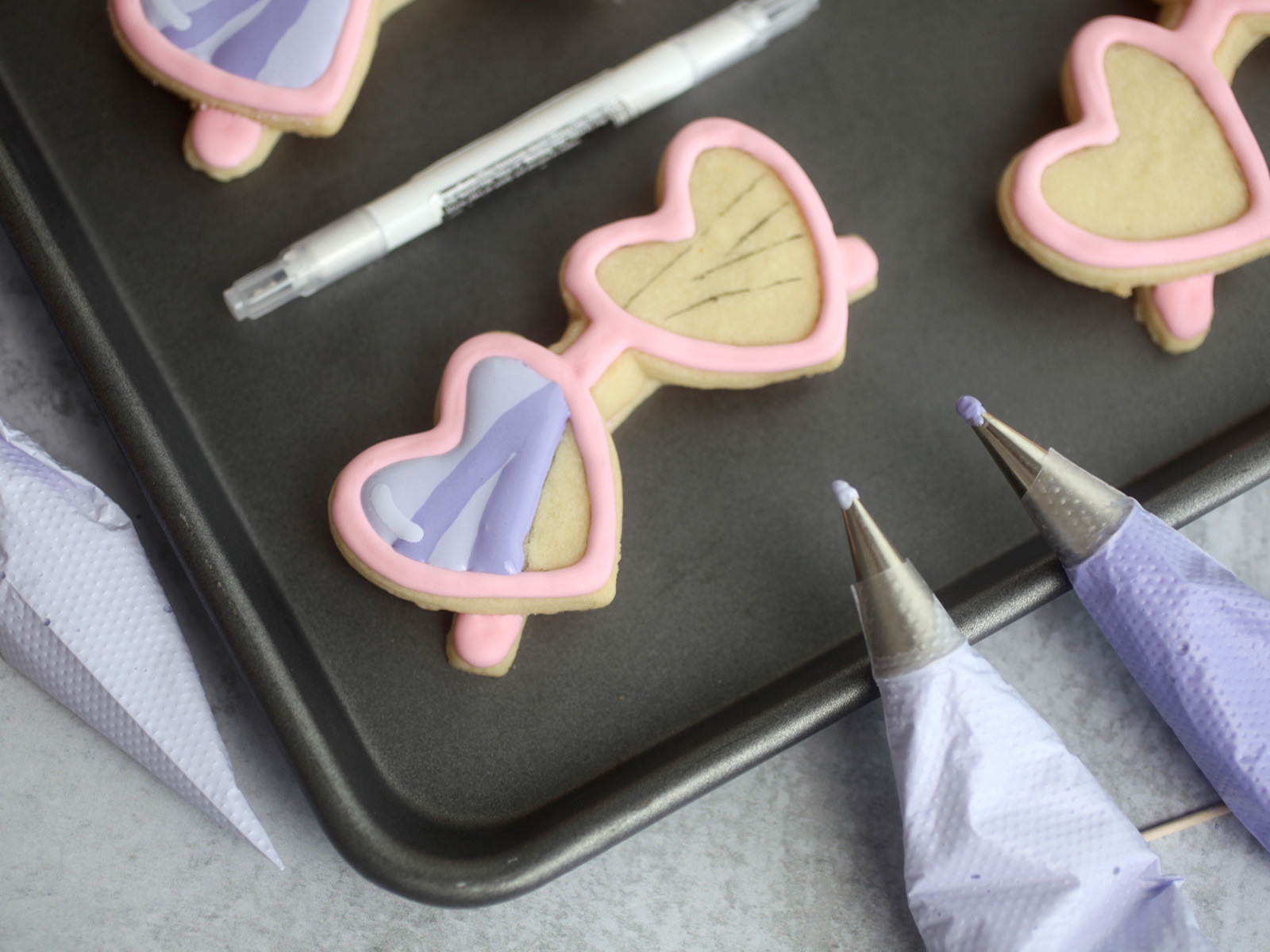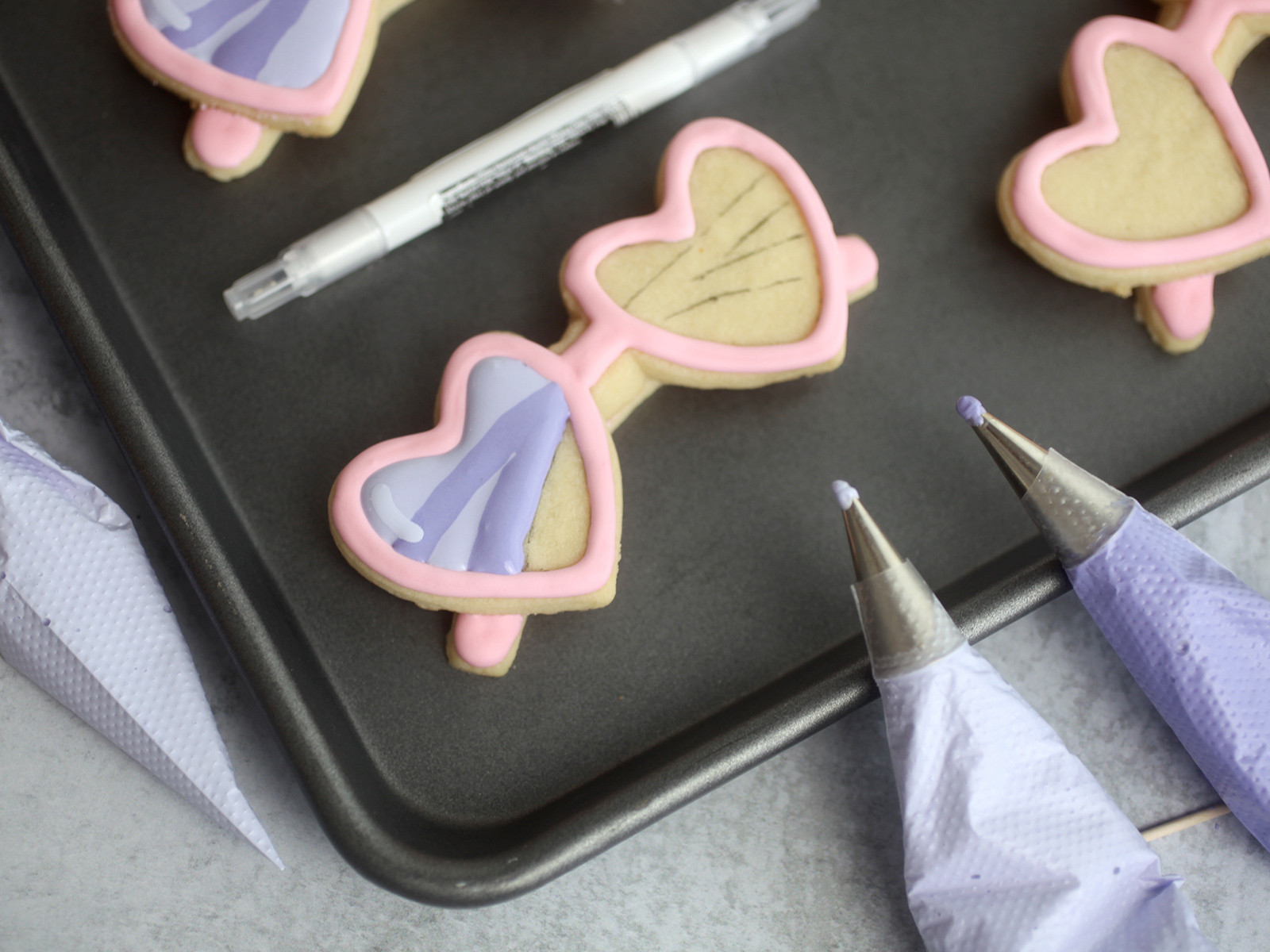 When dry, draw on the inside of the hearts to recreate what the glasses would look like with the frames closed behind them.Then use two shades of purple royal icing to mimic a shadow of the frames as if the lenses were really transparent. You can use a third and lighter shade of purple to pipe on a highlight.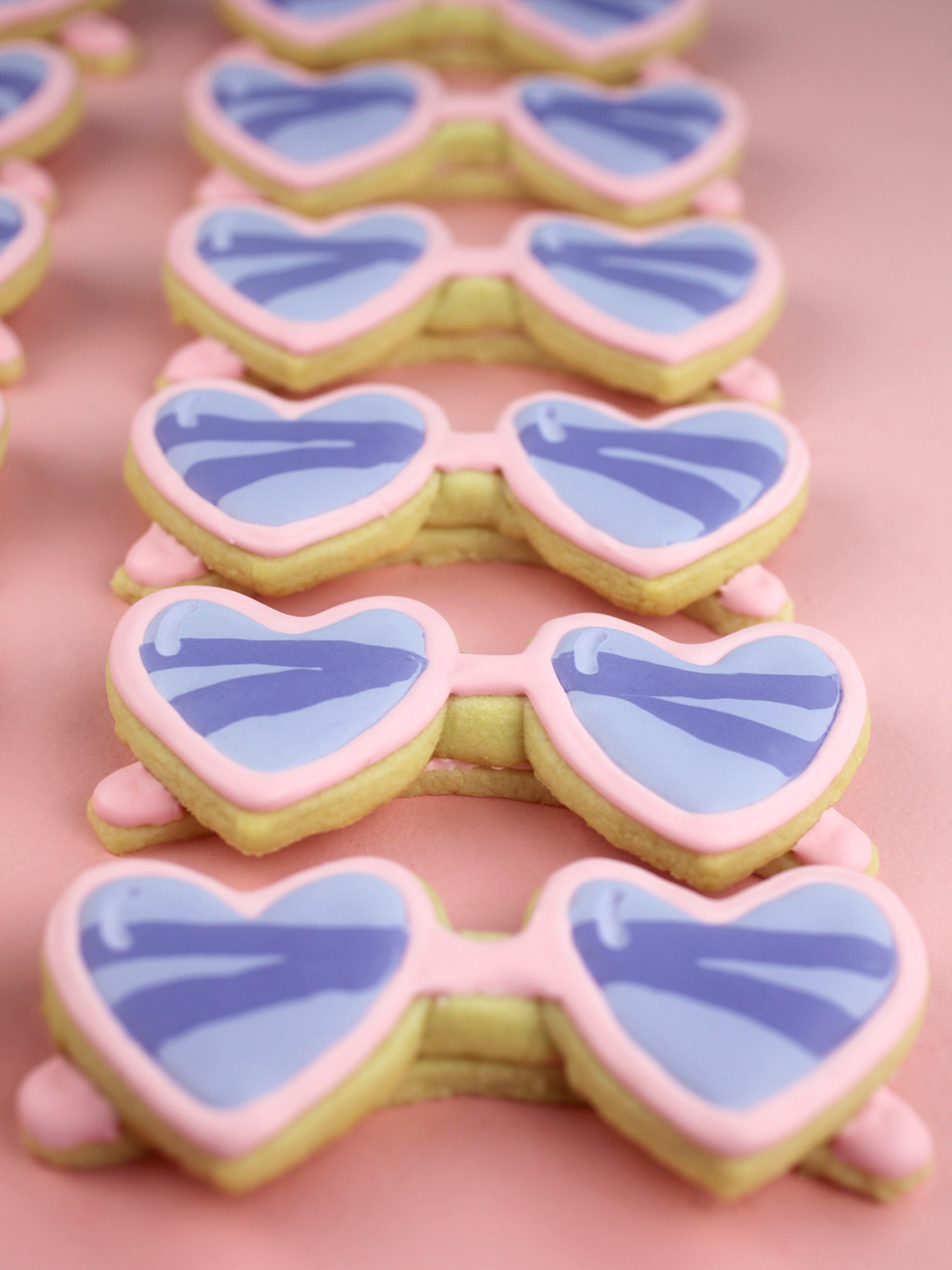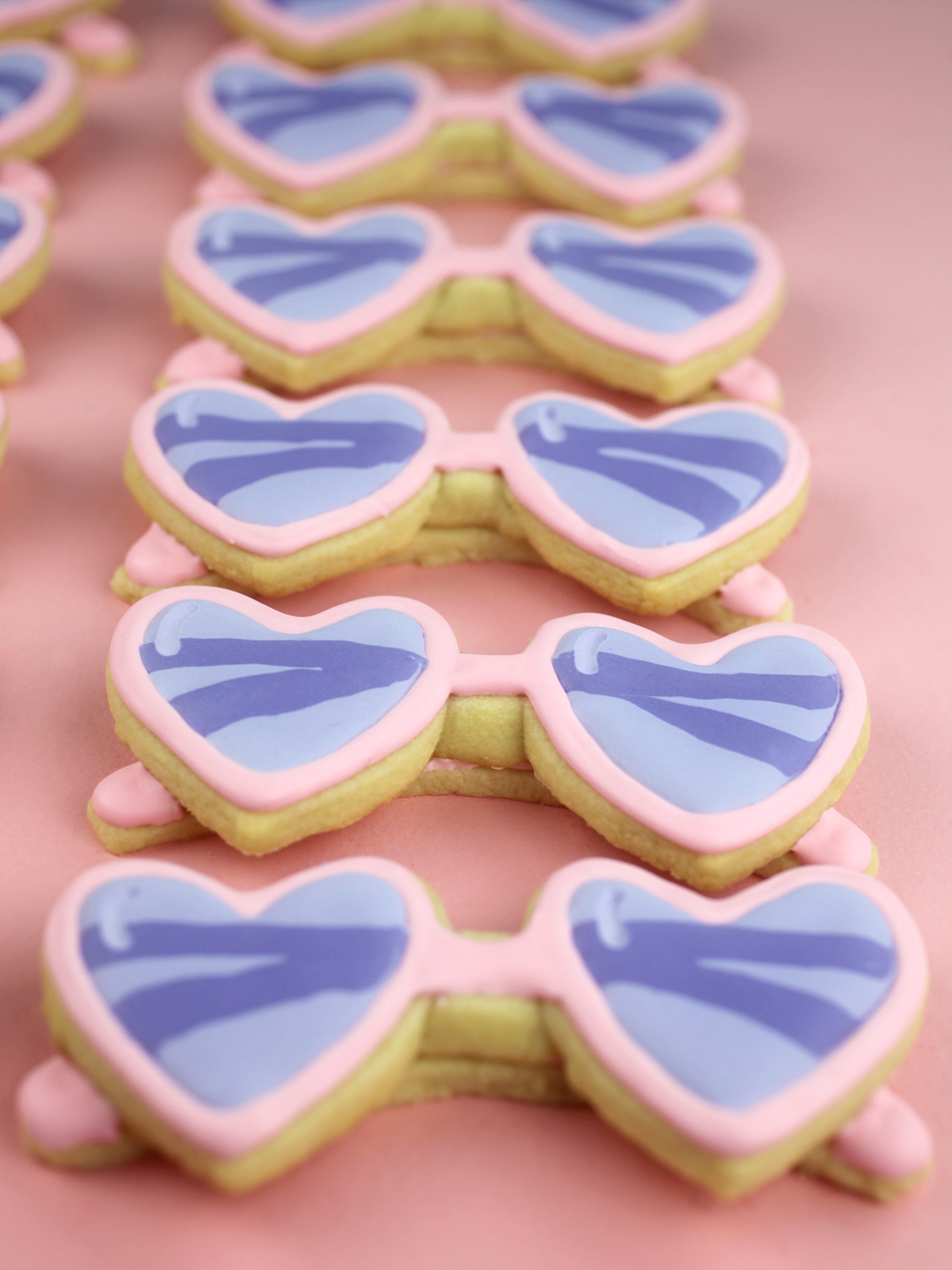 I definitely have heart eyes for these glasses!!!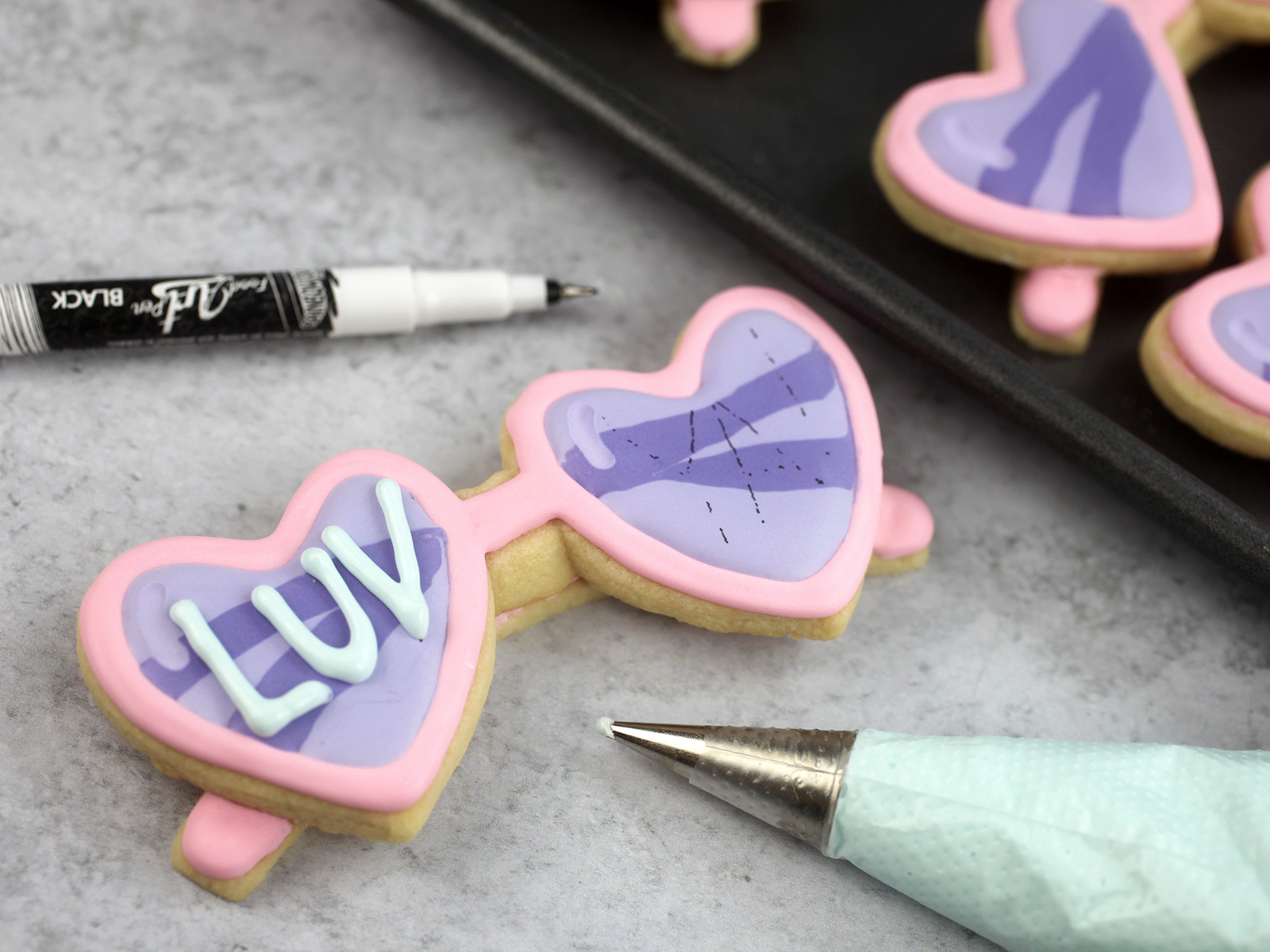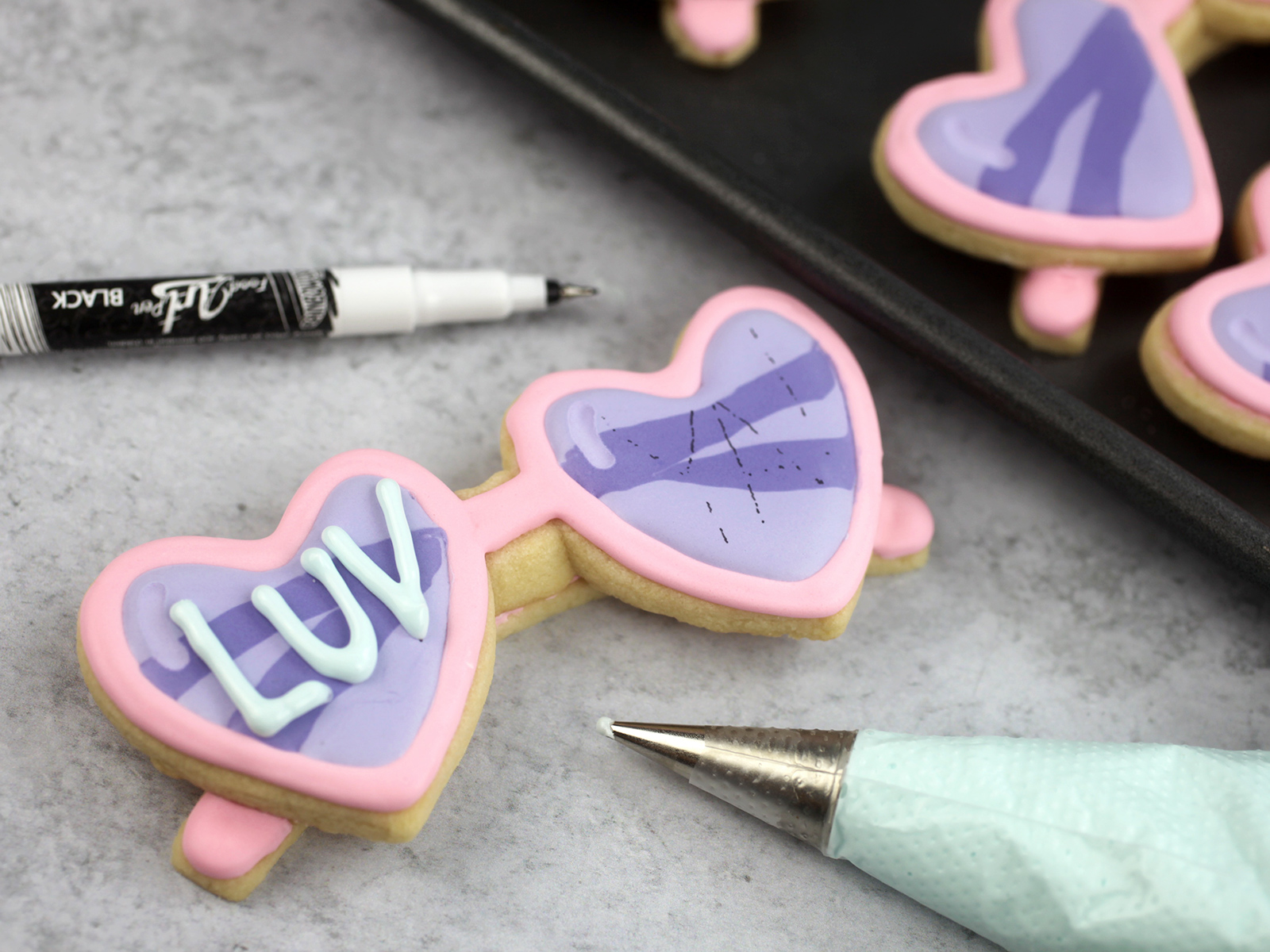 And as cute as they are like this. I had to add some love notes on top. Let the lenses dry overnight and then pipe letters in a light color of royal icing. I used a very light teal and a #3 decorating tip.
If you are confident with your lettering, pipe away. I dotted my letters on first with the edible ink writing pen, though.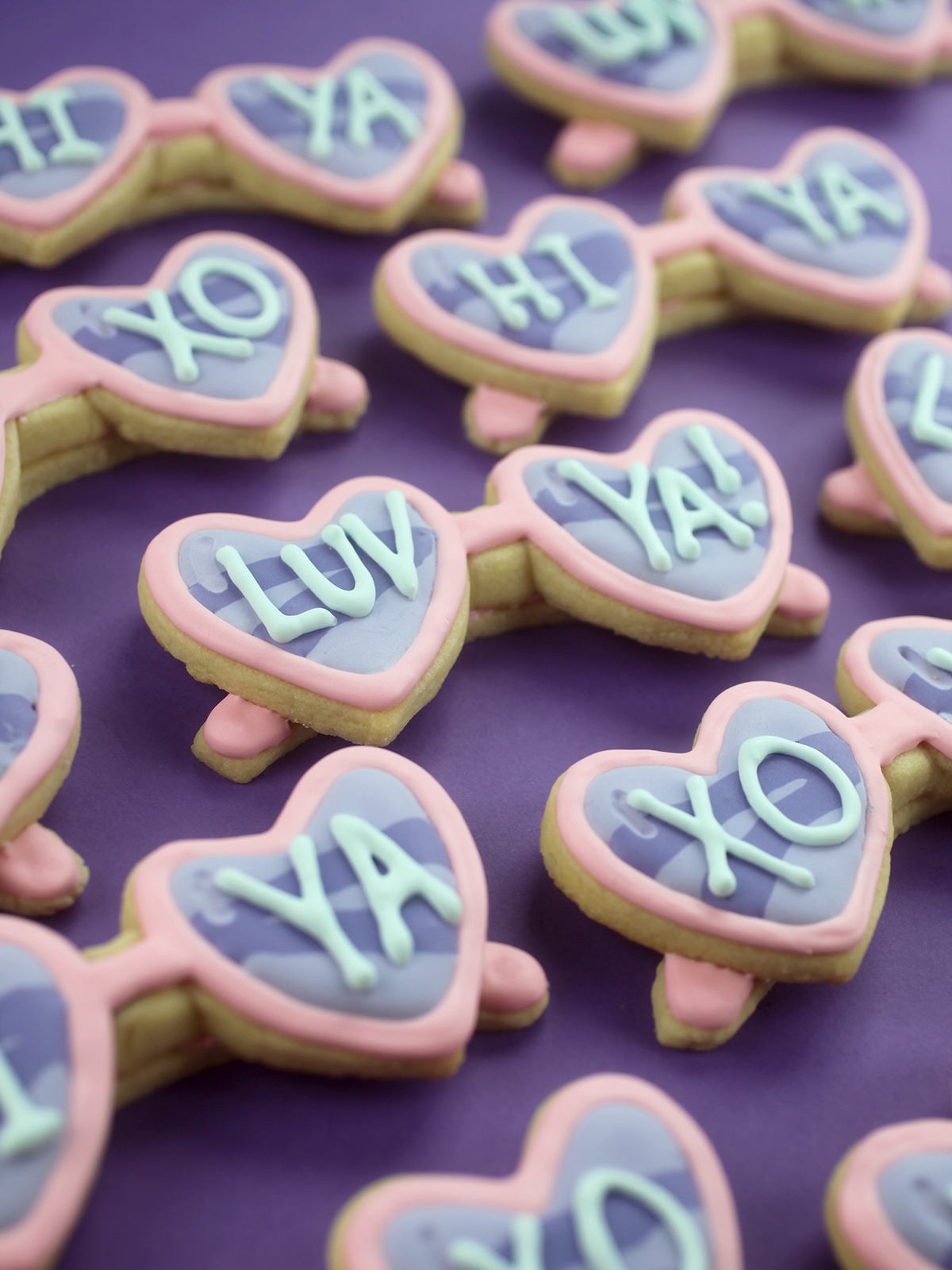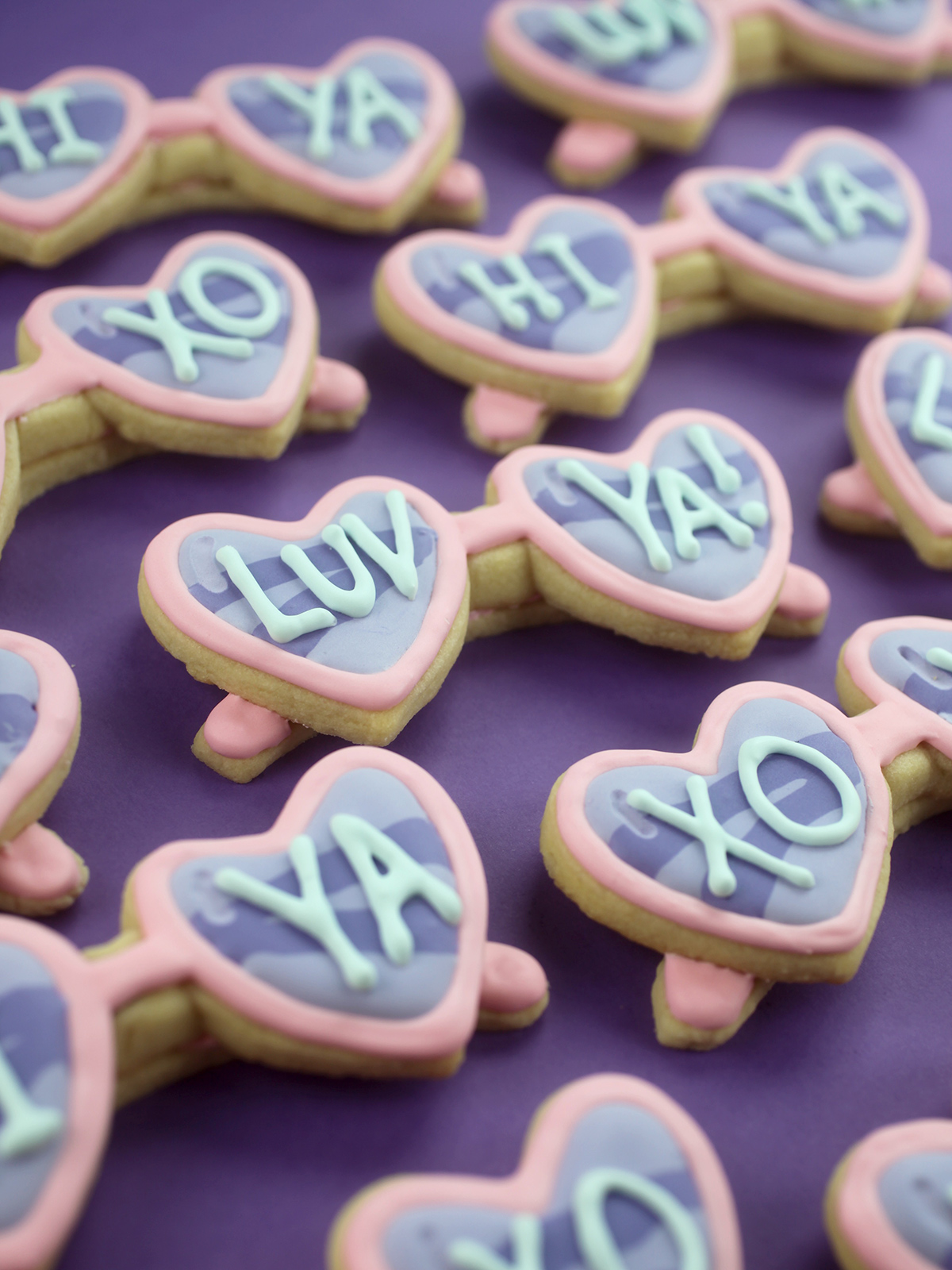 Here's a few word suggestions, but what other short phrases do you think can work.
LUV  YA!
XO  XO
HI  YA
SL  AY
MW  AH
HU  GS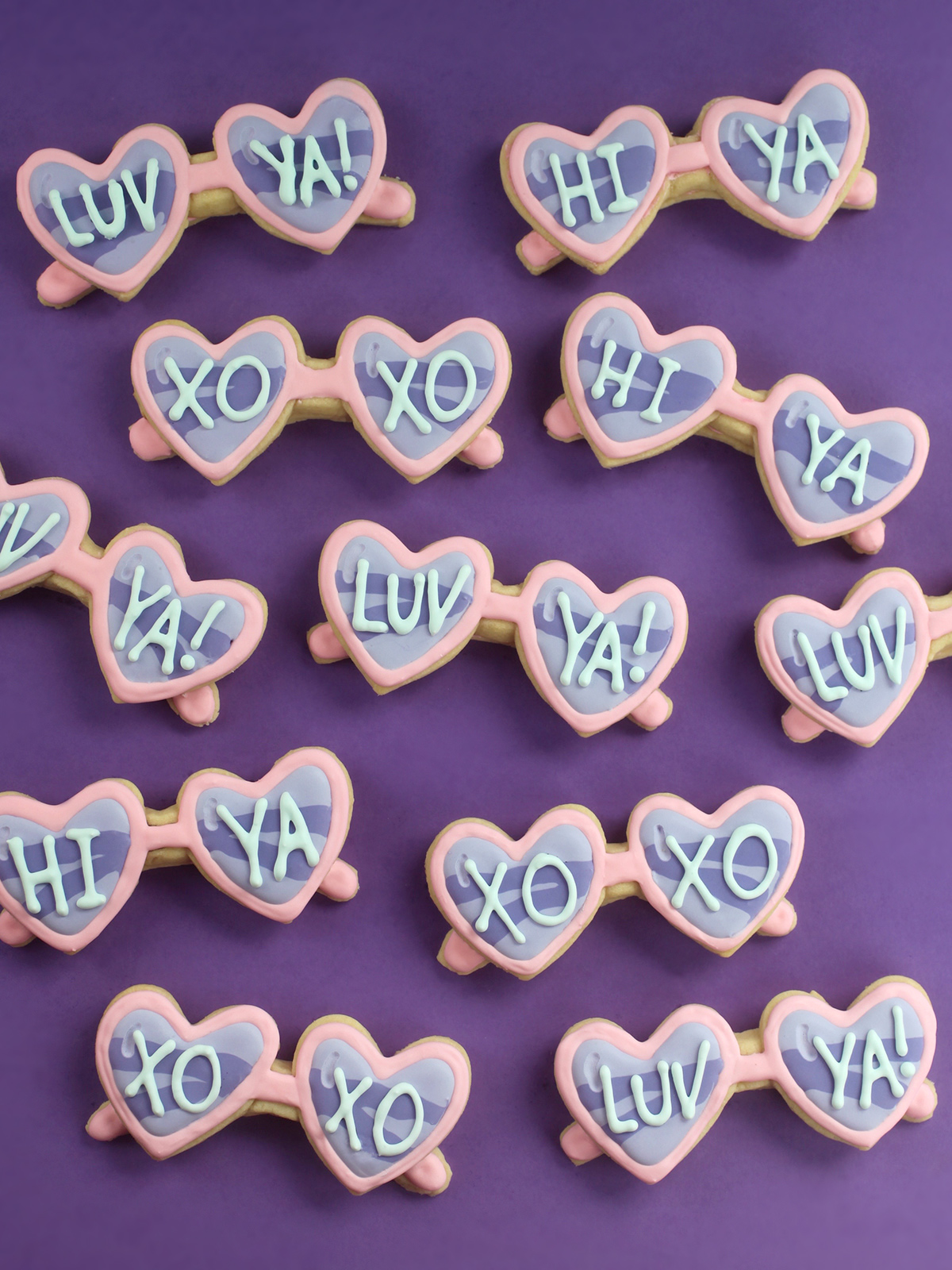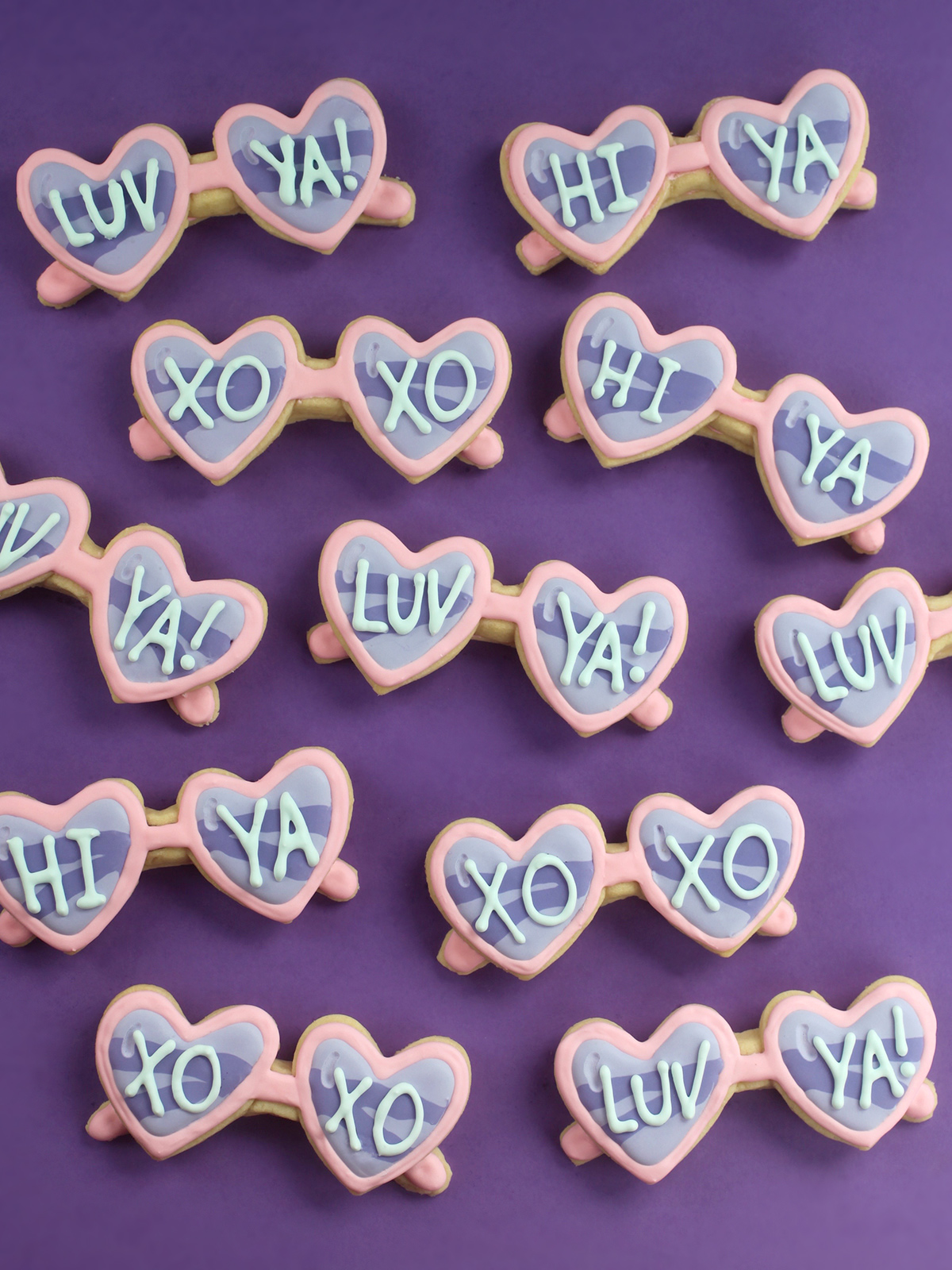 And it goes without saying that these would be super sweet for Valentine's Day!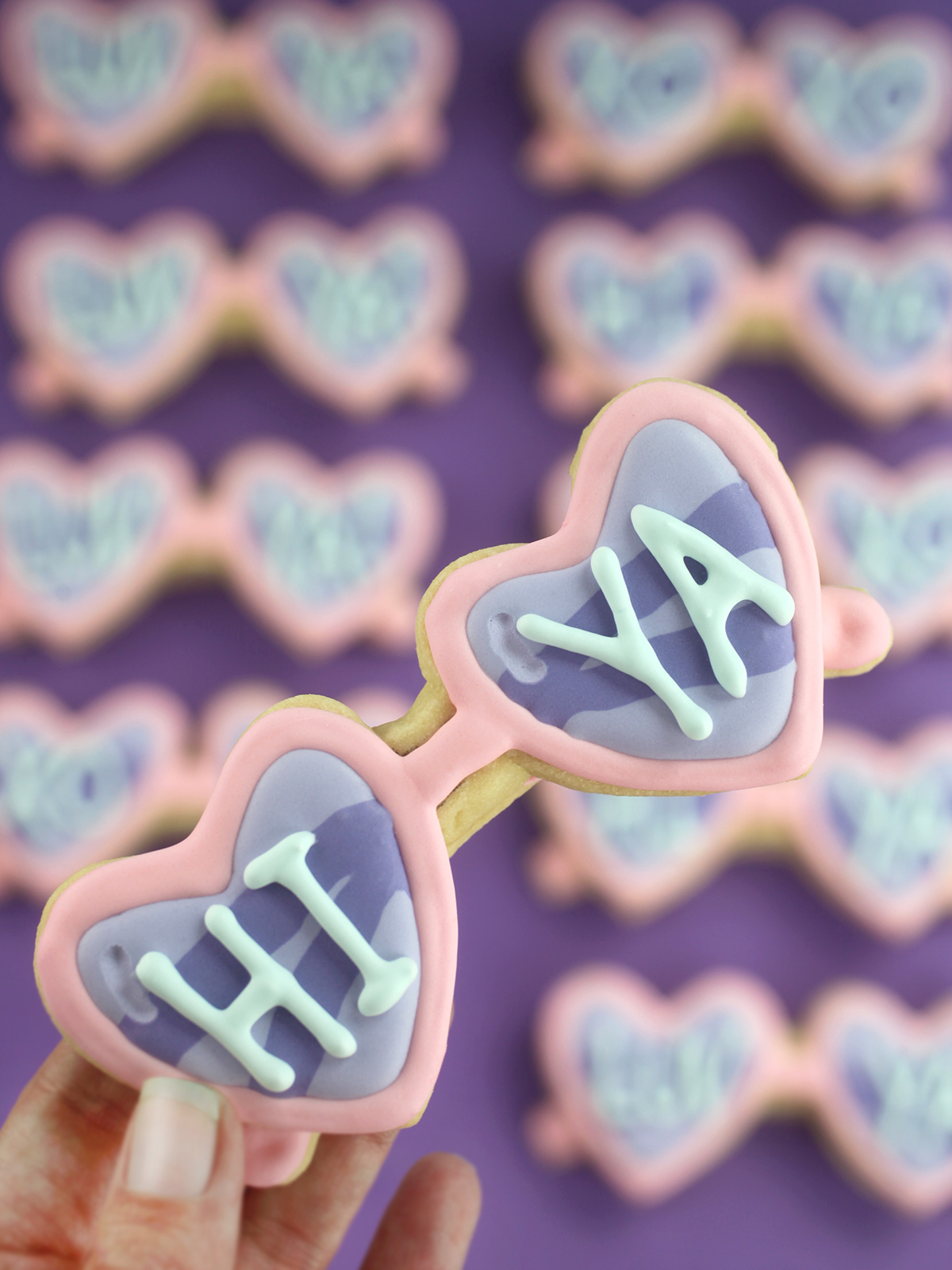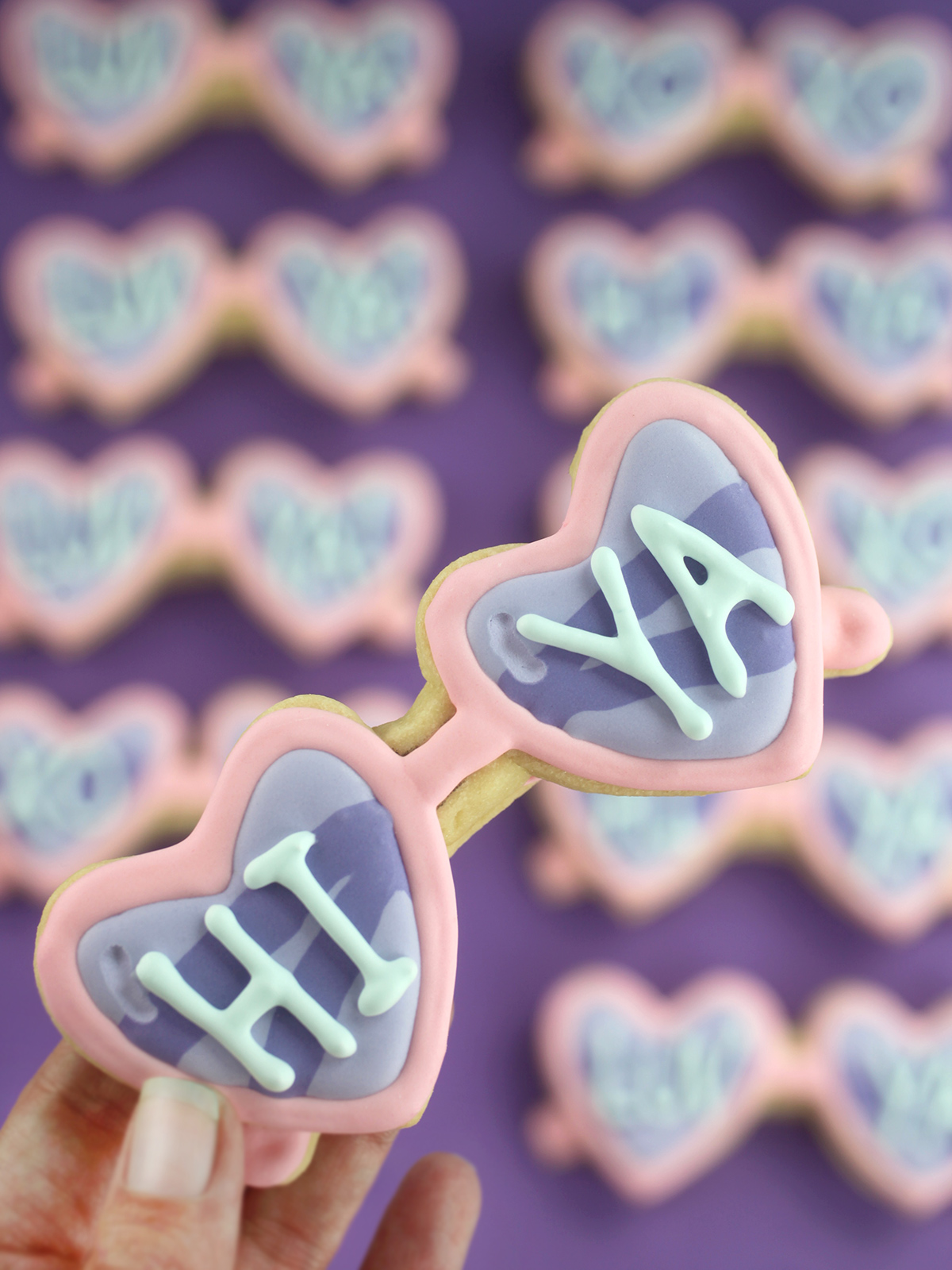 Hiya and hope you enjoy!