With another Thanksgiving right around the corner, I figured it was finally time to make my first real pie crust instead of using one from the freezer section. I went back to this post that had all of your great suggestions for pie crust recipes to try. Thank you. Thank you. And thank you.
Not sure which one to start with, I took pieces and parts from a few that sounded good. Strike that… that sounded easy. It seems I have an irrational fear of working with dough for some reason.
To start, I made sure to get all my ingredients super cold, including the metal bowl and pastry cutter.
I decided to try out a pie crust with shortening instead of butter… no reason… just because.
And I went out to buy a pastry cutter for the task. I'm sure this wasn't necessary, but it did work great.
I also had this pie rolling pin that I bought about a year ago. The ends are tapered so you can turn and roll out the dough in different directions easily… I think. I'm sure this wasn't necessary either, but it gave me a little extra confidence.
Now, don't laugh at my pie dough. I have a feeling it's not supposed to look this rough. It would definitely help to see someone do this first. I work much better when I know what things are supposed to look like. I also think I need to see what a lightly-floured surface means, because lightly wasn't working so much. After rolling it out one time, I had to scoop it up and try again. Definitely leaning toward the generously-floured side of flouring. It reminded me of this doughnut disaster.
But not to give up, I carefully placed my twice-rolled, tearing and stretching crust in the pie plate, repairing sections where necessary.
And it worked. YAY!
Next came the cream cheese layer. It already looks better.
Then the pumpkin layer. YUM.
When it came out of the oven, it looked like a real pie. And the crust doesn't look so bad after all.
Rustic… yeah… I was going for rustic if anyone asks.
Halfway through baking, I added the topping made of brown sugar, chocolate, pecans and a little maple syrup.
It was so good. Just the right amount of texture to go with the creamy filling.
If you use miniature chocolate chips, the crunch will be a little more subtle. Or just tell yourself that because that's all you have on hand.
It was really, really good. I was even surprised by how good the crust tasted.
I think I've opened up a new world of baking. I see more pies in my future. As a matter of fact, I think I'm gonna make up some more crusts and freeze them to keep handy.
Try out this pumpkin pie and have a Happier Thanksgiving.
Here's the recipe in order of assembly: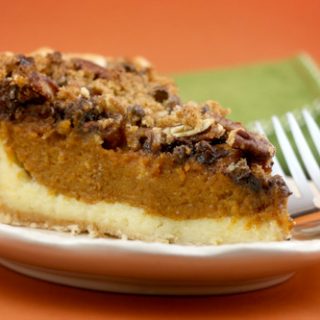 Yield: one 9-inch pie
Pumpkin Pecan Cream Cheese Pie
Ingredients
Pie Crust
1-1/2 cups all purpose flour, cold
1/2 teaspoon salt, cold
1 Tbsp sugar, cold
2/3 cup shortening, cold
4 Tablespoons water, cold
Cream Cheese Layer
8 oz. cream cheese, room temperature
1/2 cup sugar
1 egg
1 tsp lemon juice
Pumpkin Layer
15 oz. can of pumpkin
1 cup sugar
1 Tbsp pumpkin pie spice
2 eggs
1/2 cup evaporated milk
Pecan Topping
1 cup pecans, chopped
1/2 cup miniature chocolate chips
1/2 cup packed brown sugar
2 Tbsp pure maple syrup
Instructions
Make the Pie dough: Combine dry ingredients in a large bowl. Add shortening and gradually work it into the flour with a fork or pastry cutter. The mixture should be crumbly. Add cold water and stir until combined. Roll in a flat disc-shape, wrap in plastic or a ziploc bag and place in the refrigerator for about an hour or the freezer until firm.
Make Cream Cheese Layer: Mix the cream cheese and sugar using a mixer. Add egg and lemon juice and continue mixing until creamy. Place in the refrigerator for about 30 minutes.
Preheat oven to 375 degrees Fahrenheit.
Roll out dough. Lightly … or more generously flour your surface. Roll out dough in a 13-14 inch diameter to fit a 9" deep dish pie plate. Carefully place rolled dough in pie plate. Try not to stretch or tear it. Fold the excess dough under or trim it and create a decorative border.
Make the Pumpkin Layer: Beat pumpkin, sugar and spice with a mixer. Add eggs and beat until combined. Add milk and beat until combined.
Assemble: Spread the cream cheese mixture in the dough covered pie plate. Layer the pumpkin mixture on top and try not to disturb the cream cheese underneath.
Cover the edges of the pie crust with foil to keep them from getting too brown and place the pie in the oven. Bake for about 20 minutes then apply the topping before baking the rest of the time needed.
Make the Pecan Topping: Mix the ingredients in a medium bowl. After the pie has baked for the first 20 minutes, remove the foil and layer the topping on. Bake for another 25-30 minutes. Remove and cool. Cover and chill in the refrigerator for a couple of hours before serving.
And ENJOY!