I decided a few of weeks ago, that I wanted to try to make some cookies using vintage Valentine cards as the theme. They are so sweet and the artwork is just darling.
I've seen cookies and cakes with artwork printed on them online and in bakeries, but I didn't realize this was something I could achieve at home. After doing a little research, I found out you can buy frosting sheets and edible ink cartridges for certain home printers.
And mine was one of them. YAY! So I bought the inks for my printer. Then I realized I would have to clean it somehow, which sounded like a whole bunch of trouble, so I decided to buy another printer just like it. No such luck. My printer is too old for stores to still carry.
So, I had to get a newer printer, which meant I needed different inks … of course. But I was determined, so I went ahead and exchanged the inks while I waited for the new printer to arrive.
After it arrived and I started to set it up, I thought something was strange. It called for six cartridges, but the edible inks I bought came in a set of five. I really should have stopped here to investigate. But no, for some reason, I thought it would work because the website's form said that printer worked with those inks.
But they didn't.
So I went back to the list of compatible printers and the company had updat ed their list and removed the printer that I had just shoved five edible ink cartridges into. Five messy cartridges I might add.
Let's just say I was not a happy camper.
But…
But… I was able to find another compatible printer in time to make these for Valentine's Day.
Yes, now I have three printers. One for my computer, one for cookies and one for a doorstop.
Seriously though, it's not that bad, printers are so cheap these days, it's like buying a set of ink cartridges and they throw in the machine. I'll find a use for it.
Anyway, I'm over it because finally… finally I was able to get it all to work.
Frosting sheets. They went right through the printer and came out with edible ink on them.
Crazy talk.
I made puffy sugar cookies for the valentines to go on. I was going for those fluffy ones with frosting that they sell in the grocery store.
These were okay. I'll give you the recipe below if you want to use it or improve on it.
To use the frosting sheets, separate them from their backing and apply to a frosted cake or cookie. The frosting needs to be moist. If it starts to dry out, you can spray it with a fine mist of water.
Now, since I was doing cookies, I cut the shapes out with scissors first using my cookie cutter as a guide.
And, instead of frosting the cookies, I frosted the back of the frosting sheet so I could apply it to the cookie with less mess.
Keep the frosting sheets you aren't using in a ziploc bag so they don't dry out.
I could die. These are so dang cute.
From every angle… cute!
Circus Bear… cute.
Panda pair … cute.
Oh deer!
Cowboy kitty… cute.
Chicks … well, you get the idea.
I may never eat them. Ever.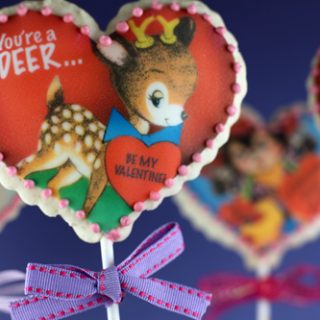 Puffy Sugar Cookies
Ingredients
4 cups flour
1/2 teaspoon baking powder
1/2 teaspoon baking soda
1/4 teaspoon salt
3/4 cup butter
1 cup sugar
1 egg
1 teaspoon vanilla
1 cup sour cream
Instructions
In a large bowl, sift flour, powder, soda, and salt using a wire whisk and set aside.
Cream butter and sugar in a mixer until fluffy. Add egg, vanilla and sour cream. Mix until blended.
Add flour until dough forms.
Separate dough into four sections. flatten into a disc and cover in plastic wrap.
Place in the refrigerator for a few hours. This dough is a little sticky, so flour your hands slightly when working with it.
When ready to roll, preheat oven to 350 degrees.
Place a sheet of parchment paper on the counter. Put one of the dough discs on the parchment paper. Then place a piece of plastic wrap or another sheet of parchment paper on top and roll the dough flat with a rolling pin. (I like the plastic wrap on top. I think it's easier.)
Cut out your shapes using a cookie cutter. If the dough sticks, use a toothpick to separate and remove the scraps.
If you want cookie pops, then place a paper lollipop stick about an inch over the dough and press the dough around the stick slightly.
Transfer parchment paper with dough cutouts to a baking sheet.
Bake for 8-10 minutes and cool completely.
You can make buttercream frosting and tint it fun colors to frost the tops.
Or if you are adventurous, you can make cookies like these.
You'll need frosting sheets, and edible ink cartridges with a compatible printer. I ended up using this printer.
Here's the Kopykake website where you can see more printers and their compatible inks. You can buy the inks and frosting sheets from there, too. Check it out if you are interested.
You can use this pdf to print out the Valentine graphics on frosting sheets. You can also scale them down and use a paper punch and they would make great cupcake toppers or even tags for cake pops.
Use royal icing to dot a border around the outline of the frosting sheet after it's applied.
Enjoy and Happy Valentine's Day!