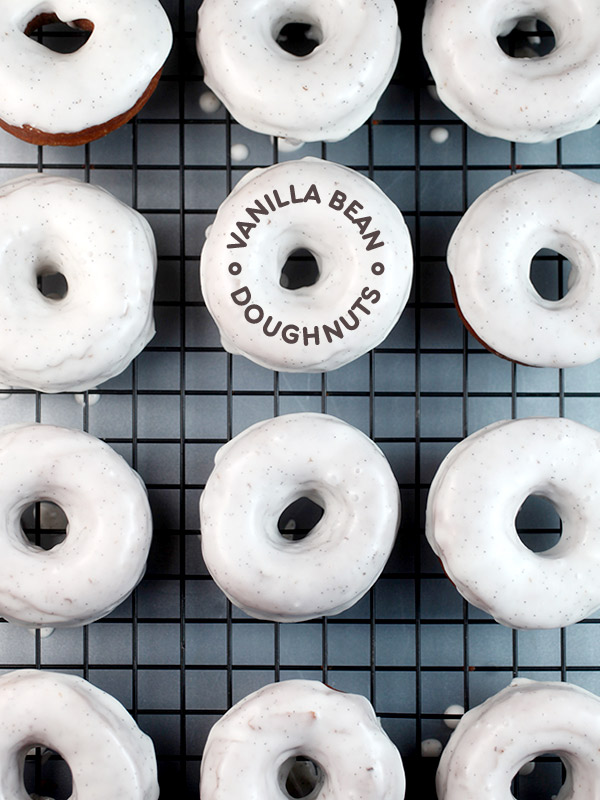 We're talking vanilla today. I know. I know. Something must be wrong when I don't have chocolate all over my treats. But, no… I'm fine. I'm just loving on chocolate's often overlooked sister with these beauties… Vanilla Bean Doughnuts from the book Pure Vanilla and a very vanilla giveaway.
Vanilla, but definitely not plain.
You know, I don't work with dough and yeast nearly enough. But when I do I remember how much I love to watch it rise. It fascinates me.
If doughnuts can be adorable – or adoughable (ha) – then this one definitely is.
I mean, look how cute and puffy it is.
But not as cute as when it's warm and bathed in vanilla bean icing.
I did have to fight my urge to decorate these with bright, colorful sprinkles though. What a pretty pretty backdrop that white would be.
But I didn't. I refrained. I mean it would be a shame to cover up all those beautiful tiny vanilla bean specks in the icing don't you think?
Oh my. Send help.
Never mind. I've got this.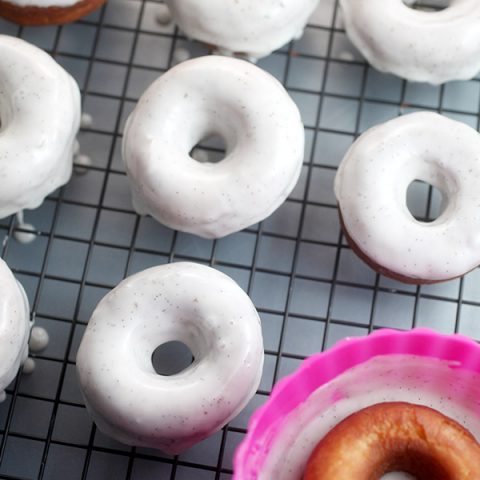 Yield: 12 doughnuts
Glazed Vanilla Bean Doughnuts
Prep Time 3 hours

Cook Time 15 minutes

Total Time 3 hours 15 minutes
Ingredients
Vanilla Bean Doughnuts
1 tablespoon active dry yeast
1/4 cup warm water (110-115 degrees F)
3 tablespoons sugar, divided
1 cup whole milk, room temperature
1 tablespoon pure vanilla extract
1/2 vanilla bean, seeds scraped
3 large egg yolks, room temperature
1/4 cup unsalted butter, melted and cooled
3-1/2 cups all-purpose flour, sifted – plus more for kneading
1-1/4 teaspoon salt
vegetable oil for frying
Glaze
1-1/2 cups confectioners' sugar
2 tablespoons whole milk
1/2 vanilla bean, seeds scraped
Instructions
In the bowl of a stand mixer, whisk together yeast, warm water and 1 tablespoon of the sugar.
Let stand until the mixture is foamy, about five minutes. Whisk in the remaining two tablespoons sugar, milk, vanilla extract, vanilla bean seeds, egg yolks, and butter. Fit the mixer with the paddle attachment and begin mixing on low speed.
Add flour and salt and mix for three minutes, scraping down the sides of the bowl and the paddle often to keep the dough moving.
Turn out dough onto a lightly floured work surface and knead by hand several times, dusting with flour as needed. Place dough in a large oiled bowl and cover with plastic wrap. Let rest in a warm place until doubled in bulk, about 1-1/2 to 2 hours.
Turn dough out onto a lightly floured work surface and roll to about 1/2 inch thick.
Cut out the doughnuts with a three inch doughnut cutter, place on a parchment-lined baking sheet, and cover with a clean kitchen towel. Let rise for 30-45 minutes or until doughnuts have doubled in size.
Pour 2-1/2 inches of vegetable oil int a 4 or 5 quart pot and heat to 350 degrees Fahrenheit.
Fry doughnuts in batches of up to four at a time, until the are golden brown, about 2 minutes on each side, turning only once. Transfer to paper towels to drain.
For the glaze, whisk together confectioners' sugar, milk, salt and vanilla bean seeds until smooth. Spoon glaze over warm doughnuts and serve.

Notes
© 2012 Pure Vanilla by Shauna Sever, used with permission
Now, to help get you in the vanilla baking spirit, I have a fun very vanilla giveaway to share with you. We're talking a TON of vanilla all courtesy of Vanilla from Tahiti.
16 oz Pure Tahitian Vanilla Extract
100 g Ground Vanilla Bean Powder
Vanilla Coffee
20 6-inch Vanilla Beans
Tahitian Vanilla Sampler with ground vanilla, vanilla extract and Tahitian Vanilla Beans
That should keep you set in the kitchen for a while.
But that's not all. It's a double vanilla kind of day because the winner will also receive a signed copy of the book Pure Vanilla from my friend Shauna Sever. Yay and yum! And full of fun recipes like the ones below.
Vanilla Cloud Cake, Vanilla Lollipops, Twinkie Bundt Cake, Vanilla Waffles and much more.
Enter for a chance to win the Tahitian vanilla products and the book Pure Vanilla,
Leave a comment on this post and tell me the last dessert you baked or sweet you made.
Deadline to enter is Wednesday, December 3, 2014 at midnight ET. Sorry, Time's Up! Winner announced below.
One winner will be chosen at random and announced sometime Thursday.
Good luck!
Giveaway items shared courtesy of Vanilla from Tahiti and Shauna Sever.
:::::::::::::::::::::::::::::::::::::::::::::::::::
And the winner is Lisa!!!!! Congratulations and I hope you enjoy all the Vanilla from Tahiti when you bake.