I've been playing with something new in the kitchen.
Have you seen one of these before?
It's unique looking don't you think. And big. It's hard to tell by this photo, but it's quite large. Especially the bowl. Over seven quarts… Could be good for big batch baking.
It's called an Assistent Original.
And it's been made in Ankarsrum, Sweden for decades.
But I just saw it for the first time last year, when a sweet reader that works at the company in Ankarsrum emailed me and asked if I'd like to play with one. I was fascinated by the look of it, so I said sure.
I love that it comes in pastel colors. That kinda sold me on wanting one.
And these double beaters are cool, too.
I used the roller and scraper function though to make a cookie dough.
I was trying to decide what to make with it the first time, and it only seemed right to go for a Swedish influenced recipe.
After searching online for Swedish cookies, I found recipes for Pepparkakor, Sandbakelser and Drömkakor … Or these Swedish Dream Cookies.
So cute. They're like light airy sugar cookies, but not really soft. That didn't stop me from eating them one after the other though. They're kind of addictive actually and I had an immediate desire to dip them in coffee like I do with Biscoff cookies when I fly Delta. I think they'd soak up beautifully and dissolve in your mouth.
This machine works different than my Kitchenaid. Here the bowl spins at different speeds. And the scraper and roller interact with the ingredients as the bowl rotates. Very interesting.
Gotta say, the scraper was mesmerizing.
And fun to watch as everything gets combined. You can move the roller closer or farther away from the edge of the bowl as needed.
The bowl stayed pretty clean. At least until I added some wet ingredients. Still very interesting.
I'm not sure how often I'll use it because it will take a little getting used to, but I definitely want to make room for it on my counter because it looks so cool.
Here's the Assistent website in Sweden and here's a site where you can find them in the US.
After the cookie dough comes together, roll it into small balls and bake.
Here's a slightly amended version of the Swedish Dream Cookies recipe on Saveur.com. (I didn't have corn oil or regular flour on hand.)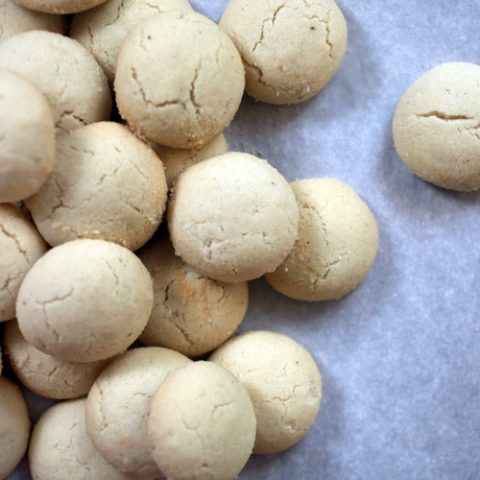 Yield: about three dozen cookies
Drömkakor
Ingredients
1-2/3 cups cake flour
1 teaspoon baking soda
1 stick unsalted butter, softened
1-1/4 cups sugar
1 tablespoon vanilla sugar
1/3 cup vegetable oil
Instructions
Preheat oven to 300 degrees.
In a small bowl, whisk flour and baking soda and set aside.
In a mixer, beat butter and sugars for a couple of minutes until light and fluffy.
Add oil and mix until smooth.
Add dry ingredients and stir until just combined.
Roll dough into 1 inch balls and place on parchment paper lined baking sheets about 2 inches apart.
Bake one sheet of cookies at a time until cookies are just set and crack on the top. About 20 minutes for me. Cool on a wire rack.


Enjoy! (or Njut in Swedish) At least that's what Google Translate says. : )
And If anyone has any traditional Swedish Recipes you'd like to share, please do. I'd love to hear your favorites.
I know some of you guys will have good ones.