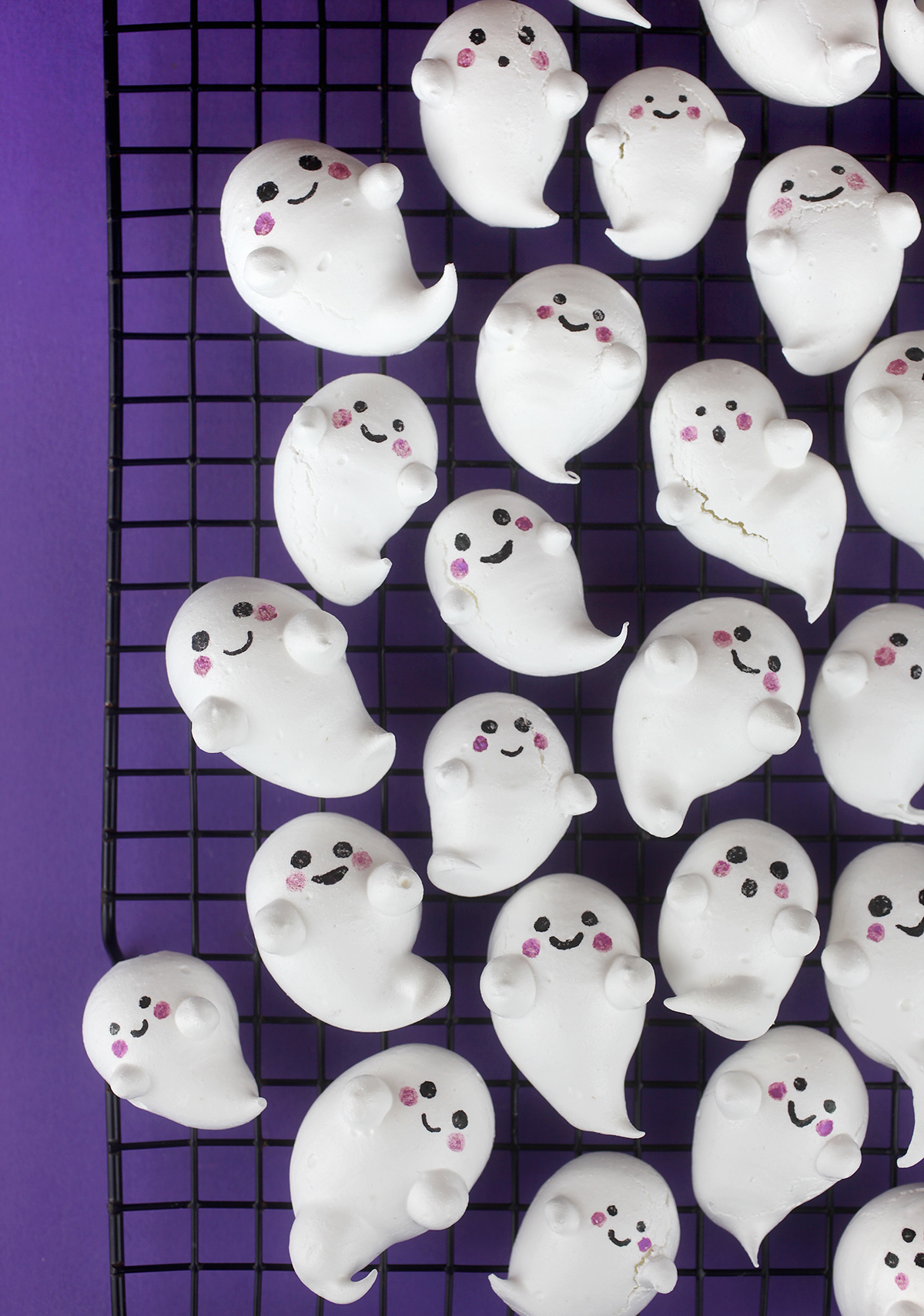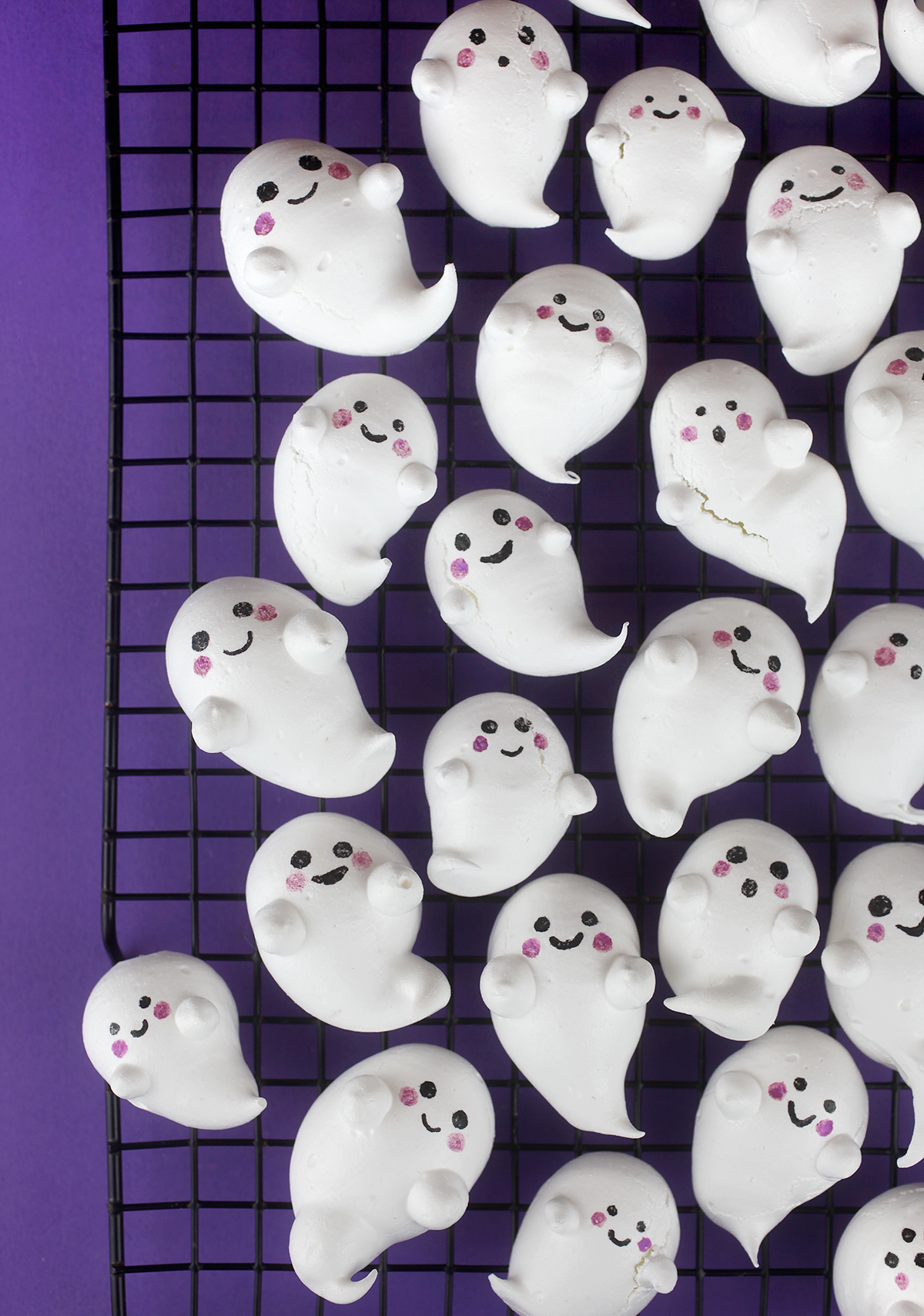 Look at these ghoulishly cute meringues I made for Halloween. Yes… Boo-meringues. I love their puffy little bodies. Crisp on the outside and chewy and soft on the inside. They are easy to make and easy to decorate, too so I hope you like them as much as I do.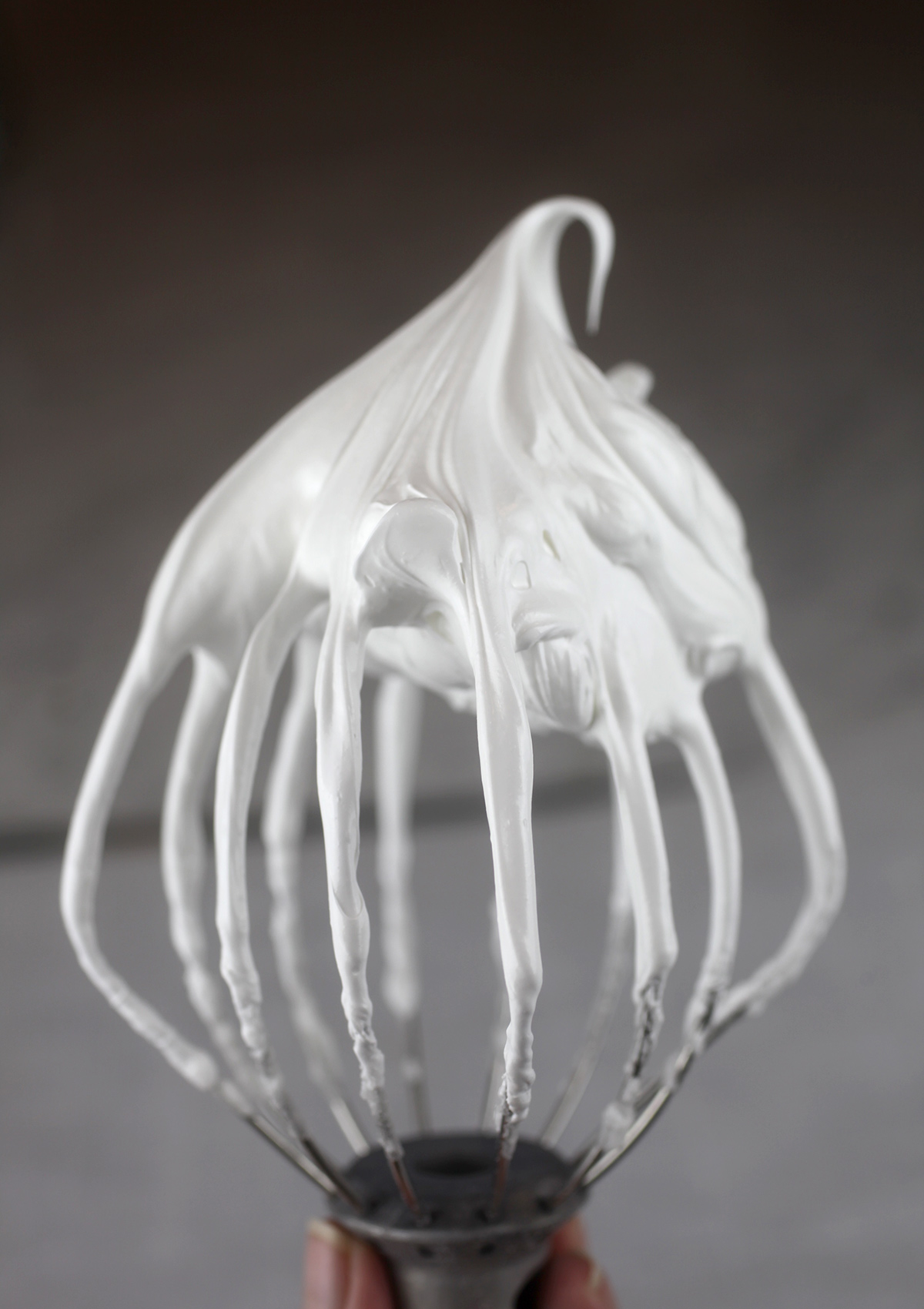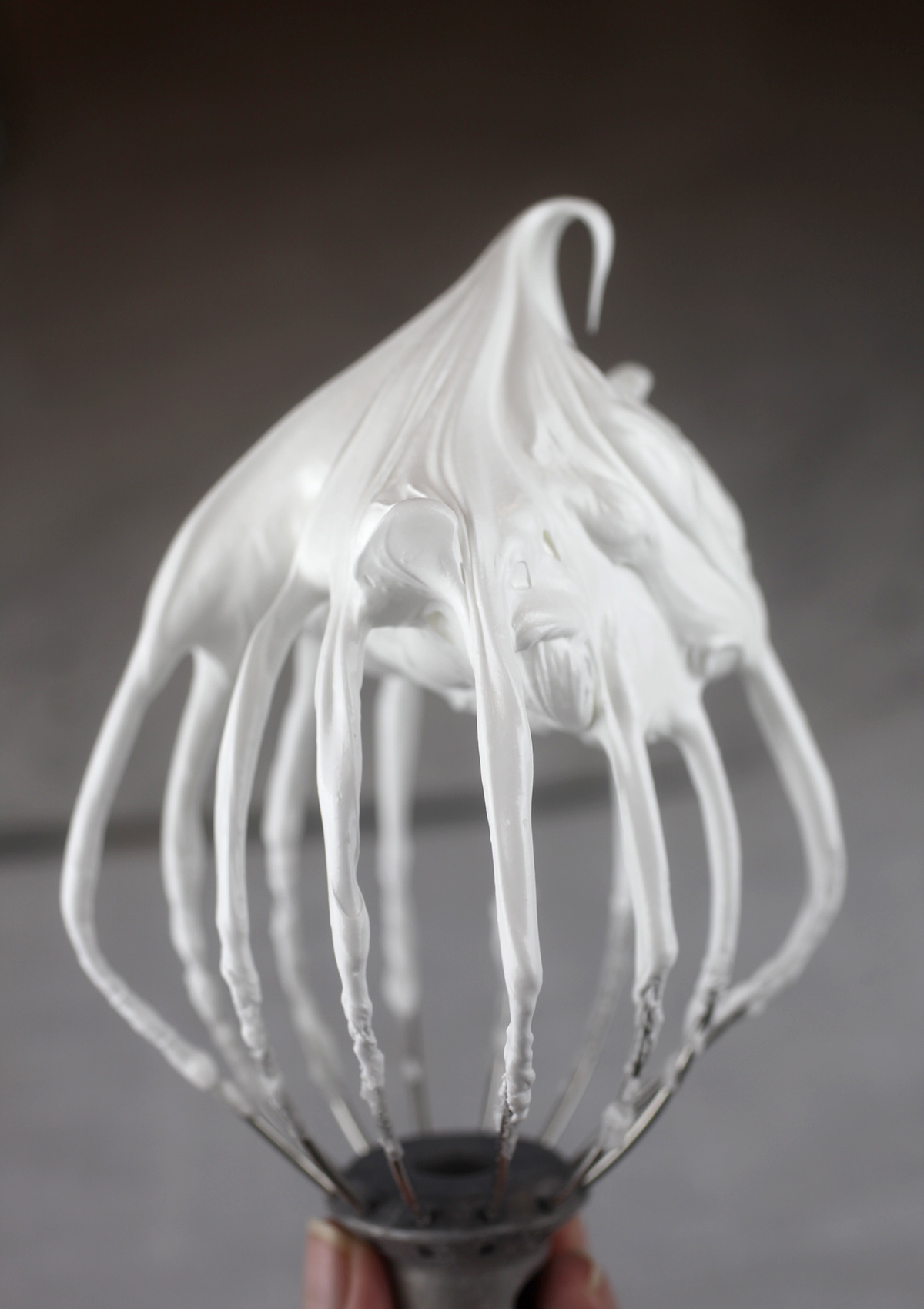 You can whip up some meringue in no time with just two ingredients. Egg whites and super fine (caster) sugar.
I used this recipe that I've blogged about before. Just follow the same instructions for making and baking and then use the piping and decorating instructions below.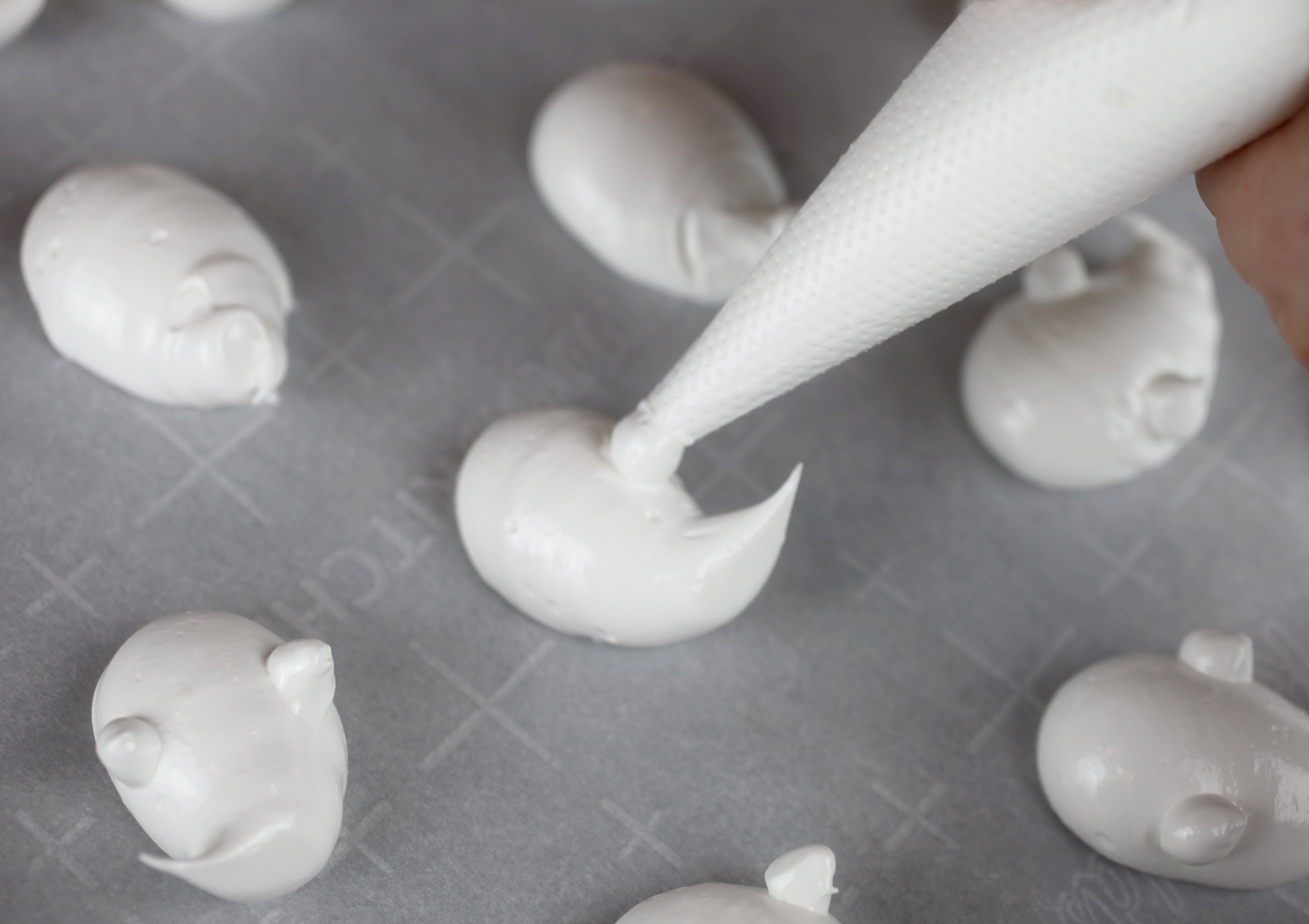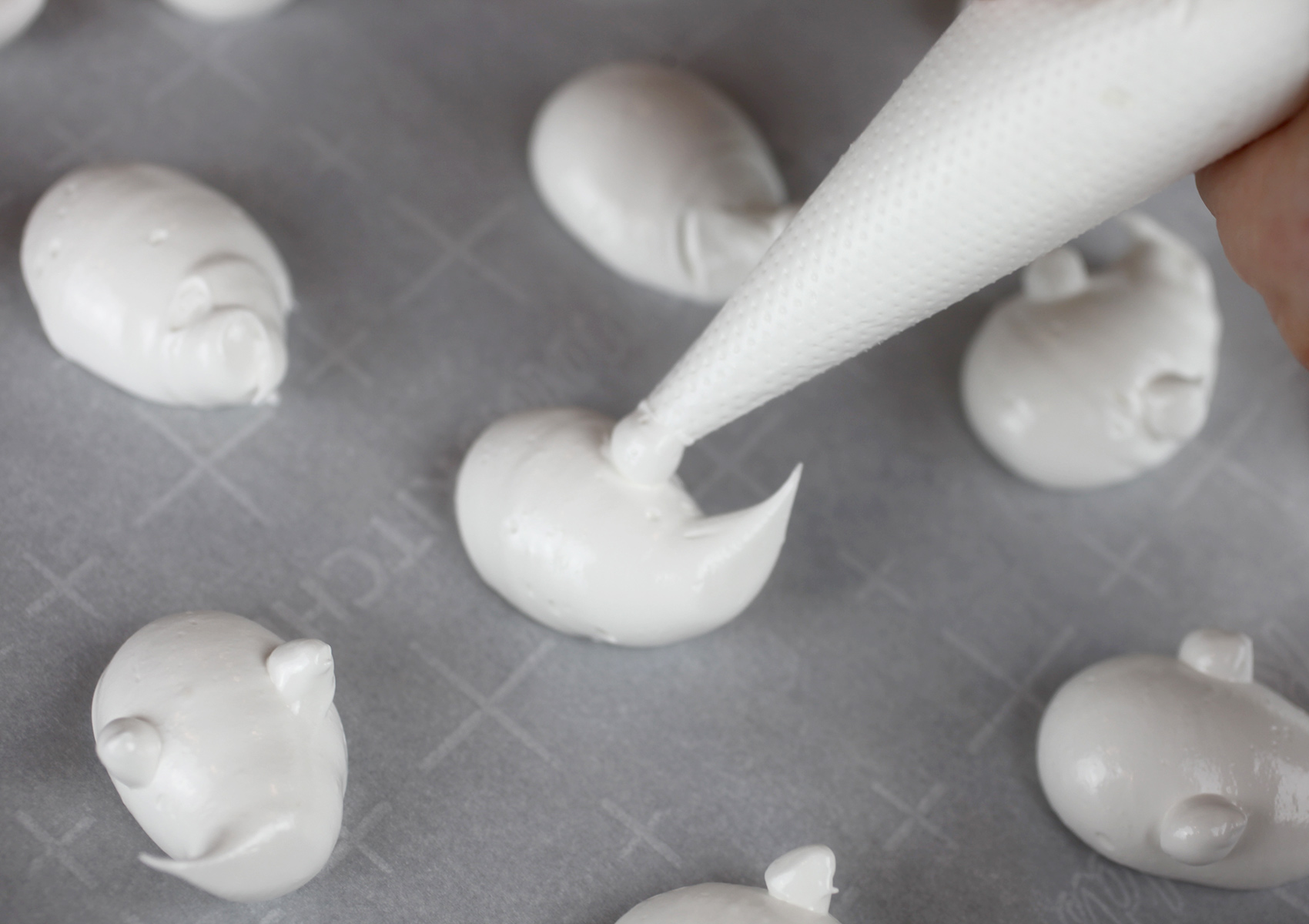 Prepare a baking sheet with parchment paper and use a dot of meringue on the four corners to hold the paper down on the baking sheet.
Fill a decorating bag fitted with an Ateco #808 tip with meringue mixture. Fill a second decorating bag with meringue mixture and then just snip the end off so the opening in much smaller.
If you have ever made meringues before, you hold the decorating bag vertically and pipe and release pulling straight up. But, to make the ghosts, use pressure when squeezing the piping bag (holding at an angle) to really build up bulk for the bodies, then decrease the pressure as you pull the tip away sideways and give it a little swirl at the same time.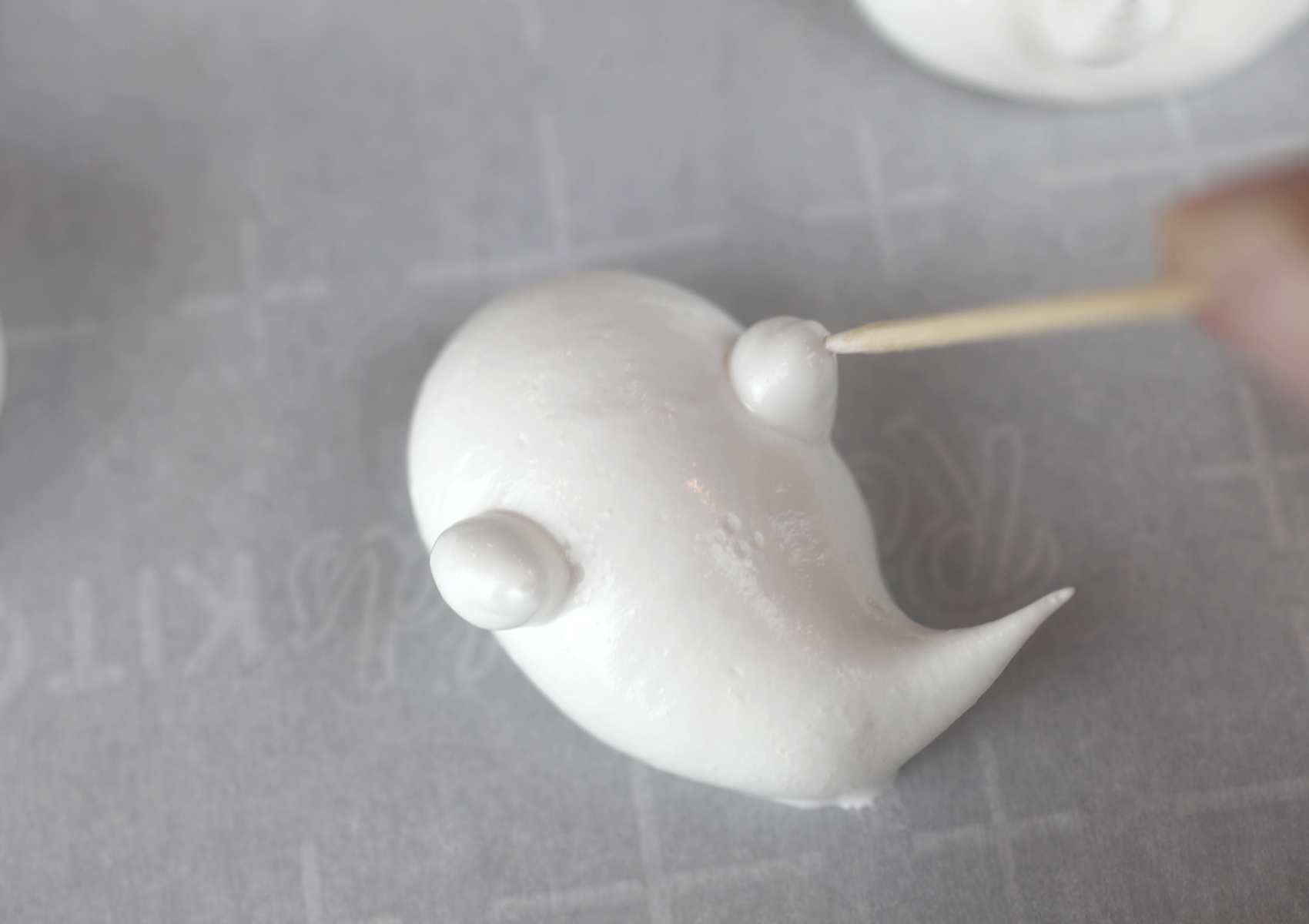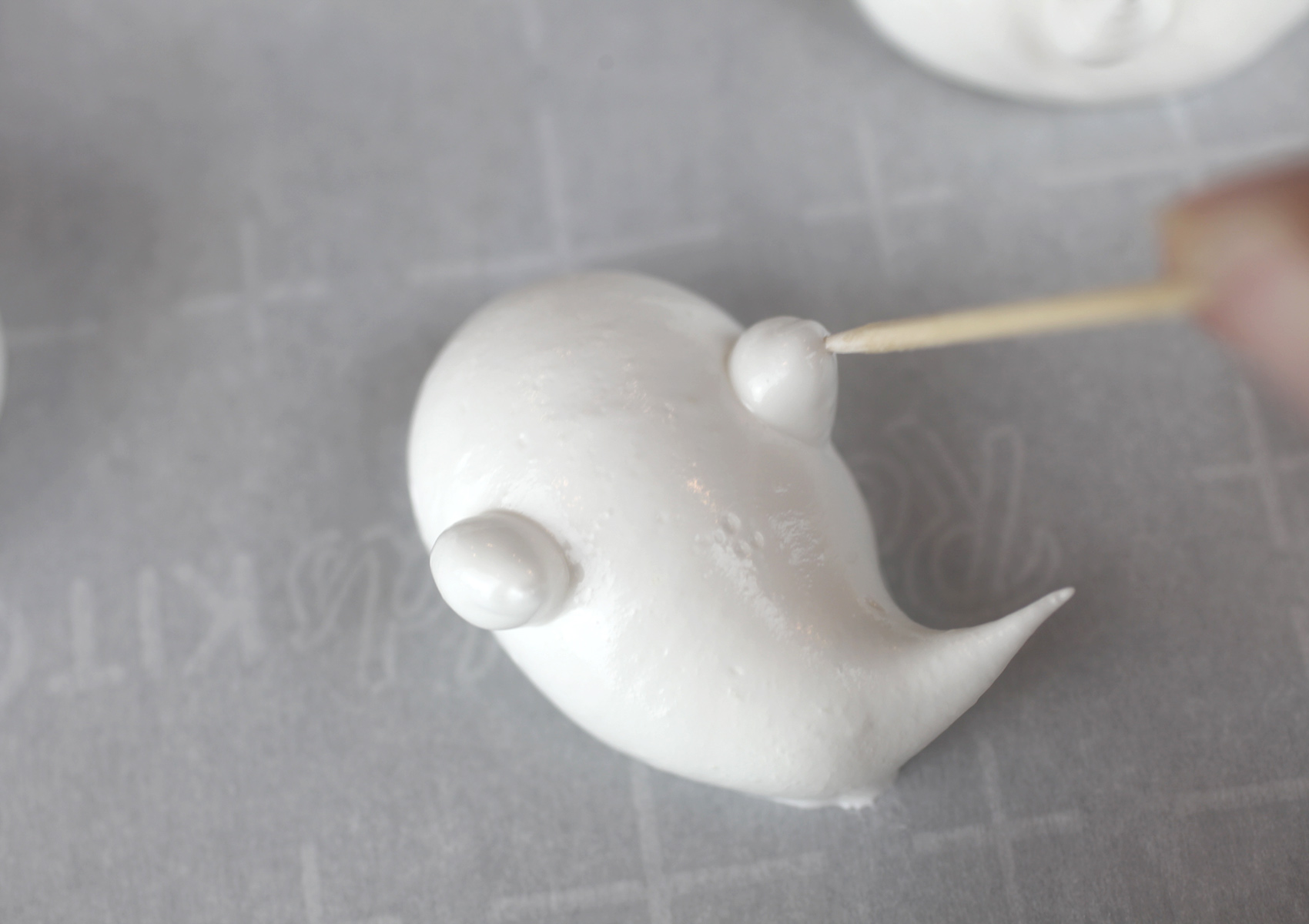 Use the piping bag with the small tip cut off and pipe two small dots of meringue on the sides of each ghost body. If the meringue creates a pointed tip when you release, then just use a toothpick to coerce it into a round shape.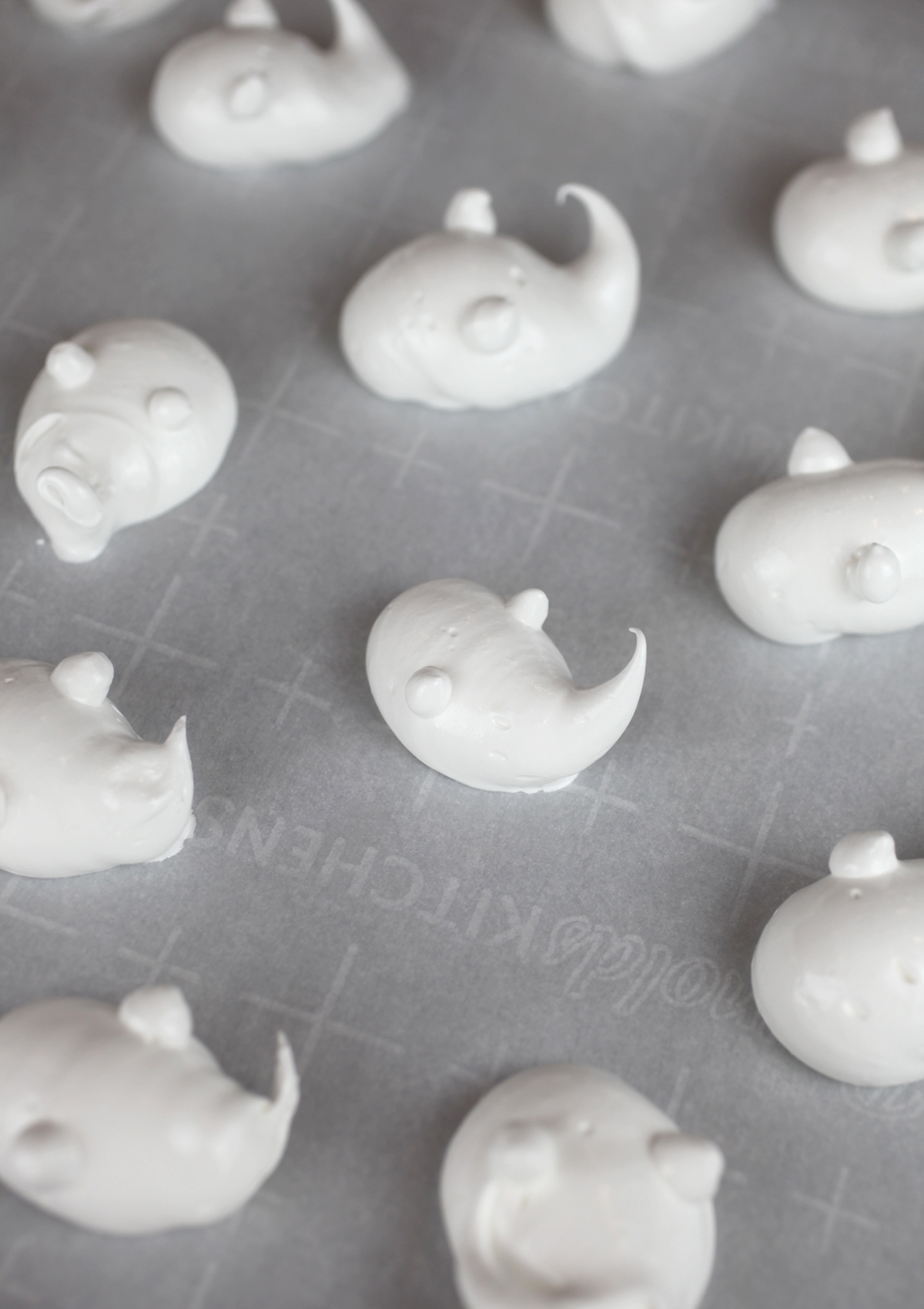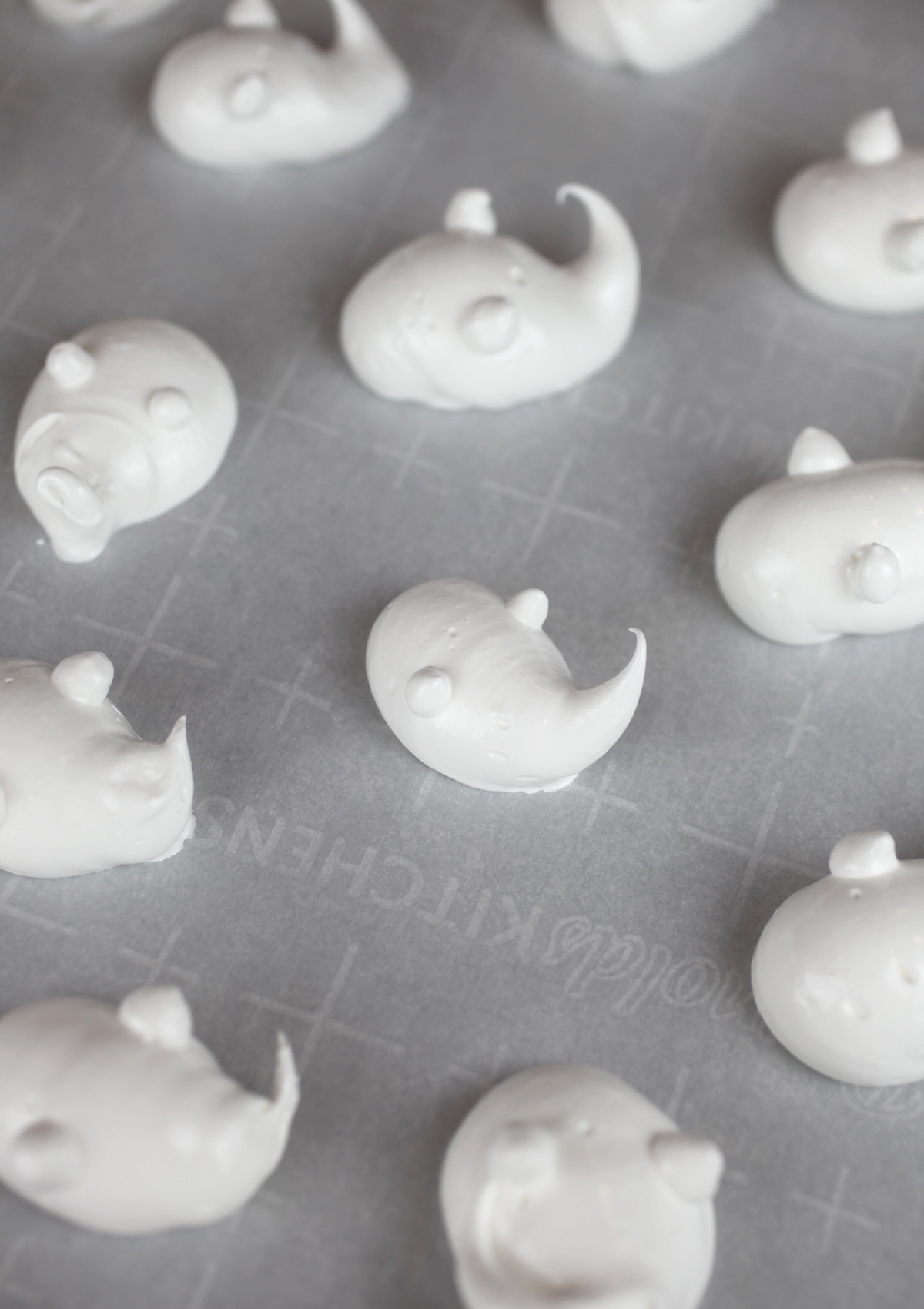 The meringue will hold it's shape when baked at 200 degrees Fahrenheit.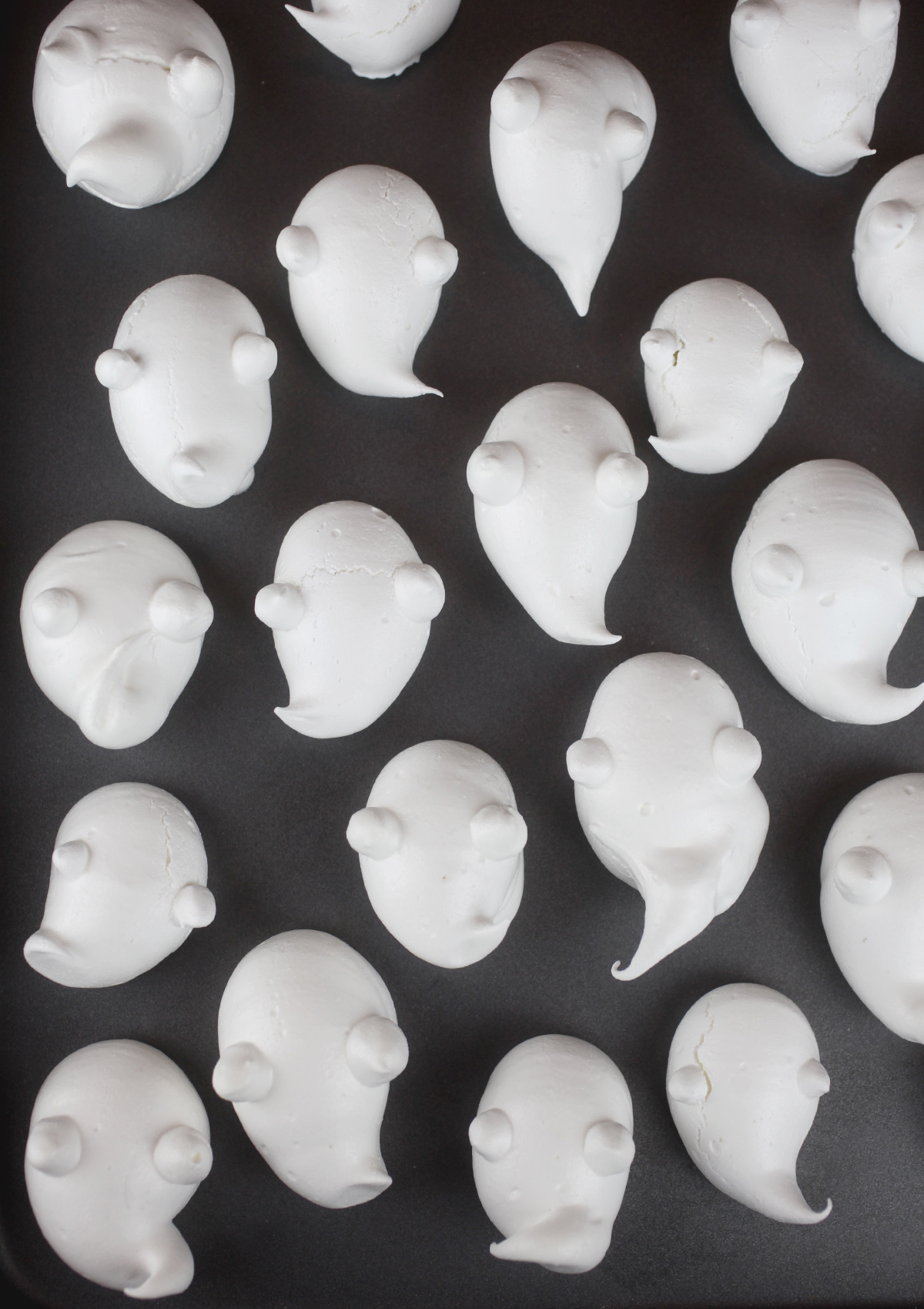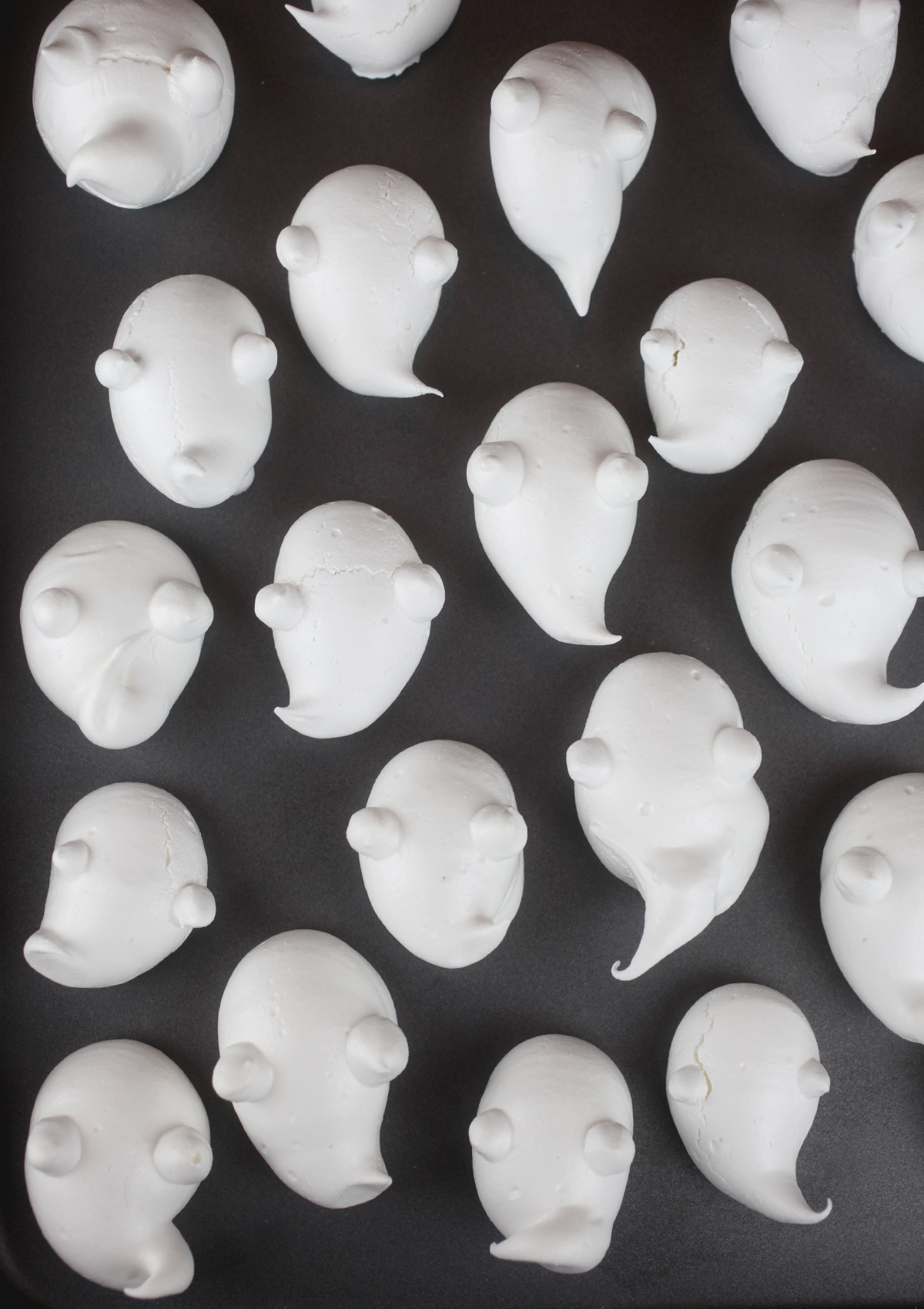 And when they are baked, they actually look just the same. Once cool, carefully remove them from the parchment paper and transfer them to a rimmed baking sheet to prepare them for decorating.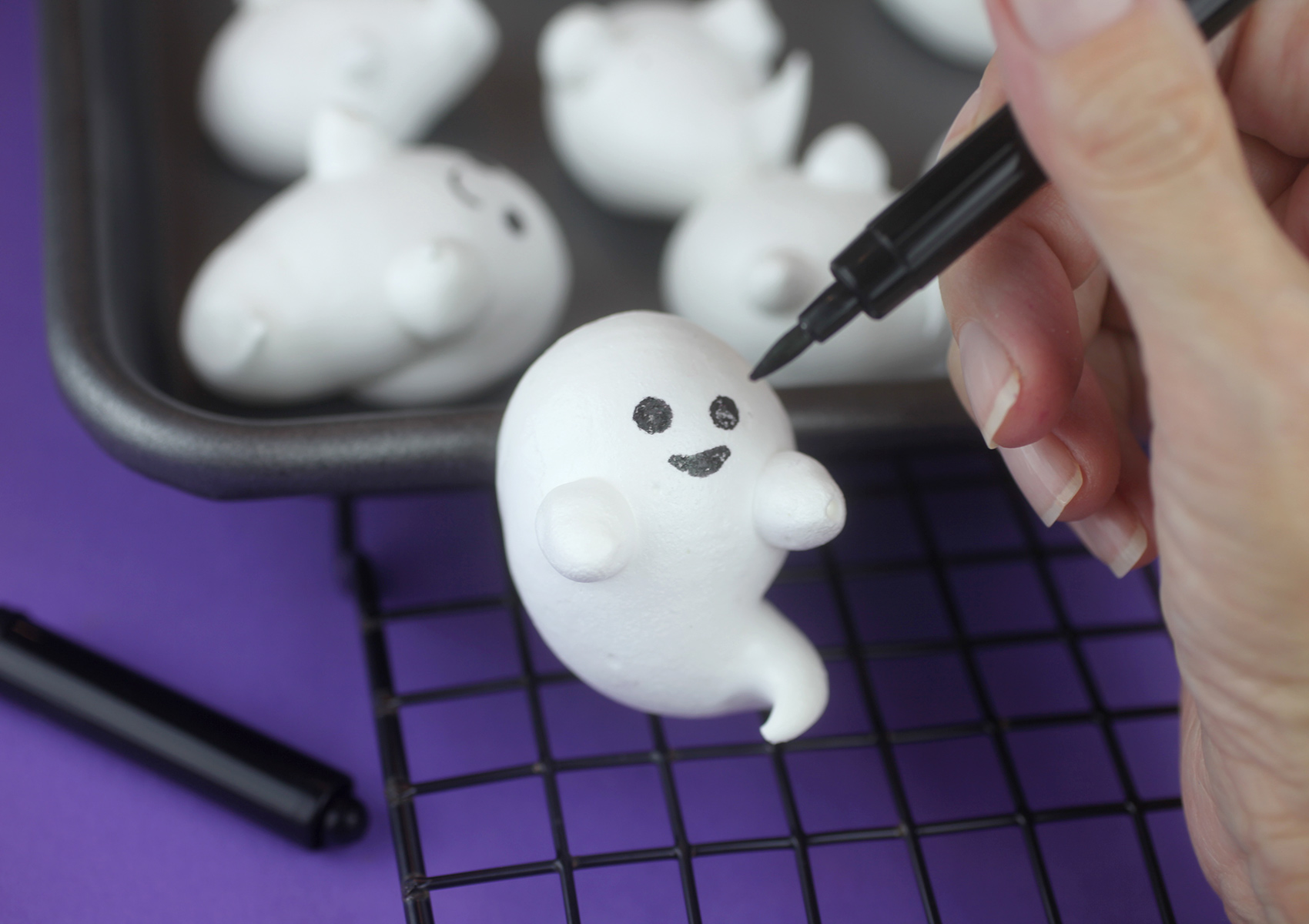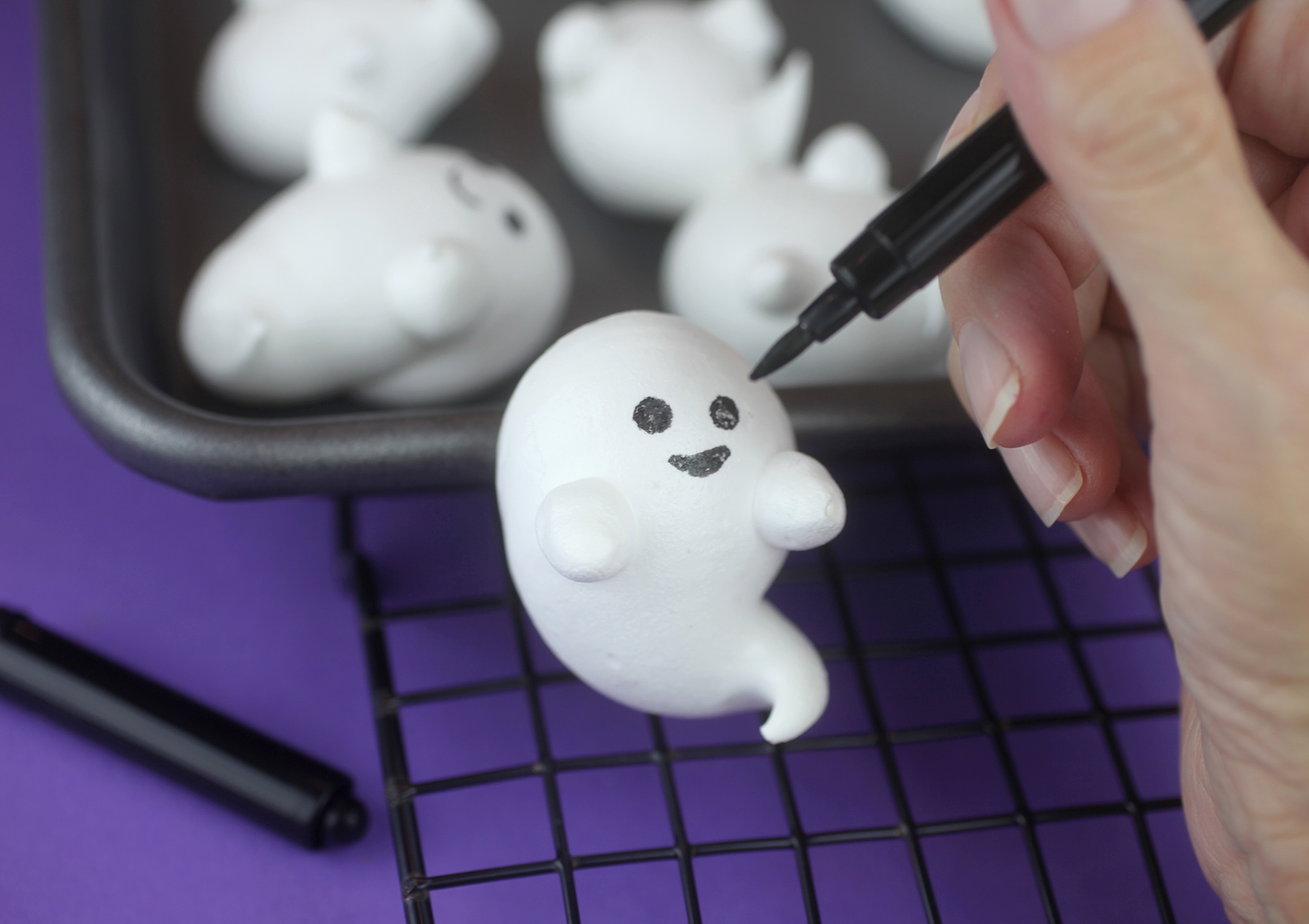 First, draw the faces. Use a black edible-ink writing pen to make sweet or scary expressions… you choose. I went smiley because they make me happy. ; )
Now a tip: treat the pen like a brush and barely skim the surface of the meringue. If you press too hard or go over the ink more than a couple of times, the pen will start to pick the black ink back up from the surface of the meringue revealing the white underneath.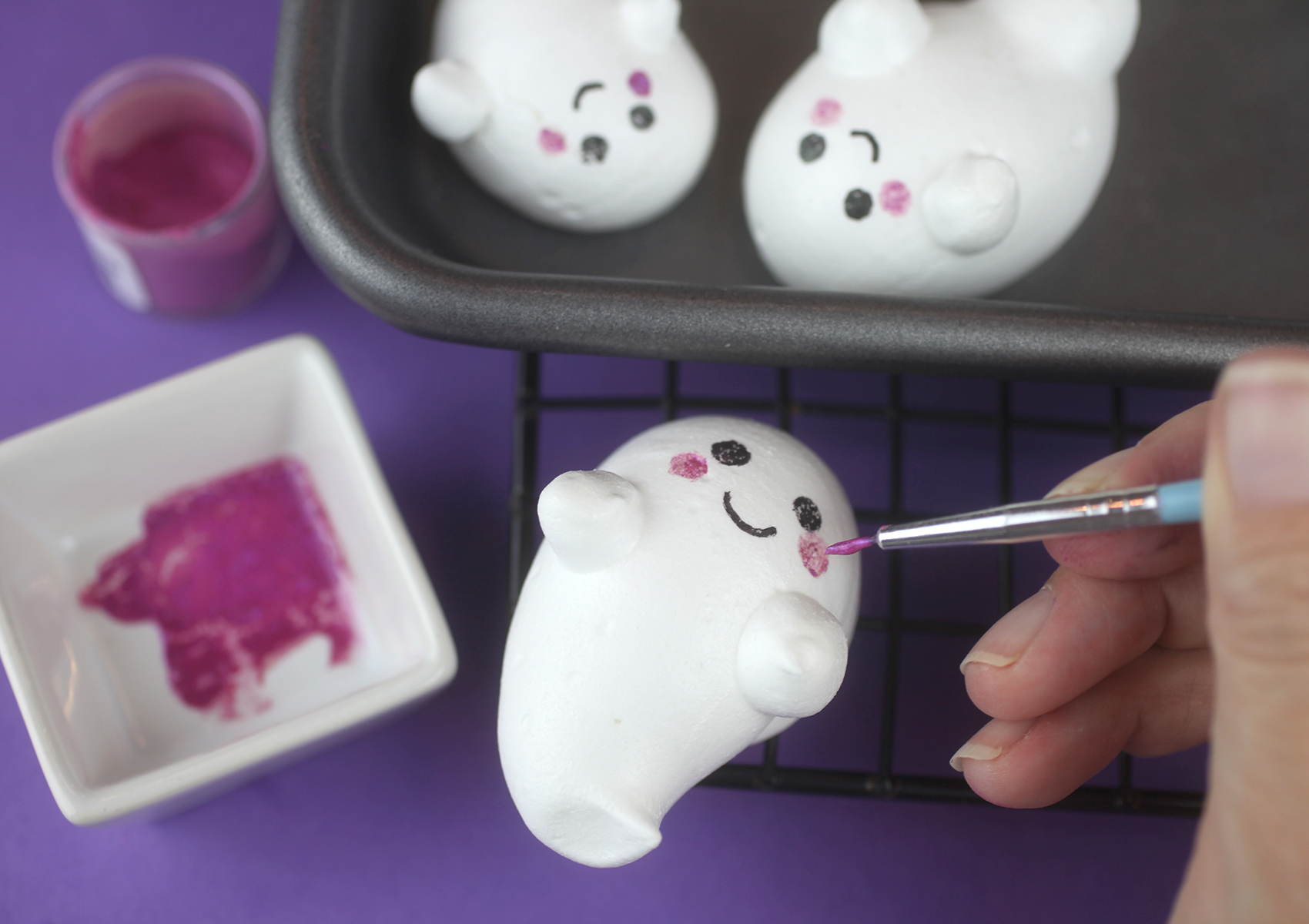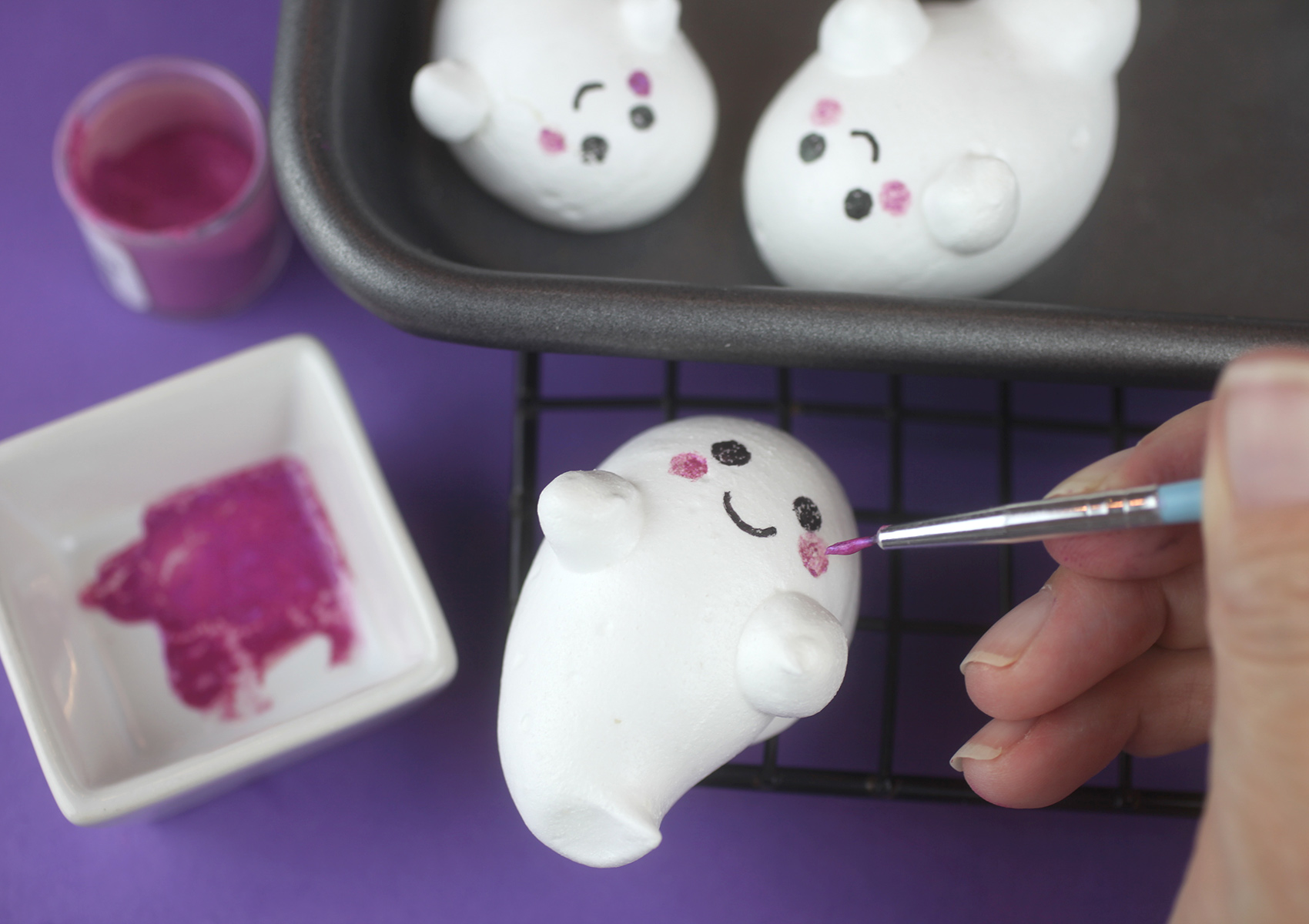 Then brush on their blushing cheeks with a tiny bit of luster pr petal dust mixed with almond extract. Again, don't over brush the pink on or it will lift off the surface.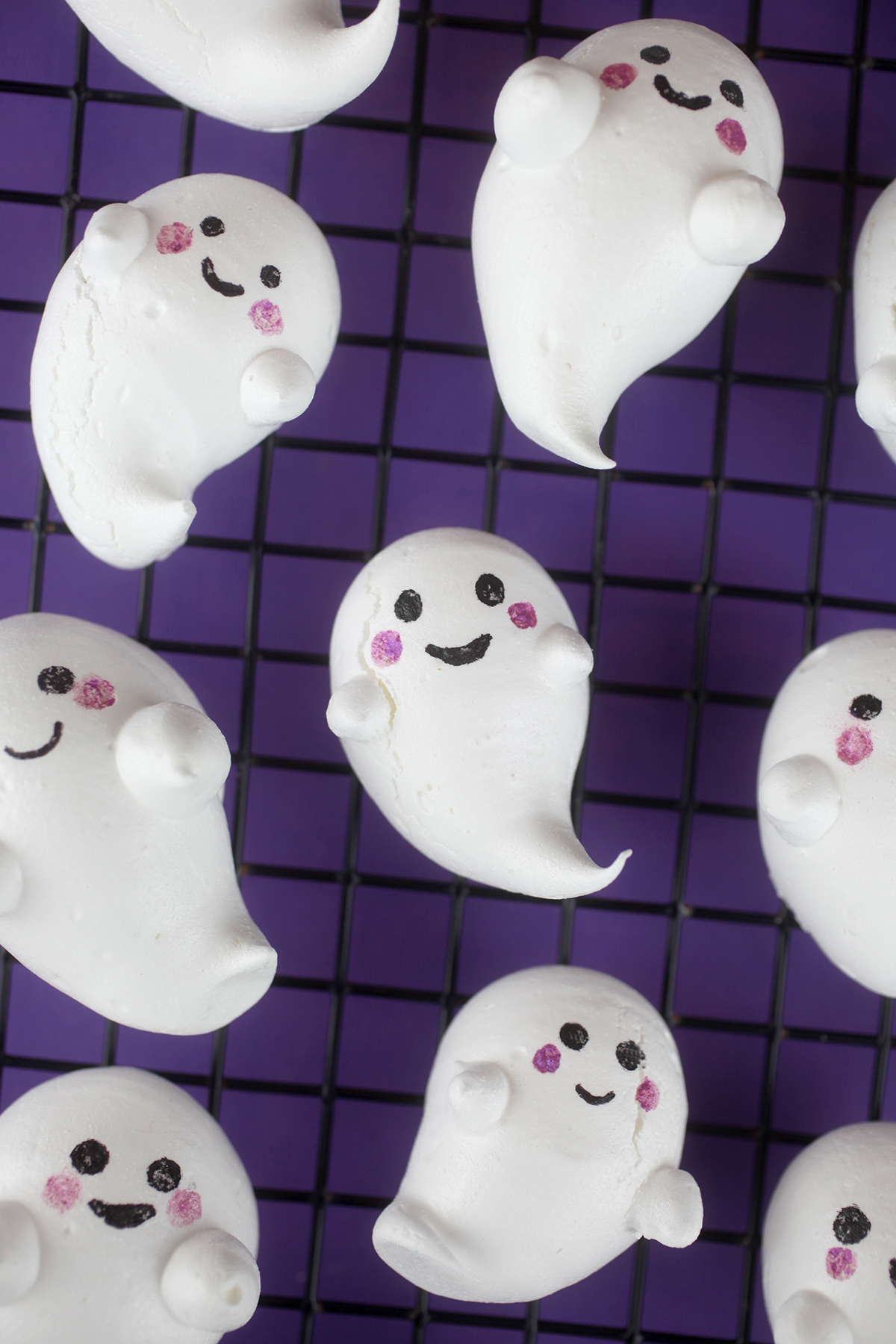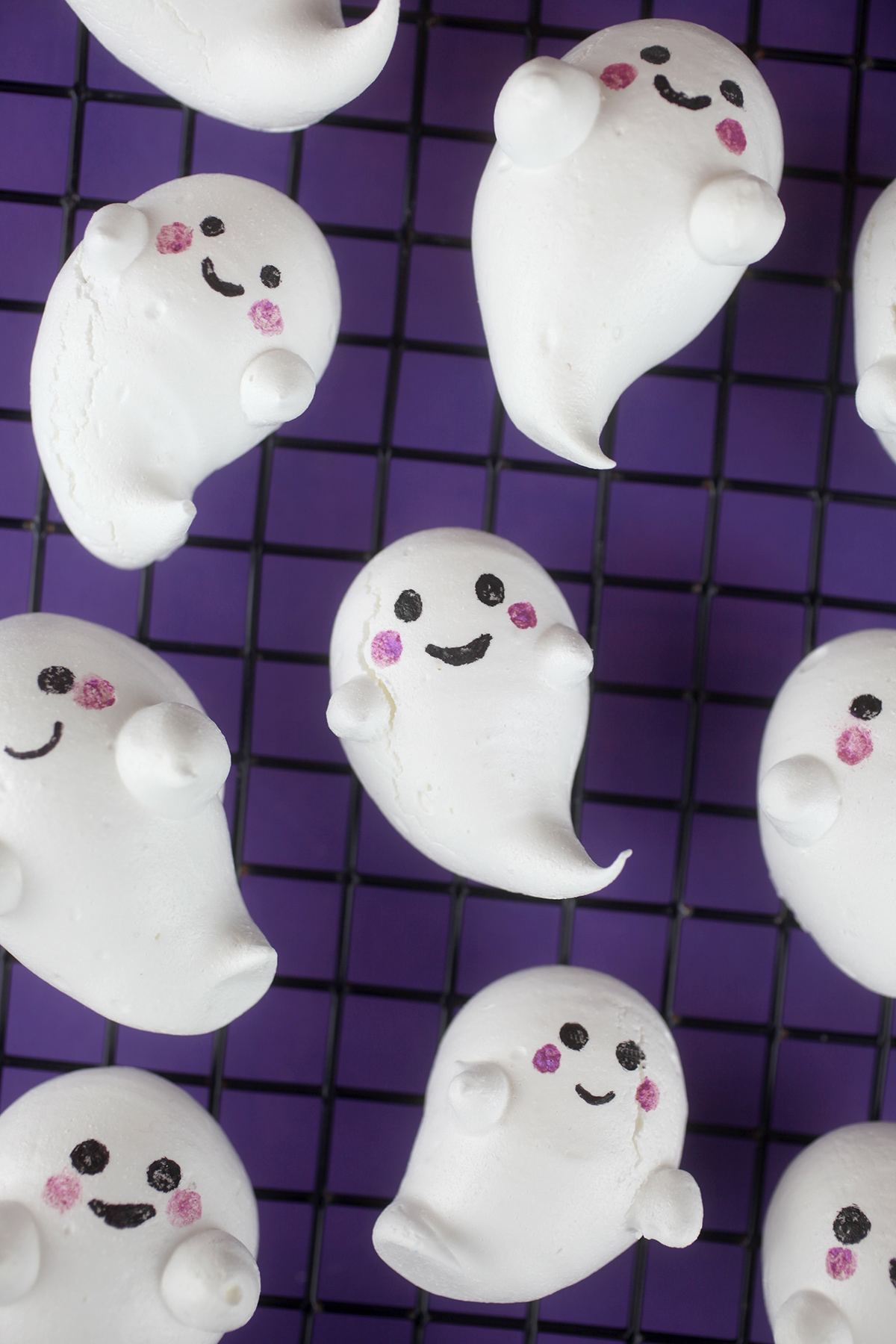 Look at those boo-tiful little faces.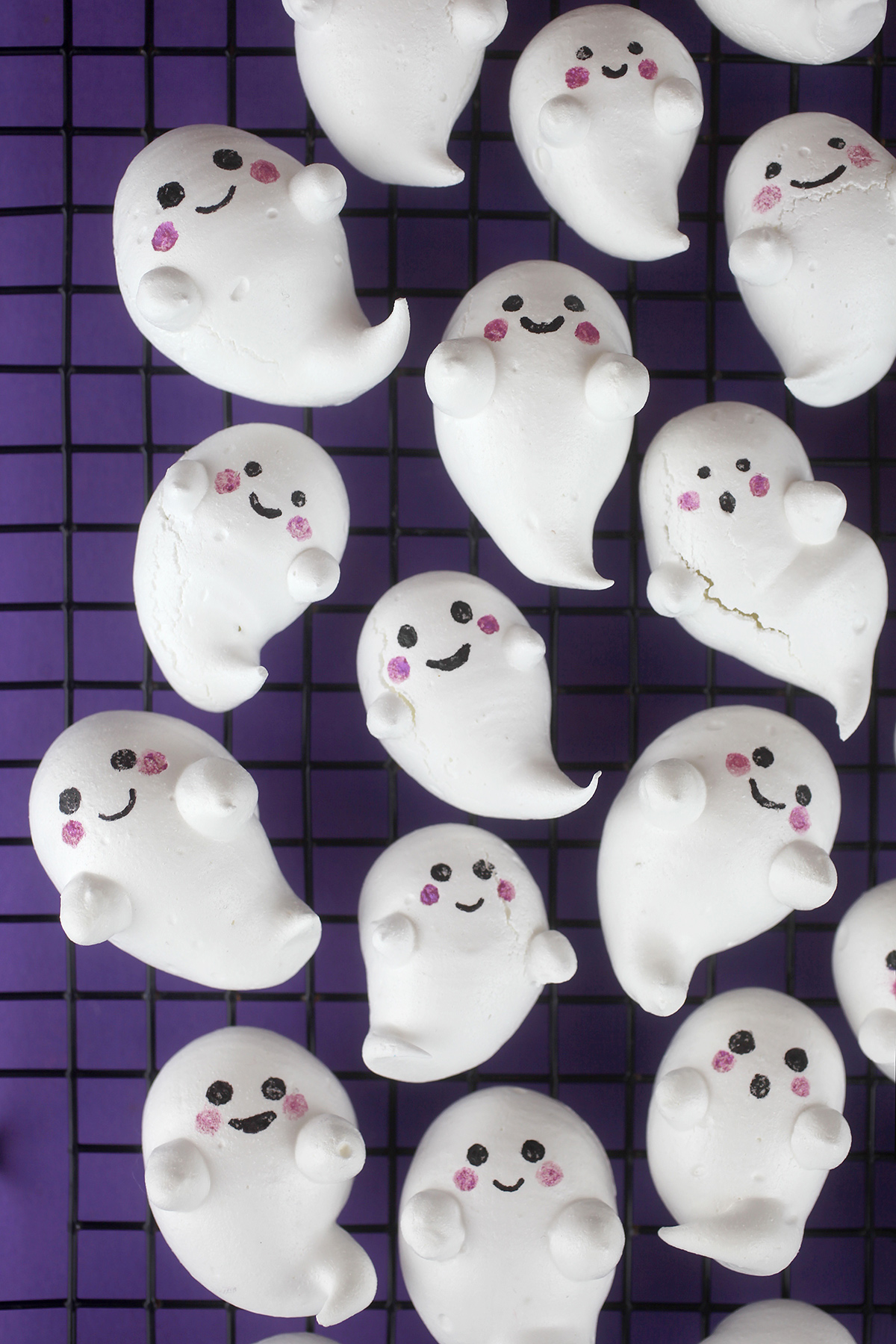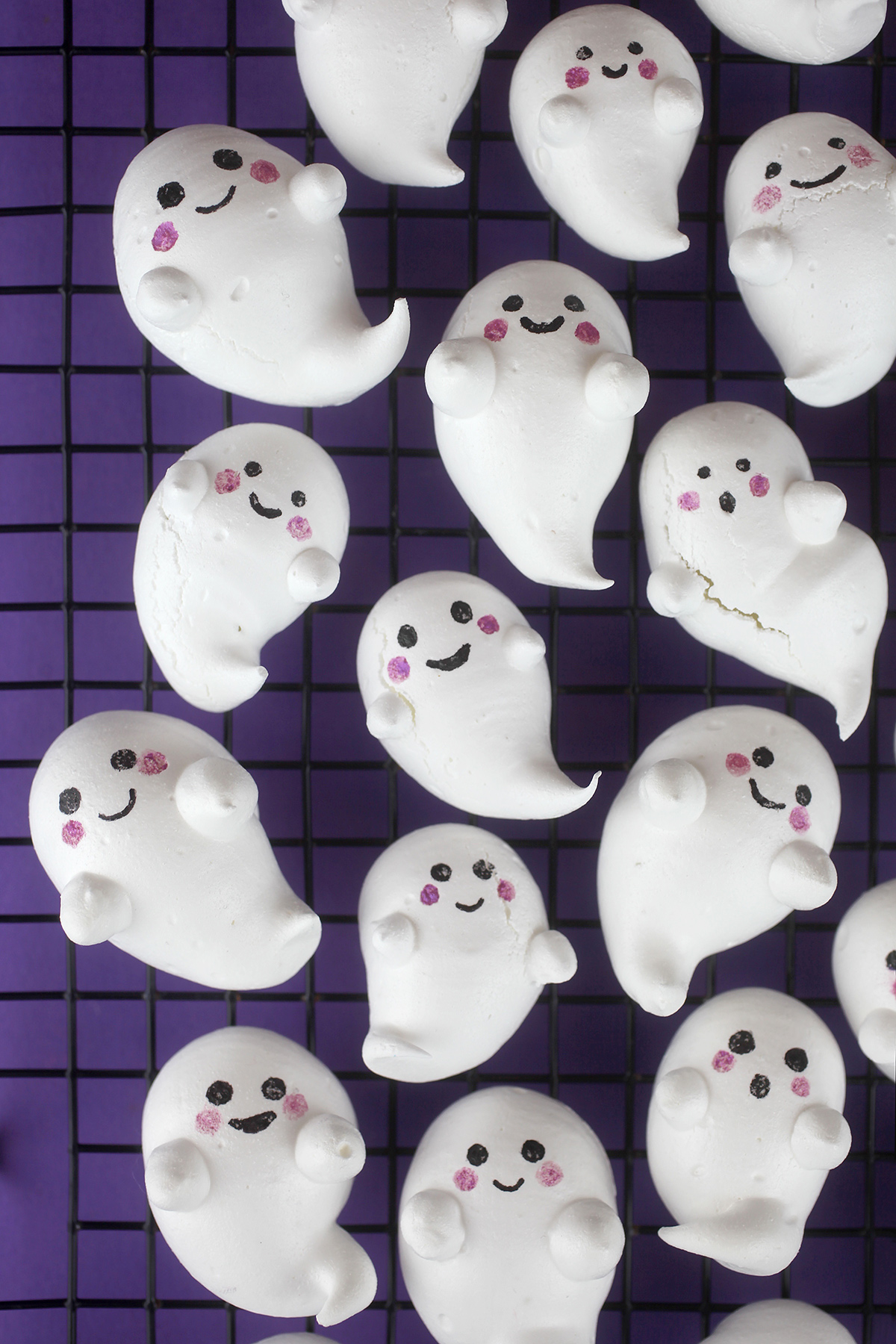 They just scream cute!
Store meringues in an airtight container and they will keep for up to two weeks.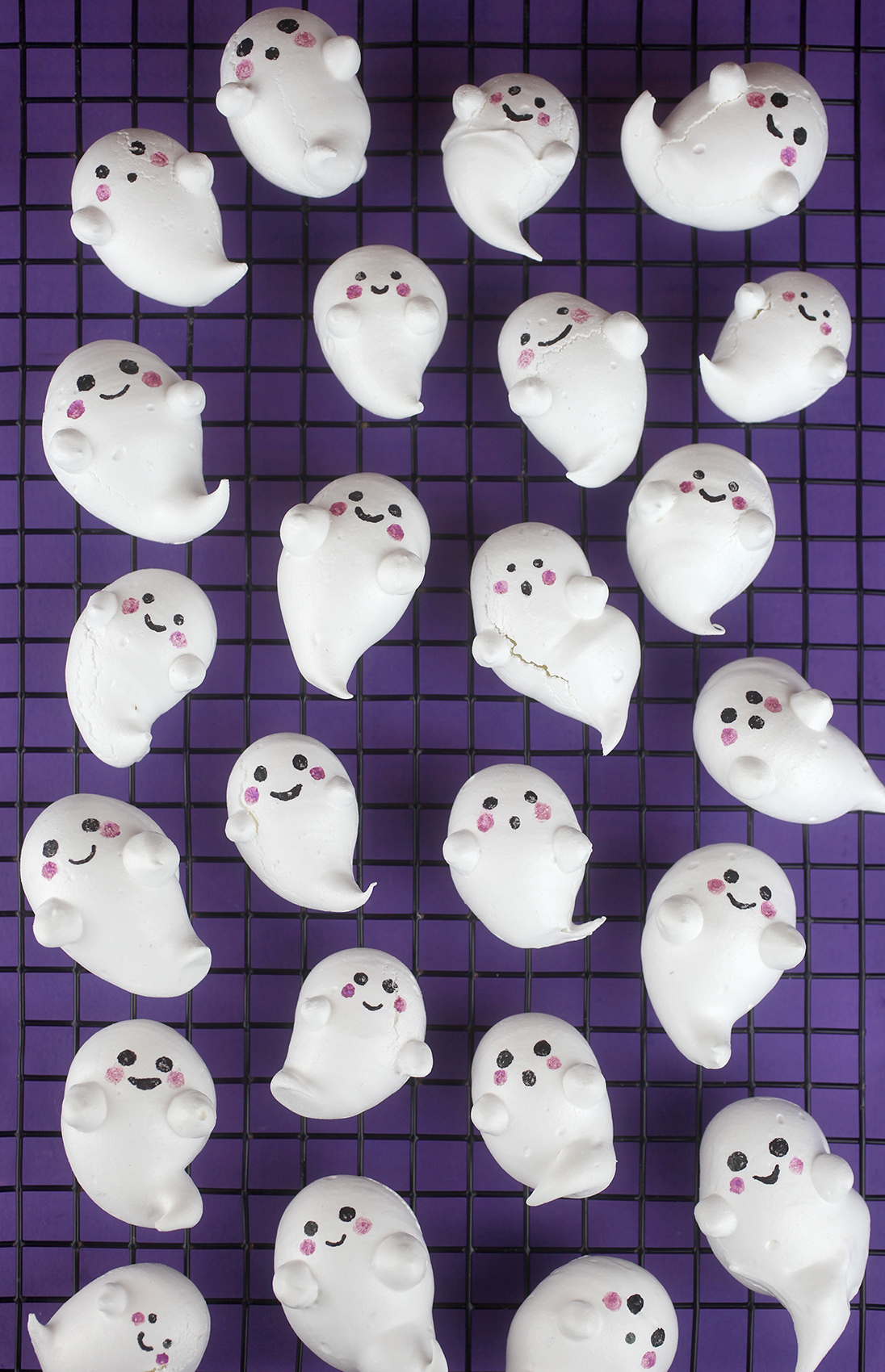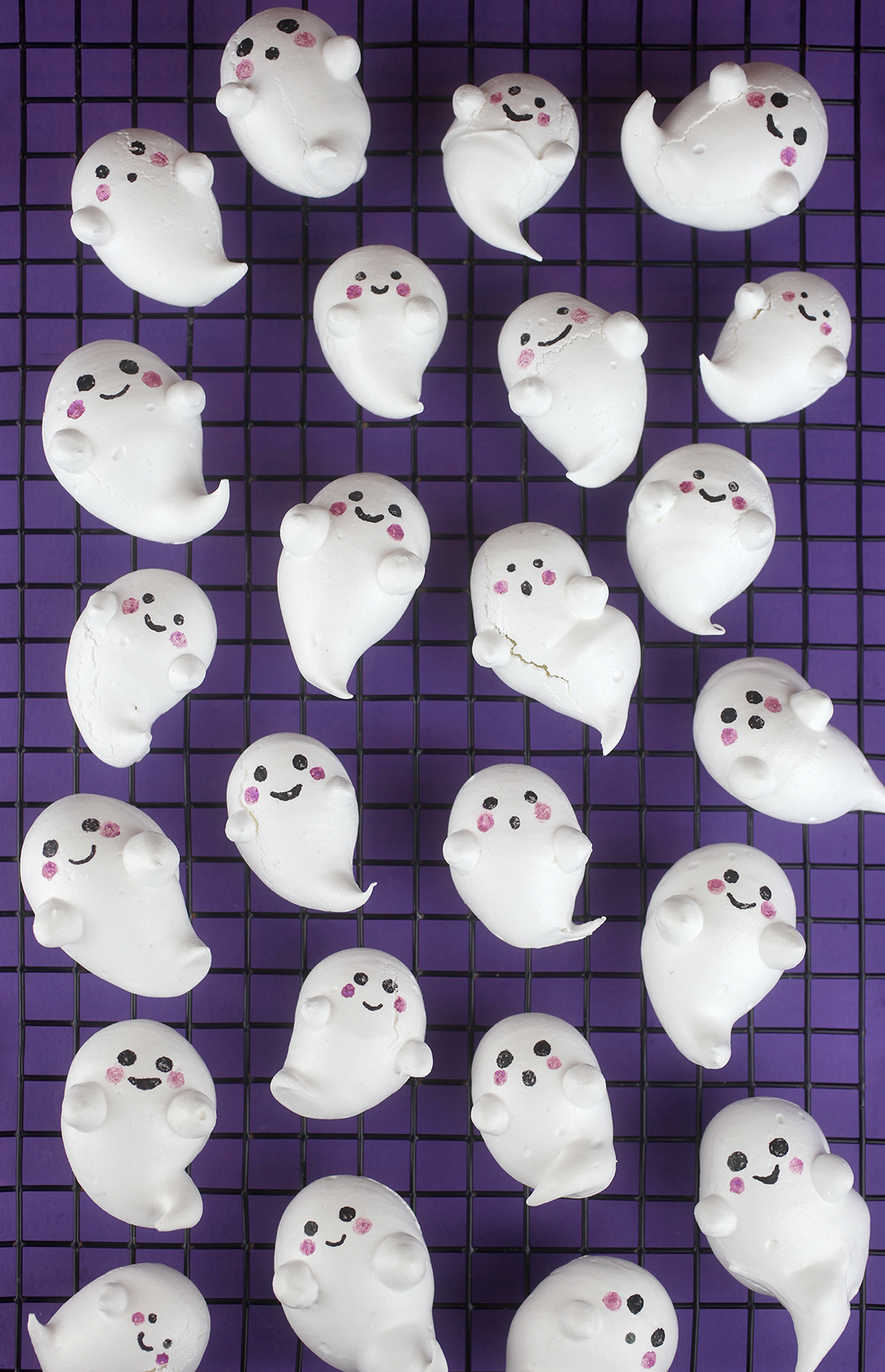 Here's the meringue recipe again.
Hope you enjoy! And if you do, check them out on this little Boo-meringue Cake, too!