I enjoy ice cream way too much. I think I could eat it every day. And I almost did last week when I was on vacation. Ice cream is my traveling must-have treat above all other sweets. And now that I'm back home, I already feel like I'm having withdrawal.
Luckily, this no-churn ice cream is super easy to make. And with just three basic ingredients you can whip up a vanilla ice cream base that's fun to customize, too.
Basically, you just need to add sweetened condensed milk and vanilla to whipped cream and mix together.
Once you have the base, just mix in your favorite candies, cookies, sprinkles or other fun add ins.
I went with Butterfinger candy bars because YUM, but now I want to try all kinds of other combos.
After you mix everything together, freeze the ice cream mixture in a loaf pan or other container that will hold 1.5 quarts.
I bought this Tovolo container a while ago because the long rectangular shape is awesome for scooping and I love it. Stackable and easy to store, too.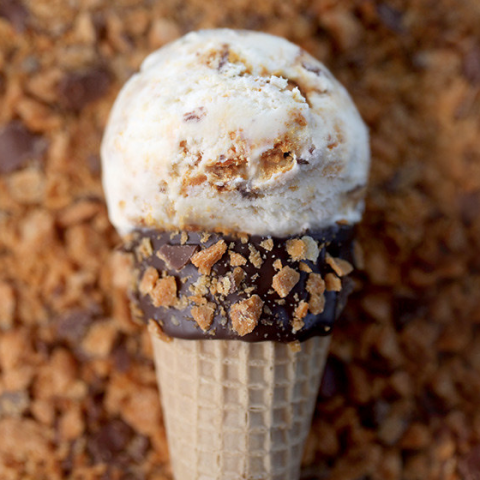 No-Churn Butterfinger Crunch Ice Cream
Prep Time 30 minutes

Cook Time 10 minutes

Additional Time 6 hours

Total Time 6 hours 40 minutes
Ingredients
2 cups heavy cream
14 oz can sweetened condensed milk
1-1/2 teaspoons vanilla
12 fun size Butterfinger candy bars, chopped into small pieces
Instructions
Chill metal mixing bowl and metal whisk attachment in freezer for about 30 minutes.
Whip heavy cream on high until stiff peaks form, about three minutes.
Fold in sweetened condensed milk and vanilla until combined.
Fold in chopped Butterfingers and pour the mixture into a loaf pan or ice cream container.
Freeze for at least six hours.
To decorate cones, dip openings into melted chocolate candy coating, sprinkle with more chopped butterfingers candy bars and let dry on wax paper.
Scoop and enjoy!