Cake. Caramel. Get Carried away!
Gather your ingredients. Butter, flour, sugar, milk, eggs, baking powder, salt and vanilla.
Then start the cake making and get to mixing.
Then get really bummed when you take your cake out of the pans too soon before they've cooled… and just before your going to take it to a friend's house for dinner … in just over an hour. Have you been there, too? Ugh. So disappointing.
So that's when the caramel layer cake I'd been dying to make became carefree.
And that's perfectly okay, because this was one of the best tasting yellow cakes. It was so so good. Oh my gosh I could hardly stop eating pieces of it.
But thankfully I stopped in time to save enough cake and turn them into personal desserts that I could easily carry.
Little jars. Big save. Score.
Now to make the caramel icing so I can layer it on.
Brown sugar, butter, evaporated milk and vanilla makes one thick glorious icing. You have to spread it quickly while it's still warm because it will harden when it cools … that is if you're icing a cake.
But in jars, and in a hurry… spooning it in worked just fine. My friends certainly didn't mind.
Spoon. Crumble. Carry. On.
This caramel cake recipe came from a cute little book I have called Southern Cakes by Nancie McDermott.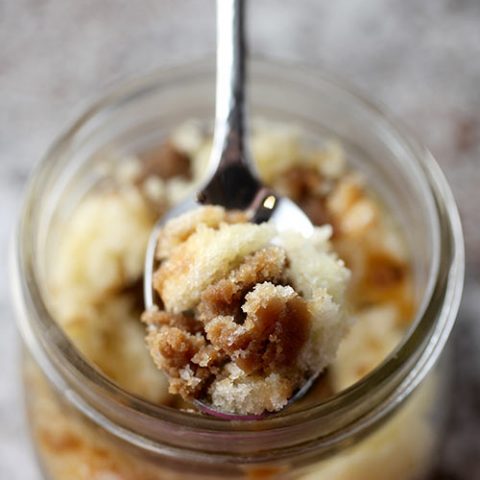 Yield: one 9-inch two layer cake or four 16 oz. jars
GiGi's Caramel Cake - In Jars
Ingredients
Cake
3/4 cup butter
1 cup milk
3 cups sifted all-purpose flour
2-3/4 teaspoons baking powder
1/2 teaspoon salt
4 eggs
2 cups sugar
1 teaspoon vanilla
Caramel
1 lb box light brown sugar
1/2 cup butter
7 tablespoons evaporated milk
1 teaspoon vanilla
Instructions
Preheat oven to 325 degrees fahrenheit. Grease and flour two 9 inch cake pans.
Combine butter and milk in a small saucepan and heat on low until the butter melts. Stir and let cool to room temperature.
Meanwhile, combine flour, baking powder and salt in a medium bowl using a wire whisk.
In your mixing bowl, beat eggs and sugar on high, scraping down the bowl often. Beat until light yellow, smooth and thick.
Stir the flour mixture into the egg mixture. Mix just until the flour disappears. Add the cooled milk and butter mixture and then the vanilla. Stir well and pour into prepared pans.
Bake at 325 for 25 - 30 minutes until cakes are pale golden brown and begin to pull away from the sides of the pans. Cool for 10 minutes on wire racks and then turn cakes out onto wire racks to cool completely.
To make the icing… In a medium saucepan, combine brown sugar, butter, evaporated milk, and vanilla. Bring to a boil over medium high heat. Stir well and adjust heat so that the frosting boils and bubbles gently. Cook for 7 minutes. Remove from heat and cool for 5 minutes. Beat warm icing with a wooden spoon for 2-3 minutes until it thickens. Ice cake quickly or simply spoon into jars for easy carrying. Enjoy!

Notes
Source: Southern Cakes by Nancie McDermott, 2007