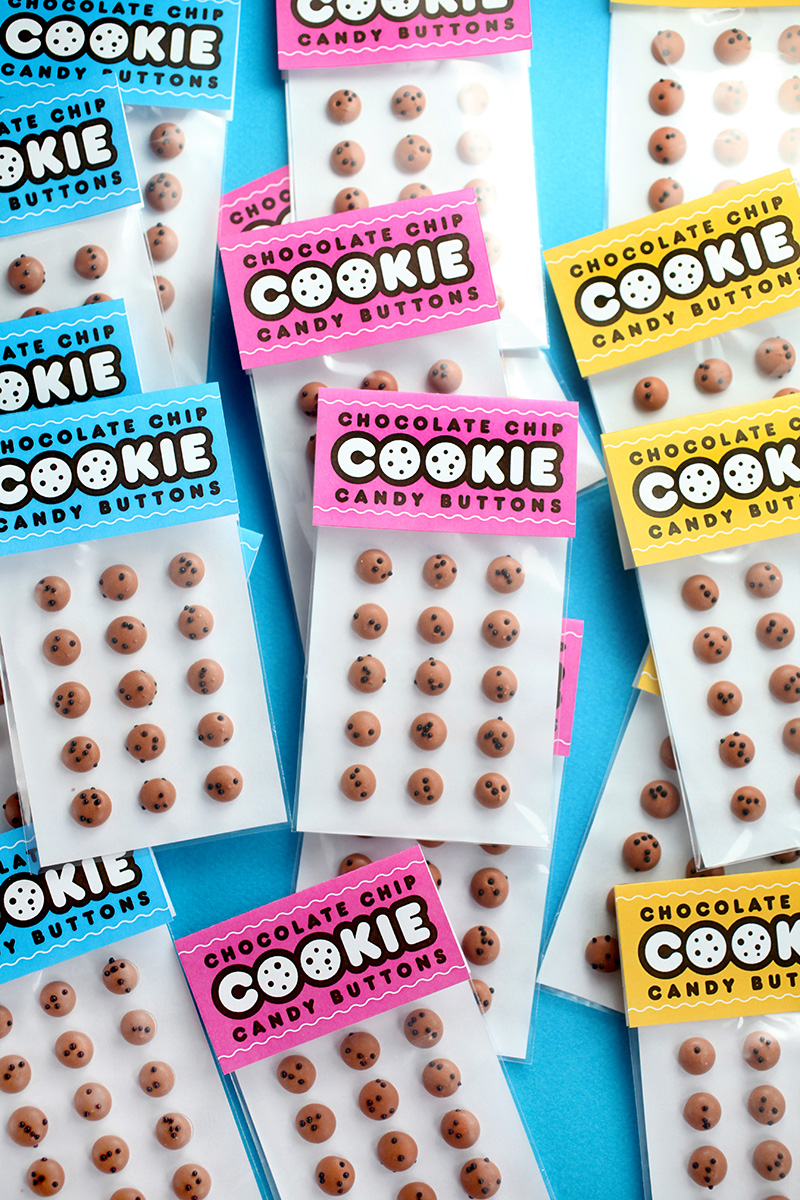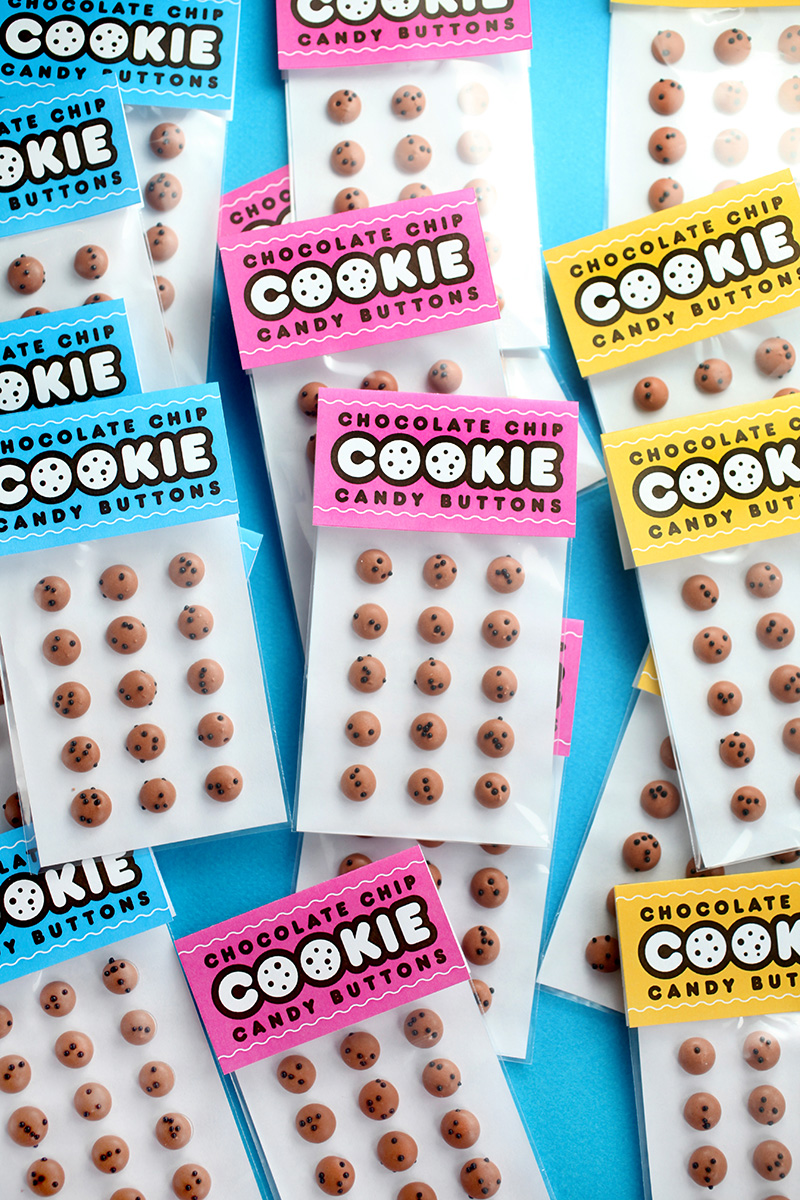 I was playing in the kitchen this weekend and made these super fun candy buttons.
And instead of sugary pink, blue and yellow dots, I made them into these soooo super tiny chocolate chip cookies. Eeek!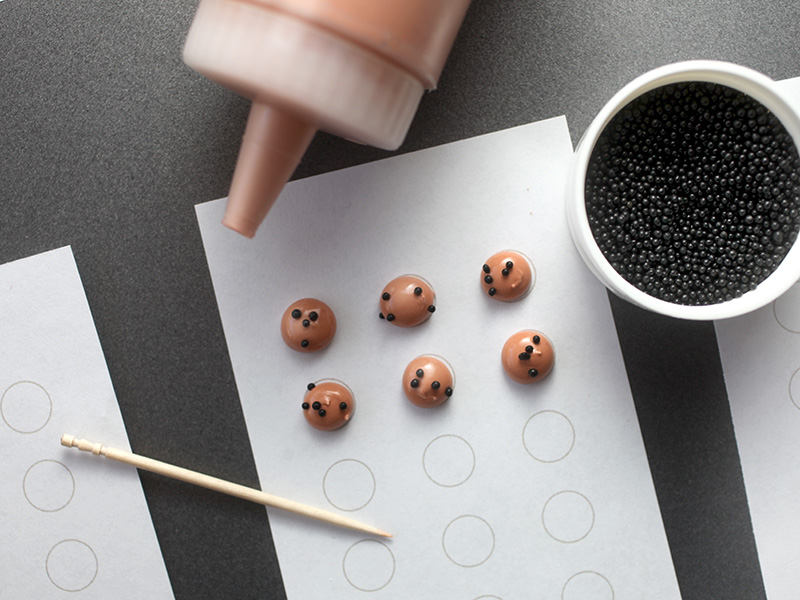 Here's what you'll need:
Royal Icing (see recipe below)
Chocolate brown icing color
Black non-pareils
Toothpicks
Small squeeze bottle
3 X 4 inch plastic treat bags
Double-sided tape
Template and tags (download here and print out on letter size paper)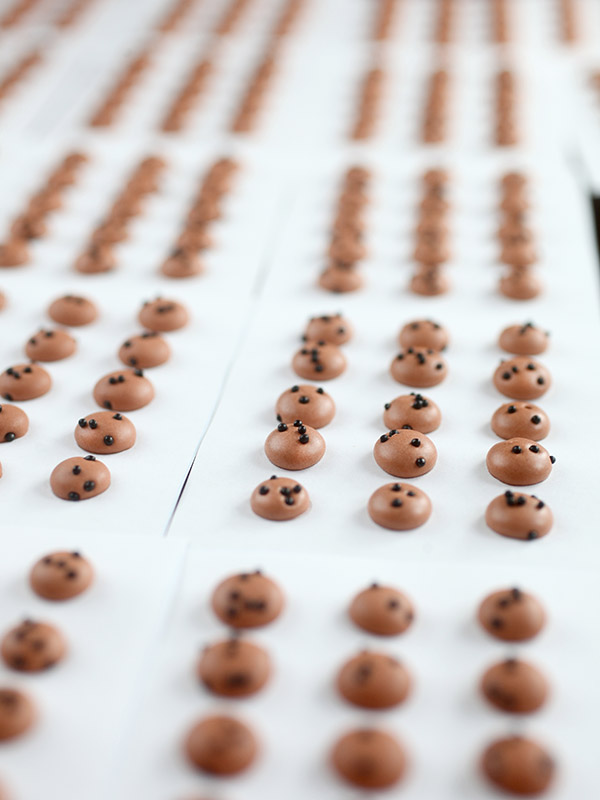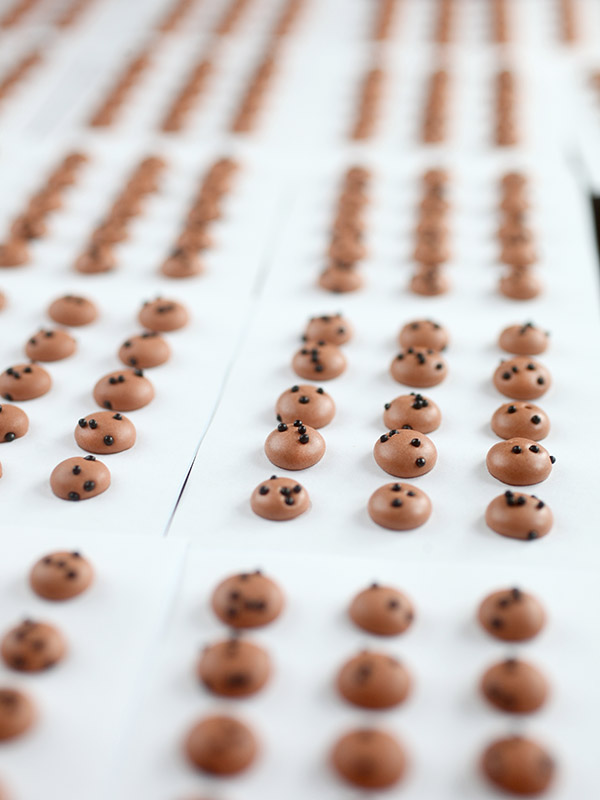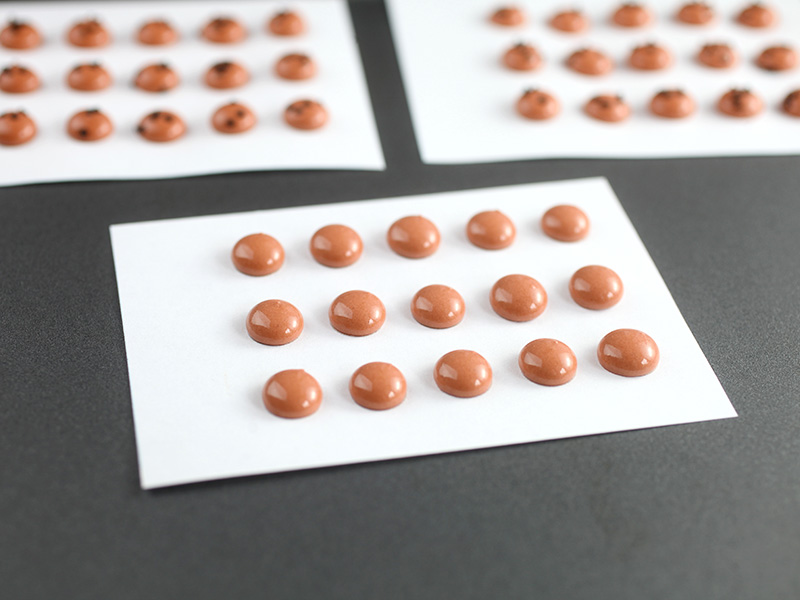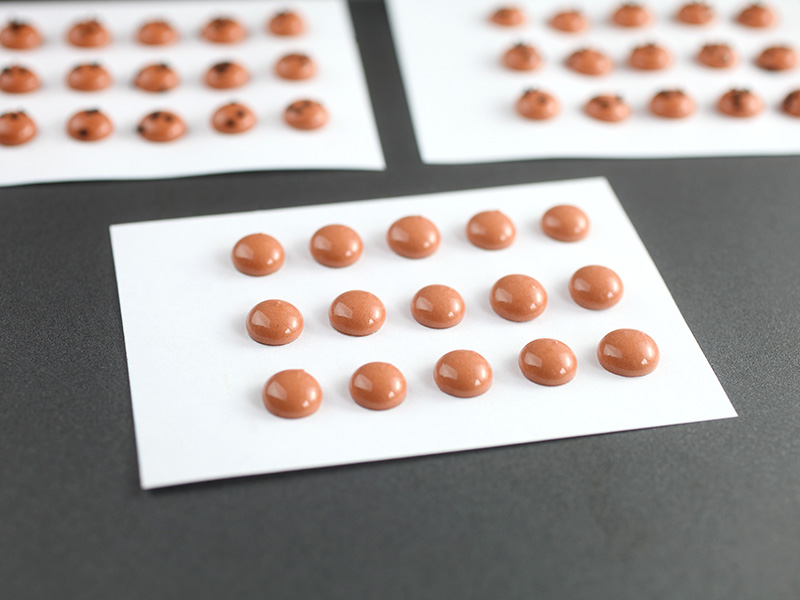 Use the printables provided above to pipe dots of brown royal icing onto paper. (Note: I tried using parchment paper and wax paper to pipe on, but the buttons fell off way too easily). Pipe one sheet at a time using a small squeeze bottle. If the dots have peaks on top from piping then, gently coerce them down with the tip of a toothpick until it blends into the dome of the dot.
Royal Icing
Prep Time 10 minutes

Total Time 10 minutes
Ingredients
2 cups confectioners' sugar
2 tablespoons meringue powder
3 tablespoons water
Instructions
Sift confectioners' sugar and meringue powder into the bowl of a stand mixer. Add water. Then, using the paddle attachment, increase speed to high and beat for 5-8 minutes until glossy and stiff peaks form.
Tint icing with brown icing color. (I used chocolate brown from AmericaColor.) Check consistency before filling your squeeze bottle. If the royal icing is too thick, add a teaspoon of water at a time. (Note: I only added one extra teaspoon) Alternatively, if the icing is too thin, you can mix in more confectioner's sugar to thicken it up.
Recipe will make enough for 40 sheets of 15 dots each or 600 dots. : )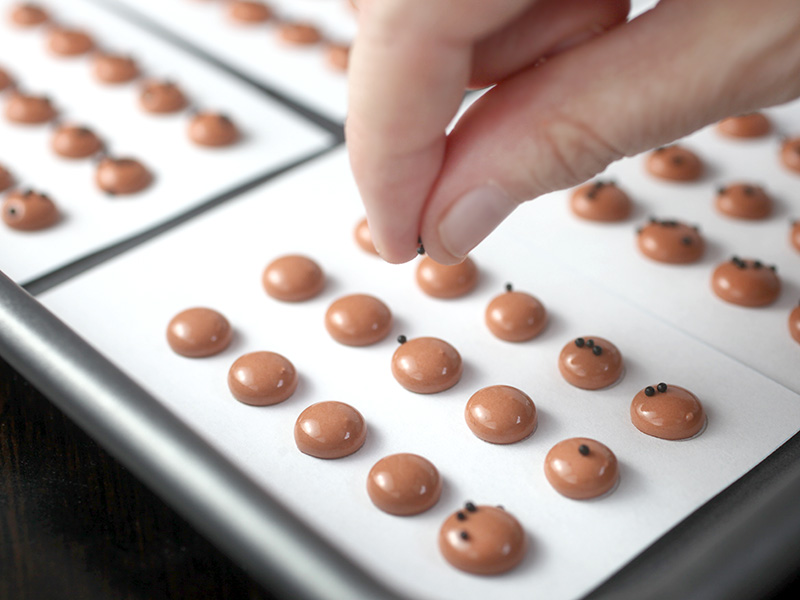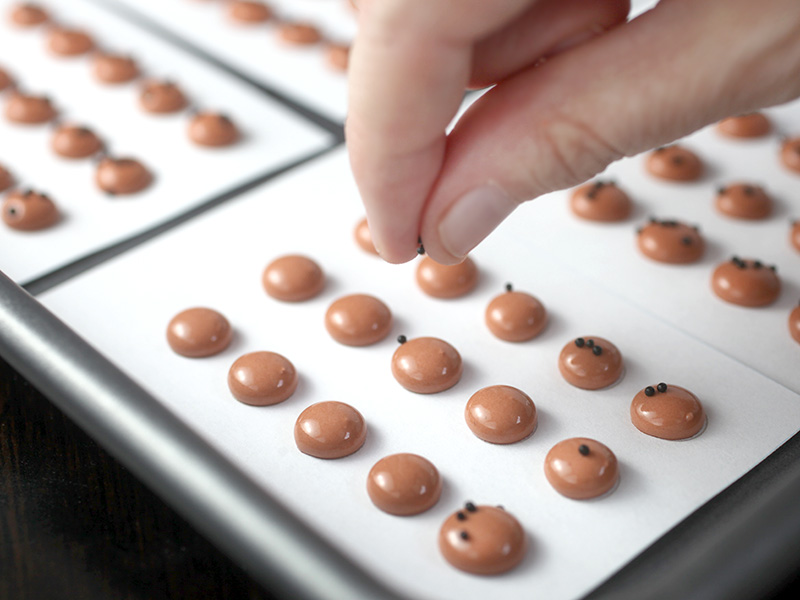 As soon as you finish piping each sheet, go ahead and pinch a few nonpareils at a time and drop them on the tops of each dot of sugar. If you try to sprinkle too many at a time, they will fall in between the dots and attach to the sides making the cookies look kinda weird.
I kept a small amount in the cap of the bottle they came in so they would be handy and to avoid making a mess.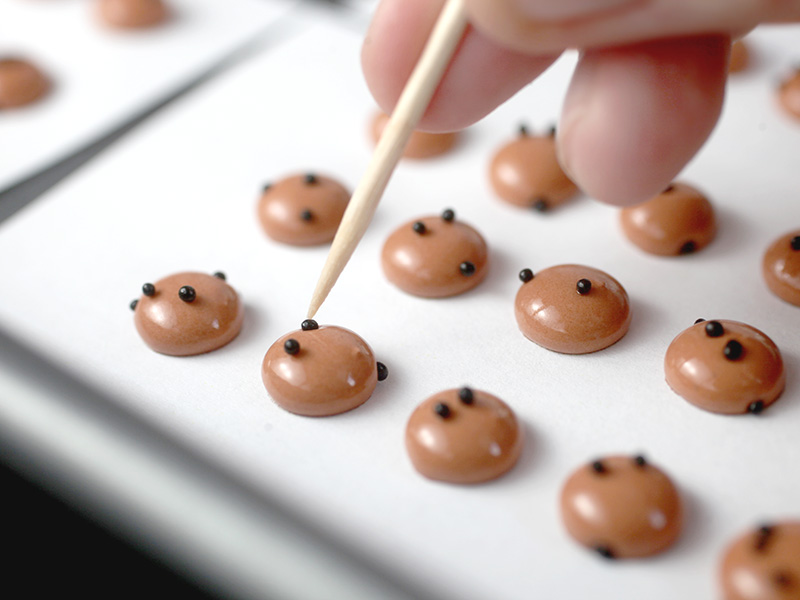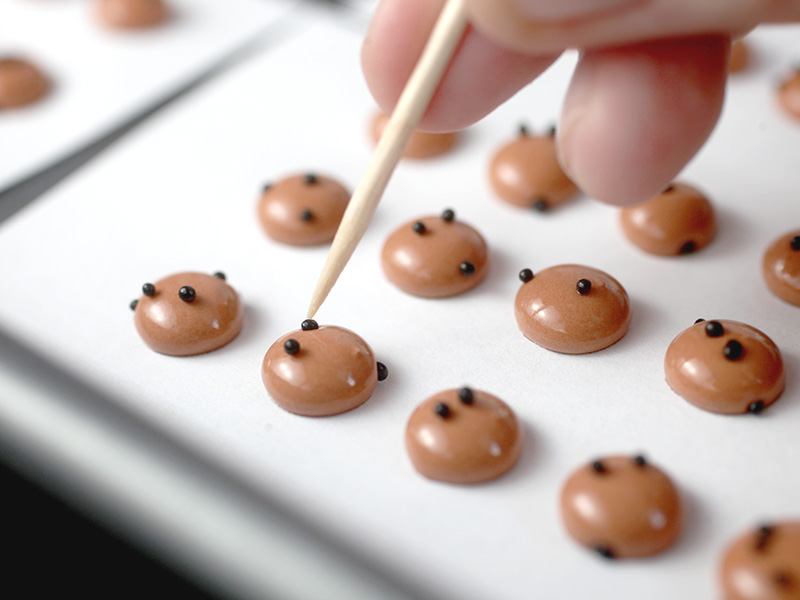 If any of the nonpareils are sitting too high on the sugary "cookie" then just use a clean toothpick to gently press them down a bit.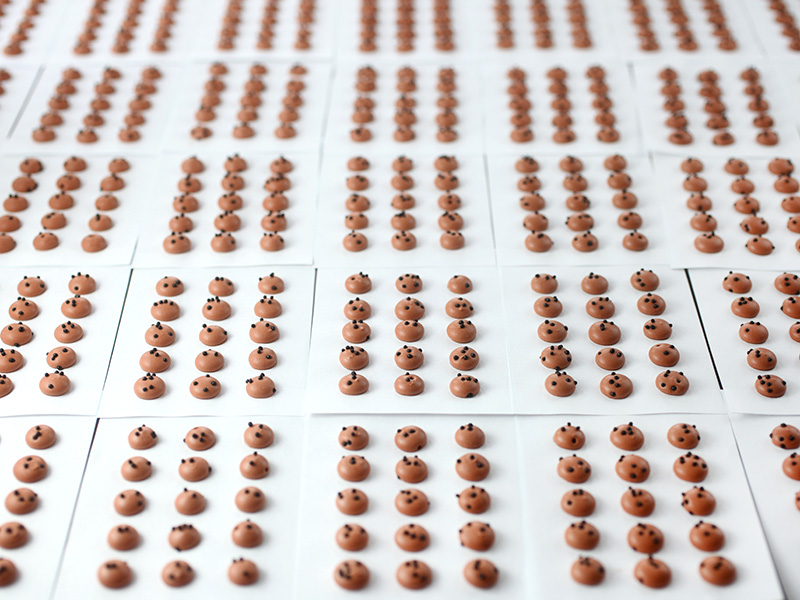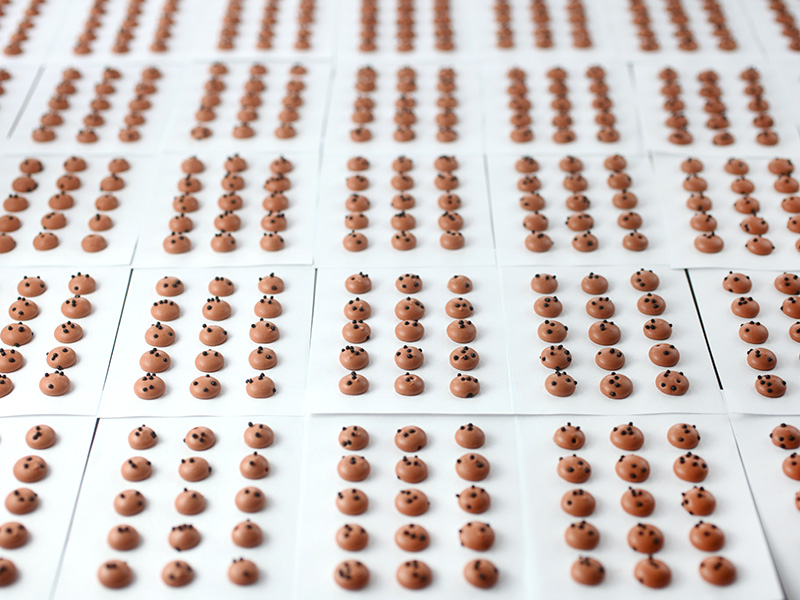 Now just let them dry! Let them sit out for several hours or overnight before packaging them.
Easy peasy!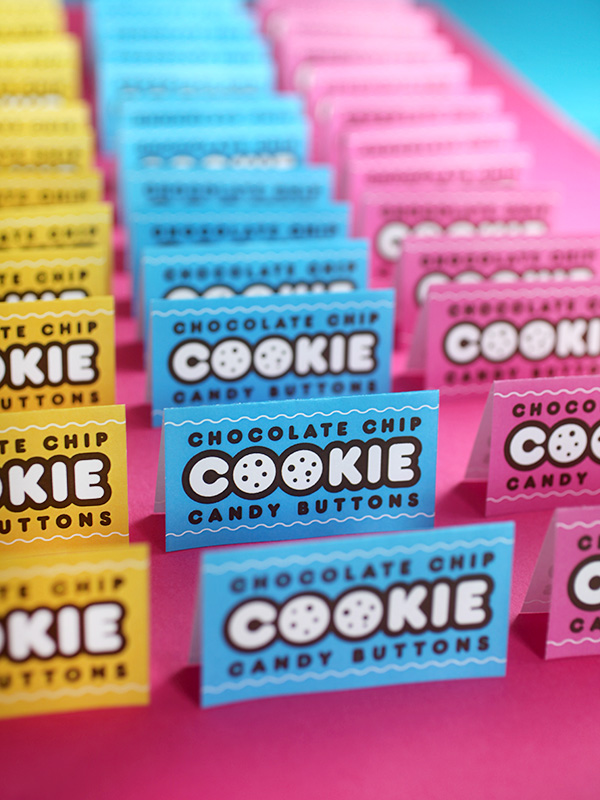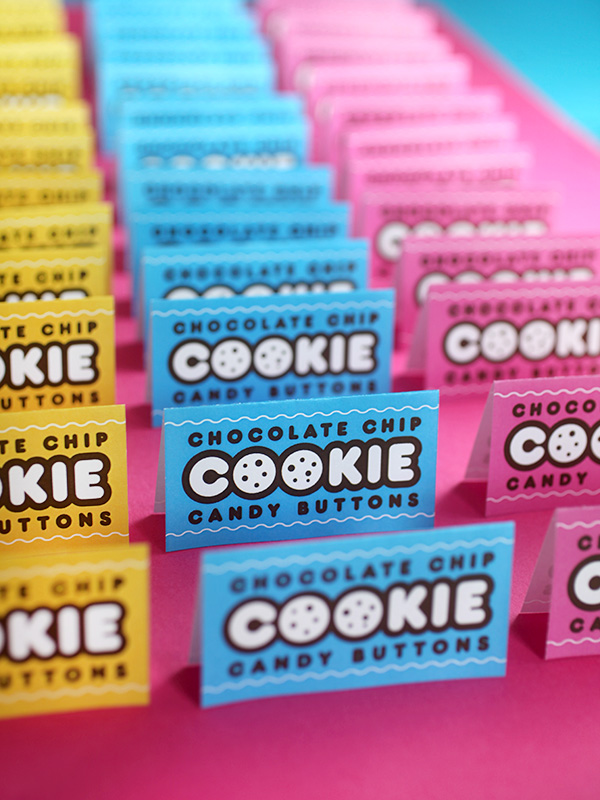 I made the tags for these little treats in the iconic happy colors you usually associate with candy buttons. Just a little subliminal association to help since my treat bags weren't the normal long and skinny size they usually come in.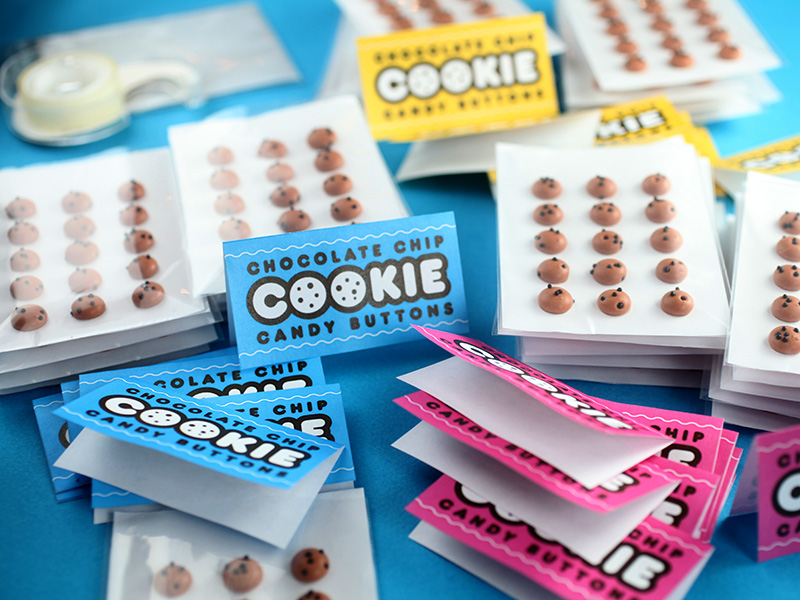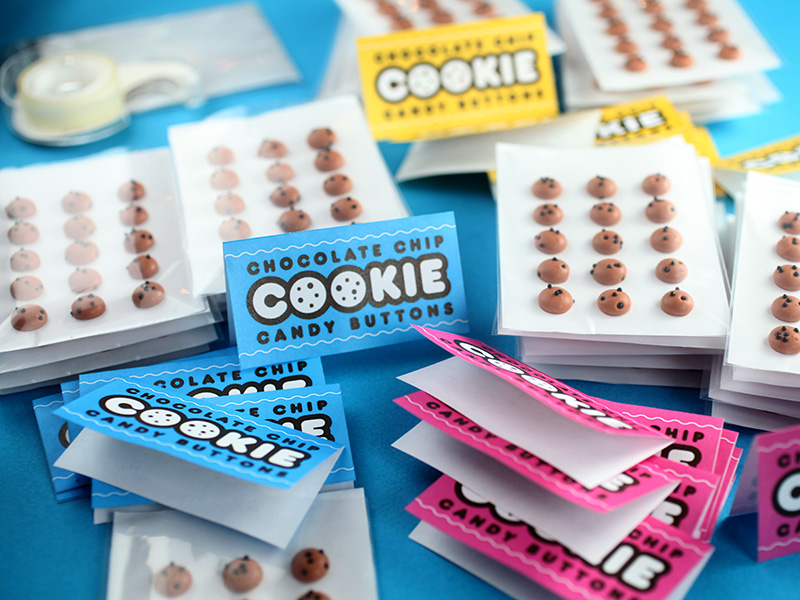 When the cookie candy buttons are completely dry, place each sheet in a treat bag and use double-sided tape to attach the tags to the tops.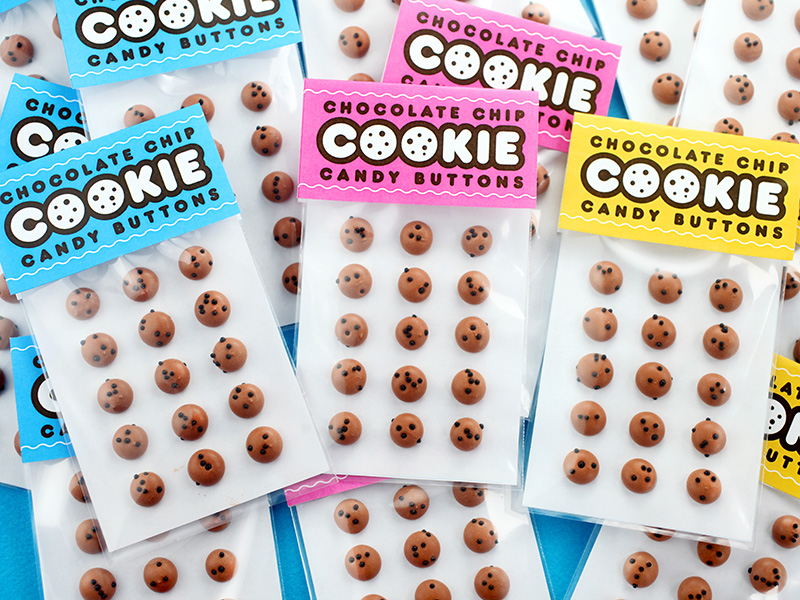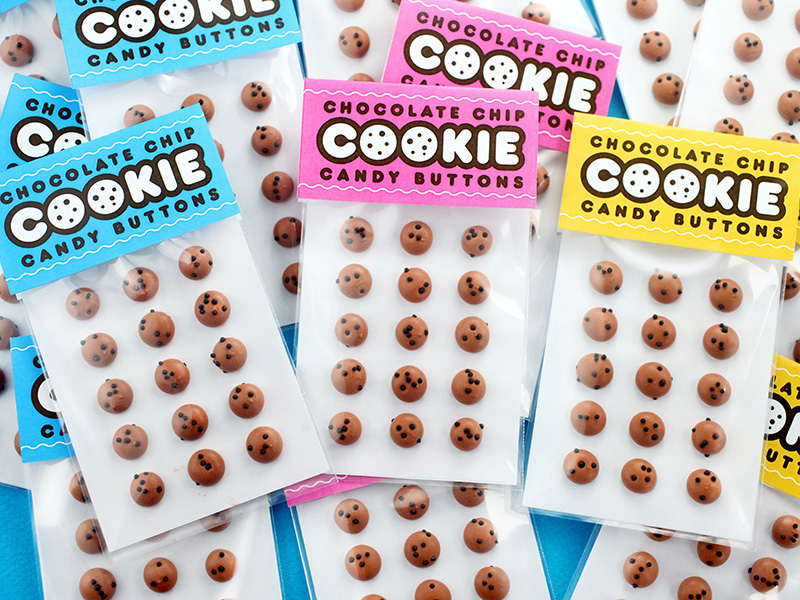 Super cute.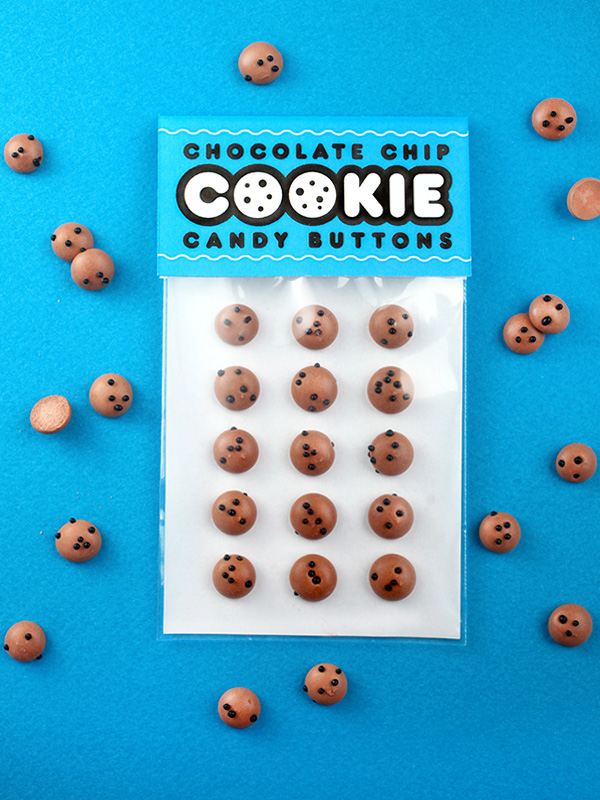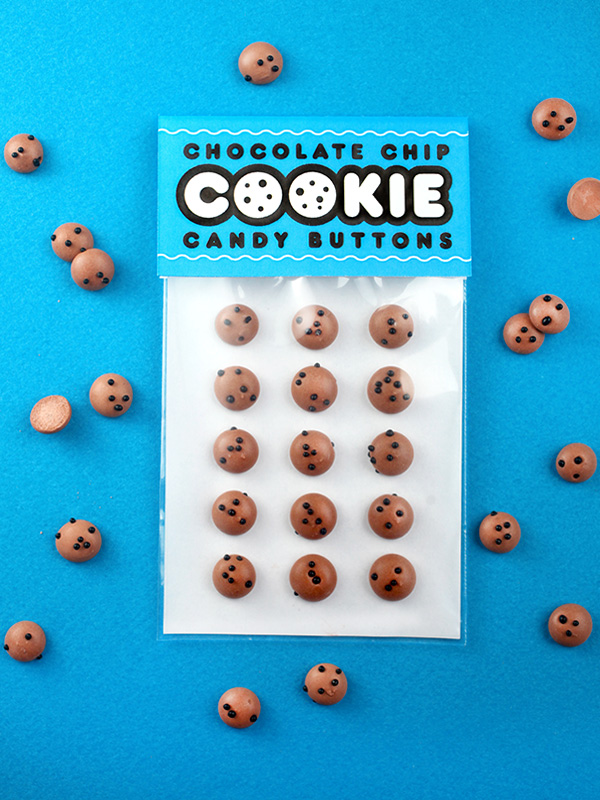 I can't help but thing how fun the blue ones would be as party favors from Cookie Monster at a Sesame Street birthday party.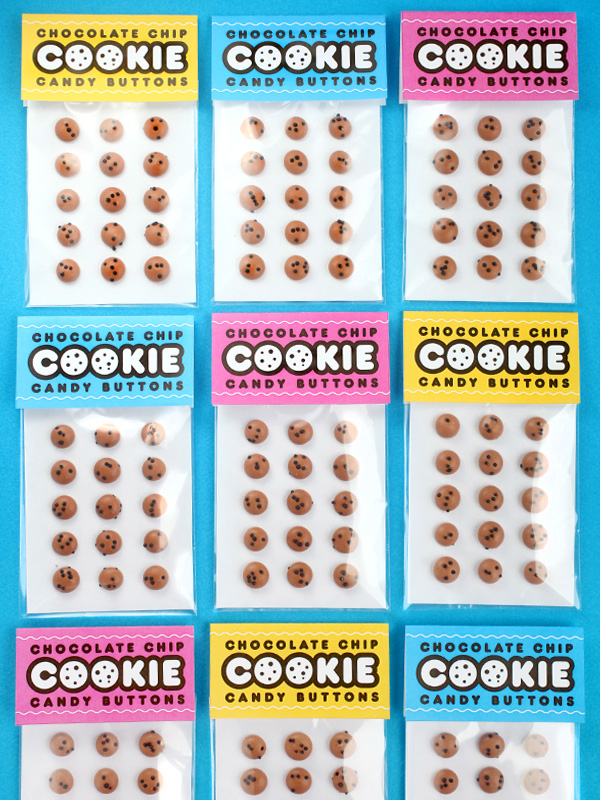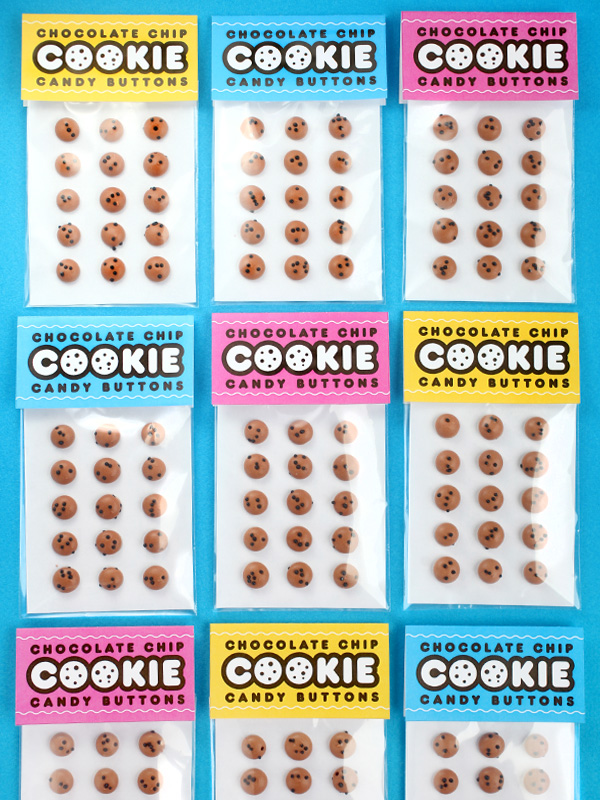 But really, they'd be fun to give to out anytime.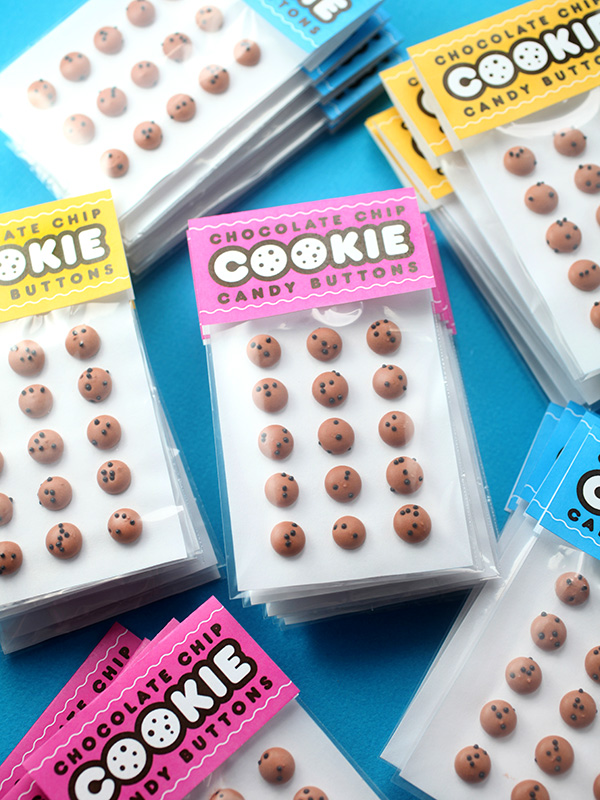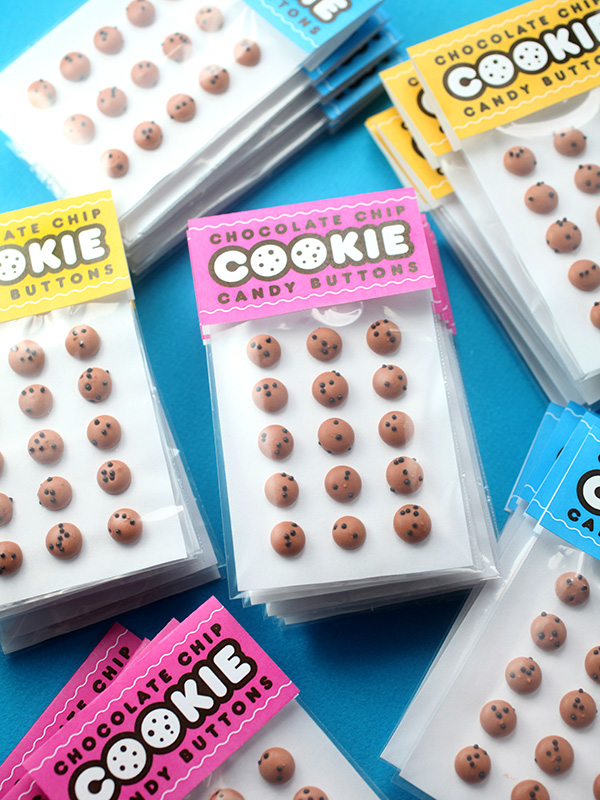 Enjoy!!!