Unfortunately these cookies did not come out exactly like I had hoped. They did however taste really good so I'll make them again one day. I think my butter was too soft and they just fell apart. On the good side, I was able to get these three cookies out with a cookie cutter and take a picture before the rest fell to a crumbly cranberry mess.

Here's the recipe if you're interested.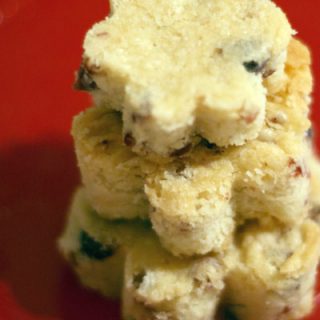 Yield: one dozen cookies
Cranberry Shortbread Cookies
Ingredients
1 cup (2 sticks) unsalted butter, softened
3/4 cup sifted confectioners' sugar
1 teaspoon pure vanilla extract
2 cups sifted all-purpose flour
1/2 teaspoon coarse salt
1/2 cup finely chopped dried cranberries
Instructions
Preheat oven to 325. Mix all ingredients except cranberries in a large mixing bowl with a wooden spoon until combined and not too creamy. Then stir in cranberries.
Press dough evenly into an 8-inch square baking pan. Bake 30 minutes or until firm and pale golden. Cool on a wire rack for about 20 minutes. Remove and place on work surface. Use small 2" cookie cutter. Makes about a dozen cookies.
Notes
From Martha Stewart Holiday Cookies 2006