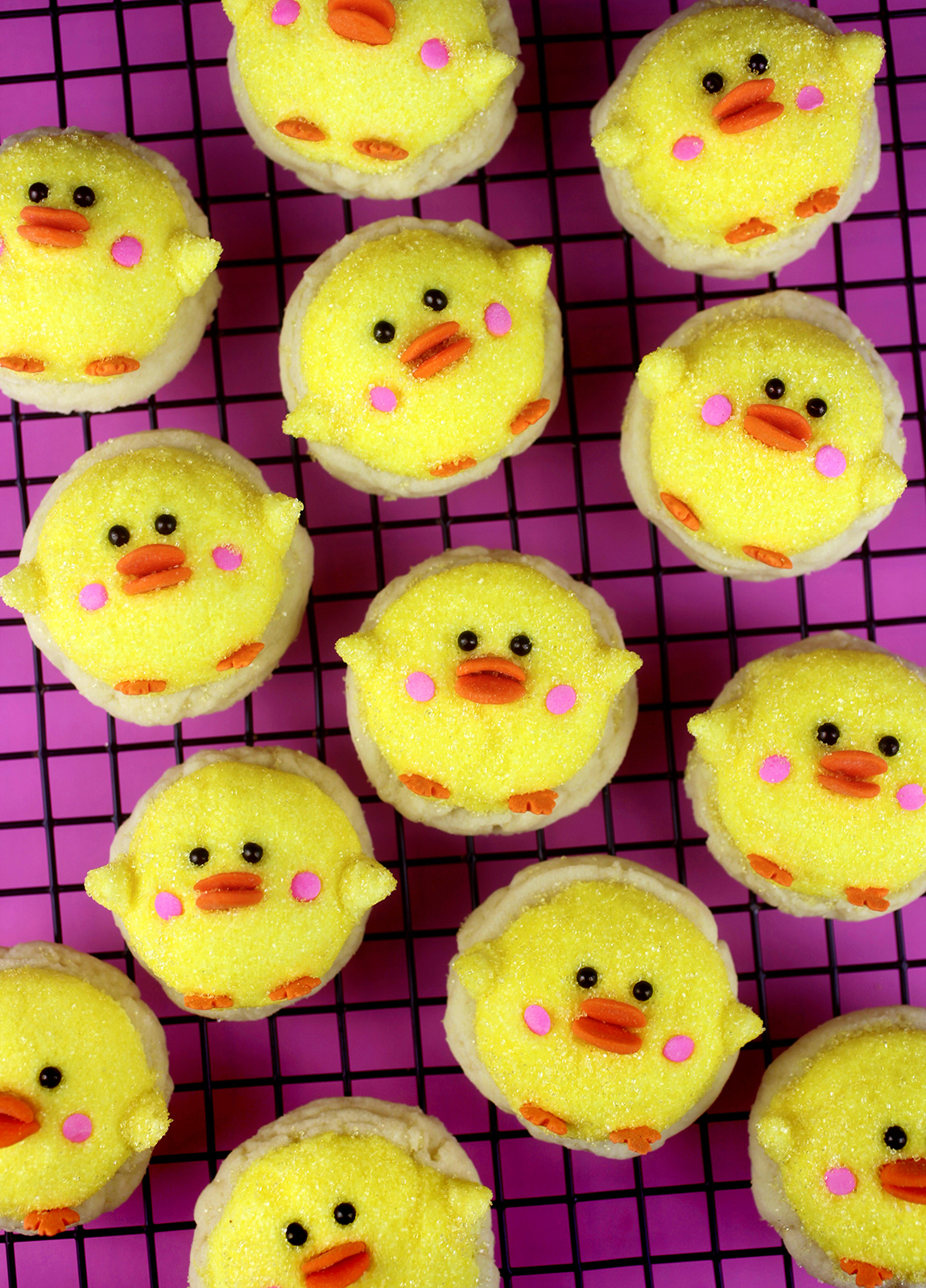 I knew the first time I tried this sugar cookie recipe back in January, that I would most definitely be making them again and again and again. And with Easter around the corner, I just had to give them a sweet spring-themed twist.
Originally I was thinking, little chicks, but I'm going with ducklings based on the large orange confetti sprinkles that I had on hand for beaks.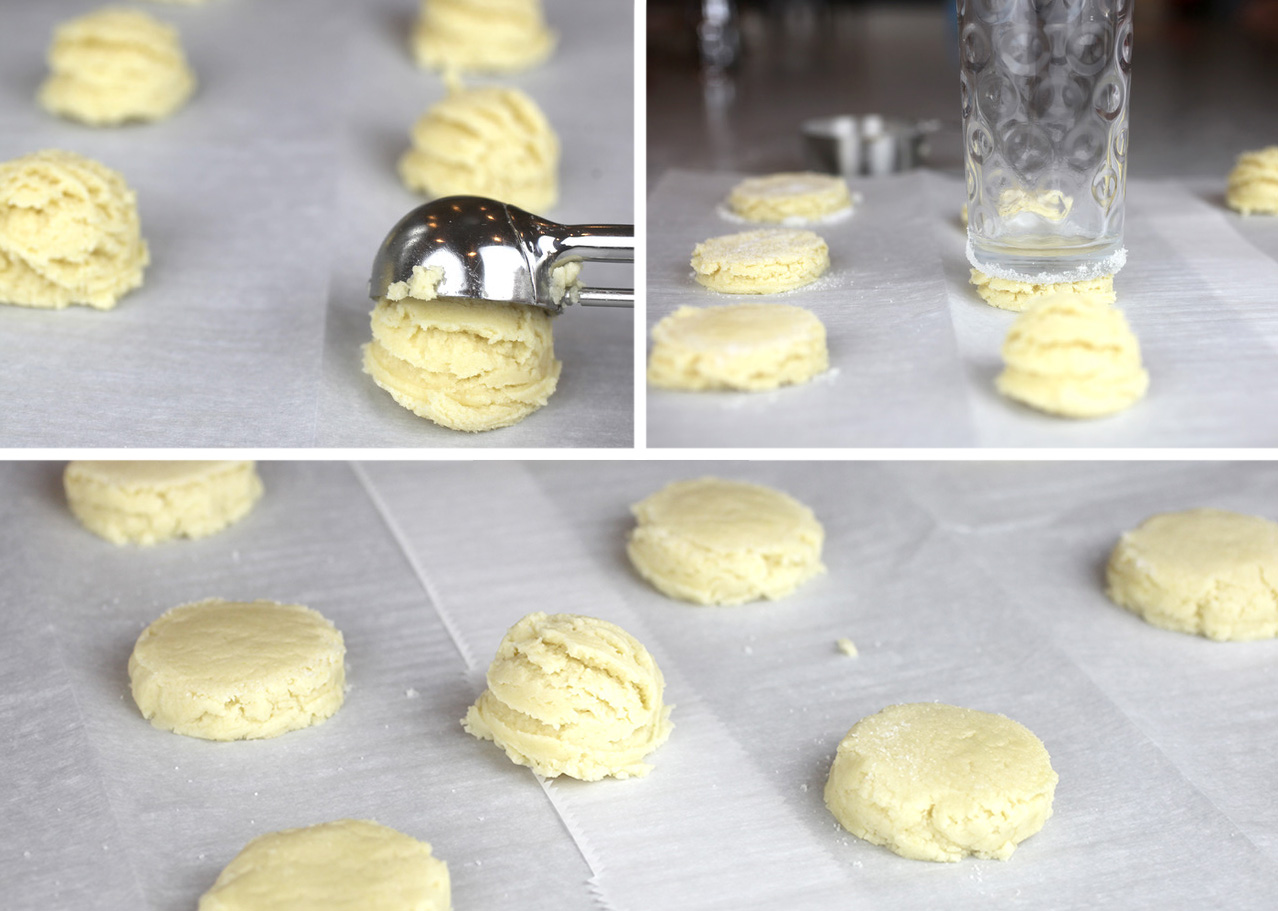 Okay, let me be blunt. Make. These. Cookies!
You don't even need to decorate them. They are absolutely perfect plain. I know because I made several batches and I cannot stop eating them even without the frosting.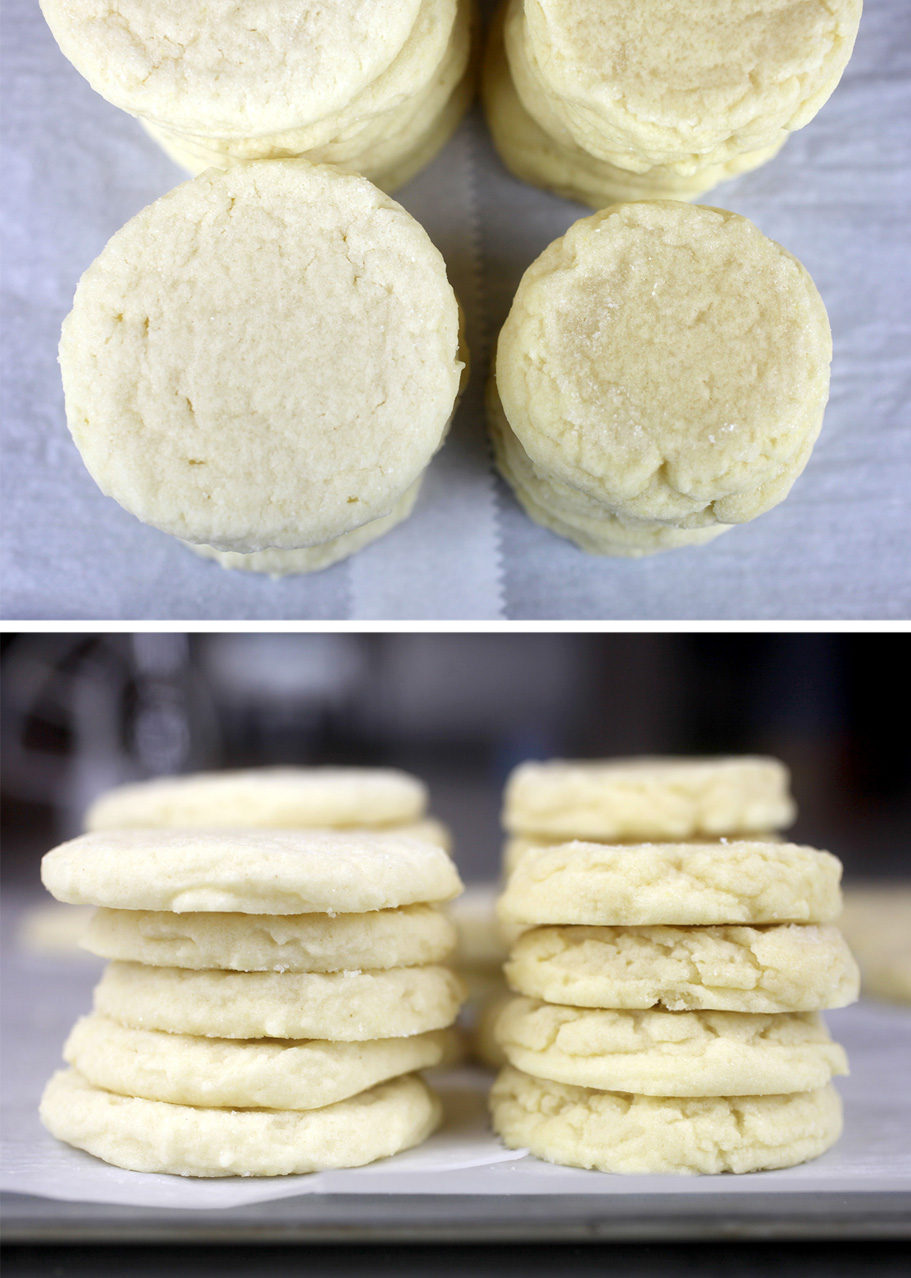 In my previous post about these, I mentioned that I baked one batch with White Lily flour, (a softer flour on the left above) and another batch with King Arthur Flour (on the right).
If you want to decorate these soft sugar cookies following the directions below, I would use King Arthur Flour because it yields cookies that were slightly thicker and smaller in diameter. You can see the difference in the pics above. Therefore, they offered more support for the frosting and the proportions for decorating were better, too.
If you use White Lily and still want to frost them, then spread the frosting instead of scooping it on top, so that the weight of the frosting isn't too much for these so soft cookies.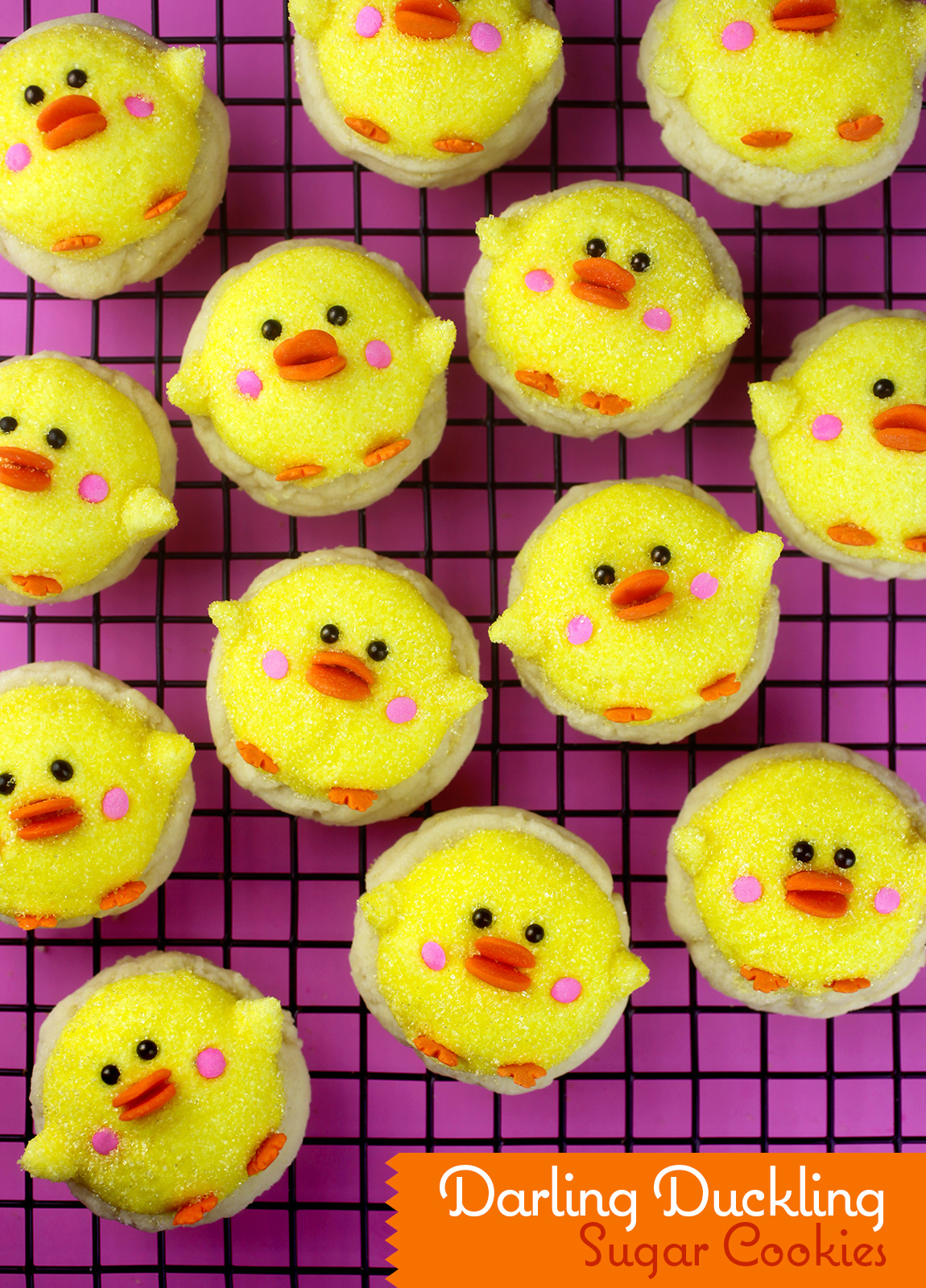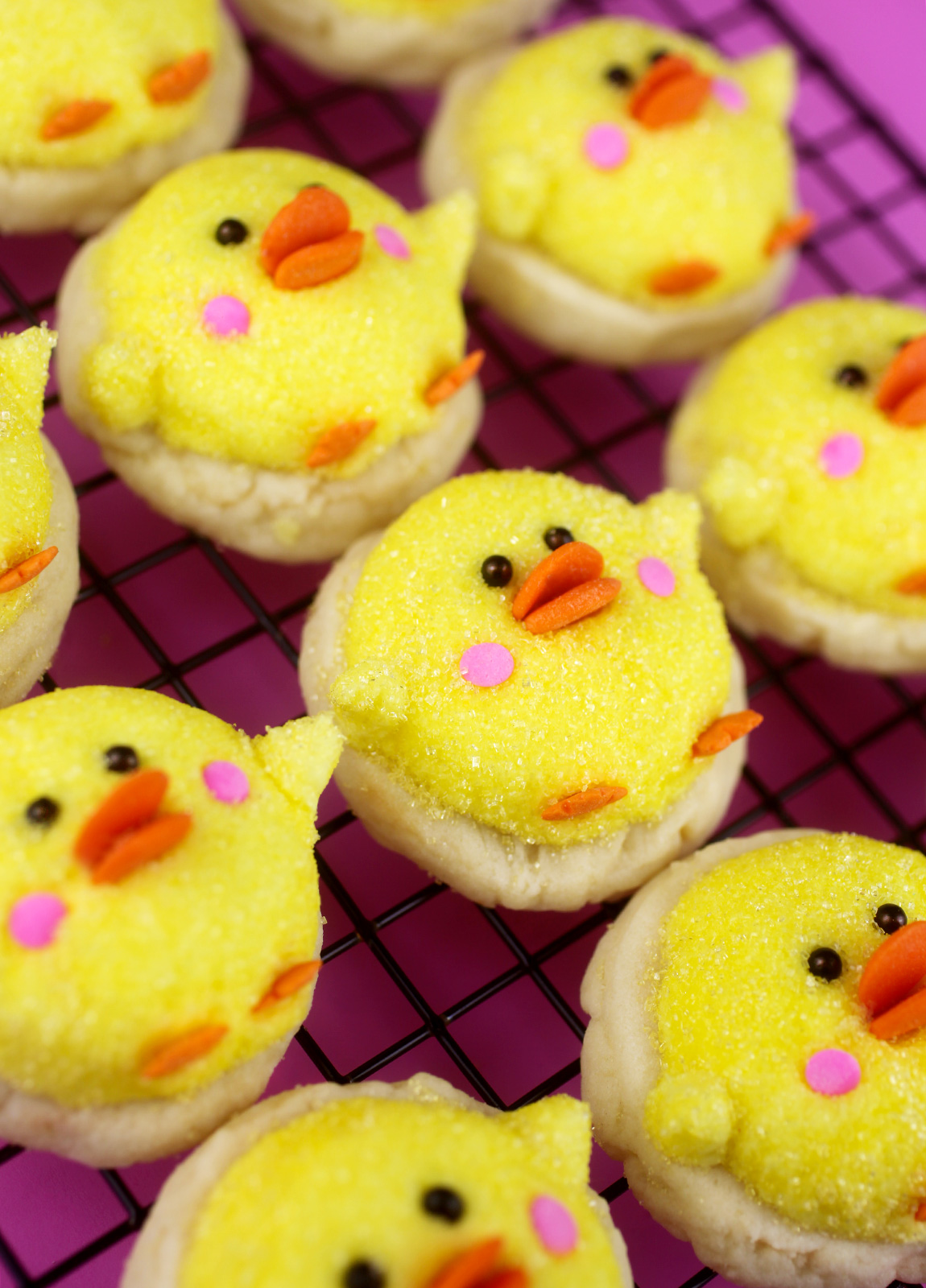 Oh my… I can't stand the cuteness.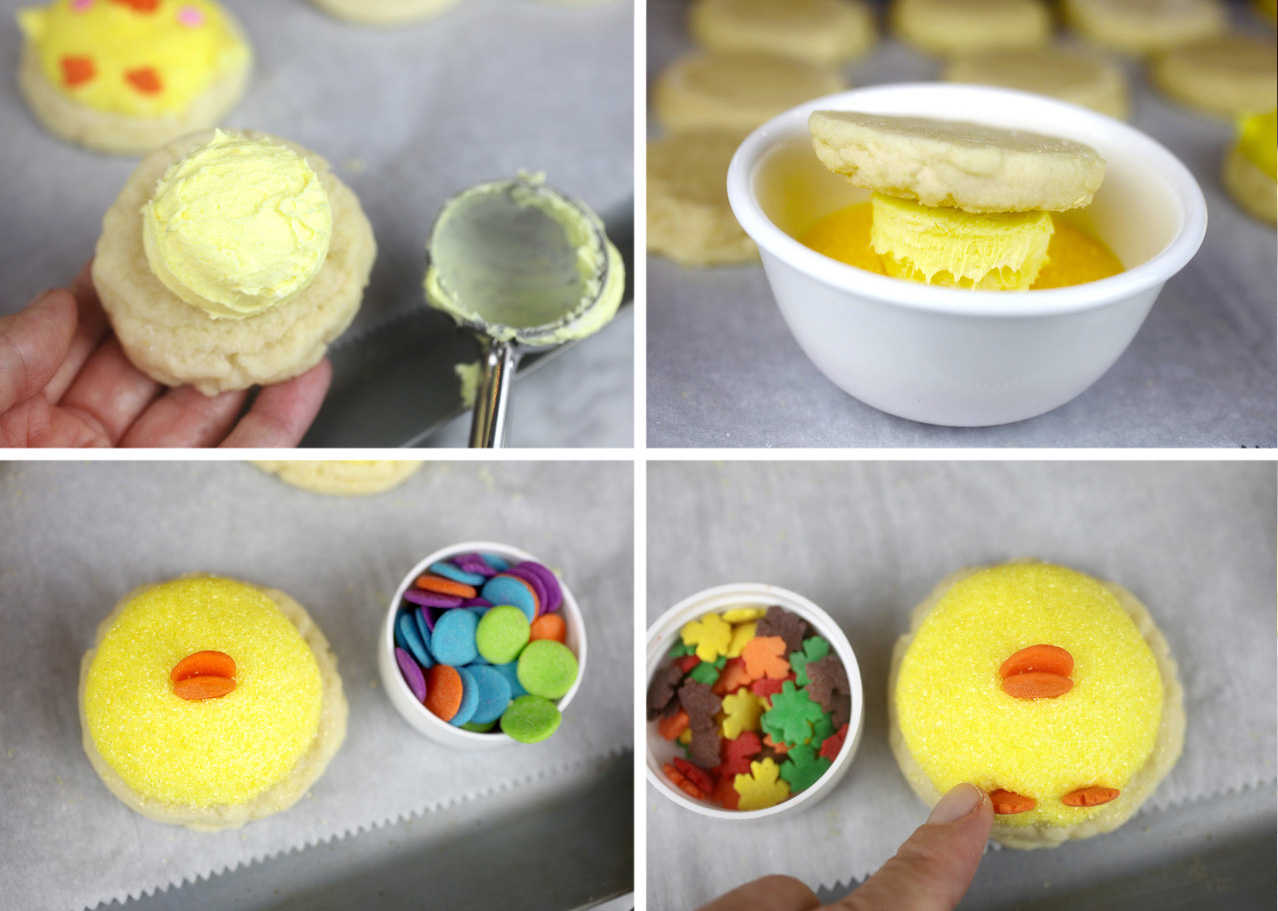 Here's the recipe I used from Maria of Two Peas and Their Pod.
Follow the recipe instructions and then read below to see how to decorate them as ducklings:
Use a 1-1/2 inch scoop to place tinted yellow buttercream frosting on top of a cookie.
Gently press the cookie into a small bowl filled with yellow sanding sugar. Rock slightly to coat and press the frosting into a pretty little mound. Use your hand to reshape if needed.
Place two jumbo orange confetti sprinkles in position and open slightly for beaks.
Press two orange sprinkles in position for feet. I used Autumn Leaf Confetti Sprinkles, but you could also leave this step out.
Note: Decorate one cookie at a time because once the frosting sits for a bit, it will be hard to get the sprinkles to attach through the sanding sugar barrier. It's best to do it all at one time and then move on to the next cookie.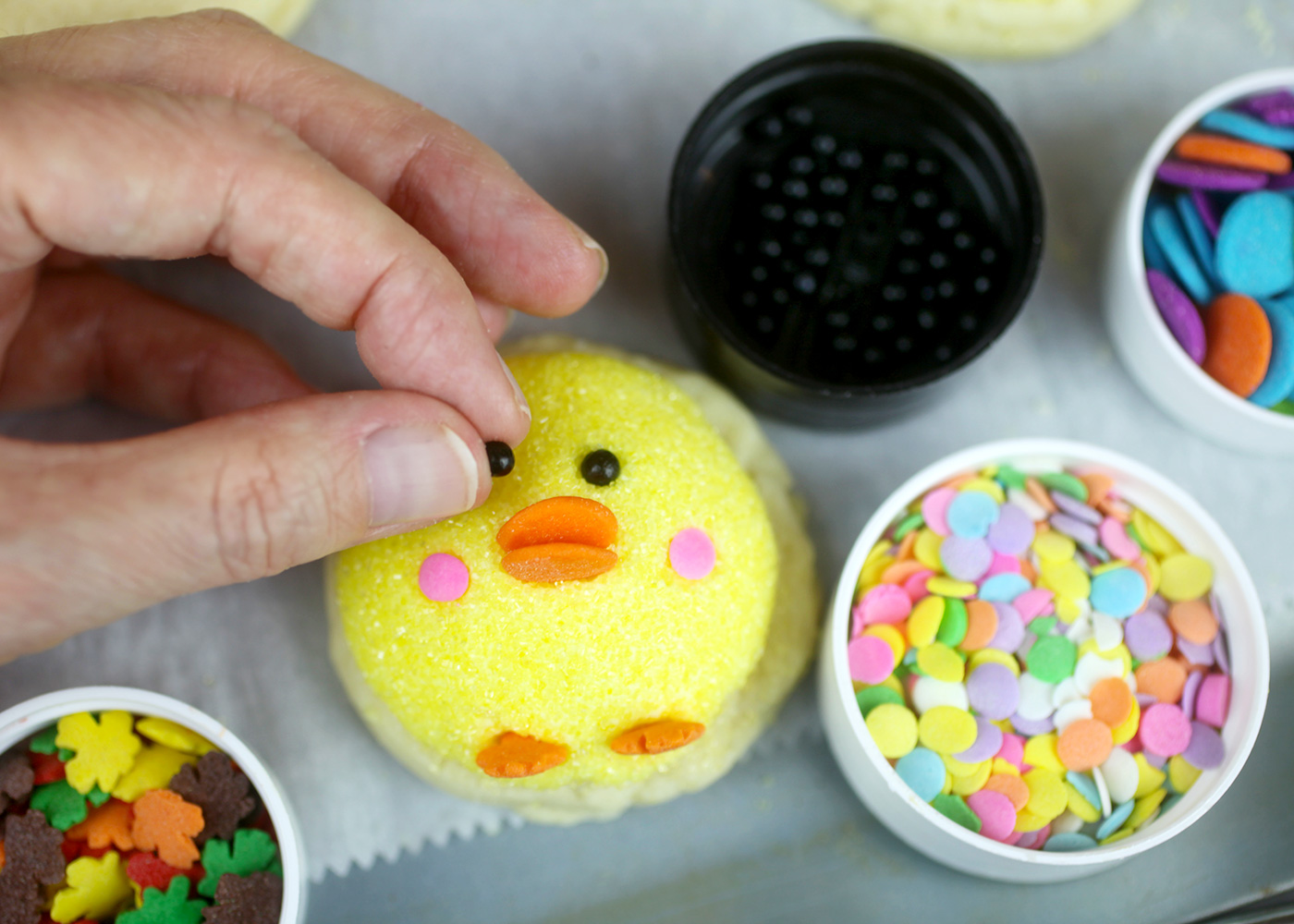 Place two black sugar pearls in position for eyes and two pink confetti sprinkles in position for cheeks.
That's really it. You can totally stop here or if you want to give them sweet little wings, keep going.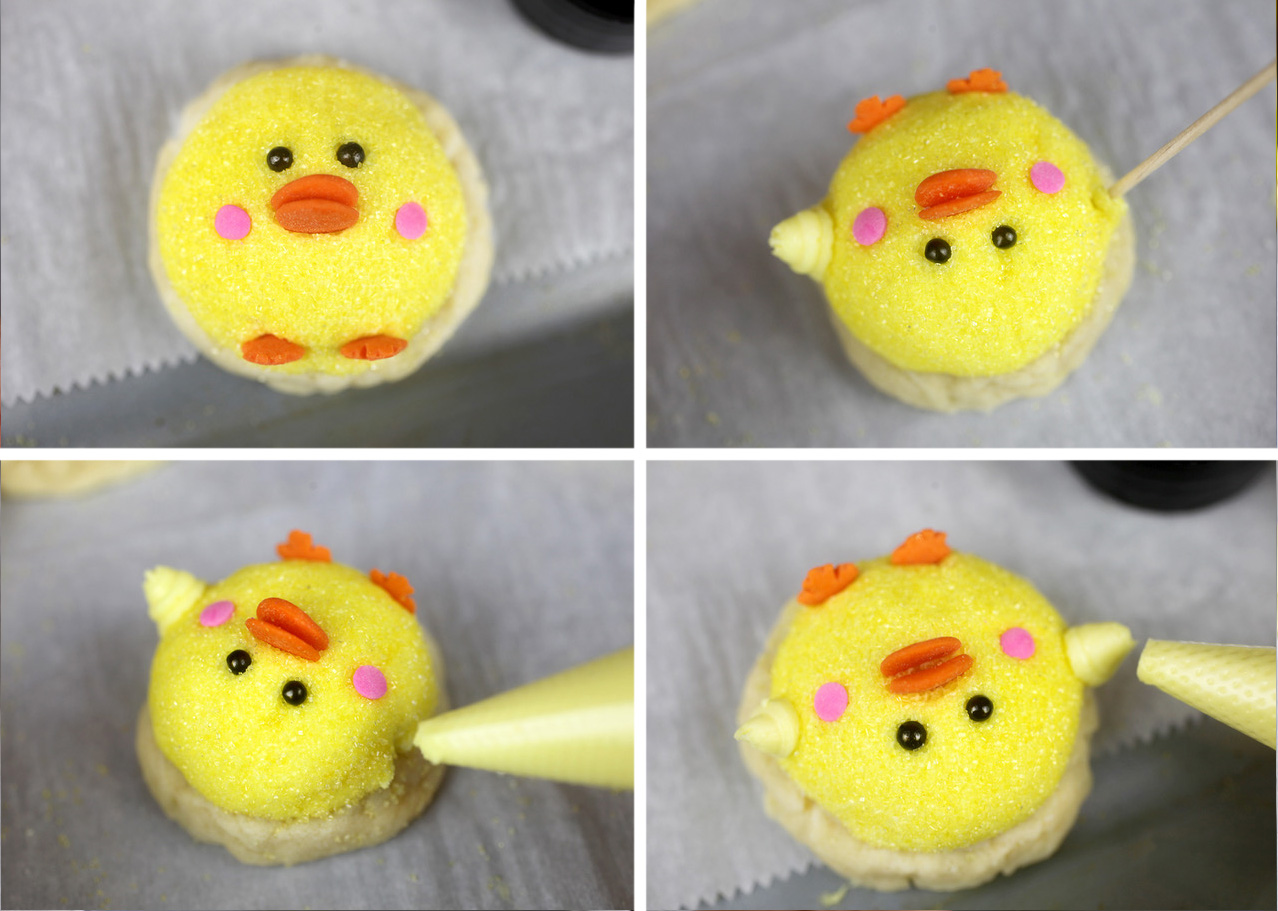 The frosting will not stick easily to the surface of the sanding sugar. So… To pipe the wings and allow the butter cream to attach, use a toothpick to remove some of the sanding sugar frosting barrier.
Once removed, the frosting can be piped to the exposed frosting on the cookie and the wings will attach. Then gently sprinkle more sanding sugar over the wings to finish.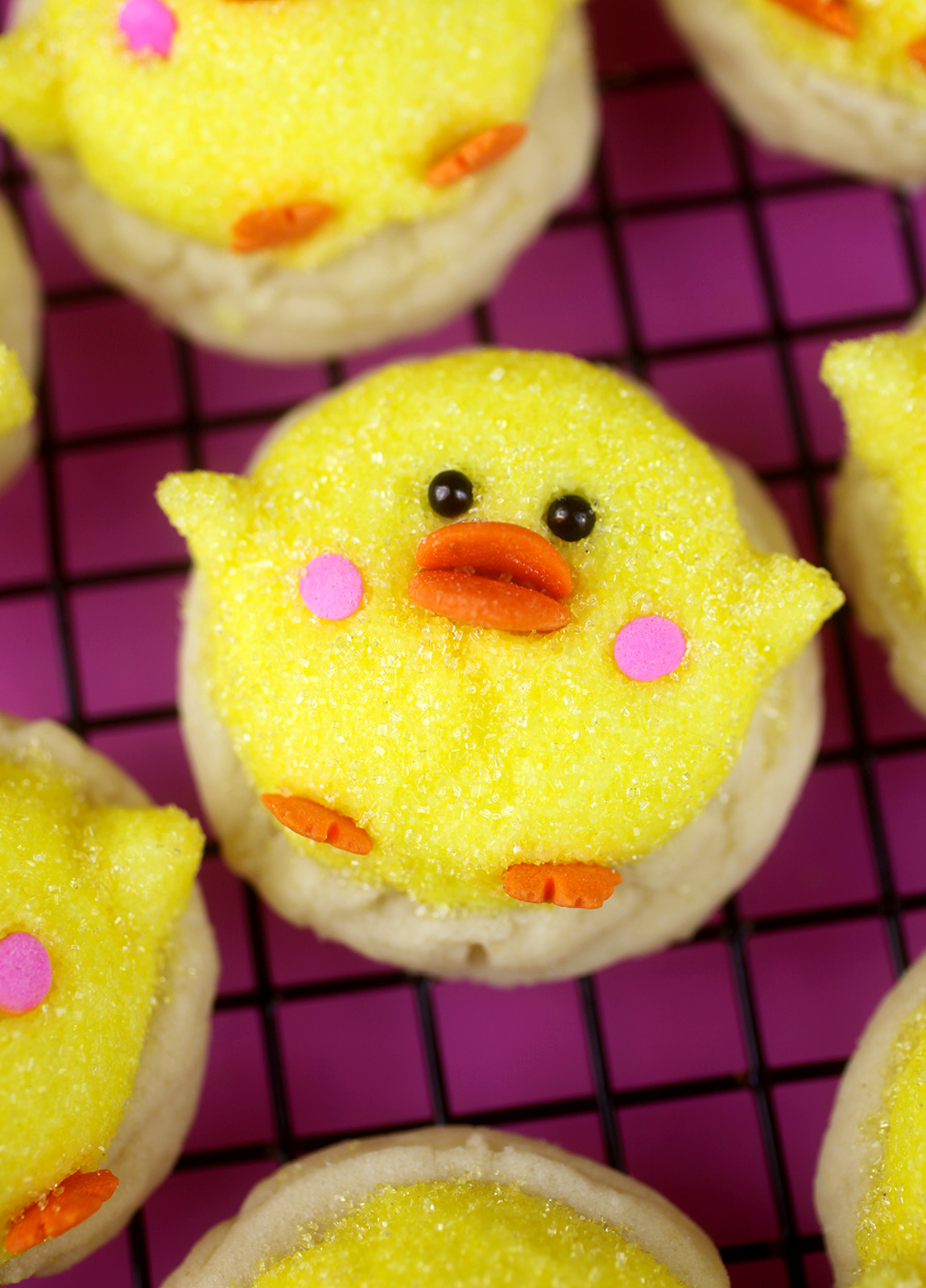 Look how cute and cuddly.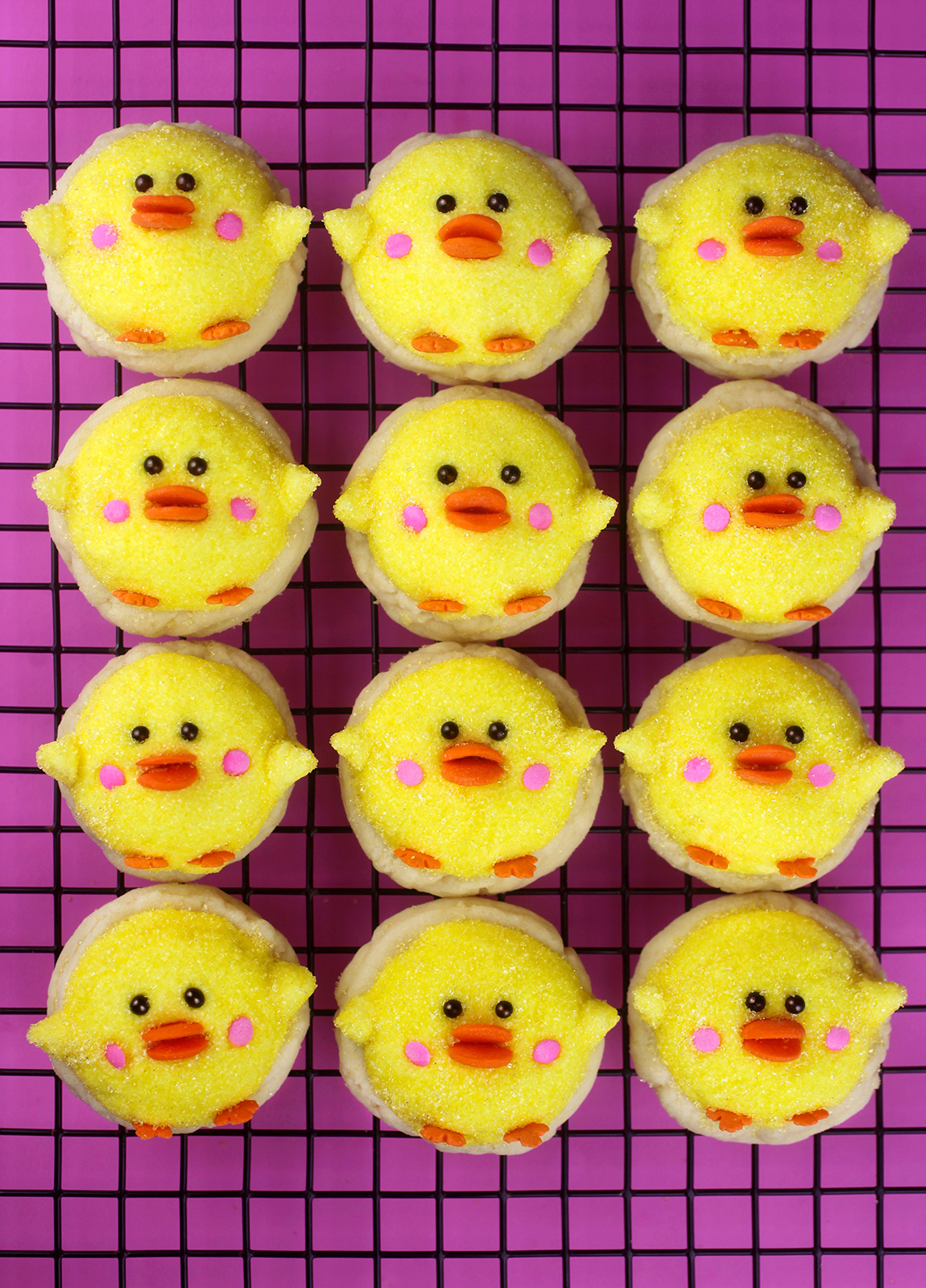 Now, that I have all my ducks in a row, it's time to take a bite.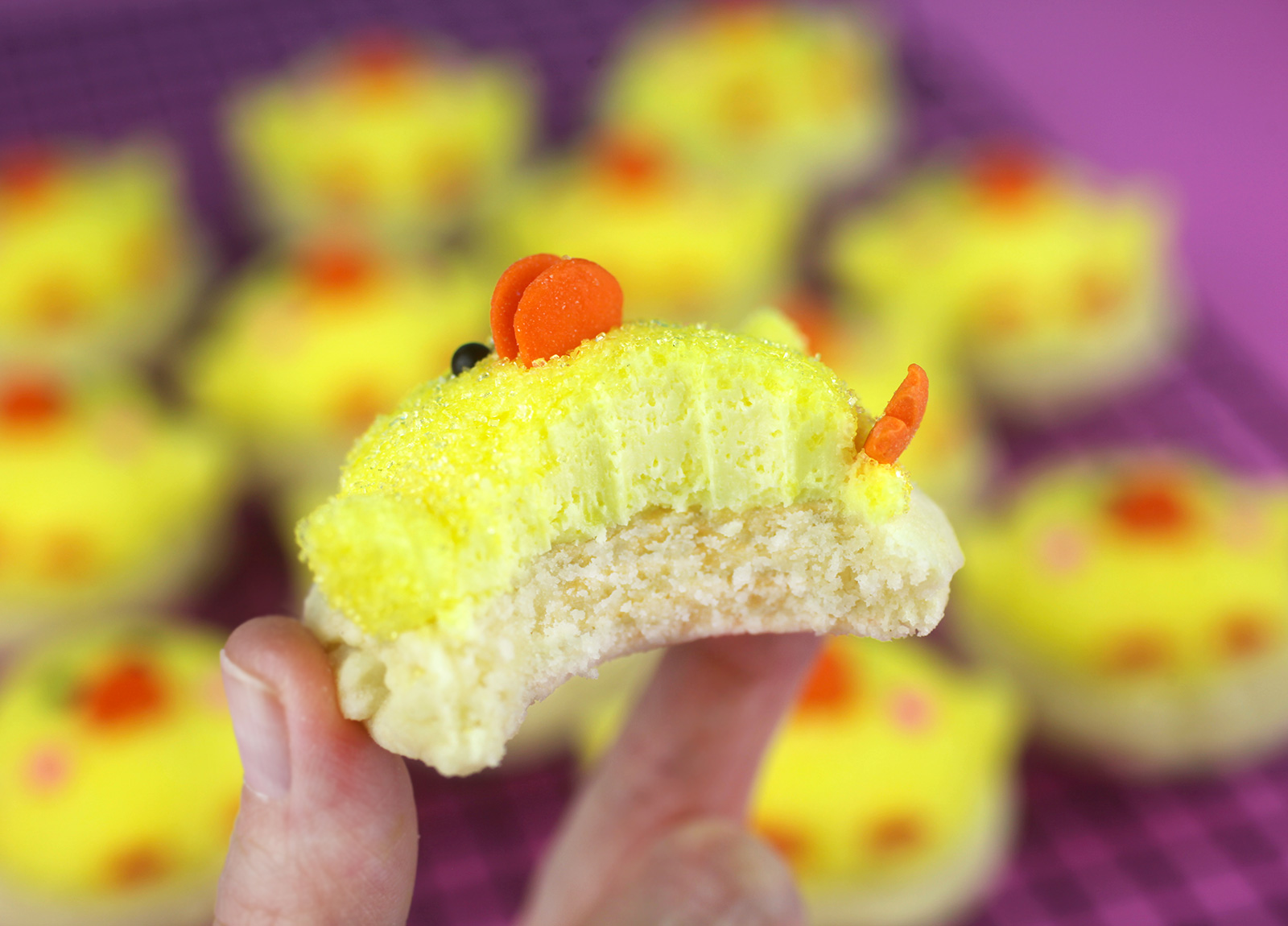 Yep. Delicious!
Hope you get a chance to make these sometime soon and have a Happy Easter!