Fruit.
I know. You must be wondering what's wrong with me.
Me too, but don't worry. Wait til you see how this recipe ends up.
I got it from a friend who got it from his wife who got it from someone at church who got it from …… someone who likes apples I guess.
Anyway, it sounded pretty yummy and easy. Easy being the key word here because I spent most of the weekend trying to get everything together that I'm going to need for the upcoming Cupcake Camp and Cake Pops Book Tour. Yeah, they're both right around the corner. Like next weekend around the corner. Hope you guys come by and say hi!
Please forgive me for the following if you do.
The main characters are chopped apples, walnuts and dates. Innocent enough. Good for you even.
After you mix up the cake batter, stir in the chopped walnuts. (I like mine on the small side.)
Chopped dates tossed in flour.
And diced apples. Stir them all together and then bake in a 13 X 9 pan for about 40-45 minutes at 350.
Take it out of the oven and when cool, poke holes in the cake so the topping you are about to add can seep inside and keep it cozy.
P.S. Remember how the cake looks here. I should have tasted it at this stage. I'm sure it was already yummy.
But then I added the topping.
Butter, brown sugar and milk… oh dear.
Heat it on the stove until it starts to bubble.
Remove and pour some over the cooled cake.
Here we go.
Hey … I said some…………
Not a waterfall. Yikes. I don't know what happened.
Yes I do. I was trying so hard to get a good pouring shot… taking pictures and balancing and pouring at the same time, I didn't notice that I bathed the cake in brown sugar.
Bathed … as in drenched.
But maybe that's okay with you.
It is with me. I just need to make a dentist appointment right away : )
Seriously though, pull back on the pouring. You shouldn't need all the topping and maybe not any. I guess I'll have to make it again to know for sure.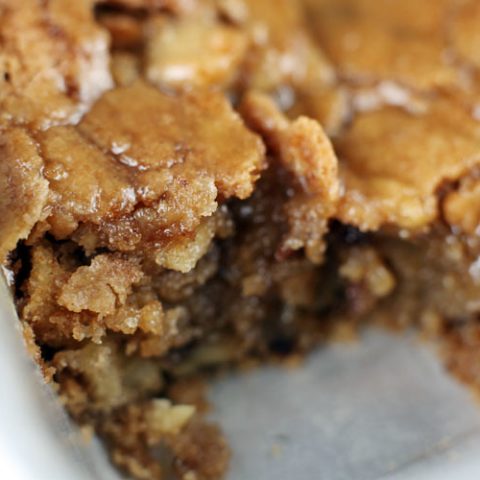 Easy Apple Cake
Prep Time 30 minutes

Cook Time 45 minutes

Additional Time 15 minutes

Total Time 1 hour 30 minutes
Ingredients
Apple Cake
3 cups flour
1 teaspoon baking soda
1 teaspoon cinnamon
2 cups sugar
1-1/2 cups oil
3 eggs
2 teaspoons vanilla
3 cups diced apples
1 cup chopped dates rolled in flour
1 cup chopped walnuts
Topping
1 cup brown sugar
1/2 cup butter
1/4 cup milk
Instructions
Preheat oven to 350 degrees.
In a medium bowl, sift together flour, baking soda and cinnamon with a wire whisk and set aside.
Combine sugar and oil using a mixer until blended. Add eggs and vanilla, mixing until combined. Add flour mixture and mix well.
Stir in nuts, dates and apples. The batter will be very thick.
Pour into a greased and floured 9 X 13 pan and bake for 40-45 minutes or until done.
Cool cake and using a skewer, poke holes in cake.
Cook topping ingredients on stove until mixture bubbles. Pour topping over cake letting some (ha… more if you like) seep into the cake.
Enjoy!