Hey guys and YAY!!!!!! …… I feel like I need to scream that right now. I guess you've noticed a little lack of baking lately. I'm sorry about that. I've been away from the blog for a few weeks but everything is fine. (Thanks for your sweet emails asking if I was okay.) I've just been moving to a new house and my kitchen has been all packed up for a while. And on top of that, I've been without internet for almost two weeks, too. Can you say stir crazy? … Because that would be me. But they finally got it up and going last night. YAYAYAY! So now that I'm starting to get all settled in to my new space, I'm way excited to start baking again … and in a new oven.
In the meantime, how about a fun little giveaway now that I can finally blog again. It's a pretty cute one.
Have you heard of Tattly?
They're designy temporary tattoos for adults and kids alike … plus they are totally cute.
They're like real, but fake.
And you can buy them in sets or singles.
I chose some that are sweet themed of course but there are tons of other cool and whimsical Tattly designs to choose from.
These designs all come in the Party Set illustrated by Julia Rothman.
And these designs are in the Birthday Set illustrated by Mike Lowery.
You could totally use either set for a birthday though. Fun times.
Want to see some more sweets in single versions?
How about popsicles? These are fun because you can use all four as one tattoo or cut them into sections and use one at a time. Love these.
Ice cream cone tattoos with sprinkles? Yes please.
What about lollipops?
Or Birthday Garland? Way fun.
Want to win some?
Enter for a chance to win one of two Tattly sets including:
The Party Set, The Birthday Set plus the popsicles, ice cream cones, lollipops, and birthday garland.
To enter, just leave your answer to one of the questions below on this post.
Which one of the above temporary tattoos is your favorite (if any)? OR Do you have a real tattoo? and what is it? I'm curious.
Deadline to enter is Friday, August 16 at 8:00 pm ET. Sorry, Time's Up! Winners announced below.
Two winners will be chosen at random and announced sometime Saturday.
Good Luck!
And we have two winners. Sorry, I didn't get these posted last night but here they are.
Congratulations Kathy and Wendy M! I hope you have as much fun playing with these as I have.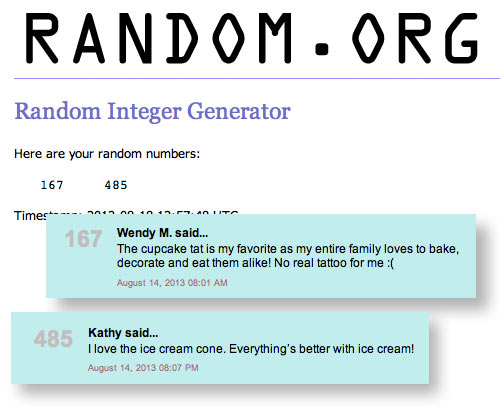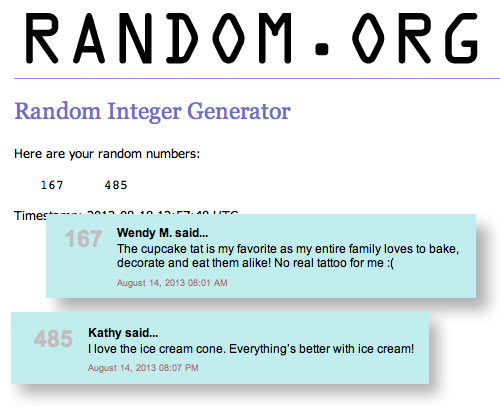 Giveaway sponsored by me.