You guessed it… Mint Oreo Truffles ummmmm… good. These might even be better than the originals (well, maybe). And, they're just as easy to make, but because I could only find the mint Oreos in Double Stuf, I changed the ratios a little from the regular Oreo Truffle recipe. Here you go…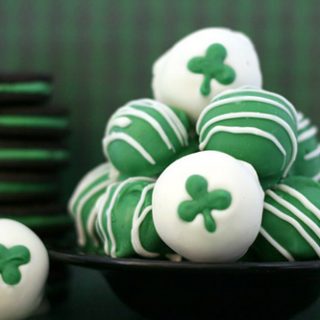 Yield: three dozen truffles
Mint Oreo Truffles
Ingredients
1 pkg. Double Stuf Oreos - Cool Mint Flavor
• use 22 cookies with cream centers included
• use 10 cookies with cream centers discarded
1 pkg. (8 oz.) cream cheese, room temperature
chocolate, vanilla or green candy coating
Instructions
Finely crush the cookies in a food processor or a ziploc bag with a rolling pin.
Stir in softened cream cheese. Use the back of a large spoon to help mash the two together completely.
Roll the mixture into 1" balls and place on wax paper covered cookie sheet.
Place covered in freezer or refrigerator for a few minutes to help retain shape when dipping in melted chocolate.
Melt chocolate as directed on the package and then dip balls into chocolate, tap off extra and set aside on wax paper covered cookie sheet to dry.
Refrigerate and enjoy!
To decorate: Make your green and/or white shamrocks . You can use a ziploc bag with a small corner cut off or a decorating bag with with a small round tip attached to make the shamrocks. Use a toothpick to direct chocolate into desired shamrock shape. Let dry.
Then, dip half the truffles in white chocolate and the other half in green. While still wet, press your cooled shamrocks gently on the top of your truffles.
For another effect, you can take the ziploc bag of chocolate and drizzle across each truffle with the alternating color.
Notes
Recipe amended from Kraft Food & Family Fall 2006.
I used a brand from Hobby Lobby for the green candy melts and regular white chocolate bark found at Kroger for the rest. But since I can't find a link to them online, here's a few links to some other candy melts I found, but haven't tried yet.
Colored Candy Melts

Merckens Candy Melts
Wilton Candy Making Tips