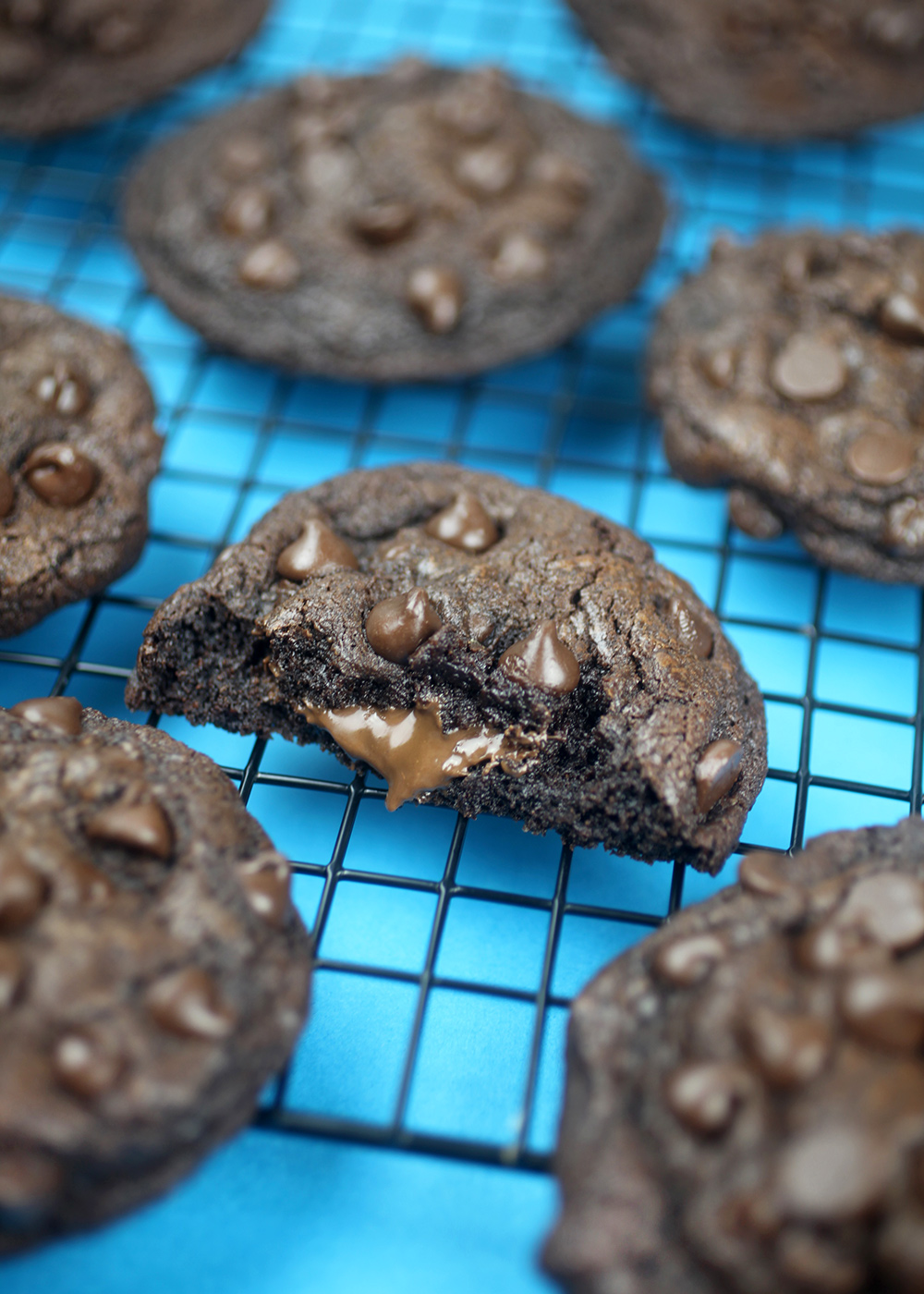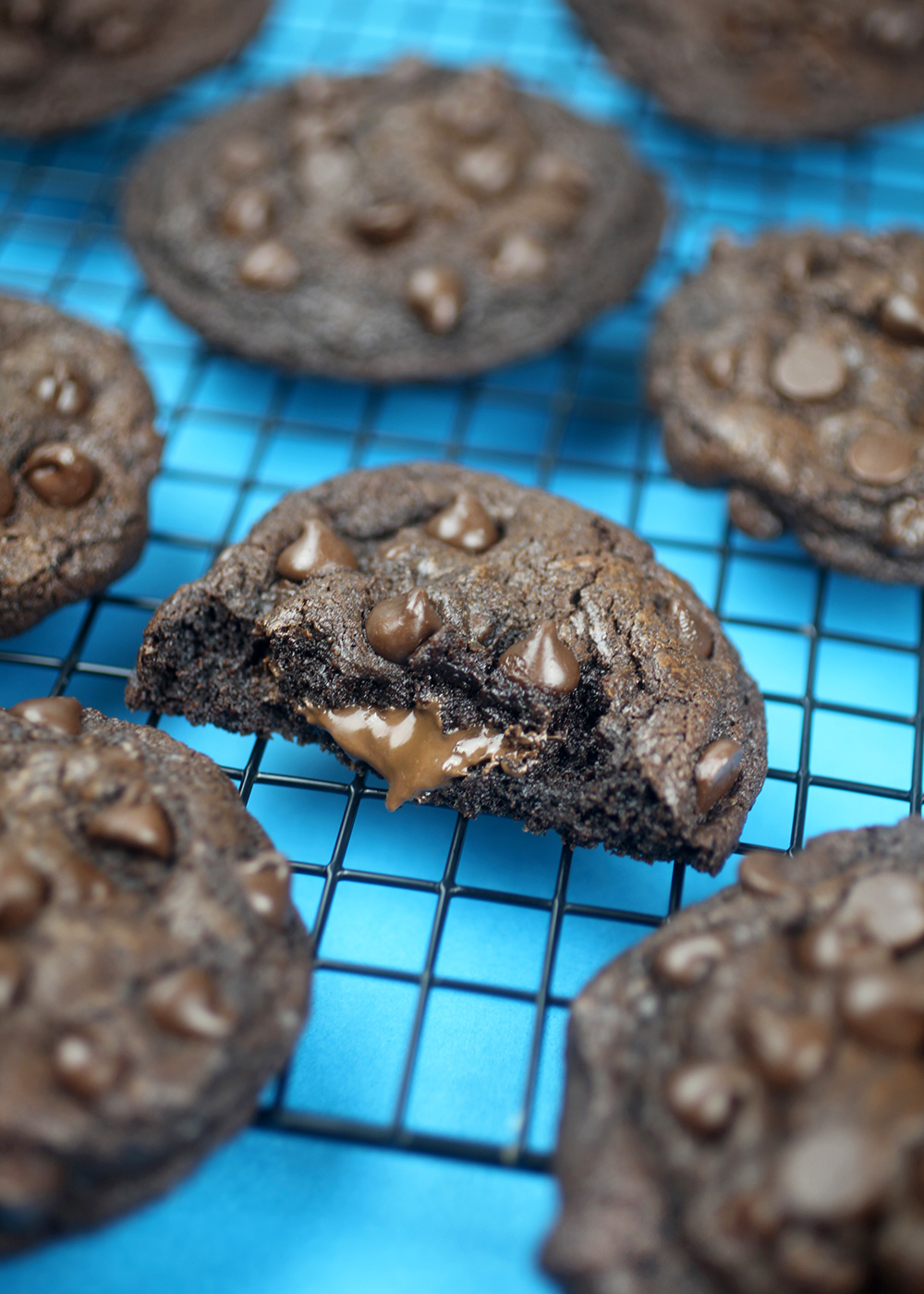 I could not stop eating these soft chocolatey cookies filled with pockets of Nutella right in the middle. Oh my gosh. So good!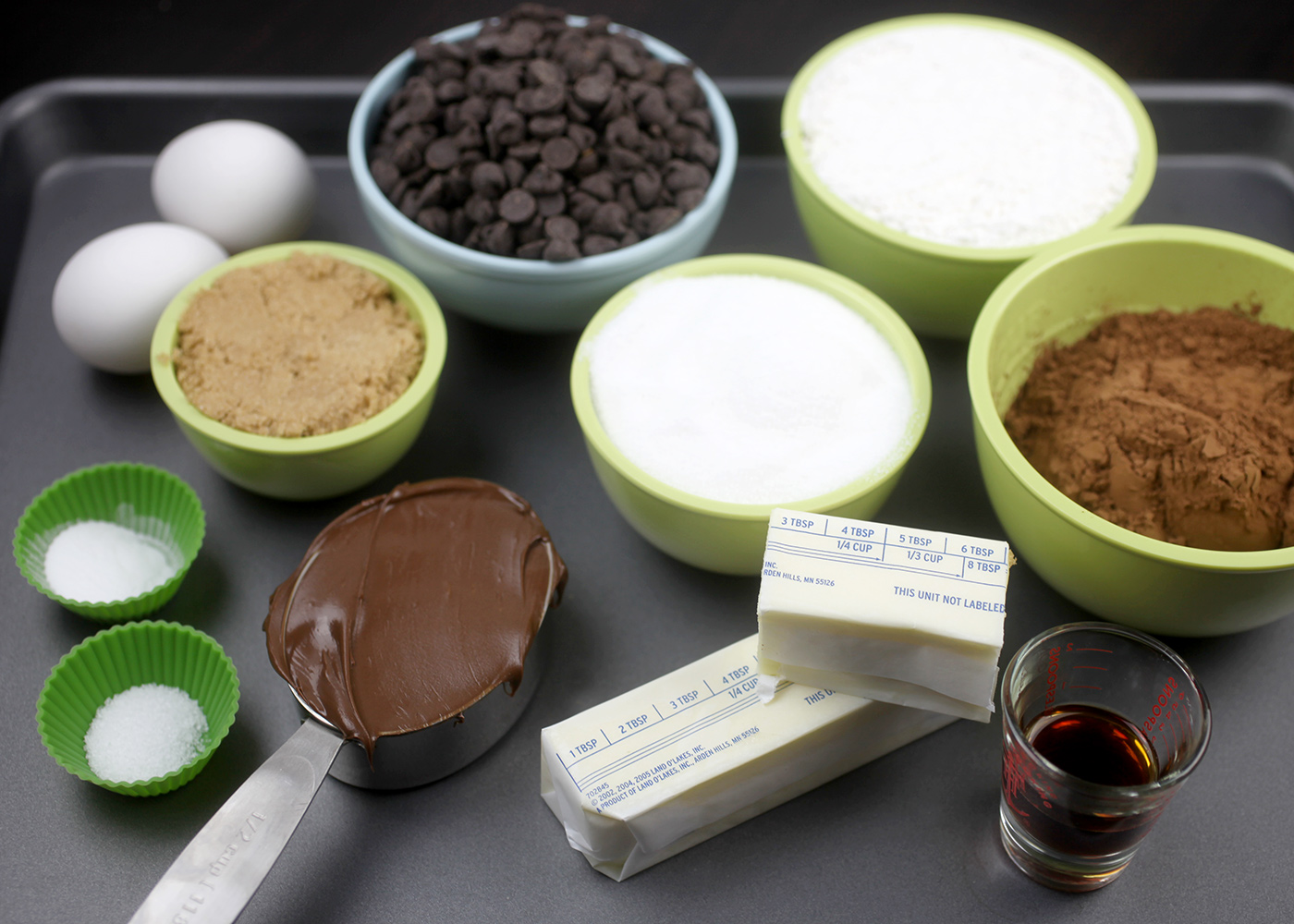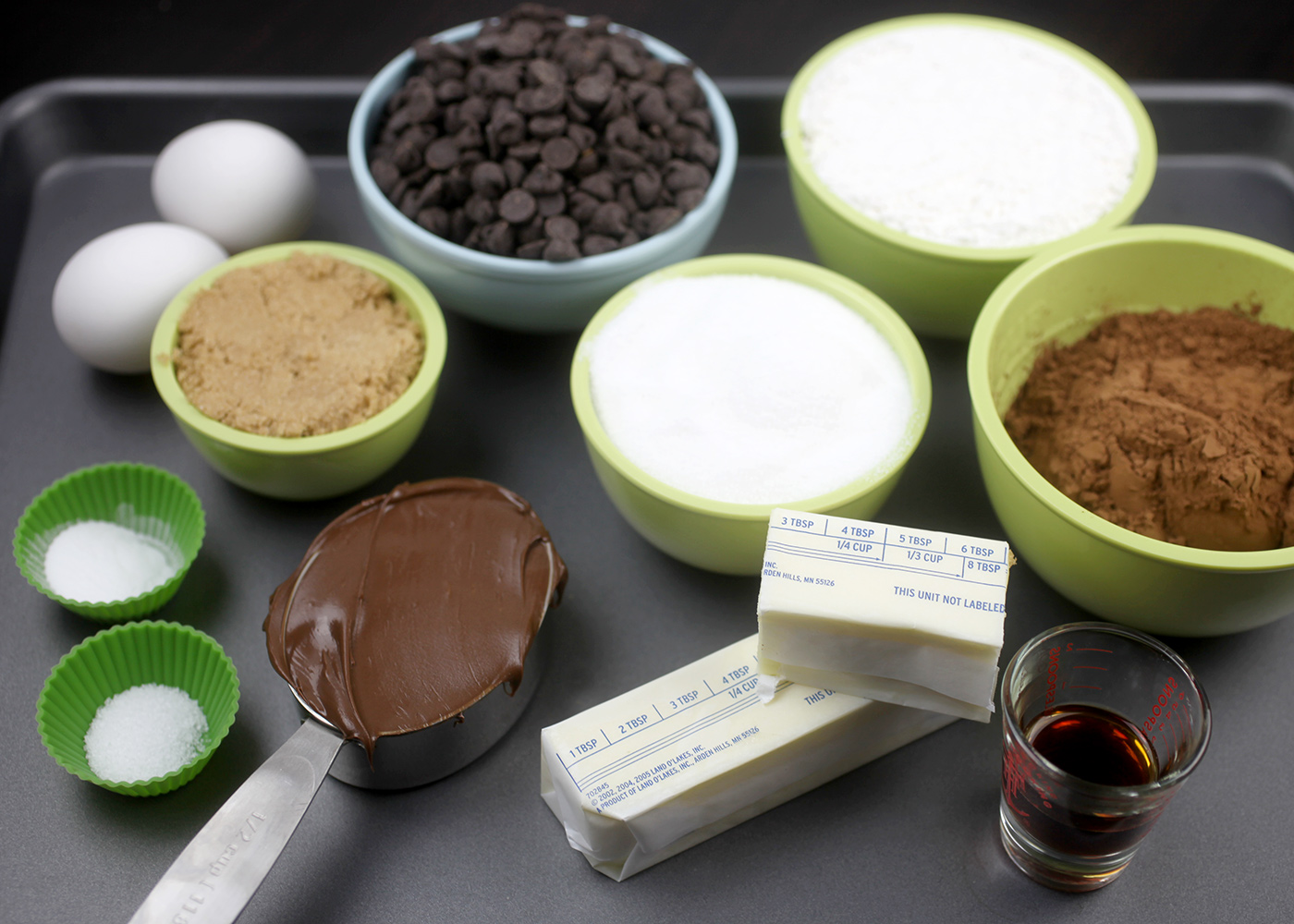 Ingredients are straight up basic but these cookies are bursting with chocolate flavor.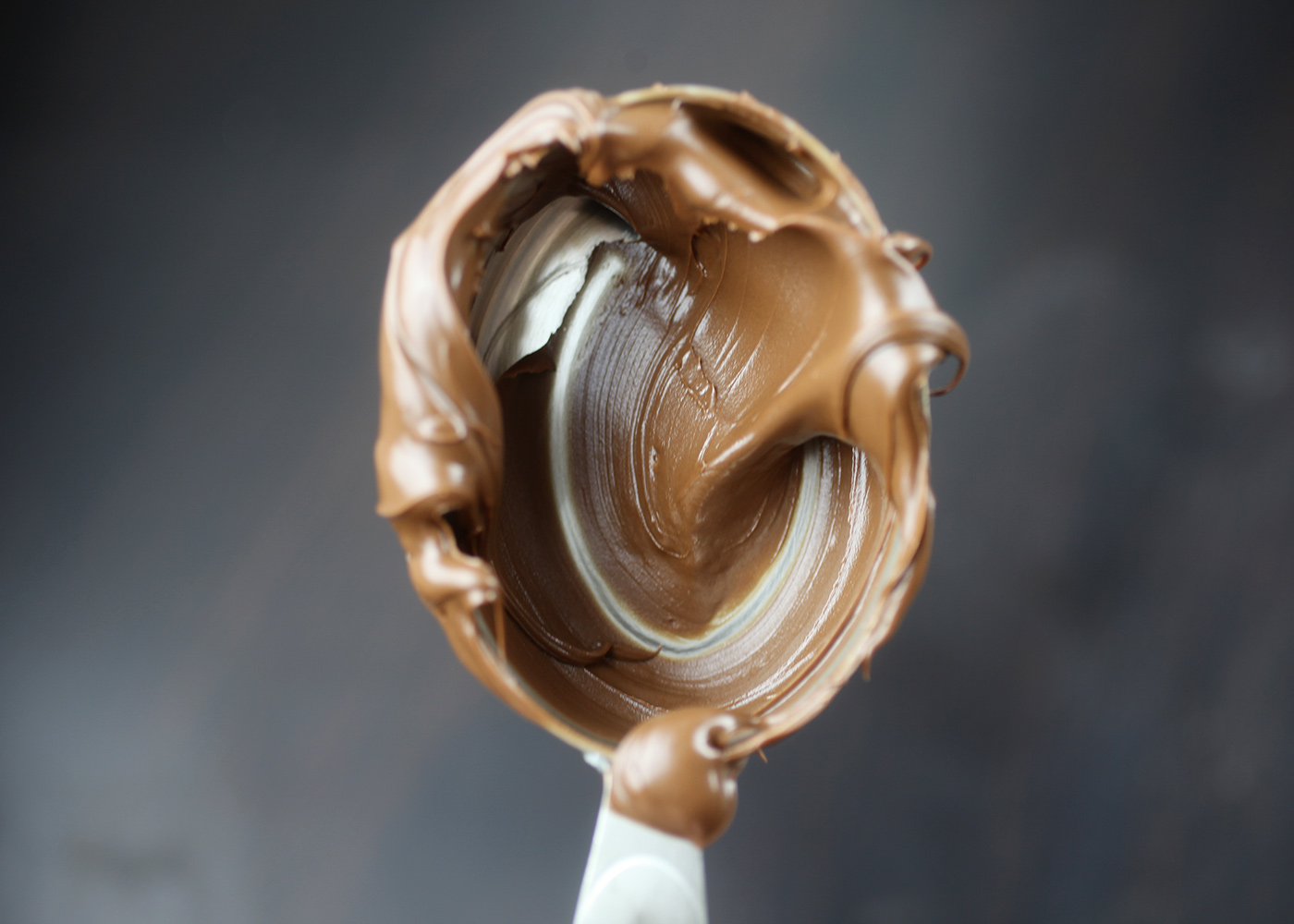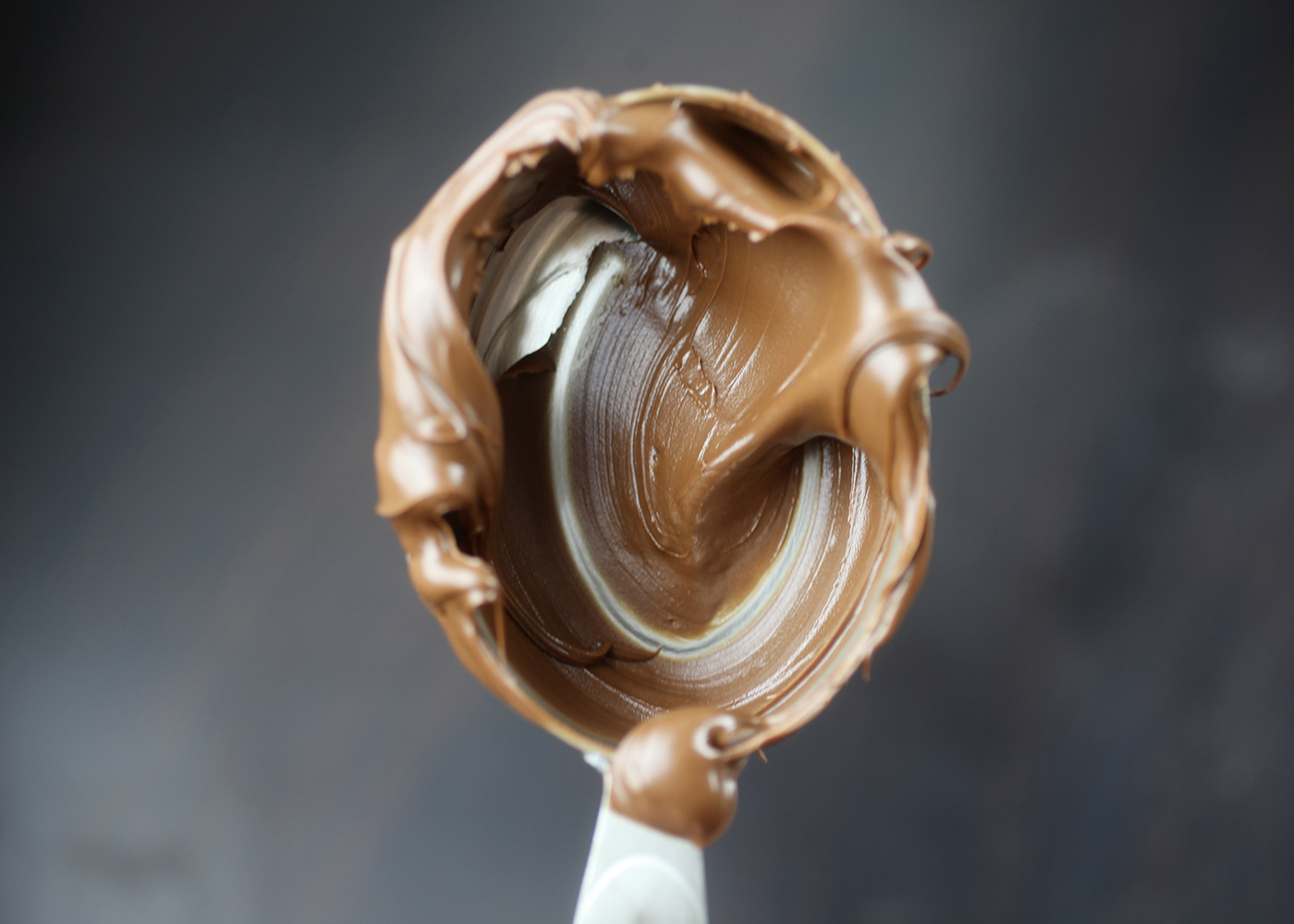 Dreamy!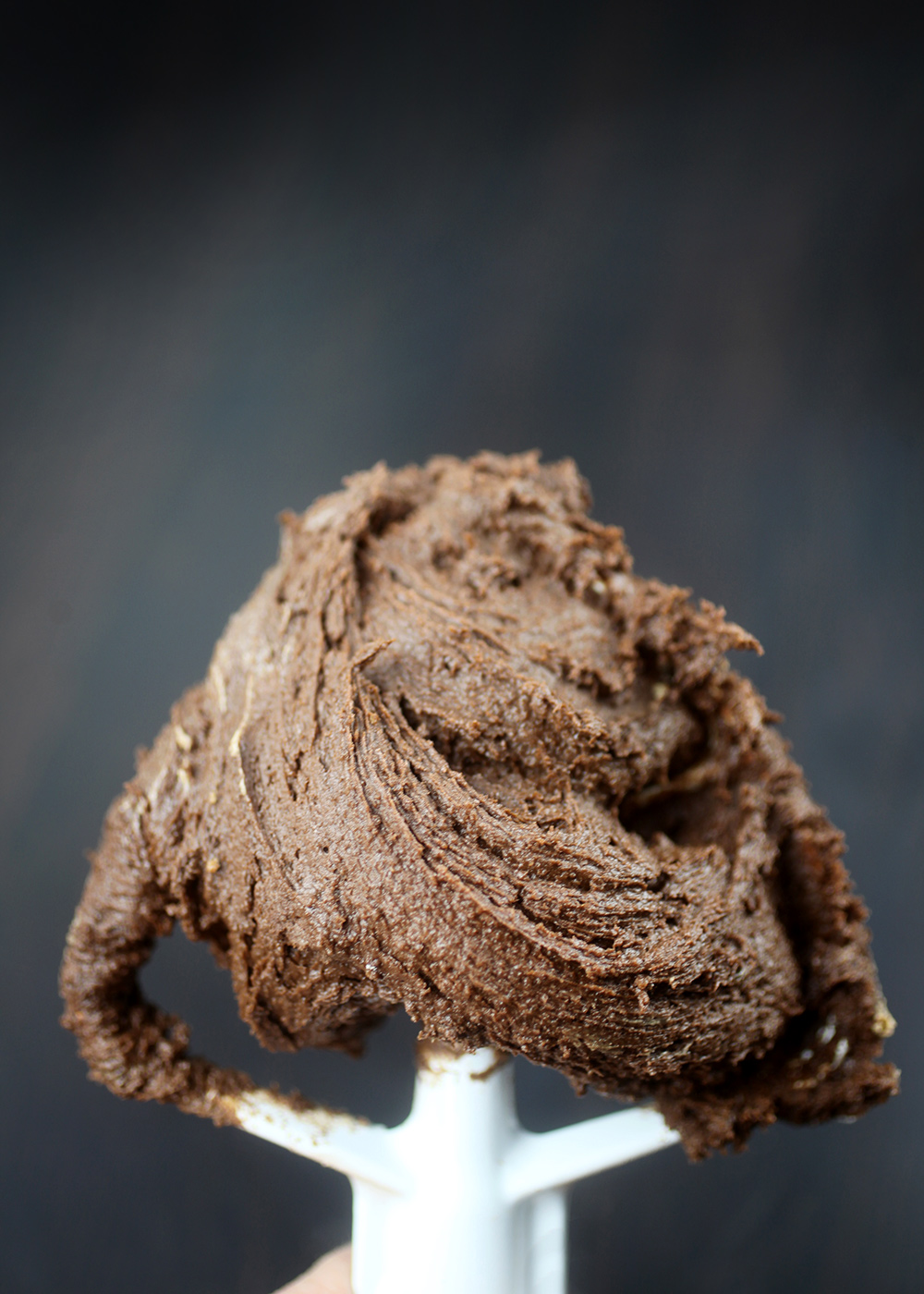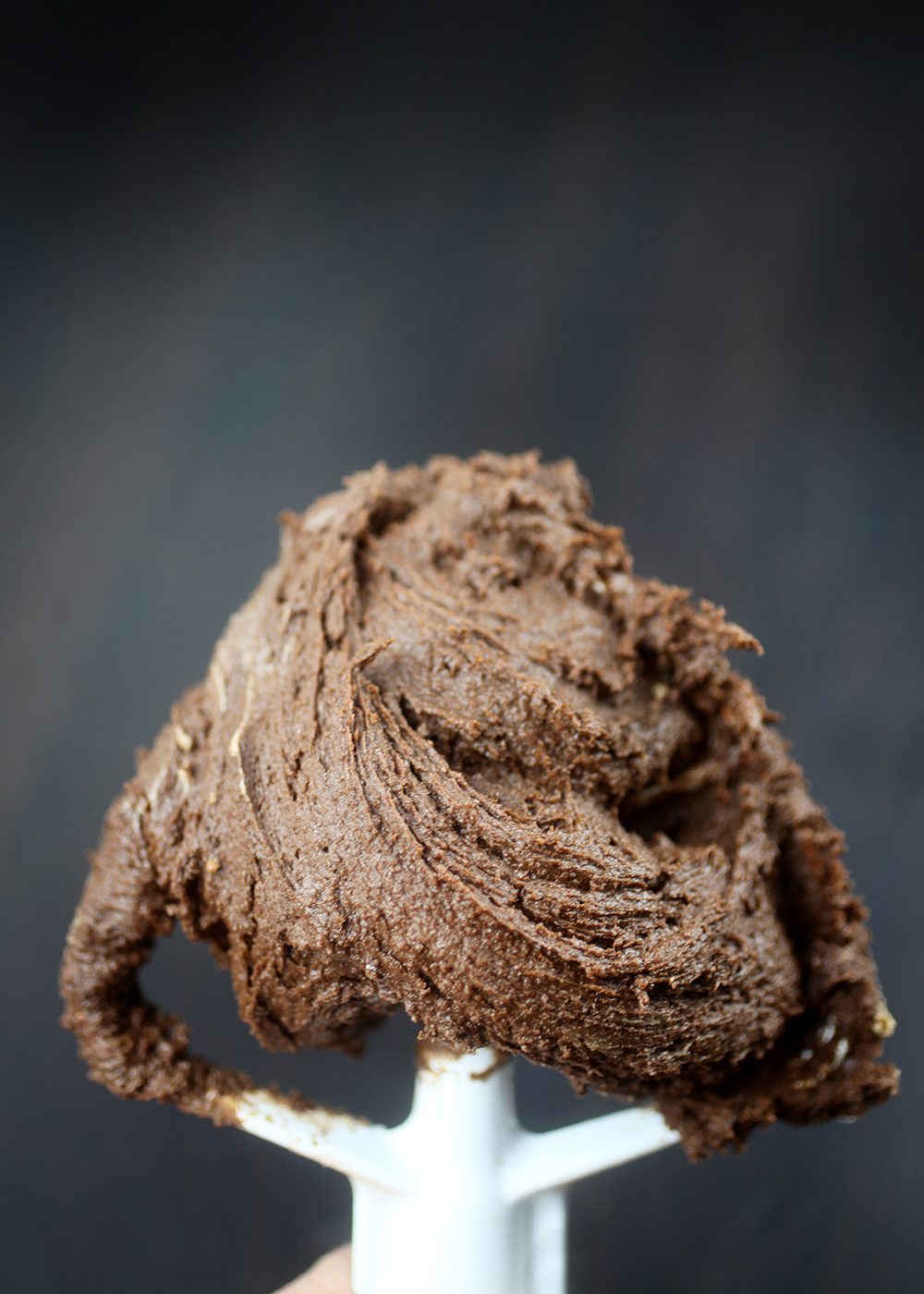 And a delicious addition mixed in the batter.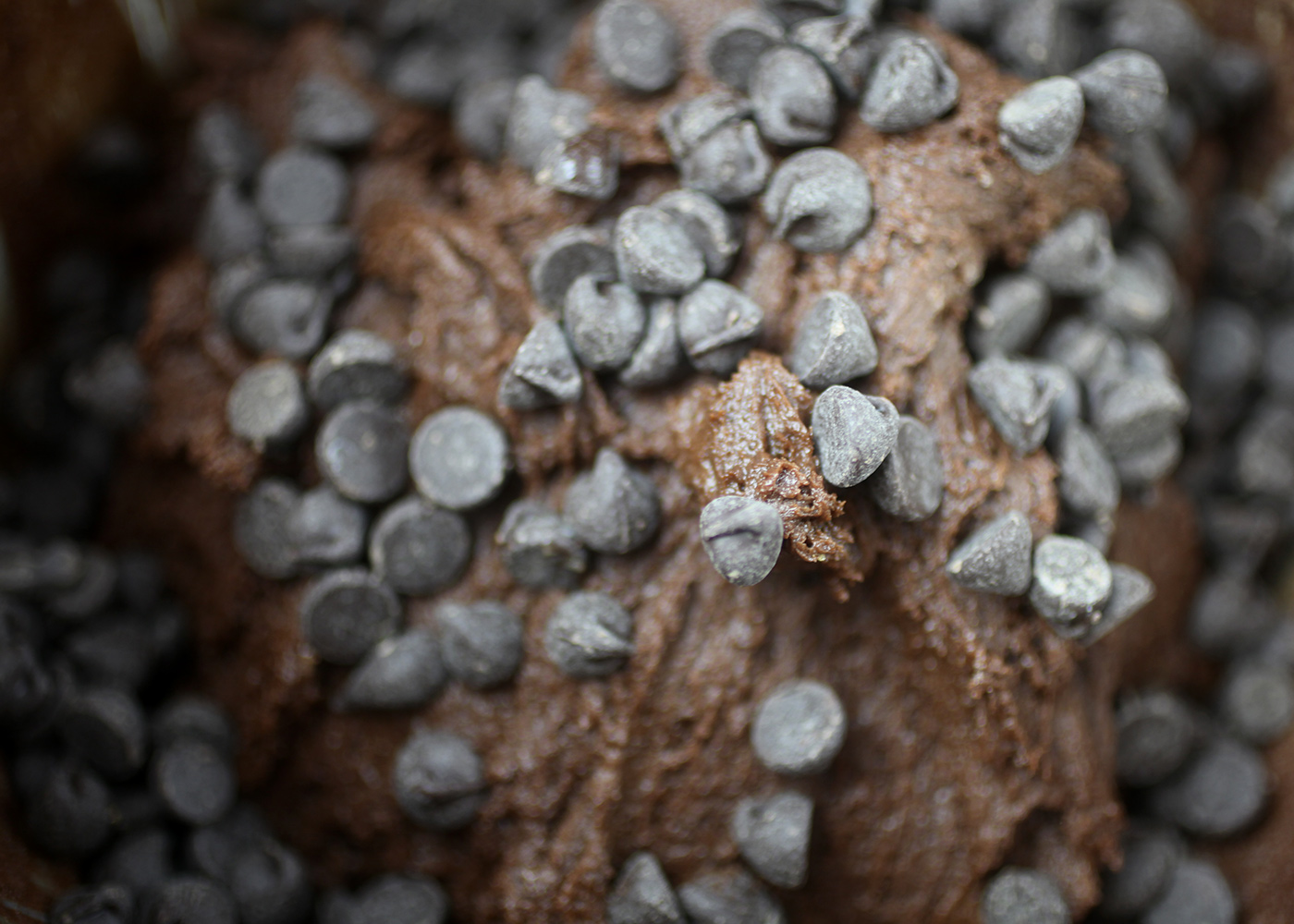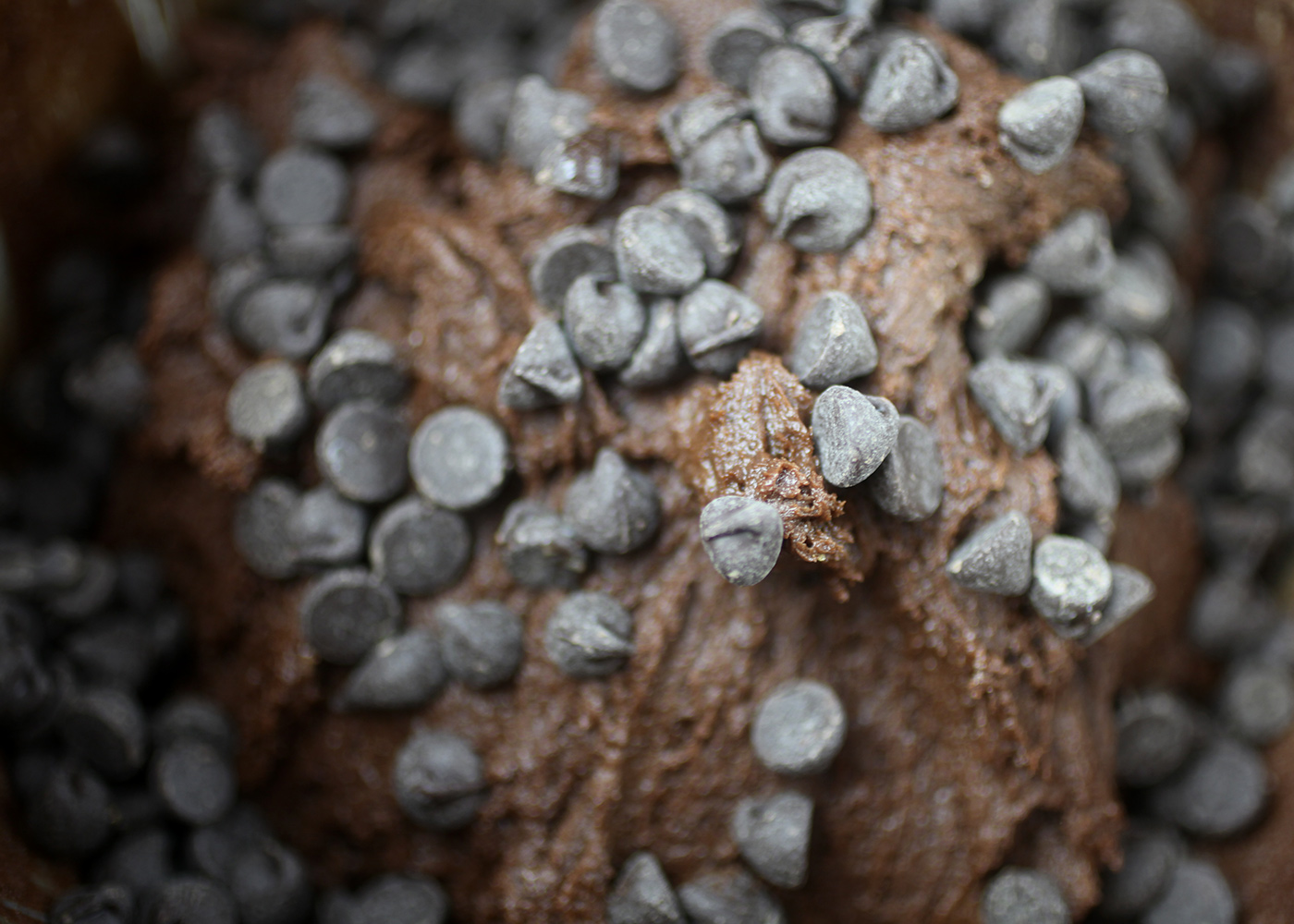 Now let's double the fun with chocolate morsels.
Chill the dough and prepare more Nutella to stuff inside.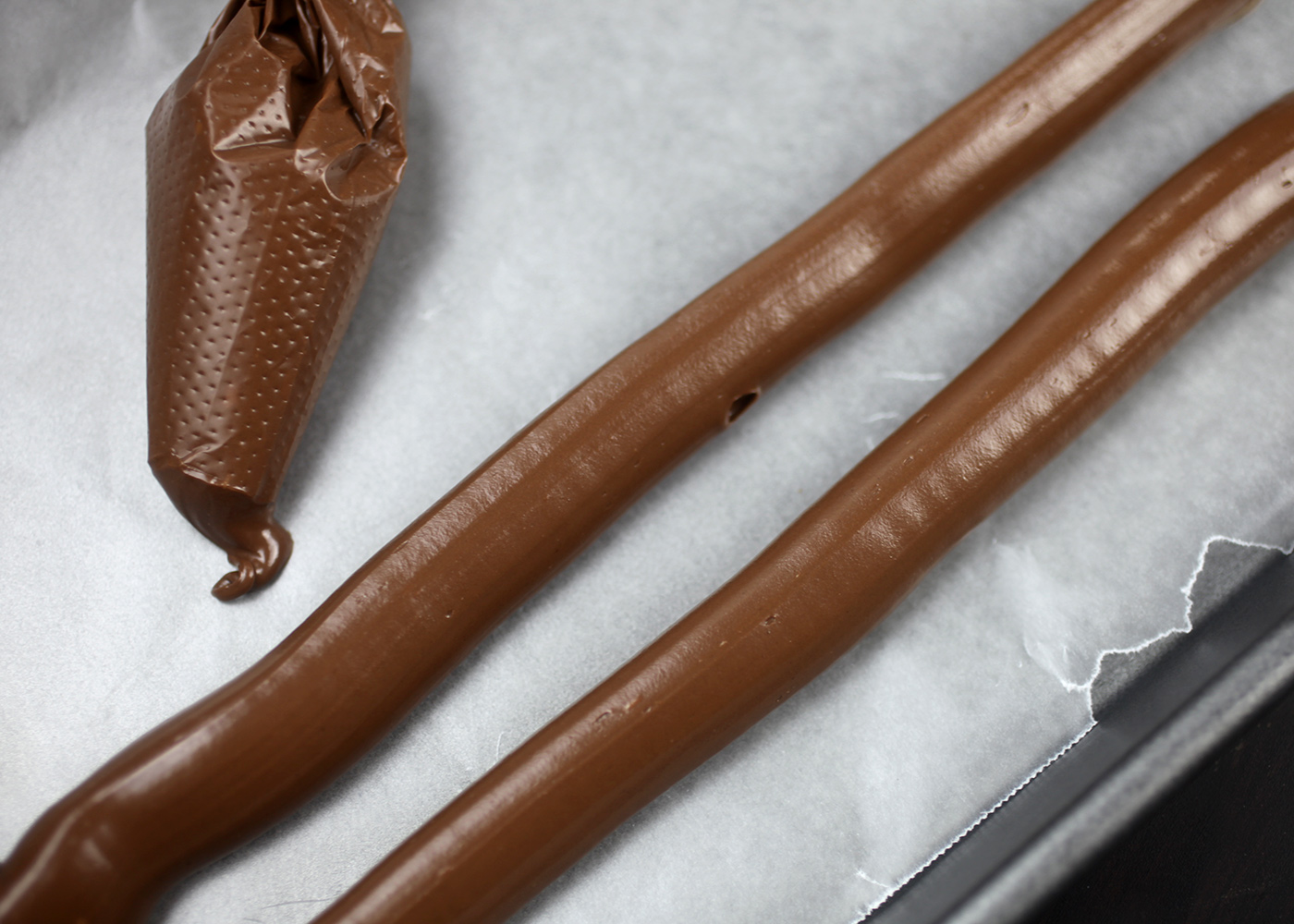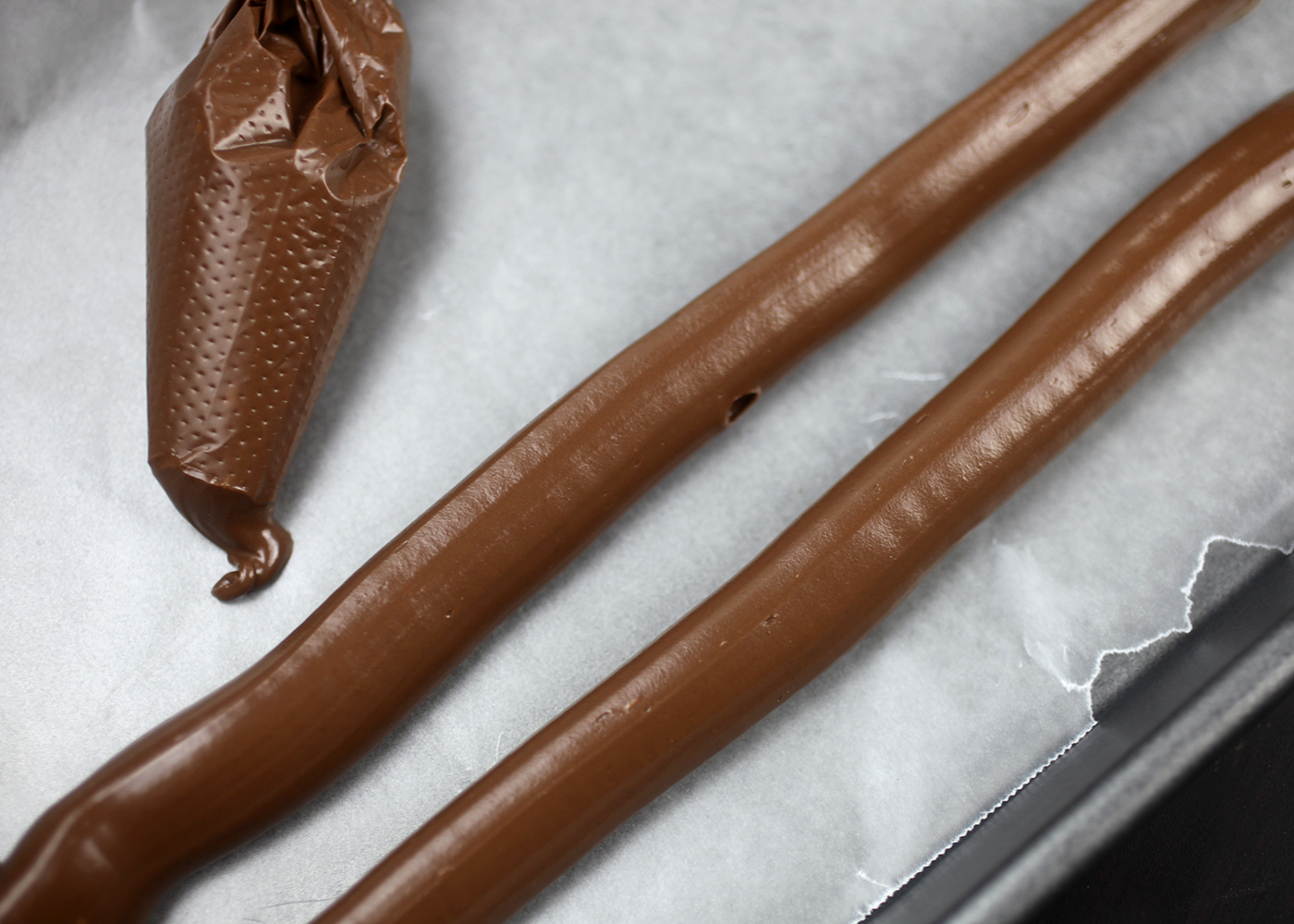 Pipe very thick lines on wax paper using remaining Nutella (that you didn't already eat by the spoonful) and freeze for about 30 minutes.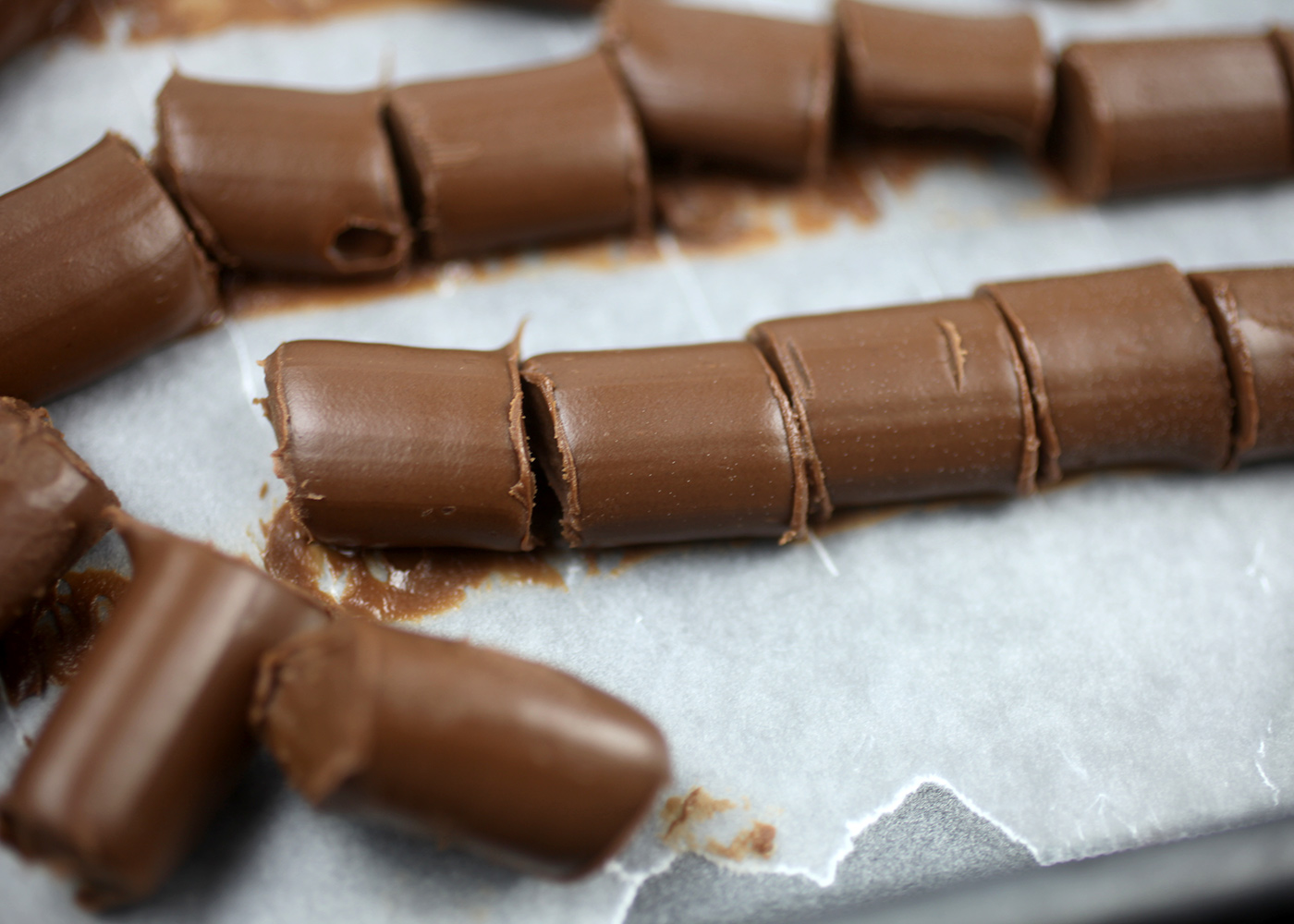 When firm, slice into roughly 1-inch sections.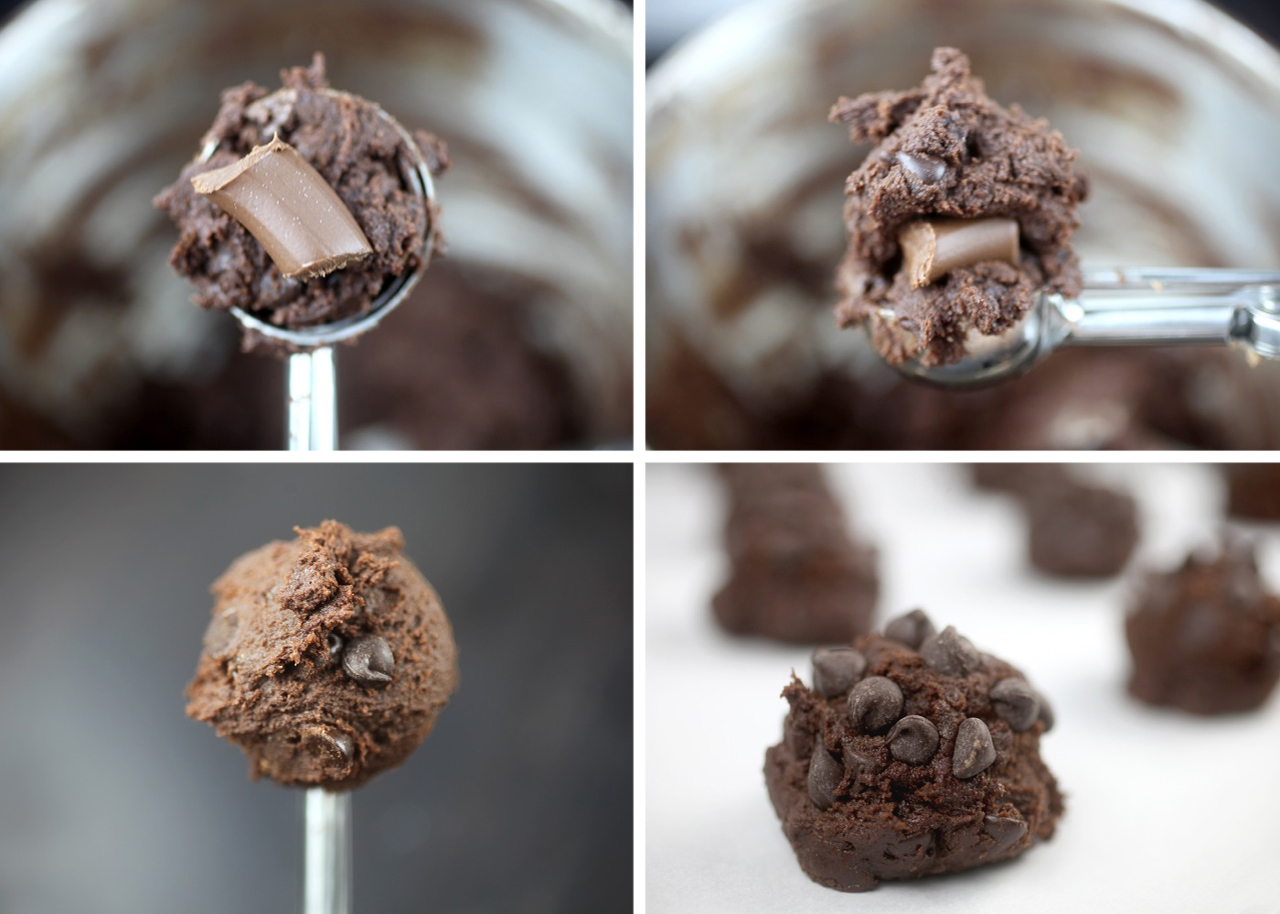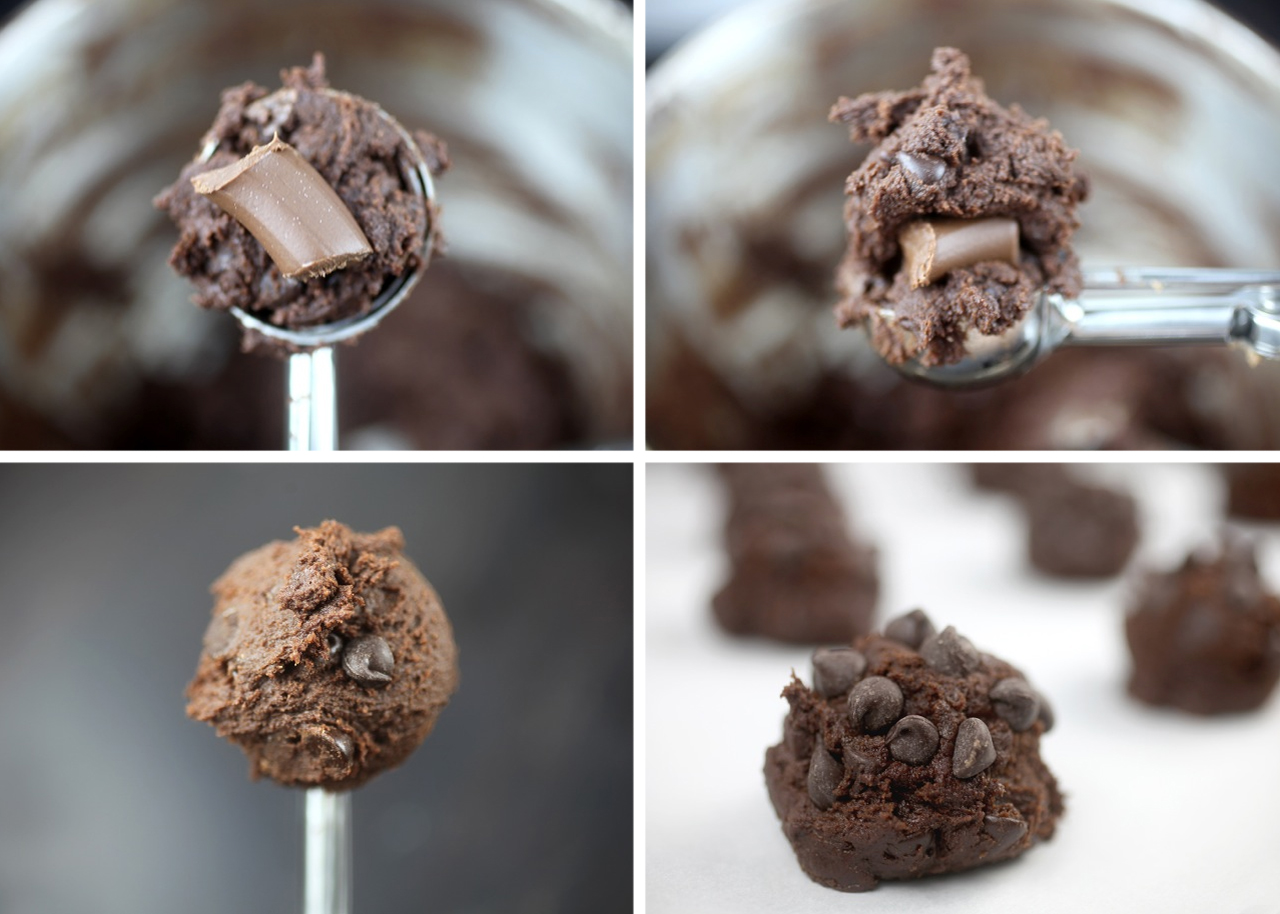 Scoop up some dough, place a nutella piece on top and then spoon more cookie dough on top. Shape and seal the edges and then place on a wax paper covered baking sheet.
Finally press more morsels on the top and sides and bake.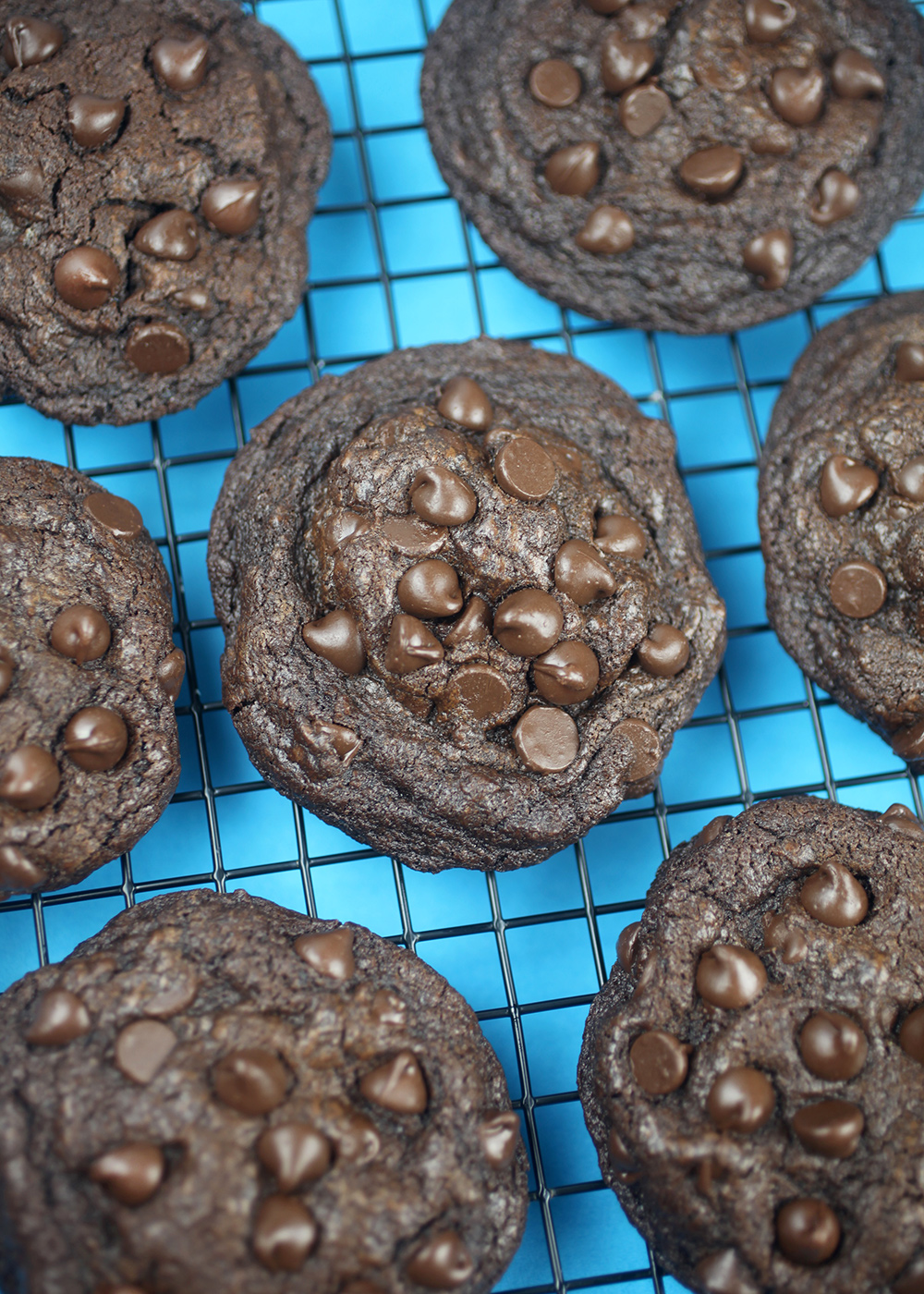 Pressing morsels on top before baking helps them look much more glamourous.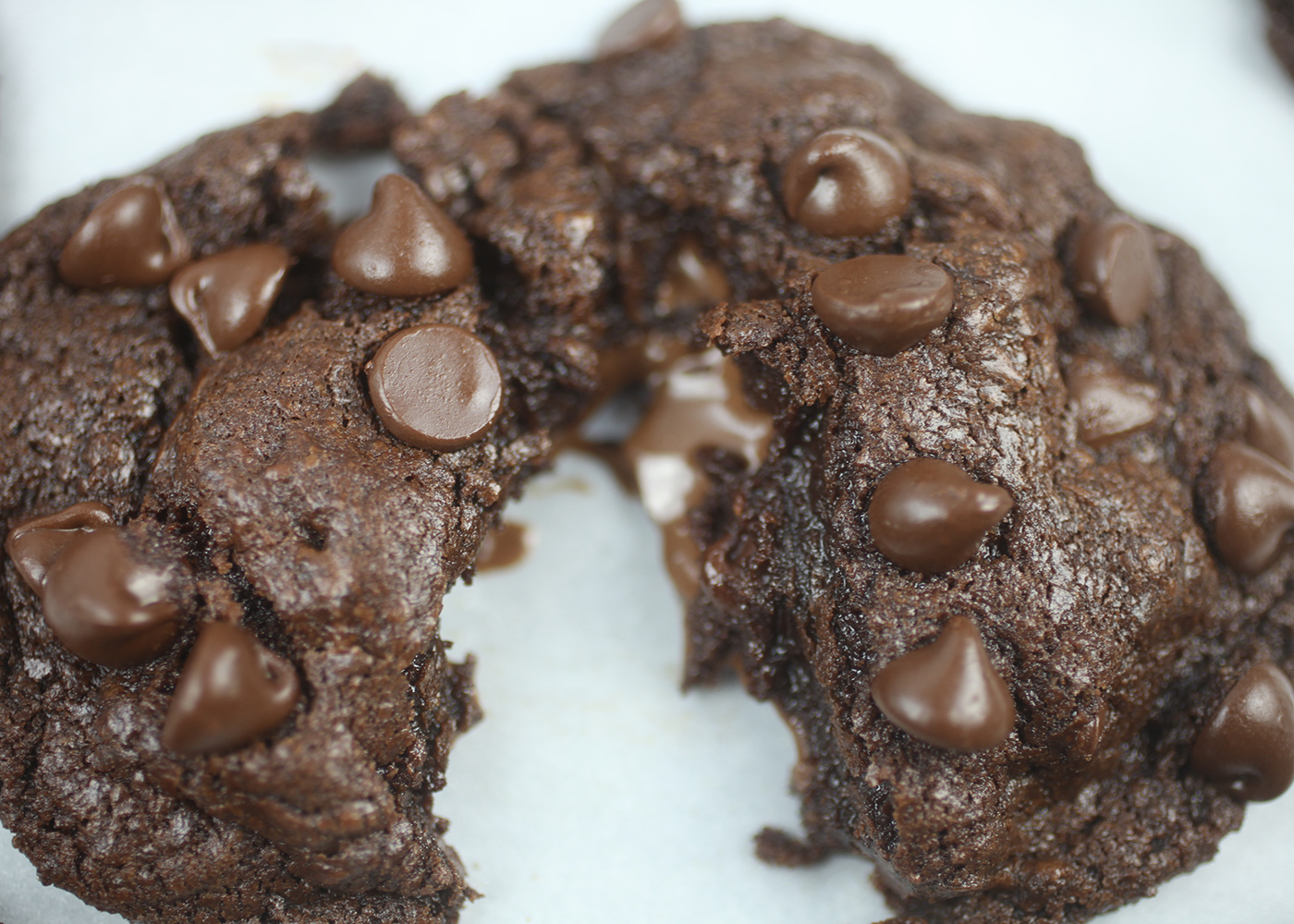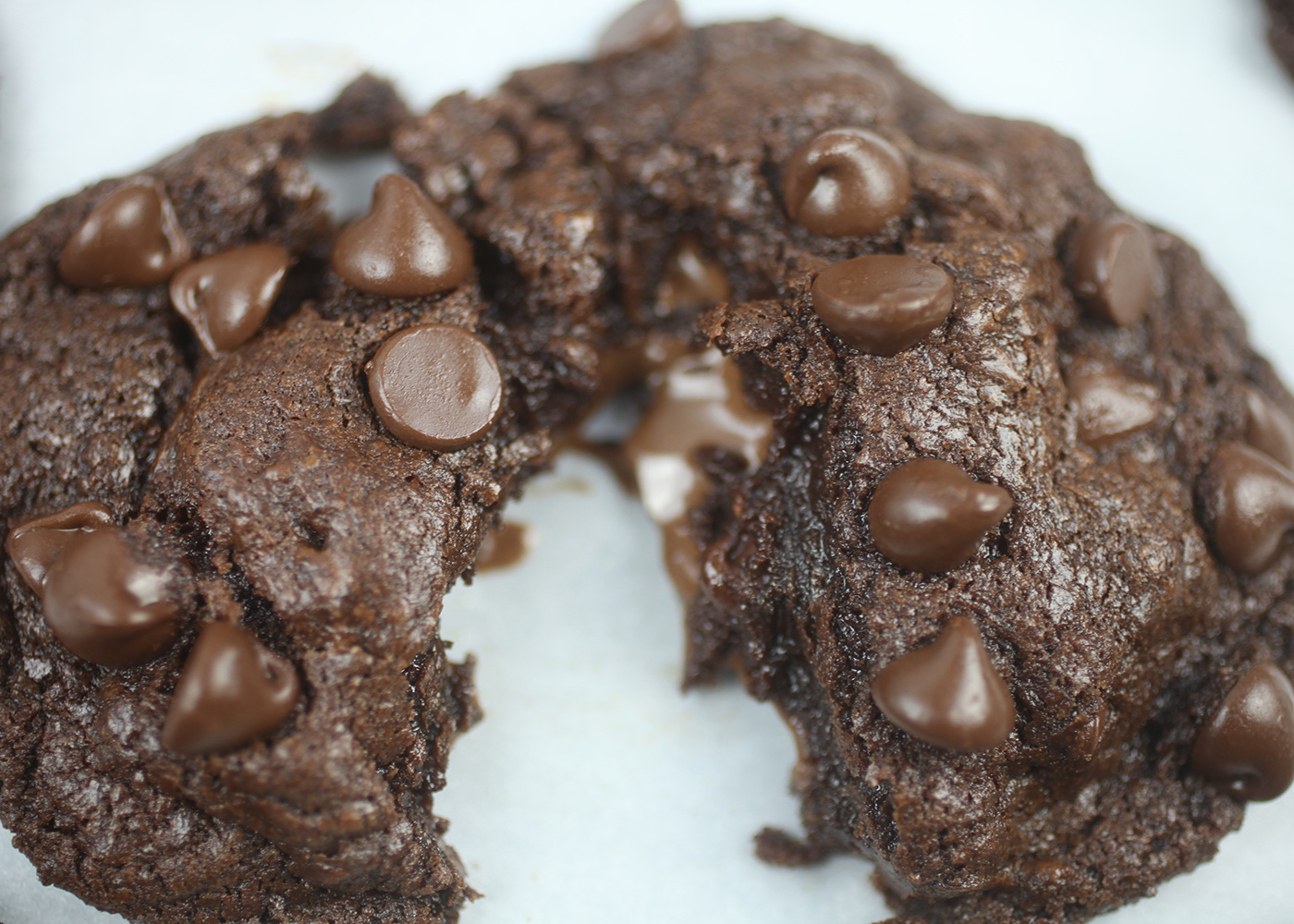 Make sure to eat some while still warm to get all that melt-in-your-mouth that gooey goodness.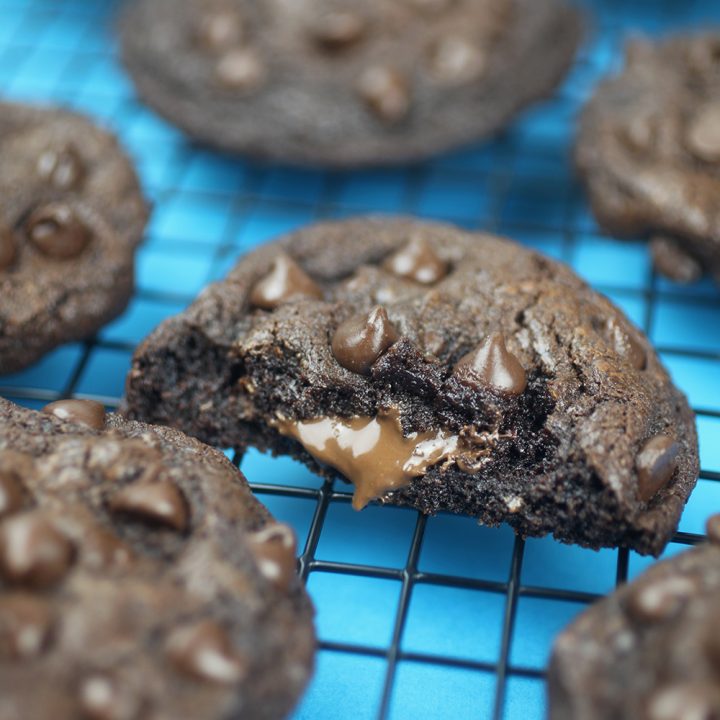 Yield: 18 large cookies
Double Chocolate Nutella Cookies
Prep Time 15 minutes

Cook Time 15 minutes

Additional Time 30 minutes

Total Time 1 hour
Ingredients
1-1/2 cups all purpose flour
3/4 cup natural unsweetened cocoa
1/2 teaspoon baking powder
3/4 teaspoon baking soda
1/2 teaspoon salt
1-1/2 sticks unsalted butter, room temperature
1/2 cup Nutella or chocolate hazelnut spread
1 cup sugar
1/2 cup packed light brown sugar
2 eggs
2 teaspoons vanilla
2 cups semisweet chocolate morsels
Nutella
Instructions
Sift flour, cocoa, baking powder, baking soda and salt together in a medium bowl and set aside.
In a stand mixer, cream butter, Nutella and both sugars until light and fluffy.
Add eggs and vanilla to butter mixture and mix until incorporated.
Slowly add flour mixture, mixing each until combined. Scrape down sides of bowl and mix again just until incorporated.
Stir in 1 cup of the chocolate morsels, reserving the rest and place dough in the fridge to chill for about 30 minutes.
Spoon leftover Nutella into a large resealable plastic bag and snip off a corner of one end. Pipe thick lines of Nutella on a wax paper covered baking sheet and place in the freezer for 30 minutes while the cookie dough chills. When very firm, slice into 1-inch sections.
Preheat oven to 350 degrees Fahrenheit and line baking sheet with parchment paper.
When dough is chilled, scoop dough using a 1-1/2 inch scoop and place a chilled piece of Nutella in the center (note: keep nutella pieces in freezer as you assemble so they stay firm.) Spoon more dough and place on top. Shape into a ball and seal edges. Place on baking sheet 2-3 inches apart.
When done, press remaining morsels on the tops and sides of cookie dough balls and bake for 12-14 minutes. Cool for about 10 minutes.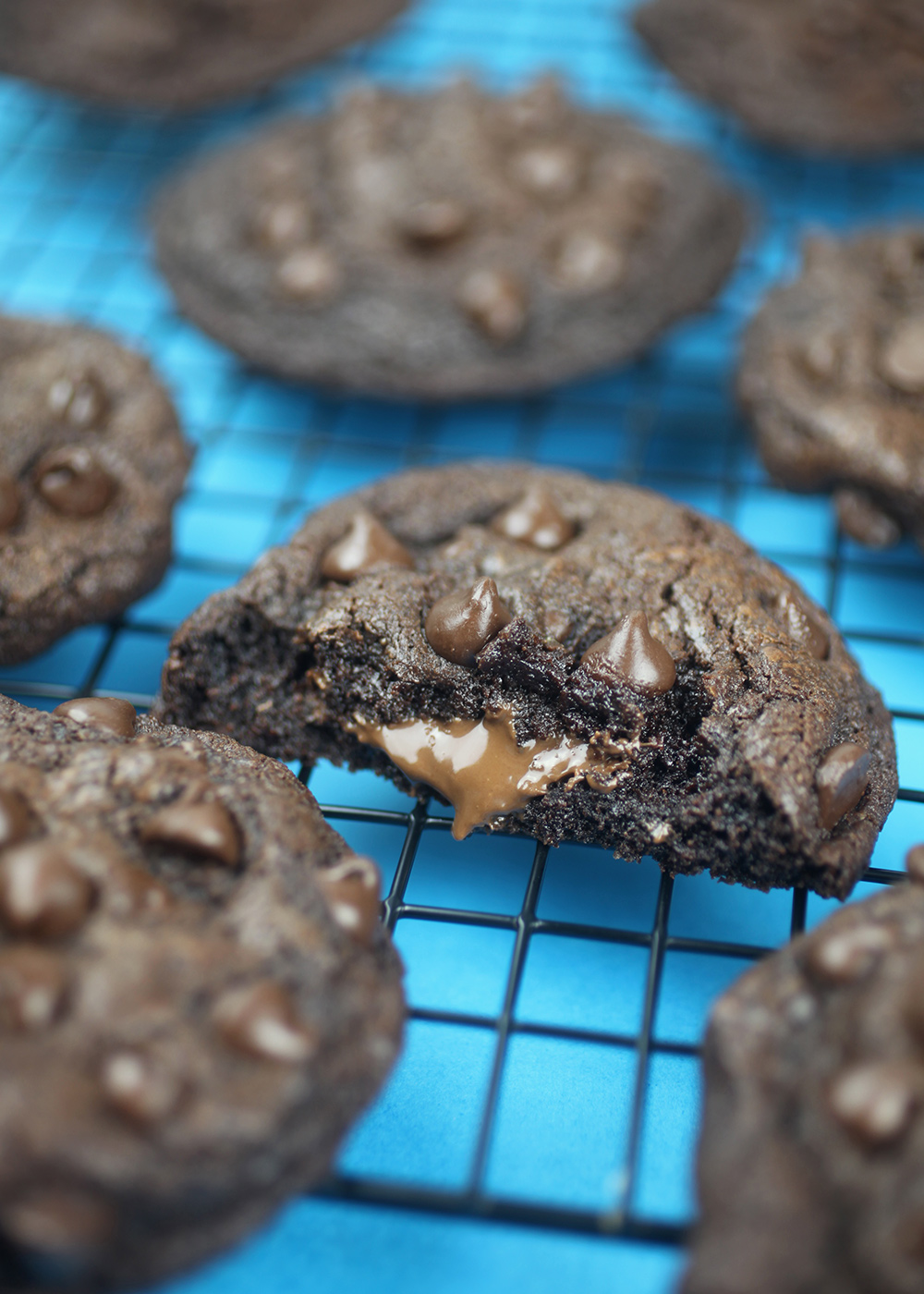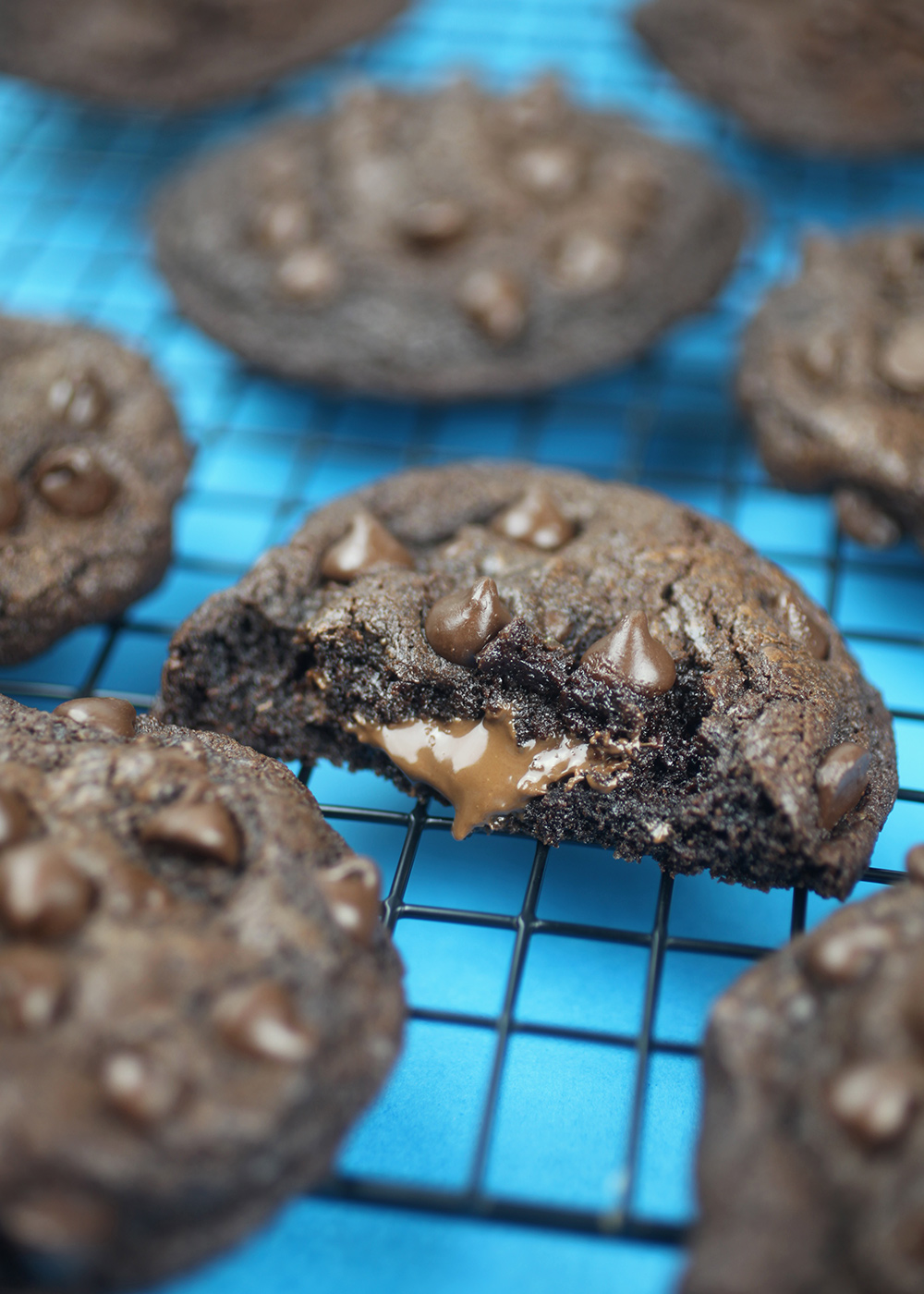 Enjoy!