… with chocolate chips I might add. Ever get a taste for pancakes, but don't feel like flipping?
I do. Especially since I always seem to be the one still flipping while everyone else gets to eat the first ones off the pan. If I had a bigger griddle, it would probably be ok. But I have a little one and usually end up frying one pancake at a time to make sure they look decent… which takes for ever.
But not this way. Try these laborless baked pancake muffins. Hmmmmmm… Puffins anyone?
Generously grease a 24 cup mini muffin pan with non-stick spray.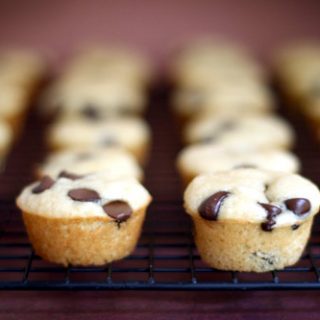 Yield: 24 mini pancake muffins
Mini Maple Pancake Muffins
Prep Time 15 minutes

Cook Time 10 minutes

Total Time 25 minutes
Ingredients
1 cup all purpose flour
1 teaspoon baking powder
1/2 teaspoon baking soda
1/4 teaspoon salt
2 tablespoons sugar
2/3 cup buttermilk
1 egg
2 tablespoons pure maple syrup
2 tablespoons melted butter
1/2 cup - 3/4 cup milk chocolate chips
Instructions
Preheat oven to 350 degrees and spray a 24 count mini muffin pan with non-stick baking spray.
Combine flour, baking powder, baking soda, salt and sugar in a medium bowl. Sift together with a wire whisk.
In another bowl, stir buttermilk, egg, maple syrup and melted butter until just combined.
Add wet ingredients to dry ingredients and stir with a spoon until combined.
Stir in chocolate chips. Reserve a few chips to sprinkle on the tops. Bake for 8-9 minutes.
Let cool slightly and remove from the pan. You may need to use a toothpick around the edges to separate the pancake muffins from the pan.
Serve immediately with warmed butter if you like or even just with maple syrup. Freeze any leftover to microwave for a quick breakfast bite.
Using a small bowl to serve the syrup in makes it really convenient to coat the muffins in maple.
See. Just dunk them right in.
Wait, let's look at that again…
Yuuu-uuuum!
But, they're even tasty all by themselves.
And, if you don't want chocolate chips…
… just leave them out.
But, the chocolate lover in me prefers the chips.
Enjoy!
One more thing… I'm hoping that sometime in the next week or so, you'll get to see a new design for www.bakerella.com. I'm planning on moving the site from blogger to self-hosting it on wordpress. I've loved being on Blogger, it's super easy and user-friendly, but I'm hoping to offer more functionality with a different platform. There will be more ways to navigate around the site and search for instance – which many of you have asked for. We'll see how it goes. Hopefully, smoothly. But, don't be surprised if the site has a few hiccups along the way. Stay tuned … and if you already link to www.bakerella.com instead of www.bakerella.blogspot.com – you're already ahead of the game.