Check out the frosting on these banana cupcakes. Super smooth and creamy, cream cheese buttercream … so delicious and creamy. Did I mention creamy? I also used a little added yellow to tint the otherwise cream colored creamy cream cheese frosting … you know, just to enhance the senses. I'm tricky like that.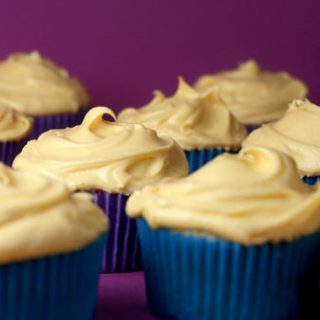 Yield: 12 cupcakes
Banana Cupcakes with Cream Cheese Frosting
Prep Time 20 minutes

Cook Time 15 minutes

Total Time 35 minutes
Ingredients
Banana Cupcakes
1-3/4 cups all purpose flour
1 teaspoon baking powder
1/4 teaspoon salt
1/2 cup unsalted butter, room temperature
3/4 cup sugar
2 eggs, room temperature
1 teaspoon vanilla
1 large ripe banana (or almost 1 cup)
1/2 cup whole milk, room temperature
Creamy Cream Cheese Frosting
1/2 cup butter, room temperature
8 oz cream cheese, room temperature
1 teaspoon vanilla
1 box (1lb) of confectioner's sugar
Buttercup yellow icing color (optional)
Instructions
Banana Cupcakes: Preheat oven to 350 degrees Fahrenheit and line cupcake tray with 12 baking cups.
Sift together flour, baking powder and salt in a medium bowl with a wire whisk.
Cream butter and sugar in a mixer for about four minutes. Add banana and mix until combined. Add eggs and vanilla and mix until combined.
Add half the flour in three additions alternating with milk in two additions. Scrape down the sides with each addition.
Bake for about 12-15 minutes or until done.
Crean Cheese Frosting: Cream butter and cream cheese in mixer until thoroughly combined. Add vanilla. Then add sugar in small batches until combined and creamy. Add a small amount of buttercup yellow icing color to frosting and mix.

Now you can eat them just like this or …
Party them up a little bit with small pastel colored confetti sprinkles … just because it's that kind of day.
But, these banana cupcakes need something else… something to keep them company.
A little friend maybe?
Yes definitely.
But my little monkey needs a friend, too.
So this little piggy and teddy joined in on the fun.
And so did my favorite martian, robot and bumblebee.
My head is actually going to explode from all this cuteness.
Could these be any more adorable? Look at that bumblebee bottom.
Why yes, yes they can! These cupcake toppers are also candleholders. I'm officially in love here.
And it gets even better. They want to be your friends, too. Not these, they're mine. All mine.
But these could be all yours.
When I bought these cutie pies from the Lollipop Workshop on etsy (also be cheery on flickr), I bought enough for two more sets. And I want two of you to have one. Well I want all of you to have them, but I only have two sets to give away. (Martian and Robot colors may vary from above.)
All you have to do to enter is give me some advice.
You see, Lollipop Workshop also sent me something else … A surprise … when she mailed the cupcake toppers.
I'm 10000000% certain it will be crazy cute!
It's in this box and I haven't opened it yet.
Why?
Because she also sent this box for my little helper. So sneaky and sweet of her.
So the question is…
Should I wait until my niece visits again so we can open them together?
Should I rip open mine now and show you what's inside?
Should I open both of them? I could re-wrap 'em and no one would be the wiser.
But I do like surprises. Hmmmm… tortured by sweetness.
Okay, so you know I'm really gonna wait, right.
But, I'm just curious – what would you do?
Leave your answer in the comment section below and you'll be entered for a chance to win a set of assorted cupcake toppers from Lollipop Workshop.
Make sure to leave a way for me to contact you if you win.
Deadline to enter is

Tuesday, August 18th at 5 p.m.

TIME'S UP!
Two winners* will be picked at random and announced sometime Tuesday evening on this post.
*Winners will be chosen using the random.org integer generator.
Good Luck!
And, here's some more cuteness from Lollipop Workshop. Custom cake toppers, lollidolls and candleholders. The store sells out quickly when she adds new products, so just send her a message if you need a custom order.
Okay, Time's up and here are the two winners
#1619 – Elle
#831 – The Pettit Family
Congrats! You're getting some super cute cupcake toppers!