A few weeks ago, my friends over at Cake Art gave me a sample pack of some paper pans in a plethora of shapes and sizes. They thought I might like them. But, I don't. I love them. You can bake and then turn right around and take your goodies to someone special. Either that or display them at home and turn your kitchen into a coffee shop which could be fun, too.
These tiny ones make me happy. The size. The color. The slightly scalloped edge. Happy.
And so do these tee-niny ones. Eeeeek!
They have cylinder-shaped baking molds and regular muffin cup styles, too. Both of these are sturdy enough that you don't need a muffin tray to bake them in. Just arrange them on a baking sheet and go.
And look at these cuties. They have lids. Perfect to bake and take.
Since I had all these pans, I had to put something in them.
I went for blueberries and bananas…
… and made some yummy muffins.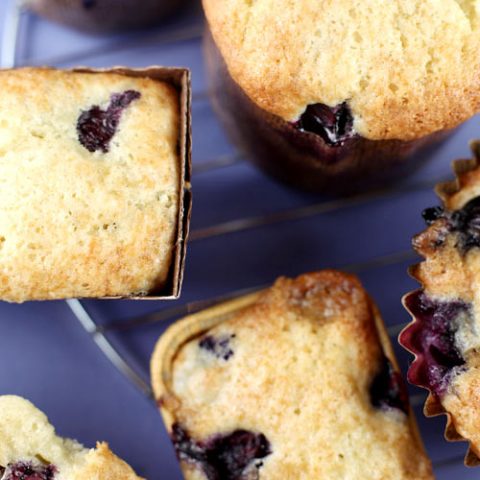 Yield: 12-15 muffins
Yummy Blueberry Muffins
Prep Time 15 minutes

Cook Time 20 minutes

Total Time 35 minutes
Ingredients
2 cups all purpose flour
2 teaspoons baking powder
1/2 teaspoon salt
1 cup sugar
1/3 cup butter, room temperature
2 eggs
1 cup mashed ripe bananas (or two medium-sized bananas)
1 teaspoon vanilla
1 cup fresh blueberries (rinse and pat dry)
Instructions
Preheat oven to 350 degrees and line tray with muffin cup papers.
Sift flour, baking powder, salt and sugar together with a wire whisk.
Add butter, eggs, bananas and vanilla. Mix on low until just combined.
Toss blueberries in a little extra flour and then fold into batter. Reserve some blueberries to place on the tops.
Bake for about 20 minutes or until toothpick inserted comes out clean. Serve while still warm with butter.
Add a little butter while they're still warm and your tummy will say thank you.
Then tear right in.
I had enough batter to try them out in all of the smaller size pans for fun. The large round paper cake and loaf pans would have to wait for another day.
But you don't. Cake Art was sweet and gave me a second sample pack. So who wants it? Anyone?
Try and control your excitement and enter for a chance to win a bunch of paper. ; )
Just leave a comment on this post and answer the following question.
What is your favorite muffin? (I know. Tough, huh.)
Deadline to enter is Tuesday, June 1 at 5 pm ET. Sorry, Time's Up. Winner announced below.
One winner will be chosen at random and announced sometime Tuesday evening.
Good luck.
P.S. Cake Art has pans available in large and small quantities. Sorry, they don't have photos… just descriptions. But here's a site with more pan options and pictures.
Wow. I really didn't expect so many people to want to win paper pans. Super surprised. And now I wish I had scored more sample packs from Cake Art. Maybe I'll get more the next time I make a trip. Until then, we have a winner. I'm excited to announce this one too, because finally a low entry number one. Low like commenter #5! Yay!