Take a look at these beautiful cake stands. That is if you can see past the skyline of sweets. I absolutely love this photo. Love it. I wish I could enlarge it and wallpaper my kitchen with it. This photo and the rest in this post (taken by Ashley Rose Photography) are photos of cakes from my friend Melody's shop, My Sweet & Saucy. We've been internet buds from way back when I had a blogspot.com address. And since then, she's gone from blogger herself, to superstar baker, making the most gorgeous cakes and working with the likes of Tori Spelling, Miley Cyrus and more. I just wish she wasn't all the way in California. Actually, it's a good thing I'm not in driving distance. For my waistline anyway.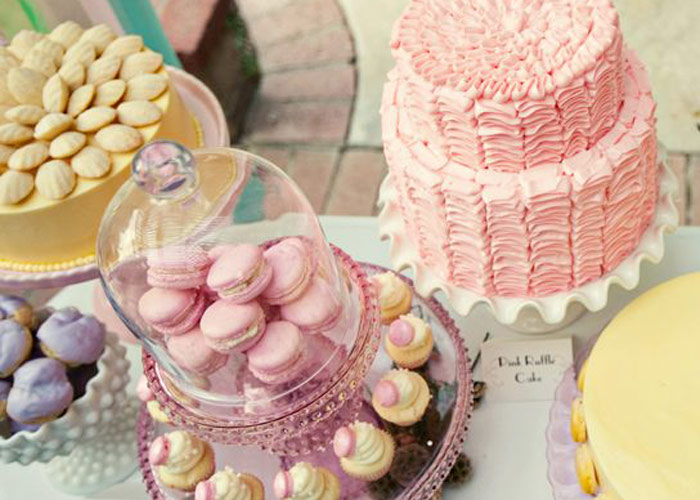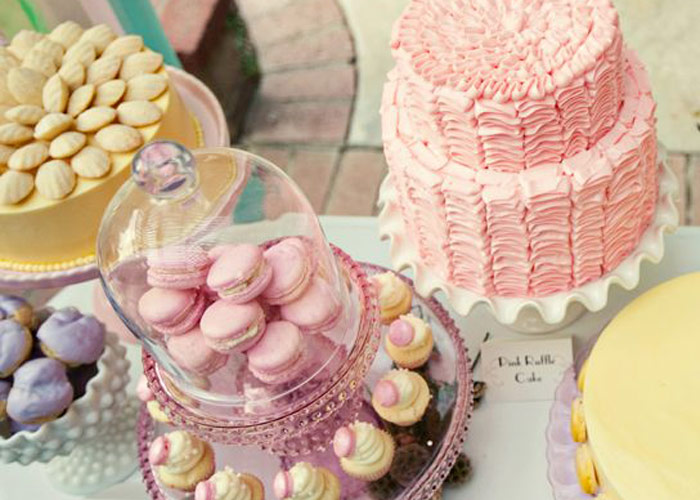 Oh dear. I need a pink ruffle cake in my life.
Pronto.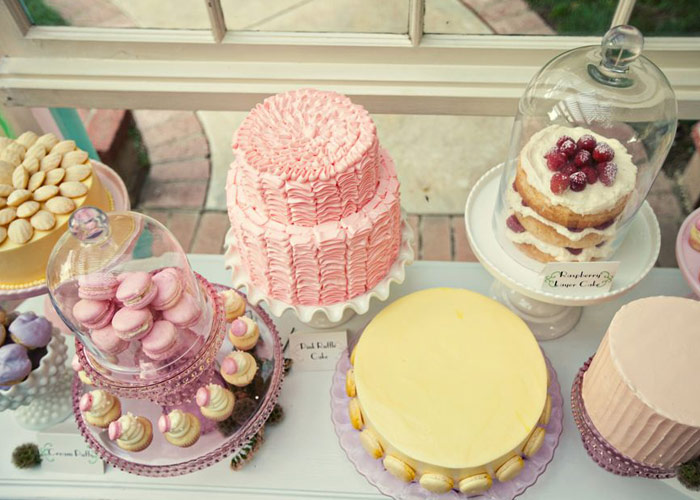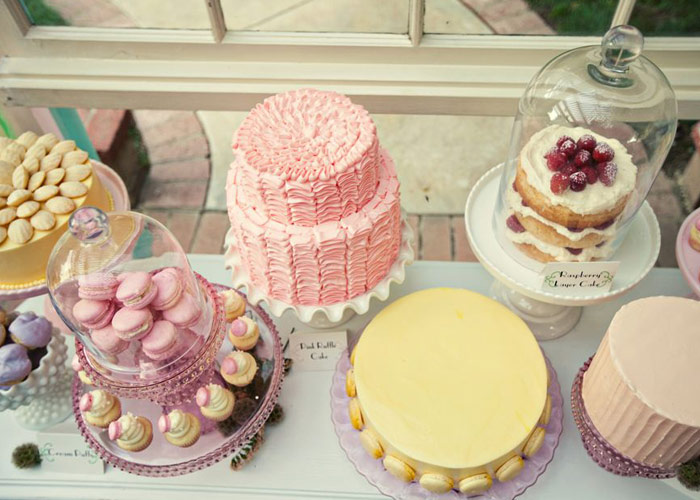 Look at all these cakes. I mean pedestals. Big ones. Little ones. Tall ones. Short ones.
Melody also has an online store where you can find them all in one place.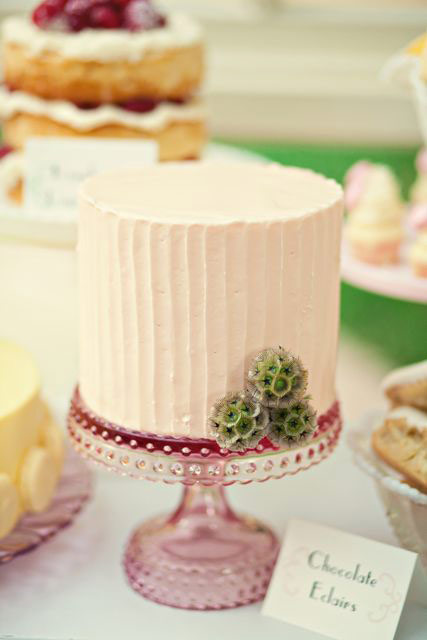 Yes, pedestals. Like this pretty little pink one. Perfect for a petite little cake.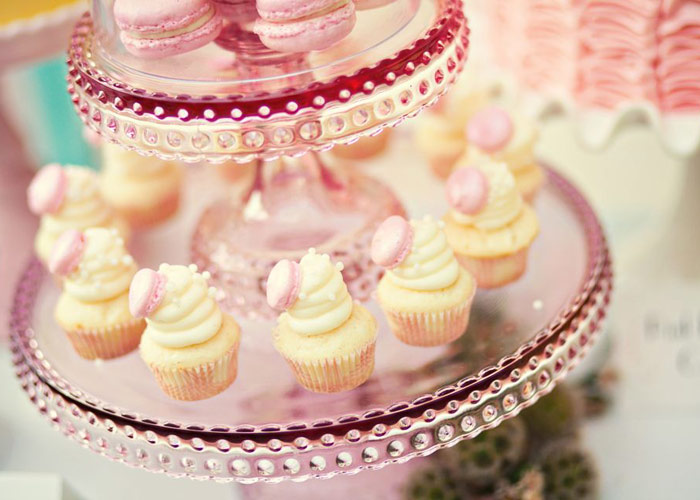 Or stack two and you can fill it with sweet little treats.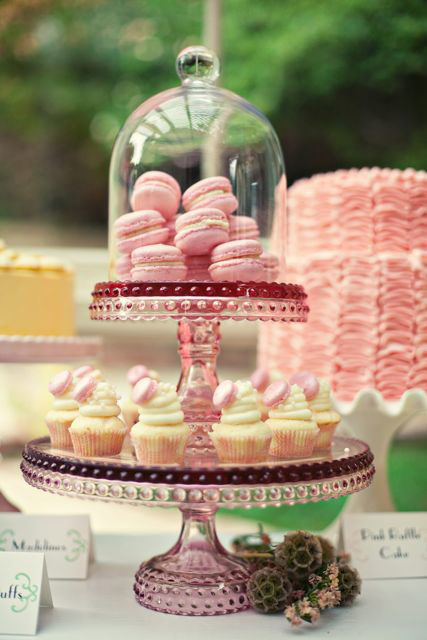 Wait, you mean you don't have a large and small pink glass pedestal or a sweet glass dome?
That's terrible. Unthinkable.
Would you like one? I mean all three pieces in the photo above?
I thought you might.
Melody is giving them away to one of my readers. Yippee! Thanks Melody!
Enter for a chance to win this dome and two pretty pink pedestals.
Just leave a comment on this post and tell me the last occasion you celebrated with cake. Easy!
Deadline to enter is Wednesday, March 30 at 8 pm ET. Sorry, Time's Up! Winner announced below.
One winner will be chosen at random* and announced sometime Wednesday evening on this post.
Good Luck!
Satisfy your sweet tooth and check out Melody's stuff.
My Sweet & Saucy Supply – cake stands, and platters and bow;s, oh my!
My Sweet & Saucy Shop – the bakery
My Sweet & Saucy Blog – filled with tons of beautiful event and dessert table photos.
Other Credits: Ashley Rose – photography, The Loveliest Day – event design & styling, Found – vintage rentals, and Olive Hue – paper goods.
YAY! I picked a winner.
Duh, dah, dah… and the new owner of beautiful new pink pedestals and a glass done to top it off is… Comment #4838!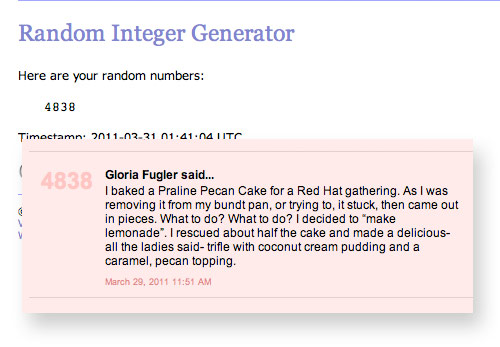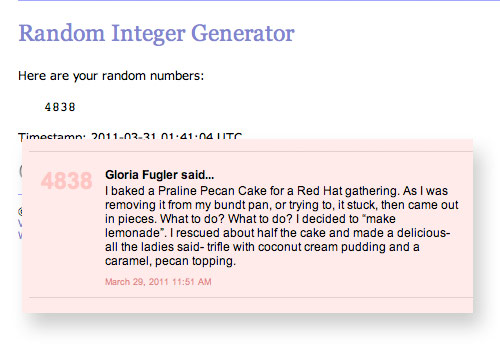 Congratulations Gloria!