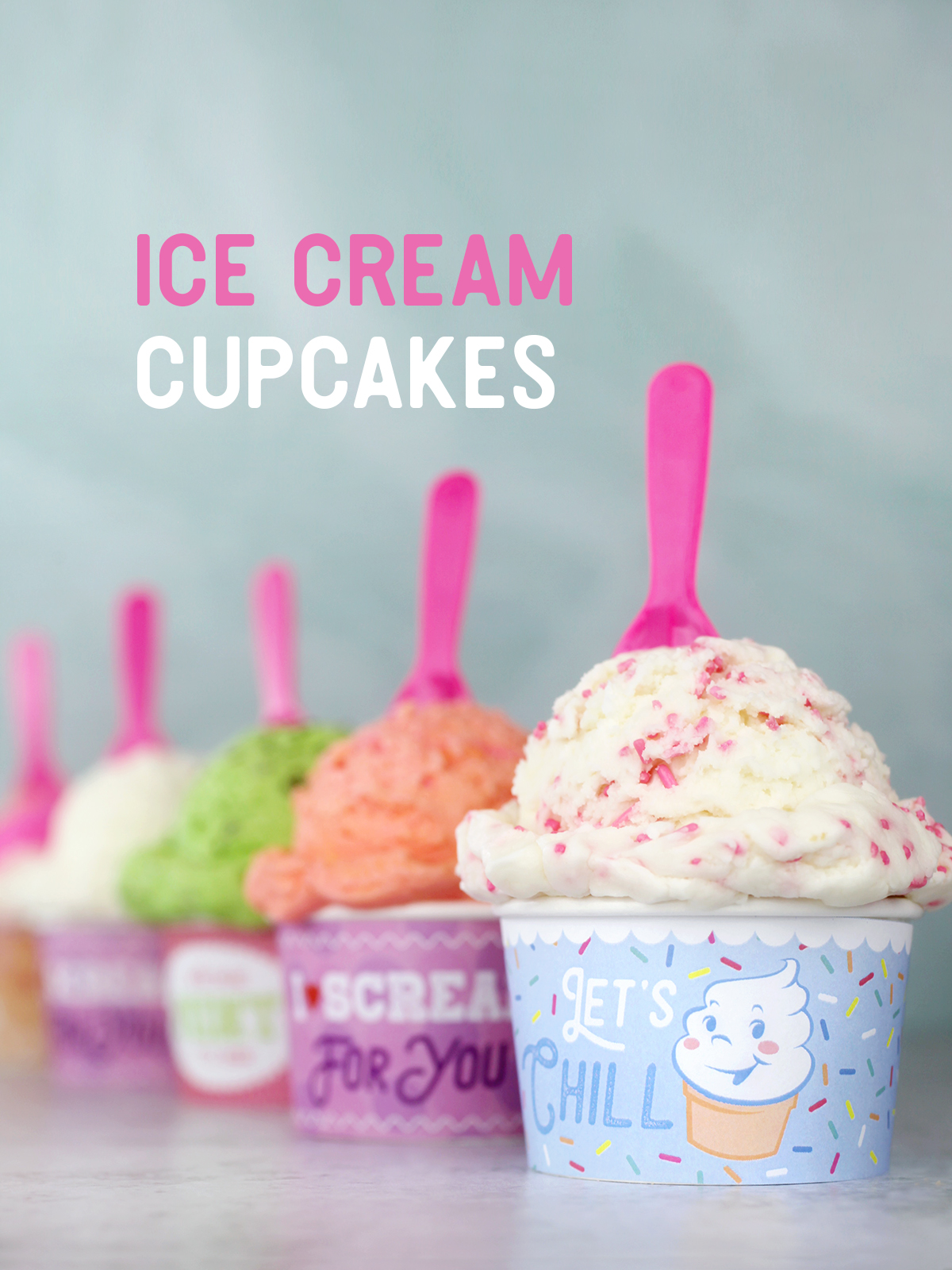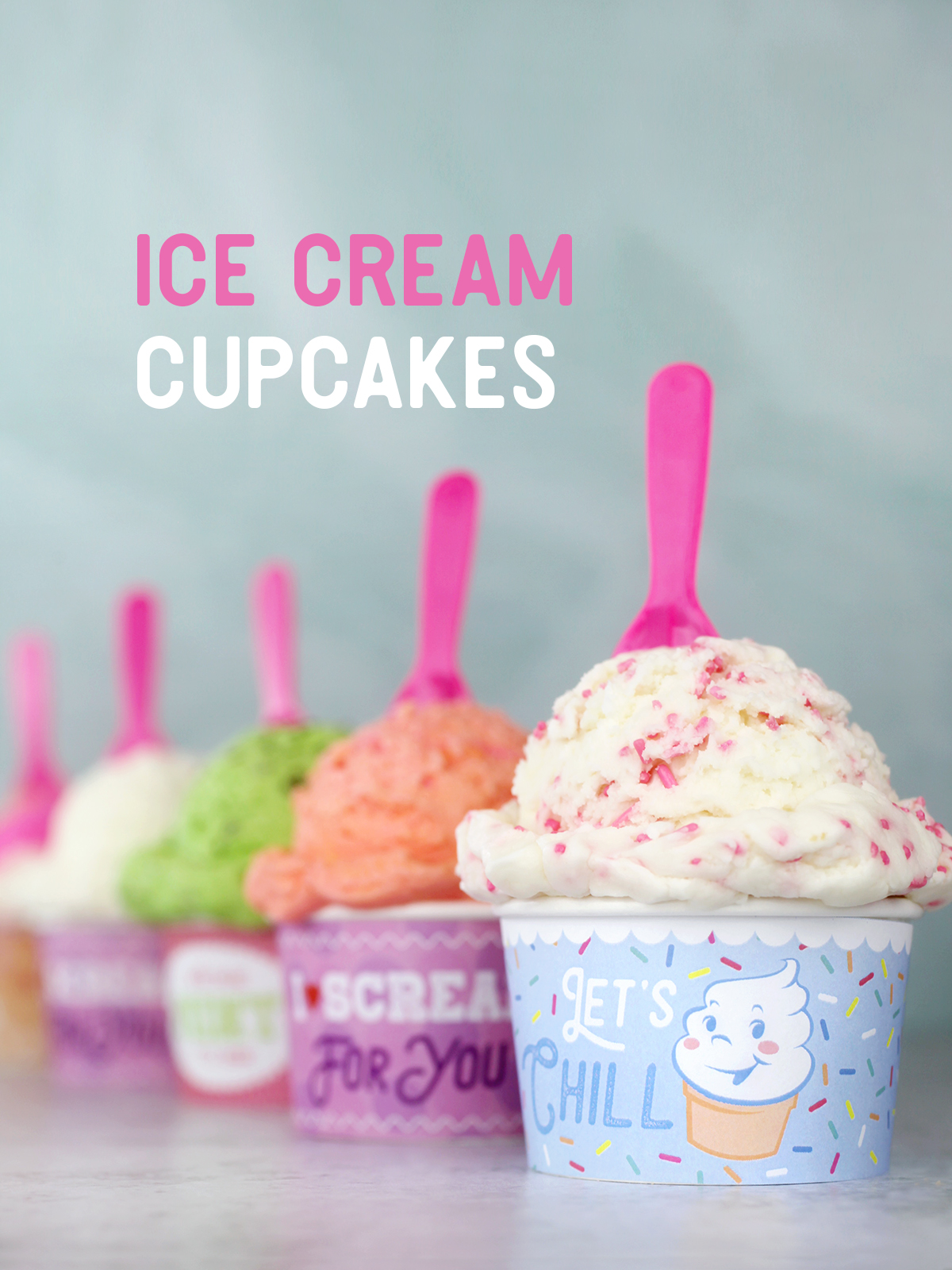 It's almost Valentine's Day and I couldn't resist making some sweet puns. I mean what would the day even be without them.
These are vanilla cupcakes topped with buttercream ice cream and come complete with custom wrappers for the occasion.
I barely squeaked these treats out before the 14th, but I hope you enjoy looking at them even if you won't have time to make them. Just know you're ahead of the game on ideas for next year.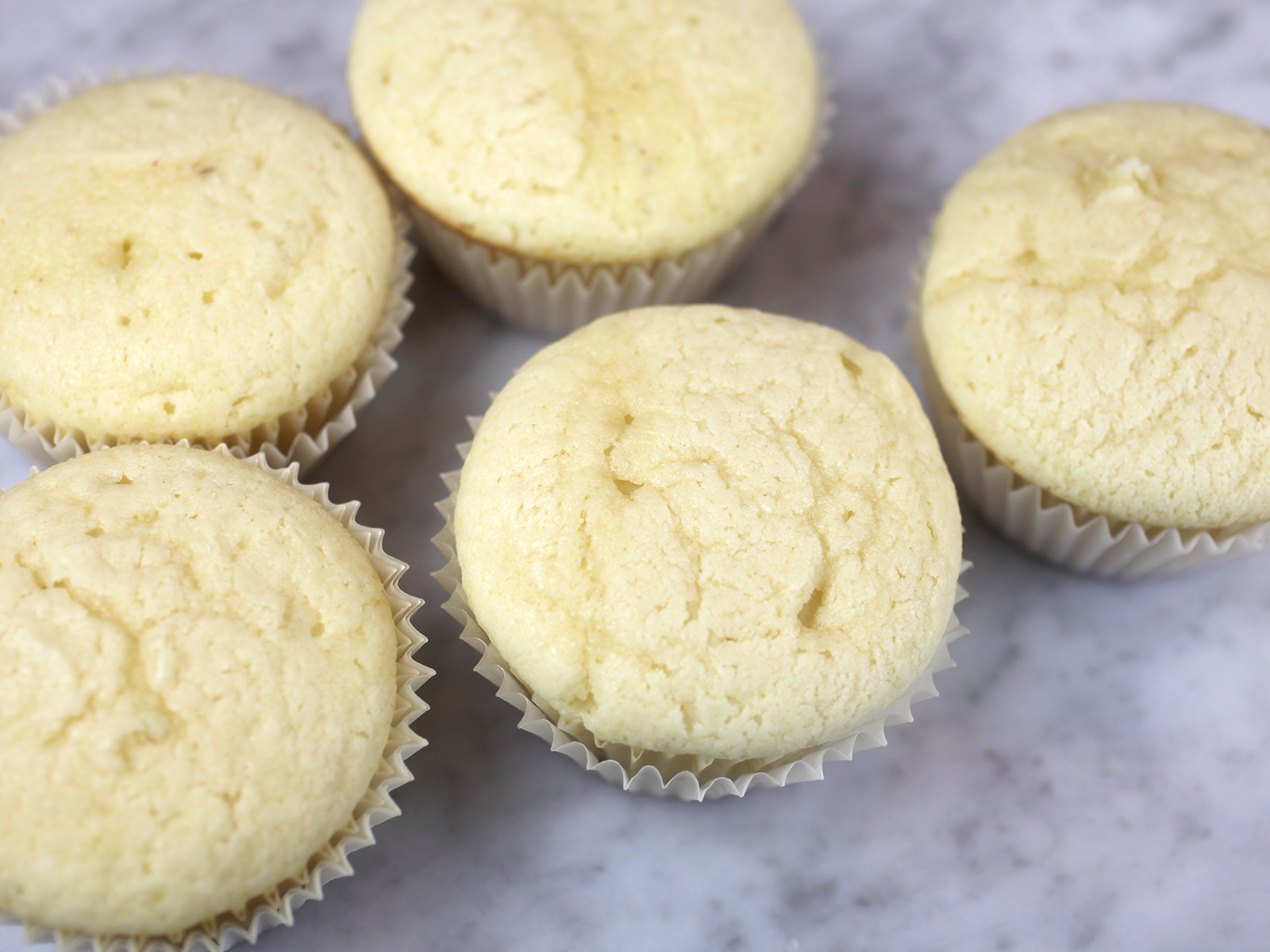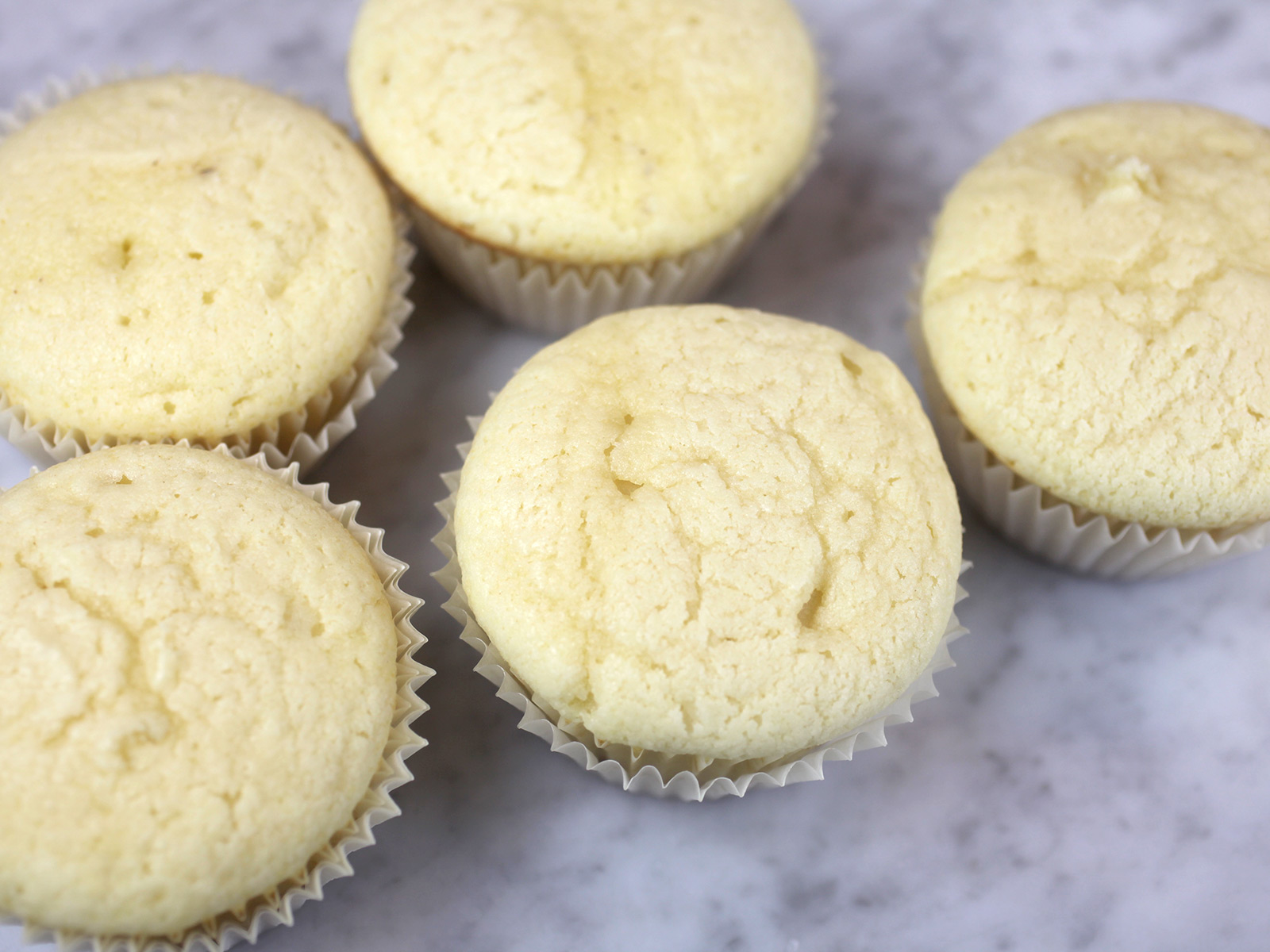 I made vanilla cupcakes, but feel free to make your favorite flavor. This post is really all about the wrappers.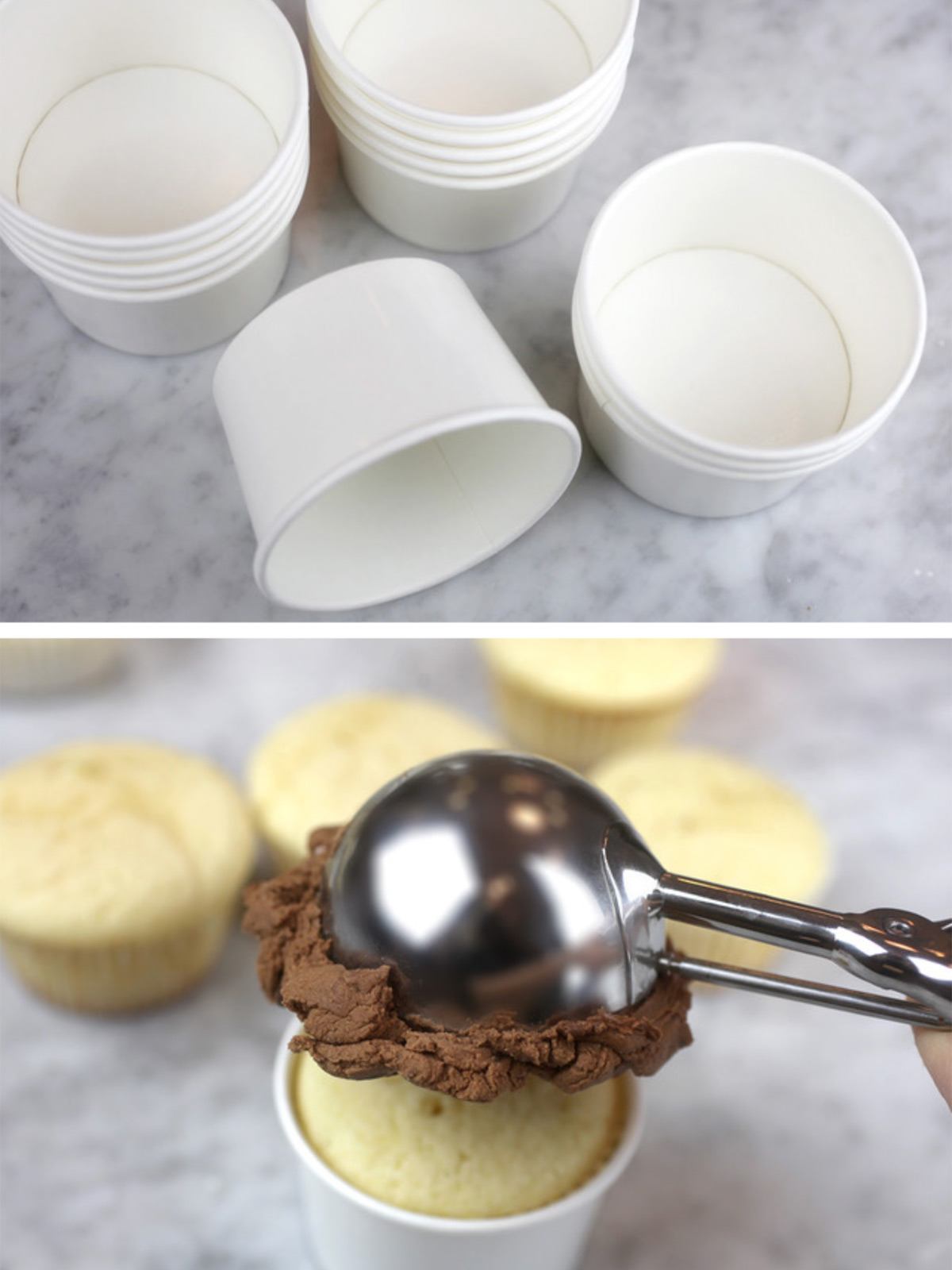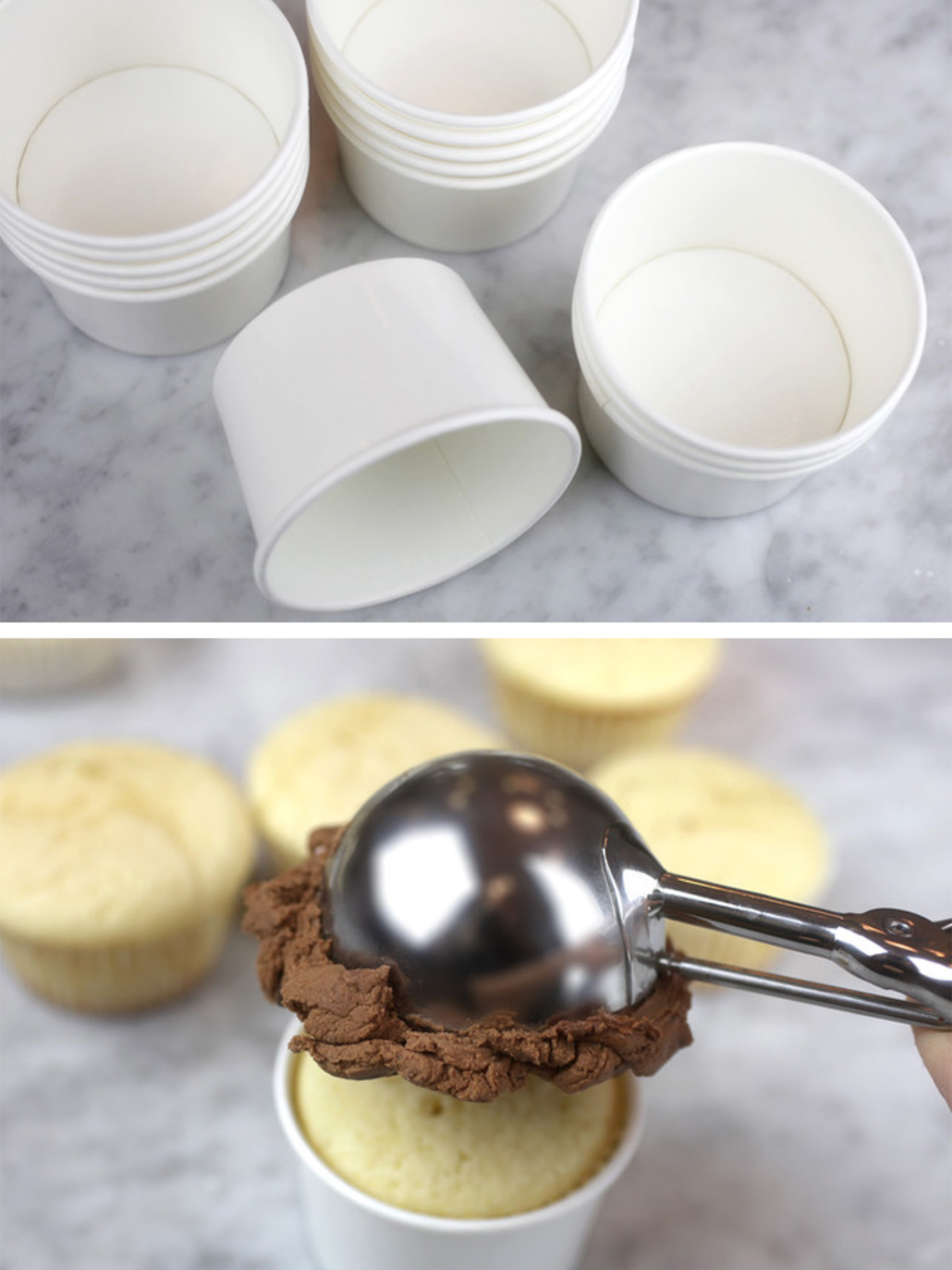 Place baked cupcakes with liners (or go ahead and unwrap them) in a small ice cream cup – 4 oz is the size you should look for. I know because I now have a ton of larger sizes that I ordered by mistake.
Here are the ones I ordered that finally worked.
Note: I tried baking directly in the ice cream cups, but they had a coated surface that started to bubble up slightly in the oven. I didn't like that or the fact that you could not easily remove the cupcake.
Next, scoop buttercream frosting on top with a large 2-1/2 inch scoop. Make sure there is more than the scoop will hold so it overflows the edge of the scoop when you release it on top of the cupcake.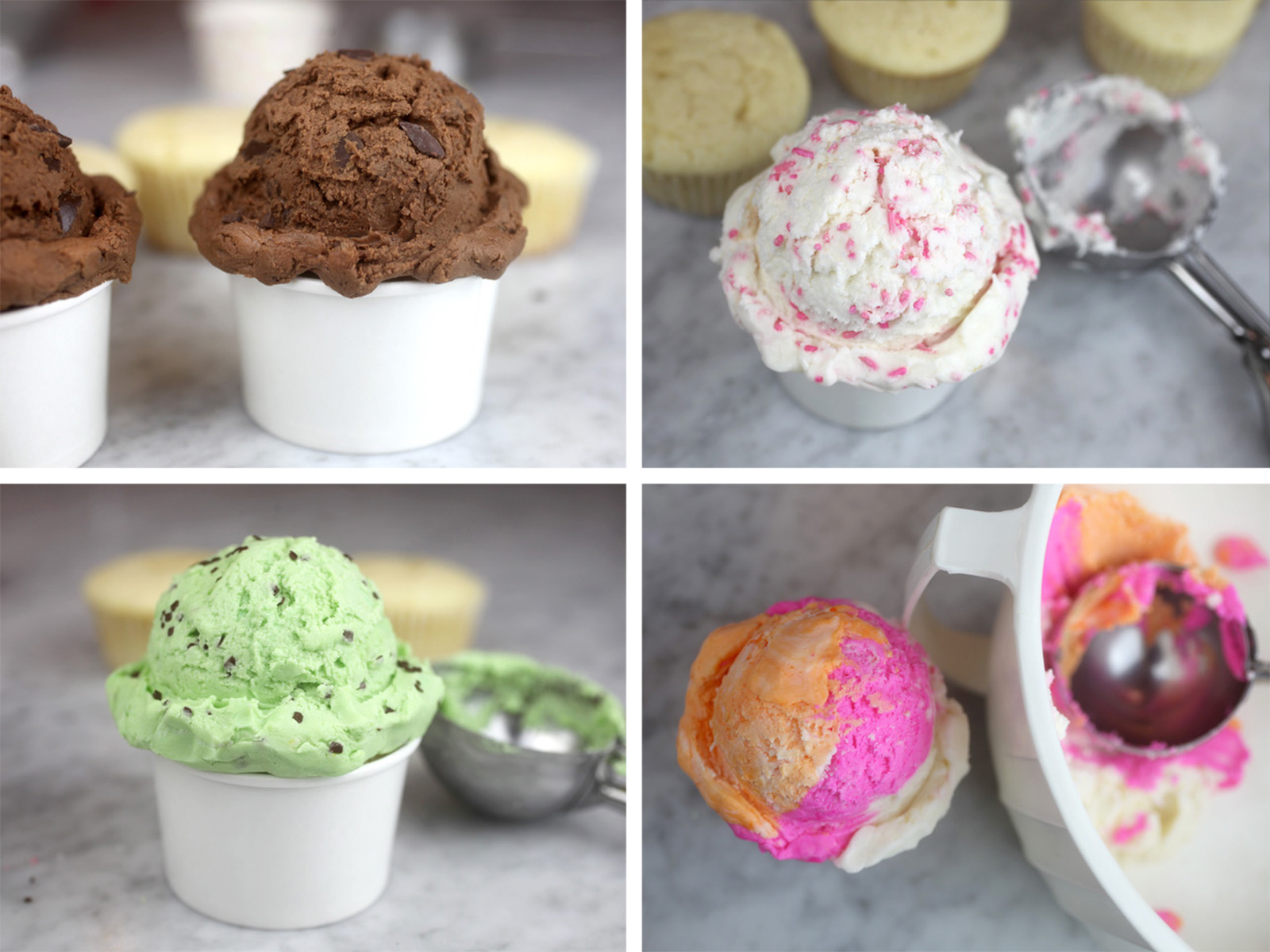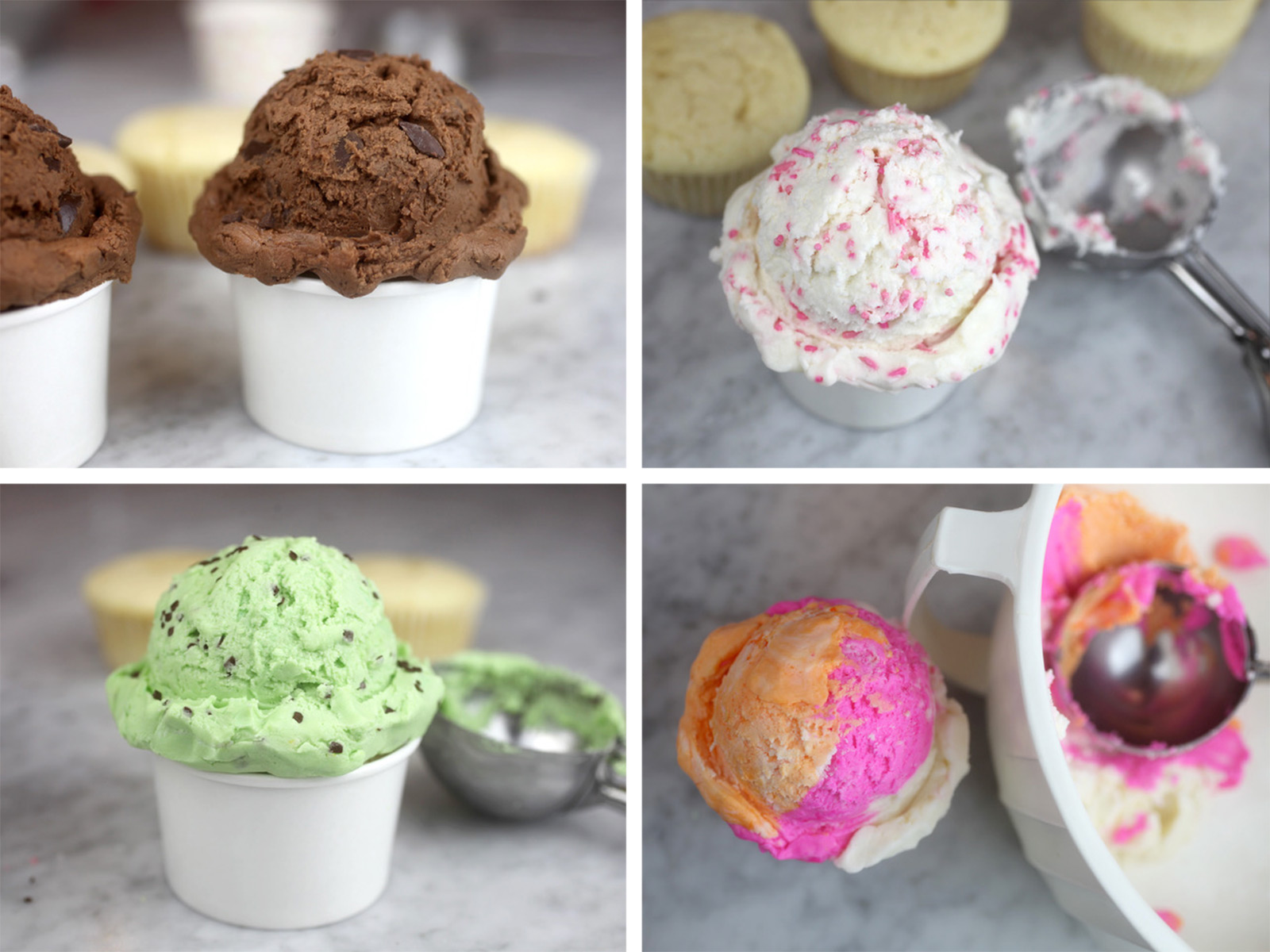 Look how something so simple as a big scoop of frosting looks totally like ice cream. And these are BIG scoops – Not your everyday ratio of frosting to cupcake, but it's a special occasion, so I say go for it.
You can mix sprinkles or chopped chocolate into tinted buttercream to give the illusion of different flavors. You can even place several colors together and scoop for a multi-color effect. So many possibilities.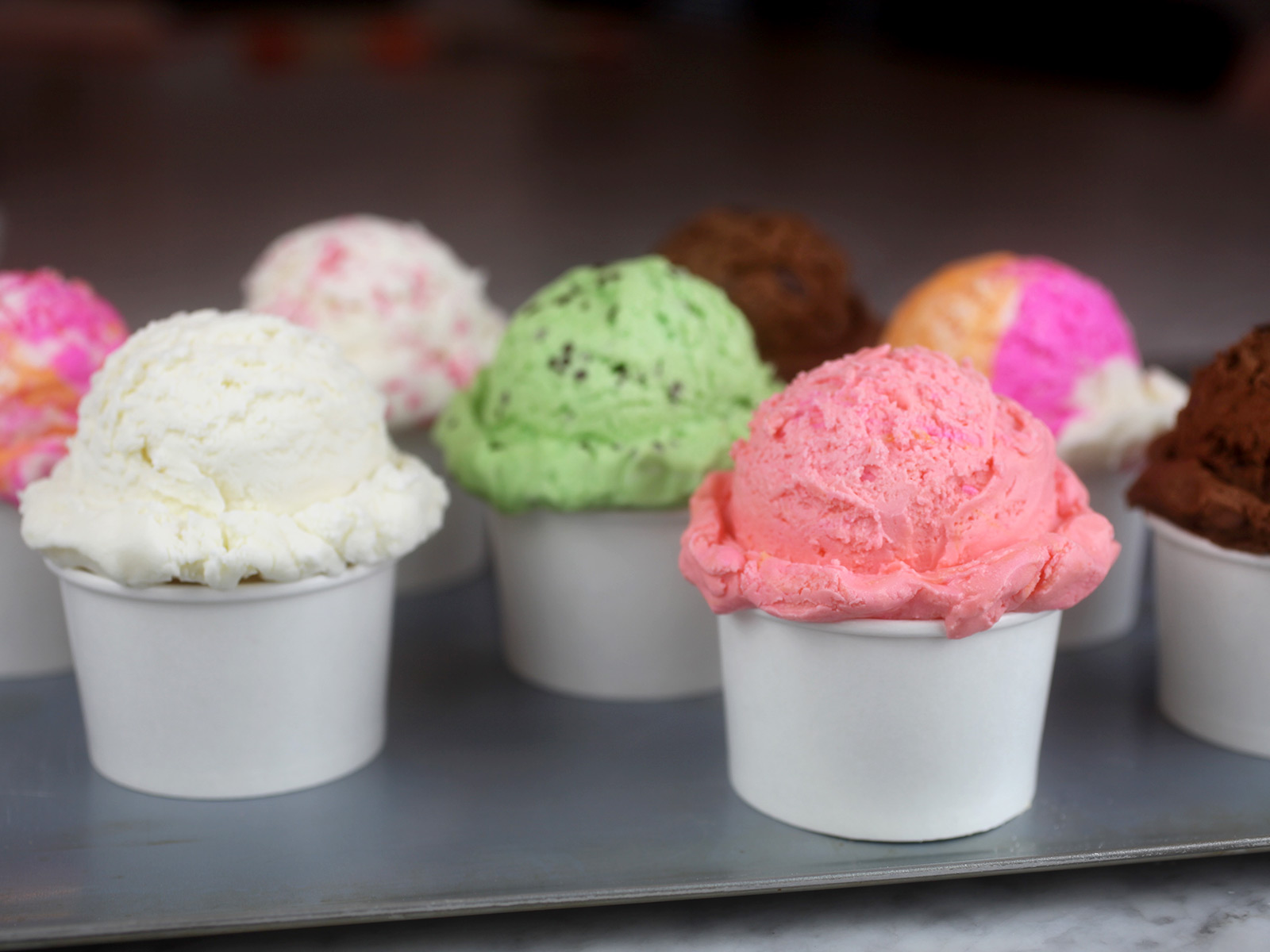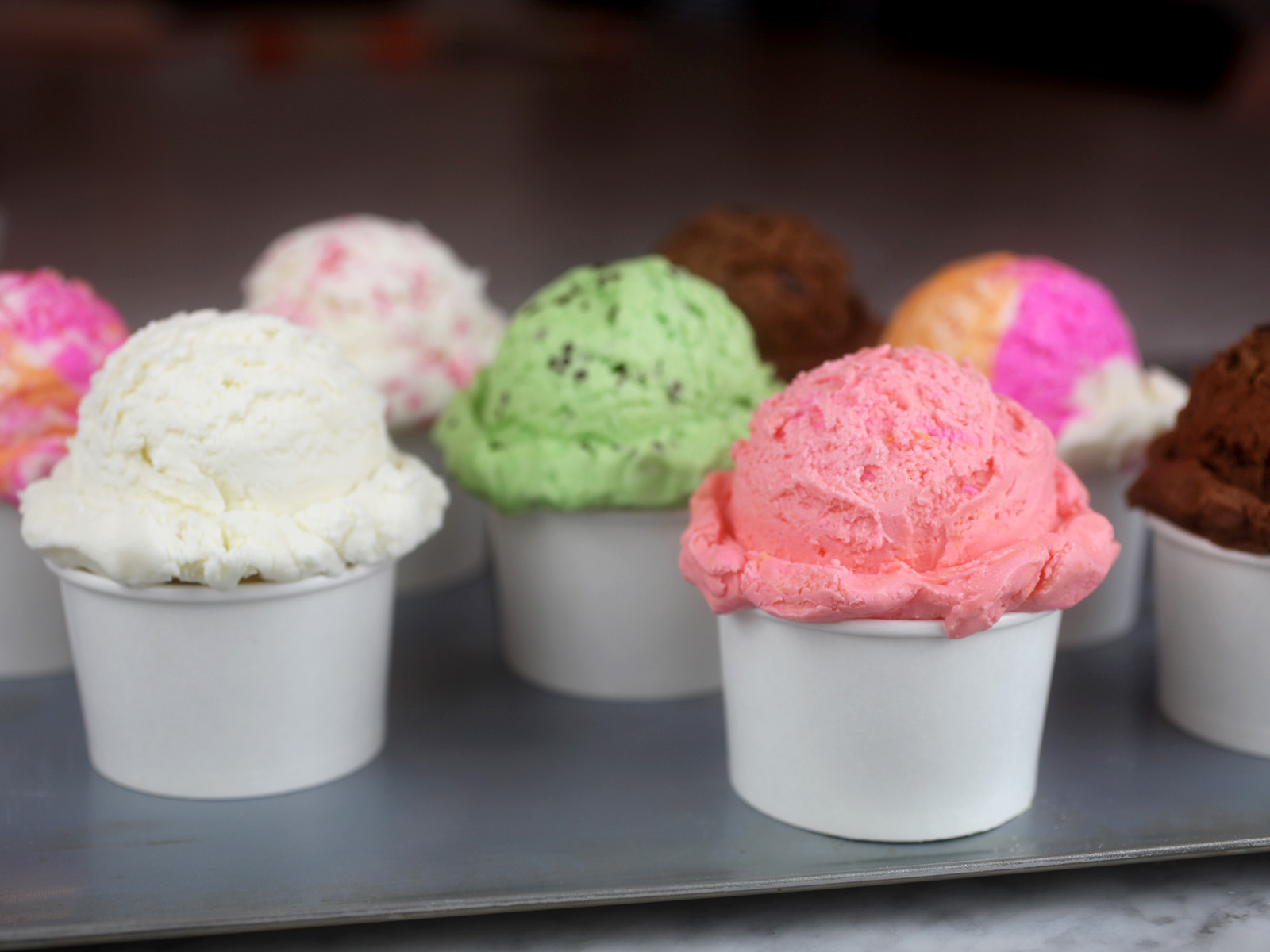 I mean…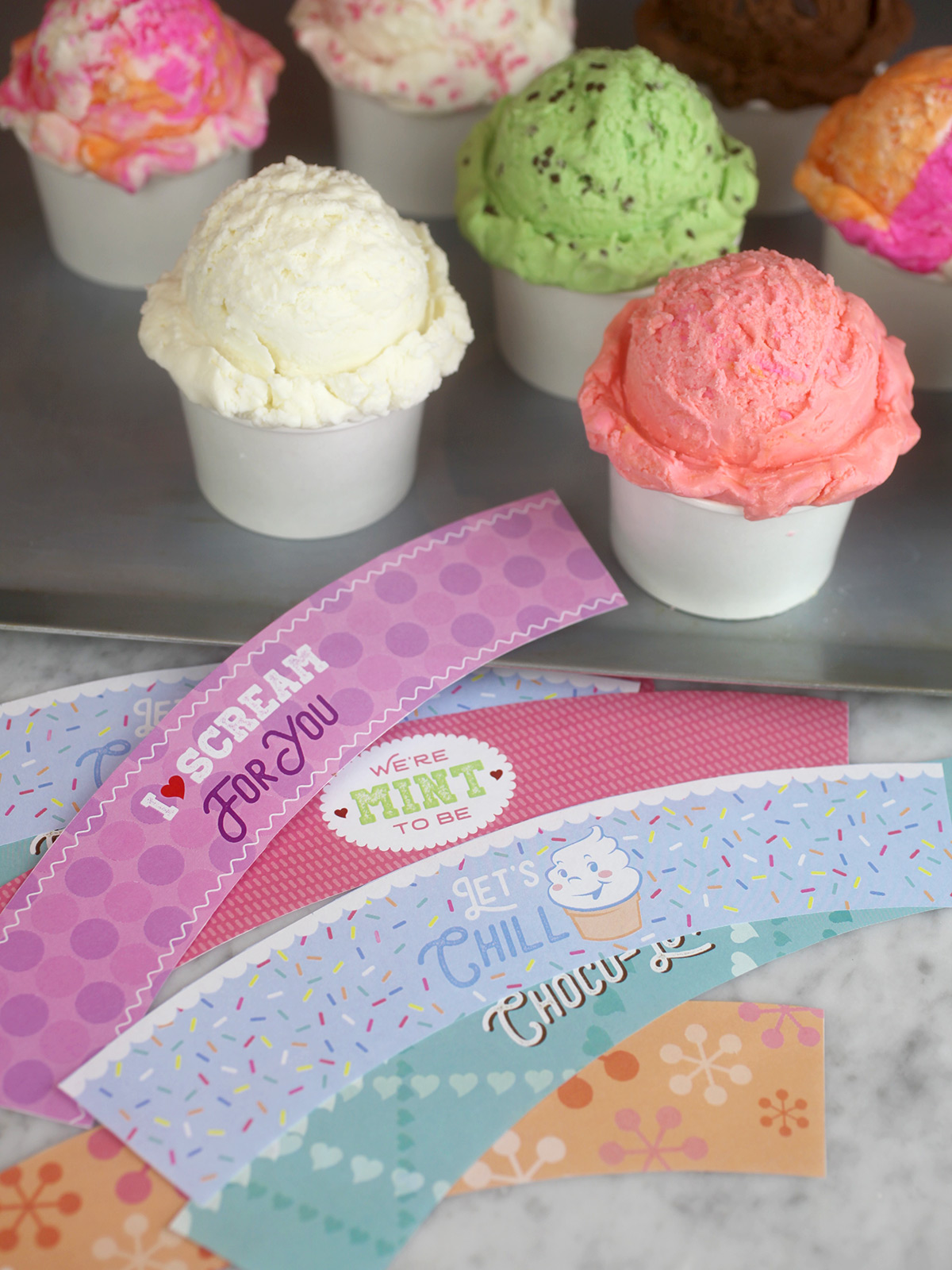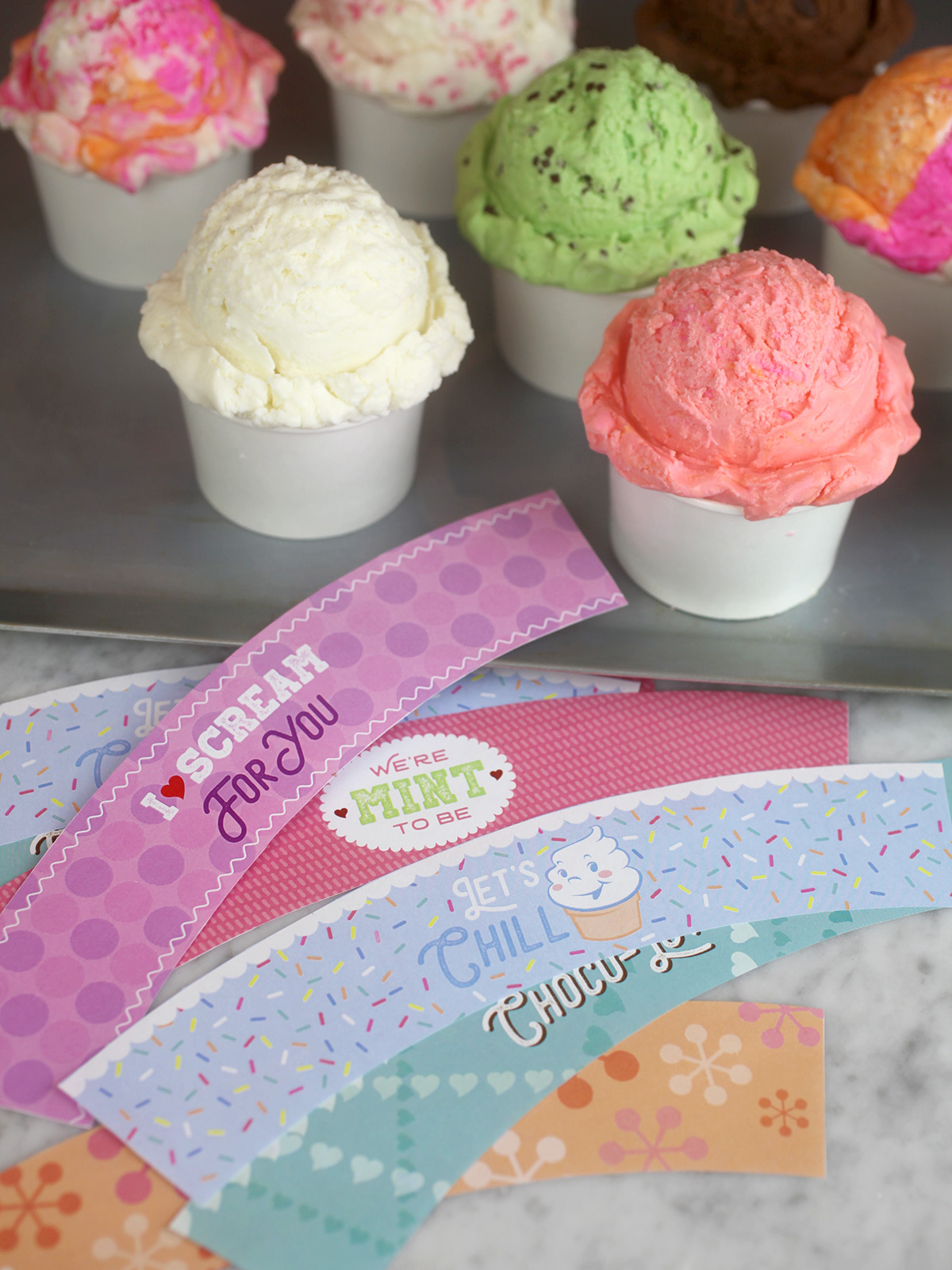 Ice Cream Cup Wrappers! I made a few designs for you to use. Just download one of the pdfs below. It's an 11X17 file, so if you don't have access to a larger format tabloid printer, you can download the file and take it to a Kinko's. I also made two versions for you because I found slight differences in small ice cream cups from different vendors. Basically, the angle of the side of the cup will dictate the arc of the wrapper. So below are two versions that will hopefully help you.
Download Option 1 – for wrappers with a straighter side view
Download Option 2 – for cups with a more angled side view
Just print them out at 100%. Do not reduce the page size to fit your printer. Then, cut out the wrappers and tape them to the cup.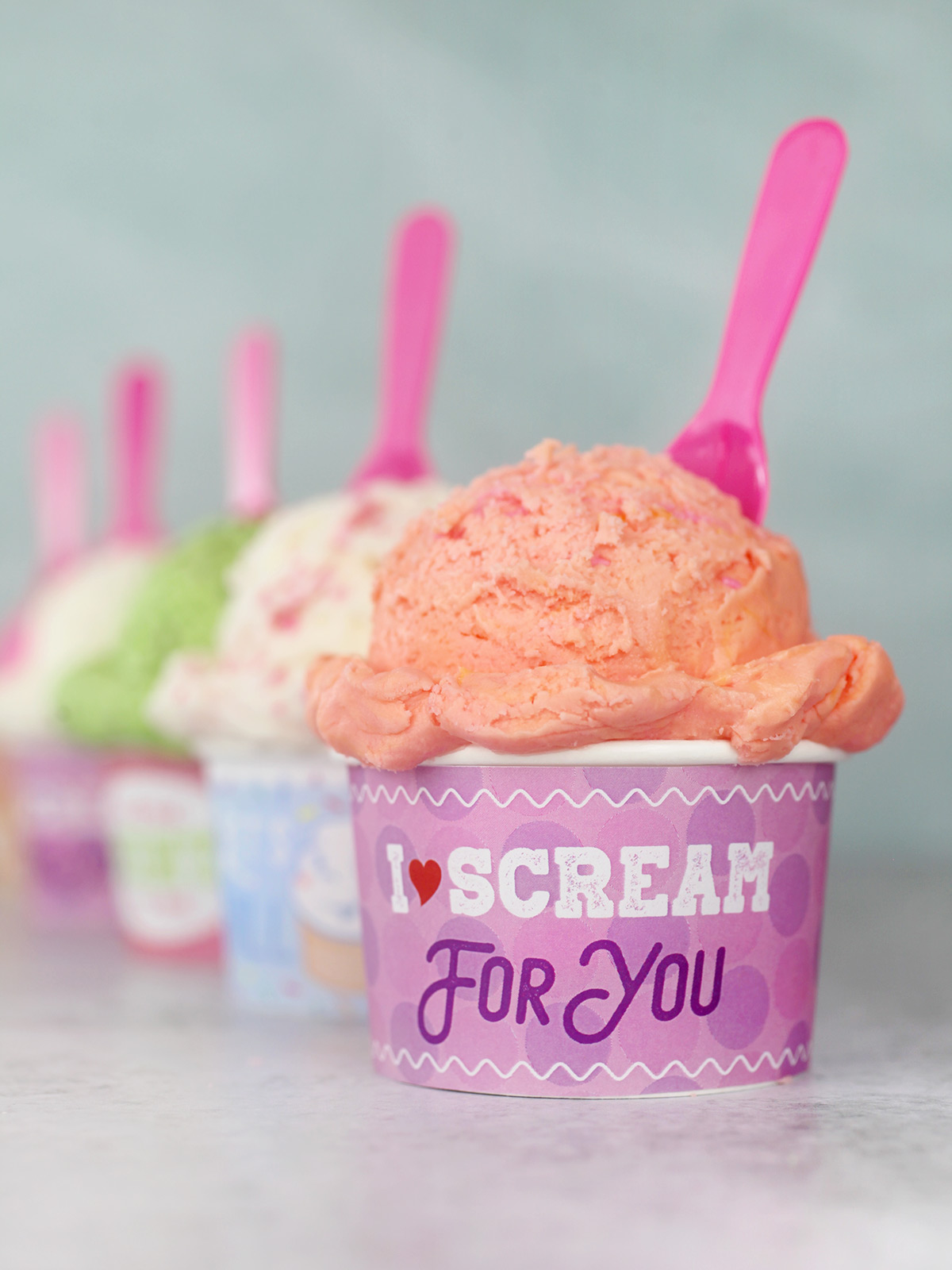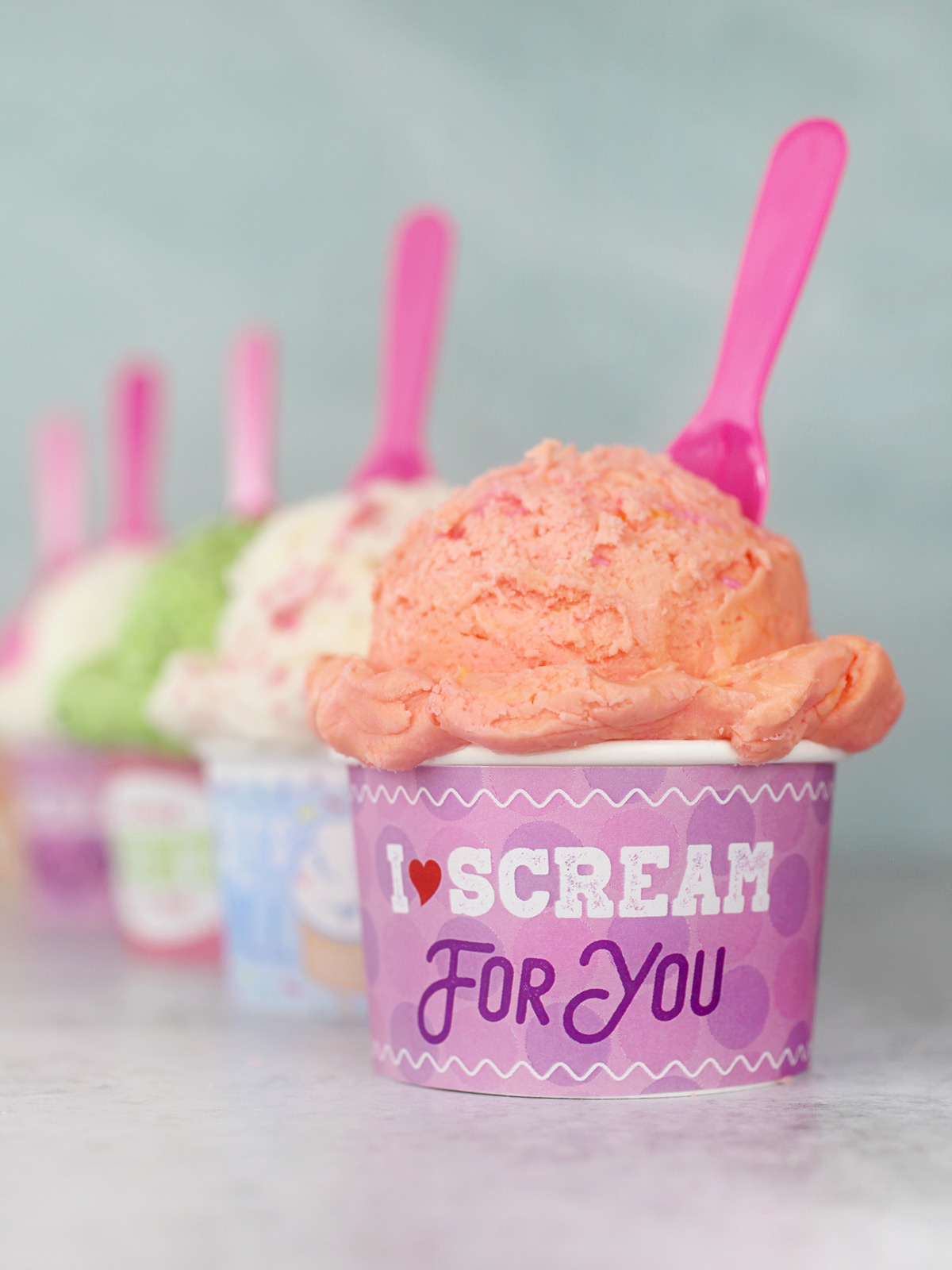 So cute, I could scream.
The tiny spoons I've had for a while but you can search mini tasting spoons on amazon for some that are similar.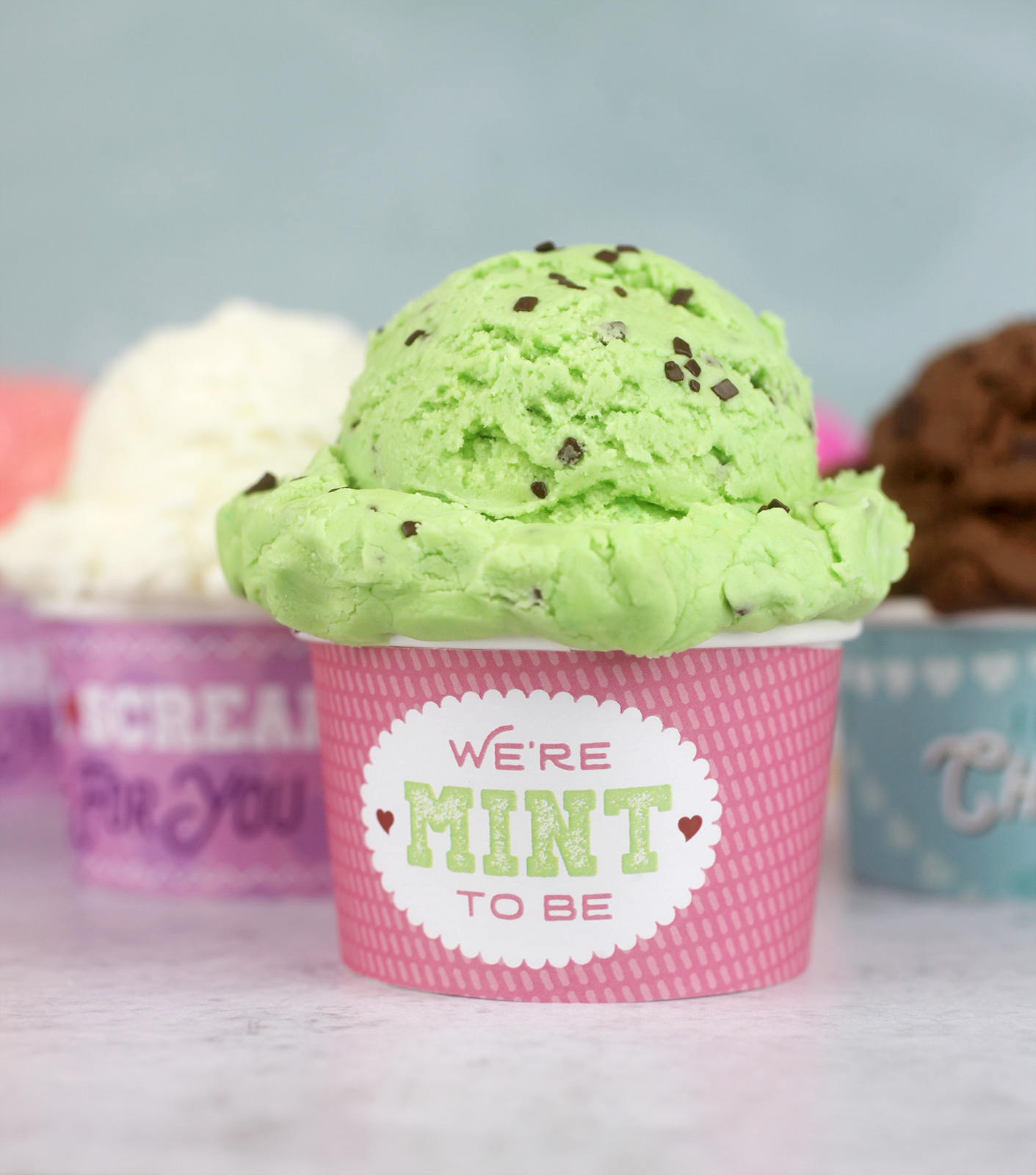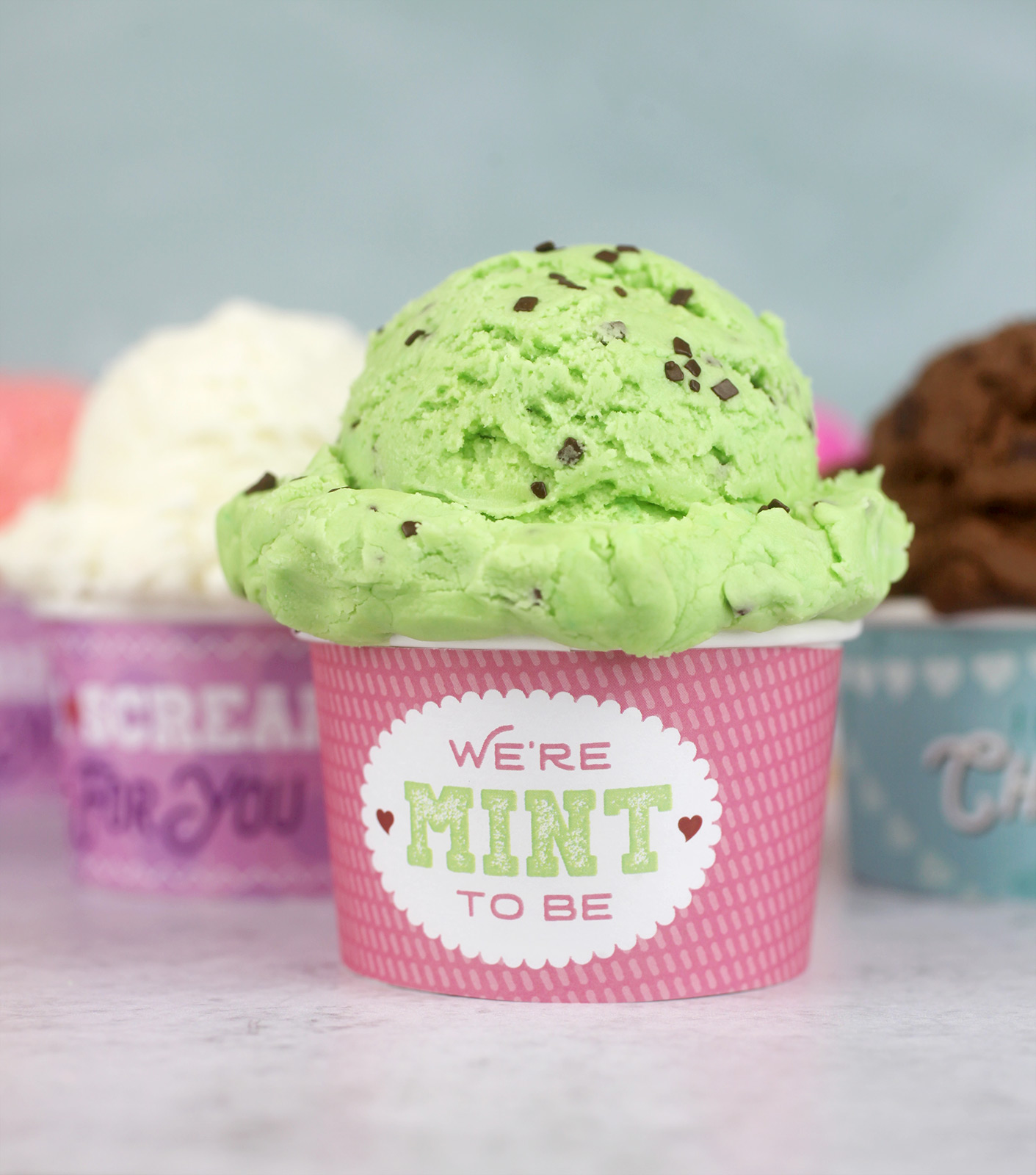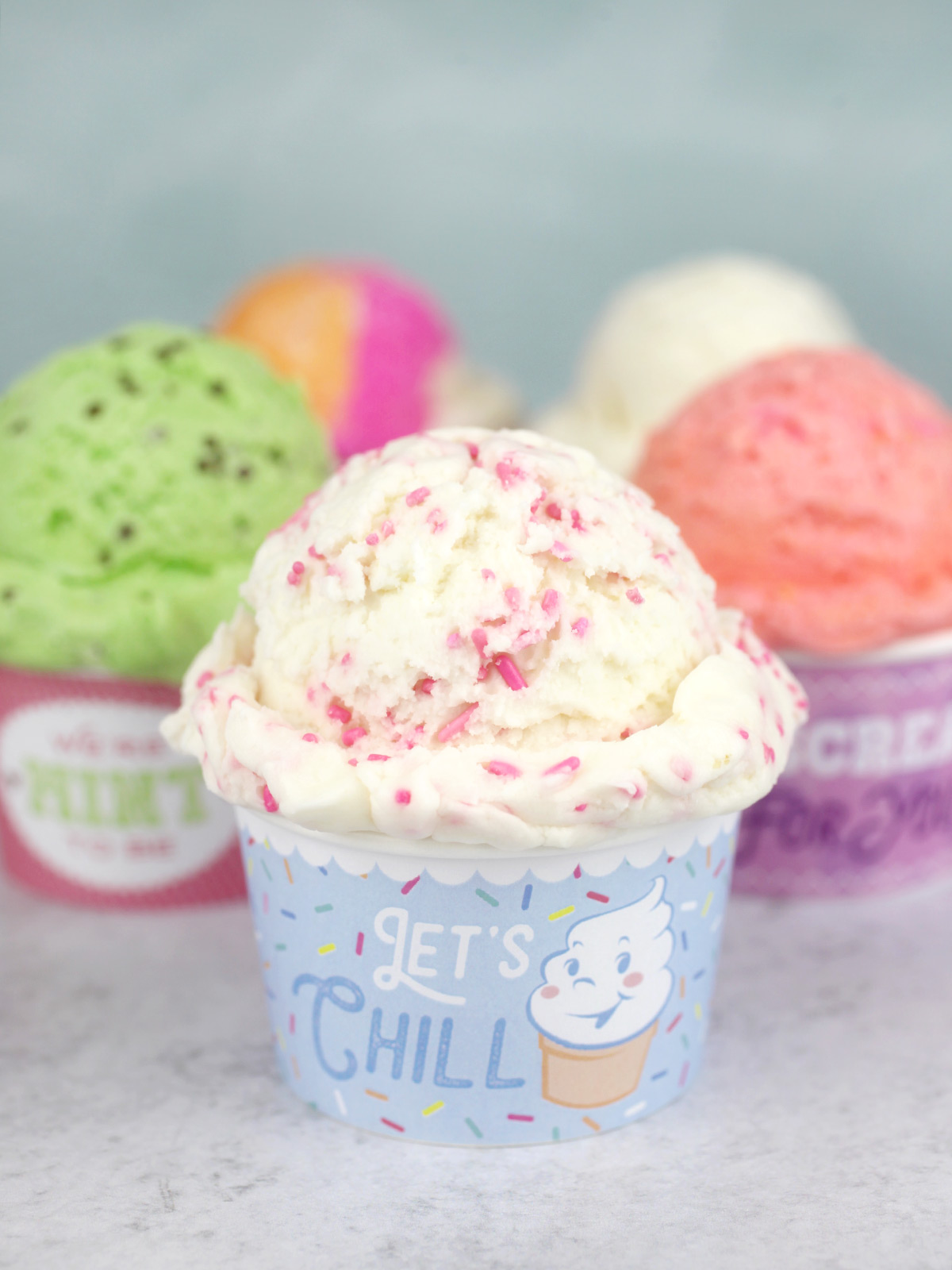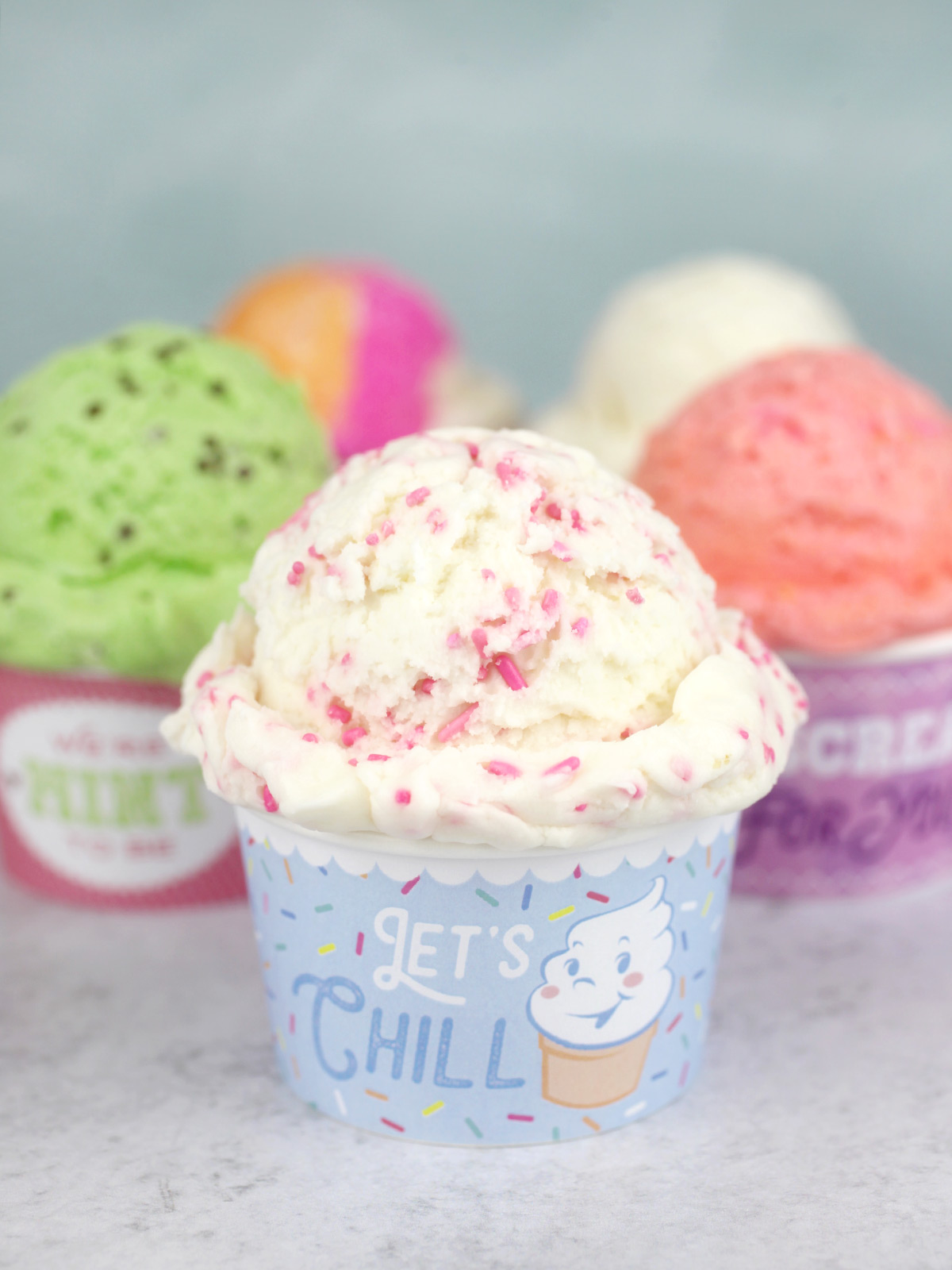 This one might be my favorite. I love all the sprinkles and the little ice cream guy is modeled after a vintage graphic I found online.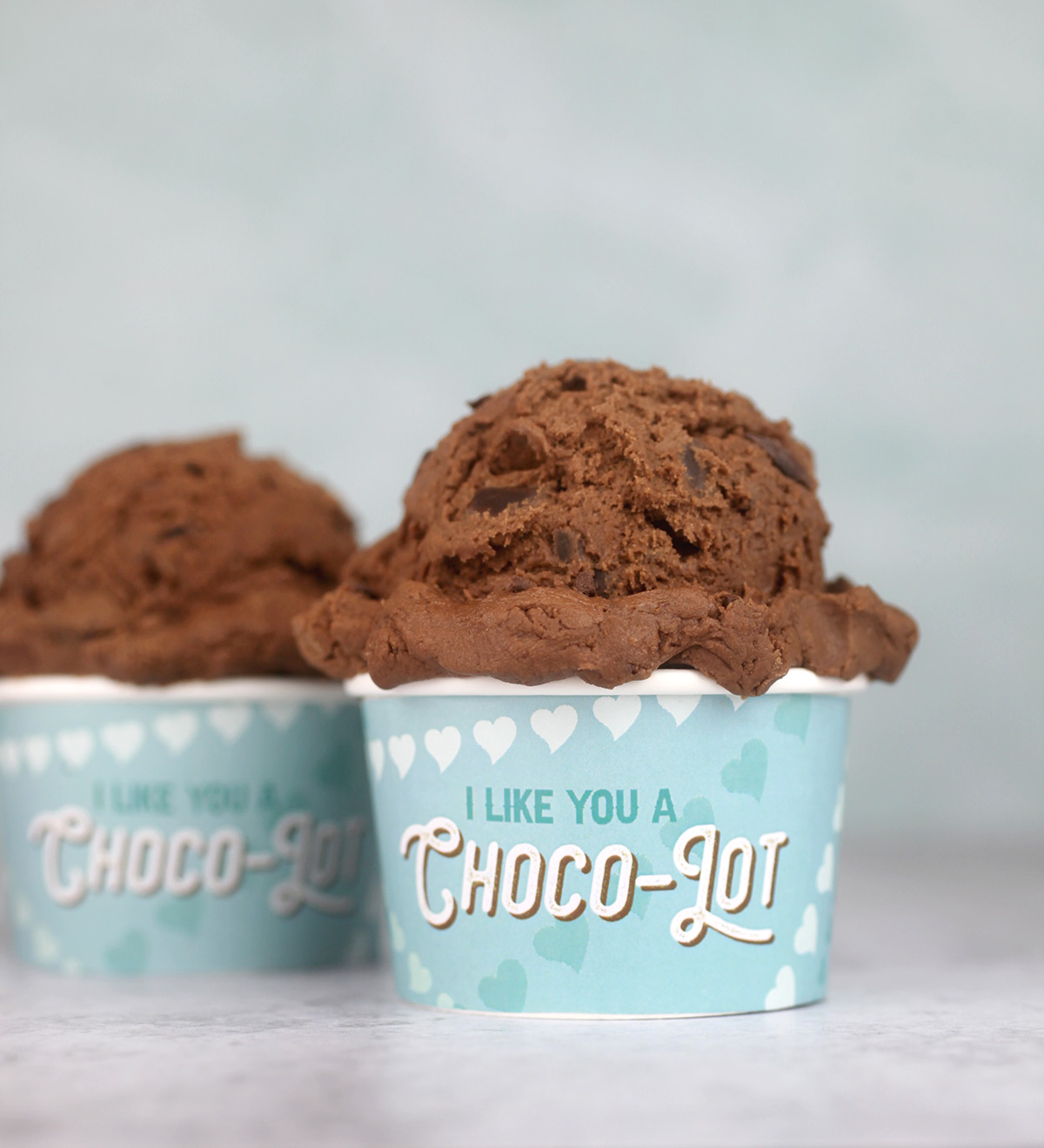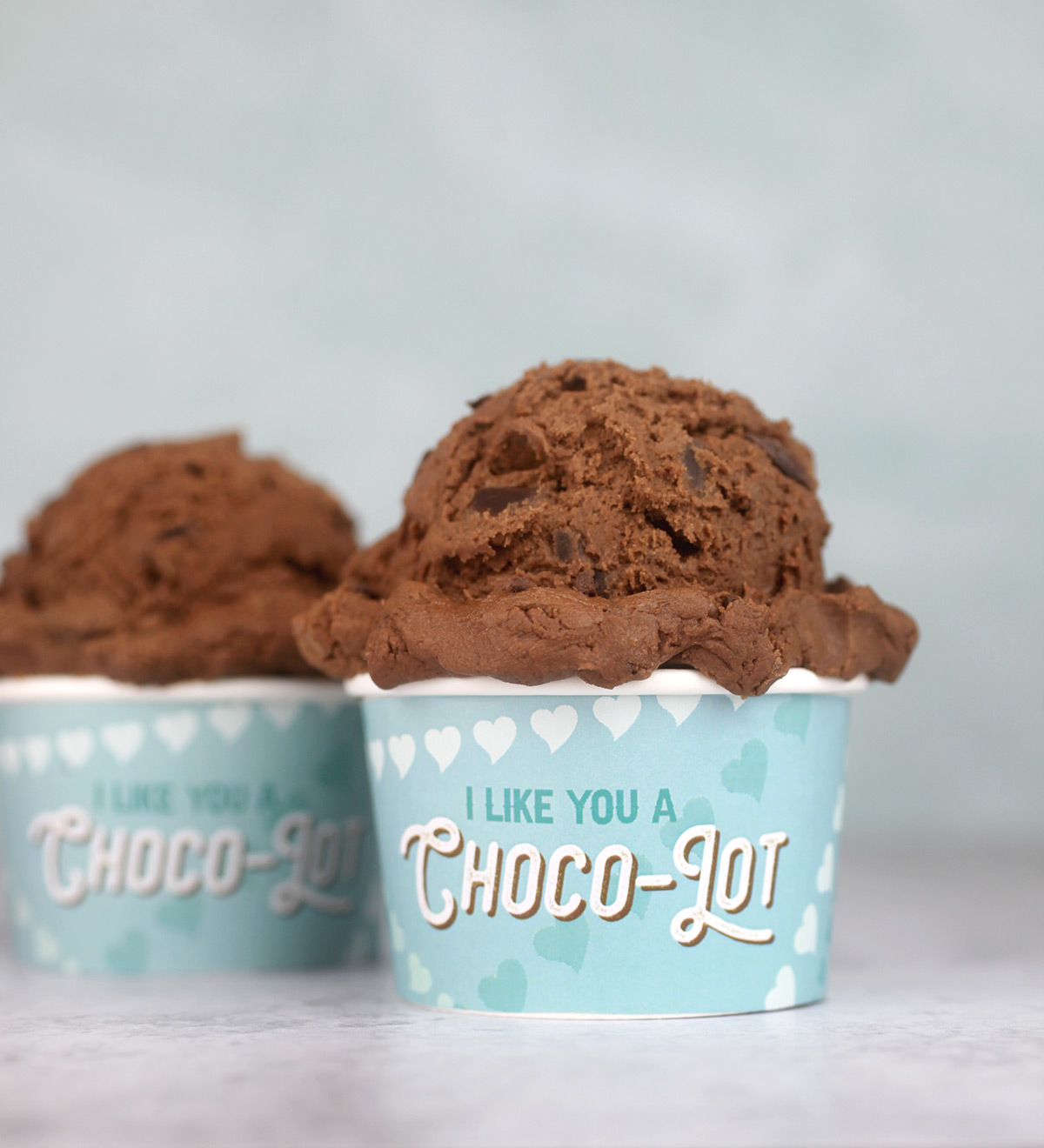 You know I had to make a chocolate one. Always chocolate. : )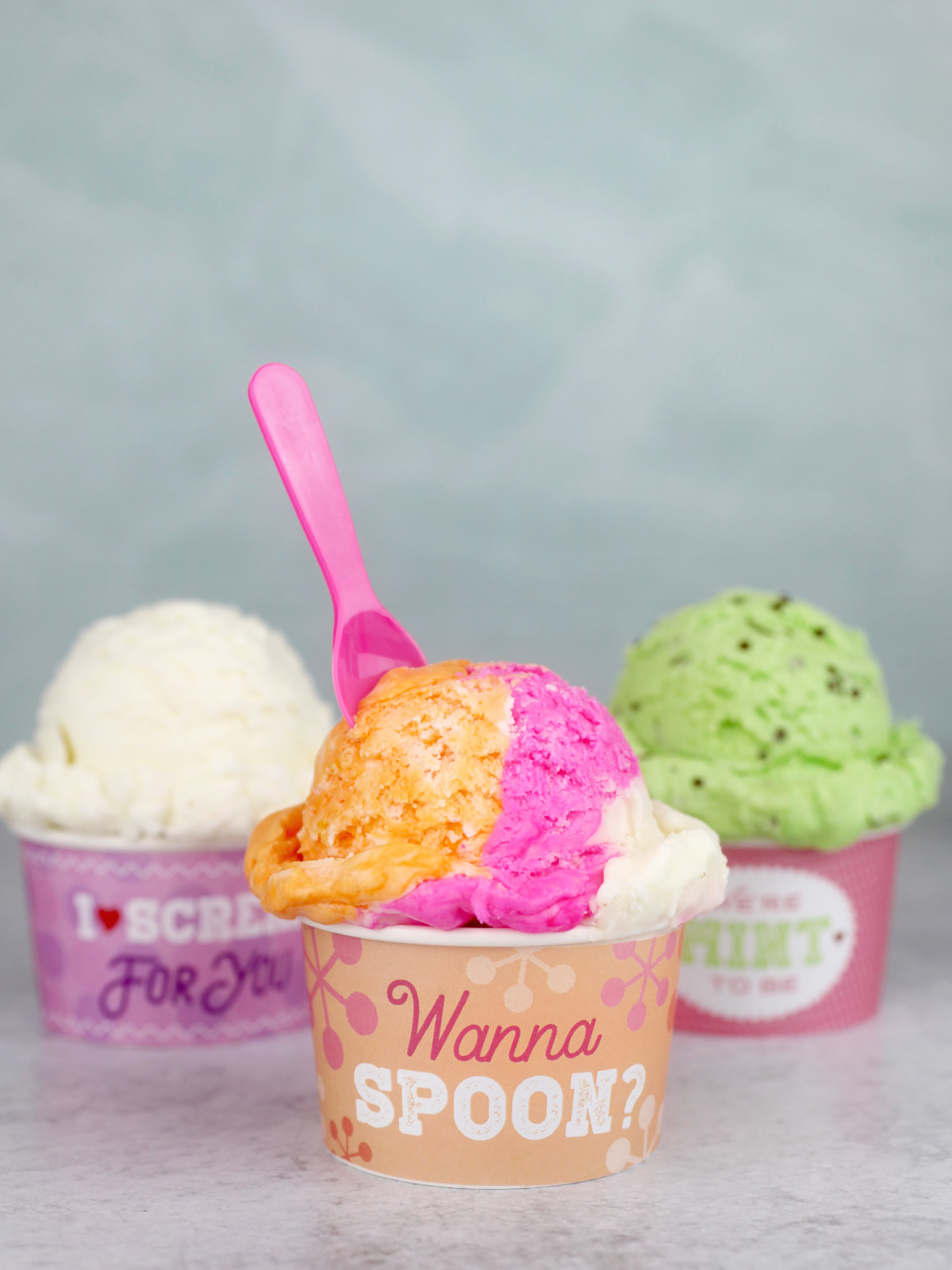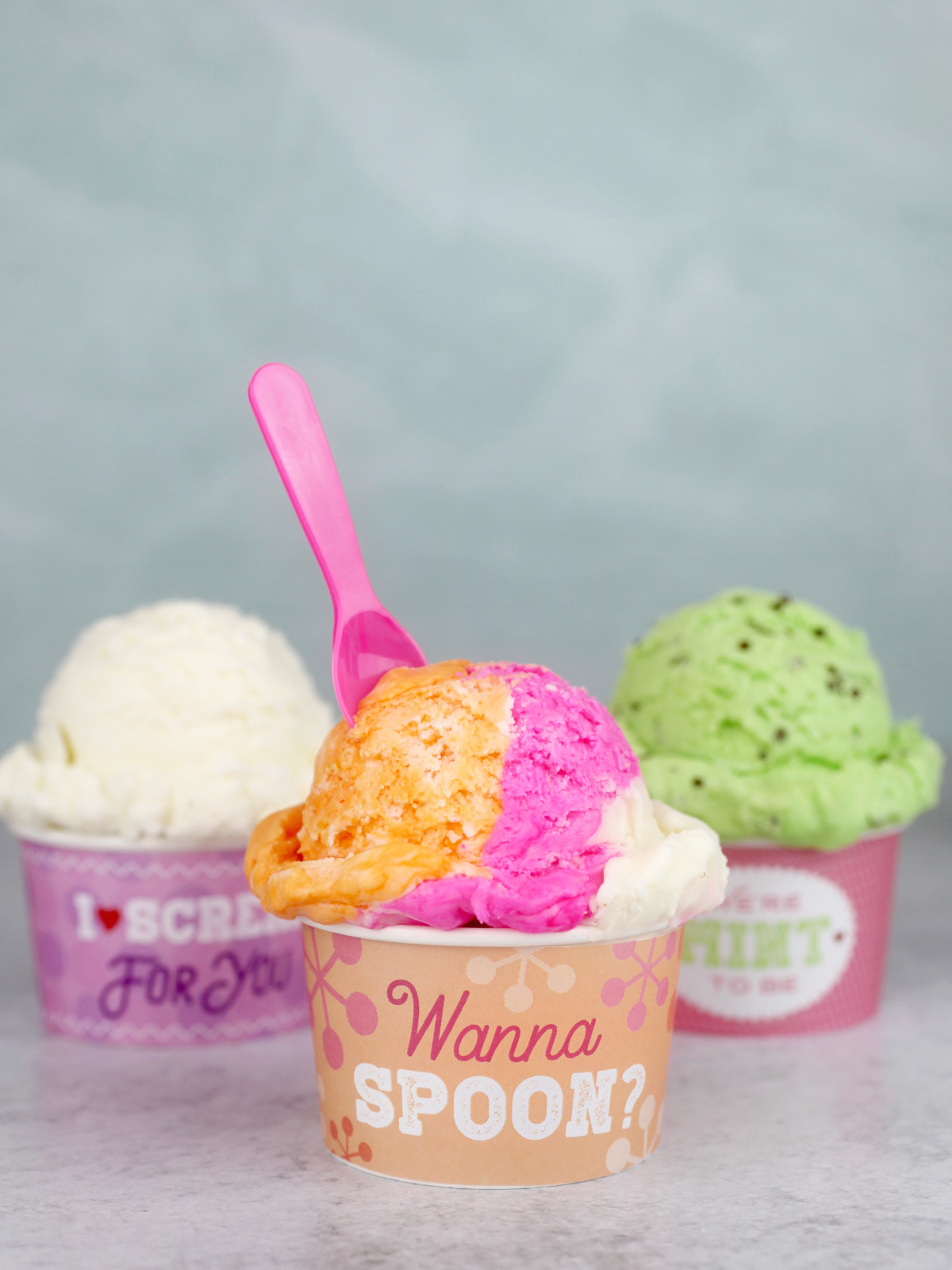 What are some other ice cream puns that would be fun?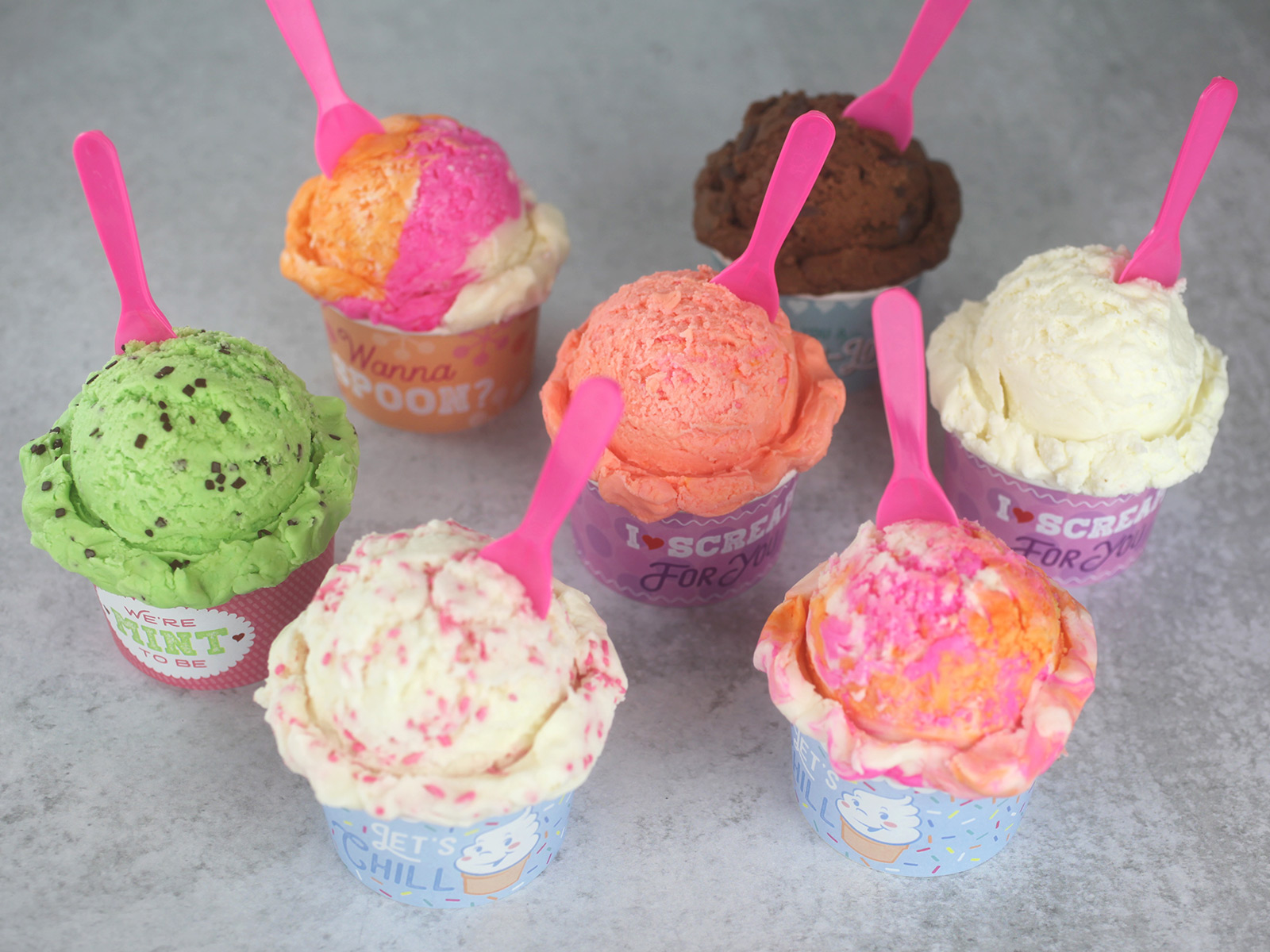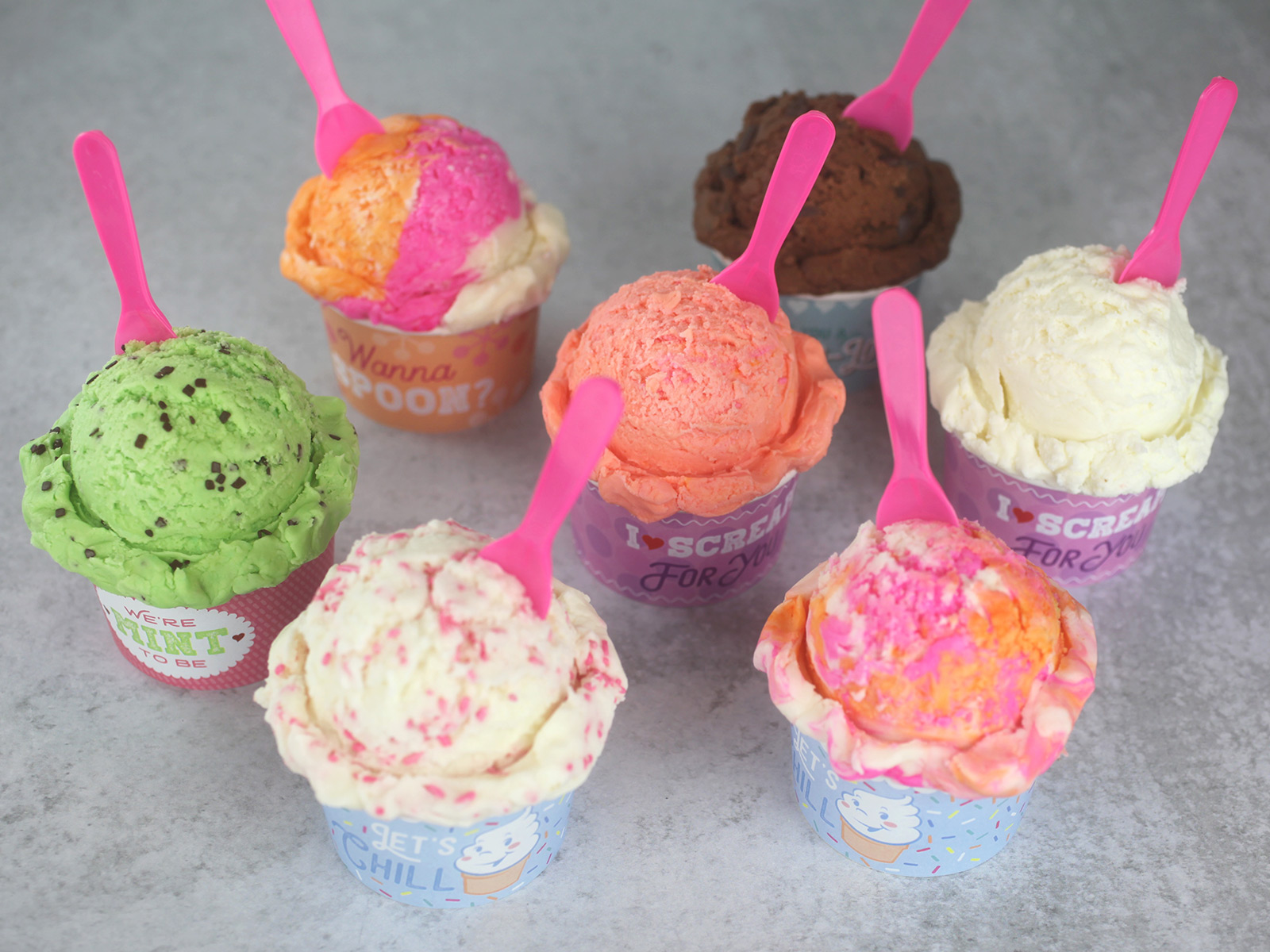 The best part about these is that they don't melt. Except your heart. Hehe.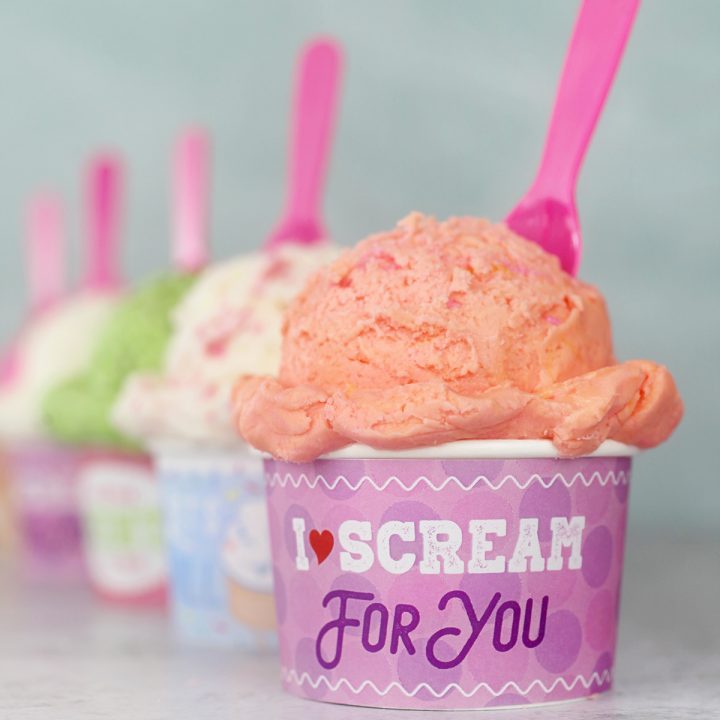 Yield: 12 cupcakes
Ice Cream Cupcakes
Prep Time 10 minutes

Cook Time 18 minutes

Additional Time 30 minutes

Total Time 58 minutes
Ingredients
Vanilla Cupcakes
1-1/2 cups all purpose flour
1-1/2 teaspoons baking powder
1/4 teaspoon salt
3/4 cup granulated sugar
1/3 cup unsalted butter, room temperature
1 egg
1 teaspoon vanilla
1/2 cup milk
Buttercream
1 lb. box confectioners' sugar
1 stick or 1/2 cup butter, room temperature
1 teaspoon vanilla
2-3 teaspoons milk
assorted gel icing colors
sprinkles, chopped chocolate, etc.
Instructions
For cupcakes:
Preheat oven to 350 degrees fahrenheit and line cupcake tray with 12 paper liners.
Whisk flour, baking powder and salt together in a medium bowl and set aside.
In the bowl of a stand mixer, cream butter and sugar until light and fluffy.
Add egg and vanilla and mix until combined.
Add flour in three additions, alternating with milk in between in two additions. Mix until combined with each addition.
Bake for 15-18 minutes or until done. Place cooled cupcakes in ice cream cups.
For Buttercream: One batch of frosting will be enough for six ice cream cupcakes. Make a second batch to have enough for twelve. Mix butter and vanilla in a stand mixer until creamy and smooth. Slowly add confectioners' sugar in several additions, mixing until completely combined. Add milk and mix until combined. If it's too thick you can add another teaspoon of milk until you achieve the desired consistency. (For chocolate buttercream, mix 1/3 cup cocoa with the confectioners' sugar before adding the milk.)
To decorate: Divide the one batch of frosting into six oversized scoops of frosting and place in separate bowls for mixing. You can tint the frosting, add sprinkles, jimmies or chopped chocolate. Get creative. Rescoop the frosting with more of it overflowing the diameter of the scoop. Release on top of the cupcake. Then just tape one of the wrappers to the ice cream cup.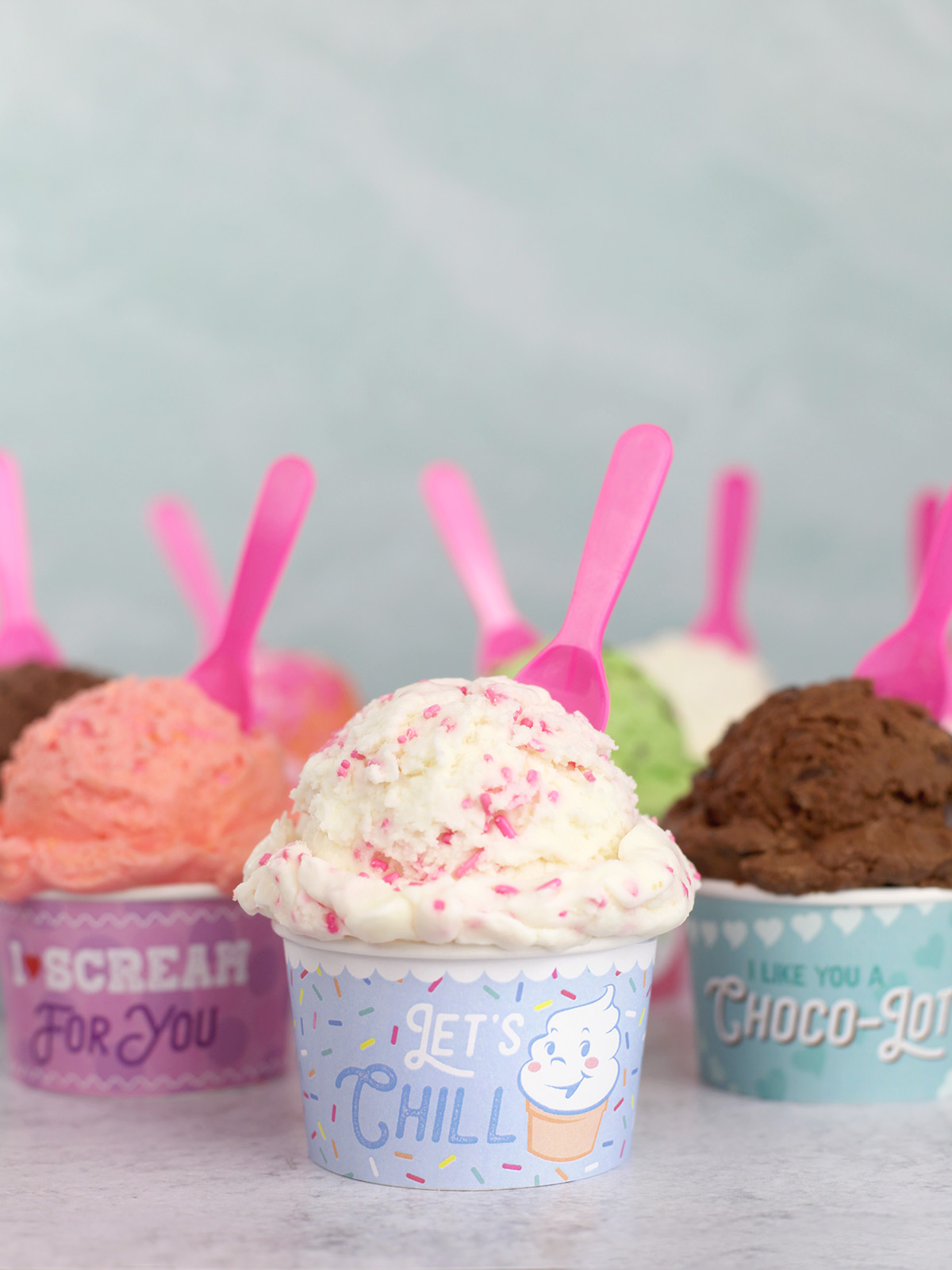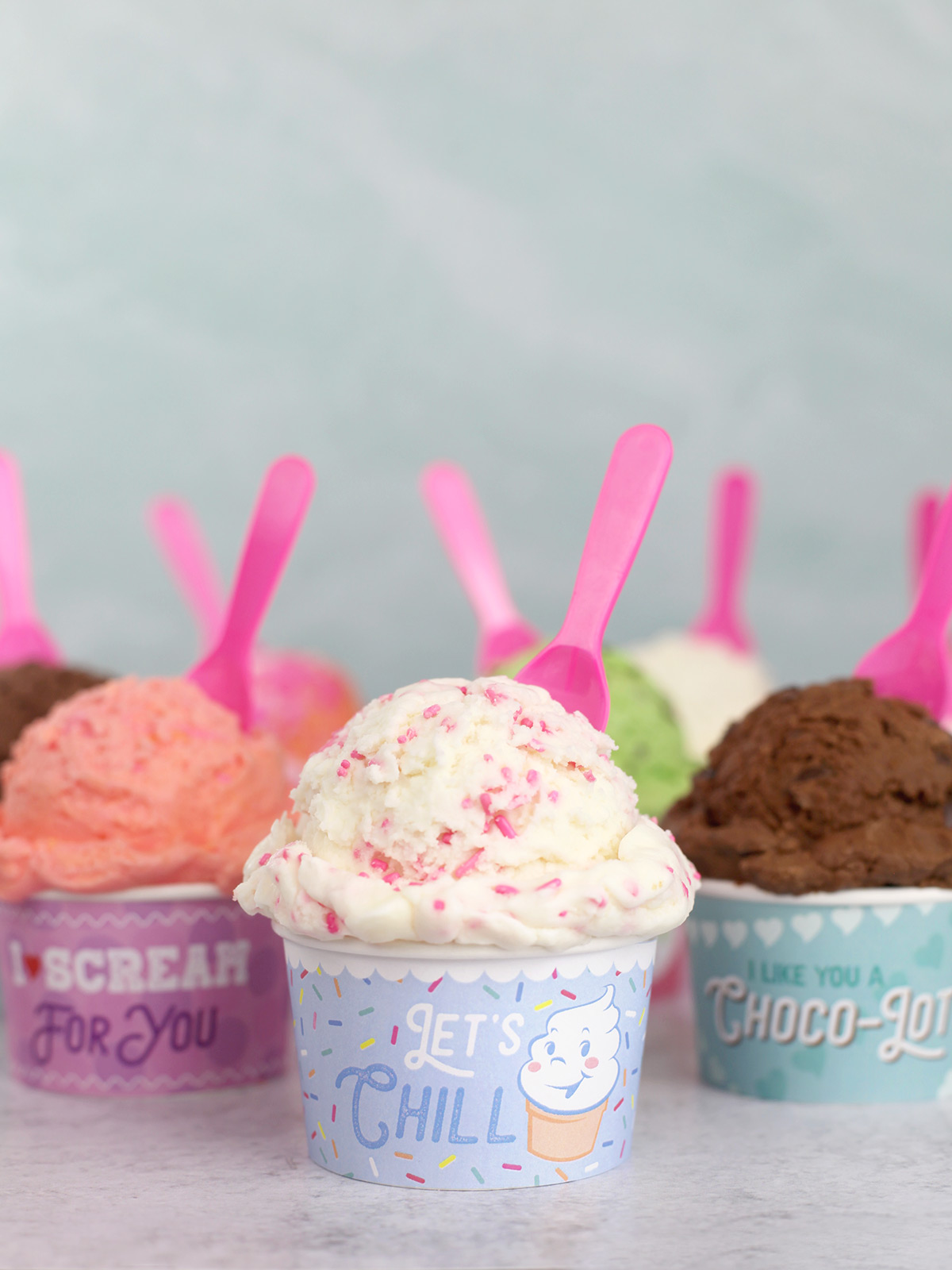 Hope you enjoy. Hugs and Happy Valentine's Day!