Santa gets cookies, but his reindeer get hungry too. I made this little treat for the kids to set out on Christmas Eve. It's super easy and super sweet! Check out the recipe below and use these ingredients: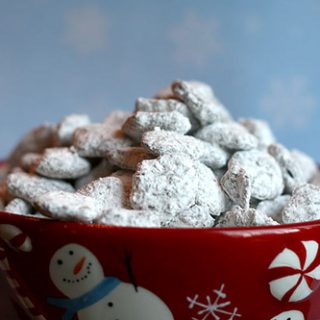 Reindeer Chow
Ingredients
5 cups Crispix Cereal
1 cup peanut butter
12 oz. package of semi-sweet chocolate morsels
1 box confectioner's sugar
Instructions
Melt chocolate in microwave 1 minute at a time until melted.
Add peanut butter to melted chocolate and mix well.
In a large bowl (with a snap on lid), add melted chocolate and peanut butter to top of cereal and mix well.
Add confectioner's sugar and cover bowl with lid. Shake well to coat thoroughly.
Notes
If you don't have a bowl with a lid, you can place the coated cereal and confectioner's sugar in a large ziploc bag and shake well.

This treat is also called Puppy Chow when not served during the holidays. It was originally given to me by a co-worker and now it's a must have every Christmas.