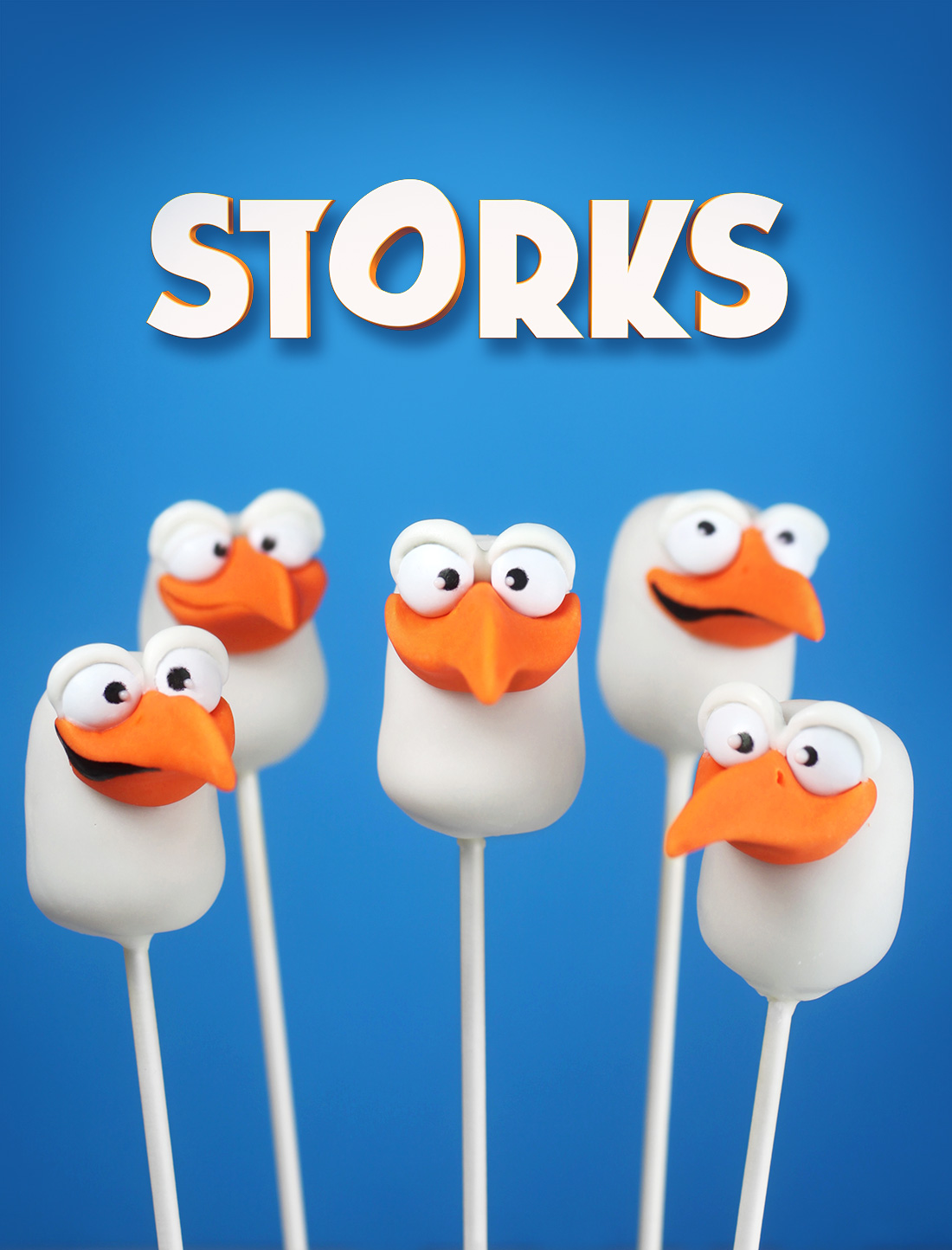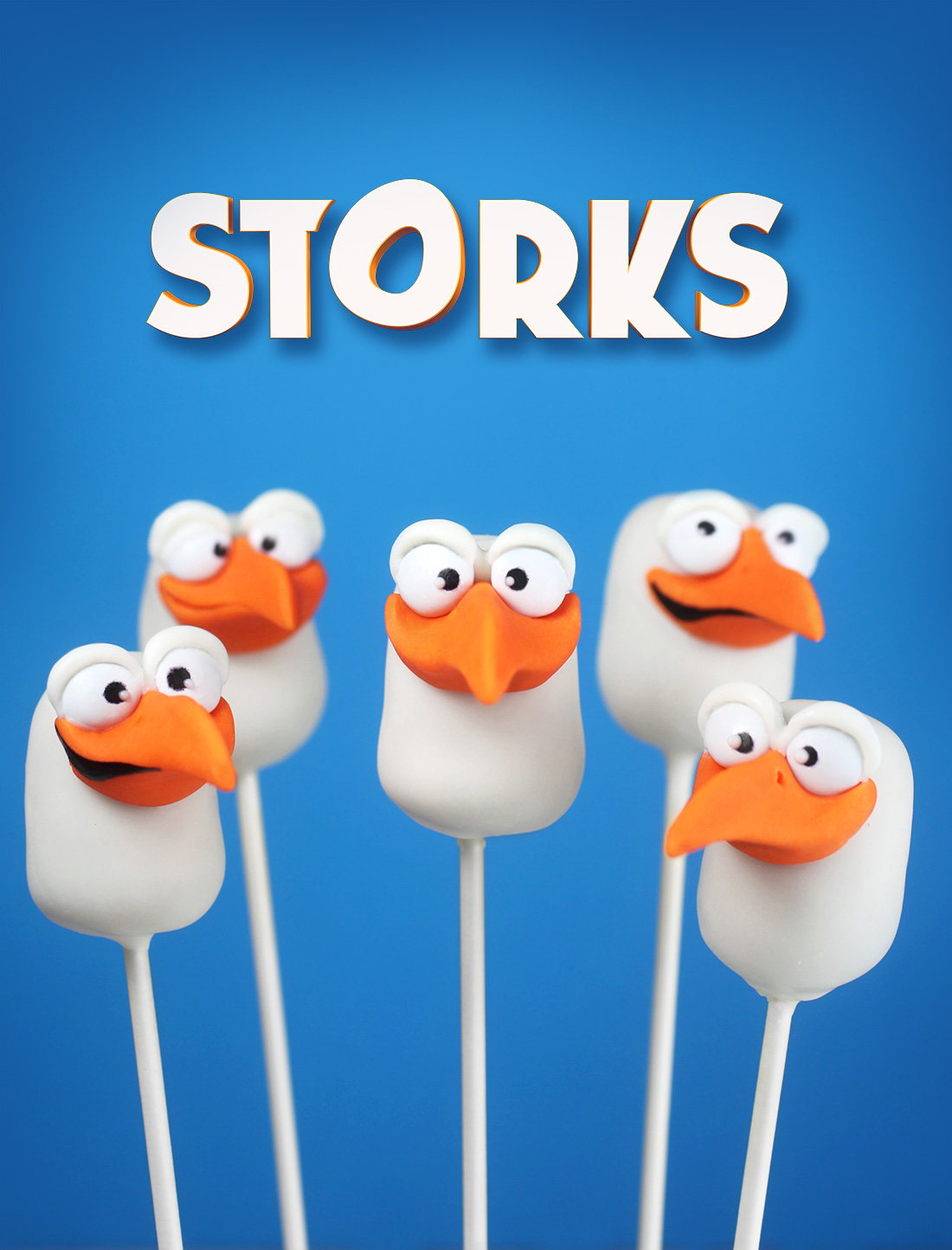 I made these cake pops for the movie STORKS!!! So much fun. I'm working with Warner Bros. Pictures to help promote the movie hitting theaters this Friday, September 23rd. I love getting the opportunity to work on projects for animated movies and this one looks really good. Plus, what's sweeter than cake pops to deliver the word.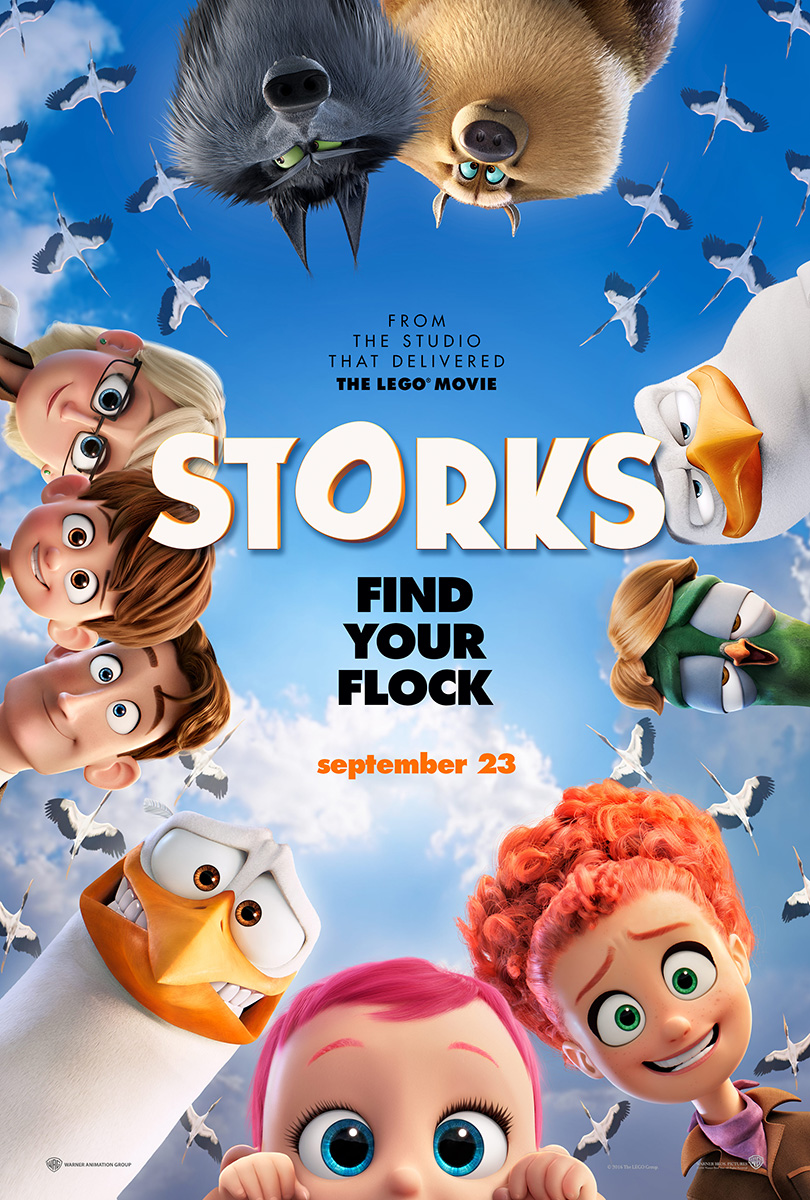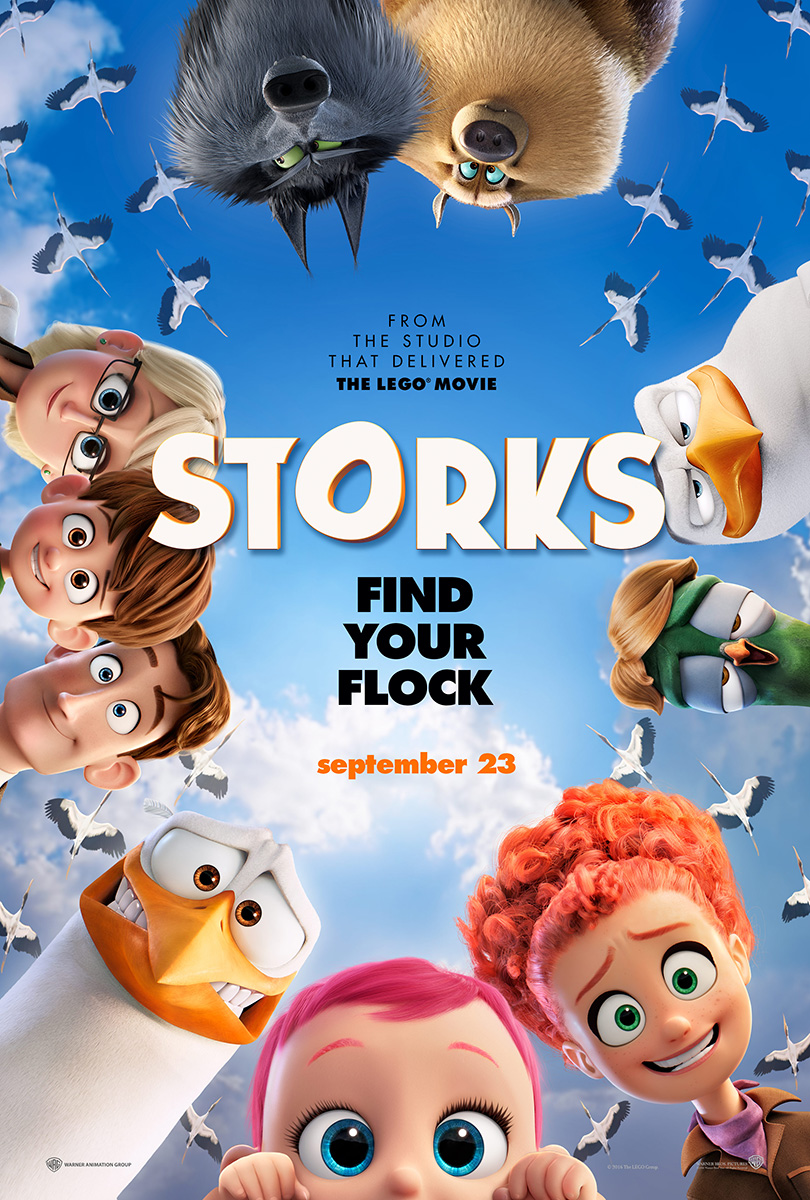 Find your flock this Friday. Check it out.
Or if you'd rather learn how to make some cute Storks Movie cake pops, then keep on reading.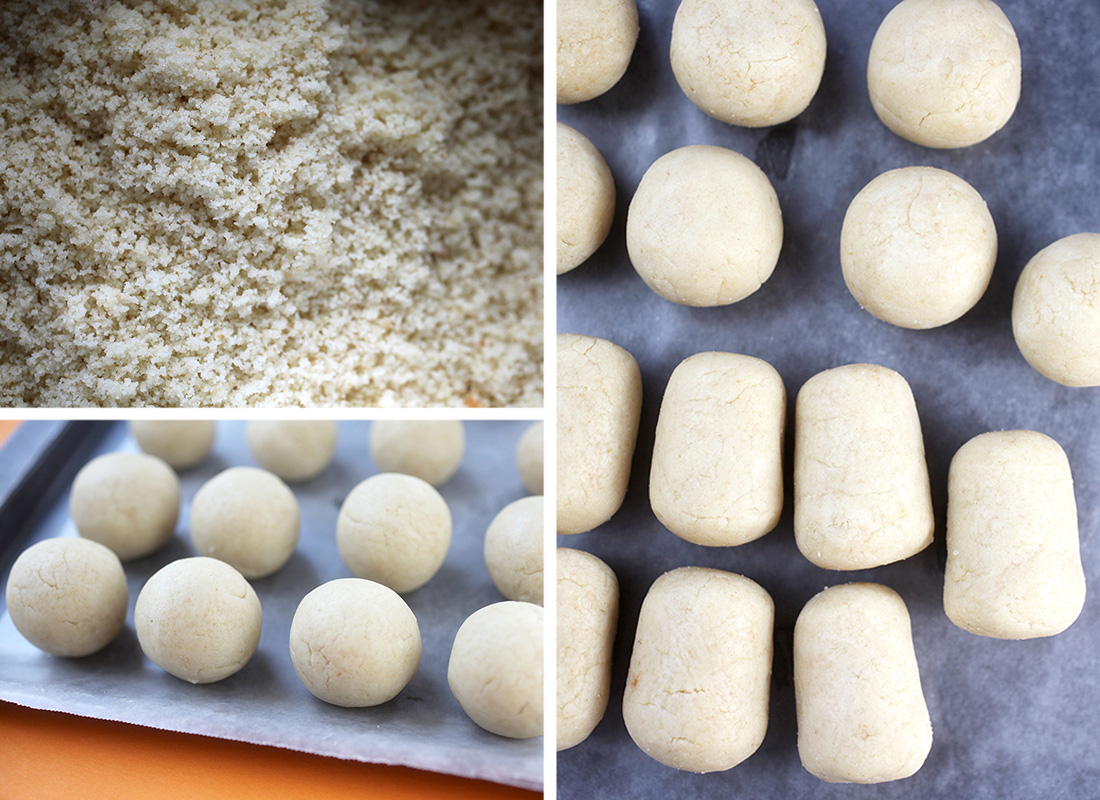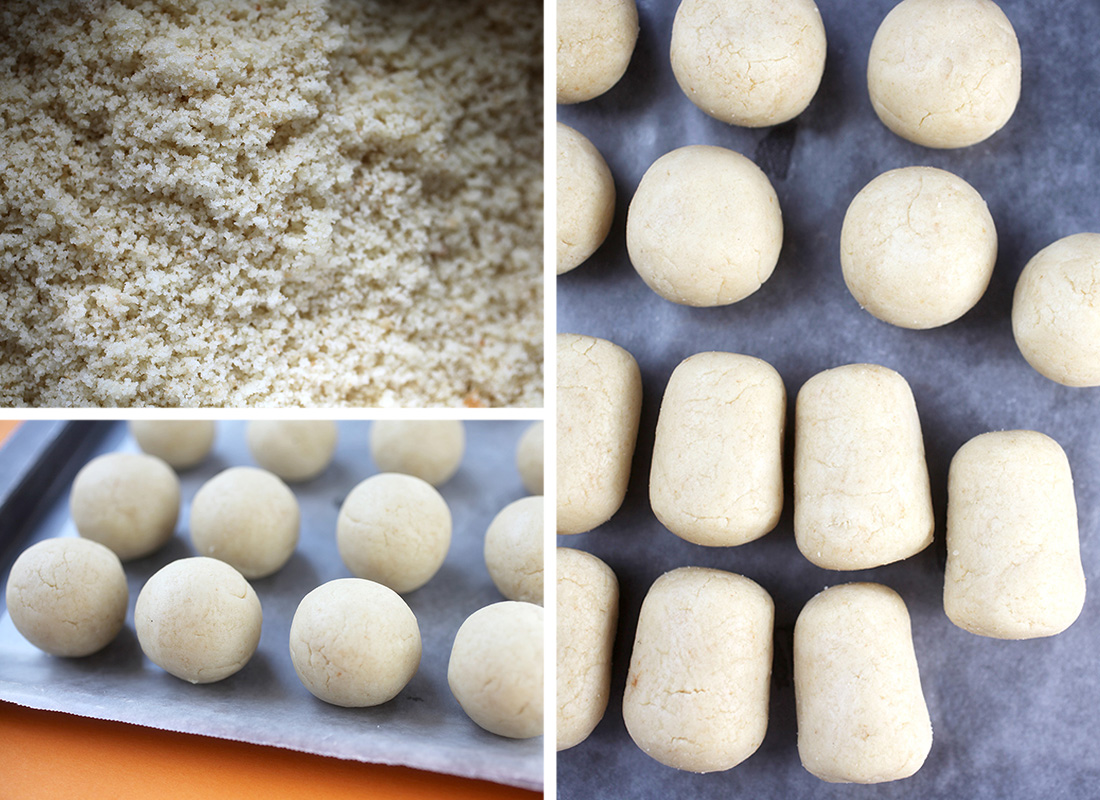 To get started, you will need to make some basic cake pops that you can shape and decorate.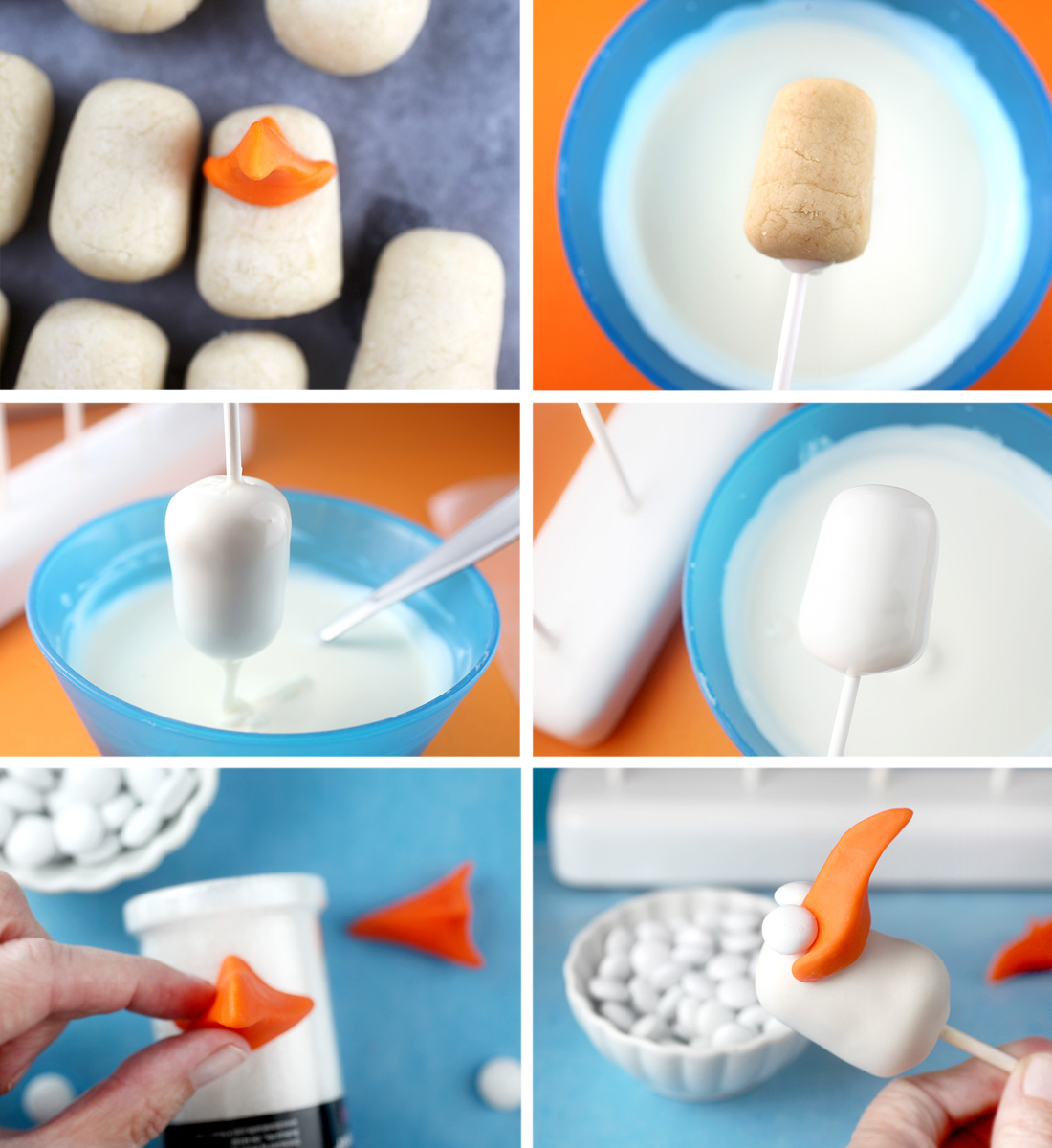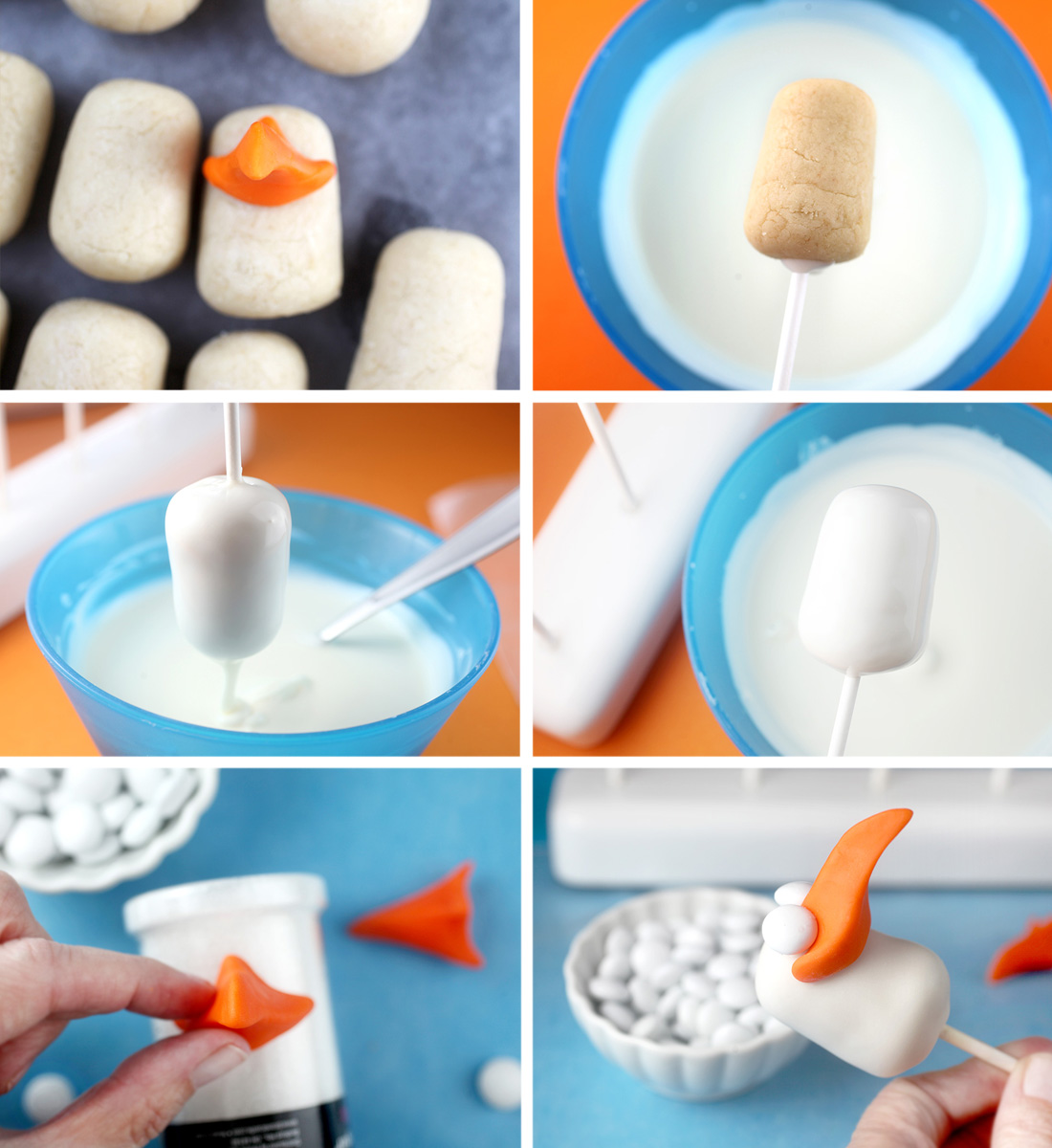 To make Storks Cake Pops:
Follow my basic instructions for cake pops and then form into rounded thumbnail shapes. Dip shaped cake balls into melted white candy coating. Allow any excess coating to fall off back into the bowl and then let them dry completely before decorating.
When dry, shape beaks using orange fondant. You can buy small packages of pre-tinted fondant at craft stores. For the beaks to fit against the cake pop, the base needs to be curved to mimic the curve of the cake pop surface. Try using a clean cylinder to shape the beak (I used a sprinkle bottle) so you don't damage your pops. Then place shaped beak on the pop to make sure you have the correct curve. To attach beaks, paint base with melted candy coating using a toothpick. Press center part of the beak onto cake pop and then attach white candy gems or m&m's for eyes in position using more melted candy coating. Finally curve the sides of the beak around the eyes and gently press against pop to attach in position.
Let dry completely and then draw pupils on the candy eyes using a black edible ink pen. To finish the look, apply more melted candy coating over the eyes using a toothpick to make the brows. Using a clean toothpick, make a small dot of candy coating on the pupils of the eyes for a little sparkle. It really helps give them personality.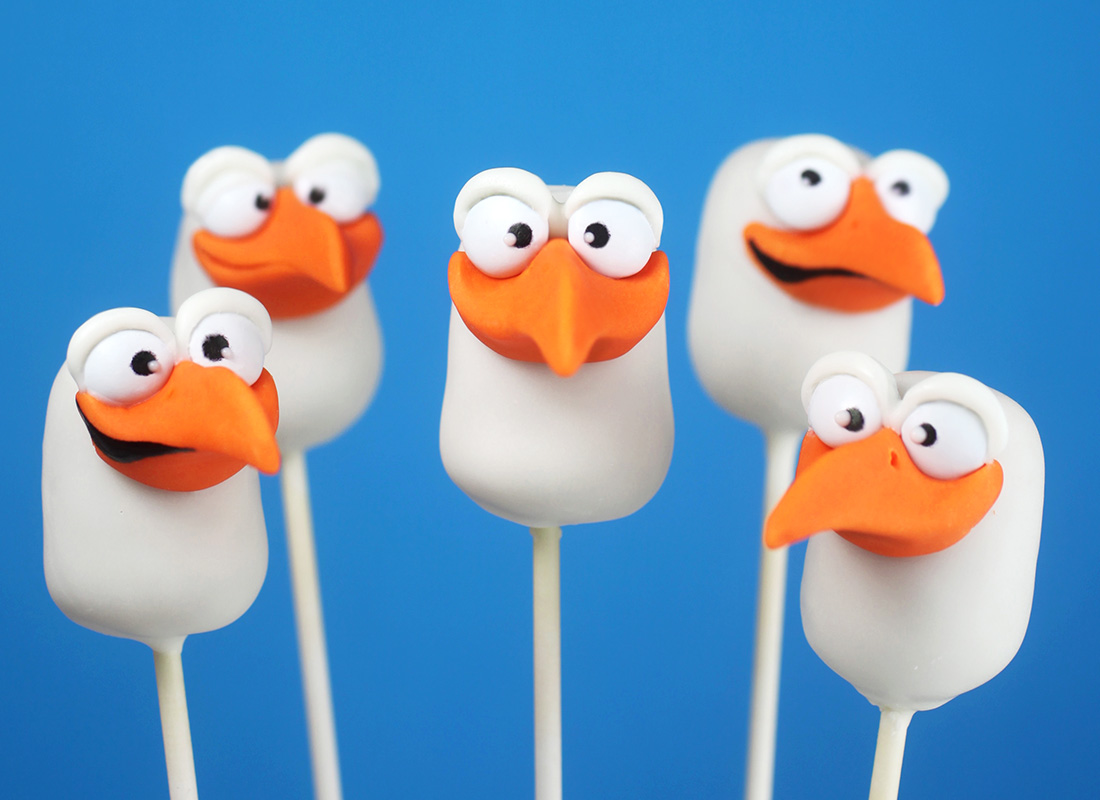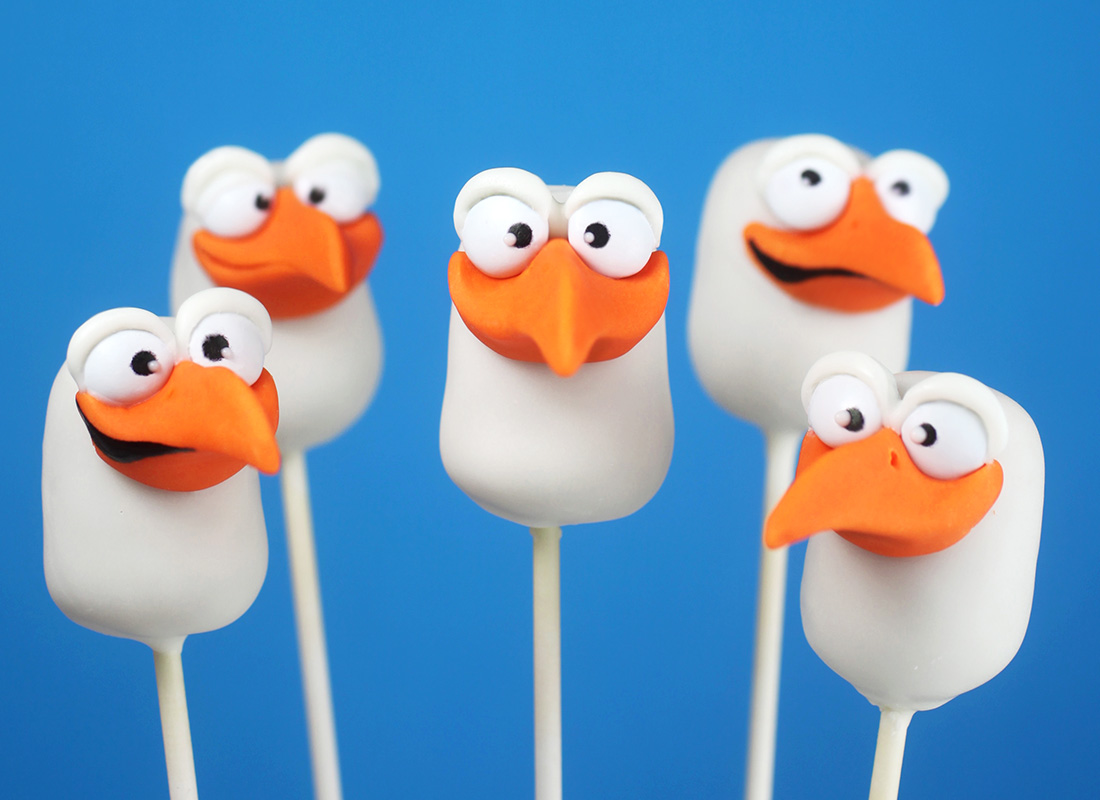 Oh my gosh … who knew storks could be so cute.
Now… who wants to make some babies!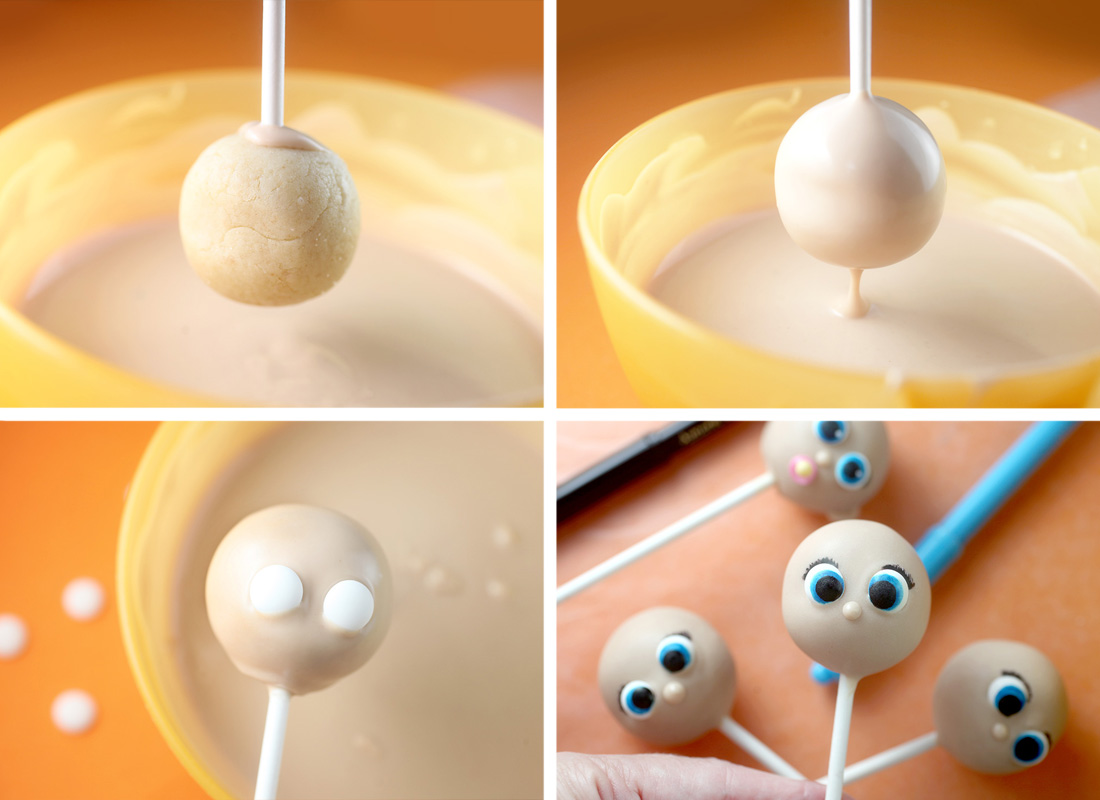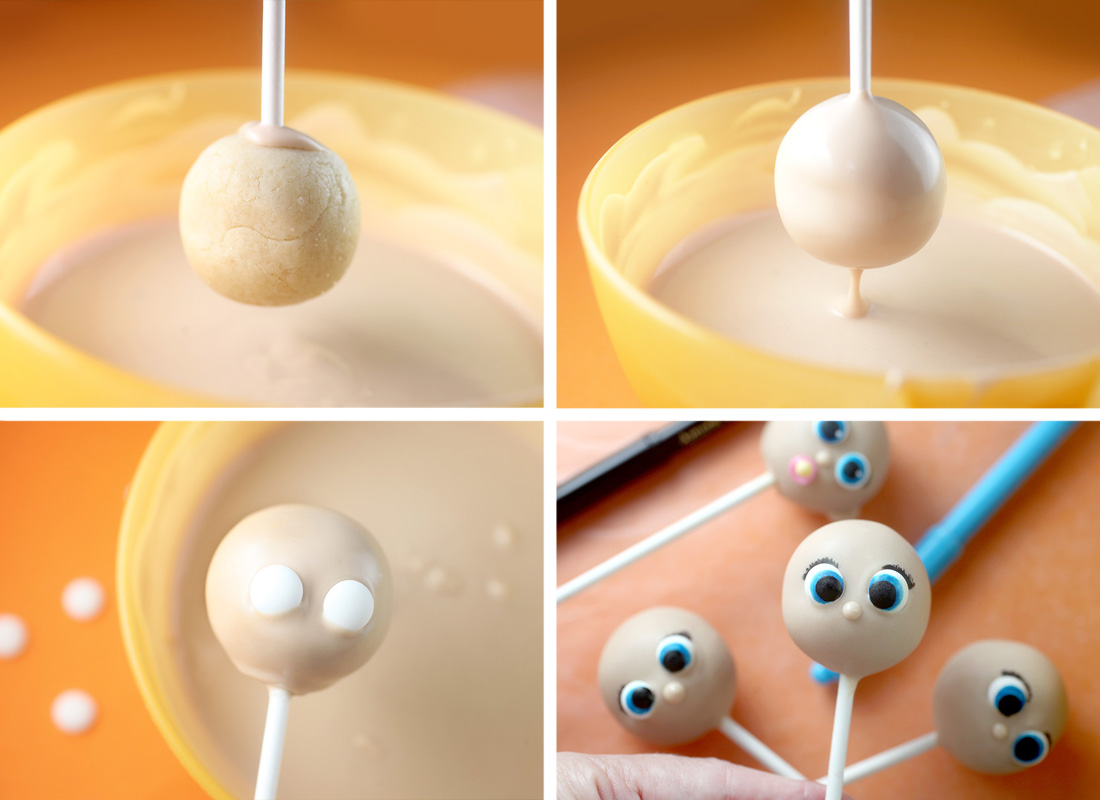 So these are a little more work, but babies usually are. : )
Dip round cake balls into melted candy coating. You can melt and mix white coating with a few wafers of yellow and brown to make your desired flesh color.
After dipping, place two sugar candy eyes (these are smaller and flatter than M&M's) in position on the center and bottom half of the front of the pop and let dry.
Draw big blue eyes with an edible ink writing pen. When the ink dries, draw on black pupils and eyelashes and place a dot of white candy coating on the pupils.
Dip a toothpick in melted coating and dot on noses.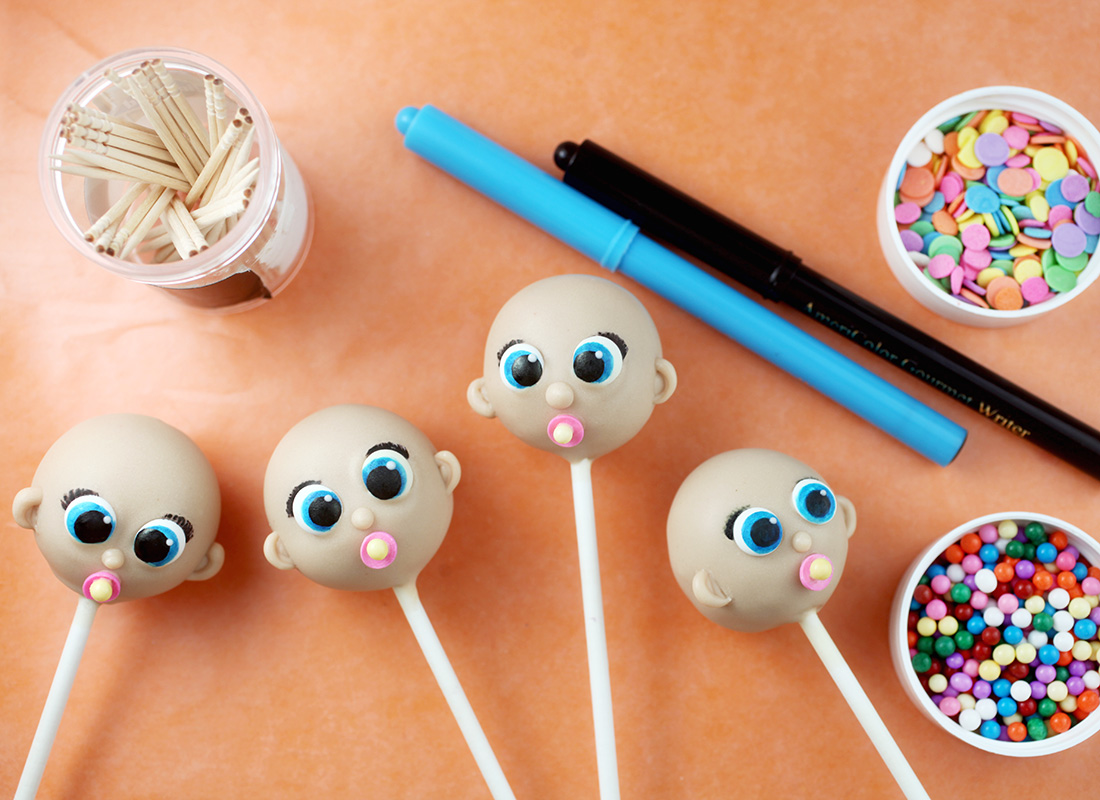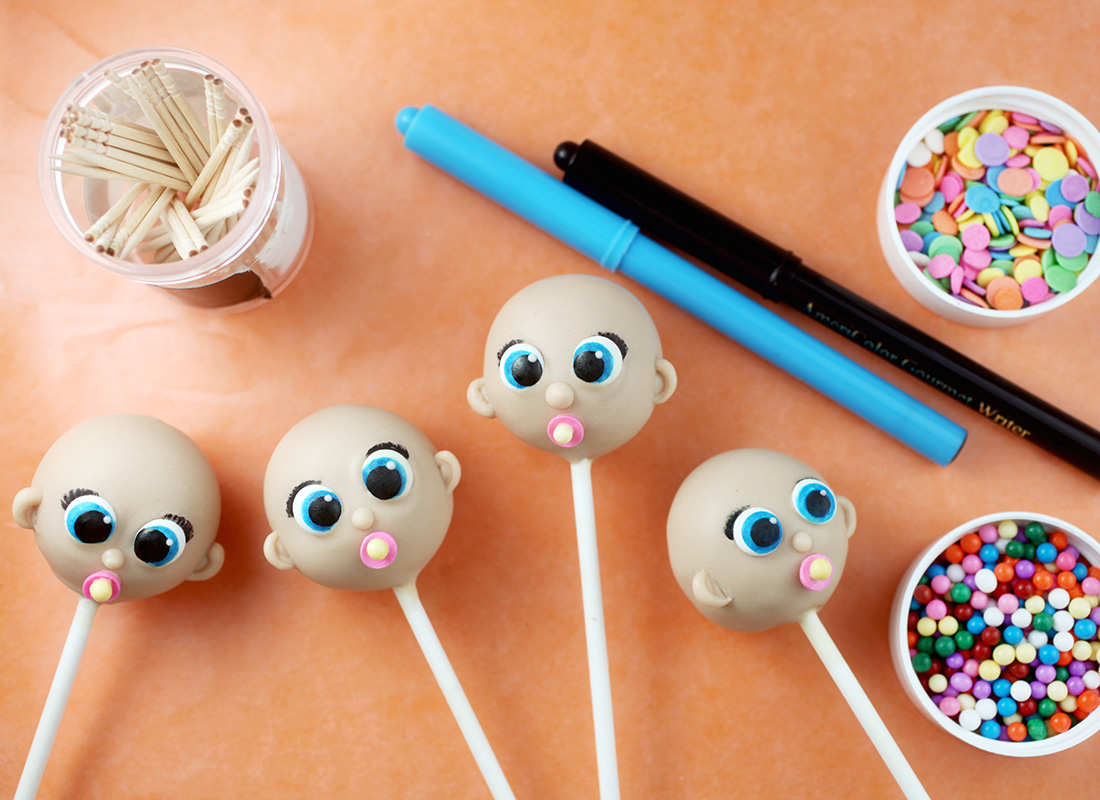 Don't worry about making mouths because these babies have tiny little pacifiers.
Attach pink confetti sprinkles to the pop using melted candy coating. Then attach a yellow sugar pearl to the confetti sprinkle.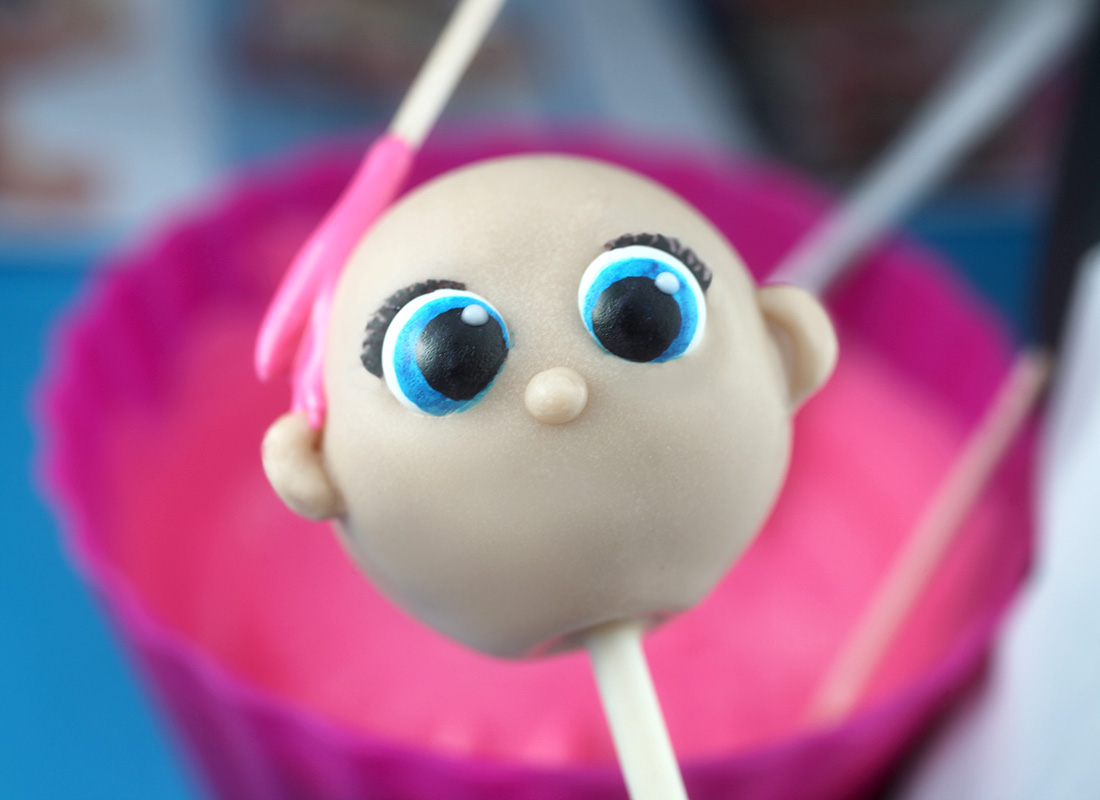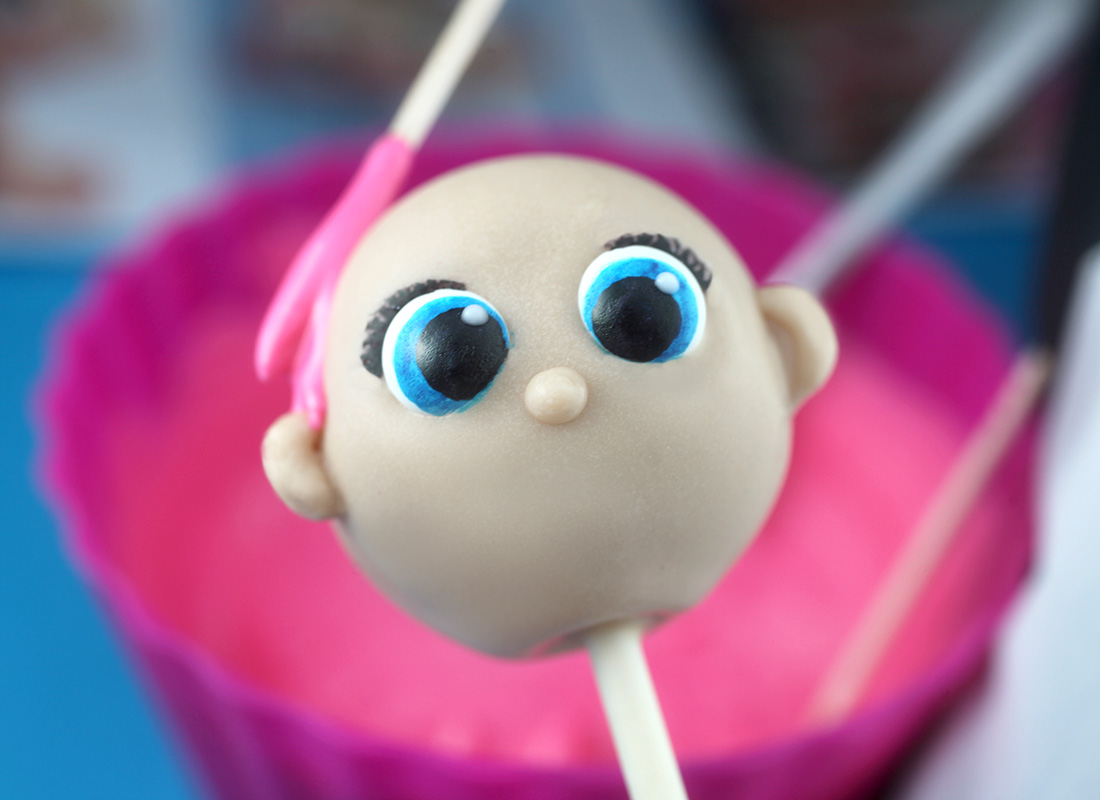 Oh yeah, to make the hair and eyebrows, dip a toothpick in melted candy coating and use it to draw on the pop. The babies in the movie have bright colors for hair like pink, blue, yellow and purple. So, I used my party pink candy coating to make these after the main baby. As the coating thickens, you can make cute little strands of hair that stick up and stay in place.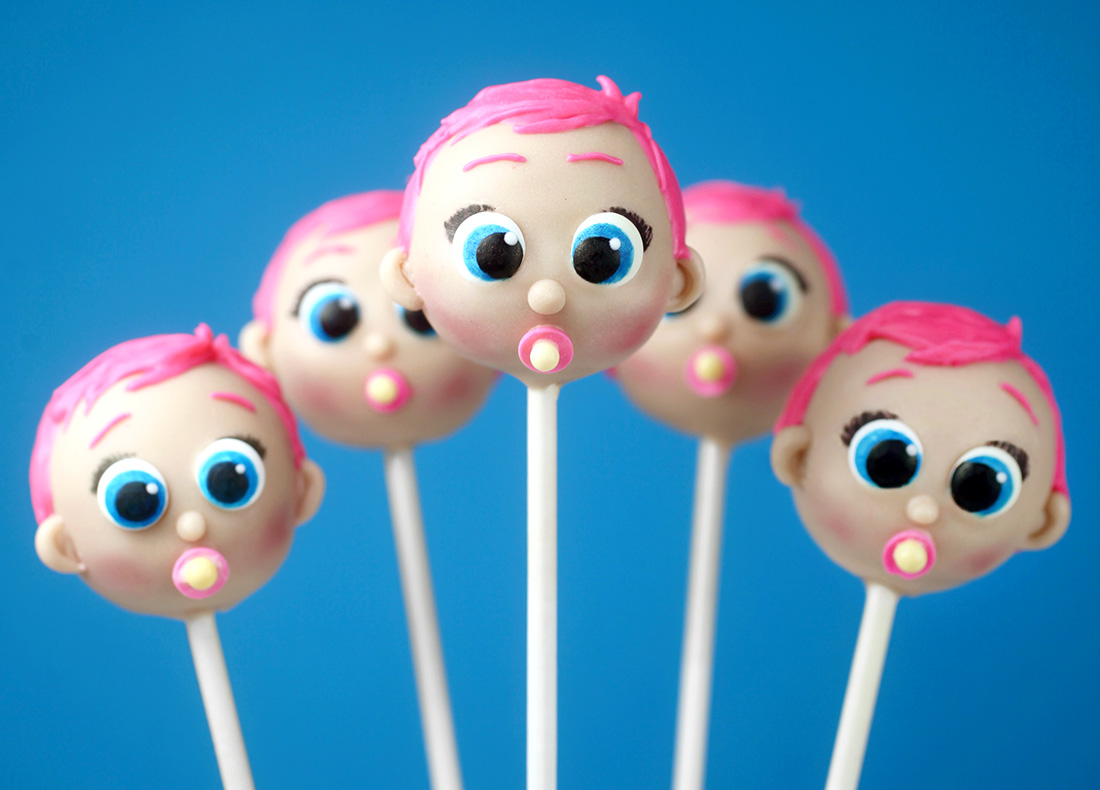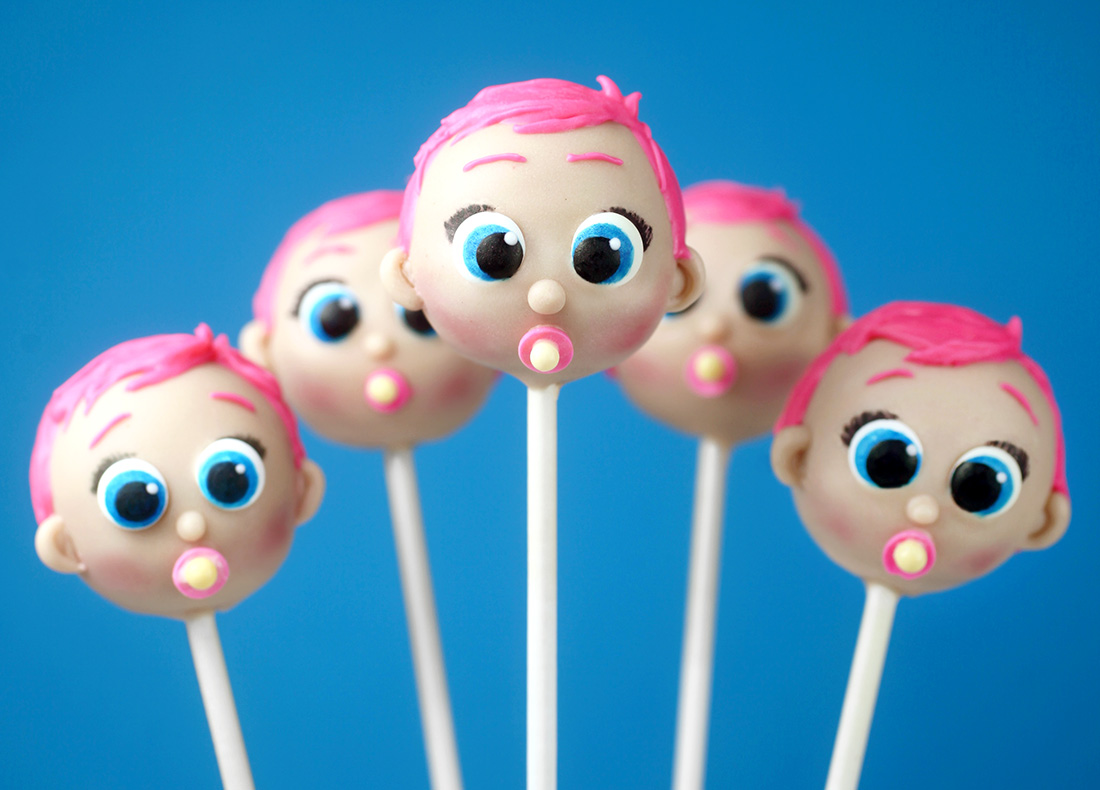 See … so super cute.
For rosy cheeks, you can very lightly brush on pink powdered food color.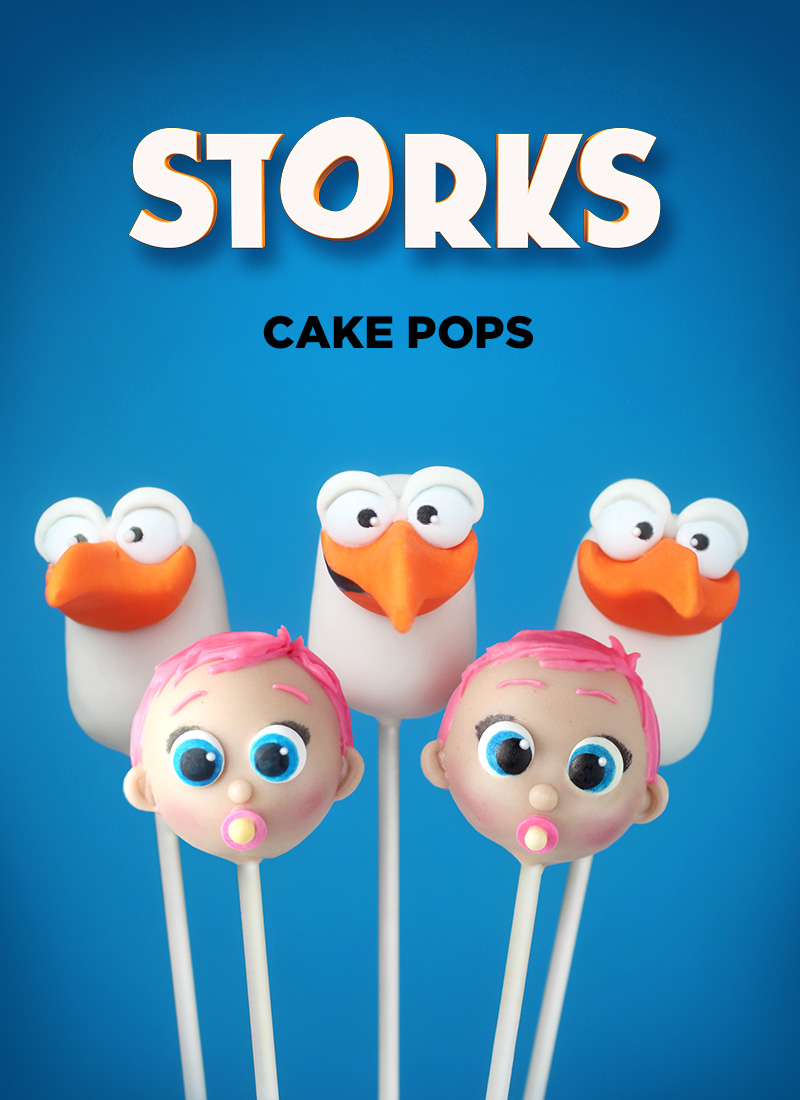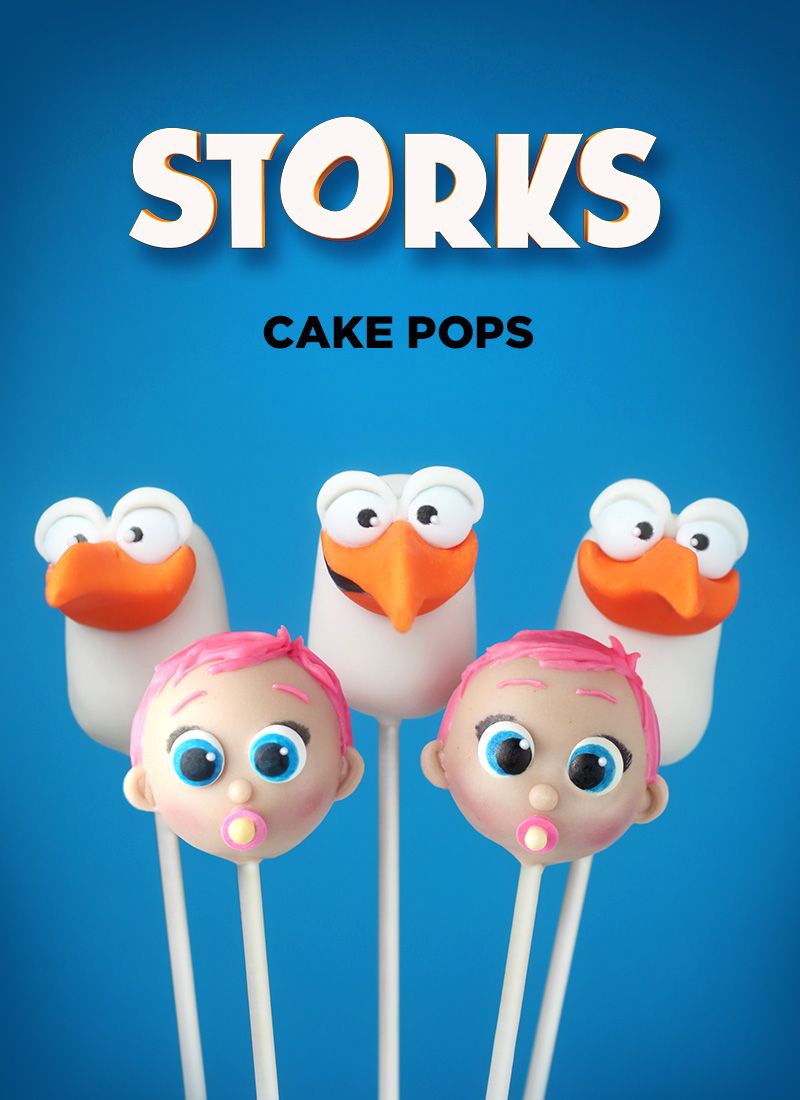 Soooo … right about here, I decided I need to add a little more joy.
Make that a bundle of joy.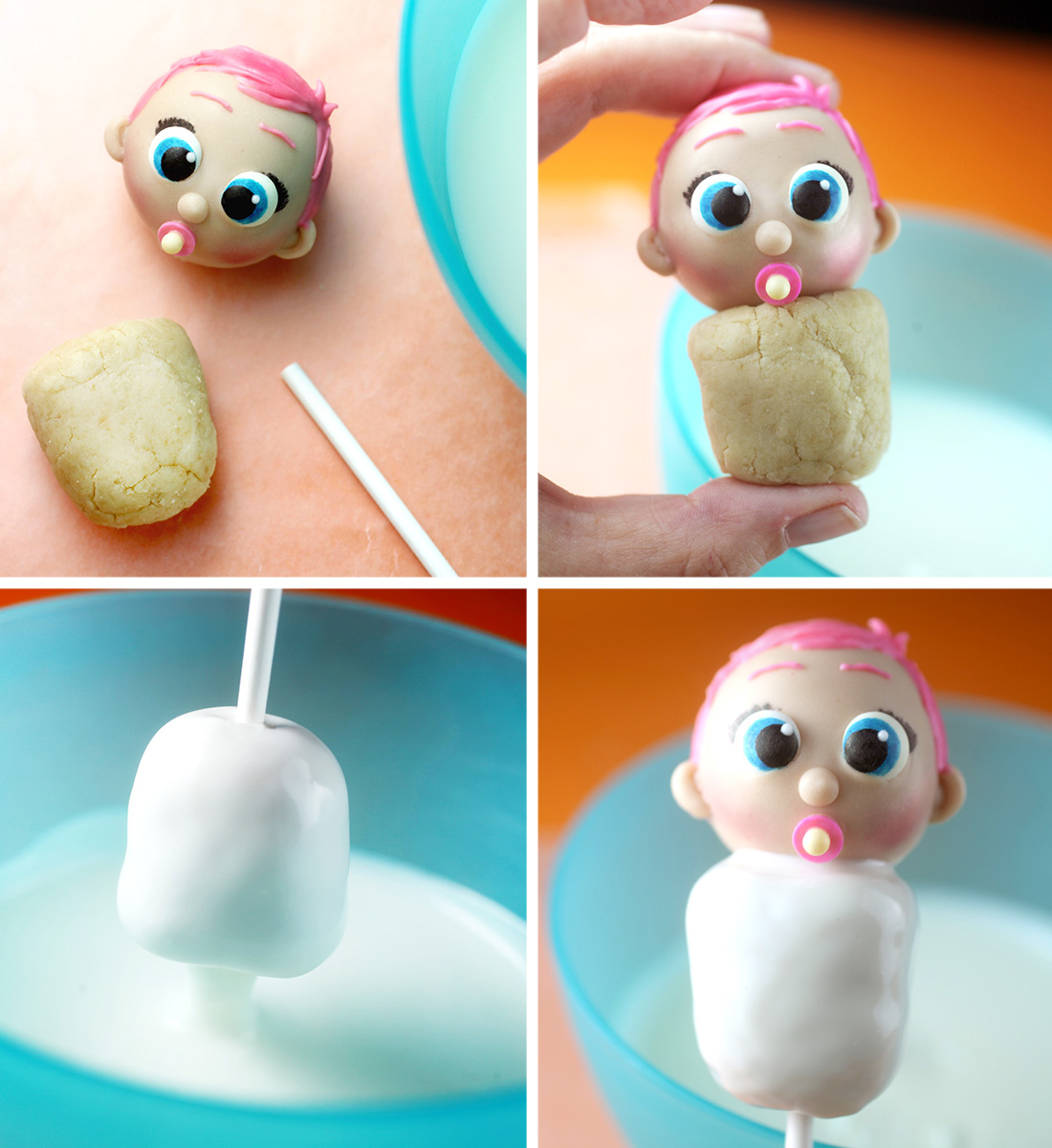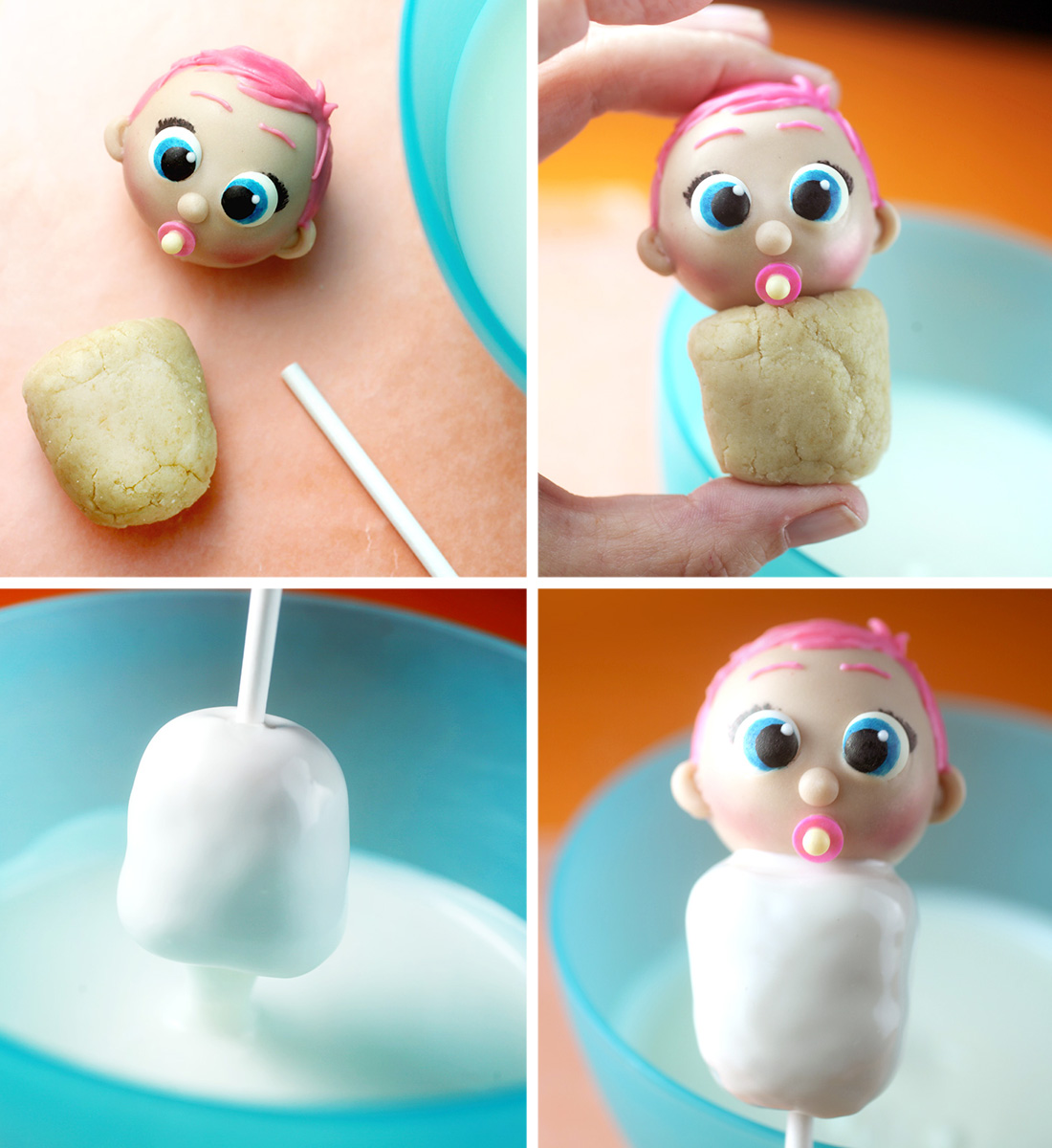 To make little baby bundles, gently twist the baby's head off the lollipop stick. (I know … that sounds terrible.) Once removed, you'll use a new stick.
Okay, now take a cake ball and shape into a rounded bundle. Gently press and shape to mimic the bottom of the baby's head. Then insert the stick into the shaped cake ball and go all the way through, leaving enough to insert back into the baby's head.
Dip in melted white candy coating, allow any excess to fall off back into the bowl and attach the head before the coating dries. Now, you can leave them like this or add more melted white coating around the head to look like the baby is tied with a bow at the top. The bow was made with two white heart sprinkles.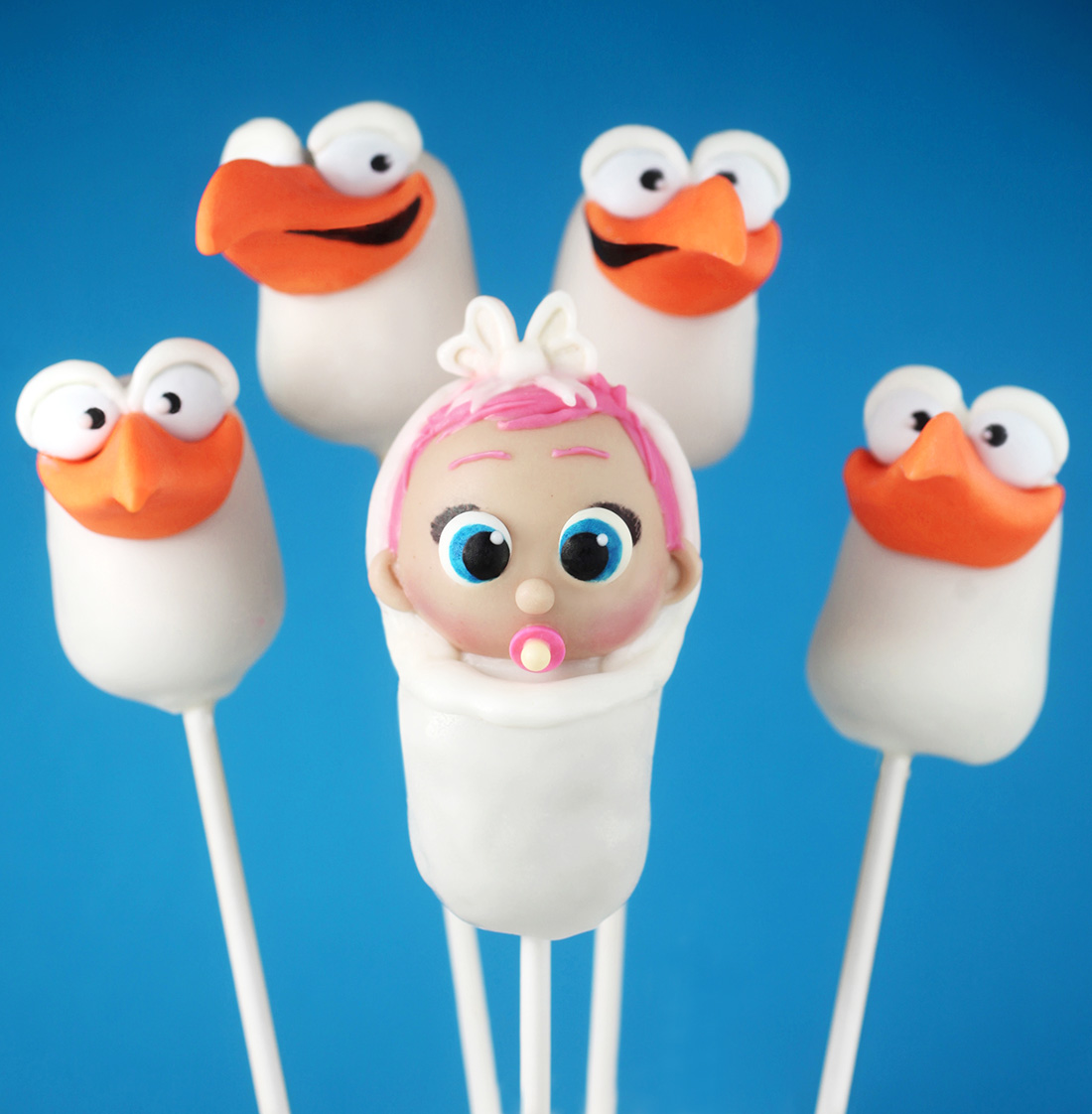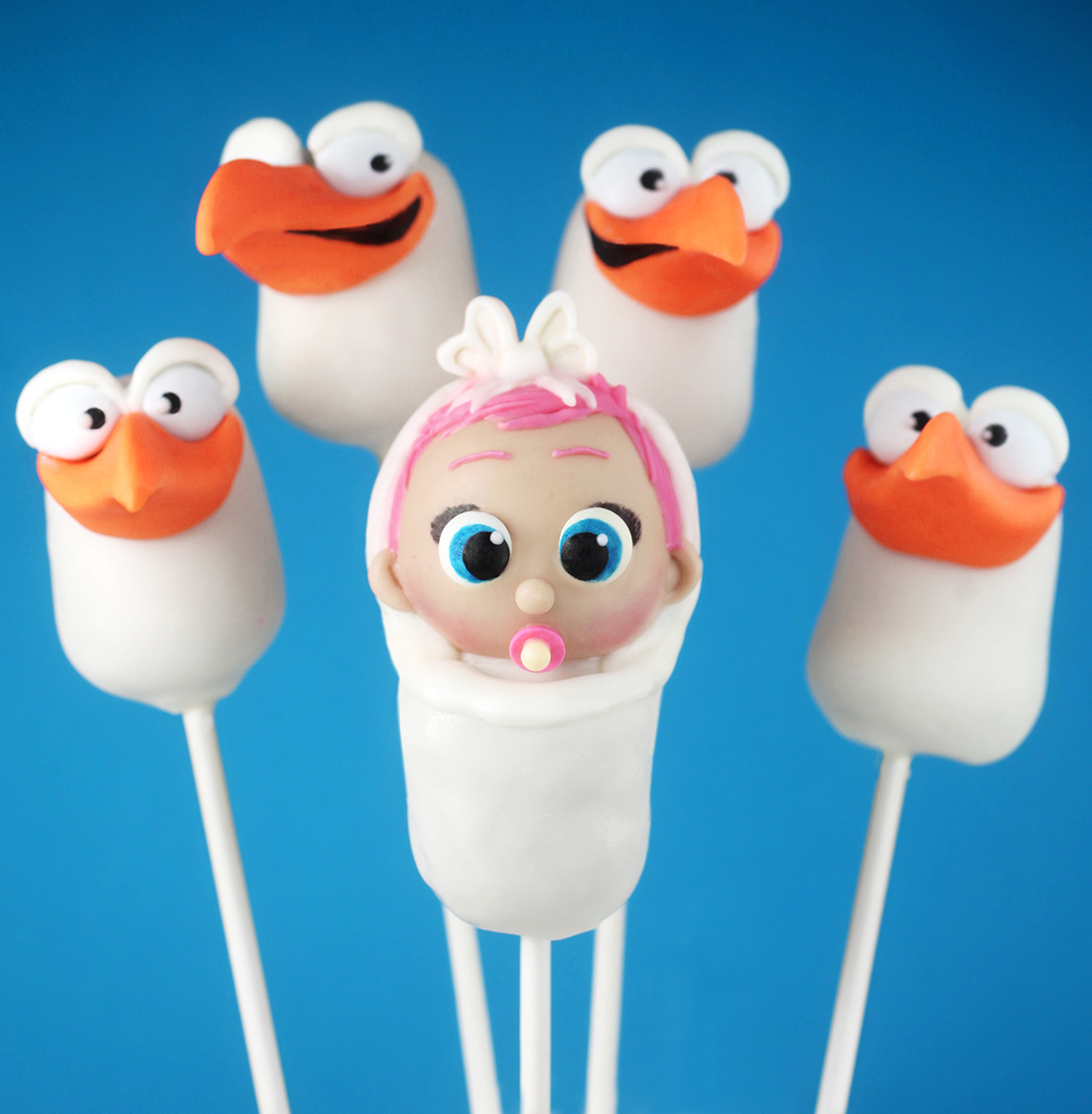 This post is sponsored by Warner Bros. Pictures.
From the studio that delivered The LEGO Movie. STORKS, in theaters September 23! Storks deliver babies…or at least they used to. Now they deliver packages for global internet giant Cornerstore. Junior, the company's top delivery stork, is about to be promoted when he accidentally activates the Baby Making Machine, producing an adorable and wholly unauthorized baby girl. Desperate to deliver this bundle of trouble before the boss gets wise, Junior and his friend Tulip, the only human on Stork Mountain, race to make their first-ever baby drop – in a wild and revealing journey that could make more than one family whole and restore the storks' true mission in the world. | Starring the voices of Andy Samberg, Jennifer Aniston, Ty Burrell, Kelsey Grammer, Keegan-Michael Key, Jordan Peele, Katie Crown, Danny Trejo | Rated PG