The last five book and kit signings were such a blast. When I started the book tour the end of last year I had no idea how much fun they would be and how much I would miss meeting you guys when they were all over. Thank you so much to everyone that came out to one of the 20+ signings. Along the way I have tried to get pictures of everyone that came by to say hi and also recap each city on the site. This time I combined the last several cities in one big giant post.
San Francisco, Orlando, Phoenix, San Diego and Austin.
There are a few photos from each city below as well as slideshows of all the photos from each. Feel free to use any of the pics from flickr if you find one of yourself.
It was so great starting off the signings at Chronicle Books Headquarters in San Francisco. Say hi to Emily. She designed the kit and the notecards box sets. So so cute.
There's nothing like watching the excitement on little ones faces when they look through the book. It's still such a gift for me to see.
There were lots of fun and friendly faces in San Francisco.
Like sweet Melissa of Best Friends for Frosting. She did a little interview with me while she was there.
Here's the San Francisco Slideshow…
………………………………………………………………………………………………………..
The Barnes and Noble in Orlando brought more friendly faces.
Like my friend Robyn from Add a Pinch. She lives out of state, but made time during her family Disney vacation to stop by. She really is the super sweetest.
And here's Julie from The Little Kitchen. So glad to see your smiling face!
I just want to take a minute to thank everyone at all the signings over the last year or so that brought such sweet gifts to share.
You guys made me feel so special through your many talents and your kind words. I can think of several right now that even brought tears. Sweet happy tears.
Thank you. Thank you from the bottom of my happy heart.
Here's the Orlando Slideshow…
………………………………………………………………………………………………………..
The Phoenix Barnes and Noble was a lot of fun, too.
These girls were a blast. They were a great group of bloggers that all came to the event together.
Cute suede shoes. Guess which ones are mine.
I met Amy of Amy Miller Designs. She makes faux cupcake ornaments and shipped some special cake pop ornaments for me a while ago. And look at these Muppets she brought to the signing. They are faux Muppet Cake Pops. And they are fantastic! I need to take a better pic and share it on Twitter.
This is Jennifer. Check out her site if you make lots and lots of cake pops at a time. She has a cake ball roller that could help you out.
It's Phoenix. We had to have some cactus cake pops of course. Excellent use of white jimmies, Arianna!
Here's the Phoenix Slideshow…
………………………………………………………………………………………………………..
San Diego. Yay!
Check out Kris. She makes the fantastic hot air balloon cake pops and much more.
And look at these Marshmallow Treats by Alejandra. Amazing.
Look at this cutie pie!
Hi there little one. So glad to meet you and your mom and learn what we have in common. Big big hug!
And sweet Julie from Jaybird Quilts. My mom and I had the most fun talking with you.
Here's the San Diego Slideshow…
………………………………………………………………………………………………………..
The last book signing was in Austin at Book People.
My friends Georgia Pellegrini, The Girl Hunter and Marla of Family Fresh Cooking came with me to the signing. Love you guys! We all had plans with several more bloggers the next day for a fun Girl Hunter Getaway hosted by Georgia. More on that soon.
There was lots of signing. And some note taking, too.
There were hugs…
And even some extraordinary chickens.
Here's the Austin Slideshow…
………………………………………………………………………………………………………..
That's it for the signings. For now anyway. ; )
Oh, and big thanks for the awesome marquis sign, Book People. That was a nice surprise.
If you are near any of these stores (addresses here), I left behind some signed books and kits if you want to give them a call and see if there are any left.
If you aren't near any of the stores, that's ok, too. I thought I would do an end-of-the-year giveaway to anyone that wanted a chance to win some Cake Pops stuff.
I'm giving away five (5) Cake Pops gift sets that include: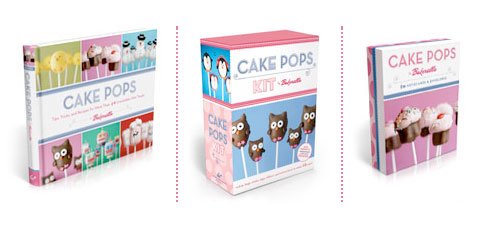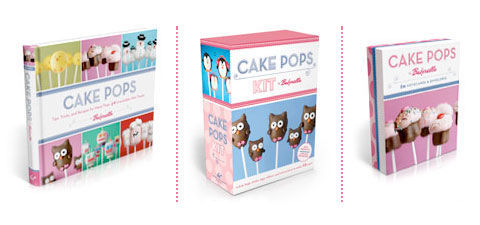 A signed Cake Pops book, the Cake Pops Kit and the notecards set, too.
………………………………………………………………………………………………………..
And if you've managed to make your way this far down on the post, that's not all.
Did you know that Cake Pops is available on the iPad? That's not very helpful unless you have an iPad though.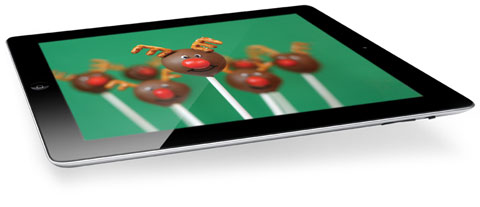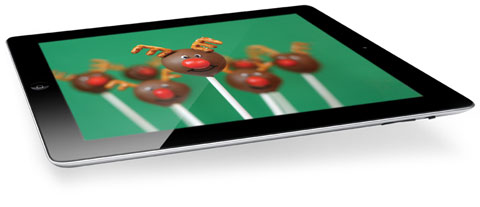 So one (1) of the five winners will also win a brand new 16 gb WiFi iPad. Yay!
………………………………………………………………………………………………………..
Enter for a chance to win a Cake Pops Gift Set that includes a signed Cake Pops book, a Cake Pops Kit and a Cake Pops Notecard Set.
Five (5) winners will be chosen at random to win a gift set. One (1) of the five winners will then be selected at random and will also win a 16 gb WiFi iPad in their choice of white or black. (That means 4 gift set winners and 1 gift set plus iPad winner.) Yay!
To enter, just leave your answer to the following question in the comments section of this post.
What is the most recent gift you've purchased for someone?
Deadline to enter is Tuesday, December 20th at 8:00 P.M. ET. 

Sorry, Time's Up. Winners announced below.

The five winners will be announced sometime Tuesday evening on this post.
Good Luck!
Note: This giveaway is completely sponsored by me. Thanks y'all!
Here are the winners of the Cake Pops Gift Sets. Each of you will get a book, a kit and a notecards set. And one of you is going to also get the iPad. YAY!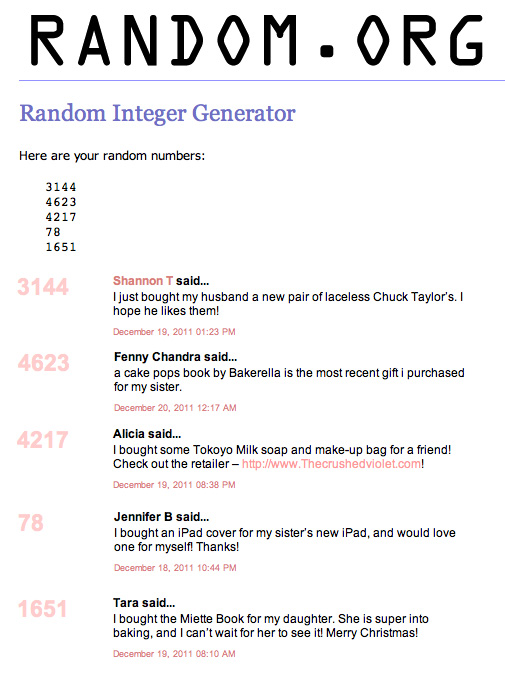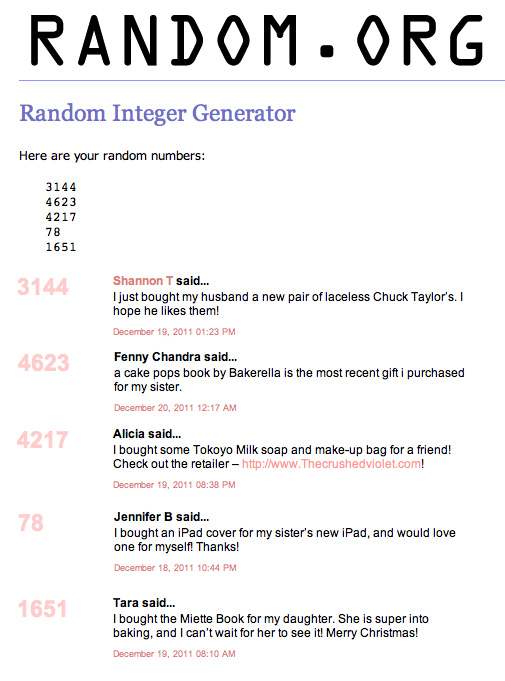 Shannon T, Fenny Chandra, Alicia, Jennifer B and Tara. Congratulations on the Cake Pops Stuff!
Now for the big winner. After a random drawing, Shannon T – you win the iPad, too!
Hope you have fun with it.