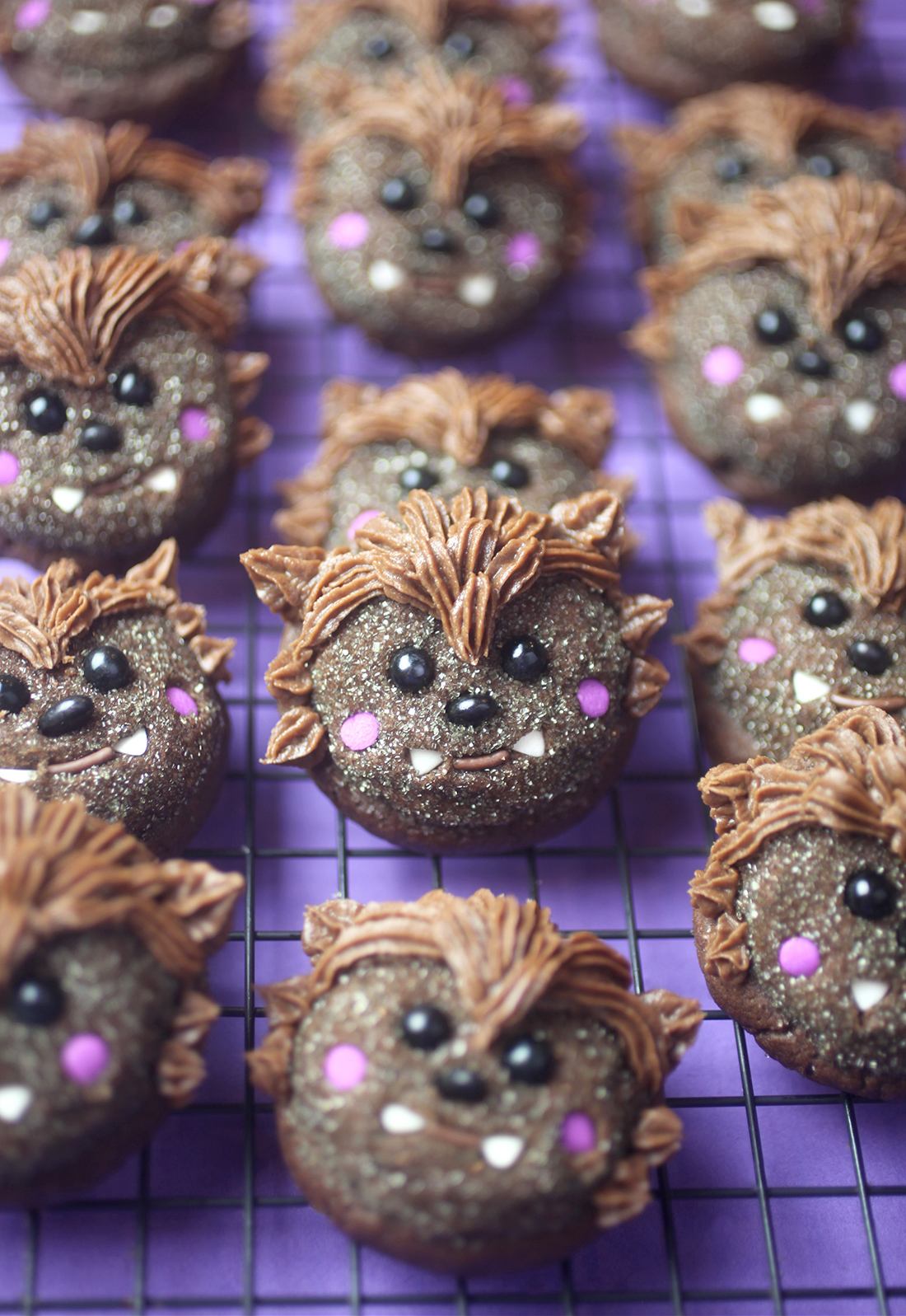 Wee Werewolf Cookies … Howl cute! These so-soft chocolate sugar cookies with chocolate buttercream are super fun for Halloween! You'll definitely want to sink your teeth into a few.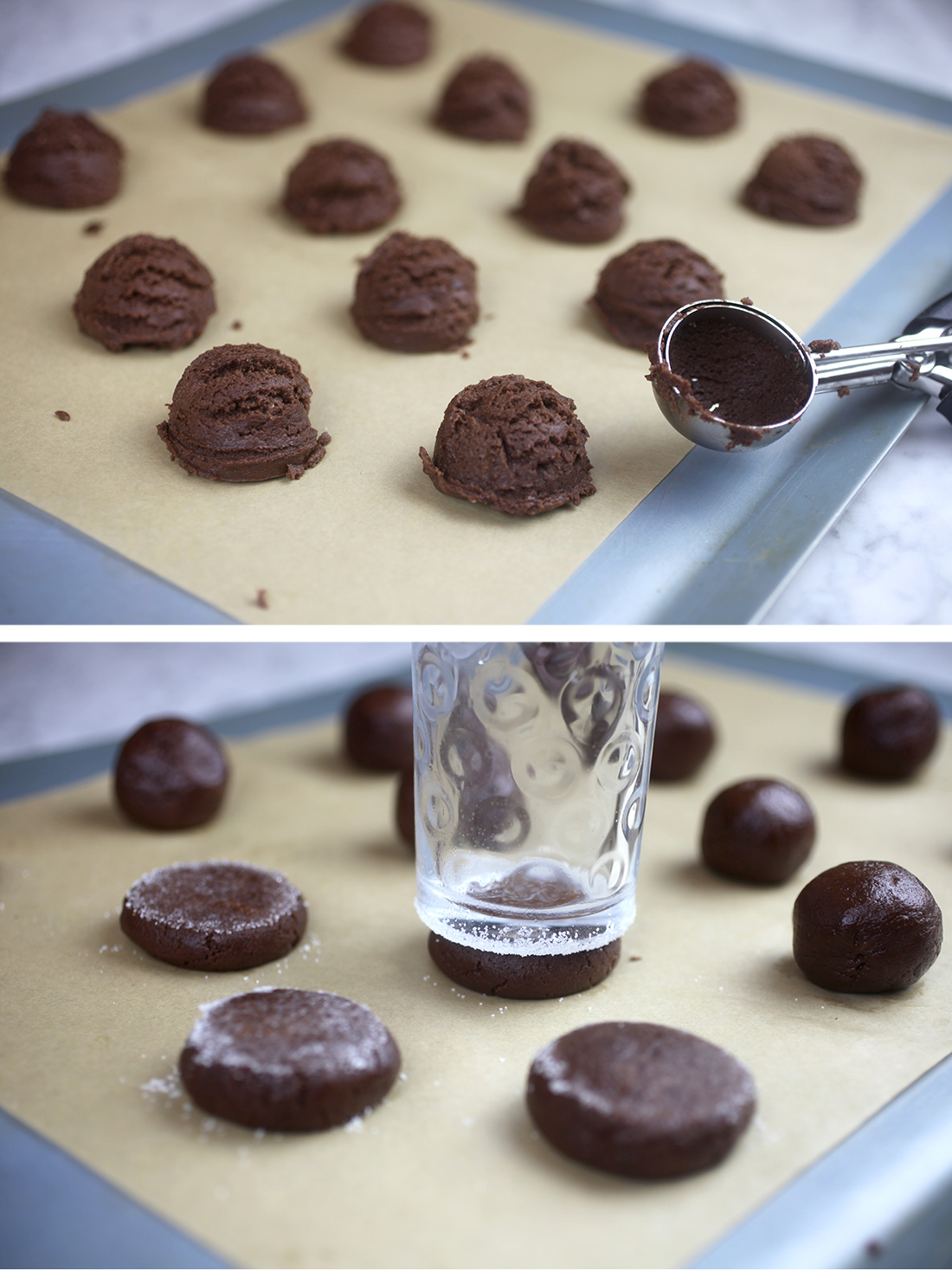 These cookies are quick, easy and kind of addictive. And you should totally bake some even if you don't want to decorate them. I based them off these vanilla sugar cookies that I can't stop making. They are so good!
The dough is scooped, rolled and then flattened slightly for a sweet little round canvas.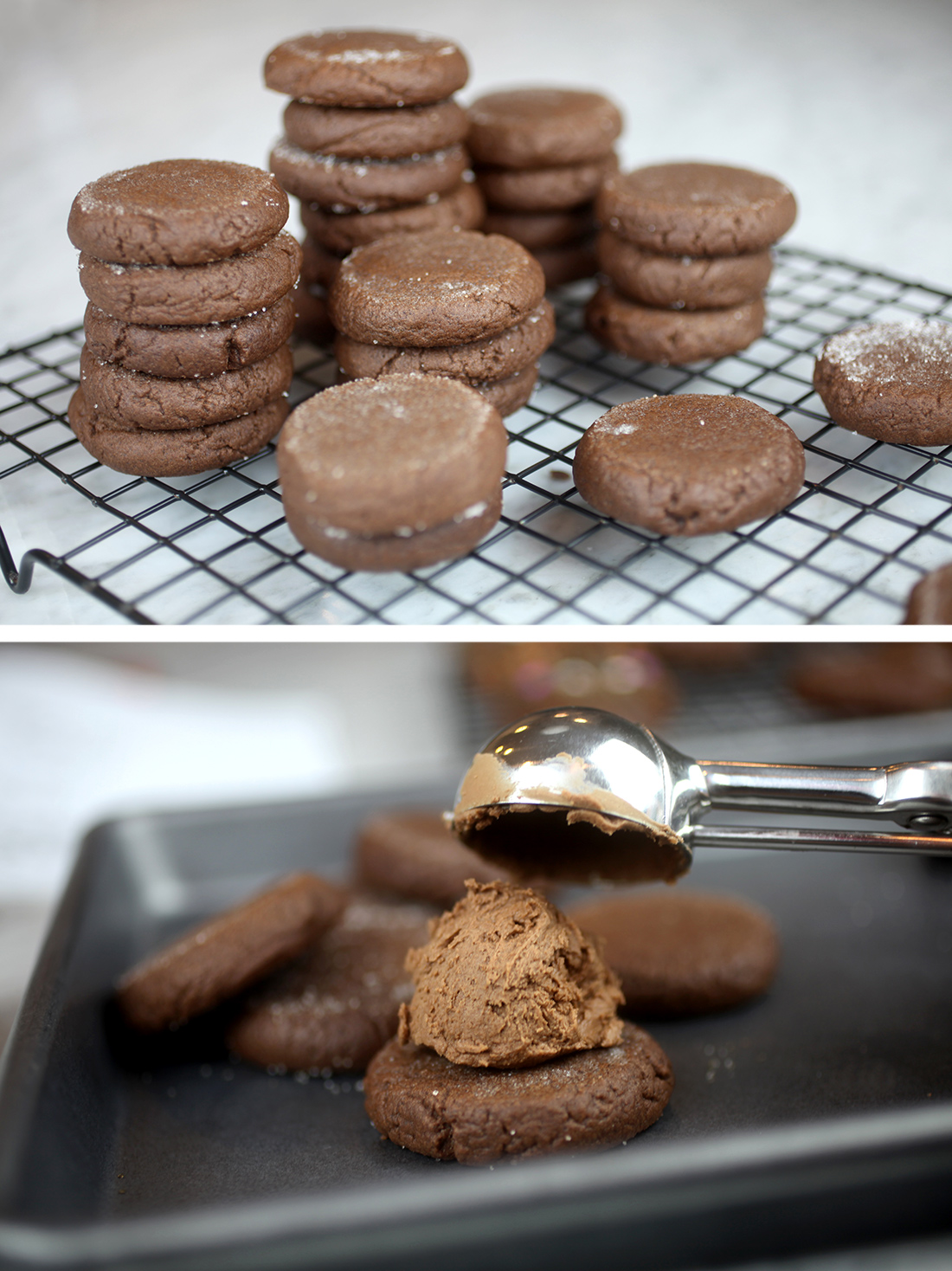 Once the cookies are baked and cooled, scoop a small amount of chocolate buttercream on top.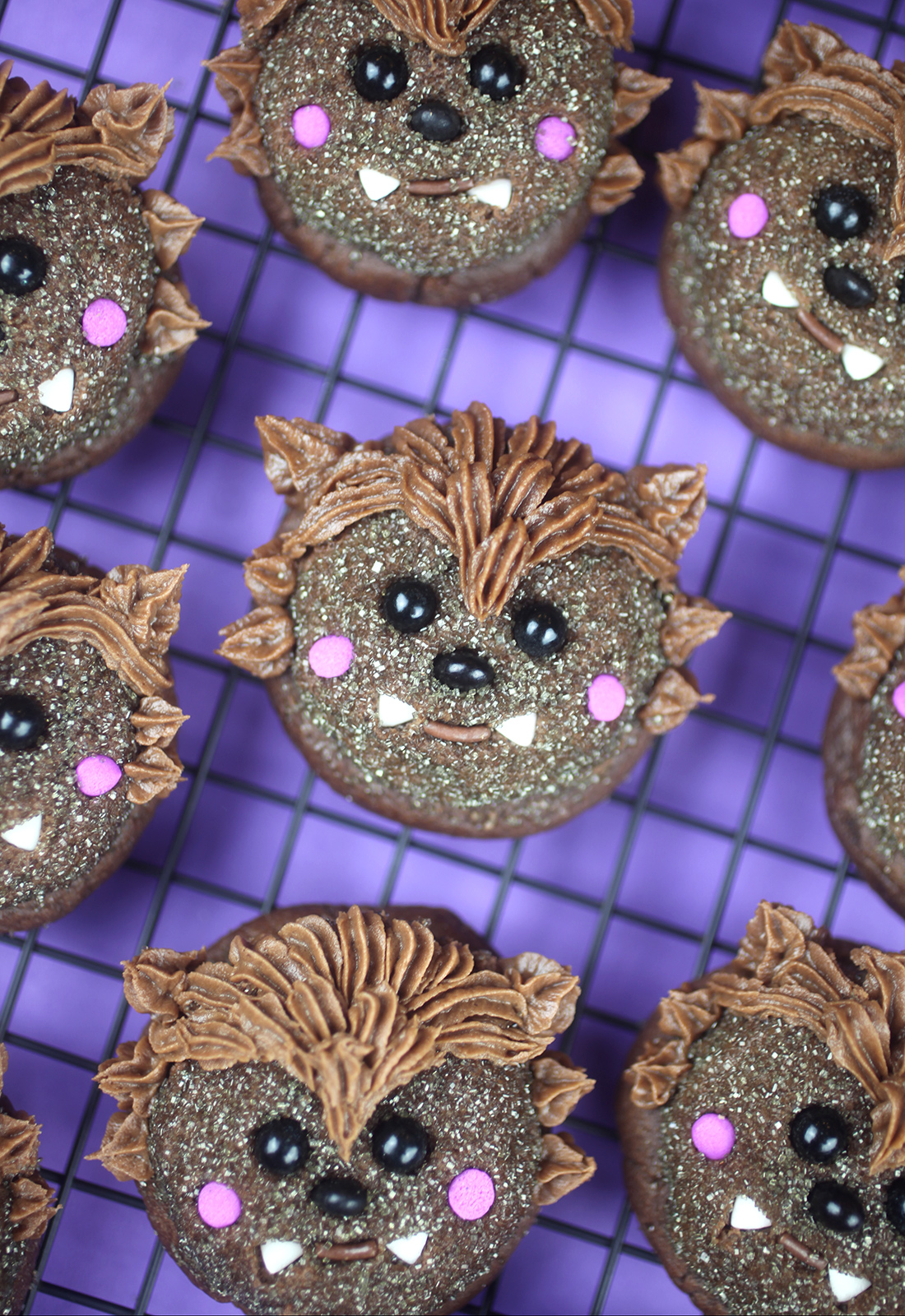 But how do we go from that to these sweet-fanged faces?
Let me show you.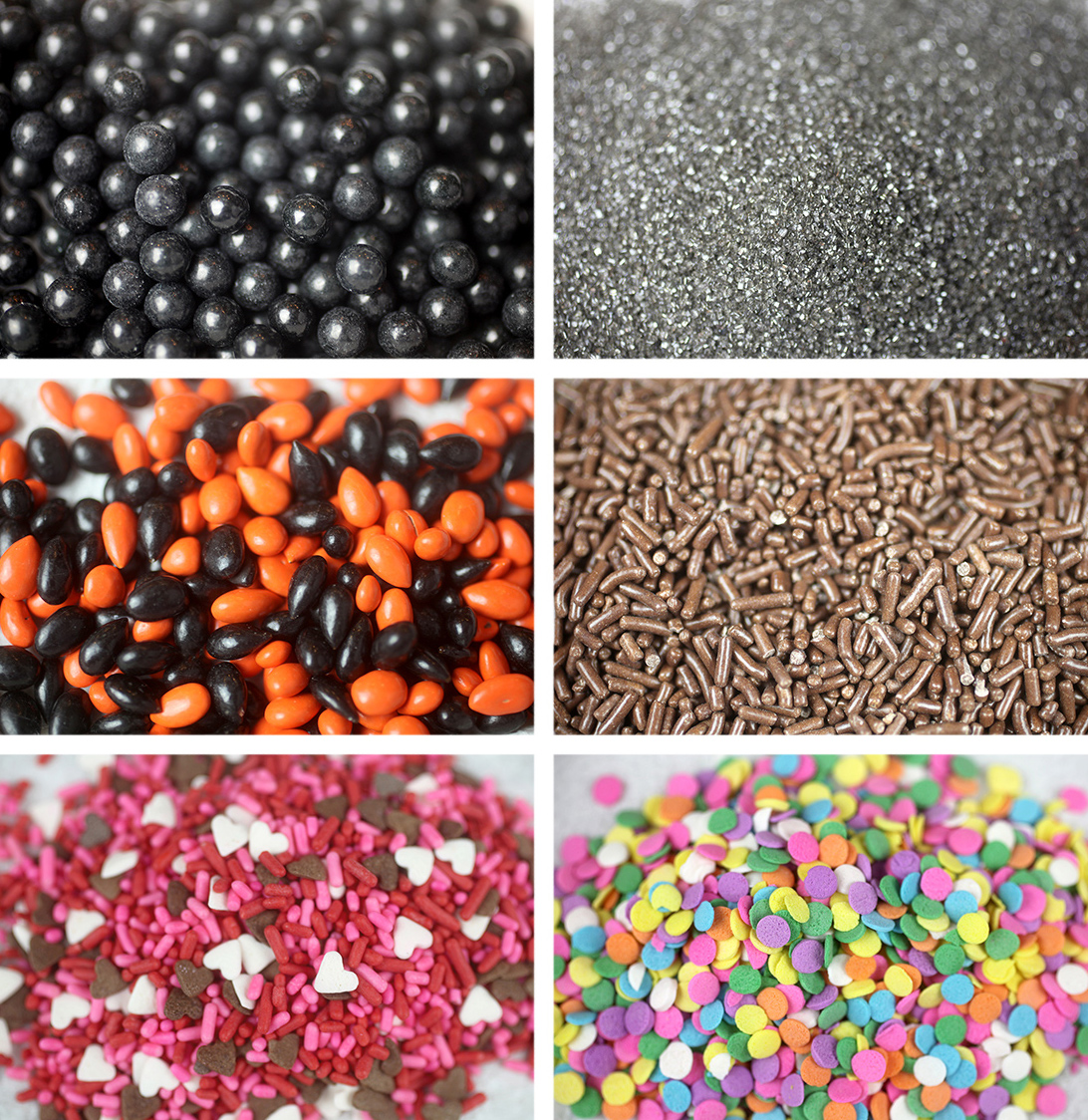 You'll need a few fun add-ons for decorating:
Brown sanding sugar to coat the frosting.
Black sugar pearls for eyes.
Black coated sunflower seeds for noses.
Chocolate jimmies for mouths.
Miniature white heart sprinkles for fangs.
Pastel confetti sprinkles for cheeks.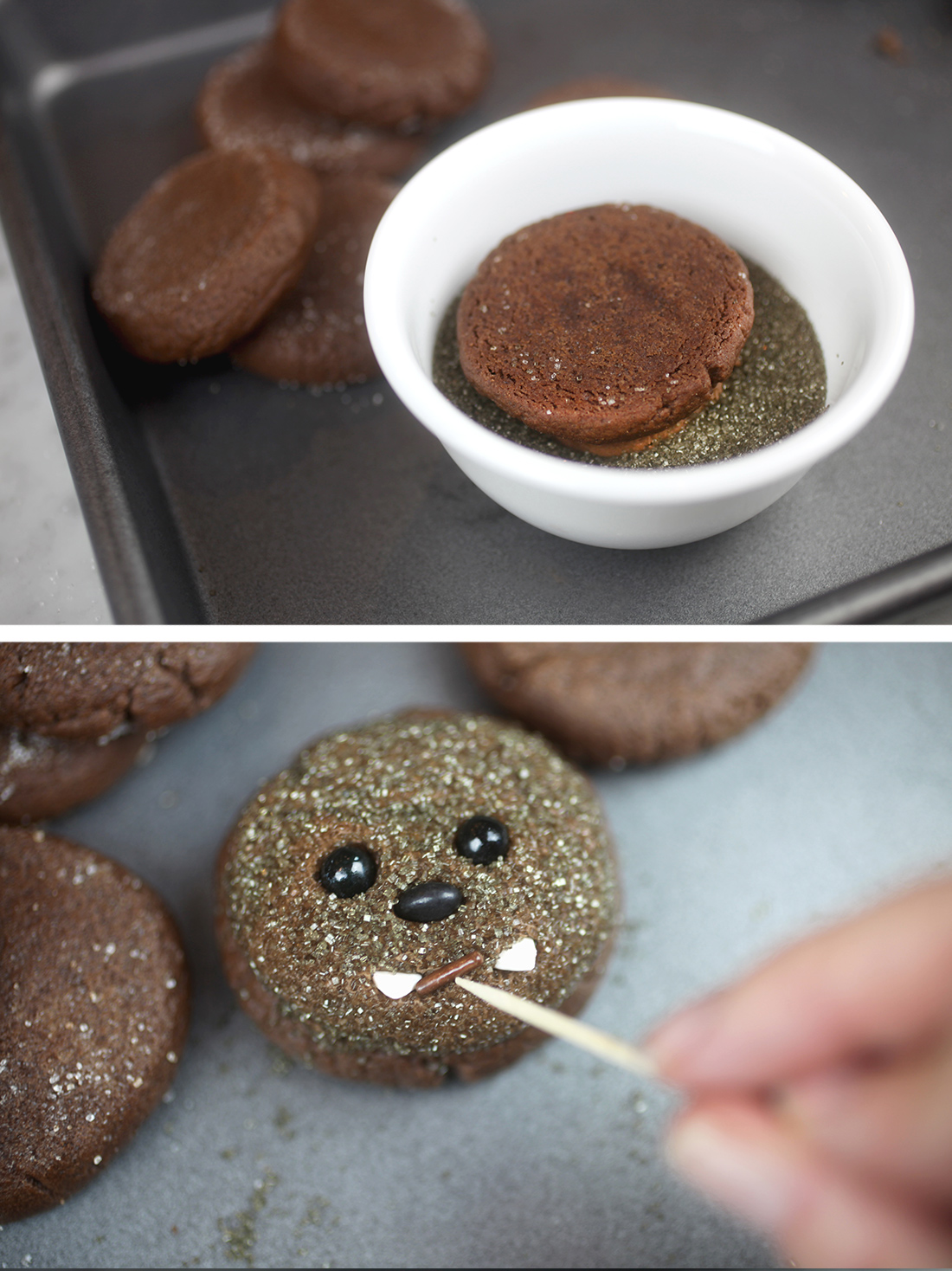 Okay let's go. I made all the faces first.
After scooping a small mound of frosting on top of the cookie, gently press it into a bowl filled with brown sanding sugar to coat. I use this technique often because the sanding sugar creates a barrier and helps me mold the top of the frosted cookie easily into a nice round shape – and without getting frosting all over my fingers. So that's a win!
Immediately after coating with sanding sugar, go ahead and place two sugar pearls in position for eyes, one black sunflower seed in position for the nose, two miniature heart sprinkles for pointed teeth, two pink or purple confetti sprinkles for cheeks and a chocolate jimmie for the mouth.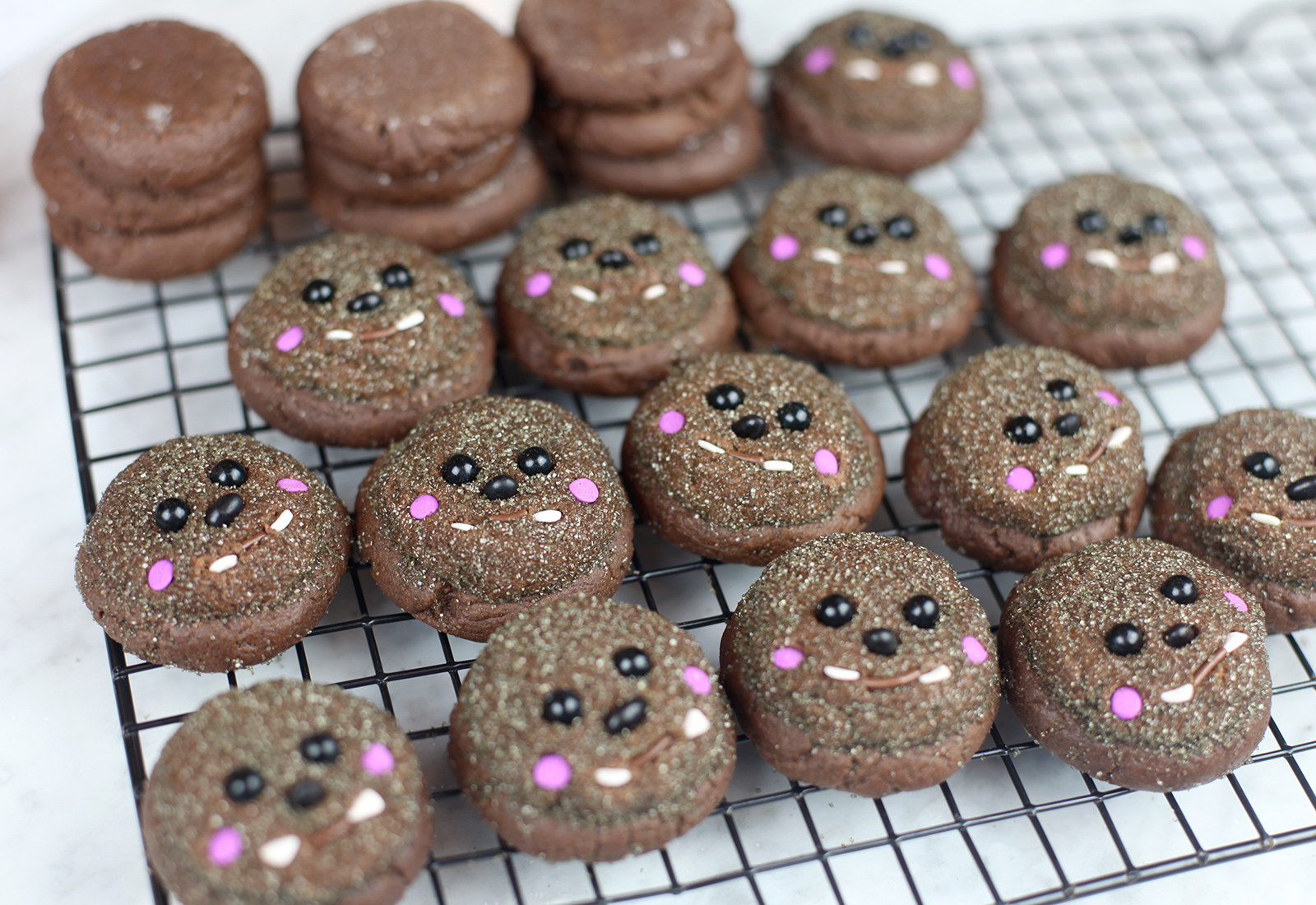 Finished faces! I also feel like these could easily be turned into Ewoks. What do you think?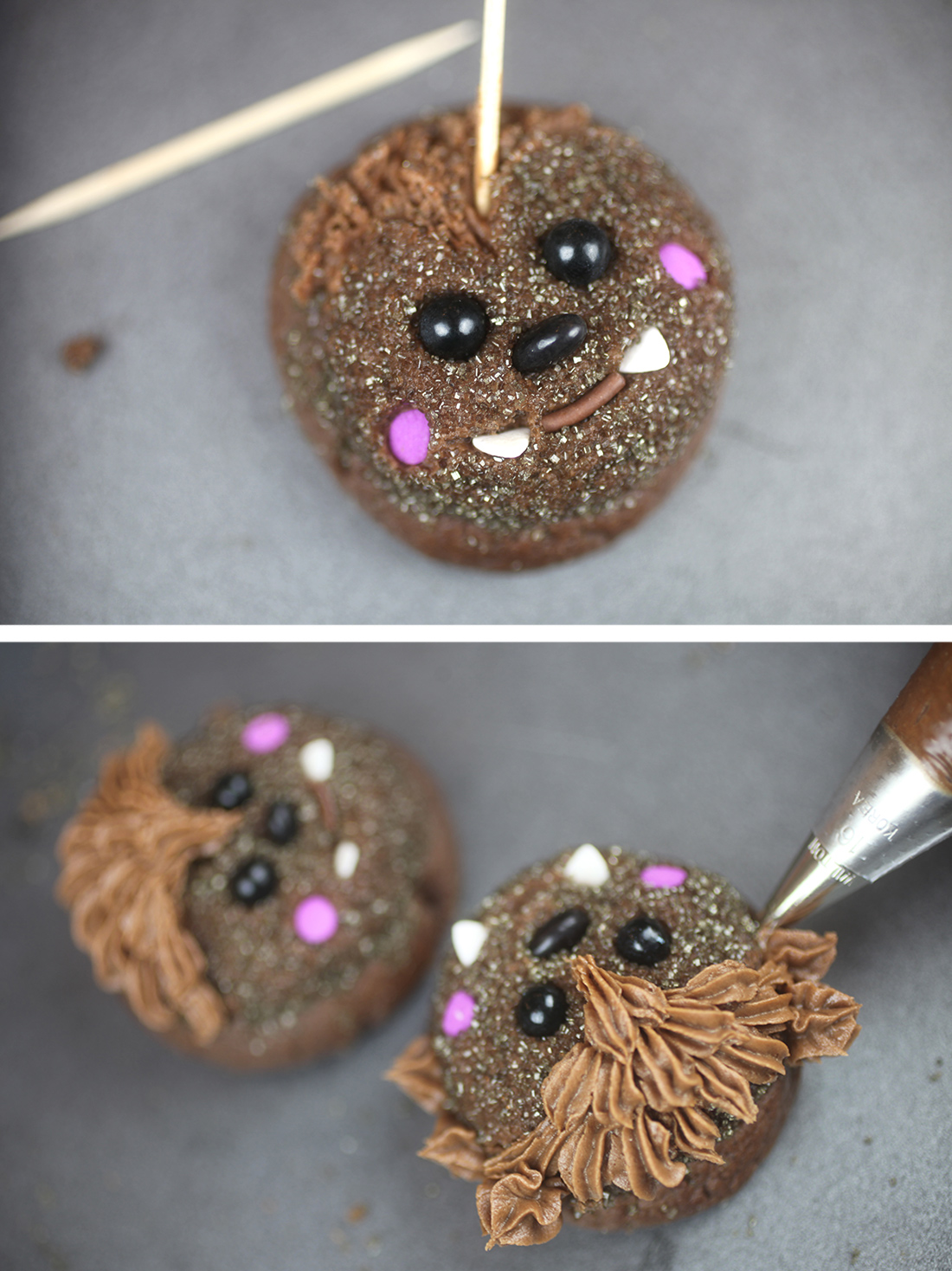 Now it's time to pipe on some fur. If the frosting doesn't want to stick to the surface of your cookie because of the sanding sugar, simply scrape a little of the sanding sugar away with a toothpick to expose some of the frosting. Then when you pipe, it will attach to the exposed frosting on the cookie. Simple.
Drawing with a toothpick on the surface also helps you see where you need to pipe your frosting. Start at the top of the head and pipe the chocolate frosting with a Wilton #16 decorating tip. Overlap the frosting as you move towards the center and between the eyes and bring to a point. Pipe on two pointed ears and a couple of sideburns to finish the look.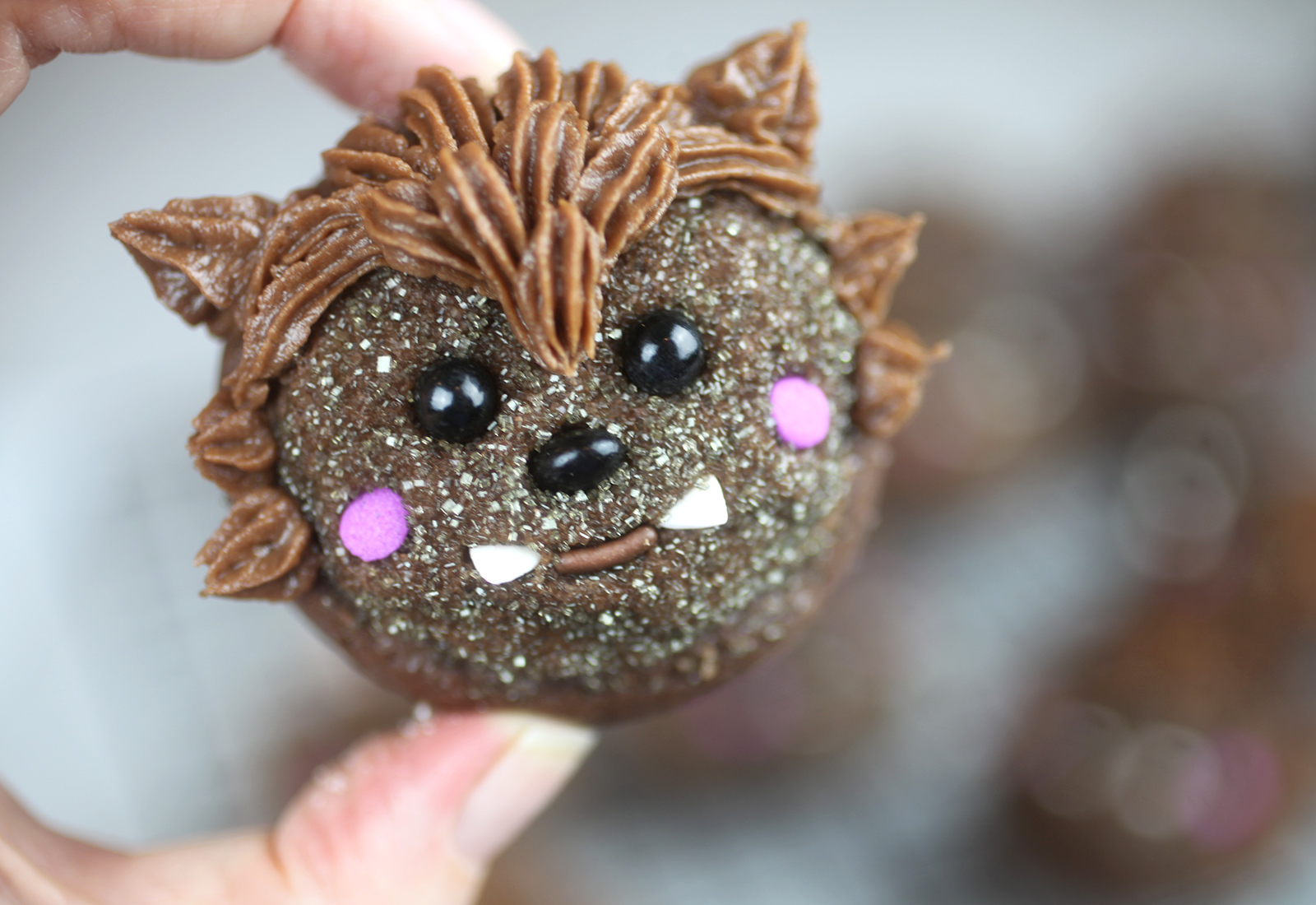 Fur-real – these little cookies are so cute and barely over 2 inches wide.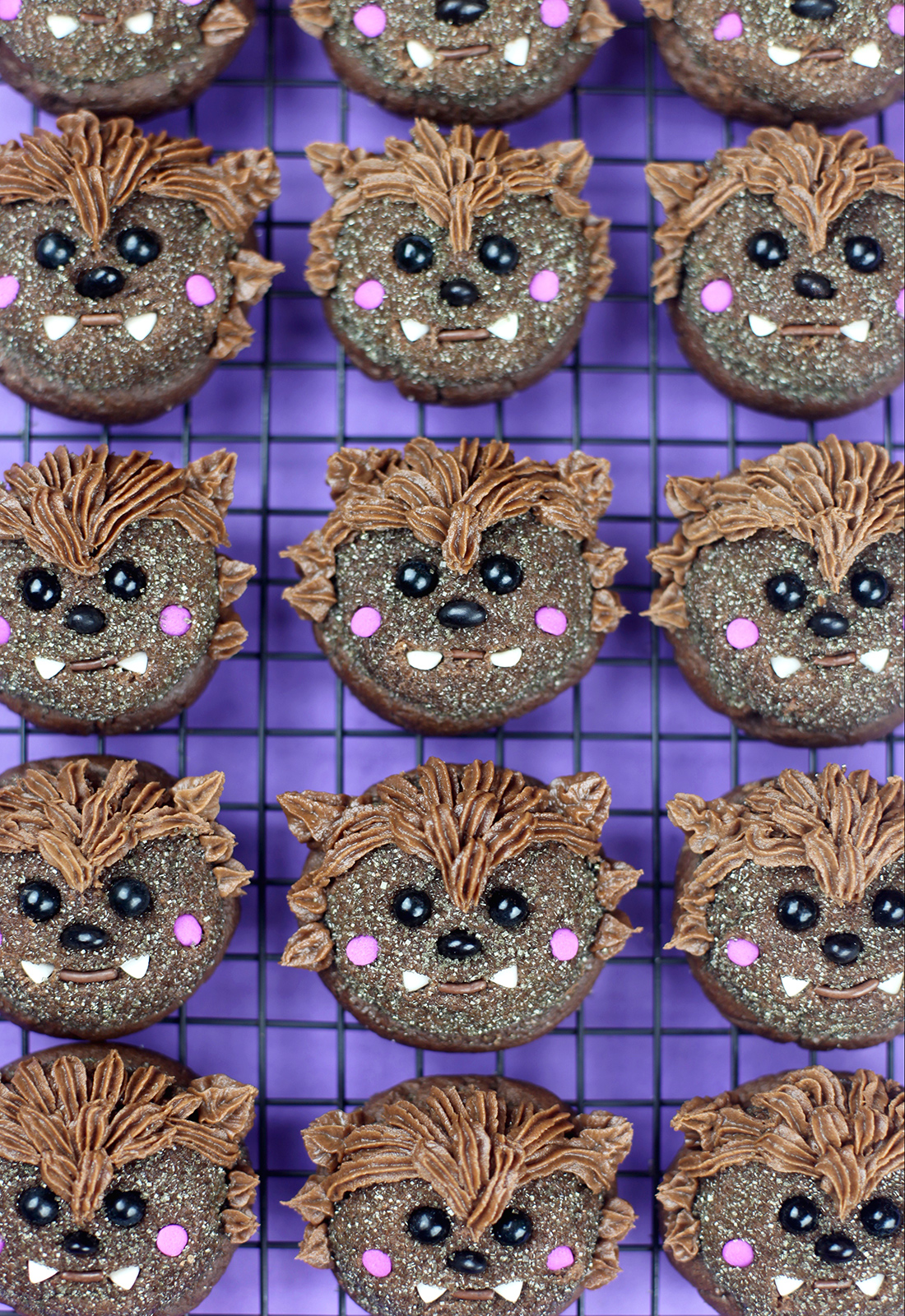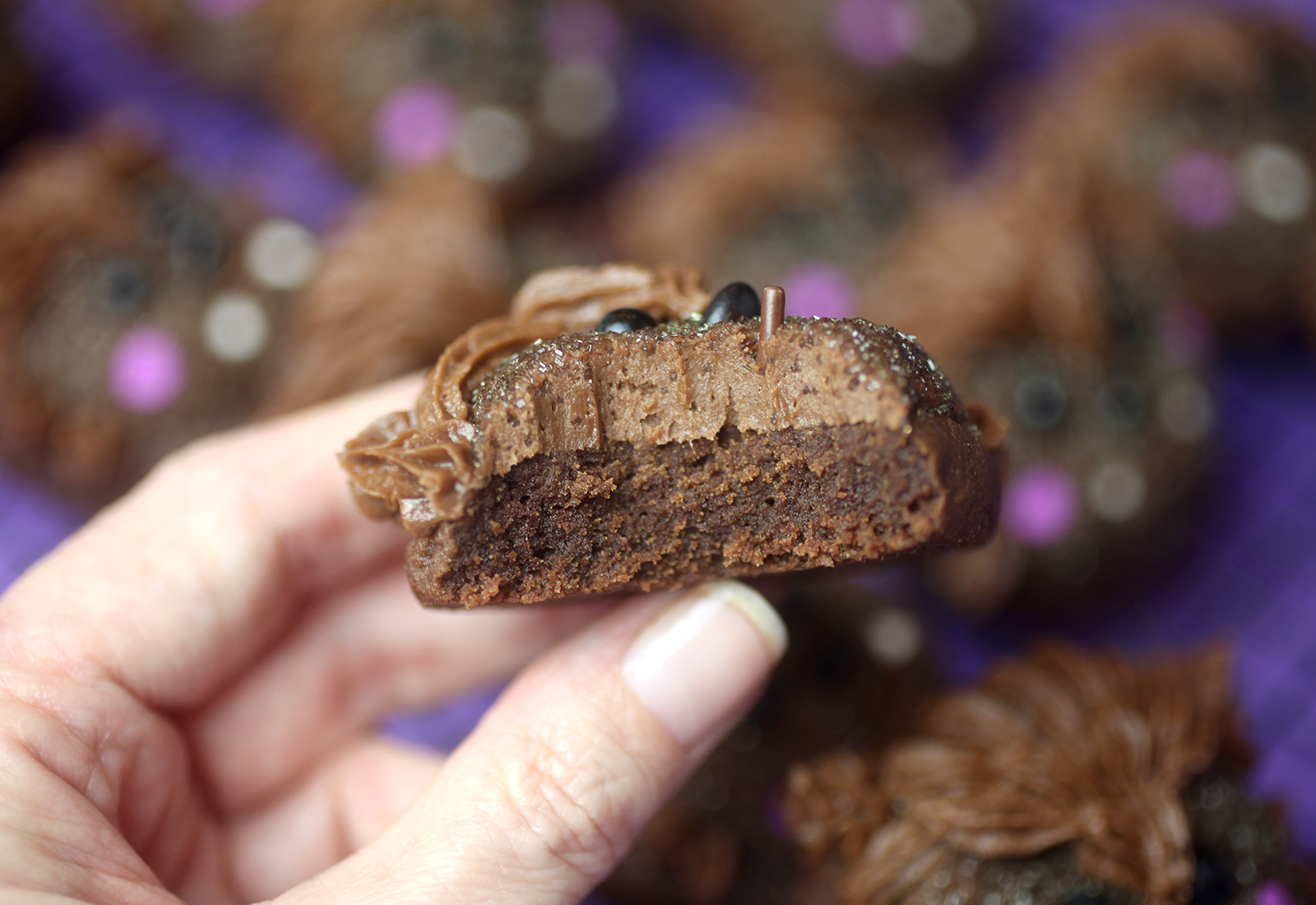 And look at the inside. There's nothing crispy at all about these cookies.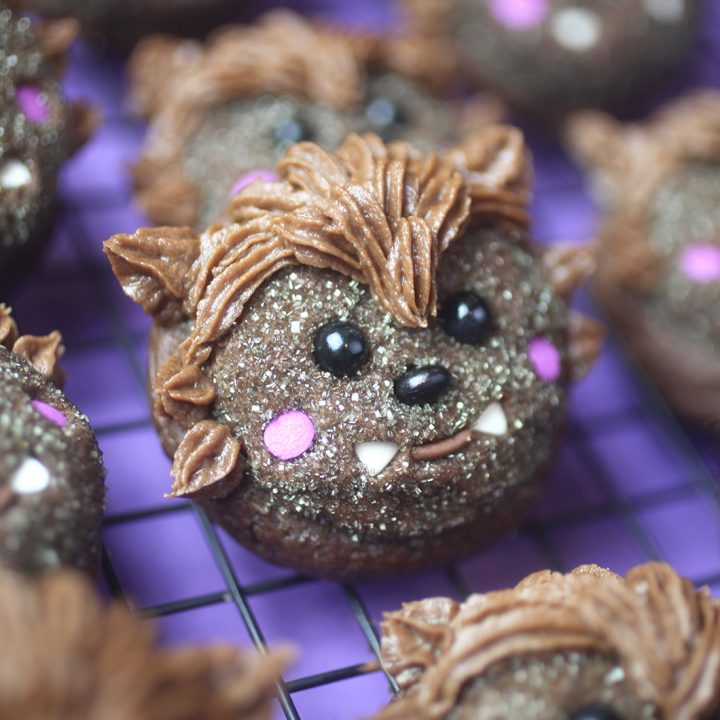 Yield: 24-28 cookies
So-Soft Chocolate Sugar Cookies with Chocolate Frosting
Prep Time 15 minutes

Cook Time 7 minutes

Additional Time 20 minutes

Total Time 42 minutes
Ingredients
SUGAR COOKIES
2 cups all-purpose flour
3/4 cup natural unsweetened cocoa
1/2 teaspoon baking soda
1/2 teaspoon cream of tartar
1/2 teaspoon kosher salt
1/2 cup (8 tablespoons unsalted butter, room temperature)
1/2 cup vegetable oil
1/2 cup granulated sugar
1/2 cup confectioners' sugar
2 large eggs
2 teaspoons vanilla extract
(nonstick cooking spray and 1/4 cup granulated sugar for flattening cookies)
FROSTING
1 cup unsalted butter, room temperature
4 cups confectioners' sugar
1/2 cup natural unsweetened cocoa
3 tablespoons milk
2 teaspoons vanilla extract
TO DECORATE:
Brown sanding sugar
Black sugar pearls
Black coated sunflower seeds
Pink or purple confetti sprinkles
Brown/chocolate jimmies
miniature white heart sprinkles
Instructions
Make the Cookies: Preheat oven to 350 degrees Fahrenheit. Line a large baking sheet with parchment paper.
In a large bowl, whisk together the flour, cocoa, baking soda, cream of tartar and salt and set aside.
In the bowl of a stand mixer fitted with the paddle attachment, cream together the butter, oil, 1/2 cup granulated sugar, and the confectioners' sugar until smooth- about three minutes.
Add the eggs, and vanilla extract. Mix until combined. Add the dry ingredients and mix on low until just combined.
Scoop the dough using a 1-1/2 inch scoop and place on prepared baking sheet about 2 inches apart for evenly sized cookies. Roll the dough into balls. Not all the cookies will fit on the sheet for one batch.
Pour the 1/4 cup of granulated sugar into a small bowl or dish. Spray the bottom of a drinking glass with nonstick cooking spray. Press the bottom of the glass into the sugar to evenly coat.
Press the sugared glass bottom on top of each cookie dough ball and press down gently. Repeat for each cookie and reapply cooking spray as needed.
Bake the cookies for 7 minutes. Don't over bake. Let cool 5 minutes before transferring to a wire rack to cool completely. (Note: I like to slide the the parchment paper and cookies off my flat baking sheet and onto the counter to cool just a couple of minutes after they come out of the oven. Repeat with remaining dough.
Make the Frosting: Whisk the confectioners' sugar and cocoa together. In the bowl of a stand mixer fitted with the paddle attachment, beat the butter until smooth and creamy. Add the confectioners' sugar and cocoa and mix until combined. Add vanilla and one teaspoon of milk at a time for desired consistency. Beat until smooth.
Spread buttercream frosting on cookies and decorate with sprinkles if desired. Store in an air tight container at room temperature for up to 3 days.
To Decorate Werewolves: Allow 1-1/2 to two hours to decorate. Scoop the buttercream using a 1-1/2 inch scoop and place on top of a cookie. Gently press the cookie and frosting into a small dish filled with brown sanding sugar. Very gently rock and rotate to coat the surface. Use the palm of your hand to reshape into a nice mound. Place confetti sprinkles in position for cheeks, sugar pearls for eyes, brown jimmies for mouths, black sunflower seeds for noses and miniature white heart sprinkles for fangs. Press firm and gentle so they are secure. Decorate one cookie at a time to make sure the sprinkles attach. Once faces are made, pipe fur, ears and sideburns on with chocolate buttercream using a Wilton #16 decorating tip.