I just tried out a book that's all about Whoopie Pies. One of the writers of the book (Amy) is also the editor of my book, Cake Pops. Amy sent me a copy to check out and I couldn't be more excited for her.
I made and fell in love with these sugar-filled sandwiches. They are delish! They're like little cakes shaped like cookies… (but pie-like… not so much.)
It's funny… when I gave these treats away, everyone loved them, but no one knew what to call them. Everyone asked "What are they?" It made me wonder how common they are in other places. Have you made whoopie pies? Heard of them? Seen one out in the wild?
No worries if you haven't. Now you can make your very own. The book is organized for easy reading.
There's a section devoted to cakes…
And a section devoted to fillings. Great for mixing and matching and making whoopies.
Lots and lots of whoopie.
Yum!
I decided to make the classic chocolate whoopie (big surprise) and paired it with peanut butter filling. The recipe called for dark brown sugar. I used this dark muscovado sugar instead because that's all I had on hand. It made them extra tasty.
After you mix up the batter, drop it by spoonfuls on a parchment covered baking sheet.
After they bake and cool for a few minutes carefully remove them from the parchment paper.
Place them flat side up on a cookie rack. Then you can spoon the filling on…
Or pipe it on.
I like piping it on. It's much more fun.
And prettier to look at.
Sandwich the filling between two of the cakes.
And press gently. That's it.
Whoo-hooo for whoopies. Now go make some.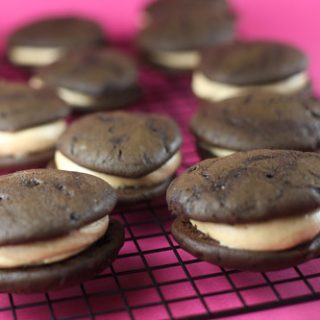 Chocolate Whoopie Pies
Ingredients
Chocolate Whoopie Pies
1-2/3 cups all-purpose flour
2/3 cup unsweetened cocoa powder
1-1/2 teaspoons baking soda
1/2 teaspoon salt
4 tablespoons unsalted butter, room temperature
4 tablespoons vegetable shortening
1 cup packed dark brown sugar
1 egg
1 teaspoon vanilla
1 cup milk
Salty Peanut Butter Filling
3/4 cup creamy peanut butter (or crunchy)
3/4 cup unsalted butter, room temperature
3/4 cup confectioners' sugar
1/2 teaspoon salt
Instructions
Whoopie Pies: Preheat oven to 375 degrees. Line baking sheets with parchment paper.
In a bowl, sift together, flour, cocoa, baking soda, and salt.
In another bowl, beat butter, shortening and sugar with a mixer on low until just combined. Increase speed to medium and beat for about 3 minutes.
Add egg and vanilla and beat for two more minutes.
Add half of the flour mixture and half of the milk and beat on low until incorporated. Repeat with remaining flour and milk and beat until combined.
Using a tablespoon, drop batter on baking sheet two inches apart. Bake for about 10 minutes each or until pies spring back when pressed gently.
Remove from oven and cool for about five minutes before transferring them to a rack to cool completely.
Peanut Butter Filling: Beat peanut butter and butter on low until creamy using a mixer. Add sugar and salt and beat on low to incorporate. Increase speed to medium and beat for about four minutes until the filling is light and fluffy. Spread filling on flat side on one cooled cake. Top it with a second cake and press gently.
Store whoopie pies in an airtight container.
Notes
1 Tbsp of batter should make about 48 two-inch cakes or 24 pies.
2 Tbsp of batter should make about 30 four-inch cakes or 15 pies.

Recipe from Whoopie Pies

You can also roll the edges in sprinkles, chopped chocolate, nuts, etc. or in this case, peanut butter morsels.
Ummm… can I say these are just about the most fun things to eat. They're so good you kinda feel like you're being bad when you sink your teeth into them.
Want to make some whoopies?
Amy sent me a second copy to do with what I want. And I want to give it to one of you. Want it?
Leave a comment on this post and tell me if you've ever made whoopies… Heard of them?… Know the best place to get them? Or just want to learn more about them.
Deadline to enter is

Monday, July 12 at 5:00 p.m. ET

Sorry, Time's Up. Winner announced below.

One winner will be chosen at random and announced sometime Monday evening on this post.
Good luck!
Whoopie!!! We have a winner and boy are they in for a treat.
Congratulations Neddy (# 1413). Now you can try lots and lots of whoopie pies.