Who doesn't like french toast? I never really eat it, but when I do, I always think why has it been so long. And then another three years go by before I have it again. Such a shame because it's so good and gives me a reason to eat syrup.
I have been craving it for several weeks now, so I thought I would make baked french toast.
These were so fun and easy. I love how cute they came out served in individual dishes.
You can have them whipped up in a snap and save them for later to serve.
Cut 1/2 to 3/4-inch slices of French Bread.
Mine were somewhere in between so that I could fit three pieces into these cute little dishes I had.
And I'm so sorry. I have absolutely no idea where I bought them.
Marshall's and TJ Maxx always have cute little dishes on sale though. Maybe it was there.
Eggs. Milk. Cream. Off to a good start.
Sugar, vanilla, and cinnamon. Even better.
Whisk it all together until blended.
And then dip your bread slices in the mixture and soak up all that goodness.
Place three slices of coated bread in each dish.
And stuff a couple of bananas in between each slice.
But first coat the bananas in the same mixture and then dip them in brown sugar.
Oh yeah!
Stuffed. Next time, I'll stuff two on each side instead of one.
Let the dishes chill in the refrigerator for at least an hour.
When your ready to bake, mix a little brown sugar and butter and sprinkle on top.
When they are done, you'll end up with these baked banana bread beauties.
Just sprinkle some powdered sugar on. Some sugar? … or a lot.
I lean towards a lot.
Pour maple syrup on top and you are good to go.
Yum! Yum!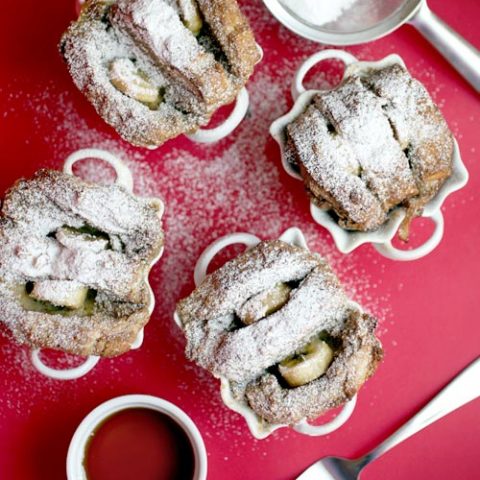 Yield: six servings
Baked Banana French Toast
Prep Time 20 minutes

Cook Time 35 minutes

Additional Time 1 hour

Total Time 1 hour 55 minutes
Ingredients
1 small loaf french bread
4 eggs
3/4 cup heavy cream
1/2 cup milk
1/4 cup sugar
1 tablespoon cinnamon
1 teaspoon vanilla
1 large banana
6 tablespoons light brown sugar
1 tablespoon butter
Powdered sugar
Maple syrup
Instructions
Coat six 4 oz. ramekins with non-stick spray.
Cut french bread into 18 slices. Cut them about 1/2 - 3/4 inch thick to allow three slices to fit in each dish easily.
In a large bowl, whisk together eggs, cream, milk, sugar, cinnamon and vanilla until blended. Place sliced bread in bowl to coat. Place three slices of bread into each dish.
Cut banana into 12 or more slices. Coat slices with mixture and then dip coated bananas in 2 tablespoons of the brown sugar and stuff in between bread.
Transfer dishes to a baking sheet. Cover and chill in the refrigerator for at least an hour or overnight.
When you are ready to bake, mix together remaining 4 tablespoons brown sugar and 1 tablespoon butter and sprinkle over bread.
Bake in a preheated 350 degree oven for 30-35 minutes. Enjoy warm with powdered sugar and maple syrup.

Enjoy!
And just curious, which way do you lean with your syrup?
Waffles? Pancakes? or French Toast?