A couple of weeks ago I had the super fun opportunity to travel to Vermont to visit Ben & Jerry's Headquarters.
Here's a peek at my adventures in ice cream through photos.
So let's start by stating the obvious. Ice cream = amazing. I felt like I was in wonderland. By the way, their offices pretty much look like the packaging exploded all over the walls. Such a fun environment. From the indoor slide that greets you in the lobby, to the Cookie Dough Conference Room to an actual on-site ice cream shop in the middle of the building. It was undeniably Ben & Jerry's at every turn.
Did you know employees can take home three pints of ice cream? EVERY. DAY. Repeat. EVERY. day.
I would be in such big trouble if I worked here.
Oh hey Cakespy. I forgot to mention the ultra adorable Jessie was there. My sweet friend from the days when I first started blogging. It was such a surprise seeing her that we almost fell down from hugging.
And by the way, you can totally stop reading my post right here and visit her blog for the best recap EVER. She basically illustrated all of our adventures in watercolor ice cream characters.
I'm not kidding. It's awesome.
Okay, back to my less colorful account.
Before the trip, I would have to say that my favorite flavor was Chocolate Fudge Brownie. But that's because it's the only one I would repeatedly buy. It was like a dream to be able to try out so many different flavors while I was there.
But I still didn't get anywhere near tasting them all of them so which ones are your favorites at home? I have a few new ones. New York Super Chunk, Cotton Candy, and Chocolate Therapy really got me.
During the event, we learned about the company's values.
Their Product Mission, Economic Mission and Social Mission, which stood out to me the most because of how focused everyone at the company is to make things better. At first all I wanted to do was eat ice cream, but it was inspiring to learn about all of their initiatives outside of making great flavors.
Later in the day, we teamed up with the Ben & Jerry's Flavor Gurus (real title) to make our own custom ice cream flavors. This photo pretty much sums up how much fun we had working with Peter.
With all the ingredients to choose from, it was hard to decide which way to go at first.
But we started with a really cute name that Jessie came up with and we went with it.
Our team (Me, Jessie and Nick of On Second Scoop) made a peanut butter ice cream with blondies, caramel and pecans.
It was pretty delicious and our flavor gurus loved it, too. Score!
Want to know our flavor name?
Gentlemen Prefer Blondies! After working out our flavor, we collaborated with one of the designers to create our own poster.
We also got a sneak peek at their brand new BRRR-ito that's available in scoop shops starting TODAY!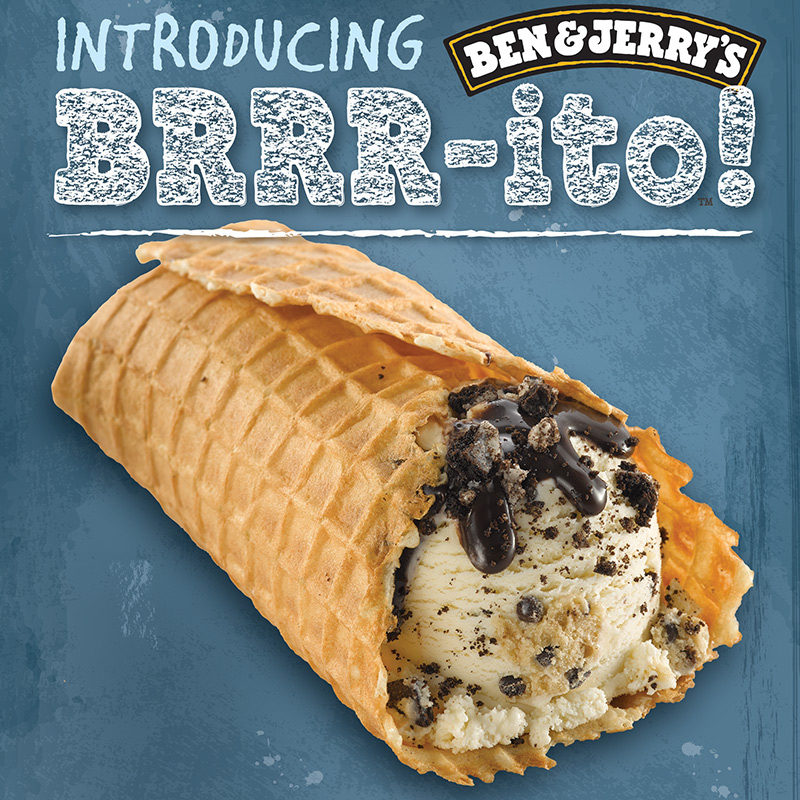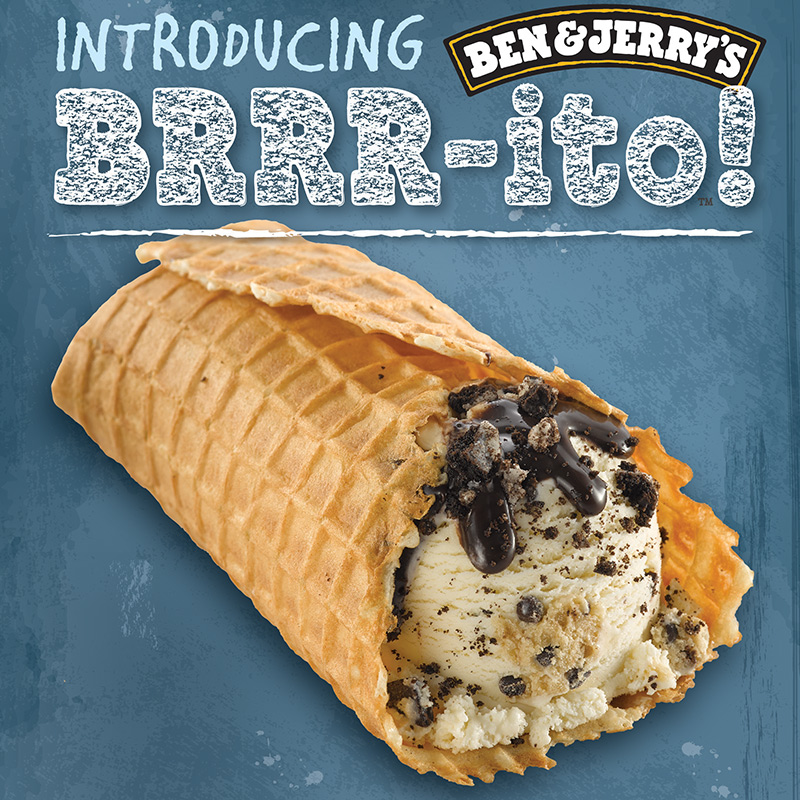 That's right… your two favorite flavors, topped with a fudge drizzle, cookie crumbs and wrapped up in a soft and chewy waffle wrap.
The next morning, we visited a dairy farm and learned more about how their Caring Dairy Program.
Here's Stacie from One Hungry Mama making a new friend.
I made a couple, too.
In the afternoon, we went on a factory tour. Eeek!
Owen! Our truly awesome tour guide made it memorable.
They were making Coffee Toffee at the factory that day and we were able to enjoy it straight from the production line. Soooo good.
Oh hi Jimmy! You taste great too. : )
Here's the whole ice cream loving group.
Amanda Topper, Deanna from Domestic Chicky, Sandra Perez, Colin Pinkham from Jezebel, Gwen Paja of the LA Girl, Kristin Hunt from Thrillist, Owen!, Stacie from One Hungry Mama, Jessie from Cakespy, Nicole from Popsugar, Natalie from NJinLA, Me, Nick from On Second Scoop and Katie from Good Life Eats.
After the tour we tried samples of this Vanilla Brownie Caramel flavor. It's not sold in pints, but it totally should be.
Then in the afternoon, we went snowshoeing around the factory, through the woods and down to the flavor graveyard where people can pay tribute to the "dearly depinted."
So much fun.
So much ice cream …
Oh and in the end, I even got to meet Ben!
It was a pretty sweet couple of days.
Disclosure: Travel and accommodations provided by Ben & Jerry's to attend this media event.