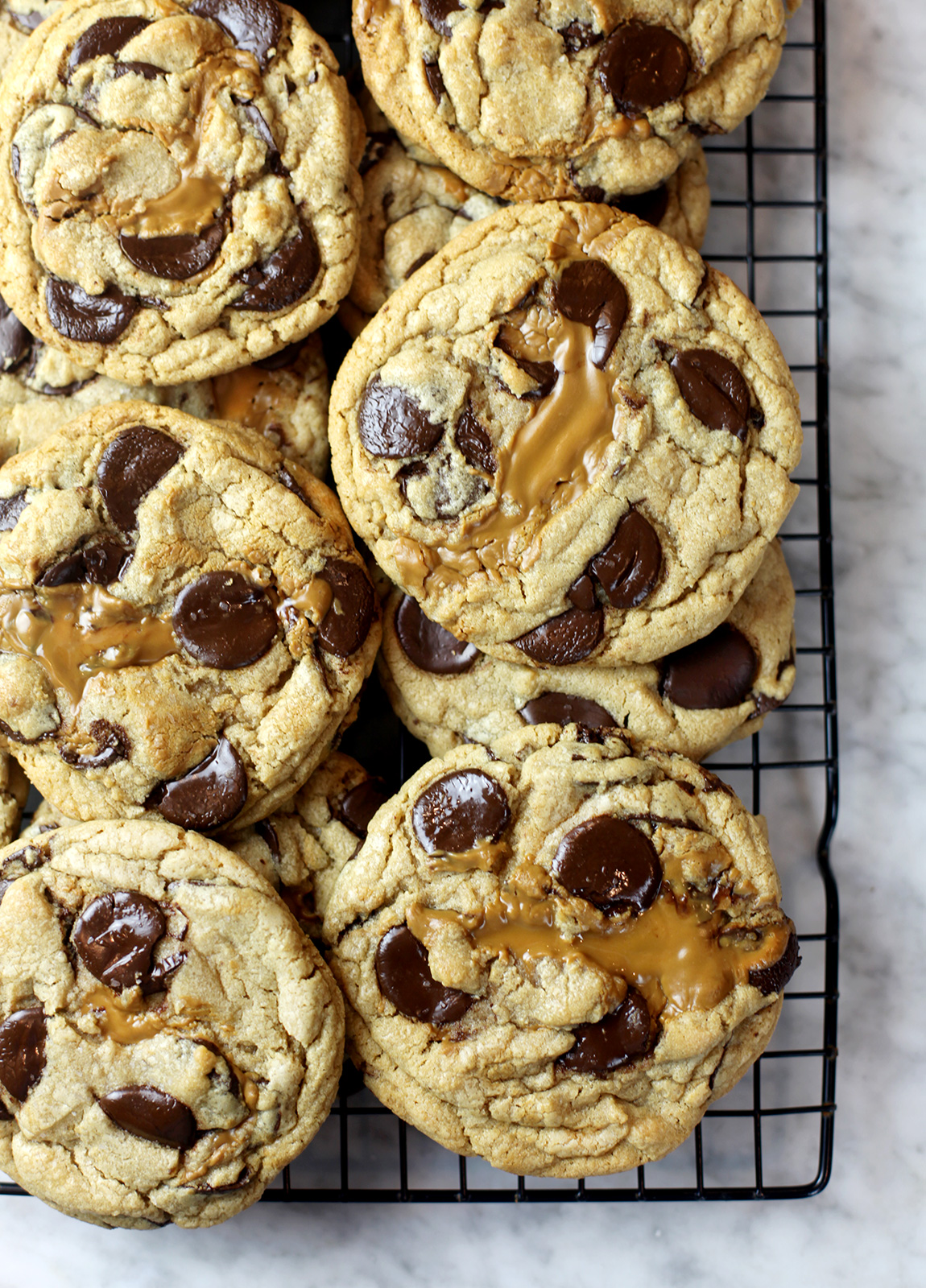 It's cookie time friends! And these big, beautiful chocolate chip cookies are made even better with Biscoff swimming through them.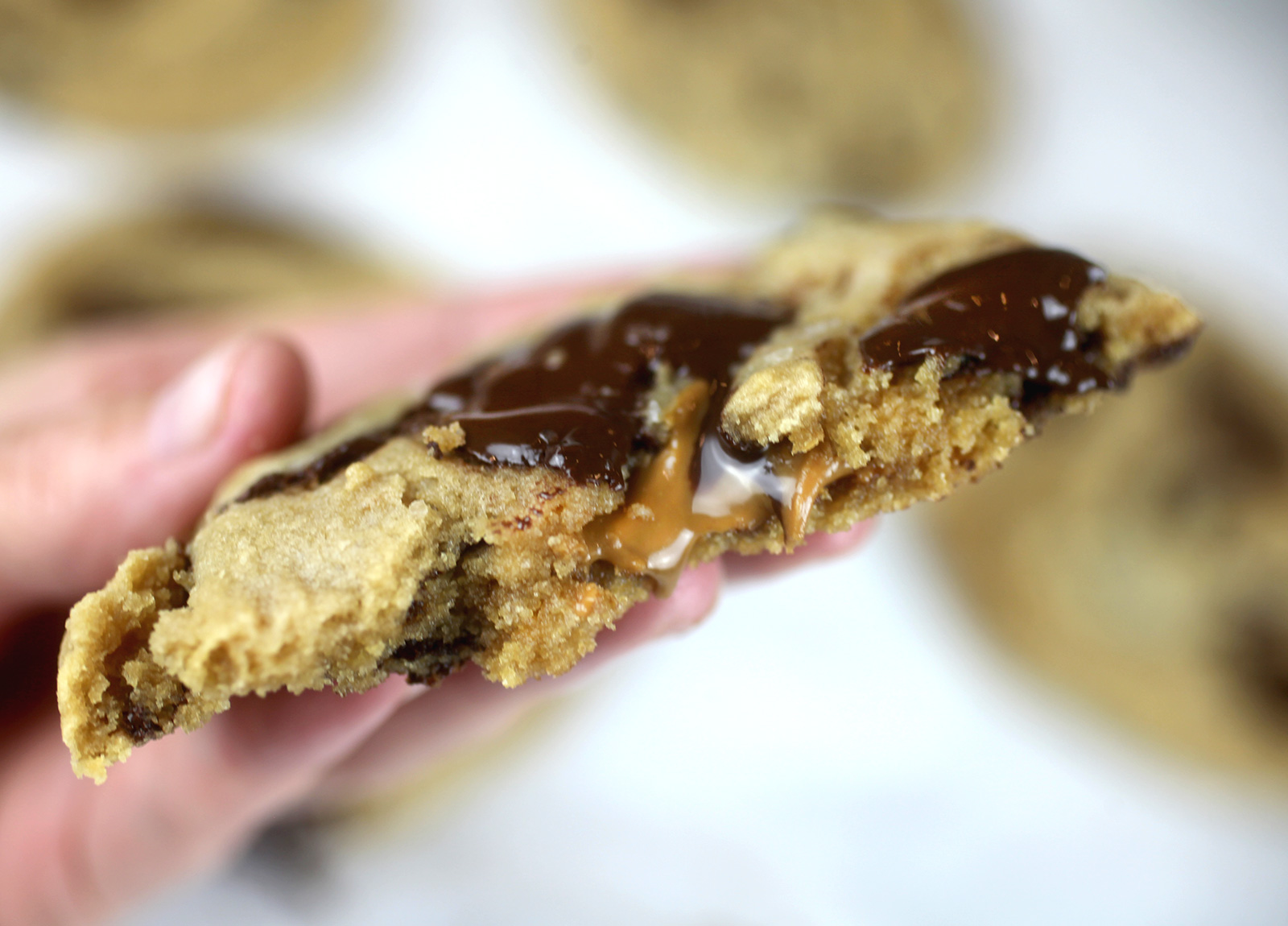 Everyone's favorite cookie butter spread is incorporated into the cookie dough and an extra dollop is baked inside, too.
These cookies are easy to make and even easier to keep on eating. Okay, let's get to it!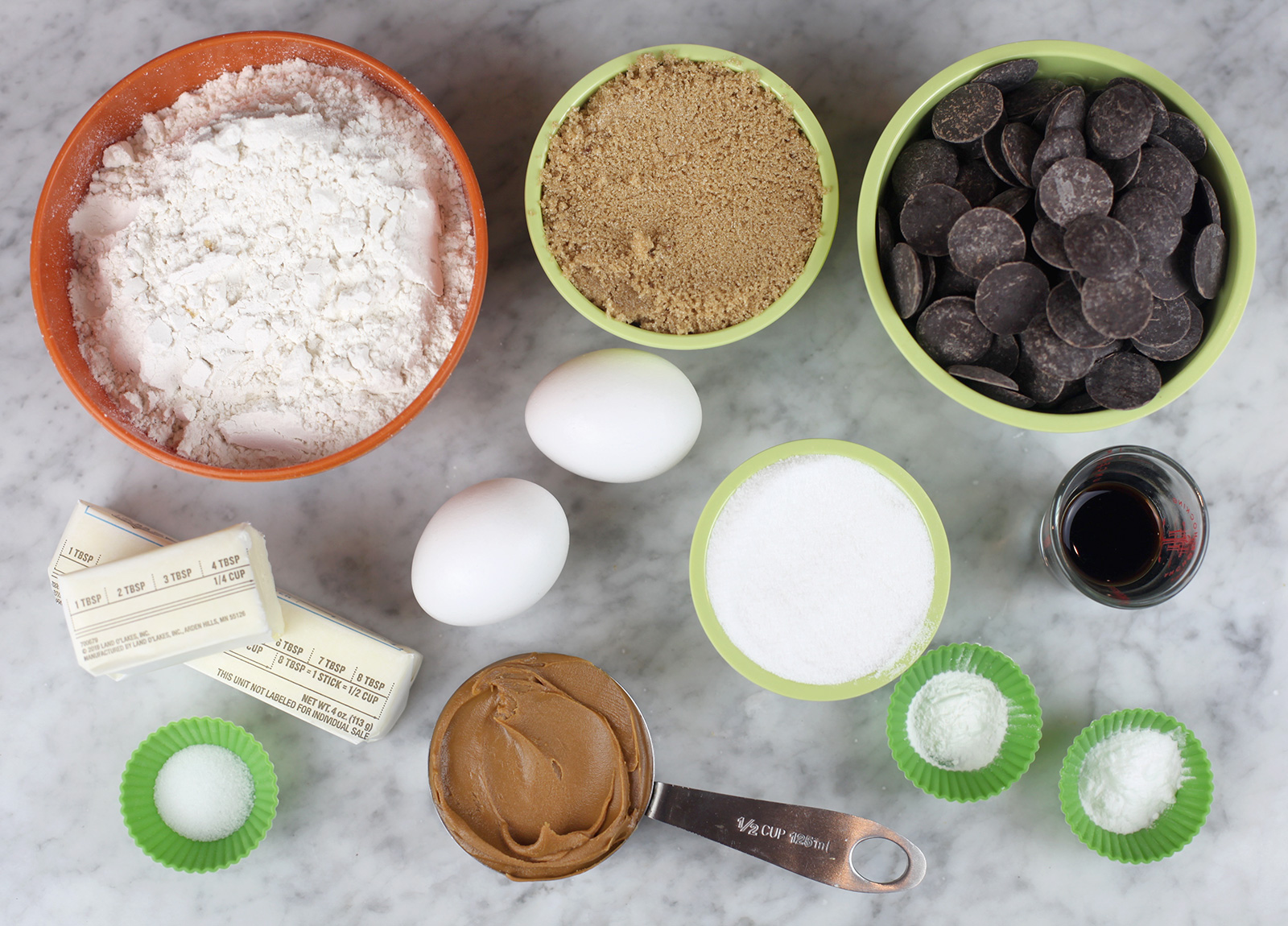 We've got your basic cookie ingredients with the addition of some these giant semisweet chocolate baking wafers made by Guittard.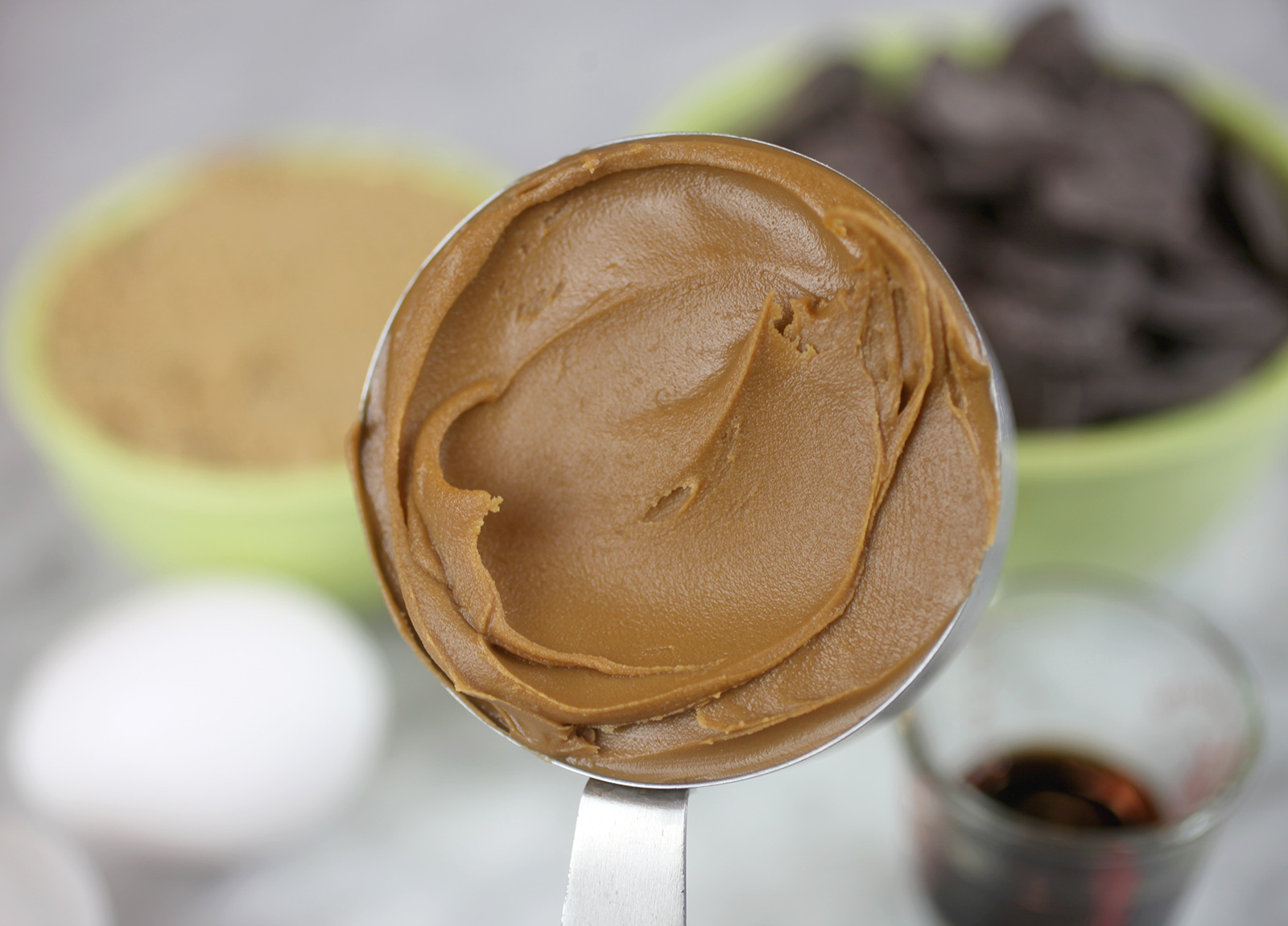 And of course, the star of this show… 1/2 cup of Biscoff Cookie Spread mixed in the dough!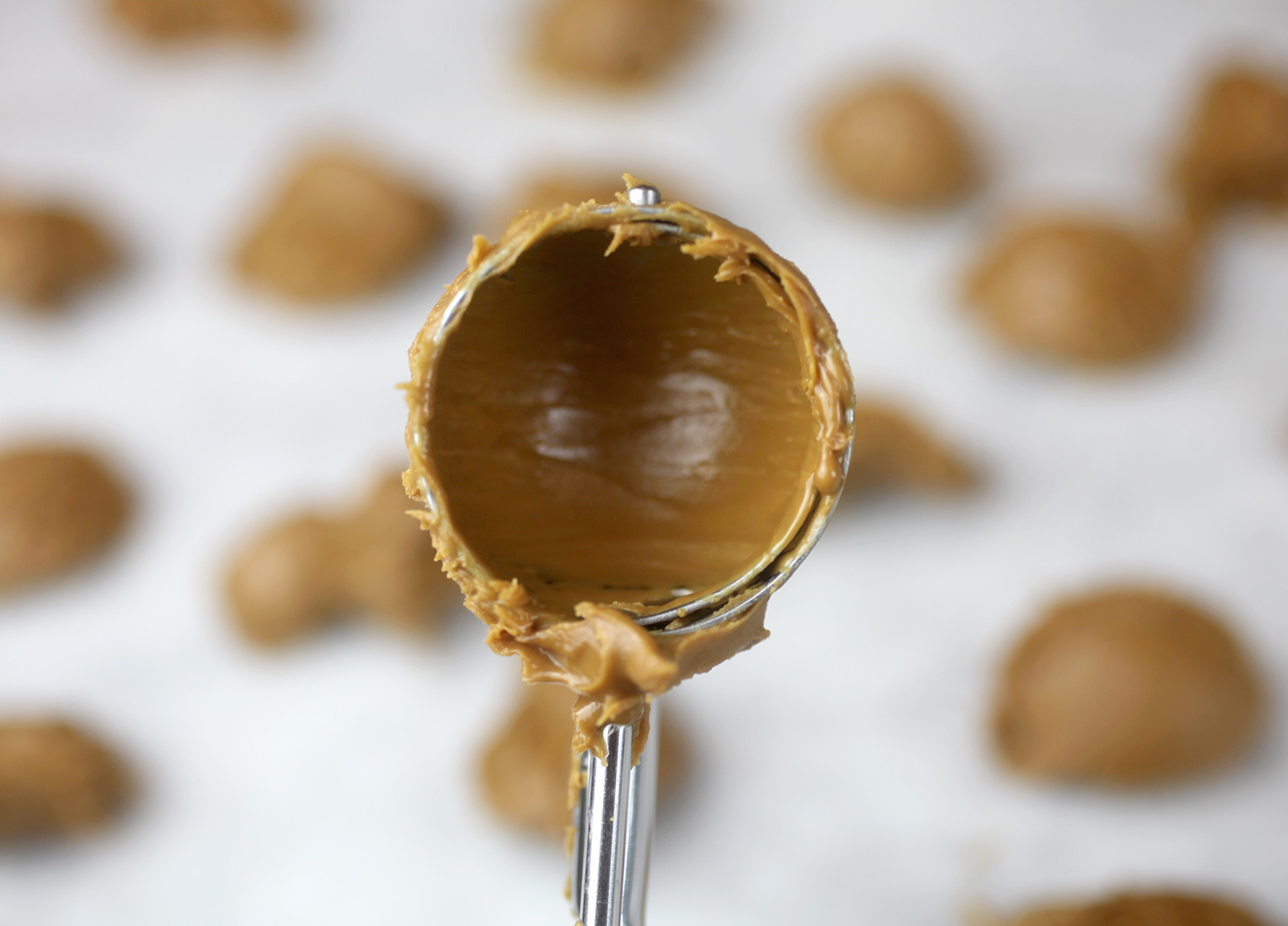 And then use the rest of the Biscoff spread to scoop small dollops onto a wax paper covered baking sheet to freeze.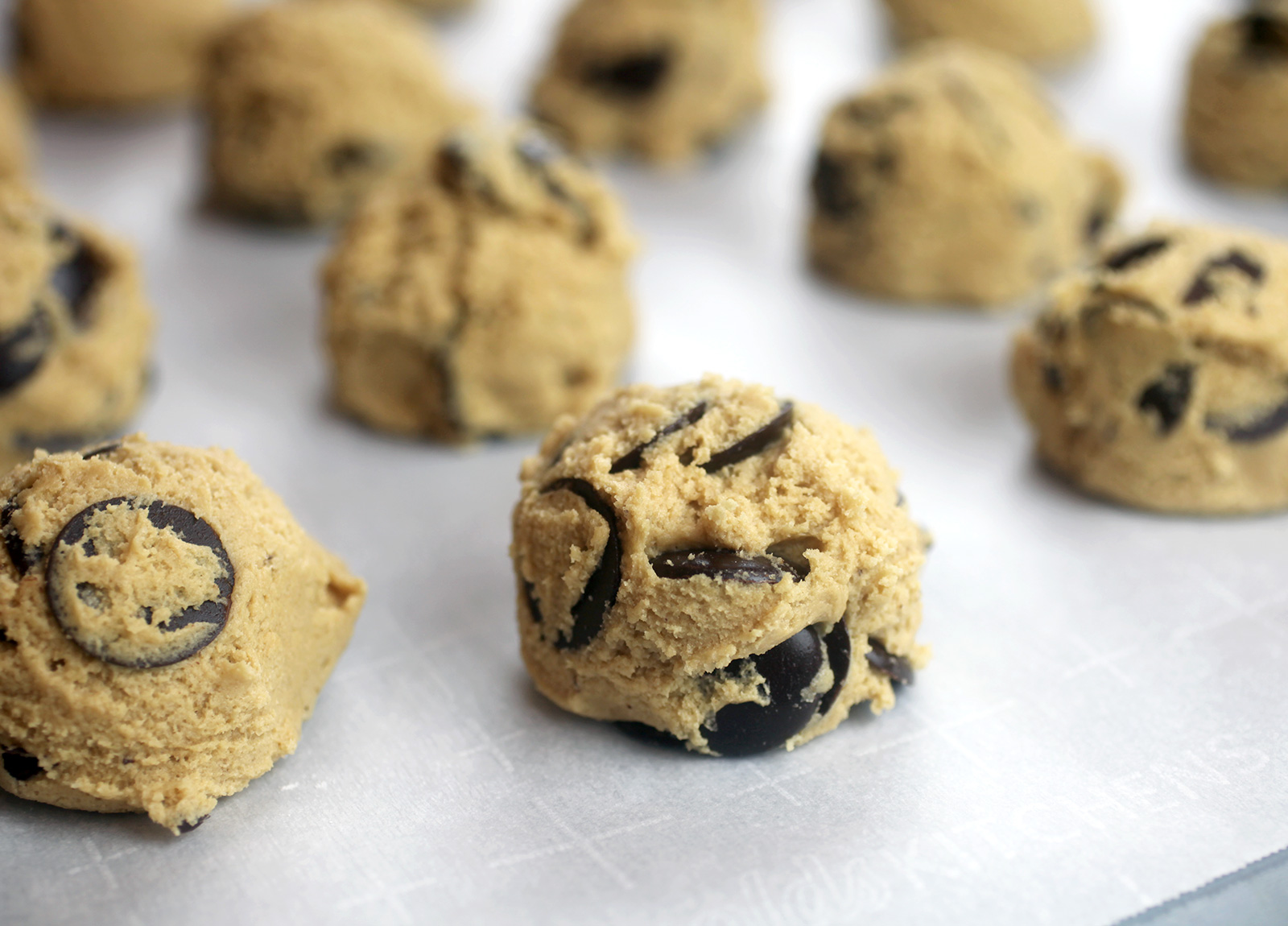 Scoop out chilled cookie dough onto a parchment paper lined baking sheet using a roughly 2-1/2 inch scoop for evenly-sized cookies.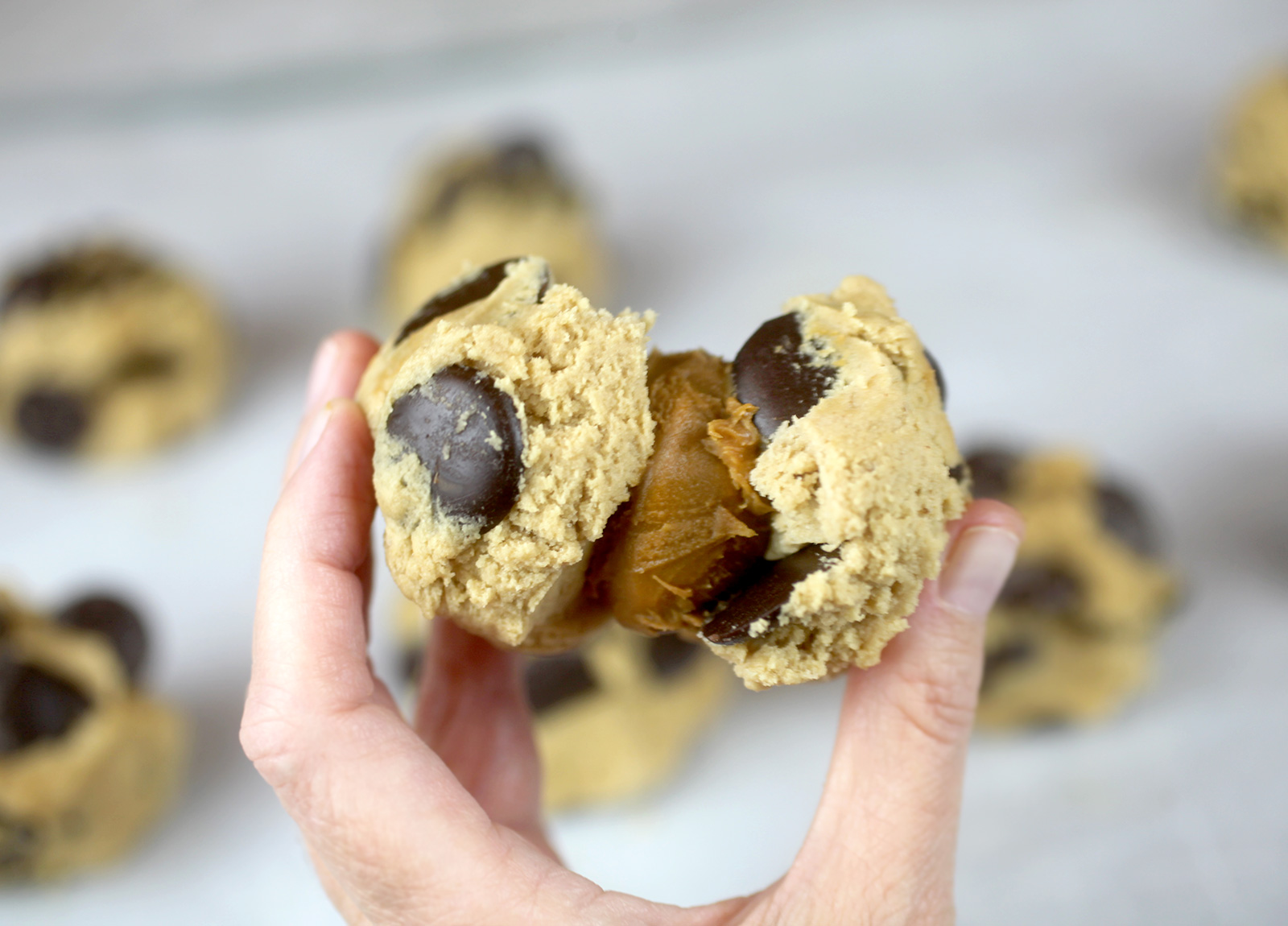 When the dollops of Biscoff waiting in the freezer are firm enough to handle, separate a jumbo cookie dough scoop into two halves and place a dollop of Biscoff inside.
Re-shape the dough around to conceal the Biscoff. You can also leave some areas exposed so that the Biscoff shows through when baking. Just place those areas facing up in the middle of the scoop when arranged on the baking sheet.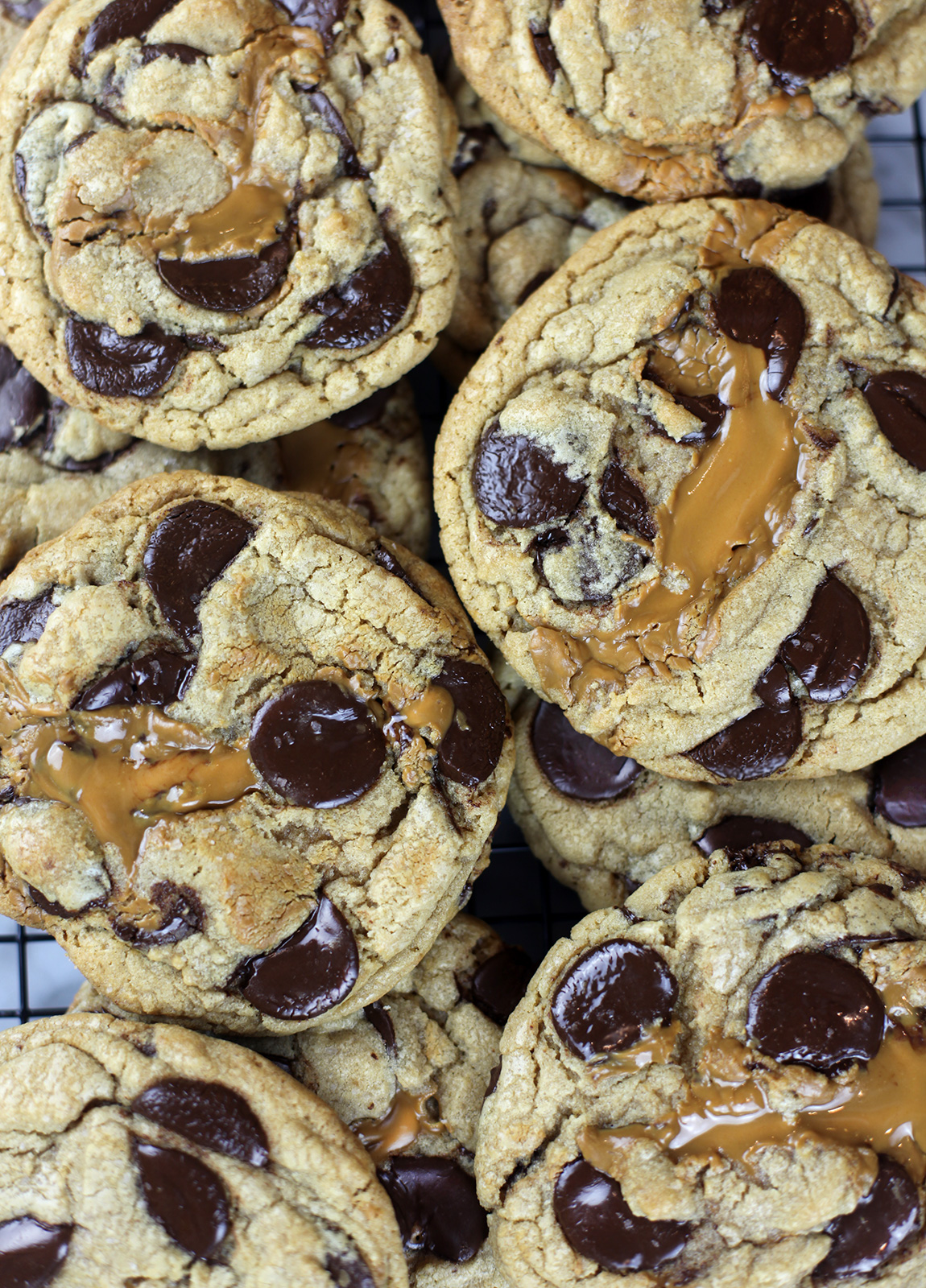 Umm… These were better than I had hoped. So delicious and now I'm adding more Biscoff to my grocery list right. Must make some more!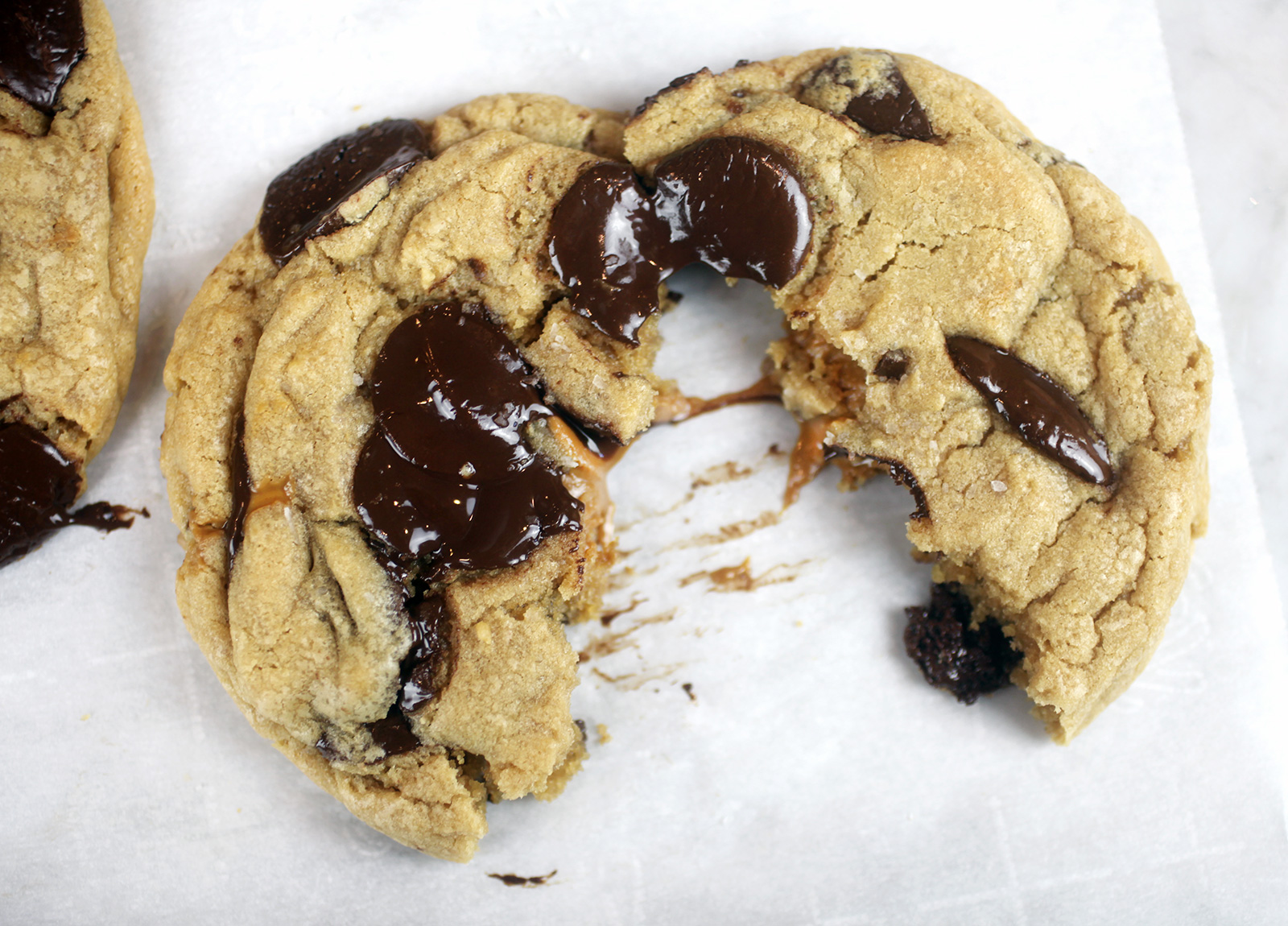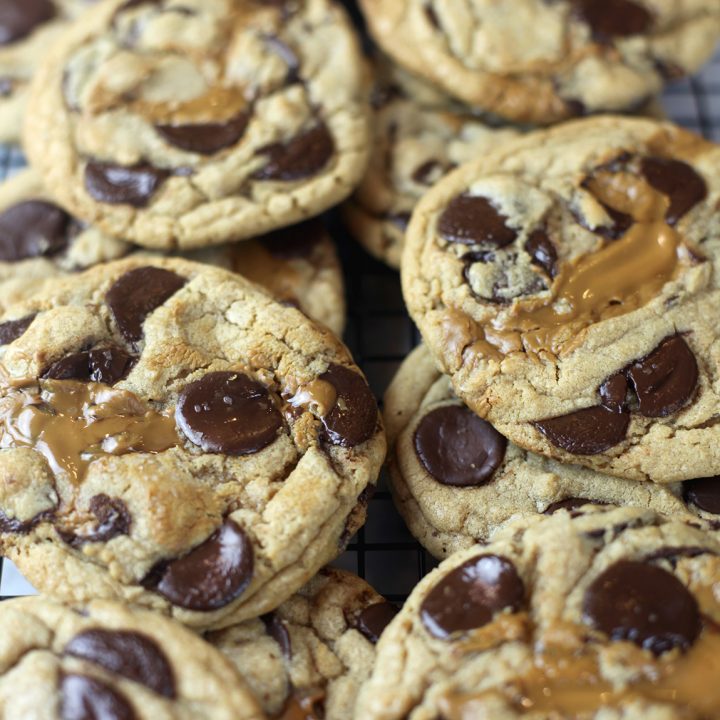 Yield: 15 4-inch cookies
Biscoff Chocolate Chip Cookies
Prep Time 15 minutes

Cook Time 15 minutes

Additional Time 15 minutes

Total Time 45 minutes
Ingredients
2-1/4 cups all purpose flour
3/4 teaspoon baking soda
1/2 teaspoon baking powder
1/2 teaspoon salt
1-1/2 sticks (or 3/4 cup) unsalted butter, room temperature
1/2 cup Biscoff Cookie Butter, plus more for filling
1 cup packed brown sugar
1/2 cup granulated sugar
2 eggs
2 teaspoons vanilla extract
12 oz (or about 2 cups) Guittard semisweet chocolate baking wafers (66% cacao)
Instructions
Preheat oven to 375 degrees Fahrenheit and line a large baking sheet with parchment paper.
Sift dry ingredients: flour, baking powder, baking soda and salt together in a medium bowl using a wire whisk. Set aside.
In the bowl of a stand mixer, cream butter, Biscoff and both sugars until completely incorporated. Add eggs and vanilla and mix until combined.
Add dry ingredients to wet ingredients and mix until incorporated and the dough forms. Add about 2/3 cup of the chocolate wafers and mix on low until incorporated throughout. Chill dough in the fridge for about 20 minutes while you prepare remaining cookie butter.
Use a small cookie scoop to place about 16 dollops of cookie butter onto wax paper. Place in freezer to firm up for handling.
Scoop chilled cookie dough onto baking sheet using a roughly 2-1/2 inch scoop about three inches apart. Break scoops in half and place a dollop of firm cookie butter between the two halves. Reshape to conceal the cookie butter inside the dough. You can leave a few areas peeking through for the cookie butter to ooze out when baking if you like.
Use remaining chocolate baking wafers to press onto the tops of each cookie.
Bake in two batches for about 14-16 minutes or until the cookies are done. Remove from oven and let cool so the Biscoff and large chocolate wafers can set. Otherwise, the weight of the warm cookies will cause them to separate.
Notes
One 14 oz jar of Biscoff is enough cookie butter for the dough and dollops.

Bake cookies in two batches with dough about 3 inches apart. I used a light-colored stainless steel cookie sheet.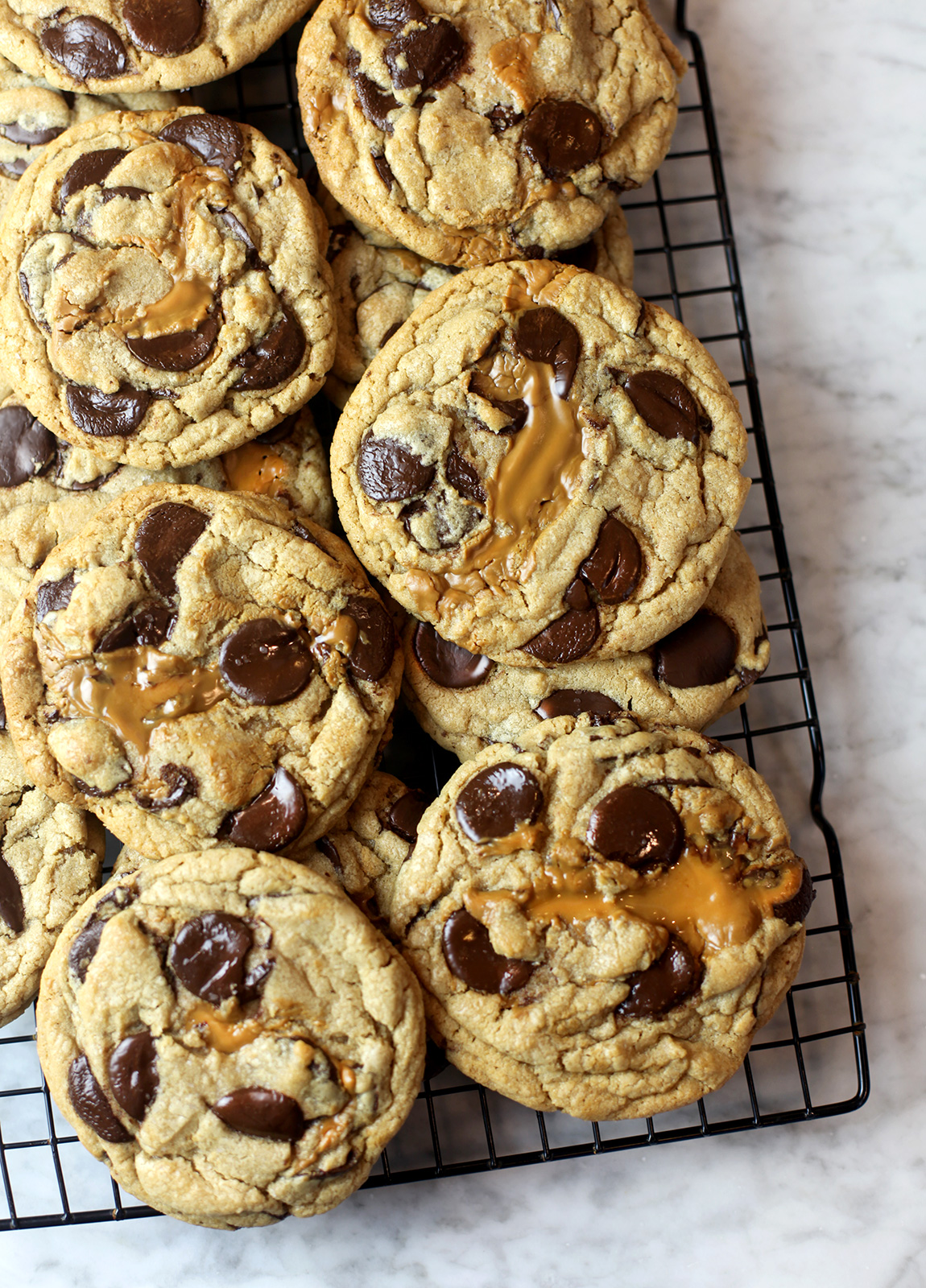 Hope you make some of these cookies to enjoy!