Confession. I don't think I've made Rice Krispie Treats before. What?!?! And if I have, it was so long ago, I can't remember. Weird, right? I mean, I enjoy them and all their crispy marshmallowy goodness, whenever I do eat one. I just never make them. Maybe it's because growing up, Rice Krispies didn't spend that much time in our house. I was a Fruit Loops girl. Die hard. Fruit. Loops. Rice Krispies just got soggy too quick for my taste. It was however, one of the few I'd eat in a lack of Fruit Loops emergency at someone else's house. I'm just now giving in to Frosted Flakes … I guess I consider that one my grown up cereal. I'm sure I'd enjoy others, but I don't really eat cereal that often and I just can't commit to a whole big box of a new cereal. Anyway… that's a long way of saying I haven't made Rice Krispy Treats.
But lately I've been wanting to …… recently my friend and Wookiee Pies author, Lara was raving about some Brown Butter and Biscoff treats she made inspired by this Smitten Kitchen recipe … but she added a little something to them.
Biscoff spread! Also Speculoos Cookie Butter from Trader Joes. If you've tried this stuff before, you know why these have been stuck in my head. It's ridiculously good. It never makes it spread onto anything though because if I dare open a jar… it doesn't have a chance against me with a spoon in my hand.
But, I bought some special to make these treats with.
Rice Krispies Treats start with mixing marshmallows into melted butter. But these are made more special by browning the butter first. It enhances the flavor and adds a wonderful nutty aroma. Just use a stainless steel pot when you make it so you can see the butter change color as it's heated. It was difficult to see the colors change in this dark pot I was using and the butter can burn easily if you aren't paying attention.
Check out this How-to if you've never made brown butter before.
Now you can just use this brown buttery marshmallowy goodness and stir in your cereal if you want.
But what fun would that be without a bunch of Biscoff. Heat it a few seconds in the microwave first and it will incorporate easily into the warm marshmallow mixture.
In Lara's version, she didn't mix it into the marshmallow. She divided the brown butter marshmallow mixture and spread a thin layer between the two before she pressed it all together. So you can try it that way, too.
But I wanted to marry the two.
Stir the melted marshmallow and Biscoff until combined.
Add a little salt and six cups of cereal.
And mix it into a beautiful mess.
Press it into a greased dish and cut into bars.
Like these rectangular ones. Yum.
Drizzle a little melted chocolate on top if you want, too. But they don't really need it. They just looked lonely all by themselves so I thought they needed a hug of chocolate.
And you know what, the best part about long rectangle bars like this is they make a great dipping stick too for any leftover Biscoff Spread. I mean, not that I would know anything about that first hand.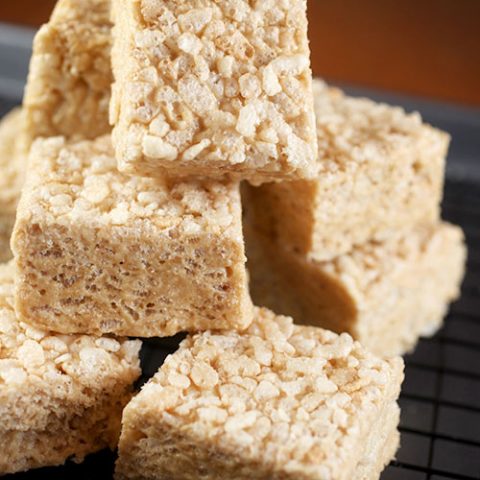 Yield: 12-16 treats
Brown Butter & Biscoff Crispy Treat Bars
Prep Time 25 minutes

Total Time 25 minutes
Ingredients
1 stick unsalted butter
10 oz. bag of mini marshmallows
1/2 cup Biscoff Spread or Speculoos Cookie Butter
6 cups Rice Crispies Cereal
1/4 teaspoon sea salt
Melted chocolate, optional
Instructions
Butter an 8 X 8 inch pan.
Melt the butter in a large stockpot over medium-low to medium heat, whisking often. It will foam, then turn from a golden color to a darker brown. Watch closely so it doesn't burn.
Reduce the heat to low and stir in the marshmallows until completely melted and smooth.
Heat the Biscoff spread in the microwave for about 20 seconds and stir it into the melted marshmallow until combined.
Stir in the salt and cereal. Mix until incorporated and press into bottom of prepared pan. I placed a piece of wax paper on top of the mixture and used a glass to roll on top of the wax paper to help flatten the mixture down. Or you can press the top down with your fingers and leave it a little more freeform.
Cool for a couple of minutes. Cut into 16 squares or 12 rectangular bars and you're ready to treat yourself or drizzle on a little melted chocolate and enjoy that way, too.

Notes
Source: Adapted from Smitten Kitchen's Salted Brown Butter Crispy Treats

Enjoy!