There's something adorable in these boxes.
Something happy for the holidays.
and beary cute.
They are handmade custom cake pop ornaments that Amy Miller Designs created for me.
And there are five of them. So fun and festive!
They are all based on the cake pop designs from the Holidays book.
And I hope they make you smile!
And yay, you can totally hang these cuties on your tree.
But the best part is they'll stay sweet. No spoiling.
When Amy first surprised me with some cupcake pop ornaments, I liked them so much I ordered a bunch without the hanger so I could keep them on display all year long. Then last year I met Amy at my Phoenix Book signing and she surprised me yet again with these Muppet Cake Pops to match the real ones I made. I was blown away. So, I thought it would be fun to see what she could do with some designs from the book. Amy came up with these cute cake pop ornaments and I'm completely in love. So I bought a few extra sets to share with you guys. Amy is awesome. When she shipped them to me, my mouth dropped when I saw how she packaged them. Completely unexpected but I love the little snowy scene and the box makes a great way to store them and keep them safe when they're not on display. Perfect for gifting. I can hardly part with them they are so cute. But I will for you guys.
Want to win some and make decorating a little sweeter?

Three winners will win a 5-piece cake pops ornaments set PLUS a signed copy of Cake Pops Holidays!
To enter just leave a comment at the bottom of this blog post below and tell me what the last present was that you bought or made for someone else. Easy.
Deadline to enter is Thursday, December 13th, 2012 at 7:00 PM ET. Sorry, Time's Up. Winners announced below.
The winners will be chosen at random and announced sometime Friday on this post. I'll ship them out quick so you can hopefully have them for the holidays.
Good luck guys!
Now here's just a few more Holidays book related stuff I wanted to share with you before the holidays end. Kind of a cake pops recap in one big post.
First up – I have another fun giveaway to tell you about. It's pretty awesome! Chronicle Books is hosting a holiday cake pops photo contest from their facebook page. If you are in the US and you've made or are planning to make cake pops for the holidays, you could win a KitchenAid mixer and the complete Cake Pops set. (Cake Pops, Cake Pops Holidays, Cake Pops Kit, and Cake Pops Notecards).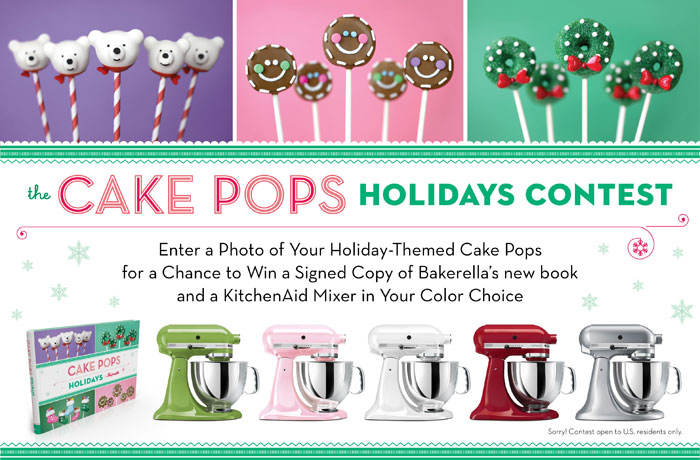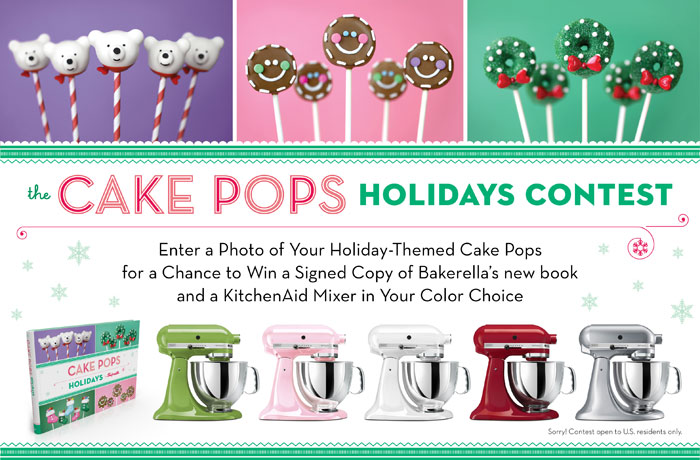 To enter just upload a photo of some of your holiday cake pops here.
The winner will be chosen at random. Deadline to enter is December 17. Happy Cake Popping. I'm excited to see what you all create.
Here's something I want to share with some of my international friends before the holidays end. There are actually four versions of the book. I don't think I have mentioned that on the blog before.
Cake Pops Holidays in the US and Canada. Cake Pops Christmas in the UK. Cake Pops Jul in Norway and I heart Cake Pops in The Netherlands. They are all the same content just different covers and translated in Norwegian and Dutch.
I totally heart that "I heart cakepops" cover by the way.
Here are some links if you'd like to get your hands on a copy or need a sweet last minute stocking stuffer for the baker/cute lover/decorator in your life.
In the U.S.
Amazon
Barnes and Noble
Chronicle Books
Target
Also available here:
Canada: Amazon.ca
Netherlands: Bol.com (fyi-the cover image is incorrect on this link)
Norway: Norli.no
UK: Amazon.co.uk
Final Book Signings 
Just a reminder – The NEW YORK book signing that was cancelled in November in Garden City due to Sandy is rescheduled for this Thursday at 12:00 pm at the Williams-Sonoma in Huntington Station.
And on Friday – BOSTON will be the very last book signing stop this year. I'll be at the Burlington Barnes & Noble at 7 pm. I've never been to Boston and can't wait.
Here are the details for the last two signings. Hope you can make it.
New York & Boston Book Signings
Unfortunately, the Paramus, NJ signing at Chef Central that was cancelled due to Superstorm Sandy wasn't able to be rescheduled before the holidays. I'm so sorry for those of you who  had wanted to attend.
And lastly…  
finally if you've even read this far, here are some photos from the first events. I'm still working on uploading Houston and Dallas.
Feel free to grab a photo from the flickr links if you attended one of the signings. Thank you so much for coming out. I have loved meeting you all and cherish seeing your smiling faces. Yay for cake pops.
Houston (coming soon)
Dallas (coming soon)
That's it. I know it was long, but I thought it would be better to do one wrap up instead of a bunch of little posts.
Don't forget to enter below for a chance to win a set of cute cake pops ornaments and a copy of Cake Pops Holidays.
Okay, it's time to announce the winners of the cake pops ornaments and books. Loved reading the gifts you've been giving. And so loved reading all of the handmade homemade presents too. Thanks for sharing. And now for the three winners. YAY!
Brandi, Britt and Lori – You won. Congratulations and hope you enjoy the book and ornaments.