That's exactly what this is. Naturally I had to pick one up as soon as I saw it.
Pink. Cute. Tiny. Cute. Cupcake. Cute. Charm. Cute. Did I mention cute?
Yeah, I guess I did. Anyway, it's cute.
And look – the little oven door opens so you can get a better view at the cupcake inside.
Dying.
It's adorable from every angle.
See.
And just look at this……………
I can't take it.
Look at that plug. I think my heart started racing when I saw this.
It says "Bake me Some Couture" under the plug, too.
Here's a little visual aid to get a sense of how small it is.
But, it's not for me. I picked it up while doing a little shopping and thought one of you might like it.
Want it? It would look really cute hanging on a necklace, too.
Enter for a chance to win this super cute cupcake charm
• Leave a comment on this post and tell me … Would you wear it? Share it? or just stare at it in all it's cuteness?
• Deadline to enter is Sunday, September 19 at noon ET. SORRY, TIME'S UP. WINNER ANNOUNCED BELOW.
• One winner will be picked at random and announced sometime Sunday.
Good Luck and I promise not to say cute any more today.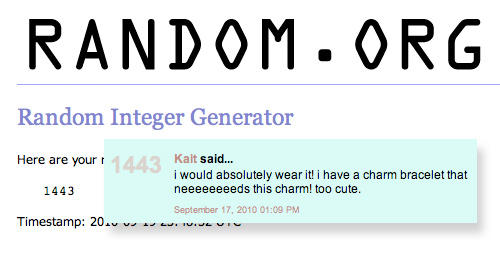 We have a winner! Yay for Kait. #1443 – Congratulations – Your charm bracelet is going to be very happy – that is if I can bring myself to part with it. Just kidding.