No, I haven't taken up sewing. (Not yet anyway.) These adorable little buttons are all candy.
And, umm… they are like handmade.
Not by me, but remember my crazy talented, cupcake fanatic friend, Julie?
She made them for a friend's baby shower using a fab tutorial from Bake it Pretty.
They are just about the cutest things I've ever seen.
The tutorial even includes a pdf for the labels so you can print them out at home and make your own packaging.
Julie made yellow, pink, green, orange and blue buttons with colored candy melts.
Just melt the candy and pour into a button mold. Let them dry and pop them right out.
Place them in small plastic bags and attach the labels. Just fold them in half and staple them together.
Or, if you're crazy like Julie, then you make the labels work with your own wooden custom candy button display that your awesomely talented husband built for you.
Yeah, I'm sucking up in case he reads this and wants to make one for me, too.
So, instead of folding the labels in half, you can fold them in thirds. Two-thirds in front and one-third in the back so you have enough room to use a hole punch on the labels without messing up the graphics. And then just use a little double-sided tape to attach the labels to the bags.
Easy and like I said… cute as a button.
Julie also made these onesie sugar cookies for the shower. I'm gonna work on her to get this recipe because they were really good.
Okay, back to buttons…
Here is the Candy Button Tutorial from Bakeitpretty.com.
Check out the site when you have some time. Cute stuff for baking AND for decorating!
Guess what else…?
The guys that run the site gave me a gift voucher code to shop at their store last year. I forgot I had it until Julie showed me these buttons and I remembered the email they sent me. I decided that since I had not used it yet, I wanted to give it away to one of you guys. Hopefully it still works. And if not, I'll buy a new one for you. K?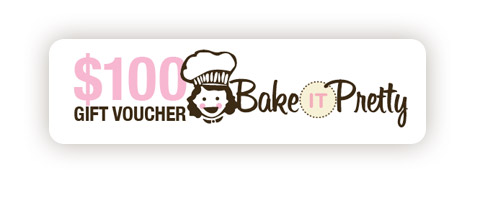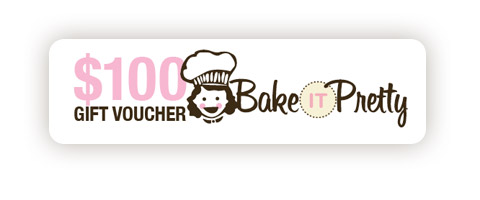 Enter to win a $100 Gift Voucher to BakeitPretty.com.
Leave a comment on this post and let me know what you enjoy more…
Baking sweets or making them look pretty?
Deadline to enter is Monday, February 1st at 6:00 PM ET. Sorry, Time's Up! Winner Announced Below.
One winner will be chosen at random and announced sometime Monday evening on this post.
Good luck!
And the winner is… comment #1326.
That's you, chakins! I'm glad you love to bake. Now, get shopping and start decorating.