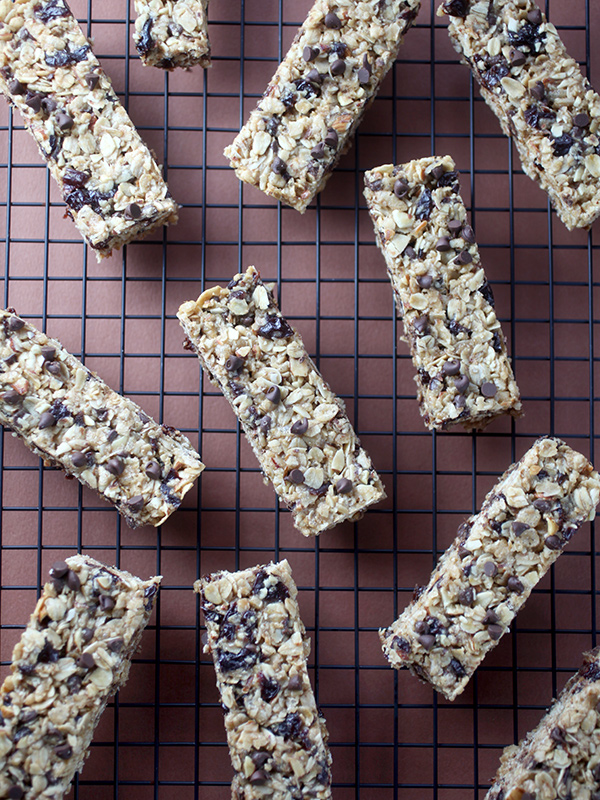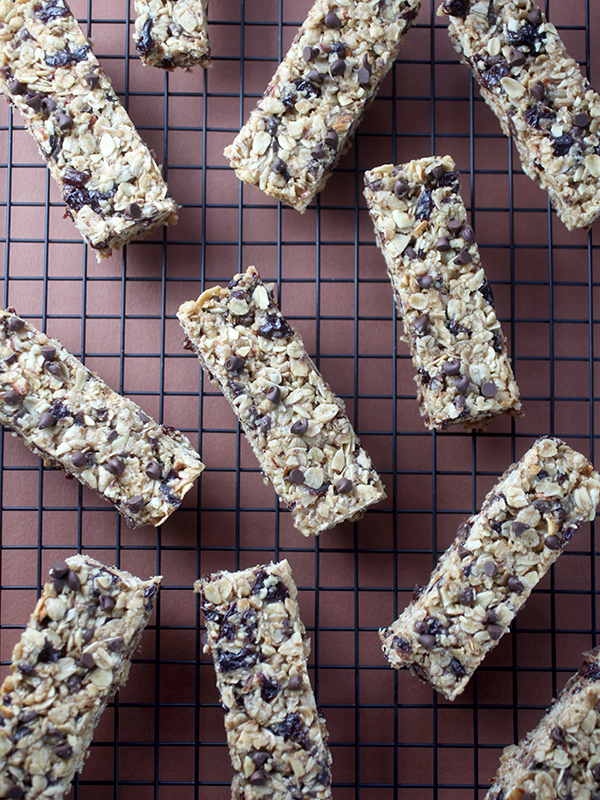 I eat granola bars for breakfast almost every day. It's my go to morning meal when I'm in a hurry or when I'm traveling and need an easy on-the-go treat. So when I teamed up with The Quaker Oats Company to share a recipe that makes my morning easier, I couldn't wait to make these Cherry Almond Grab and Go Granola Bars for you guys.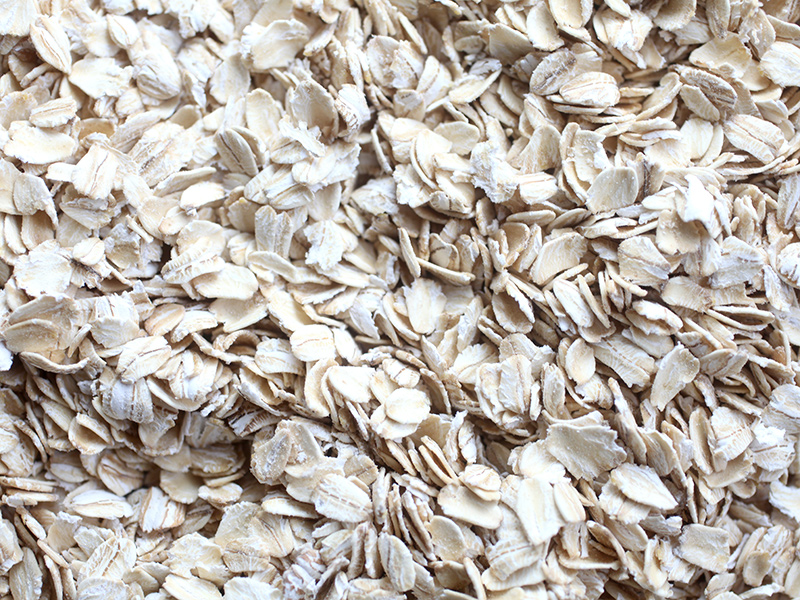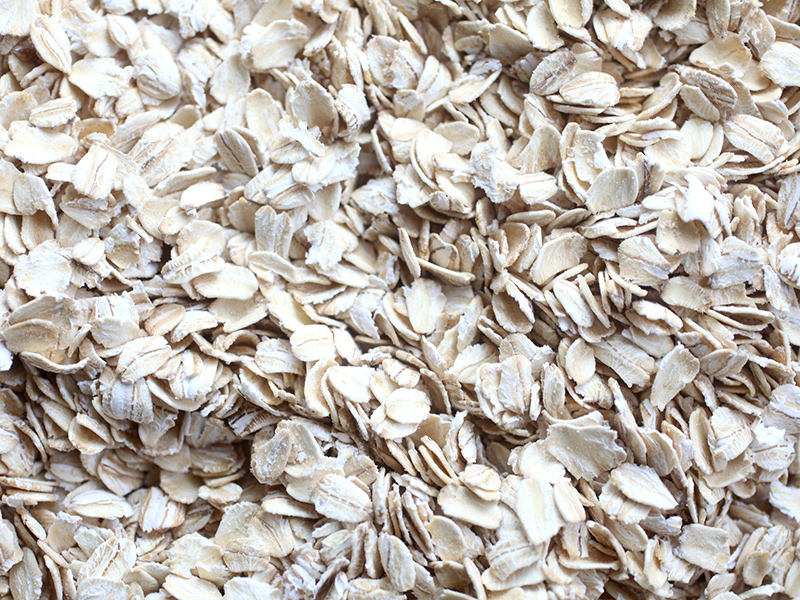 Of course, we're starting off with Quaker Standard Oats. They're 100% whole grains and the star of these breakfast bars.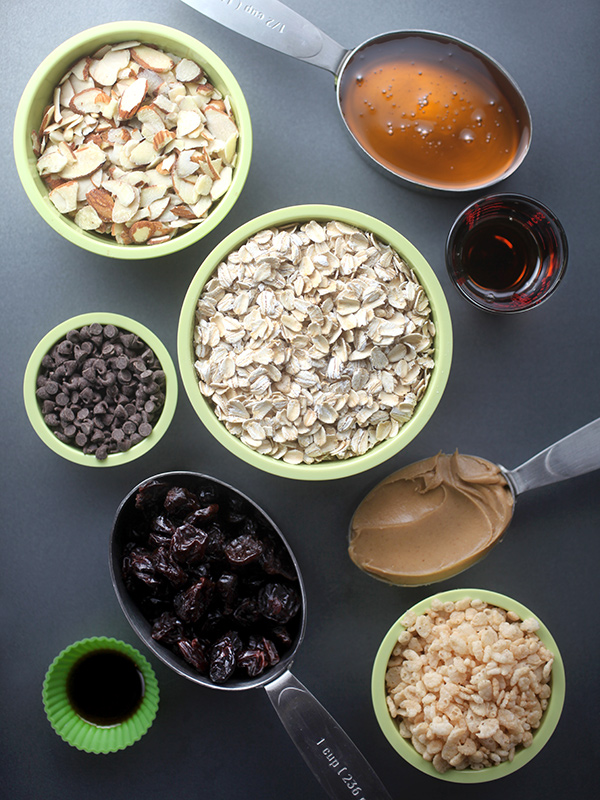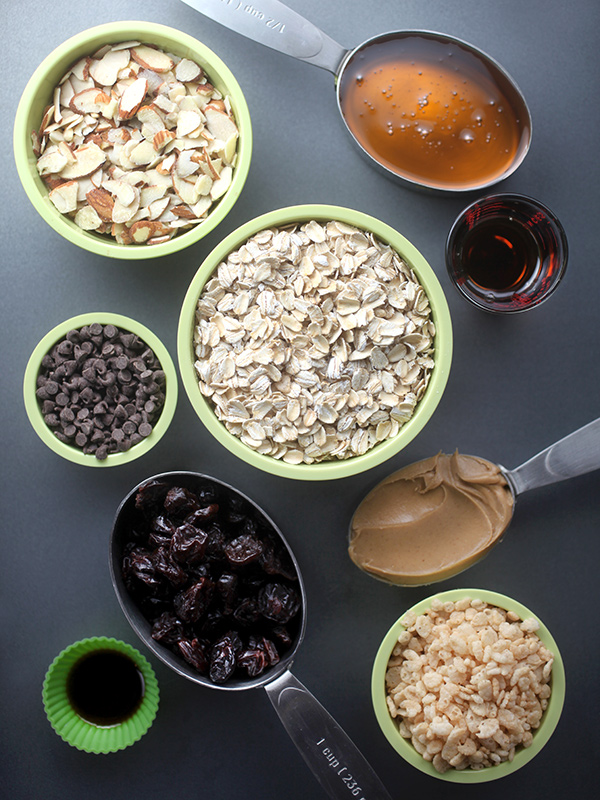 And I'm including other goodies, too. Sliced almonds, rice cereal, dried cherries, peanut butter, honey, chocolate chips, vanilla, and maple syrup.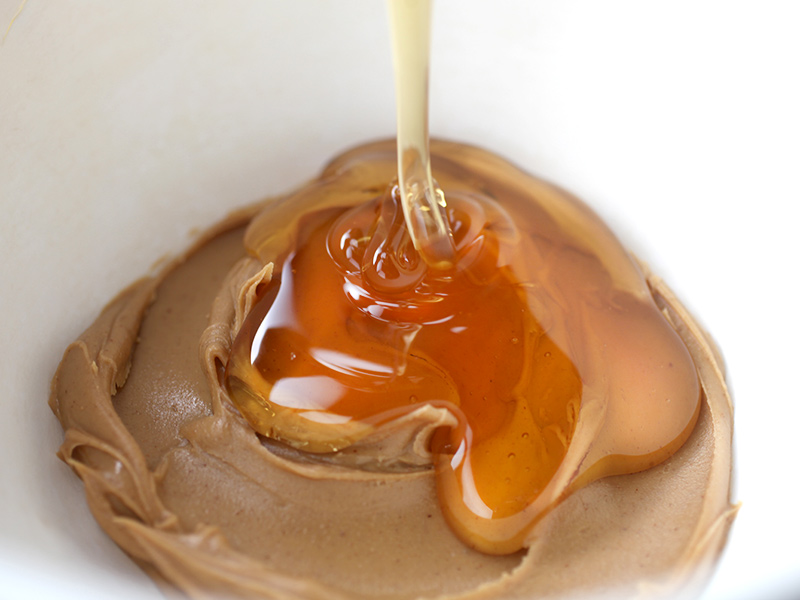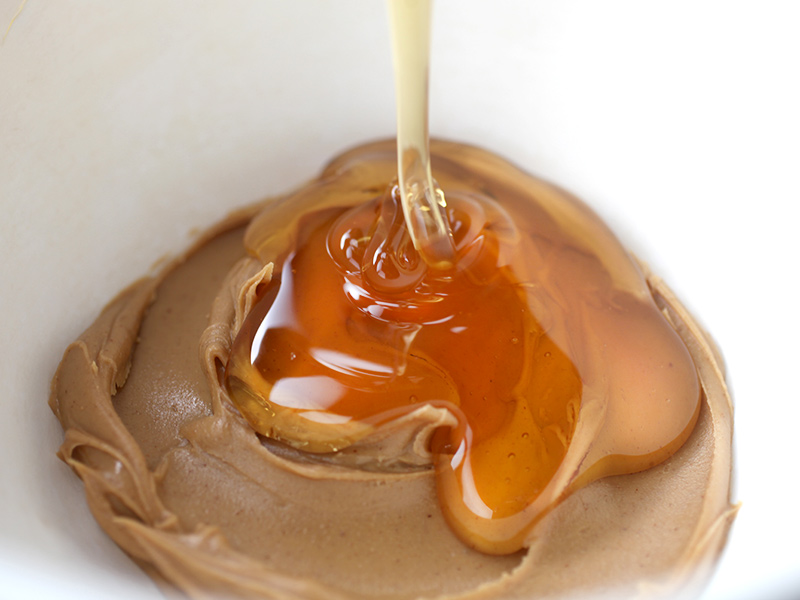 And oh honey… these are going to be good!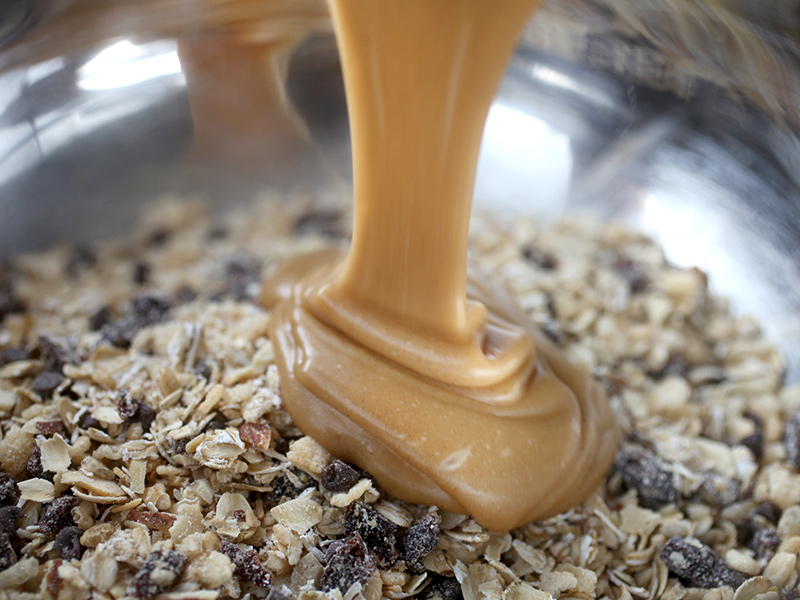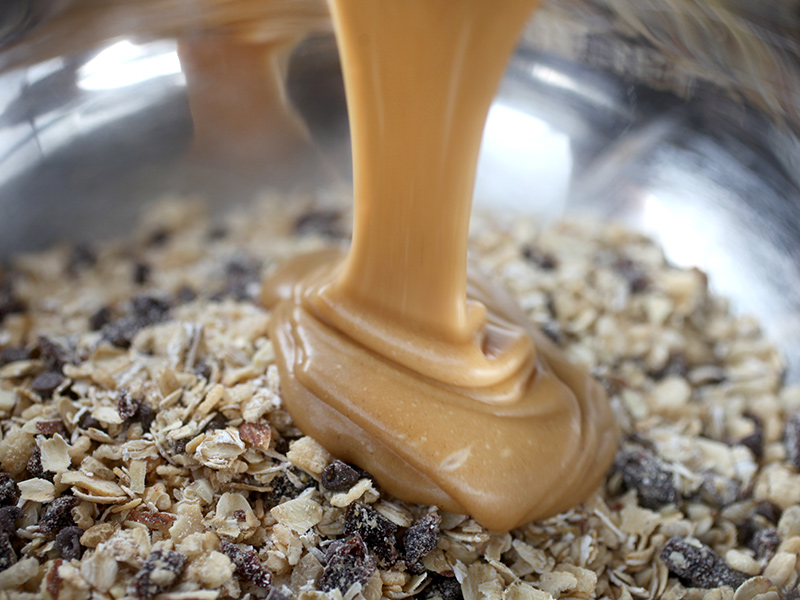 Warm the peanut butter, honey, maple syrup and vanilla and mix together so you can easily pour it on the dry ingredients.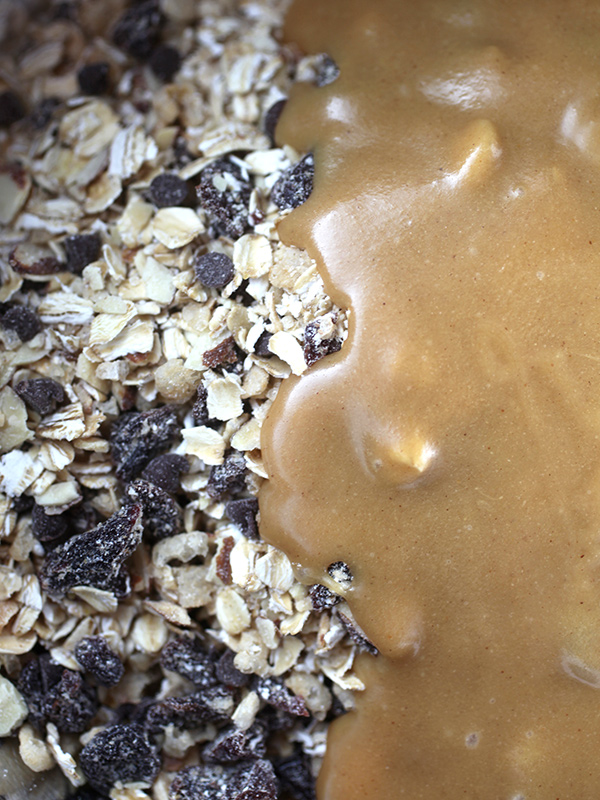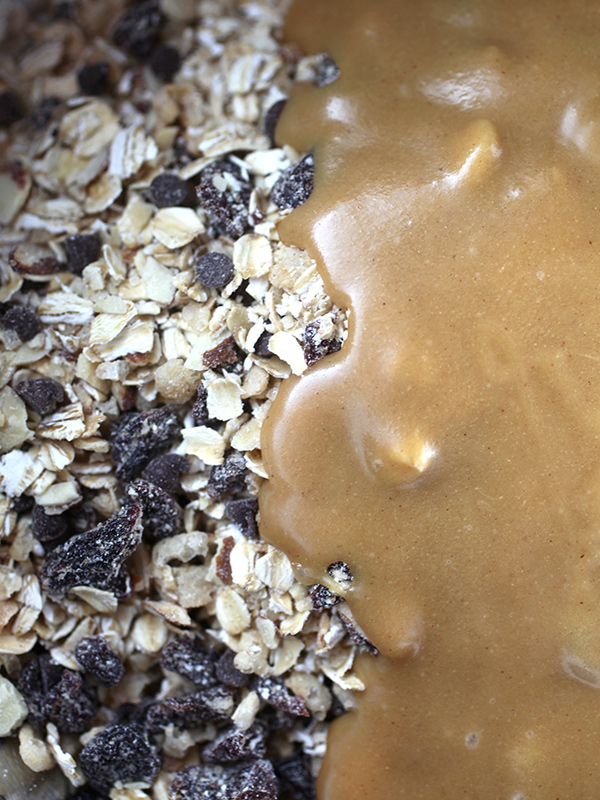 Oh my! Now mix all the ingredients together until everything is completely coated.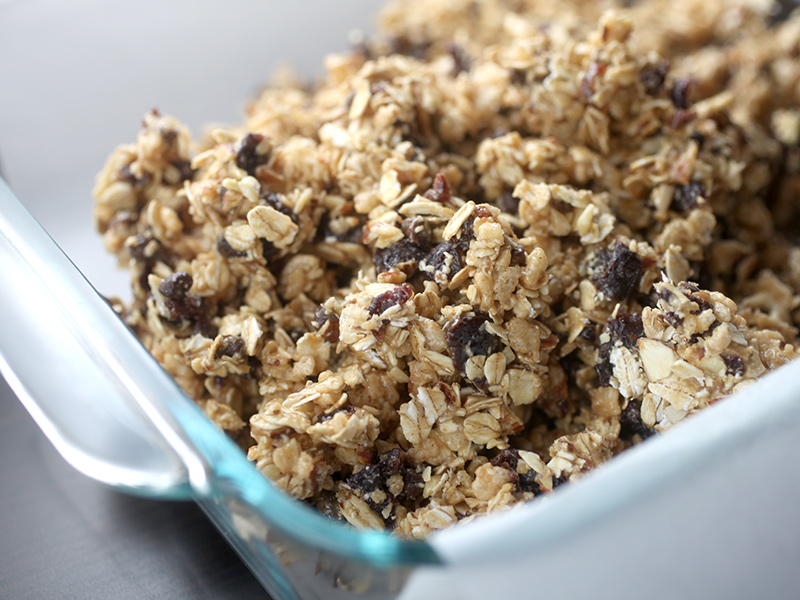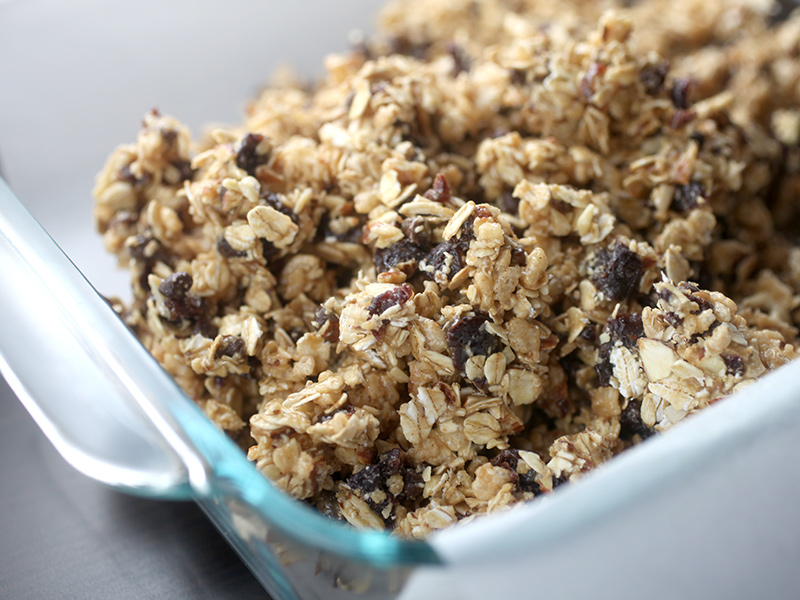 Once coated, transfer the granola mixture to an 8 X 8 inch dish lined with parchment paper and press all the ingredients down as flat as you can.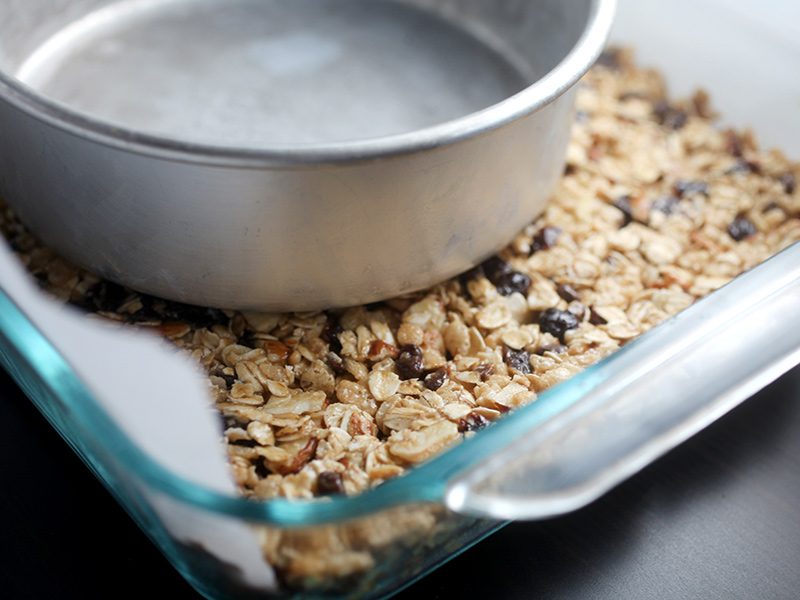 I used a 6-inch round cake pan to do the work for me so my hands didn't have to get sticky.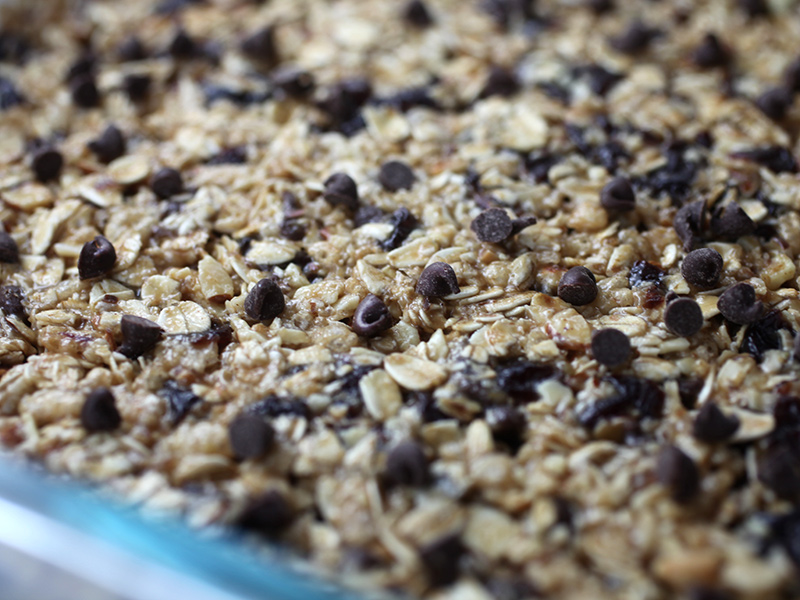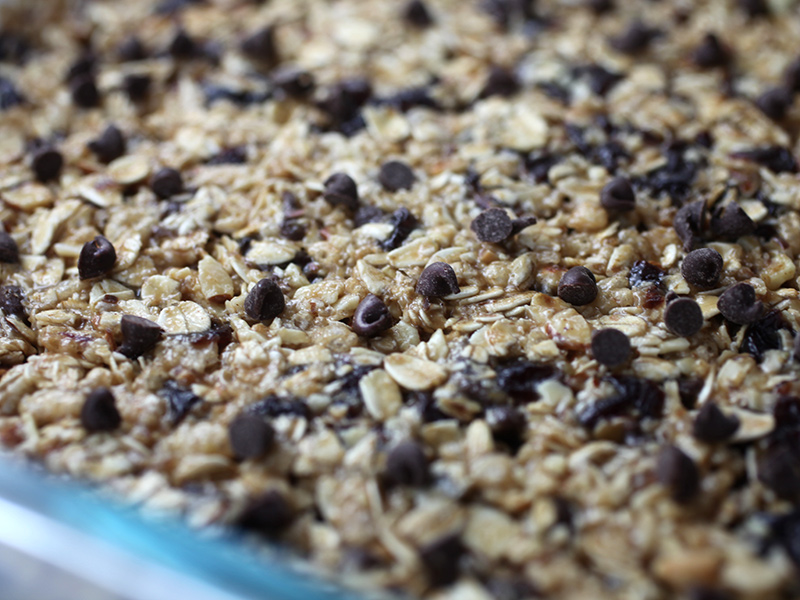 Sprinkle a few mini chocolate chips on top and press down gently.
Now just bake the bars for about 20-25 minutes and then cool completely.
I let these cool for about an hour and a half on the counter and then I transferred them to the fridge for about an hour. They're easier to work with when chilled.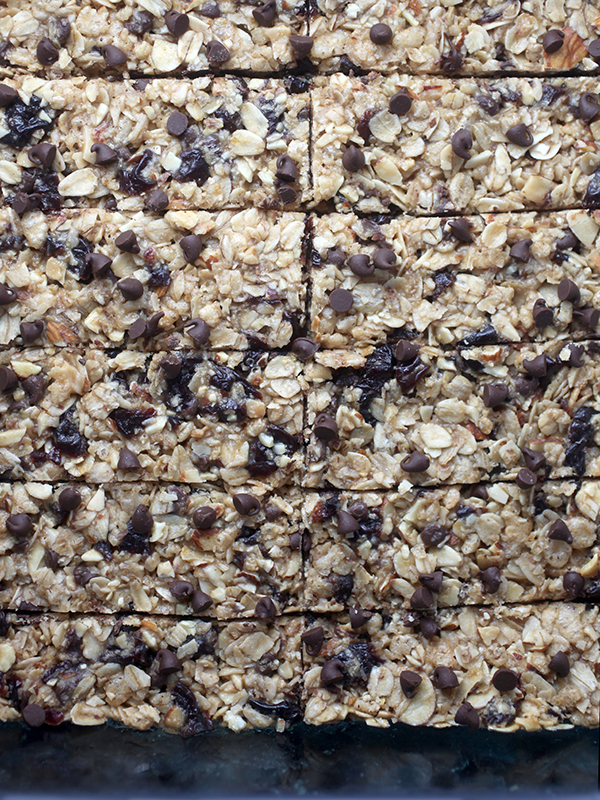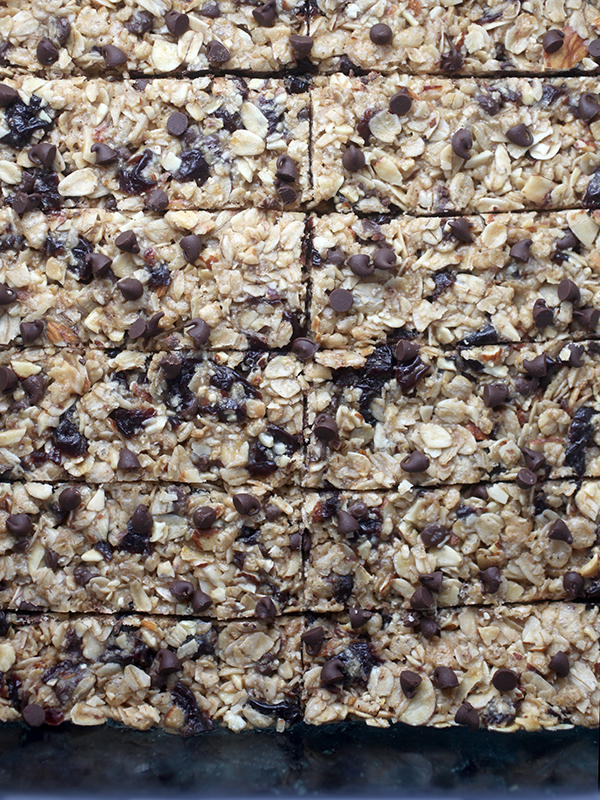 Once cold, cut them into 12 equal bars while they were still in the dish.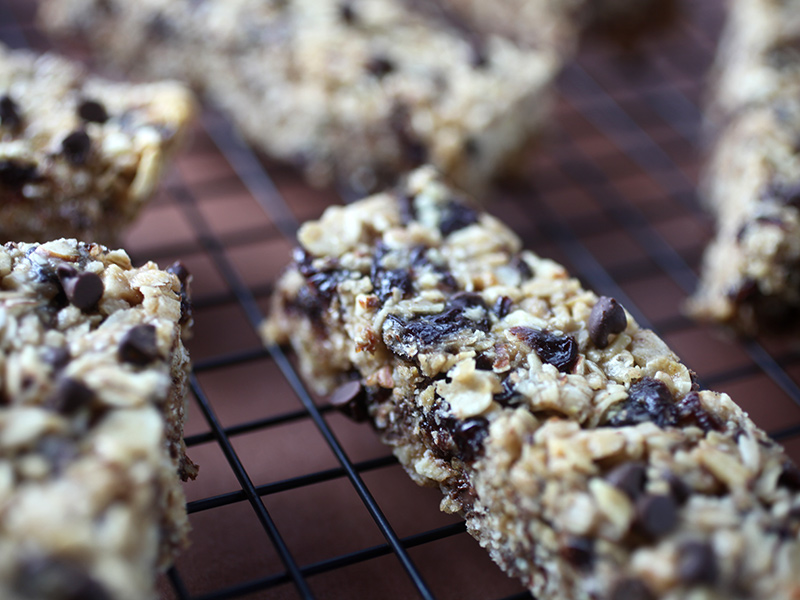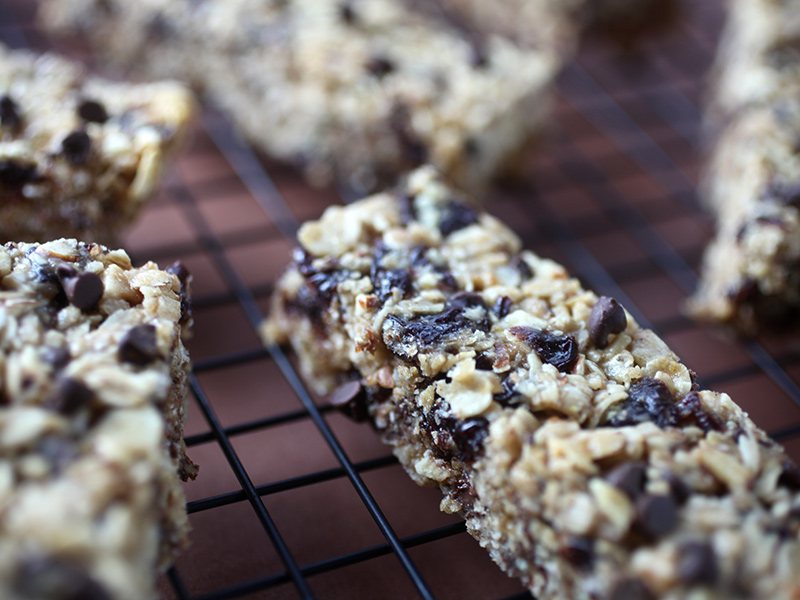 I wanted to nibble on these right away, but I needed to wait so I could get them all dressed and ready for the week ahead.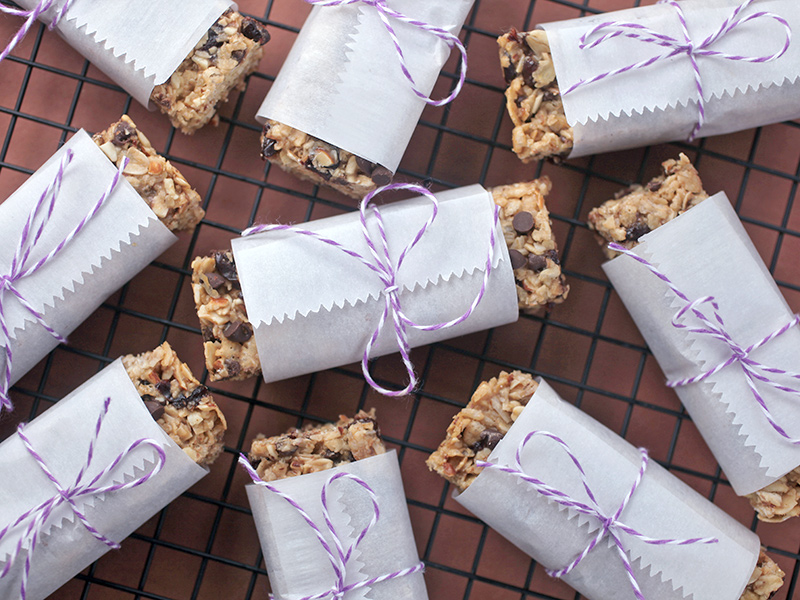 With the bars still cold, wrap them in strips of parchment paper and tie each with string.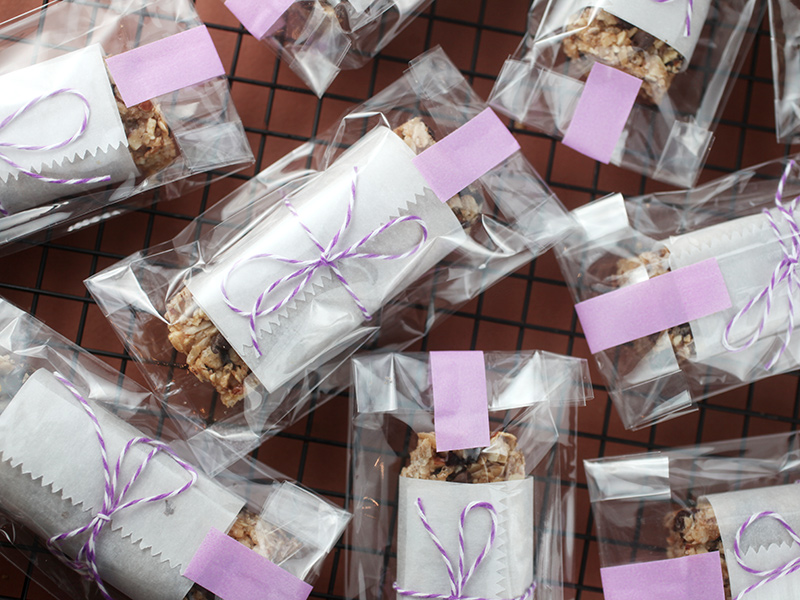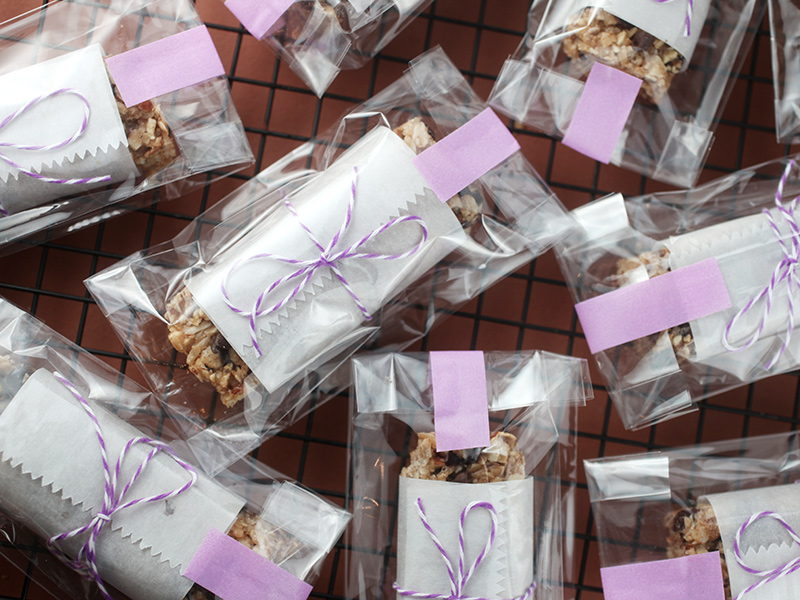 Then just slip them into treat bags and tape them shut.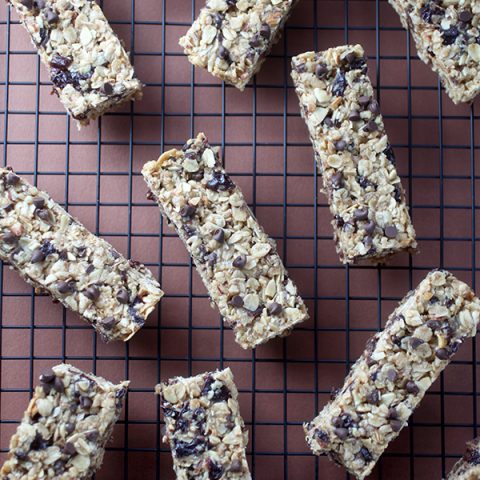 Cherry Almond Grab and Go Breakfast Bars
Prep Time 20 minutes

Cook Time 25 minutes

Additional Time 1 hour 30 minutes

Total Time 2 hours 15 minutes
Ingredients
1-1/2 cups Quaker Old Fashioned Oats
3/4 cup slivered almonds
2/3 cup rice cereal
1 cup dried cherries
1/4 cup miniature chocolate chips
1/3 cup peanut butter
1/2 cup honey
1 Tbsp maple syrup
1 teaspoon vanilla
Instructions
Preheat oven to 350 degrees Fahrenheit and line an 8 X 8 inch baking dish with parchment paper overlapping on opposite sides so you you can easily lift bars from the dish when finished.
Toast almonds. Spread them in an even layer on a large baking sheet and place in the oven for 5-10 minutes. Watch closely so they don't burn. Remove from the oven and reduce temperature to 300 degrees Fahrenheit.
Place oats and toasted almonds in a food processor and give it several pulses to break the shapes up into smaller pieces. This will make the ingredients press together more compactly in the baking dish.
Place all the oats, almonds, rice cereal, dried cherries and chocolate chips in a large bowl and mix together until evenly distributed. Reserve about a tablespoon of the chips to sprinkle on top at the end.
In a medium bowl, microwave the peanut butter, honey, syrup and vanilla for about 10-20 seconds so you can easily stir it together. Pour mixture over dry ingredients and stir until completely combined and all the dry ingredients are coated.
Pour mixture into the prepared baking dish and press down as flat, even, and compact as possible. You can use a smaller baking dish to help or press using your hands coated with vegetable oil. Once the mixture is as flat as you can make it, sprinkle any reserved chocolate chips and gently press them on top.
Bake for 20-25 minutes. Remove and cool completely for at least 1-1/2 hours. Transfer to the refrigerator and chill for another hour. Remove and cut into 12 equal bars using a thin serrated knife while still in the baking dish. Lift the bars from the dish holding the parchment paper.
Makes 12 bars. Bars will be good for several days at room temperature or for a couple of weeks in the refrigerator.
Notes
To prepare them for the week ahead: Working with chilled bars, wrap each one in a strip of parchment paper and tie with a string. Place in a plastic treat bag to travel with. You can also dip the bottoms in a little melted chocolate or candy coating and let dry before packaging.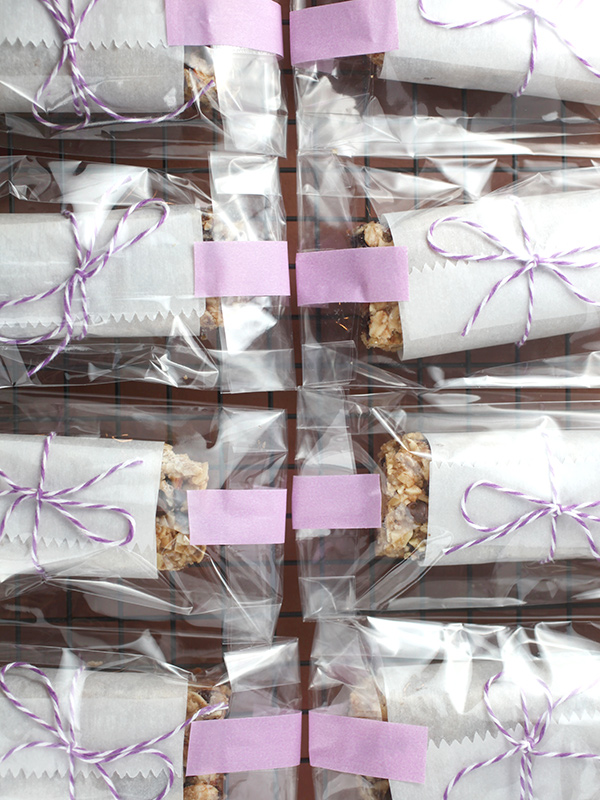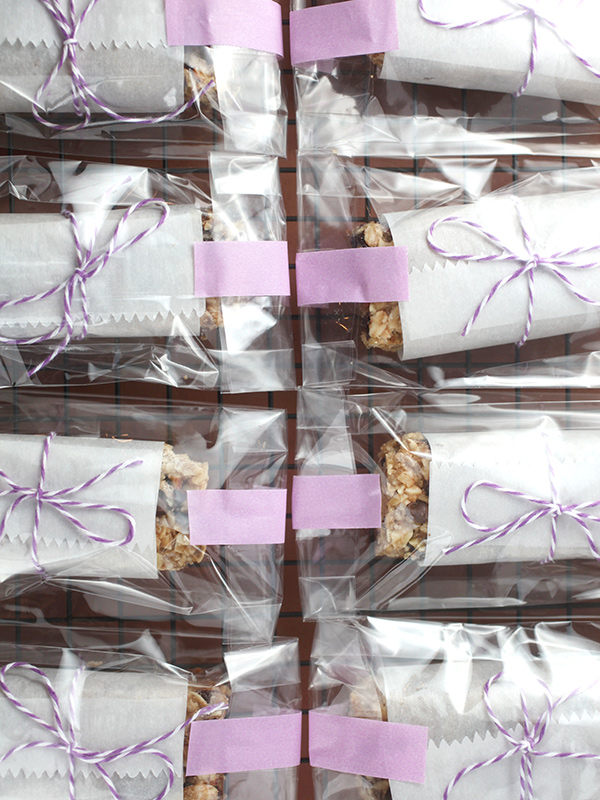 Adorable! Now you have individually wrapped and ready breakfast bars handy and a yummy way to brighten the beginning of your day. Just grab one and go.
Enjoy!
This post is in collaboration with The Quaker Oats Company #OffYouGo! For more tips to make mornings easier, visit: https://www.brit.co/tag/quaker/