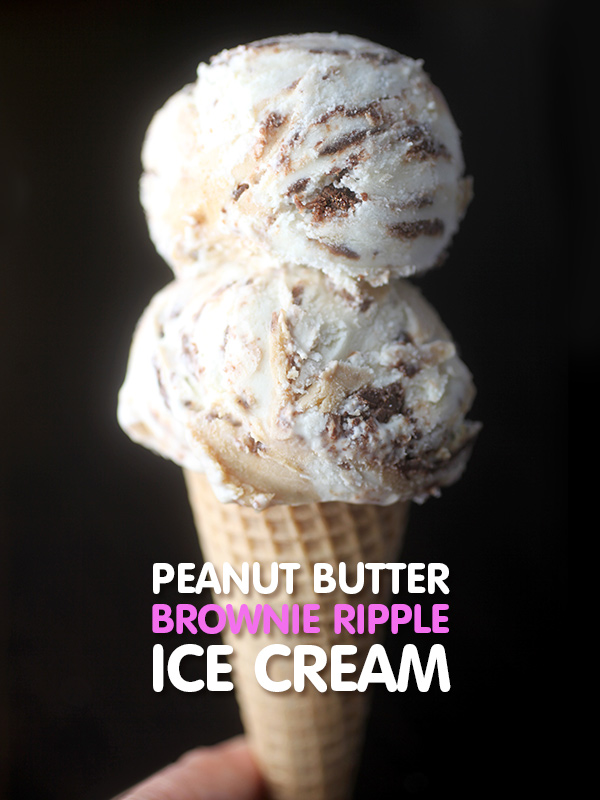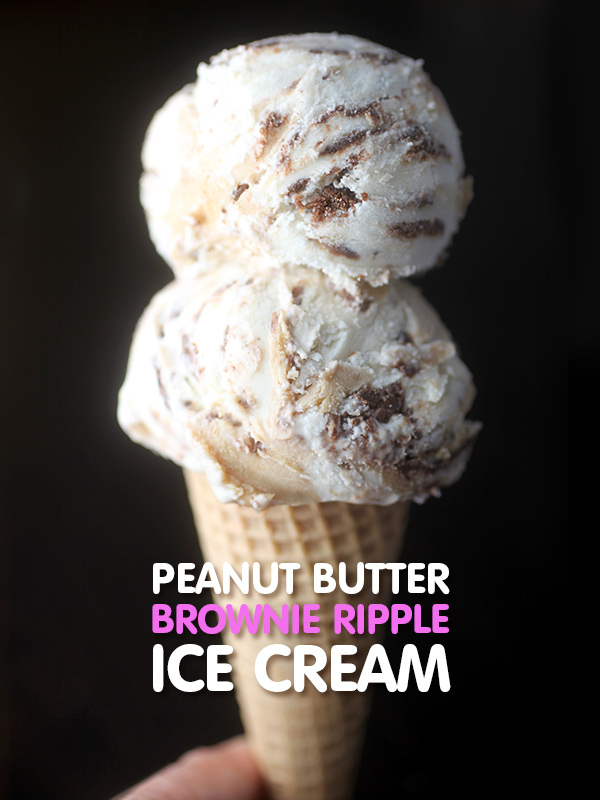 I've been playing around more with some more "no-churn" ice cream after making this Butterfinger Crunch batch the other day and I love how easy it is to whip up. This time I decided to mix in two of my favorite things.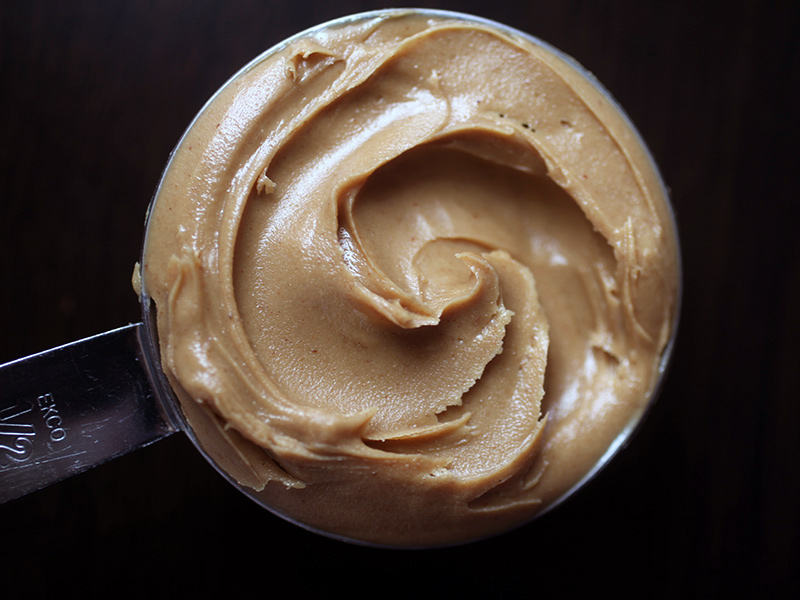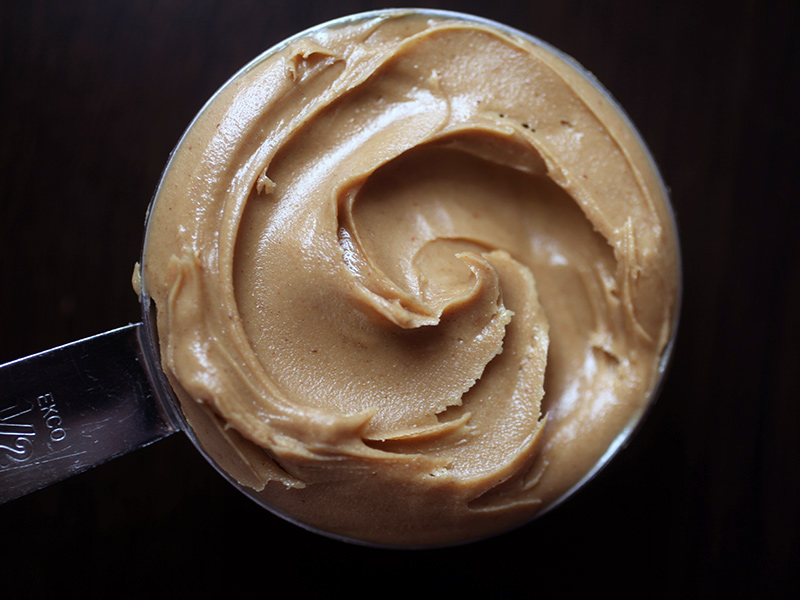 Creamy peanut butter and…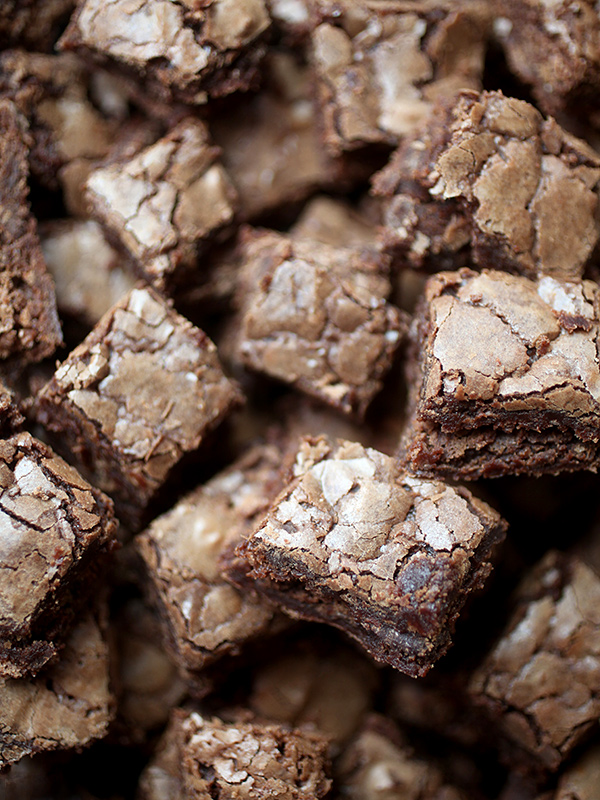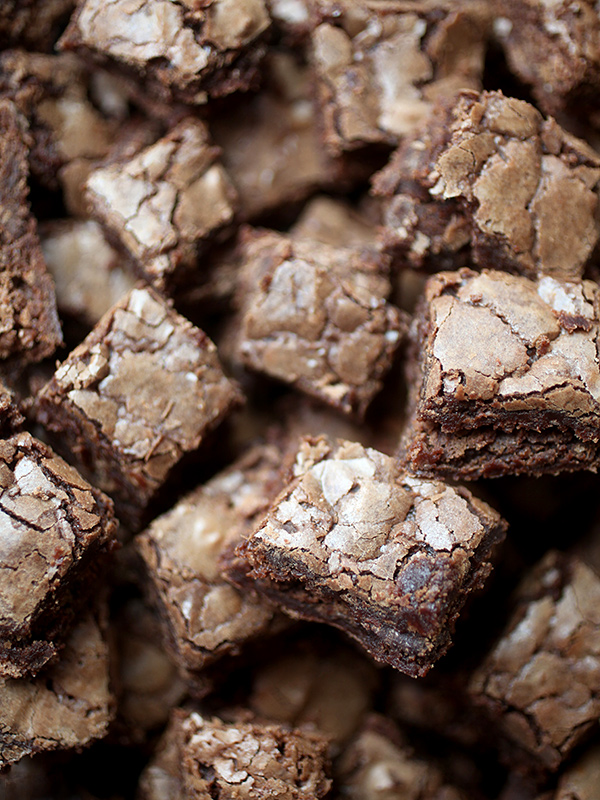 And chocolaty brownies! These are just little bitty brownie chunks that I cut up from some leftover brownie cookies I made recently. But make things even easier with brownie bites from the store if you don't have any extra brownies hanging around the kitchen. Because let's be serious. A batch of warm brownies really doesn't stand a chance of making it into another dessert before I devour them.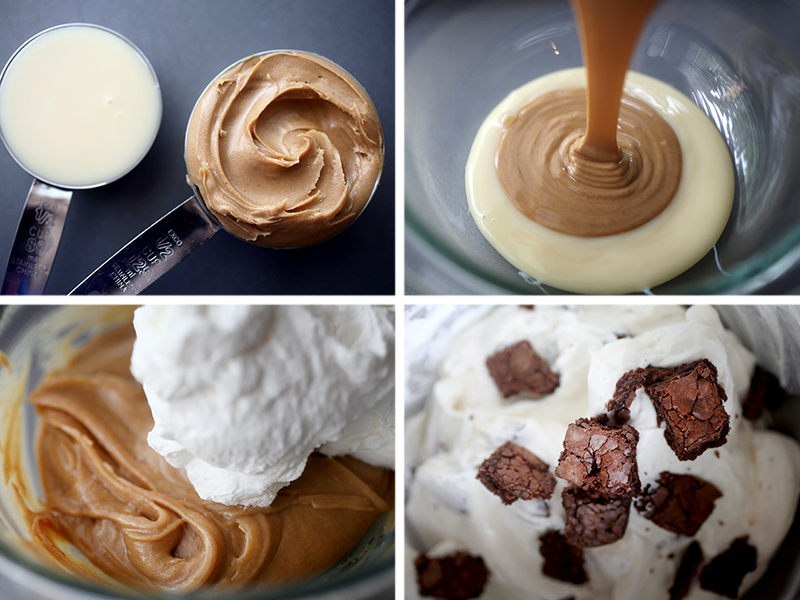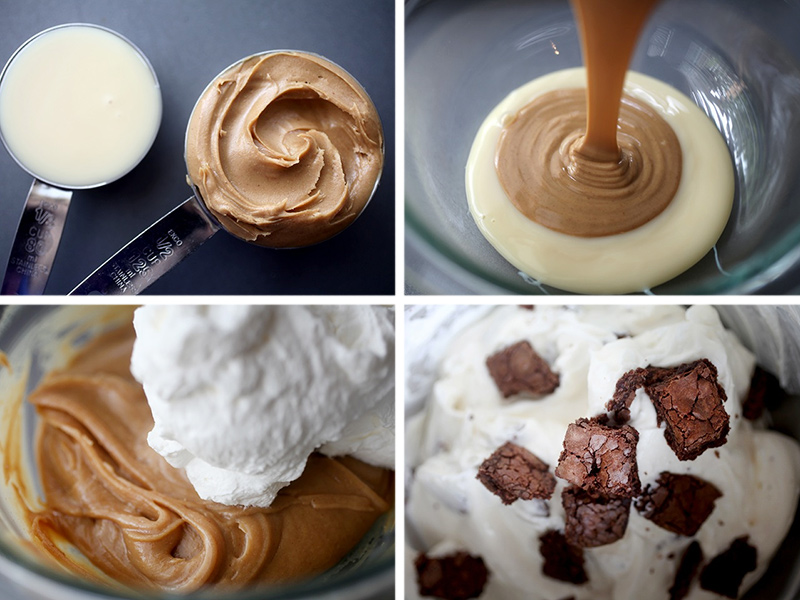 For the vanilla base: I combined sweetened condensed milk with whipped cream and vanilla and then stirred in brownie pieces.
For the peanut butter ripple: I mixed sweetened condensed milk with warmed peanut butter before adding the whipped cream.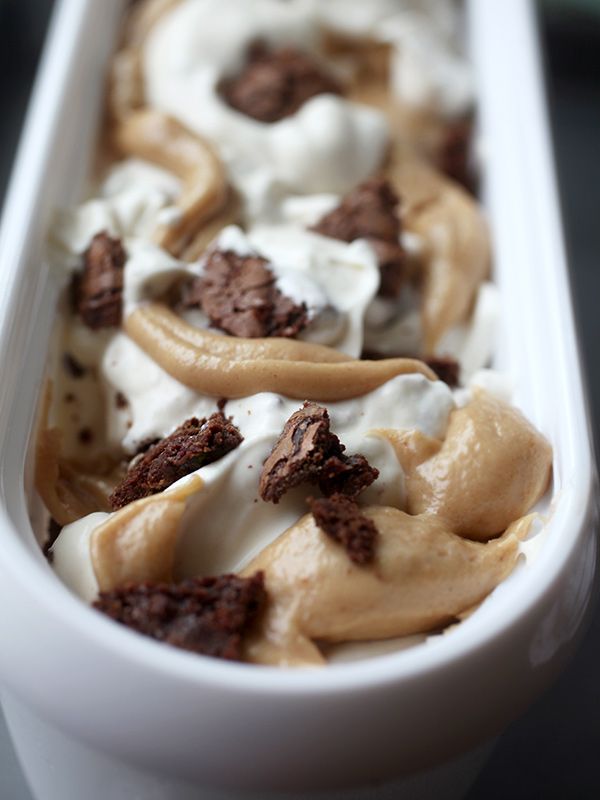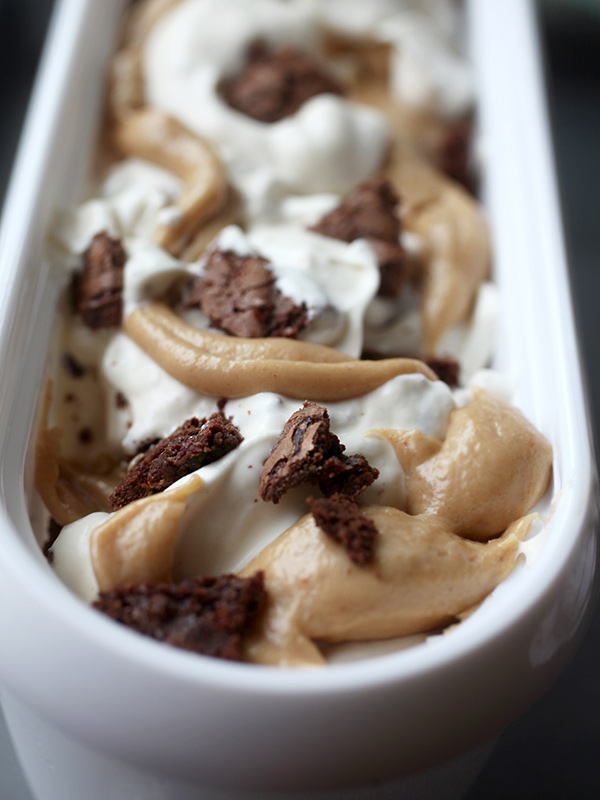 Layer all this yumminess in a 9X5 loaf pan or a container like the one I used above with a lid.
Try putting the peanut butter mixture in a piping bag (I used one of my handy pink ones) so you can easily swirl it in around the vanilla ice cream base.
Once the container is full, just drop it on the counter a few times so all the ingredients get packed in. Then freeze away and wait.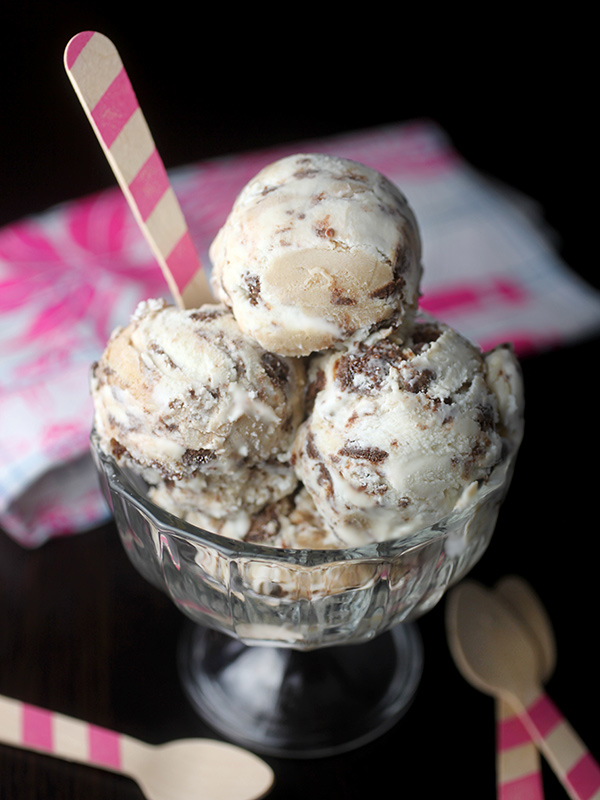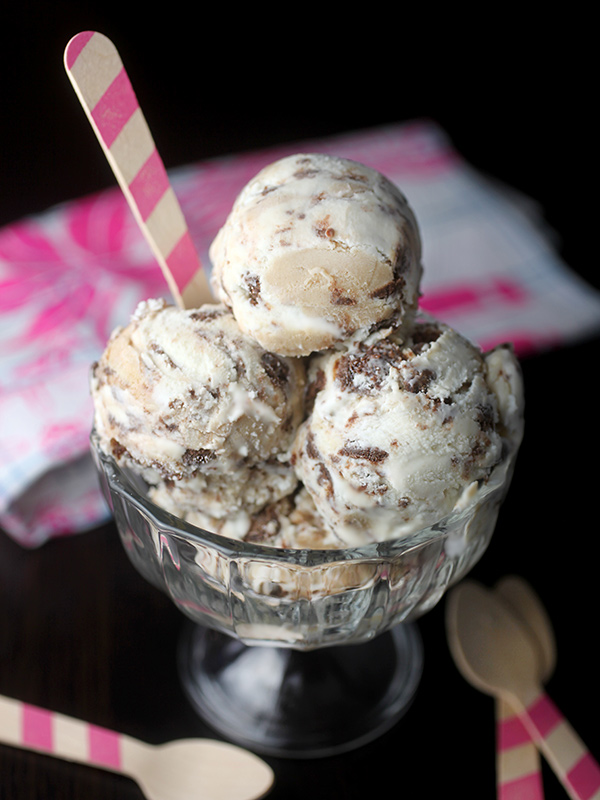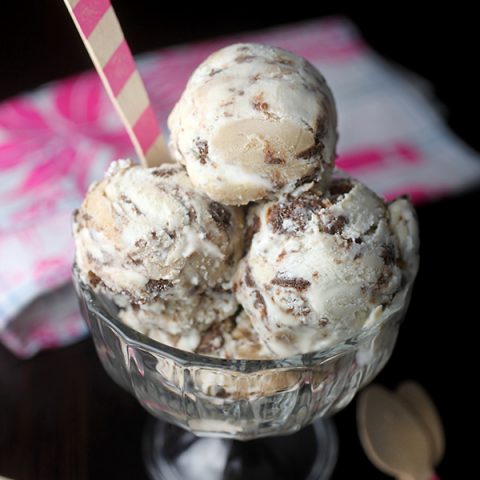 Peanut Butter Brownie Ripple Ice Cream
Prep Time 30 minutes

Cook Time 15 minutes

Additional Time 6 hours

Total Time 6 hours 45 minutes
Ingredients
2 cups heavy cream
14 oz can sweetened condensed milk
1-1/2 teaspoons vanilla
1/2 cup peanut butter
1-1/2 cups small brownie pieces
Instructions
Chill metal mixing bowl and metal whisk attachment in freezer for about 30 minutes.
Whip heavy cream on high until stiff peaks form, about three minutes.
Warm peanut butter in the microwave and stir with 1/3 cup of the sweetened condensed milk.
Fold in about a third of the whipped cream until completely combined.
Fold in the remaining sweetened condensed milk with the remaining whipped cream. Add vanilla and mix until combined. Fold in brownie pieces.
Fill ice cream container or a 9 x 5 inch loaf pan alternating with spoonfuls of the ice cream mixture and piping swirls of the peanut butter mixture. Mix in any remaining brownie pieces.
Freeze for at least six hours.
Scoop and enjoy!