I'm excited to share some cute new snowman cake pops with you guys today. I made them for my friend Betty. As in Crocker. As in cra-zee!
I was asked to create a holiday-inspired cake pop project to be included in this year's, The Betty 10: Red Hot Holiday Trends where Betty Crocker features ideas and recipes to inspire your holiday festivities. Hey, that rhymed. They were just announced earlier this week and the trends look fantastic.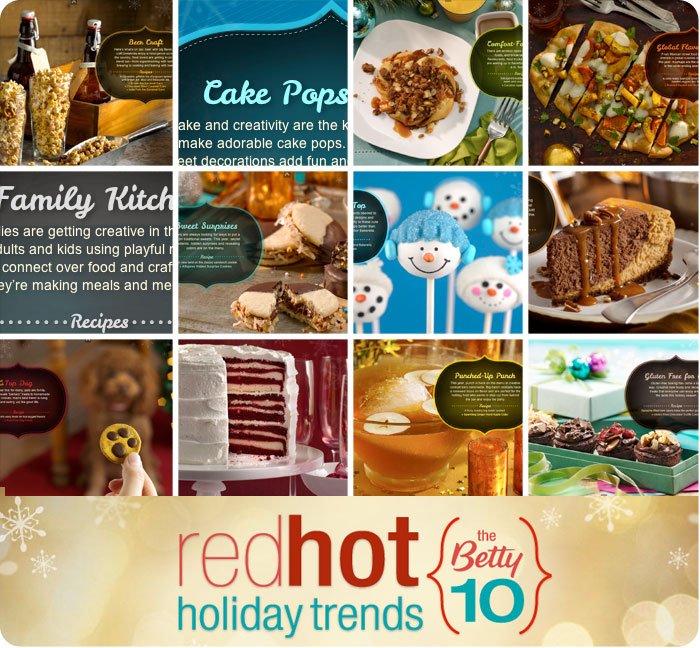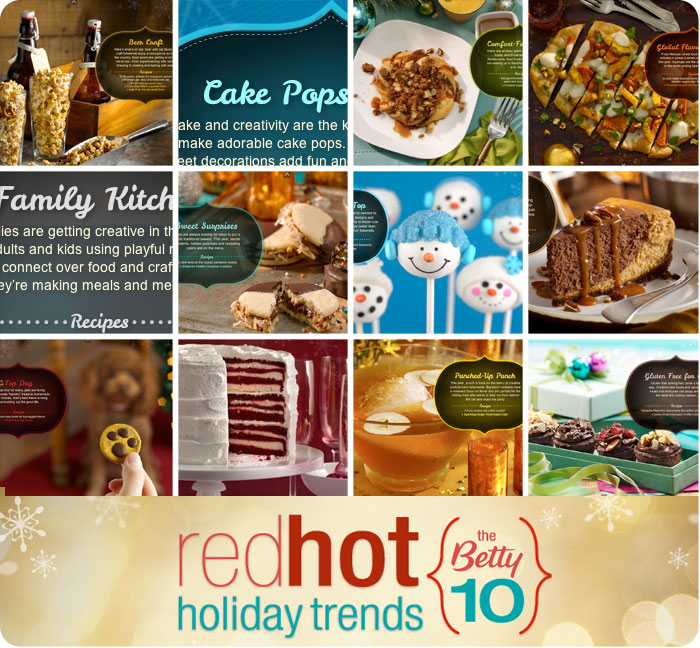 Anyway… Eeeek! Of course I said yes. And I hope my Granny is smiling right now. She would be so proud to see me hanging out with Betty and probably pretty surprised that I bake … (And eat pecans, too).
You may recognize these little snowman heads. They were inspired by these snowmen gingerbread head cookies I made last year. I love 'em and kinda wish I had made them earlier … like in time to include in the holiday book I have out now. That's ok, there's another cute snowman in there. Snowmen are fun because you can really change up their look so many ways with hats, scarves, bodies, heads, earmuffs, color and candy. Frosty, too!
To get started I used crumbled white cake. The finer the crumbs the smoother the cake ball base you will have when you dip. Also, using light color cakes with white candy coating will make it less likely that the cake color will show through the candy.
The coating in this picture is Mercken's Super White. Super fluid by the way.
Right after you dip, insert an orange coated sunflower seed for a carrot nose and let dry.
Then dip the top in a second color and before it dries, sprinkle with white sanding sugar.
When that dries, dot on more coating around the perimeter of the hat color with a toothpick and sprinkle again with sanding sugar.
Before it all dries, use the toothpick to help define indentions for a sweet little cap.
Or you can use a toothpick to apply a big band of white coating.
And sprinkle with white sanding sugar for a two-tone cap.
When the pops dry, use more sprinkles or candy to decorate using candy coating as glue.
Black confetti sprinkles make great eyes made out of coal.
Pastel pink confetti sprinkles make sweet cheeks.
Jumbo snowflakes to top off the caps.
And I hear Tic Tacs make great ear muffs. I used these for the color but you can easily swap it out for M&M's or another similar candy.
Dot or draw on sweet smiles with a black edible ink pen like Americolor.
Big smile! Say freeze.
Thanks for including me Betty!
Here's the complete list of The Betty 10: Red Hot Holiday Trends
And here's the Snowman Cake Pops Recipe.
Enjoy and hope your holidays are red hot.
Have you made holiday cake pops? Plan to make them?
Share what you're up to. I'd love to see all the sweetness.