…and judging by how quickly this dessert disappeared, some like it cold, too. I'm talking about good, old-fashioned banana pudding, of course. Me? I like it cold… okay, and hot, too! My grandmother used to make a homemade one that was served warm and oh, how I wish I had the recipe for it. But, since I don't and it's summer, this cold and creamy one will do just fine. It's really easy to make and let me tell you, pretty darn good. Here you go: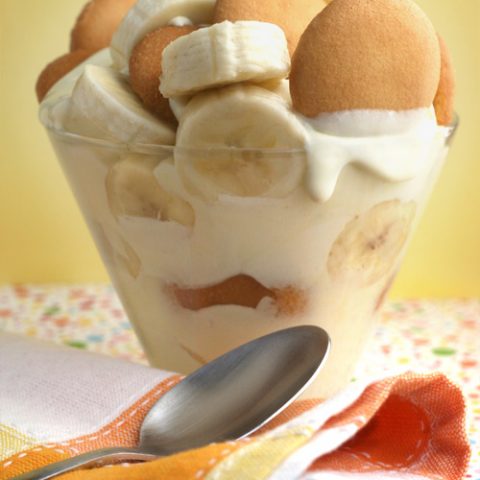 Cold & Creamy Banana Pudding
Ingredients
1 (14-ounce) can Eagle Brand Sweetened Condensed Milk
1 1/2 cups cold water
1 (3.5 ounce) package instant pudding and pie filling
2 cups (1 pint) whipped cream, whipped*
36 vanilla wafers
3 medium bananas, sliced and dipped in lemon juice
Instructions
In a large mixing bowl, combine sweetened condensed milk and water.
Add pudding mix and beat until well blended.
Chill 5 minutes in refrigerator.
Fold in whipped topping. (Do this slowly and as few times as you possible to combine, so the mixture will retain its thickness.)
Spoon 1 cup pudding mixture into 2-1/2 quart glass serving bowl.
Top with 1/3 each of wafers, bananas and pudding. Repeat twice. Garnish as desired.
Chill thoroughly. Refrigerate any leftovers.
Notes
* I just used Cool Whip and let it thaw slightly before I started to fold. It may work even better if you let it thaw in the fridge before using.

Recipe from Great American Favorite Brand Name Cookbook, 1993.
And here are some warm homemade versions. I'll have to try one of these someday and see if it compares to my grandmother's.
Meringue-Topped Southern Banana Pudding