The final recap. Two book signings and two shows. But I thought I would wrap it all up in one post. I finished the last book signings for 2010 this past week in Toronto. It's kind of sad. I really enjoyed meeting you all and seeing your smiling faces and sharing cake pop stories. It was a blast. And Toronto was no different. Just a lot colder.
While I was in the city, I also had the opportunity to be on Canada AM. It's like Canada's version of the Today Show.
We talked about these.
And these.
This is Heather. She was the food stylist who took care of preparing them because it would have been difficult to travel with Reindeer antlers still in tact. Thank you… you did a fantastic job on them.
Here are the hosts… Beverly and Seamus. Both so nice.
If you'd like to watch the Canada AM Segment, here's a link.
That evening, I had the first book signing in Toronto at a store called Teatro Verde.
This gift store is absolutely beautiful. Gorgeous! When I walked in, I felt right at home. Like being in sugarland.
Teatro Verde. Teatro Verde. Teatro Verde.
I can't say it enough. If you are near Toronto, you should stop in this store.
I bought a couple of these ornaments.
And if I didn't already have one, I would have bought one of these guys, too.
The first smiling faces to greet me were Marian from Sweetopia (on the right) and her friend Kim.
Marian makes the most beautiful cookies with a wonderfully whimsical charm.
She brought me these. Amazing detail!
And she brought all of these that are designs of some of the cake pops from the book. I squealed! I'm still squealing! Thank you so much!
Teatro was really a fun place to have a signing. I think everyone had a great time.
People joked around. I shopped.
And talked to Food Network Canada. Hi. I enjoyed our chat.
Here are the owners of the store – Shawn and Michael. They were great. Thanks for having me.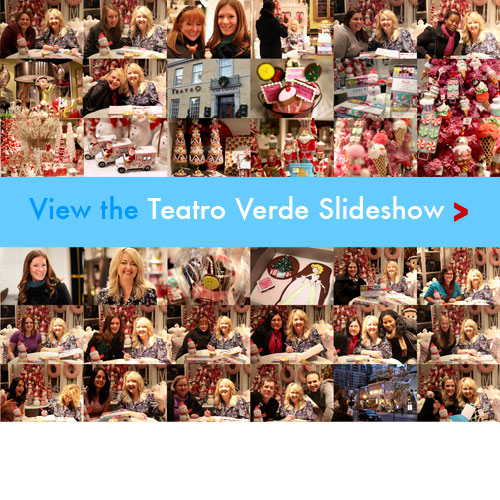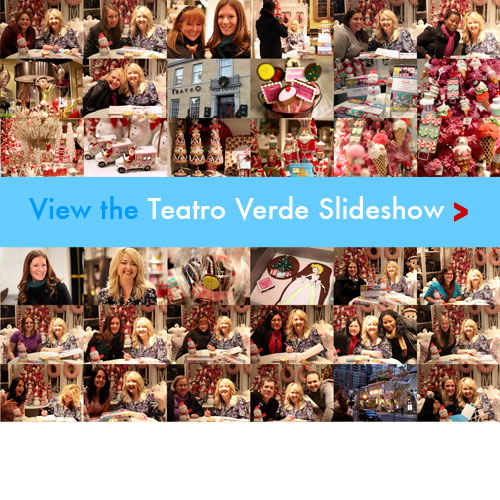 Then on Saturday, I went to the second book signing in Toronto at Williams-Sonoma.
Again, I was greeted with cookies. She was first in line with this beautiful cupcake pop cookie arrangment.
I love this. Everyone raising their hand has made cake pops. Impressive.
I finally got to meet Melissa and Rich. Hi guys!
Rich proposed to Melissa with a little help from my blog. You can read about it here:
I love these guys and was so honored to be a part of such a memorable event in their lives. After wiping my eyes – Yes, more tears in Toronto – the book signing began.
And so did the silliness.
Then, I was completely caught off guard by Carolynn.
She made cake pops. But not just any cake pops.
Perfectly themed cake pops and in their own sweet setting, too.
And … she drove almost five hours with her friend Candy to bring them to Williams-Sonoma.
Wait till you see them.
I could die. Moose and deer and the cutest little beaver family sitting on their wood dam. And a wintery white owl to top it off.
Seriously, Carolynn – You outdid yourself. These are FANTASTIC! Thank you.
And thank you too, for my new super cute t-shirt. Love it!
Yep. There were boys at the event, too. And this time, at least one wasn't getting books signed for his mom or girlfriend or sister.
This one was for him.
He made the reindeer and Santa hat cake pops! YAY!
You can't tell… I'm getting a little better at hiding it, but more tears here. She was so sweet.
And so were the kids that came out.
This little guy however, did not like having his picture taken.
Luckily, she did.
Oh yeah … I met Savannah and Janet from Redpath Sugar and got to play around in the cutest vintage truck.
My mom and I had a great time.  Thanks for making Toronto so memorable.
And if you stop in the Toronto Williams-Sonoma store, please make sure to say hi to Scott for me. He's the best!
Phew!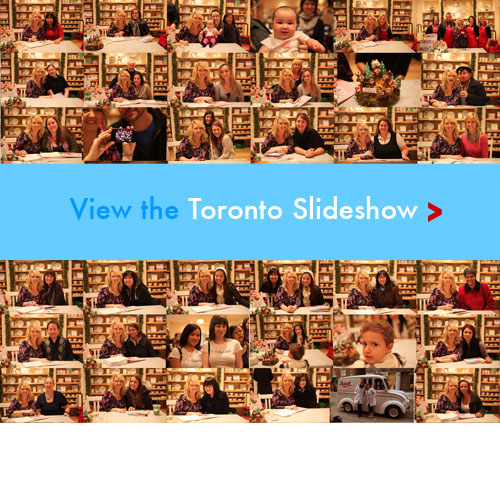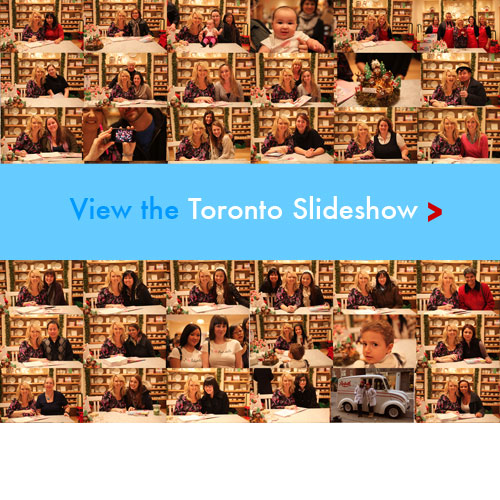 Ok. That was Toronto.
But before I flew home I made a pitstop in New York City.
This past Tuesday I was on the Today Show. Yikes.
On Monday I met with the food stylists, Bianca and Lish to prepare for the following day.
We planned everything out.
Post-its come in handy.
And so do cameras. My mom snapped this so I could remember where everything was going to be placed the next morning.
So I could practice that night. So I could prepare.
But I didn't. I decided it would be more fun to do it on the fly.
Here's a Today Show twitpic from the segment.
And here's the link to the Today Show segment with Hoda and Kathie Lee. This was a bit more fast-paced than the Canada AM clip since we were actually rolling and dipping and there were three of us. But oh so fun.
Okay, that's it.
Done.
Now, I can bake.