I was craving chocolate. Just chocolate. Okay … WAS is probably the wrong choice of words because I crave chocolate everyday.
And these easy Everyday Brownies from my friend Kamran's new book Hand Made Baking were … p-e-r-f-e-c-t. < That was me singing btw.
So decadent and fudgy!
I love brownies because the ingredients are simple and you don't have to mess with your mixer to make them. And truth be told, when I'm craving chocolate in a pinch, I will break out a brownie mix to quickly satisfy my craving. But these brownies. Oh my gosh, they are insanely chocolatey and totally worth making my craving wait an extra few minutes for their decadence.
They call for dark brown sugar in addition to the white sugar. Sweet!
And the chocolate. Oh, the chocolate. Cocoa plus chunks of chopped dark chocolate get mixed in before baking.
And in no time, you end up with these sinfully sweet squares to enjoy.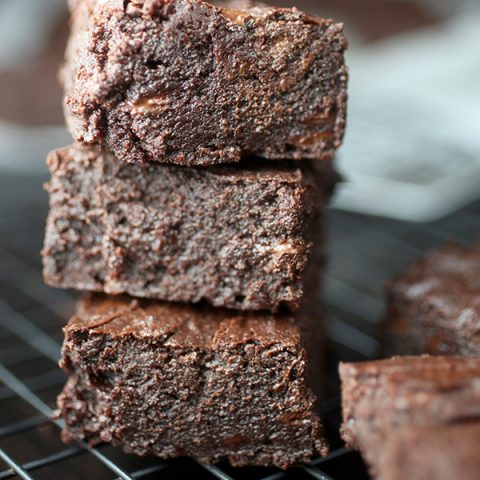 Yield: 16 brownies
Everyday Brownies
Prep Time 25 minutes

Cook Time 40 minutes

Total Time 1 hour 5 minutes
Ingredients
1 cup unsalted butter
1-1/2 cups granulated sugar
1/3 cup packed dark brown sugar
1-1/3 cups unsweetened cocoa powder
1/2 teaspoon fine sea salt
2 teaspoons pure vanilla extract
3 large eggs, cold
3/4 cup all purpose flour
5 oz roughly chopped dark chocolate cacao (54-70 percent cacao)
Instructions
Position rack in upper third of the oven. Preheat oven to 325 degrees Fahrenheit.
Line an 8-inch square baking pan with parchment paper leaving an overhang on each side.
In a medium saucepan, melt the butter over low heat. Mix in both sugars, the cocoa powder and salt with a silicone spatula or wooden spoon.
The mixture should be lukewarm before adding the eggs. If not, set aside to cool slightly. To test, a clean finger should be able to comfortable stay in the mixture without getting burned.
Vigorously stir in the vanilla and eggs. Once the batter appears shiny and the eggs are blended in well, add the flour and mix just until the flour has disappeared.
Briskly stir in the chopped chocolate and spread the batter evenly into the prepared pan.
Bake for 38-43 minutes, until a toothpick inserted into the center emerges slightly moist with batter.
Allow brownies to cool in the pan placed on a wire rack. Life the parchment paper and transfer brownies to a cutting board and cut into 16 equal squares.

Notes
Recipe from Handmade Baking 2014, shared with permission from Chronicle Books.

Want more?
Here's a little peek.
I started out wanting to make this Everyday Chocolate Cake.
I mean if I could take a bite out of a book, I would eat the heck out of that cover.
But, then I wanted to make these Chocolate Snickerdoodles.
And then these Heartbreak Chocolate Truffle Cookies were calling to me.
They're still calling to me… Screaming!
But there's lots of other non-chocolate yumminess inside too.
Check out Hand Made Baking sometime if you want to satisfy your sweet tooth… or visit Kamran's Blog, The Sophisticated Gourmet for more goodies.