This post doesn't involve baking from this weekend
but there's something pretty sweet at the end I think you'll like.
::::::::::::::::::::::::::::::::::::::::::::::::::::::::::::::::::::::
Okay, so I've been out of town for the last two weekends. First, Chicago for the Home and Housewares Show…
and last weekend somewhere a little bit warmer.
I was in sunny Florida for a weekend conference full of learning and sharing with friends – and a bunch of food and fun thrown in.
Food Blog Forum Orlando. Put on by Jaden Hair of Steamy Kitchen, Todd & Diane of White On Rice Couple, Julie Deily of The Little Kitchen and Dawn Viola.
And sponsored by Disney, Kitchenaid, OXO, Land O' Lakes, Whole Foods, Le Creuset and more.
The meeting was held at Walt Disney World and it was amazing. So well done. Julie from the Little Kitchen knows how to put together a great event. I was there with a bunch of great speakers. (See the whole group here) Alison Lewis (Ingredients, Inc.) and I spoke at round table discussions on writing a cookbook. I really enjoyed the round table set up because we were able to talk one-on-one with people and that's much more my speed. I don't think I'd be very good at getting up in front of a big room of people and talking. There would be a lot of umms and likes and pauses I'm sure.
On the evening before the meeting, we had a beautiful outdoor reception at the Grand Floridian. My sweet friend Jenny (Picky Palate) and I met some great girls. Nikki (Pennies on a Platter), Krissy (Krissy's Creations), Julie (Table for Two) and Rachel (The Fabulous Foodie). Hi girls. Thanks for making Magic Kingdom such a blast!
We hit up a few rides and went on a search for Dole Whip and churros before the park closed. It was my first time trying either. So yum! Thanks for sharing these phone pics girls.
We spent all day Saturday at Epcot where the meeting was held.
It was definitely a special place to have a meeting. Not only were there great speakers, yummy treats, amazing prizes, like stand mixers and refrigerators, Le creusets and more but when we were done, we had a huge world to explore.
If only I could have seen it all. I've never been to Epcot. I had no idea how ginormous this park was. Actually, I still don't know how big it is. But that's okay because what I did see was perfect.
We had an incredible lunch extravaganza prepared by Disney chefs from the parks and hotels.
I focused on dessert of course.
Lunch gave us all more time to talk.
Here's Lauren's Latest, Julie, Krissy and Jenny.
And I finally finally met Elise from Simply Recipes. Yay! Hope we can chat more next time.
Alison and Jenny. Love you guys.
And sweet, sweet Julie. Again, great job on pulling this event together.
On Sunday we had a brunch hosted by Whole Foods. Incredible food means the cameras come out.
See what I mean. That's Dawn in the back, Julie and Jenny, and then Lindsey (Love and Olive Oil) in the front.
This might be one of my favorite pics from the weekend. It just makes me giggle at how we all do the same thing as bloggers. It's almost uncontrollable when you have a camera in your hand.
But in our defense, the flowers were pretty cheery.
I enjoyed this weekend so much.
Hi Emily (Sage Recipes) and Kiran (Kirantarun)! It was nice meeting you both. Hope to see you again. And you too Droolius and Simply Southern Baking.
Thanks for a weekend of great memories with old friends and new!
::::::::::::::::::::::::::::::::::::::::::::::::::::::::::::::::::::::::::::::::::::::::::::::::::::::::::::
So now the fun part.
I'm having an amazing giveaway today.
If you read last week's post, you may remember some of the new products I talked about from the Home and Housewares Show in Chicago. One of them was this Kitchenaid mixer in Crystal Blue, the brand new color from the Catalina Collection that I fell in love with.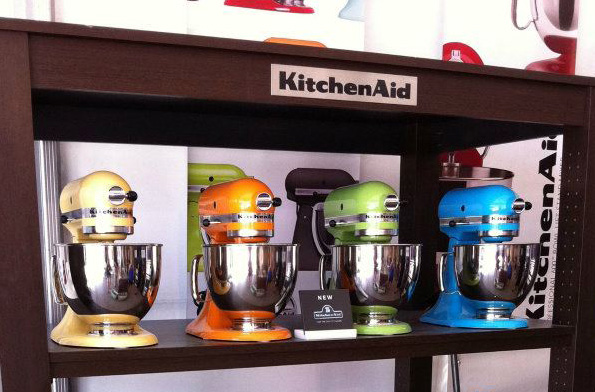 Well, I met some of the folks from Kitchenaid in Chicago for the first time and and then coincidentally, we met again in Orlando the very next weekend as they were one of the sponsors of Food Blog Forum. It was a surprise to see them two weeks in a row. We talked about how much I loved the brand new color they debuted in Chicago and we thought it would be a fun giveaway here on bakerella.com.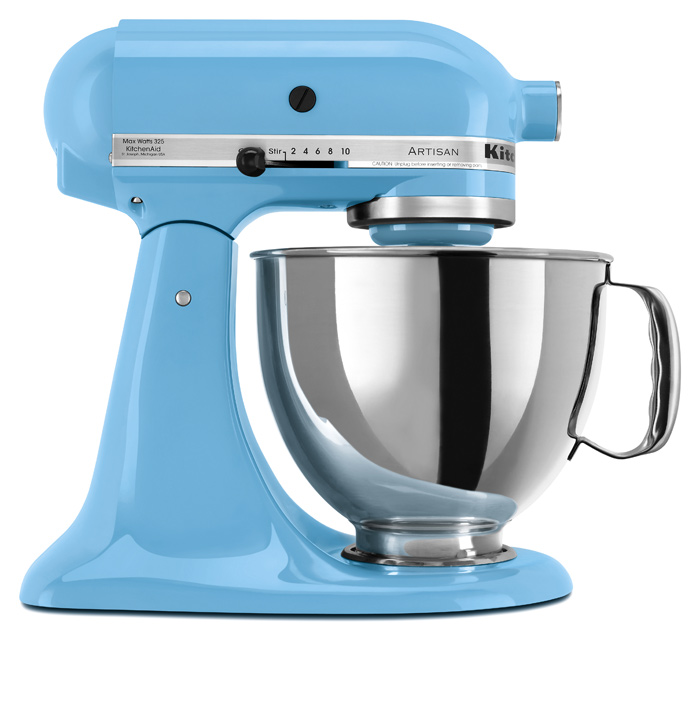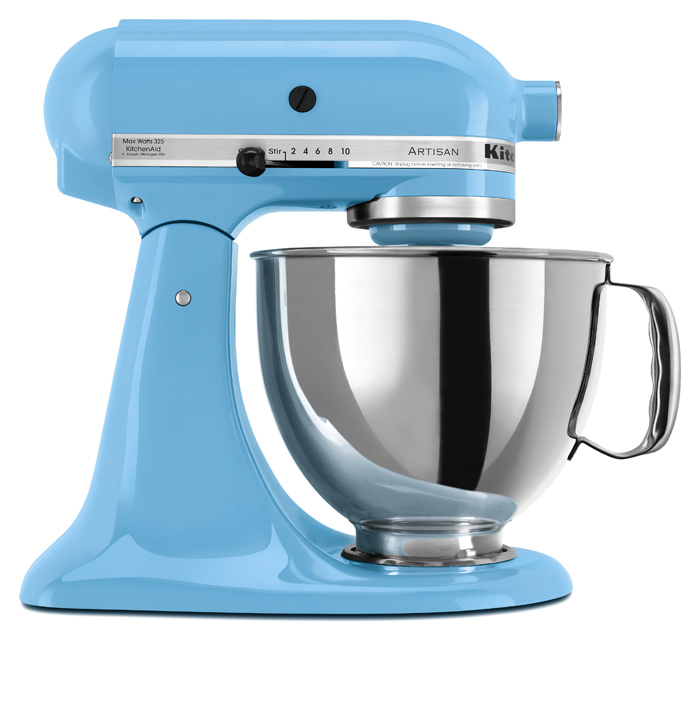 Want to brighten up your kitchen and be one of the first people to own a mixer in this brand new, bright blue color courtesy of Kitchenaid? I know I would. It's such a happy color. And much more vibrant in person.
Enter for a chance to win this Crystal Blue 5-quart Artisan Stand Mixer from Kitchenaid!
Just leave a comment on this post here on the website and answer the following question.
If you could only eat one kind of sweet/dessert for the rest of your life, what would choose? And not just cookie or cupcake, etc. – but what kind if you can? I'm very curious.
Deadline to enter is

Wednesday, March 28th at 5 pm ET.
SORRY, TIME'S UP! Winner Announced Below.
One winner will be chosen at random and announced sometime Wednesday evening.
GOOD LUCK GUYS!
oh and FYI – the Crystal Blue color should be available for purchase starting sometime in April.
Reading all of your sweet choices are driving me crazy. I have cravings now for way too many treats.
I don't know if I could pick just one either. But warm brownies and ice cream are always a safe bet for me. No nuts. No whipped cream. No syrup. Plain and simple chocolate and vanilla. Warm and cold deliciousness.
Okay, ready for the winner?
It's comment #6224 – Leann
Congratulations and enjoy your bright blue baby. Hope you make lots of amazing desserts and smile every time you look at it.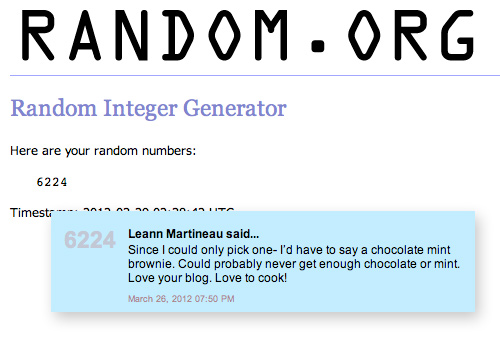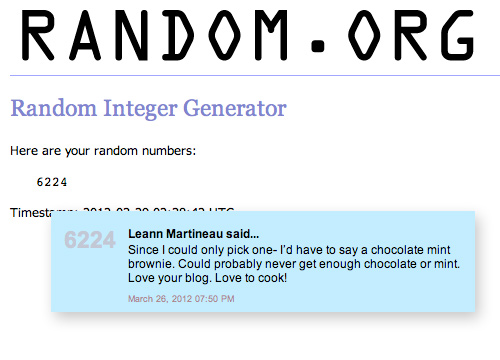 And big thanks to Kitchenaid for supplying the mixer in this beautiful blue.