Gumdrops!
Pretty little homemade gumdrops.
I found a recipe for them in the book Celebrating Candy and wanted to give these sugary treats a try.
Plus, it's just fun to try new things.
You'll need some unflavored gelatin…
…four tablespoons or about six envelopes.
Add the gelatin to cold water to soften.
And then add sugar and boil.
Pour the mixture into pans…
…and add a little bit of flavored extract.
Of course you'll want to make them in a few colors.
You'll only need to add a drop or two of food coloring though.
Here's where I could have made things go a little easier. I didn't have the recommended pan size to make these. Instead I had this large pan with nine much smaller cavities.
Let's just say I got myself into a sticky situation.
After you pour the mixture into the pans, you'll need to let it chill overnight in the fridge so it will set up and allow you to cut it into cubes.
This is where it would have helped to have a bigger pan. I made quite a mess trying to remove the set gelatin out of these small shapes.
But after a little struggling, I managed to get cute cubes that I could cover in sugar.
Now the hard part. Let them sit for a couple of days to crystallize.
Ugh. Waiting.
See. I told you I struggled. But about halfway through pouring into the pans I decided to spray a few with Pam even though the recipe didn't require it. I was skeptical.
So when in doubt, spray … or use non-stick pans. That could have made it less messy, too.
These were so fun to see actually come together. Despite my sticky fingers.
But even more fun was packaging them into cute little goodie bags.
Goodie Goodie Gumdrops.
I made these labels to fit 3.75 X 6 inch treat bags. (Print the Goodie Goodie pdf )
You can use these for other treats, too.
Cute. Cute.
The bags will hold about 8-9 gumdrops each depending on how big you cut your cubes.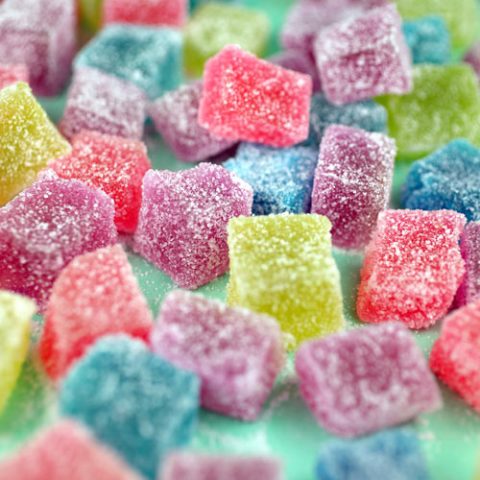 Yield: 8 dozen 3/4 inch gumdrops.
Goodie Goodie Gumdrops
Ingredients
4 Tbsp gelatin (that's about 6 envelopes)
1 cup cold water
1-1/2 cups boiling water
4 cups granulated sugar
1/4 teaspoon flavored extract like lemon or peppermint
1-2 drops food coloring (I used four colors)
extra sugar for coating
Instructions
In a large pot, soften gelatin in cold water for five minutes.
Stir in boiling water until gelatin dissolves. Stir in sugar.
Bring to a boil over medium-high heat and boil for 25 minutes. Stir constantly.
Pour mixture into 4 - 3X5 inch pans.
Add 1/4 tsp extract and 1-2 drops food color to each pan. Stir until thoroughly combined. Cover pan and chill overnight in the fridge.
Cut gelatin mixture into 3/4 inch cubes using a knife dipped in hot water.
The gelatin may pull, but continue cutting.
Separate cubes and roll in sugar until coated on all sides.
Place gumdrops on wax paper and leave at room temperature for two days to crystallize.
Store in an airtight container.
Package them with 3.75 X 6 inch treat bags and my Goodie Goodie labels (print the Goodie Goodie pdf).
Notes
Adapted from the book, Celebrating Candy.

You can also make 2 - 8 X 8 pans or 1 - 9 X 12 pan depending on the number of colors you want to make.
Enjoy!