I'll start with the signings.
King of Prussia, PA. Short Hills, NJ and New York City, NY.
Three cities in three days…
… and full of fun.
… and meeting lots of great people.
This is Esther. … I love putting faces with the people that I've emailed with. She makes the cutest little wire whisk necklaces.
You must check them out.
… King of Prussia had lots of little cutie pies in the store.
Lots of them.
Including these charmers. So cute in their matching tees.
Even the Williams-Sonoma folks joined in on the fun. This is Brian and Mandy. Loved them.
Then in Short Hills, I met more wonderful people. These folks welcomed me with smiling faces.
And cute cupcakes. The lovely young lady in the pink scarf above made these. We may or may not have shared a cry.
This is Melanie. She's a Pop Star of the Star Wars variety. Check em out.
Look at these two. Stylish. Both of them.
And these two. Smiling and having a great time, despite getting in a little car accident on the way to the signing.
So glad no one was hurt.
I love these photos. Trying to get everyone to look at the same camera at the same time is easier than it sounds.
Side wave.
Bye New Jersey.
Hello New York.
Again… everyone was so fun.
Including their sweetly painted fingernails.
Families came out together.
And young bakers did, too. This is Kaira. Another Pop Star.
And here's Nora. If you remember seeing the Cupcake Kabobs all over the web… well, she started that.
Laughter all around.
And look – it's Rachel from Cupcakes Take The Cake. I was so glad to finally meet her. If you love cupcakes and you don't know about this site, or you've been under a rock, let me introduce you.
New York was a fantastic way to end the Book tour – or so I thought.
There will be one more recap and then that's it.
I hear a bunch of you cheering because that finally means more baking … right?! YAY! YAY! YAY!
Anyway… Toronto is coming up this weekend. And it turns out I'll be at two locations.
If you're in Toronto, and can't make the Williams-Sonoma signing on Saturday, I'll also be at Teatro Verde at 4:30 pm on Friday. Hope to meet you guys.
And as usual… if you attended a signing and see your photo in one of the slideshows below, feel free to use it. Thanks again for making the tour so much fun.
Okay, okay … that was the signings.
Now for the books.
I'm giving away ten of them. Ten Cake Pops books. And signed if you like.
To enter for a chance to win one, just leave a comment on this blog post and tell me what holiday treat you can't wait to eat.
Deadline to enter is

Wednesday, December 1st at 5:00 pm ET.

Sorry, Time's Up! Winners will be announced below.

Ten (10) winners will be chosen at random and announced by the end of the week.
Good luck guys!
Okay – Here they are. Here are the 10 Cake Pops Book Winners. Yay!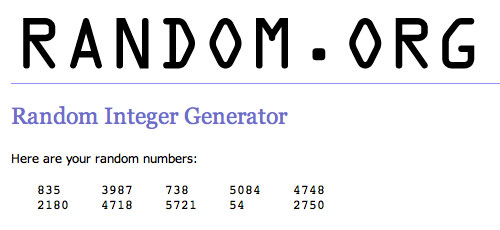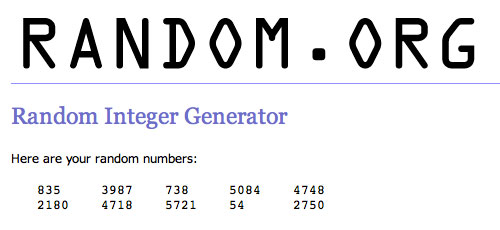 835 – Betty-Ann – …any one of my husband's authentic, hazelnutty, German Christmas cookies…love, love, love them!
3987 – Leigh McGilvray – I can't wait to eat mincemeat pies this holiday season! My mum just sent me the recipe so I can make them for the first time : ) I know the smell will remind me of home.
738 – trifitmom – pecan bars i make, yummmmmmmmm
5084 – Paula – I can't wait for … mmmm flan!
4748 – Ashley M. – I'm looking forward to cheesecake!
2180 – Nadia – I love making (and eating) beautifully decorated sugar cookies at christmas time too! … but first I'm making cake pops for my hubby's workplace charity fundraiser on Thursday!!! Welcome to T.O. this weekend!
4718 – Stephanie – Broken glass torte…made by my grandma!
5721 – Rachel R – baking, eating and decorating some sugar cookies with my lil one.
54 – Chelsea A – I love French Silk Pie this time of year! It's an annual treat that I limit myself to making only for Thanksgiving and Christmas. It's almost the same recipe as PW! Also, I love all the pictures and stories you share from your signing. I am amazed you remember all the details!
2750 – Julie – Banana split cake!
Congratulations everyone!