I loved reading all your cake pop guesses from yesterday. And I'm happy to say that someone guessed correctly. Actually, several of you did. But the first one to guess correctly did so in the first twenty comments. I'll announce the winner in just a sec.
First, I want to show you the cake pop I made.
It came out really cute.
Here are the candy coatings and candies that I used to decorate them.
So, everyone that guessed Smurfs … and there were a bunch of you… I'm sorry. Maybe next time.
I cut the tops off of candy corn to use for the ears.
That's right. This cartoon character cake pop is an animal.
Any guesses now?
These light pink coated sunflower seeds were perfect for the nose.
They come in a long tube.You can find them in different color combinations especially during holiday seasons. I think I found these at a store called World Market.
Just keep your eyes open. I grab them whenever I see them, because the colors come in handy.
White m&ms. I found these sold by color at Wal-Mart a while back.
These were spot on for the eyes.
Okay, the next picture should give it away if you don't know already.
Almost finished eyes. With orange eyelids.
I know you know now.
That's right.
Garfield.
Everyone's favorite sarcastic cat.
I've made Garfield sweets before. Take a look at these fondant covered cupcakes if you want to see.
But this time, I wanted to see if I could turn him into a cake pop. A little tougher than working with fondant.
When I'm trying to recreate a recognizable character, I start with finding candies that have a similar size, shape and color if possible.
I'll shape the cake balls to match the shape of the character and then place the candies right on the uncoated cake ball to see if I'm going in the right direction.
This way I can adjust the size of the ball to be proportional to the candies if necessary. Remember to make the ball slightly smaller than what looks accurate, because once they are dipped the shape will increase in size a bit due to the coating.
To make the basic shape, attach the ears (pointing slightly forward) using candy coating and let dry before dipping the entire cake pop in more melted candy coating.
Remember to dip completely and remove without stirring.
Let dry completely.
When dry, attach your eyes. Don't forget to leave some without eyelids for Garfield's wide-eyed look.
Then carefully pipe on yellow candy coating right underneath his eyes. It will work better if the coating isn't too fluid. Just let it set for a few minutes after heating to thicken a bit. Keep a picture of him nearby for reference.
Before the yellow sets, attach a light pink coated sunflower seed for the nose.
Let dry completely and then use a black edible ink pen to draw on all of Garfield's iconic details.
I like to use the Americolor Gourmet Writing Pens.
If you want to have fun making these at home, you'll need:
The basic how-to for making cake pops
Orange candy coating
Yellow candy coating
White m&m's
Candy corn
Pink coated sunflower seeds
Black Americolor Gourmet Writing Pen
Small squeeze bottle
………………………………………………………………………………………………….
Now for the winners. Yep, plural.
Commenter #20 – Nicol was the first one to guess Garfield correctly. Yay! Great guess.


But, I'm also going to give one away at random… And that winner is…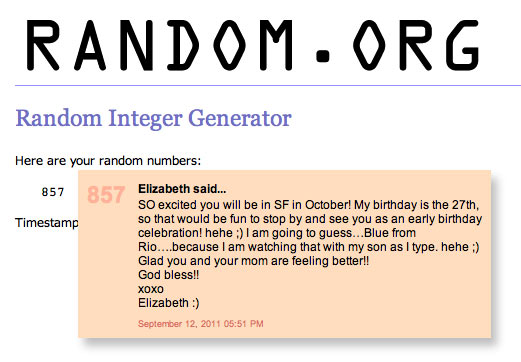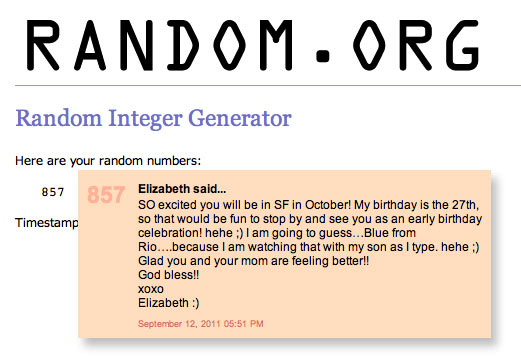 Congratulations Elizabeth. You win a book, too. I hope you still come to the signing though. I'd love to meet ya.
………………………………………………………………………………………………….
P.S. – A bunch of you made guesses of character cake pops that I've already made.
Like these.
You can check them all out under the Cake Pops category if you want to take a look.