Not cake, but ice.
Two weekends ago when I spent the afternoon judging for Hands On Atlanta, we all had a special treat. During the event, the King of Pops was on site selling his handcrafted popsicles. Usually he's pushing his cute cart around the streets of Atlanta, but instead he was kicking it inside with us for the event. I was super-excited because I had already heard his story a few weeks before when a friend ran into him at the local farmer's market. He was buying gobs of strawberries. So many, it prompted her to ask what the heck he was going to do with all of them. Then he handed her his card in the shape of a popsicle. Turns out he's the King of Pops.
When she told me about meeting him, I decided I was going to track down his cart one day to try some of his icey pops. Luckily, that Saturday, all I had to do was turn around and there he was.
Say Hi. This is Steven. The King of Pops.
Follow him on Twitter if you're in Atlanta and you can keep up with his flavors and where he'll be next. He was also featured just yesterday on CNN. Check him out here.
I had the Blackberry Mojito – YUM – but I'm still hitting myself for not trying the Chocolate Sea Salt, too.
You know, I think the only kind I've ever made myself are the ones you buy at the grocery store. You know the flavored water kind in those long plastic tubes.
Yeah, those.
So, I decided I wanted to make my own handcrafted popsicles with real fruit.
I just used some paper candy cups I had on hand and wooden popsicle sticks to play with.
It's really easy to make your own.
Pick a fruit. 2 cups strawberries in this case. Hull and half them.
Throw them in a food processor with 1 Tablespoon super fine sugar, 1 teaspoon lemon juice and a pinch of salt.
Then blend it all together until completely smooth.
Pour and freeze.
These were layered with yogurt in between the strawberry. They were pretty tasty and the perfect size for me.
The recipe came from the book, Ice Pops which has tons more treats like these.
And because Steven can't show up to everyone's house with his cart filled with handcrafted popsicles, here's a chance to win your own Quick Popsicle Maker for fast freezing fun…
…along with the book, too.
Enter for a chance to win:
Zoku Quick Popsicle Maker and Ice Pops book
Just leave a comment on this post and tell me your favorite fruit flavor.
Deadline to enter is Tuesday, July, 6th at 5:00 pm ET. Sorry, Time's Up! Winner Announced Below.
One winner will be chosen at random and announced sometime Tuesday evening.
P.S. Giveaway purchased and sponsored by me, but you can find the book and Zoku pop maker at Williams-Sonoma.
Good luck and stay cool!
And the winner is… #4035. Congrats Marta. You get the Ice Pops book and Zoku Pop Maker. Now you can make your own Raspberry Lime Pops.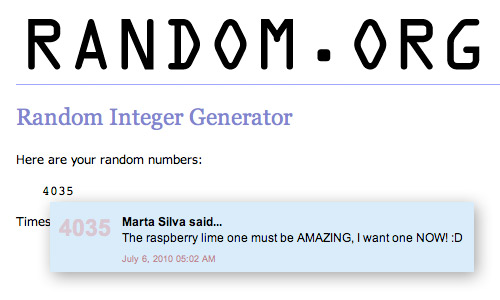 Next… I had a treat in my inbox today. Statistician Don… you know Pioneer Woman's Statistician Don? The numbers guy?
Well, his wife told him about the giveaway I was having and he took time out to pull together these numbers for me. Then I made a little bar chart for you guys from all his hard work. Check out your favorite fruits.
Thanks Don! You're the sweetest.