Today's post was supposed to be something cute in time for Easter. Unfortunately, I didn't do any baking this weekend or last. I've been sick and was in the hospital for a few days. Today is the first I've felt up to even getting on the computer. Thank you everyone that emailed wondering if I was ok. You don't know how much that made me feel better. And I am better now. It just takes me a little longer to get over things.
Here's why if you're interested.
And, if you're still looking for something bunny-related, then try this, this, this, this or this from previous years.
Now, luckily I still have last week's post that never made its way live. It's about doughnuts. Delicious decadent doughnuts.
You see, last year I was shooting some photos at a friend's studio for the Cake Pops book coming out later this year. We started early in the morning and I hadn't eaten yet. My friend offered me a doughnut. I was like yes. Perfect. When I opened the plain white box, there was only one doughnut left, curiously shaped like the letter A. An A doughnut? That's kinda weird. Then he told me they were from the other day. Hmmmm. Do I want a who-knows-how-old doughnut? Yes. Yes. I did. I was hungry. So I threw it in the microwave for a few seconds to try and revive it. And, oh my. Oh my! OH MY! It was the best doughnut I've ever put in my mouth. The plain glazed A-shaped doughnut was filled with the most delicious mocha filling. I about died. Before I could even finish I was asking my friend where they came from.
But, he didn't know. GASP. Someone had brought them to the studio for another shoot. And no one there knew the name or where they came from. Noooooo.
Just my luck, but probably a good thing for my waist.
Then weeks later, I was flipping through some magazines and found this little feature.
See.
No… not the cute owner. See the A doughnut on the left? It had to be the same place. Thank you for A-shaped doughnuts.
Finally, I found you.
Sublime Doughnuts in Georgia. We were reunited briefly in January. The doughnuts made an appearance on the Sugar Coma tour I attended where I was able to taste a few.
But I wanted more. I wanted to try all their flavors. So, weeks later. Like a couple of weeks ago. I finally made my way to Sublime.
I ordered a dozen for myself.
Each one different.
Like this Smores doughnut.
This Butter Toffee with Caramel Chocolate Icing.
And this Chocolate Wild Berry Fritter.
I had a doughnut party with myself and tasted them all.
Including this Caramel Apple Fritter, Red Velvet Cake and Dulce de Leche.
As well as this A-town Cream and Peanut Butter Cup doughnut.
Sublime has fab flavors and fun shapes like this Orange Dream Star. Delish.
And this Oreo doughnut with cream filling. Help.
And then there's my old friend the A-Town Mocha. That's A for Atlanta if you're wondering. But I say A for Amazing.
Now, I just need to visit again to try the other dozen flavors that didn't make it in my mouth.
Can you see, I'm all about doughnuts right now.
If you're not convinced, take a look at….
this cute crystal-sprinkled pink doughnut necklace I found. Adorable, huh. It's from the Alice in Wonderland collection at Swarovski.
I've never shopped at Swarovski until the other day. Cupcake Julie and I were at the mall and we peeked in.
Five minutes later I walked out with this cream colored doughnut necklace wondering what had just happened.
Impulse buying can be dangerous, but I love it and I'm glad I snagged it. So glad, I went online a few days later and ordered another one (This limited edition pink one) to give away. It's just too dang cute not to share.
Want it? Come on. We can be dough nuts together.
Just leave a comment to this post on the site for a chance to win it.
All you have to do to be entered is to count the number of nuts on the Butter Toffee doughnut above. Just kidding. Let's make this easy. Just tell me something about yourself. Your favorite doughnut flavor? Something you're grateful for? What you'll be doing this Easter? Some usual or unsusual talent you have? How many pair of shoes you own? Phobias? Favorite guilty pleasure. Surprise me.
Deadline to enter is Tuesday, March 30th at 5:00 pm ET. Time's Up! Winner announced below.

One winner will be chosen at random and announced sometime Tuesday evening on this post.
Good luck.
Wow. You guys never cease to amaze me. Reading your comments makes me laugh and sometimes makes me cry. But they always brighten my day. Thank you.
Now it's time to reveal the winner chosen at random.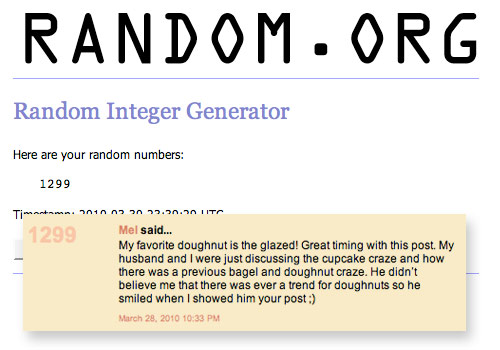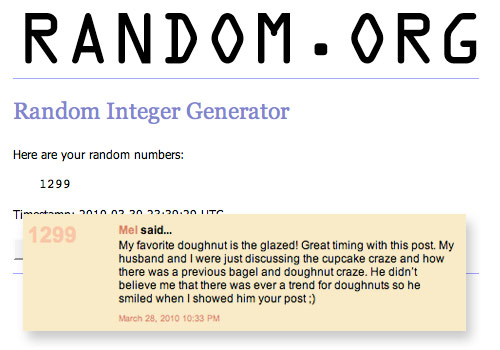 Yay Mel! Isn't it fun being right. Now your hubby can be reminded of it everytime he looks at this cute little doughnut necklace around your neck. Congrats!
P.S. Julia – you must share a photo of your full sleeve arm tatoo dedicated to Mary Poppins. Fascinating.