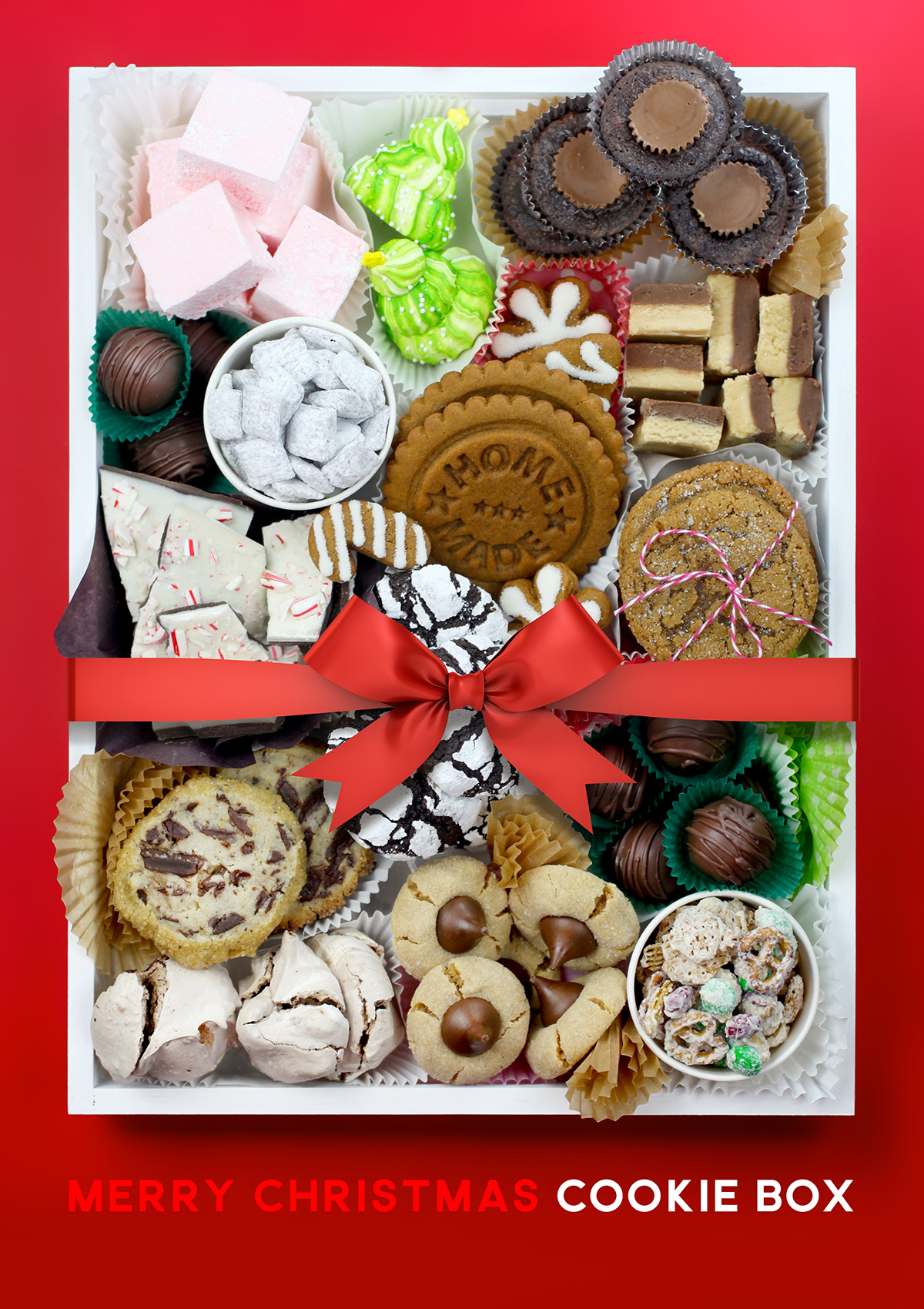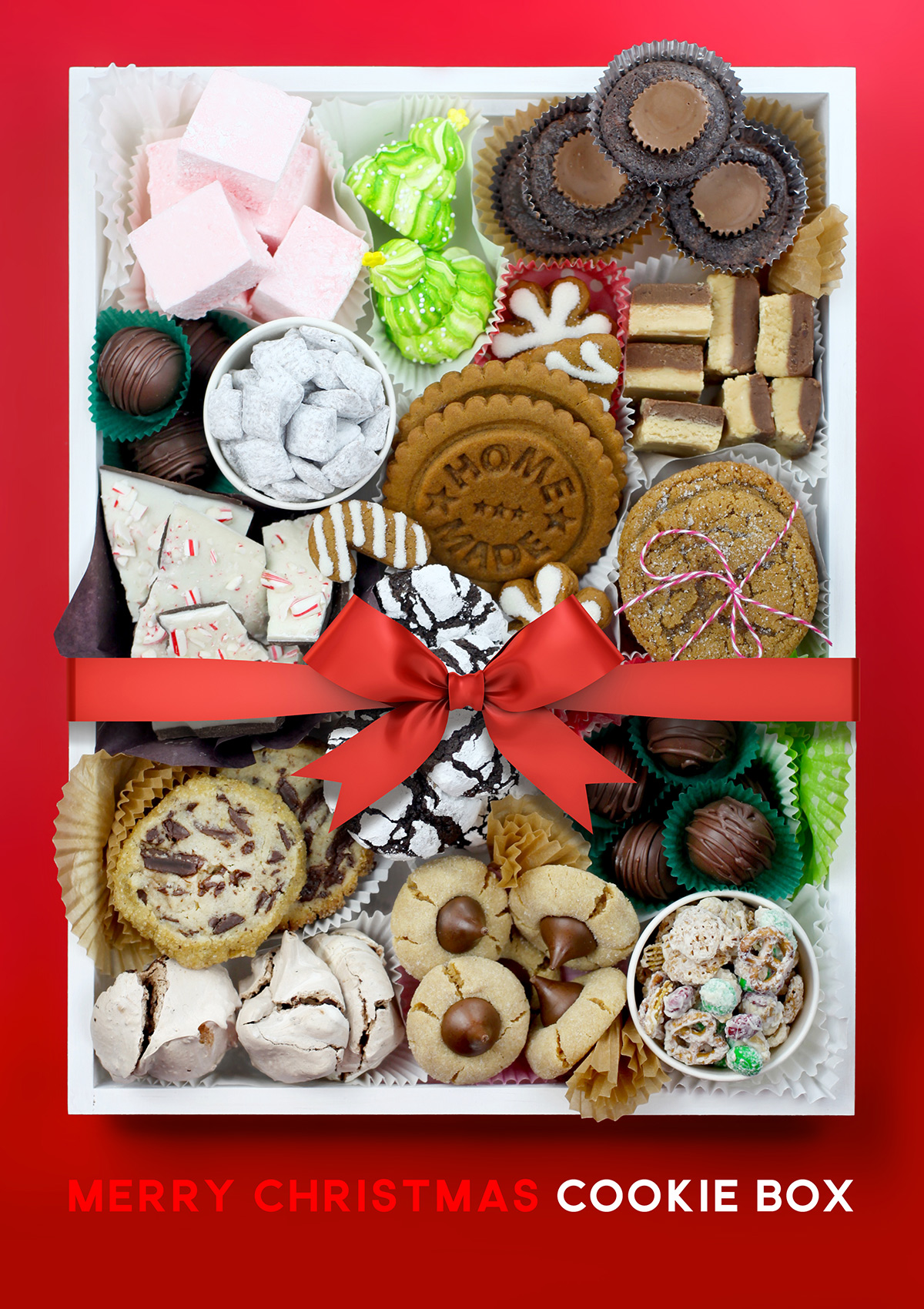 It's that time of year! Cookies and goodies and sweets and treats! And I've got a little bit of everything in this sugar-filled Christmas Cookie Box to satisfy even the biggest sweet tooth. I spent the better part of three, no almost four days baking and playing in the kitchen to make enough to share with friends and family. And when I was done, I said I will never bake again. But we know that's not true. But OMG was I tired.
I'll give you a couple of planning tips at the end if you want.
Now, let's see what these big, beautiful boxes are stuffed with. Links to each holiday treat are included below.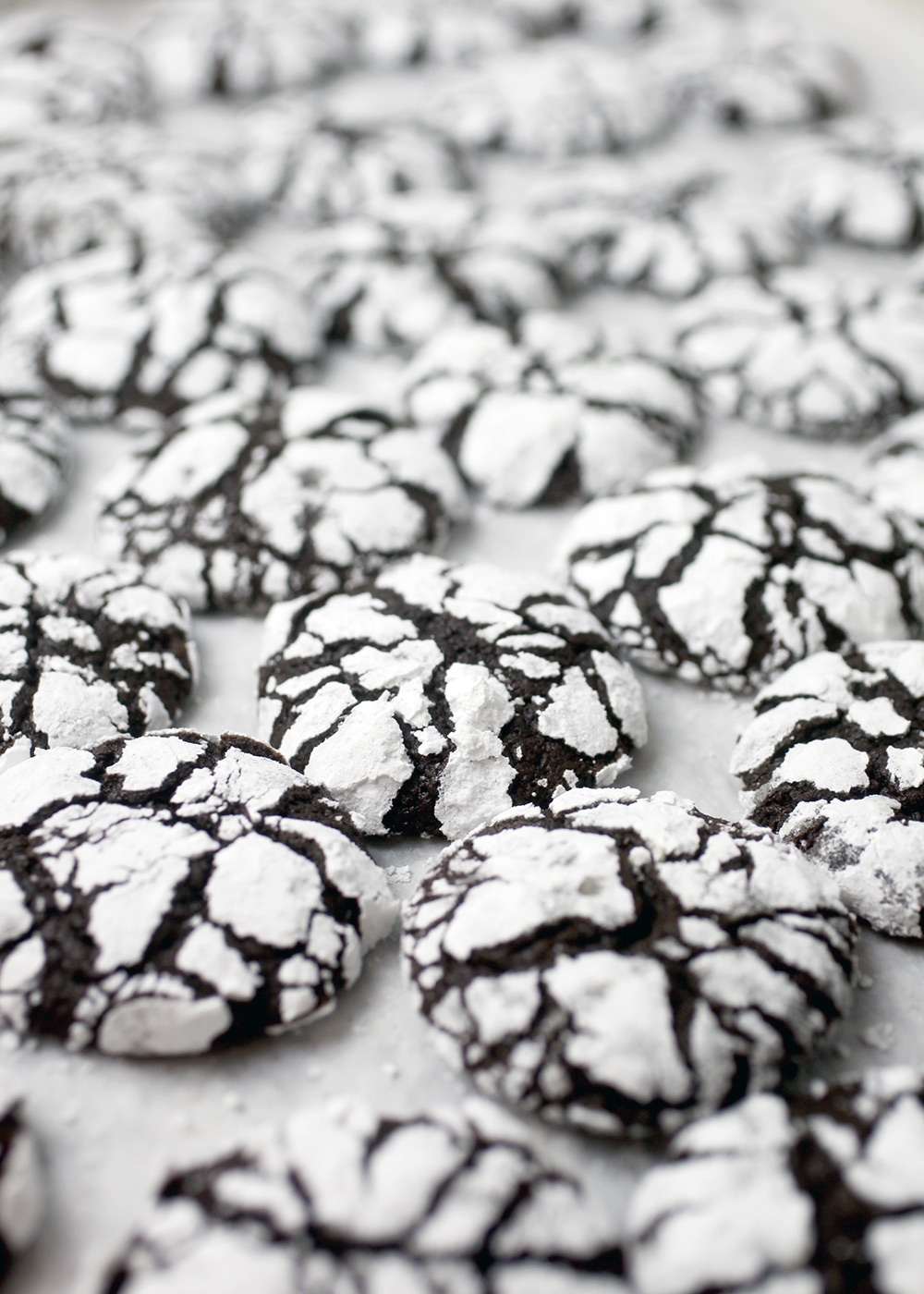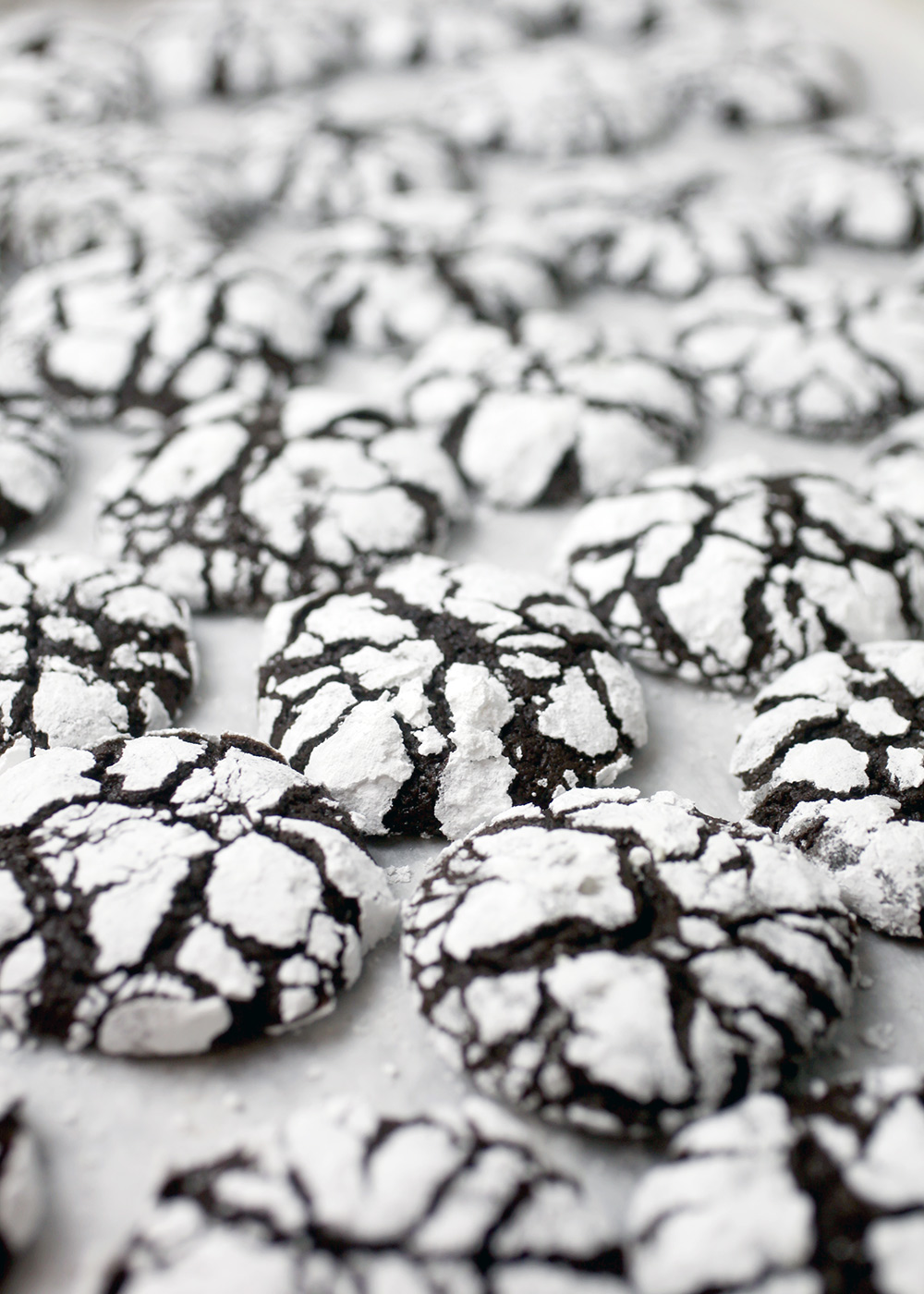 First up, CHOCOLATE CRACKLES. I love them! These chocolatey cookies are a fave and always so festive for the holidays. It's super satisfying to watch them bake and go from a ball, completely covered in powdered sugar to a crackled surface revealing the dark chocolate cookie underneath.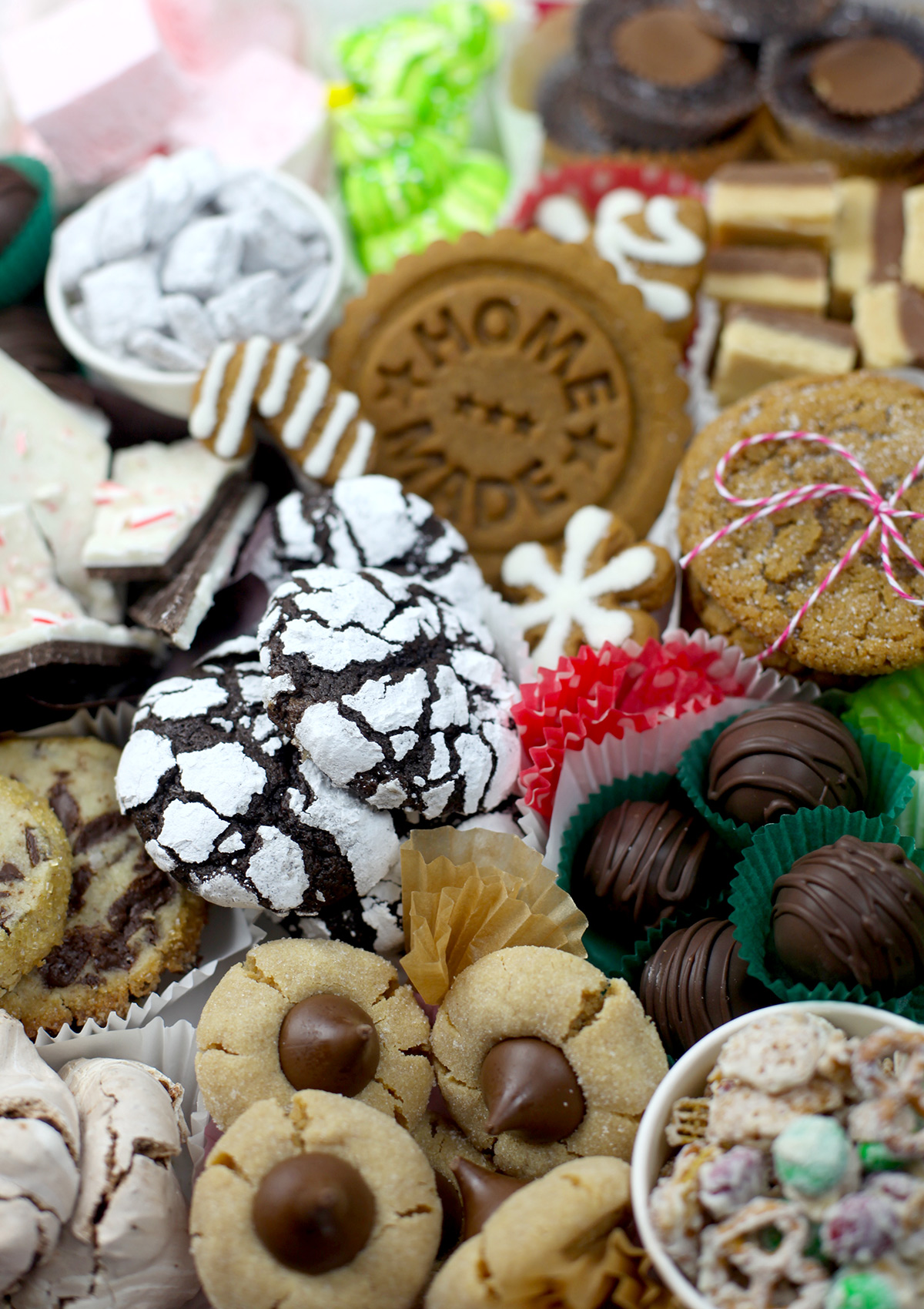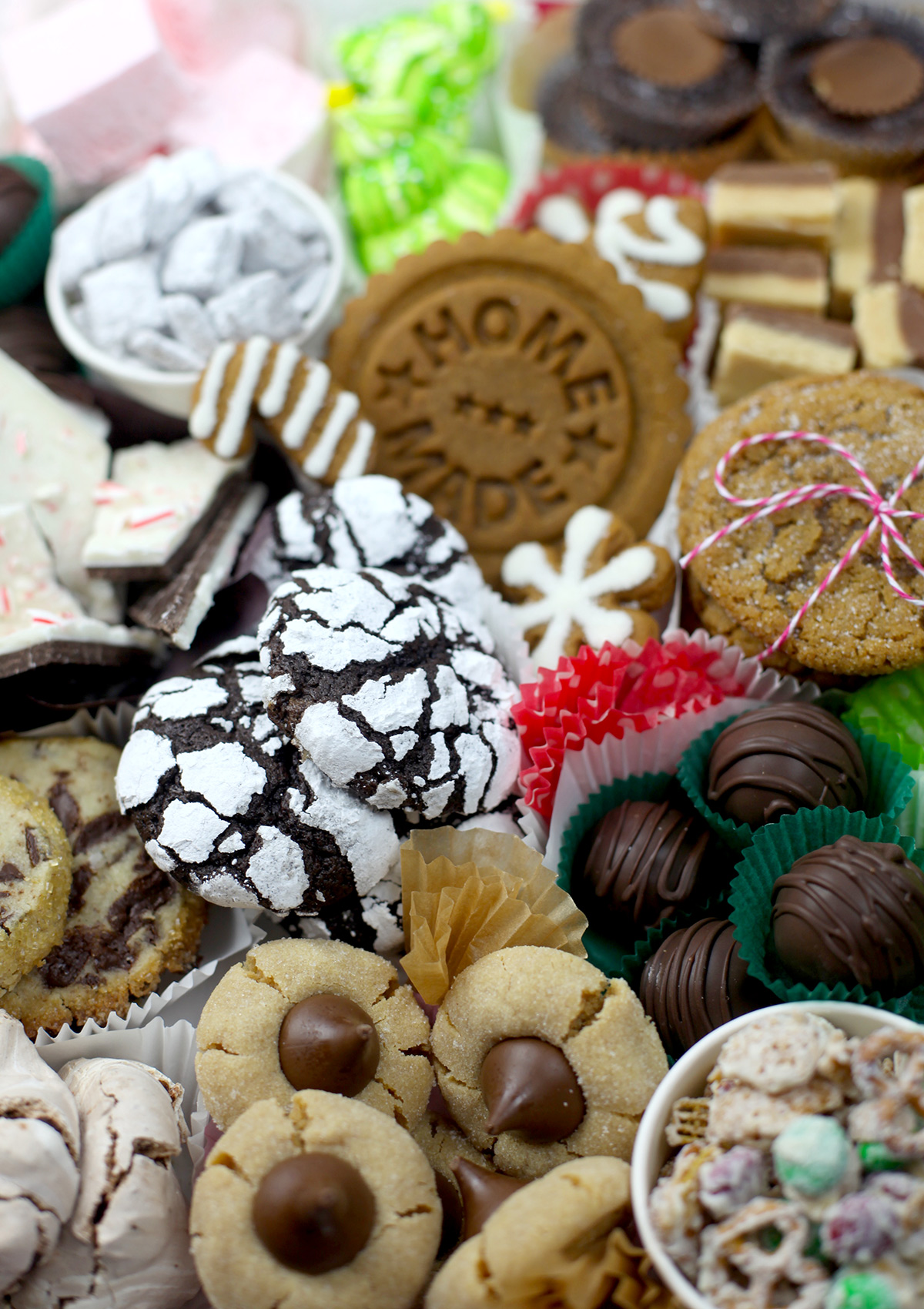 I mean look how pretty they are and how much they stand out against all the other sweets they're sitting next to.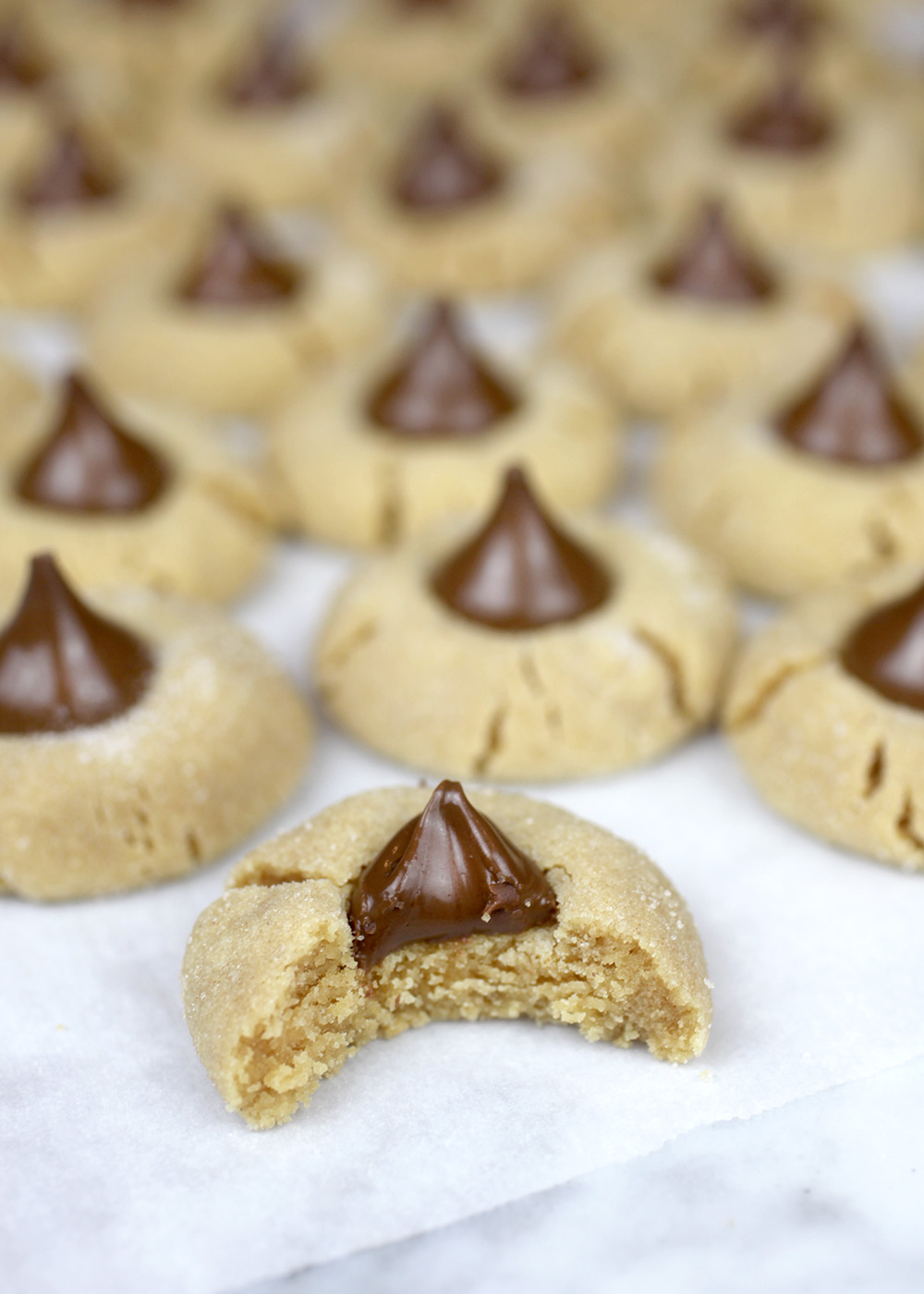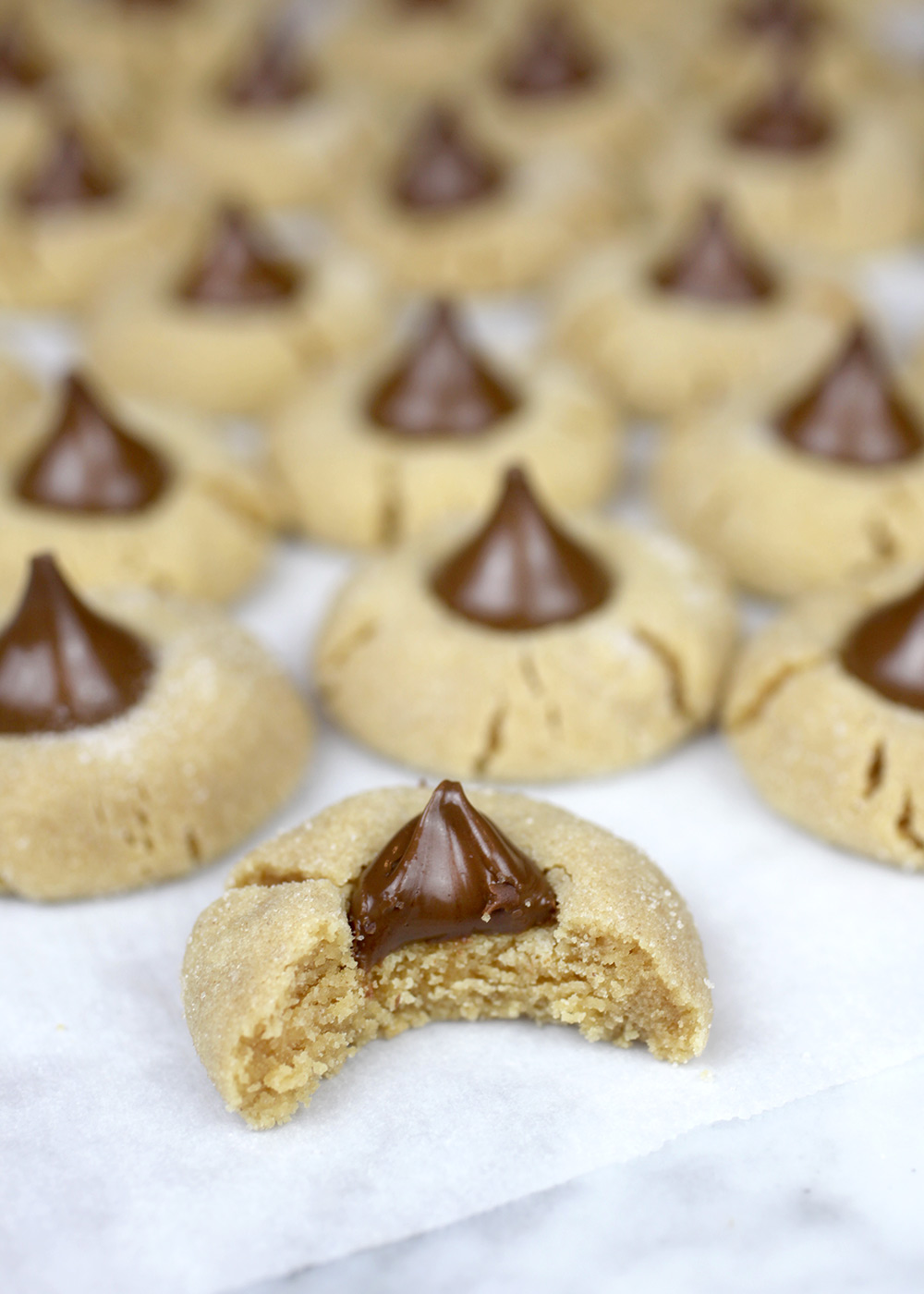 Oh yes! PEANUT BUTTER BLOSSOMS. Always and forever. These puffy peanut butter cookies are pressed with Hershey Kisses right out of the oven. Chocolate and peanut butter. One of my all-time favorite combos.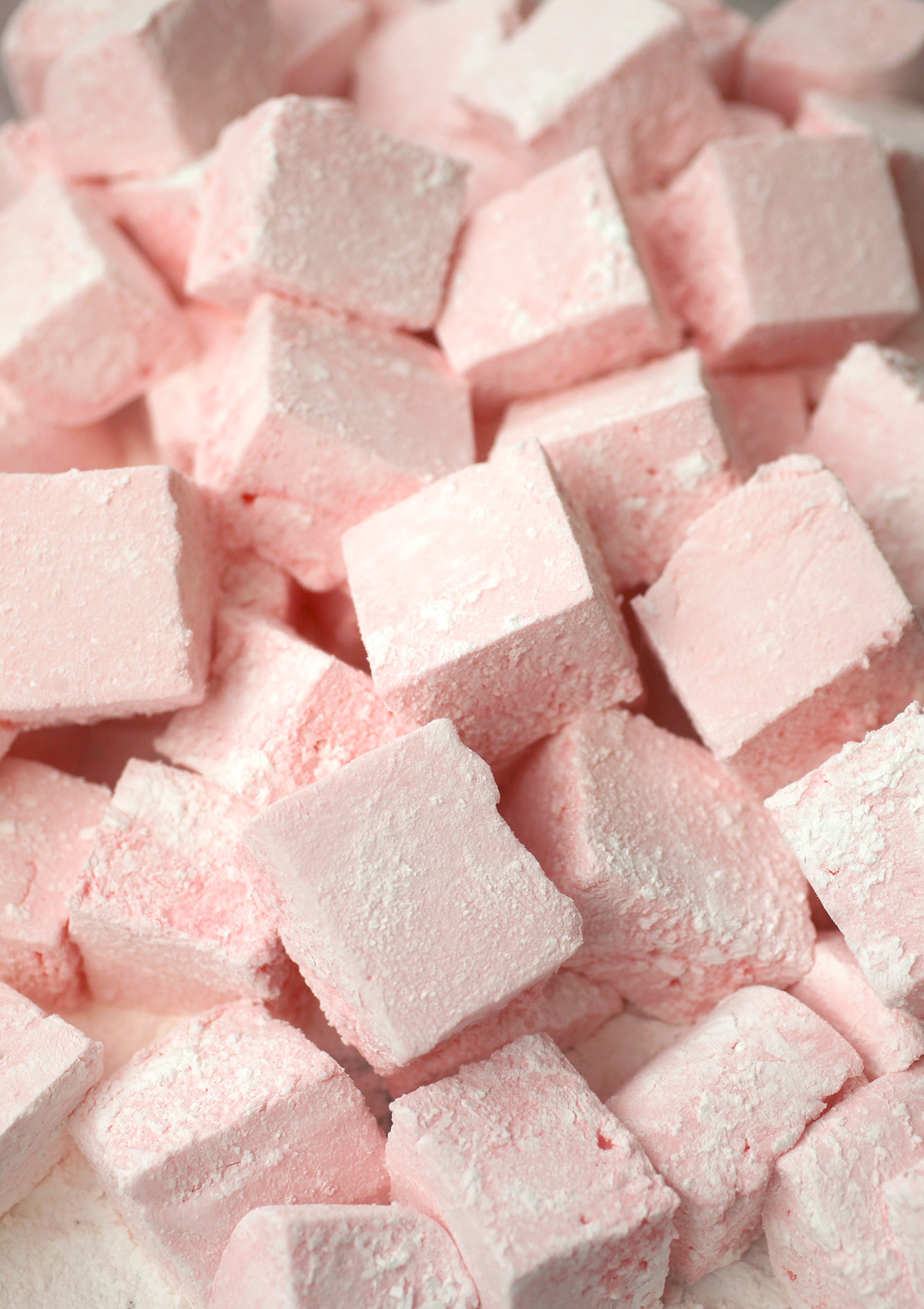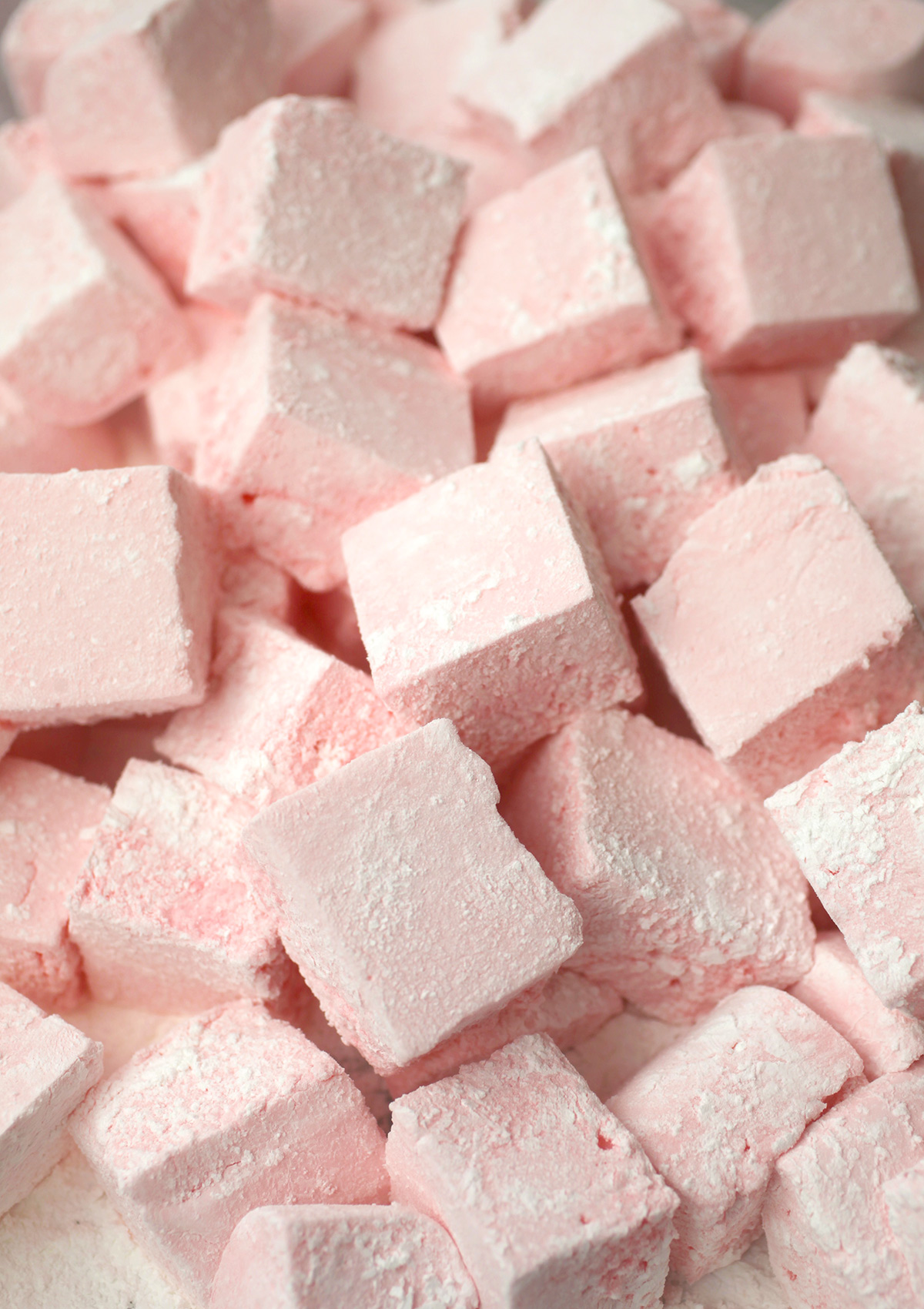 HOMEMADE MARSHMALLOWS. Please, please try making these one day if you've never attempted them before. There's something about them that makes you feel magical when it all comes together. And they taste amazing! Use the linked recipe, but just pour the marshmallow in one 13 X 9 glass baking dish for super thick squares.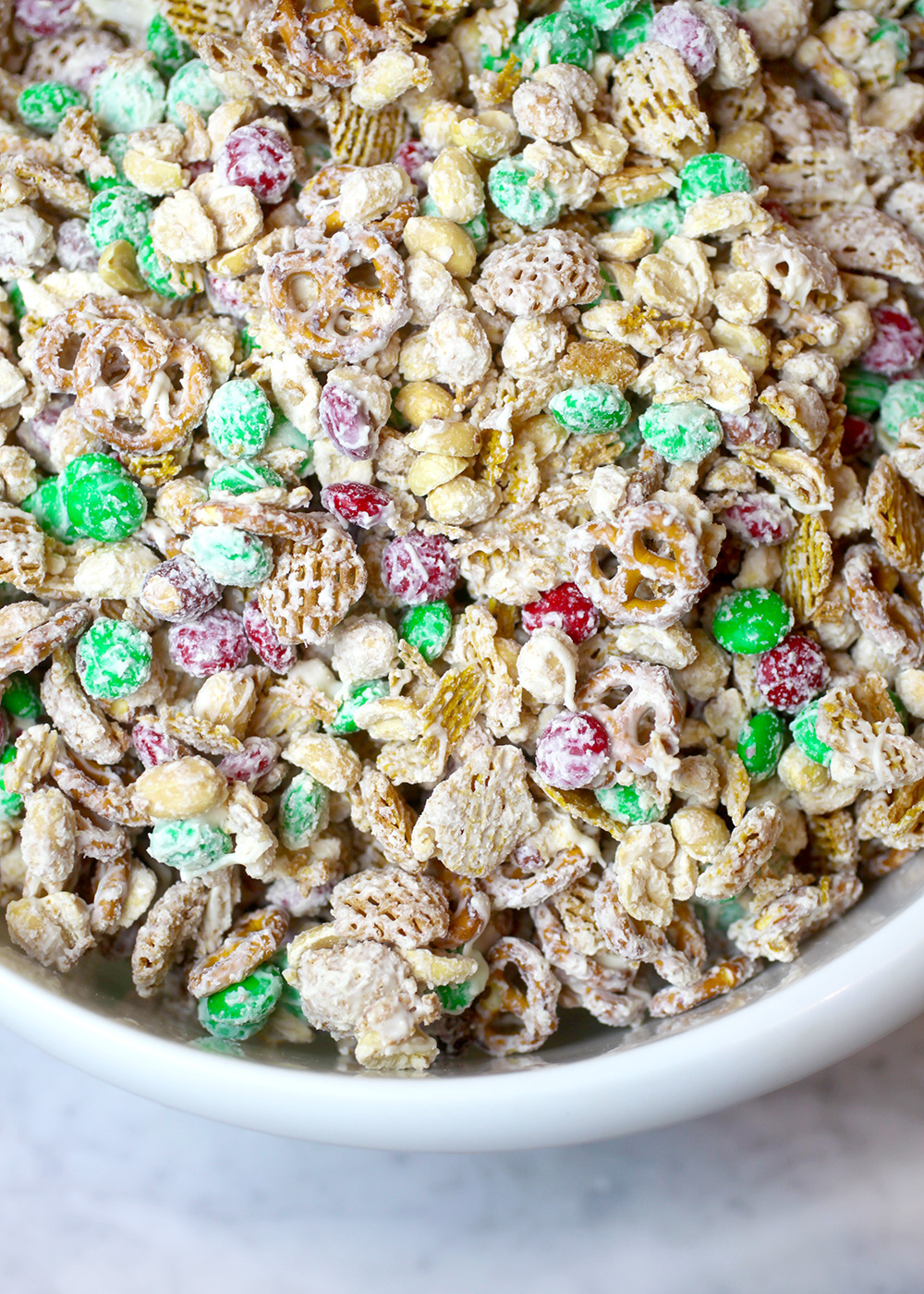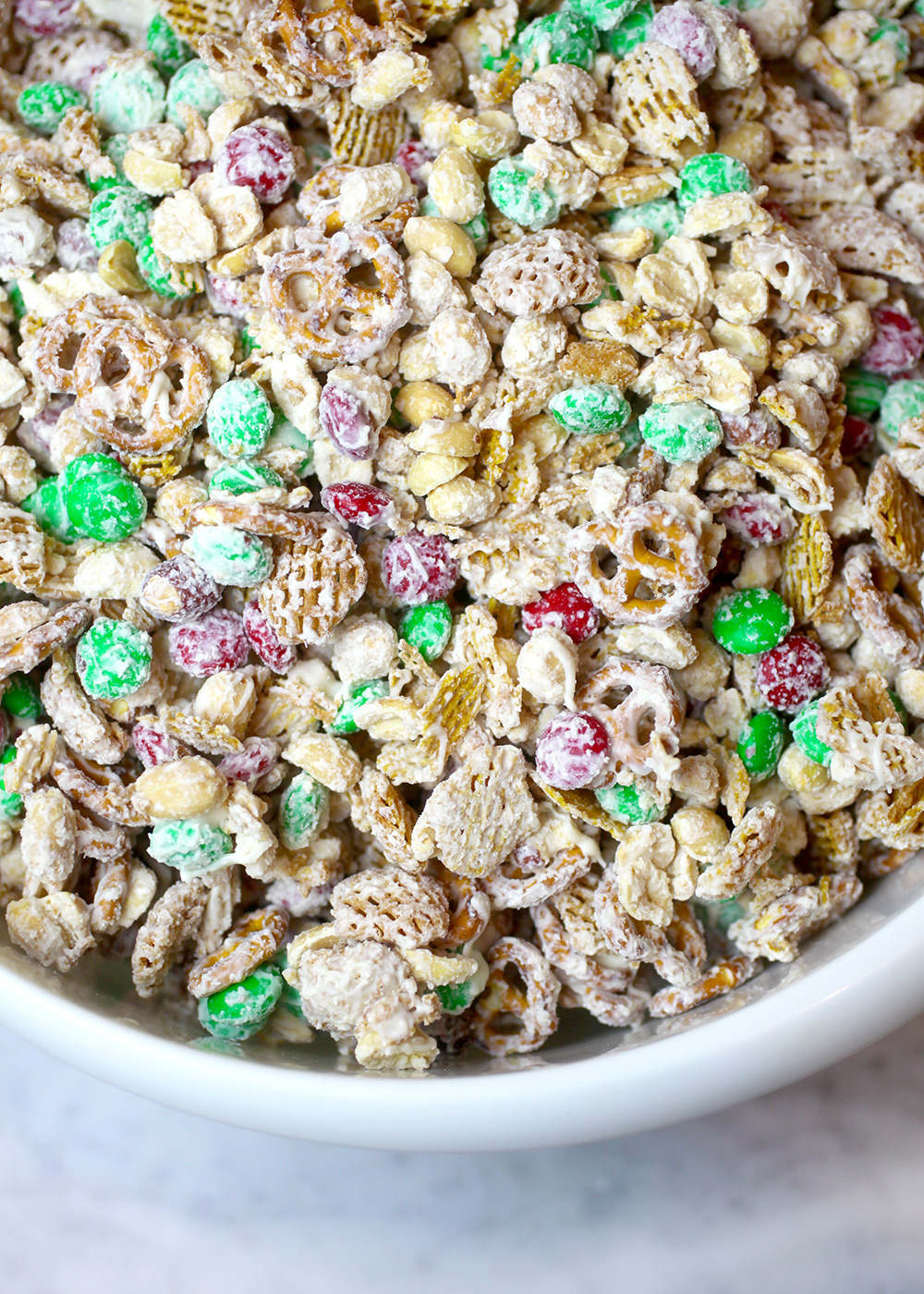 Okay, let's talk about this CHRISTMAS CRUNCH. Or what it's usually referred to as … Christmas Crack. I've just always felt weird promoting it like that. But, I guess it got that name for a reason. It IS very addictive. Also, if you don't like baking, it's one of the easiest things you can make. It's basically, just salted peanuts, rice or corn cereal, M&M's, pretzels and melted white chocolate. The recipe makes a ton. So, even though you'll want to eat it all yourself, you'll have plenty to share.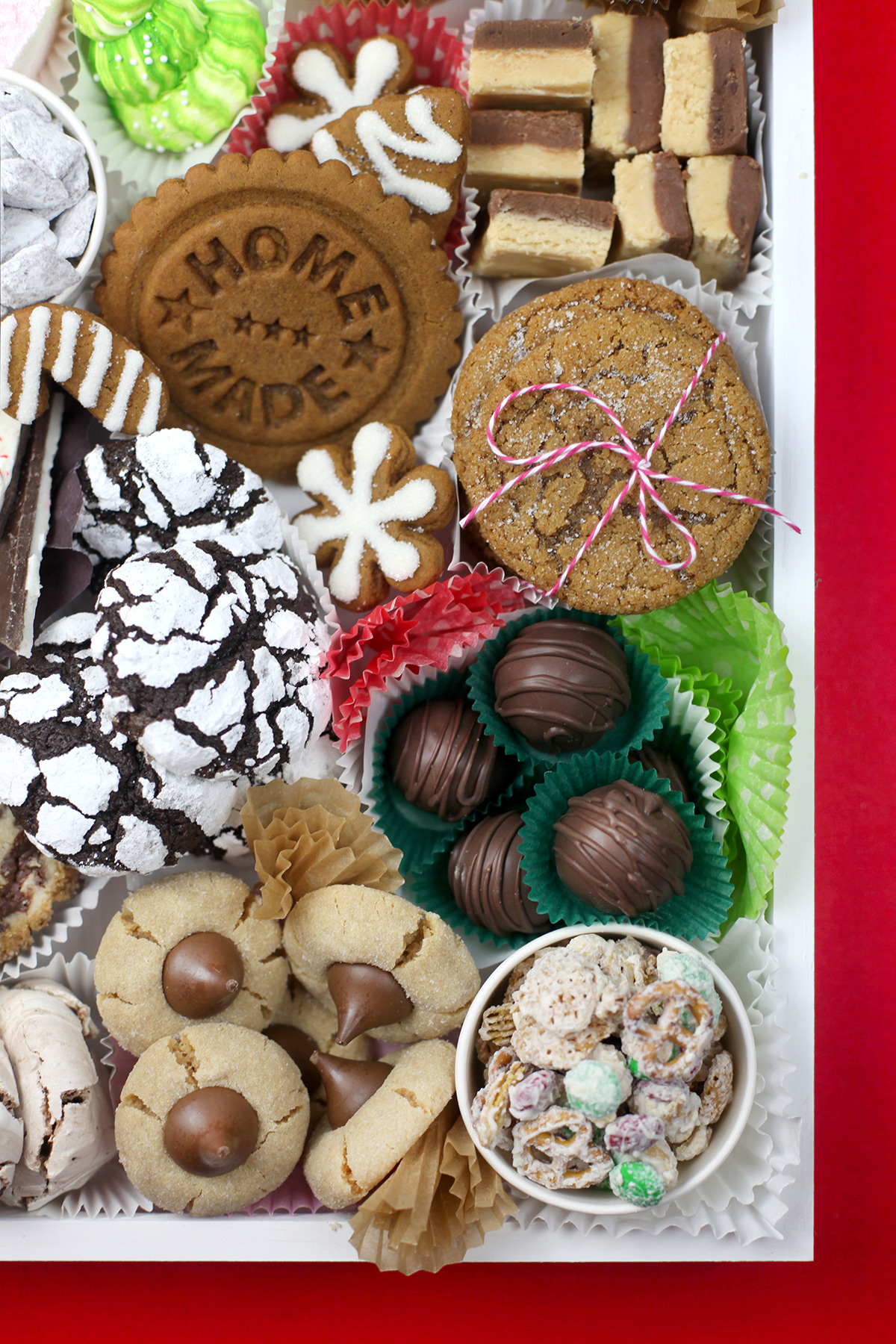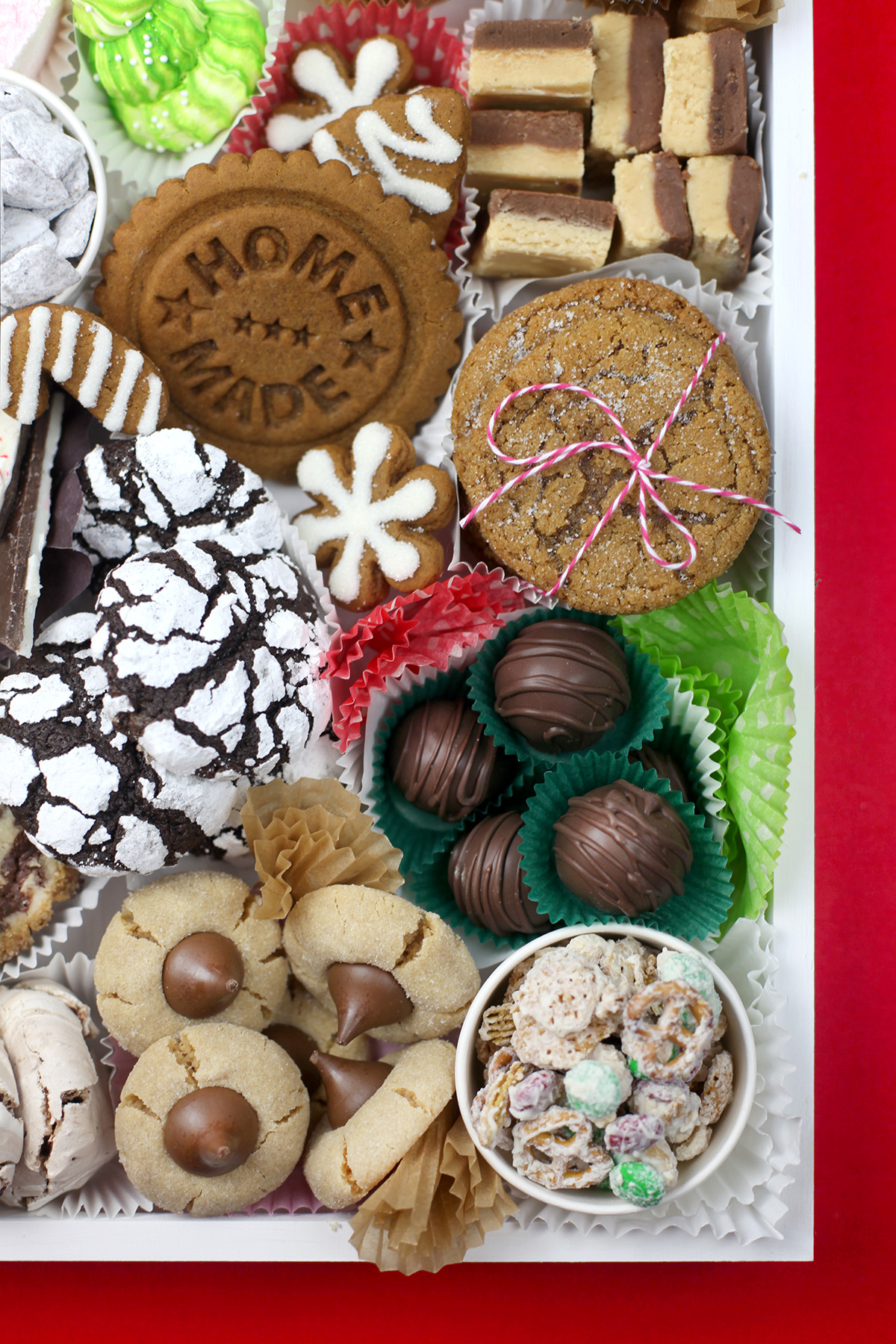 When I packaged them in the cookie box, I placed them in small white ice cream cups with plastic domed lids so the pieces wouldn't accidentally spill out. You can also use plastic treat bags.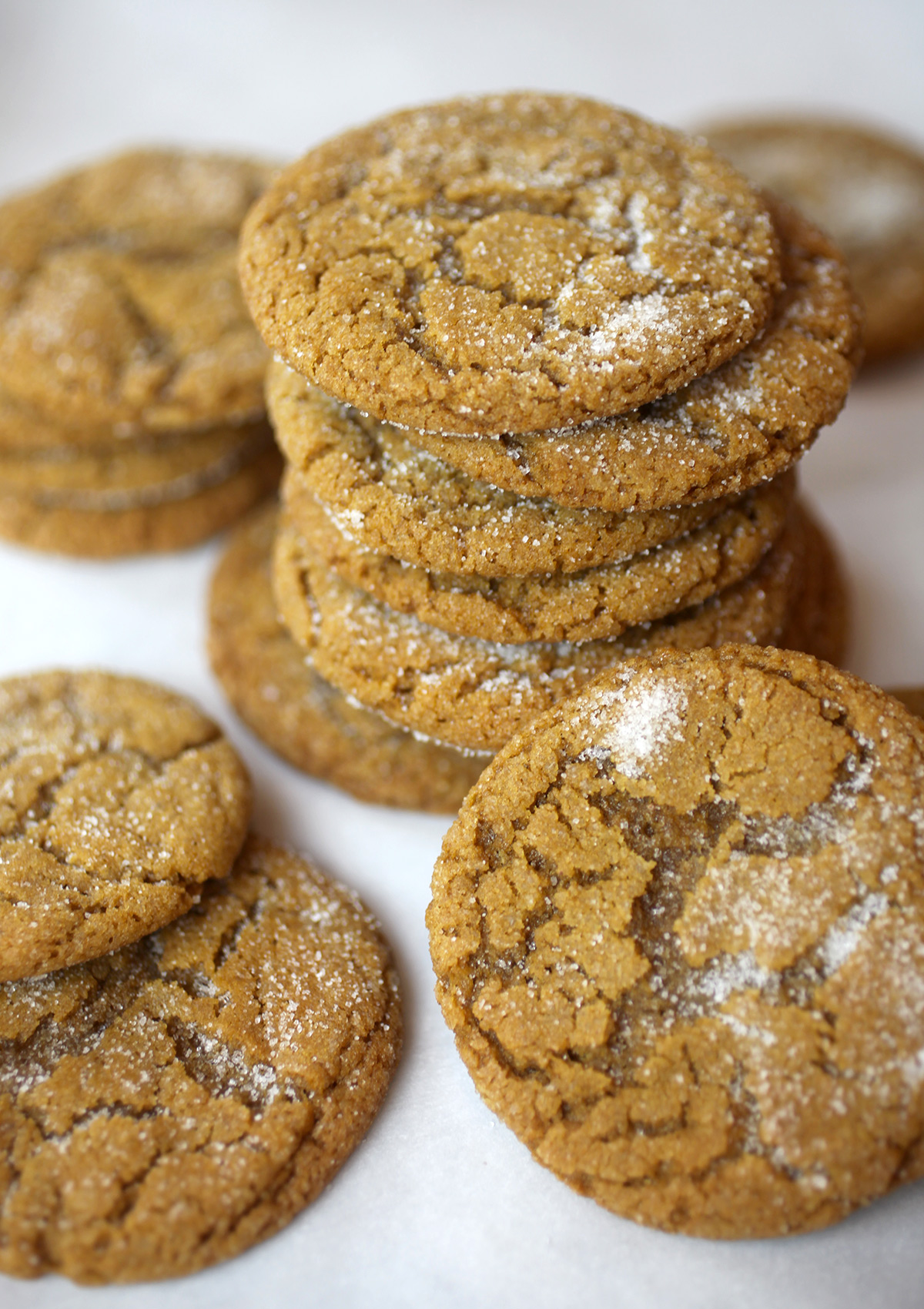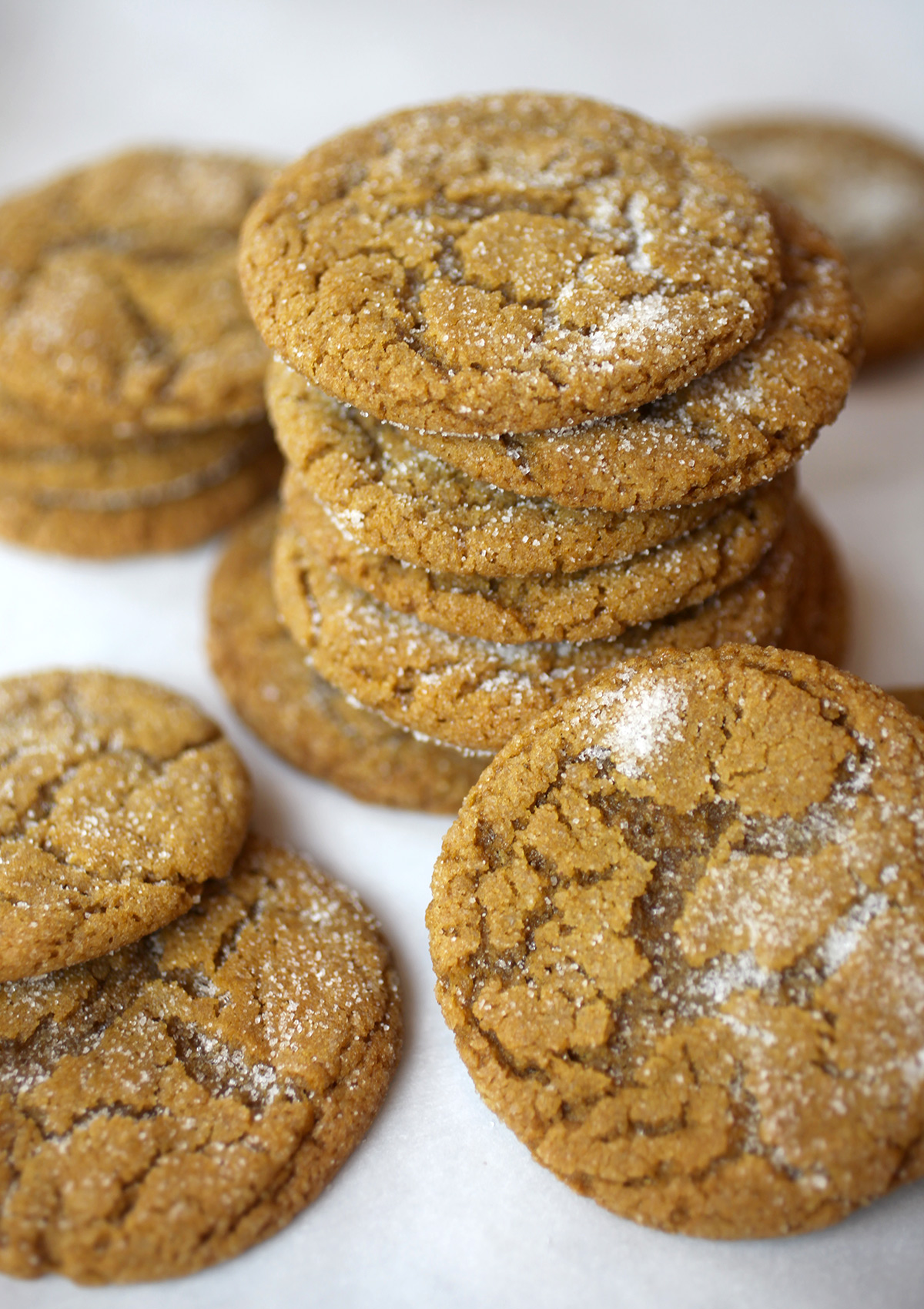 Here we have some MERRY GOOD MOLASSES COOKIES. They are a crowd pleaser and will probably be one of the first things to disappear on your cookie tray.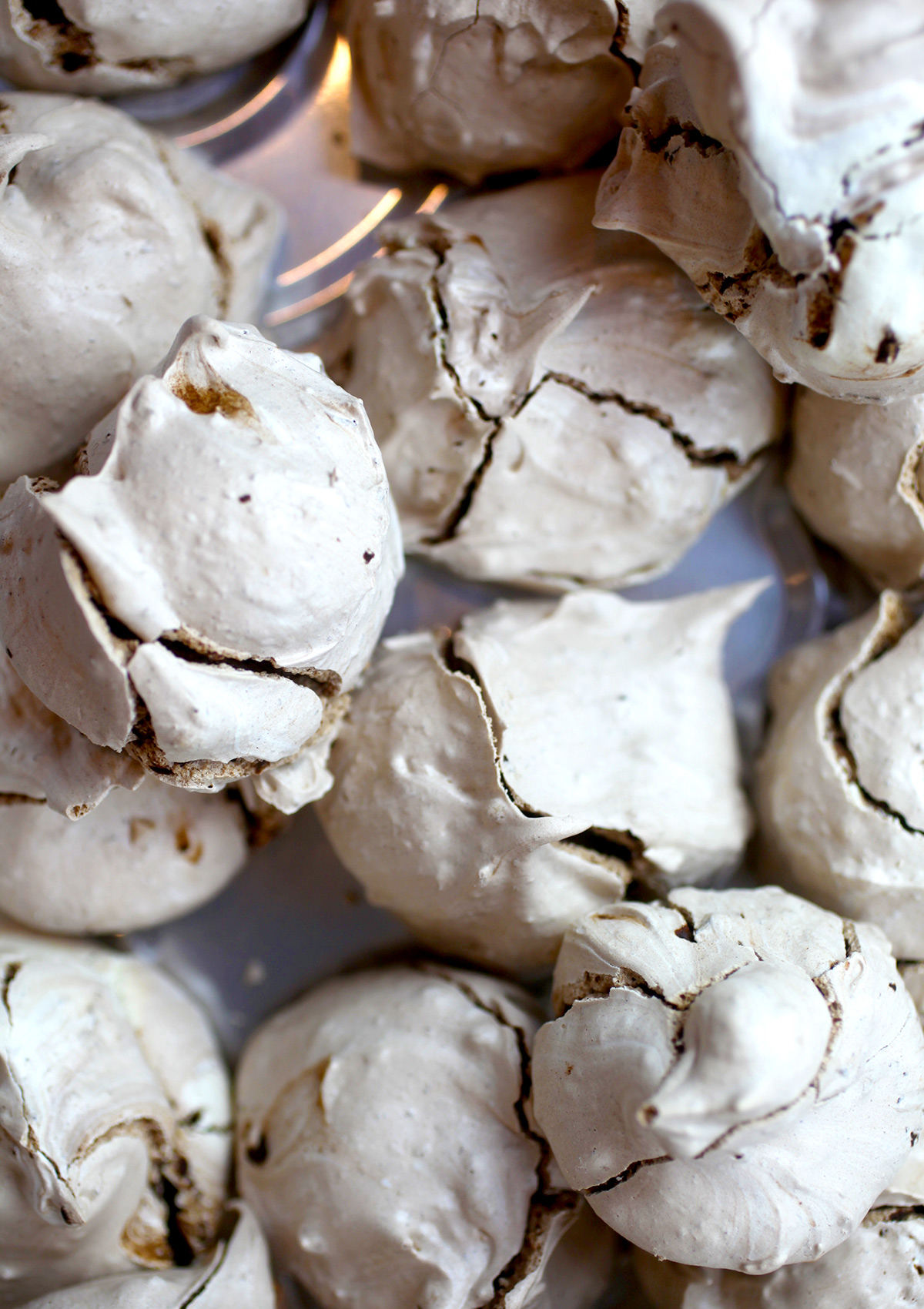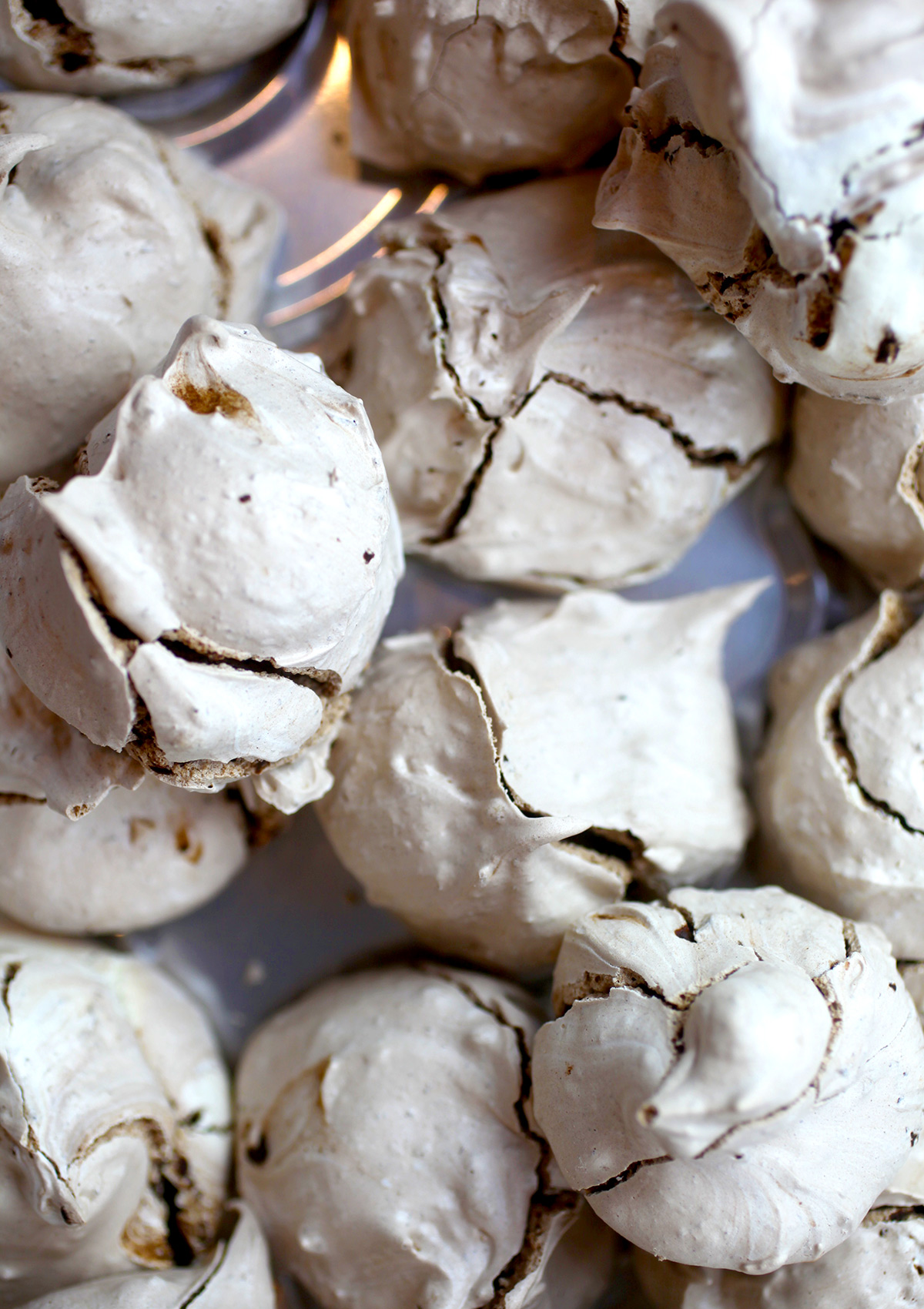 CHEWY CHOCOLATE MERINGUES. These are an unexpected favorite. Crunchy, chewy and chocolatey. What they lack in looks, they make up for in taste. Oh, so good.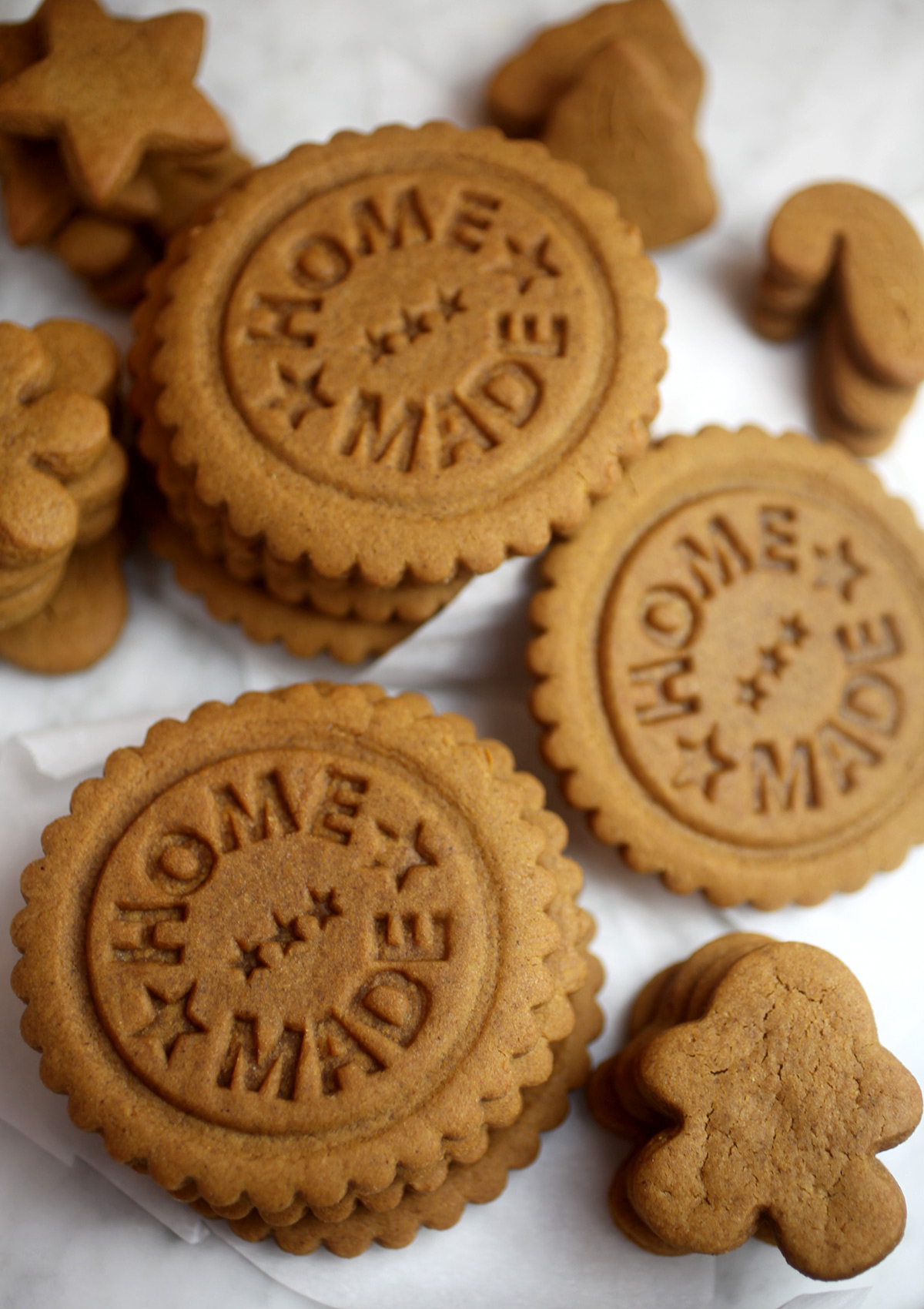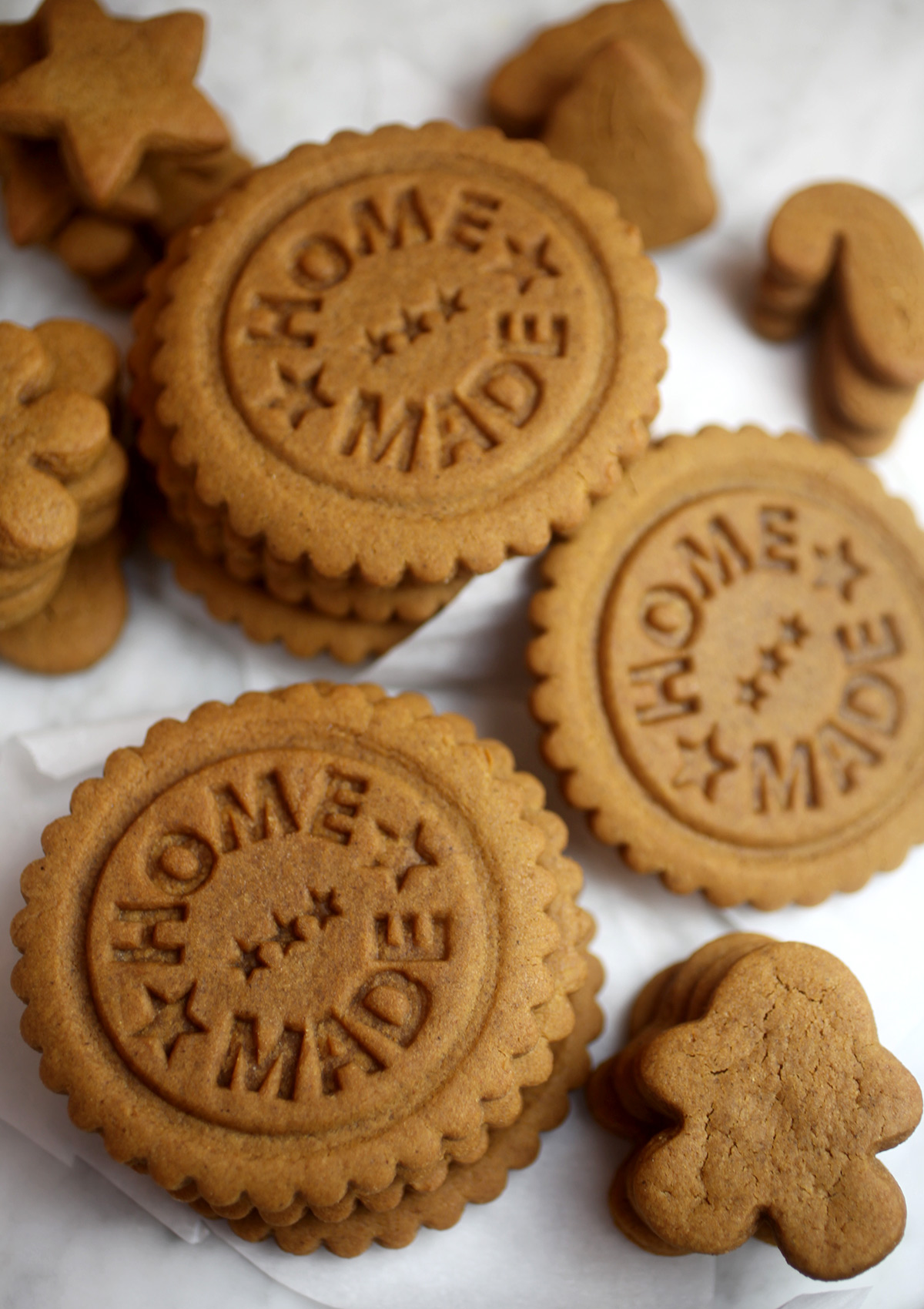 GINGERBREAD COOKIES. A staple during the holidays. This recipe is easy to whip up and enjoy as is. For a more dramatic look, you can pipe and outline them with royal icing or even melted white chocolate. Sprinkle with sanding sugar while still wet and then let dry for a snowy look.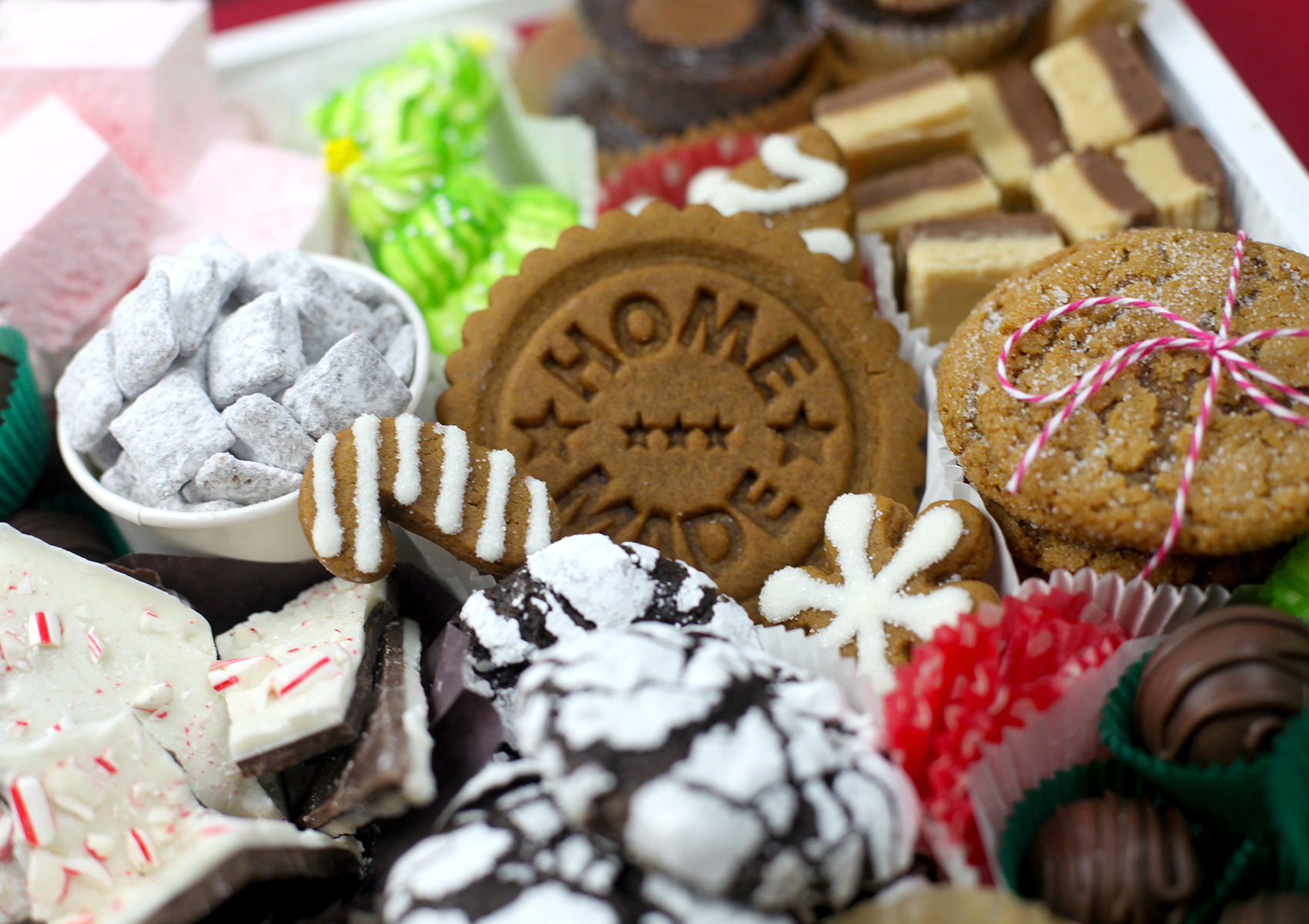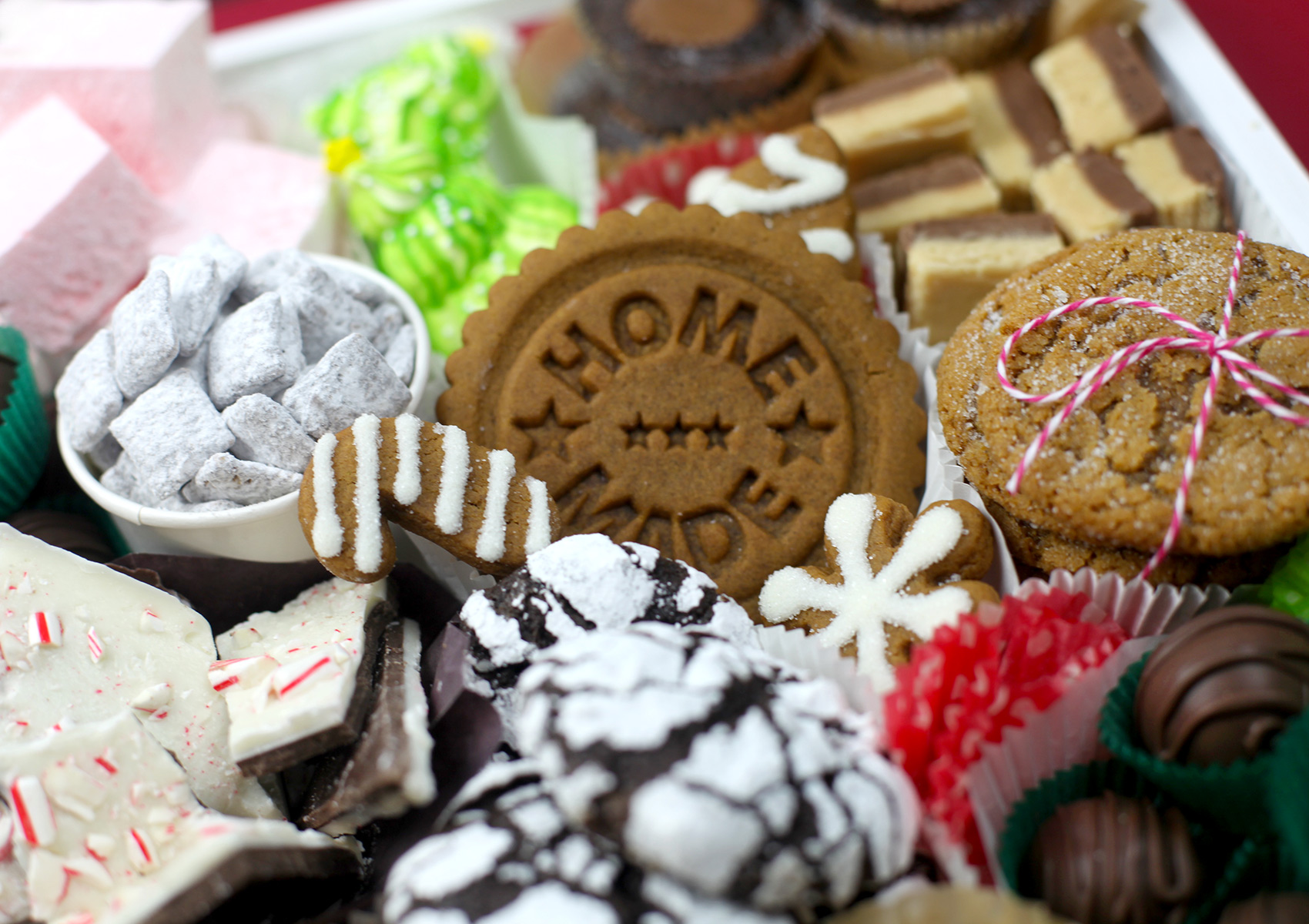 I used a cookie stamp and fluted round cookie cutters to "decorate" them. Just a little reminder that everything inside the cookie box is made from the home and heart.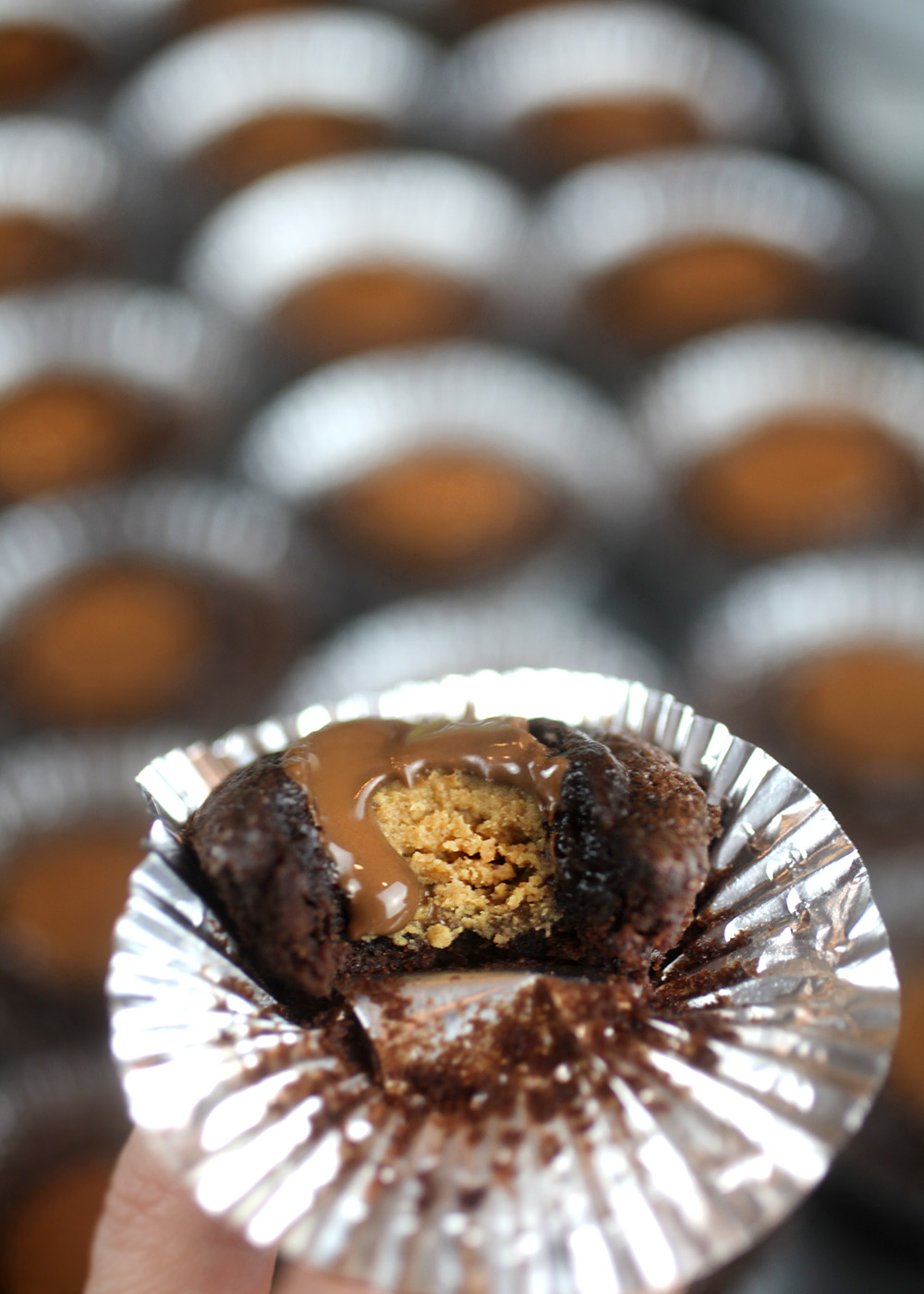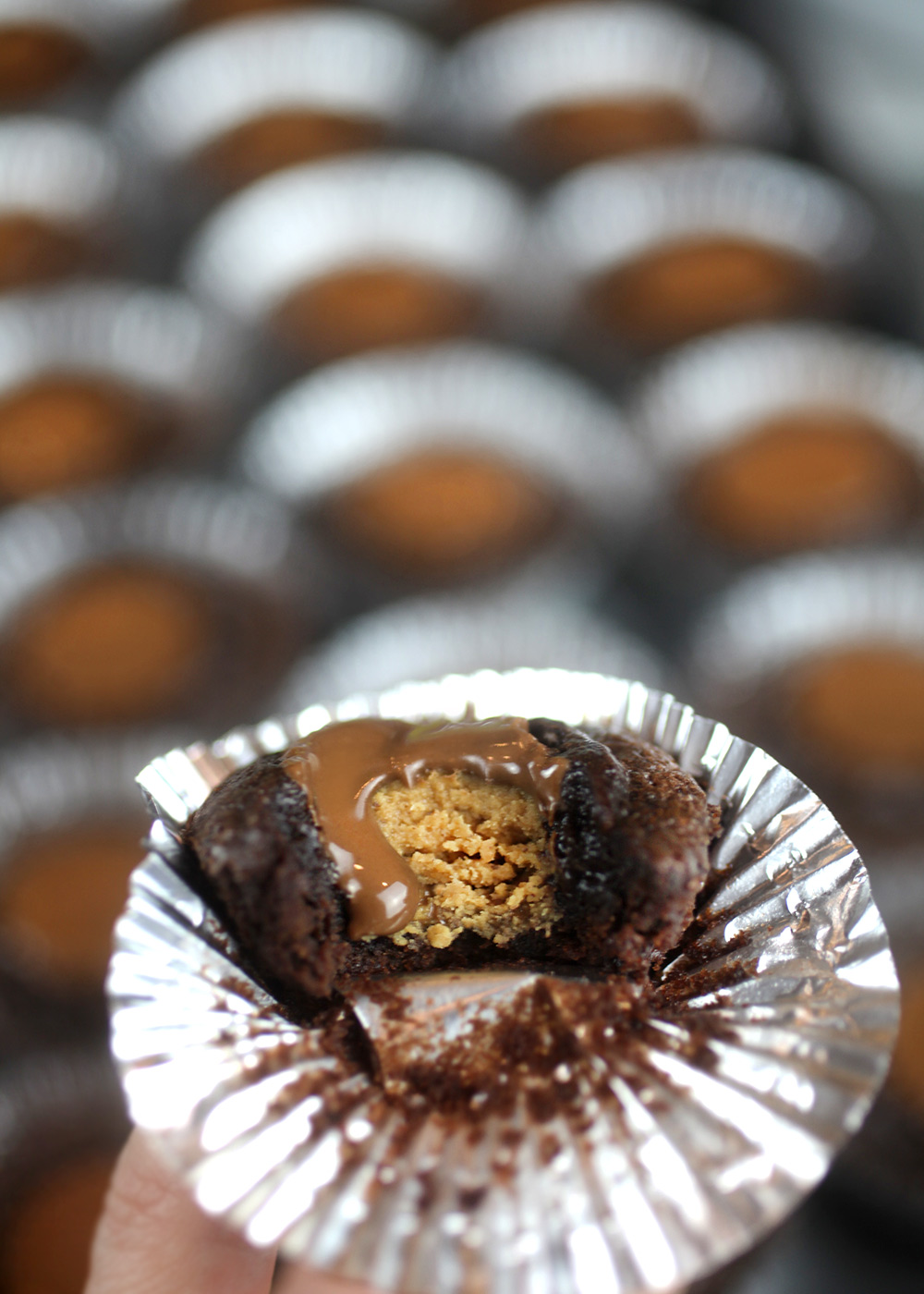 Oh gosh! I have too many favorites. These BROWNIE CANDY CUPS are little bites of heaven. Again peanut butter and chocolate, but I don't care. Bake these in 2-inch foil Reynolds baking cups for a two bite-treat … that is if you can find them. I always have a tough time so I just recently bought a box set of them off Amazon. That's enough for 1,152 treats, so I think I'm set for a few awhile. The foil cups are bigger than a mini cupcake liner, but smaller than a regular cupcake liner. But still make them even if you have to use a larger size. Just bake them a few minutes longer if needed.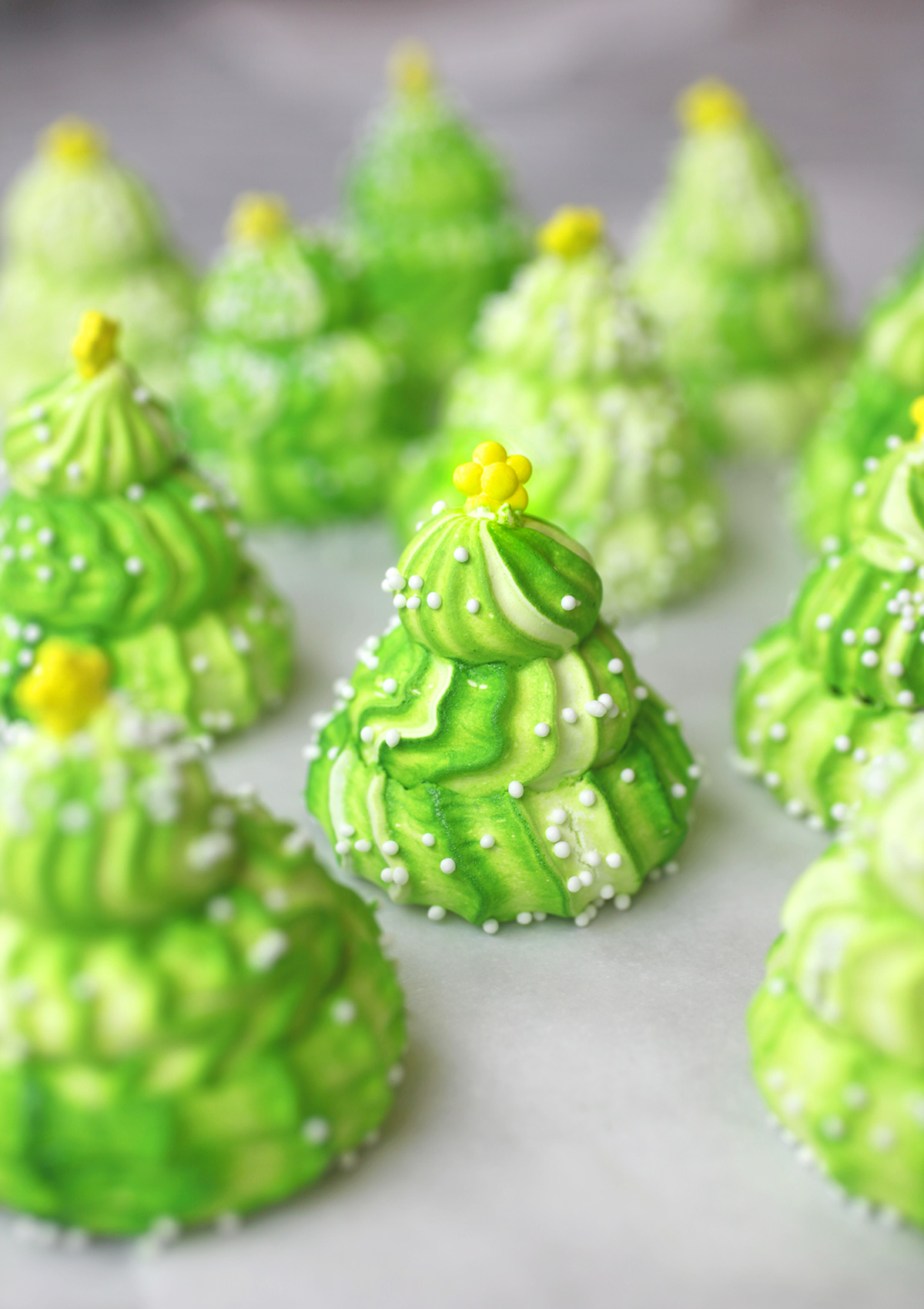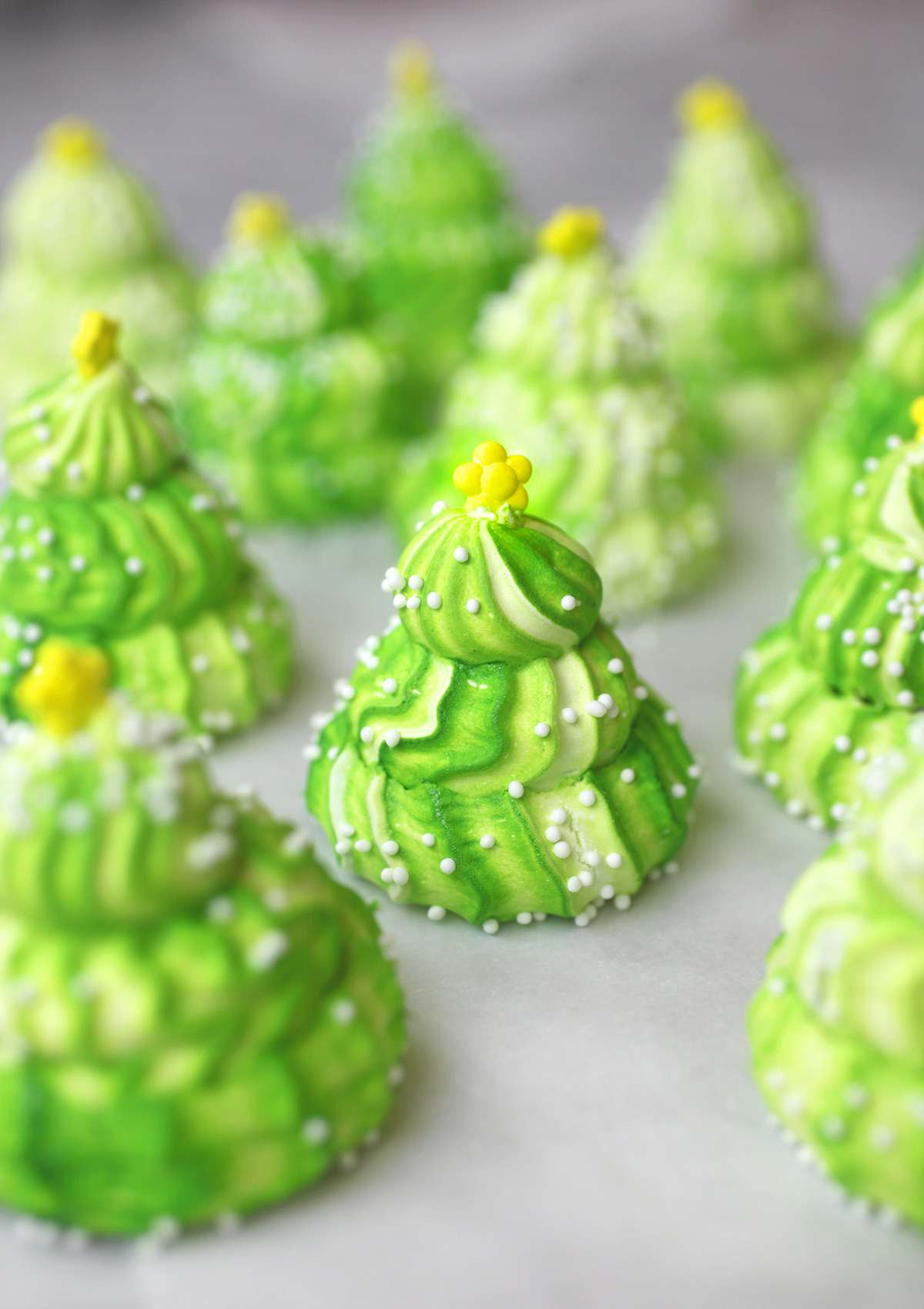 CHRISTMAS TREE MERINGUES. These are super festive and fun. I tinted the meringue a light green and then piped them using an Ateco #864 decorating tip and a piping bag lined with green icing color for darker streaks. Pipe large rounds of meringue, followed by a slightly smaller dollop in the middle and an even smaller dollop on the very top. To decorate, I sprinkled with white non-pareils and topped them off with a tiny yellow sugar star. You can use the linked recipe and just swap out the decorating part.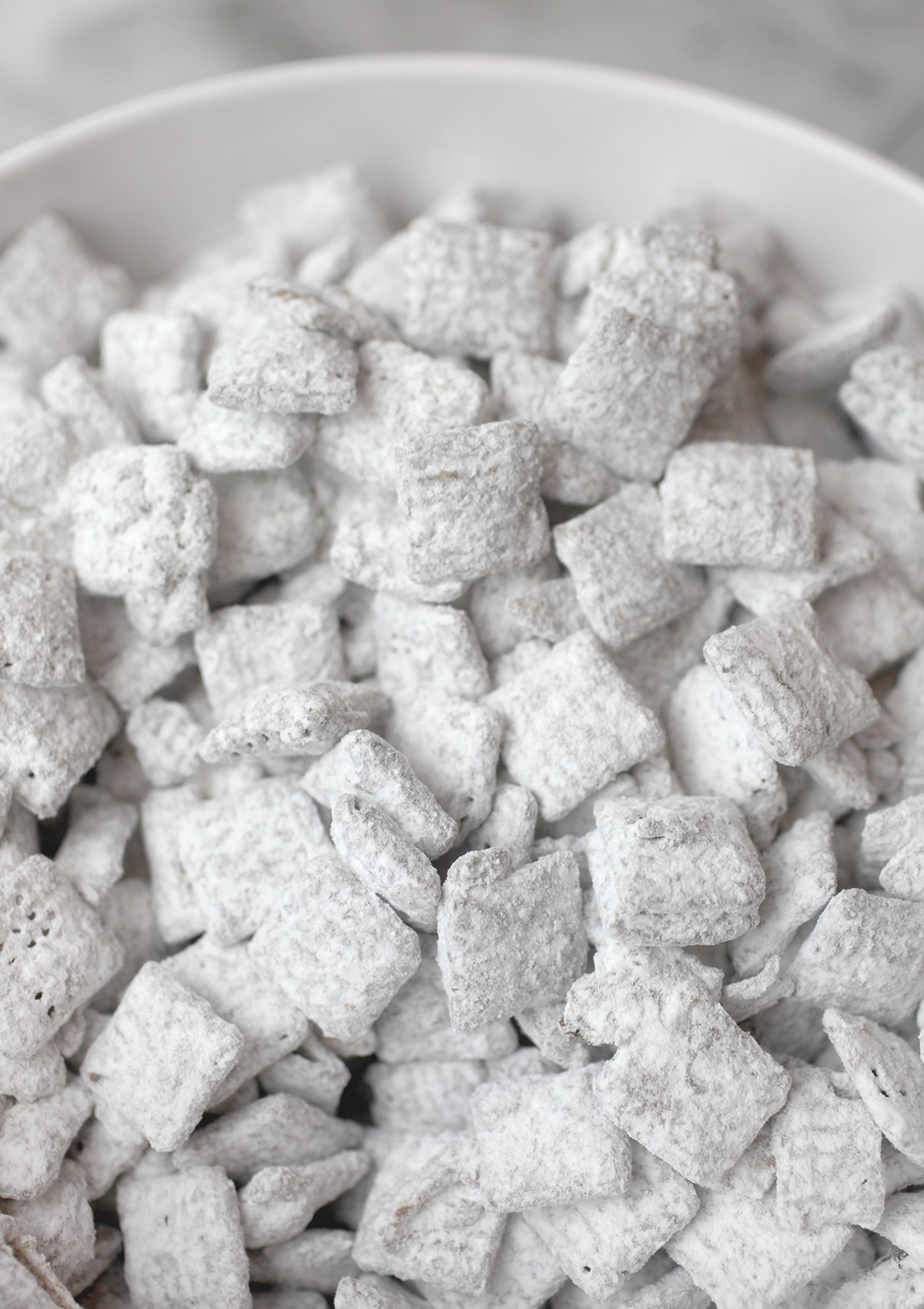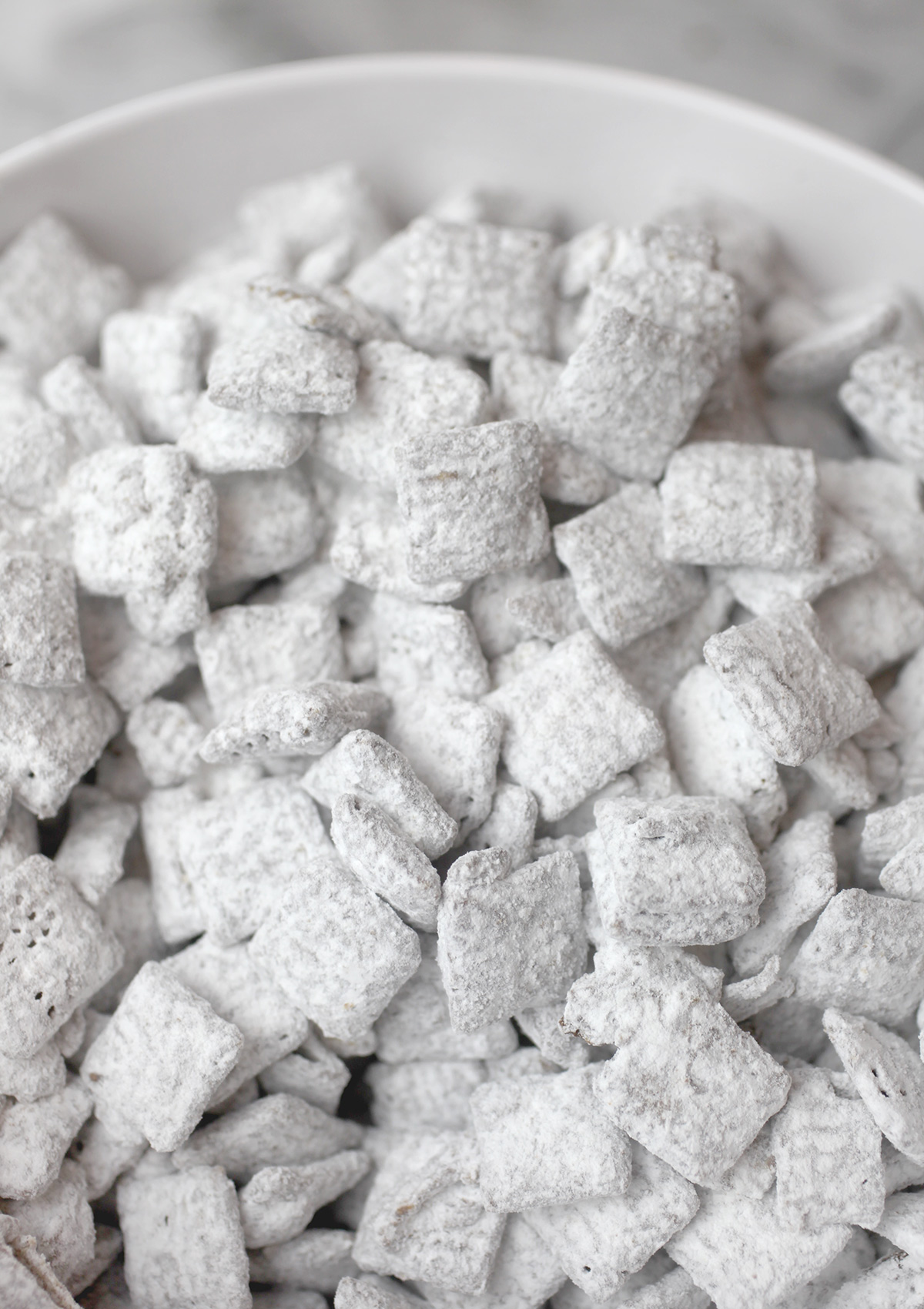 REINDEER CHOW! Or puppy chow as it's known the rest of the year. This is another no-bake treat and yields an extremely high satisfaction rate based on the effort needed to make. It's takes around five minutes and uses only four ingredients. Rice or corn cereal, peanut butter, chocolate and powdered sugar. Go make some right now, you won't regret it.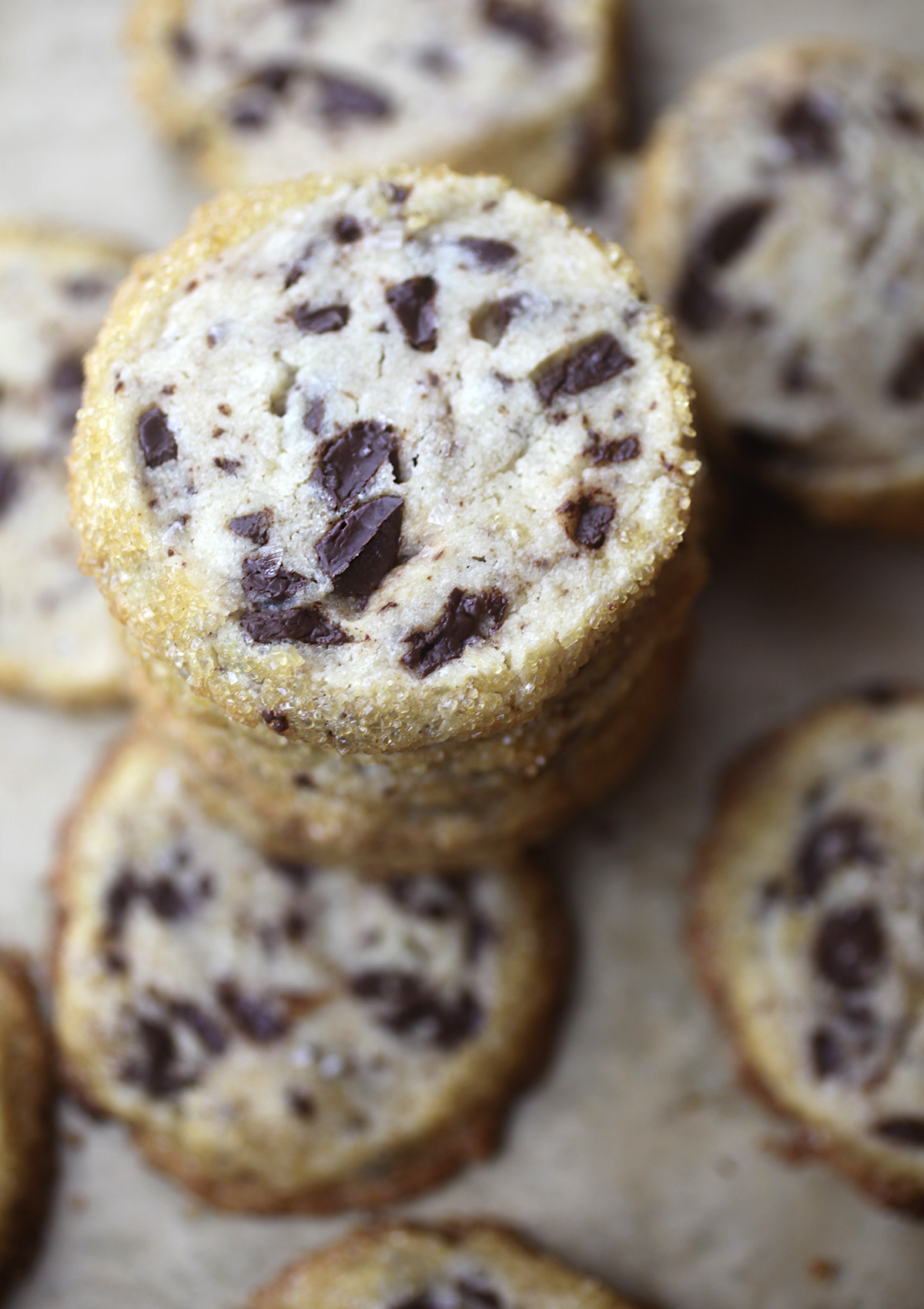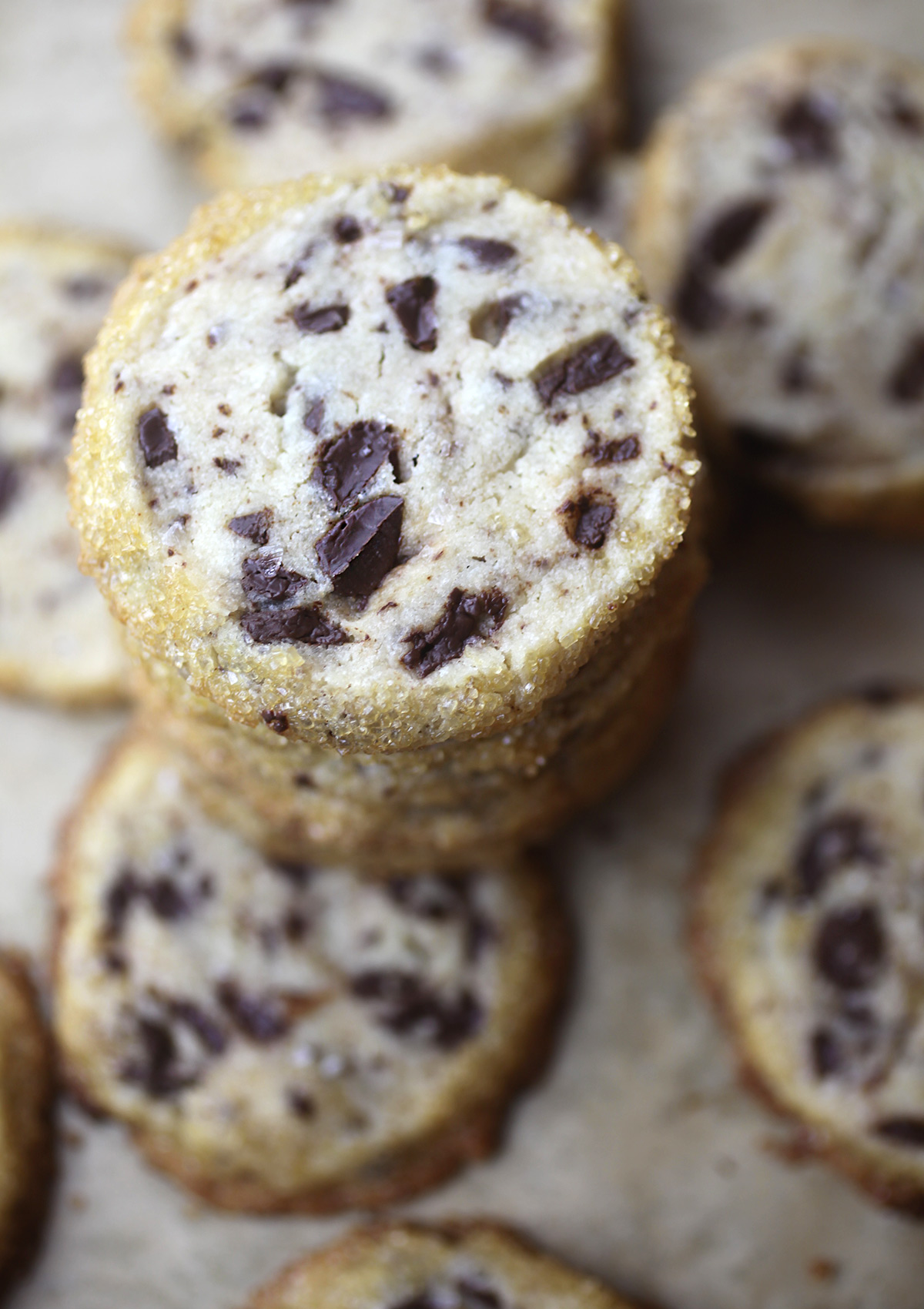 SALTED CHOCOLATE CHUNK SHORTBREAD COOKIES. An upscale version of a chocolate chip cookie that seemed perfect for Christmas. They're sliced cookies, packed with chunks of bittersweet or semisweet chocolate and then rolled in demerara sugar and sprinkled with sea salt. So much goodness!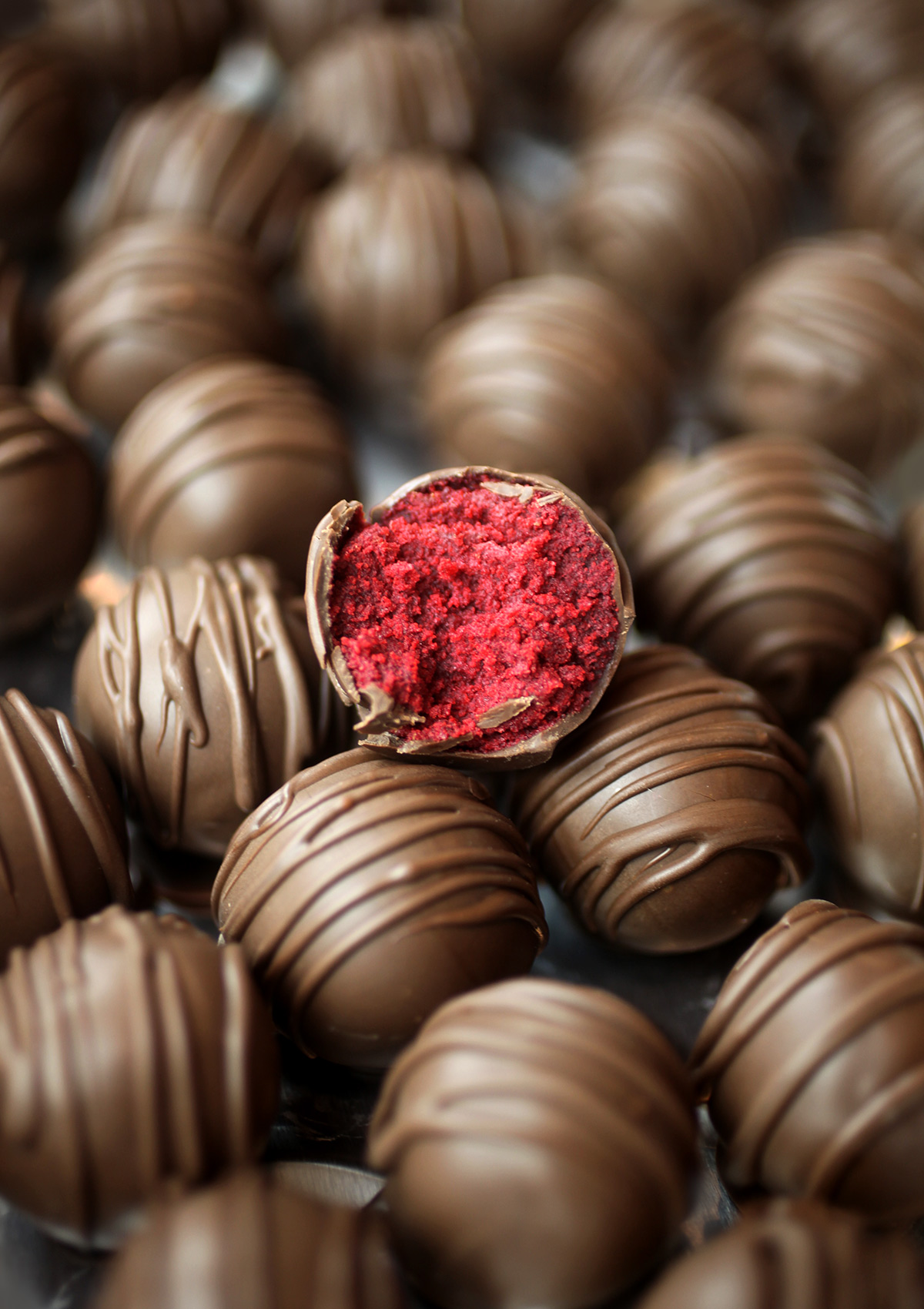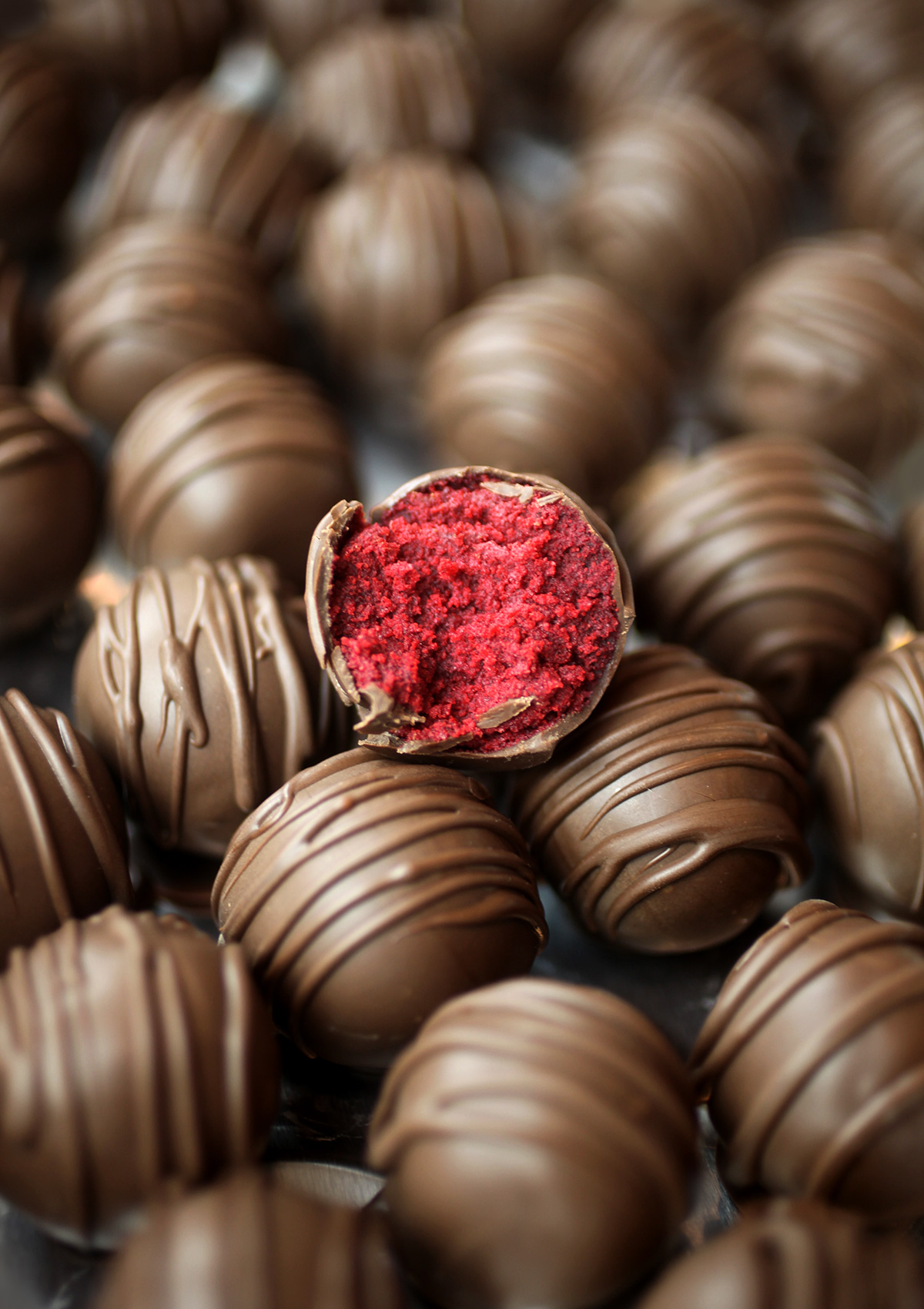 You know these had to make an appearance. RED VELVET CAKE BALLS. So pretty, so festive, and so good. I've been making these for over ten years now and they are still one of my all-time favorites, any time of the year.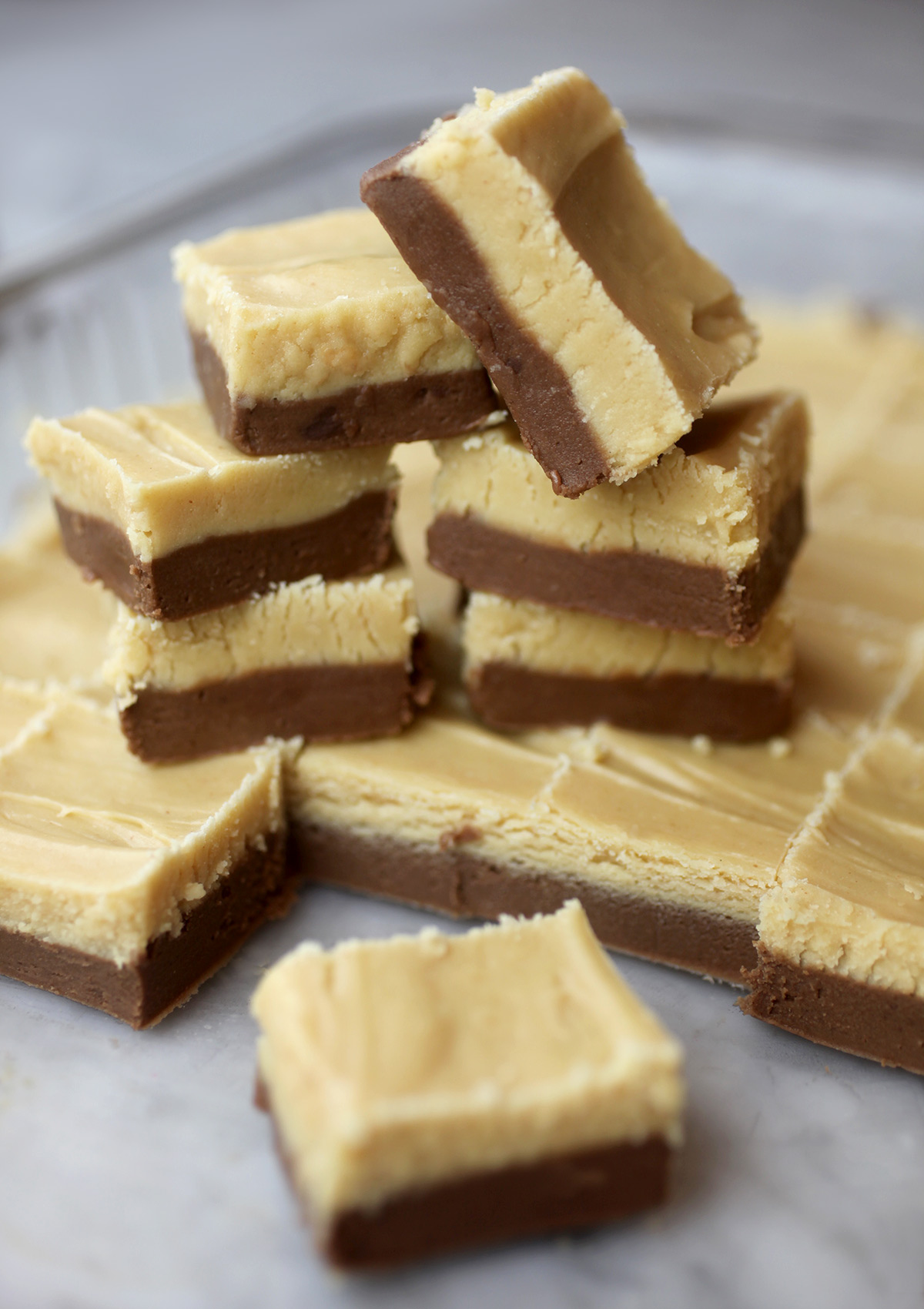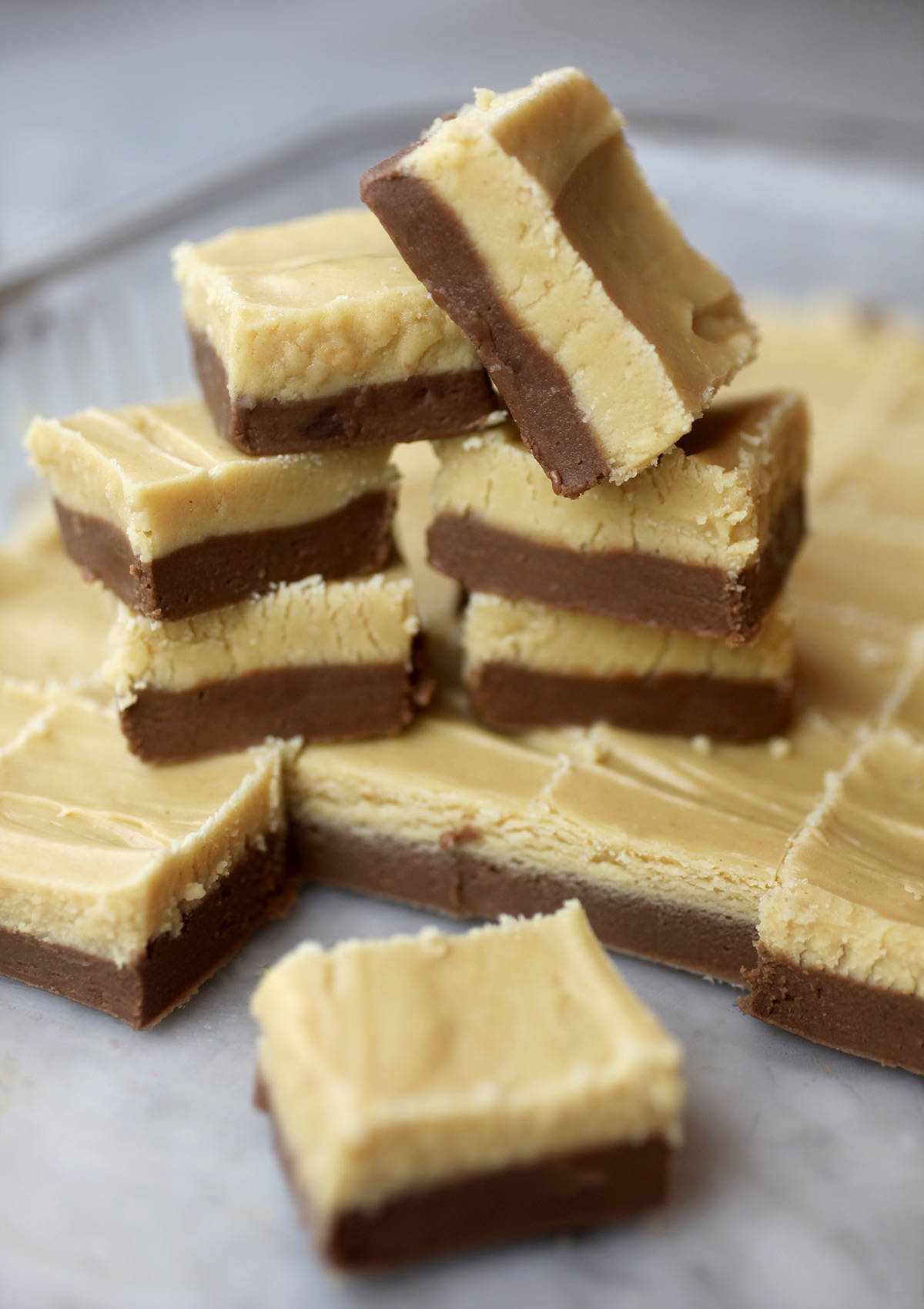 PEANUT BUTTER FUDGE. Umm yes, with chocolate, too. This is the creamiest, sweetest, most decadent fudge you can sink your teeth into. I have been making it every single year for gosh, maybe twenty years now. It's always expected at any holiday get together.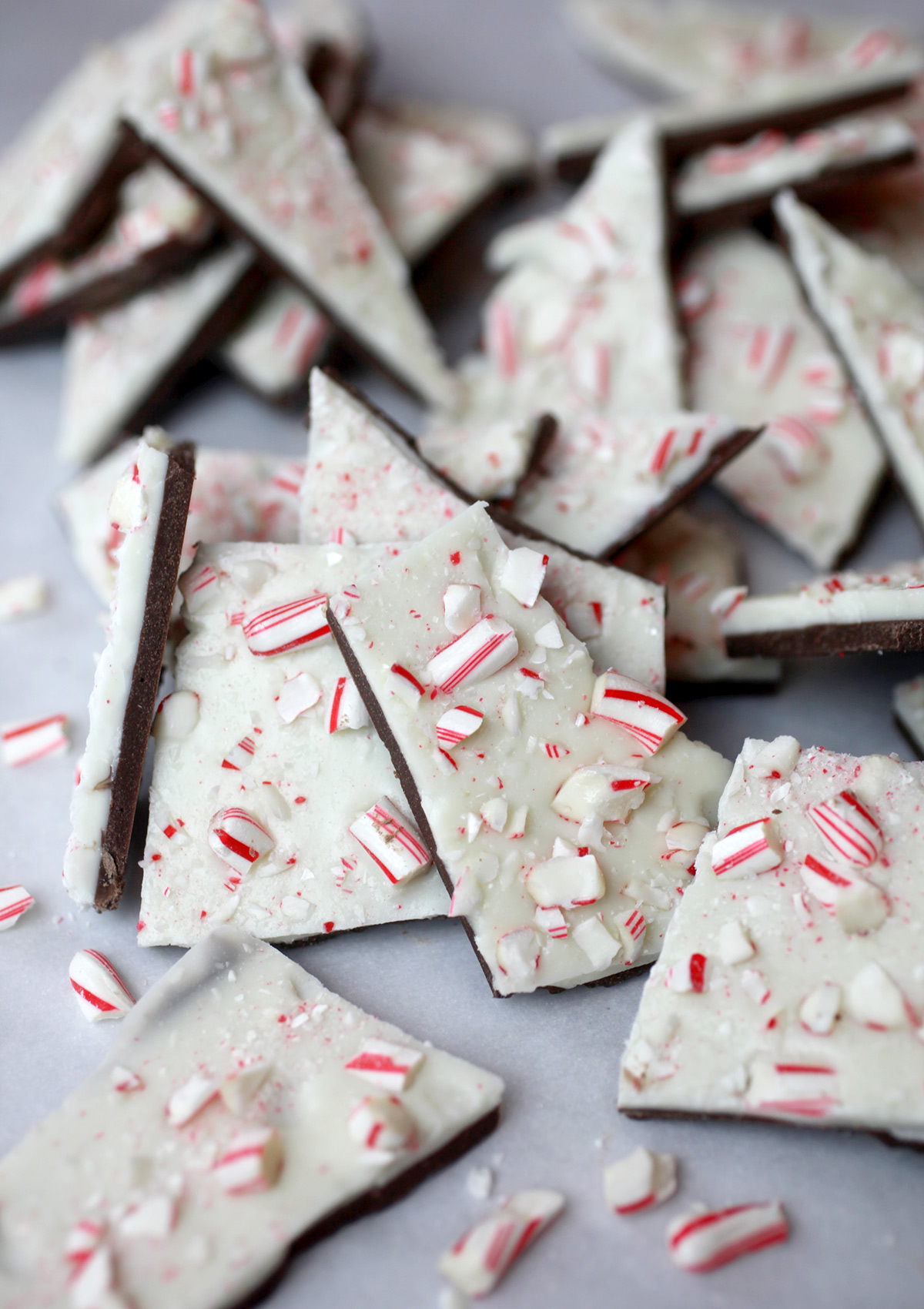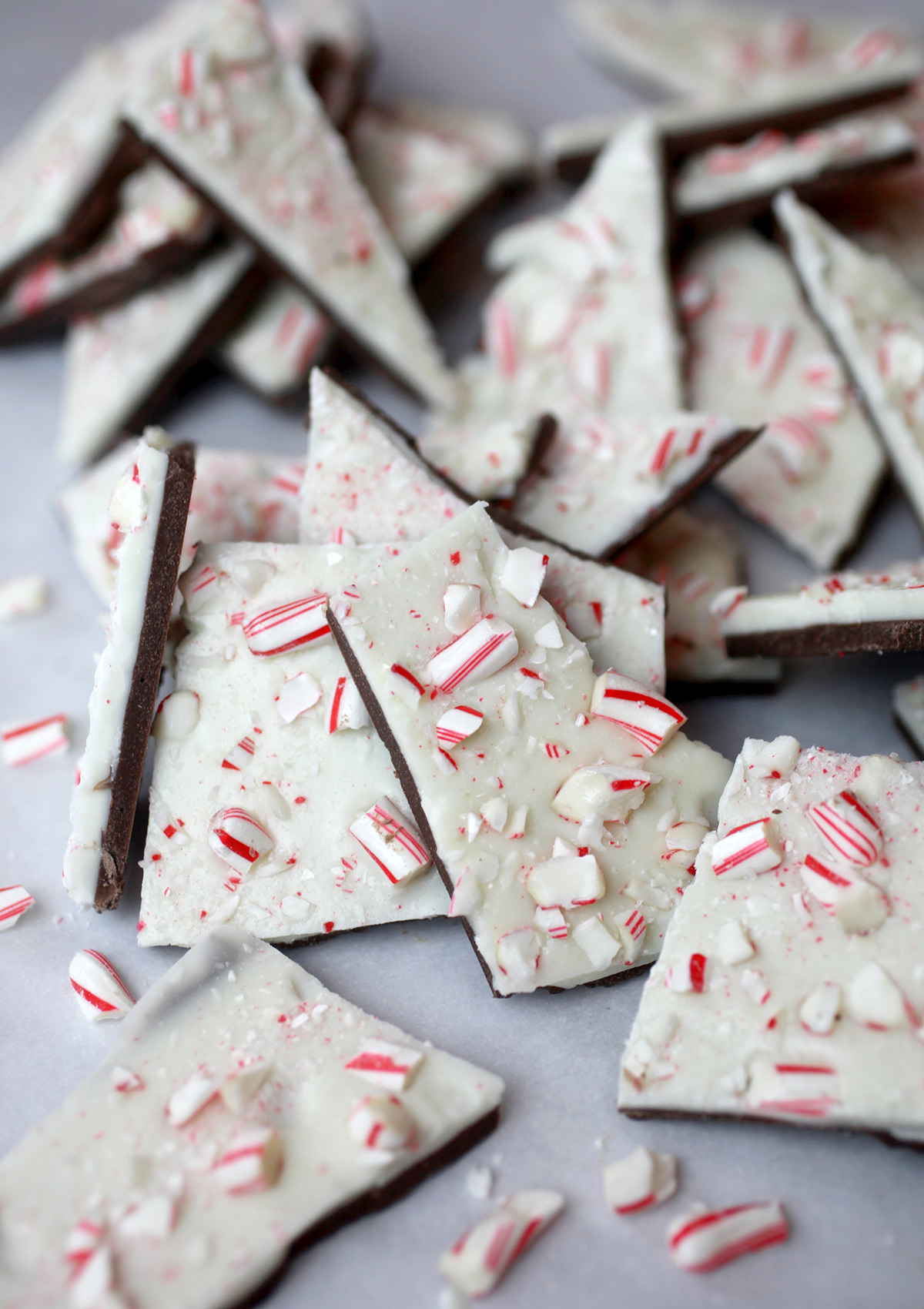 And finally, another staple. PEPPERMINT BARK and it's really easy. Line a pan with wax paper, pour melted chocolate candy coating on top and smooth out to dry. Next pour vanilla candy coating on top of the chocolate and sprinkle with crushed candy canes. Let dry completely and then break into small pieces. Easy peasy. The link above is to an Easter version for step-by-step pics.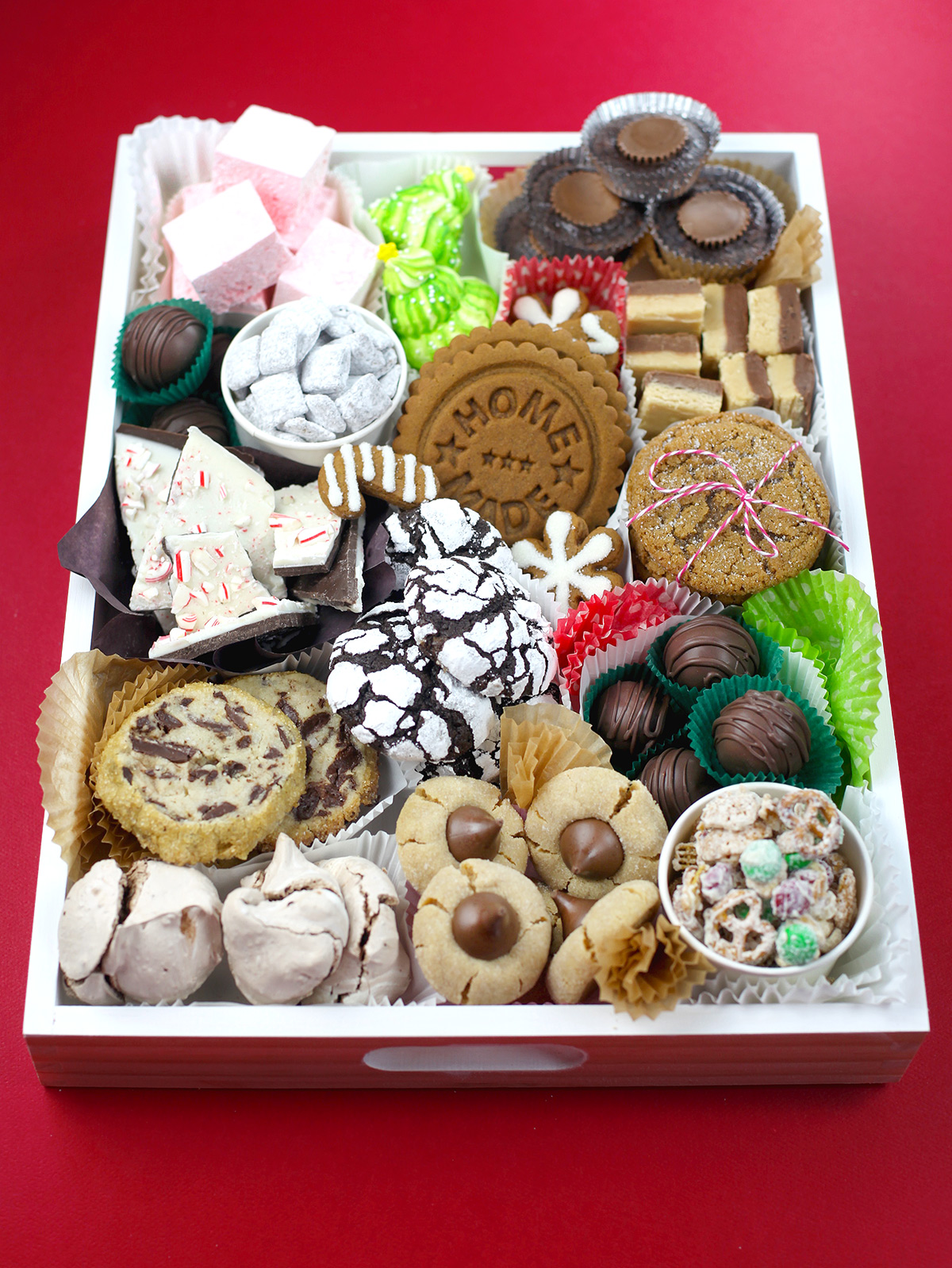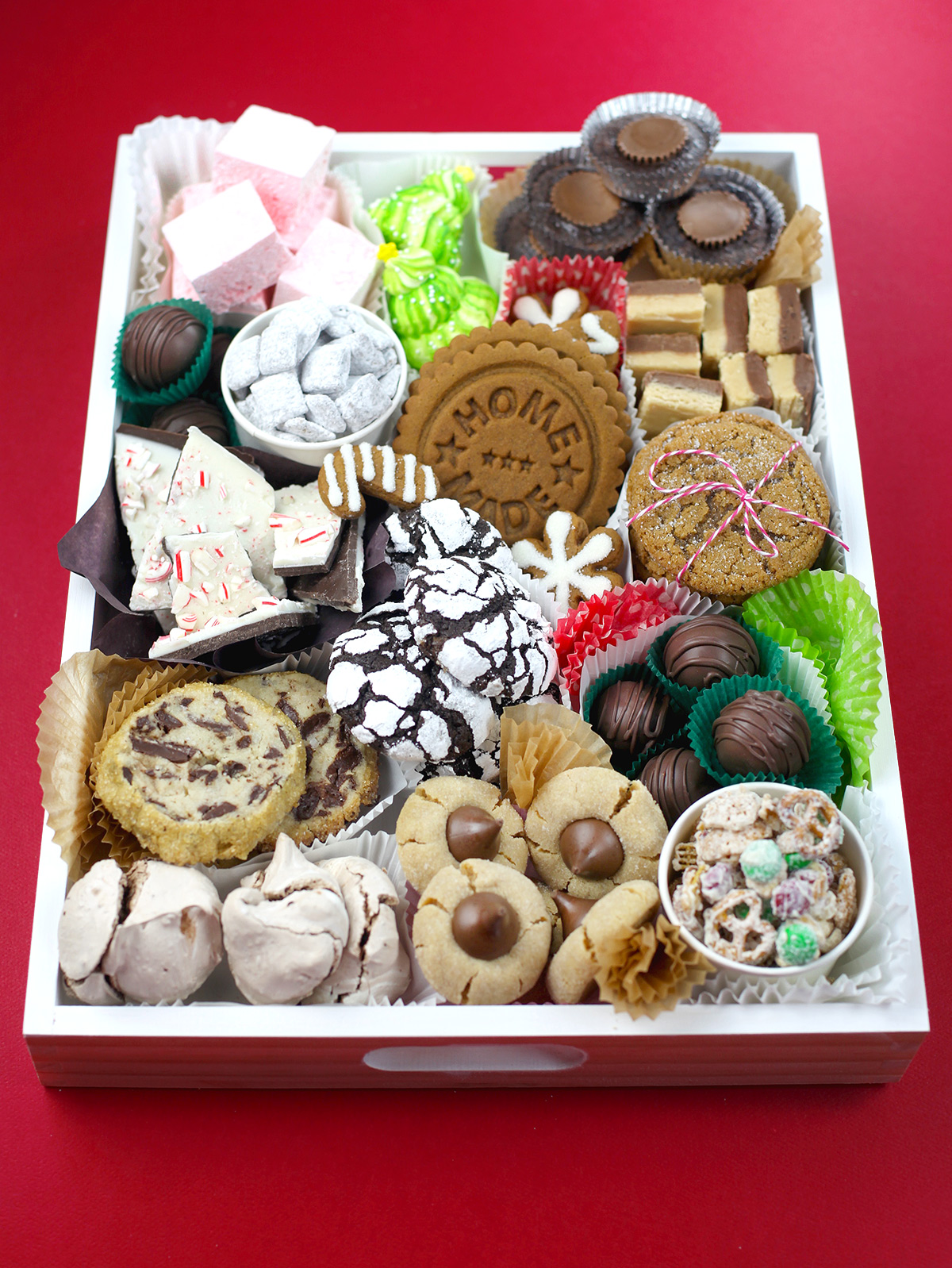 When you have everything made, assemble in a cookie box or tray and gift to friends. I used a random assortment of paper baking cups in different sizes and colors to organize everything. But feel free to get creative with different ribbons, twine, boxes, and cardboard cutouts for dividers.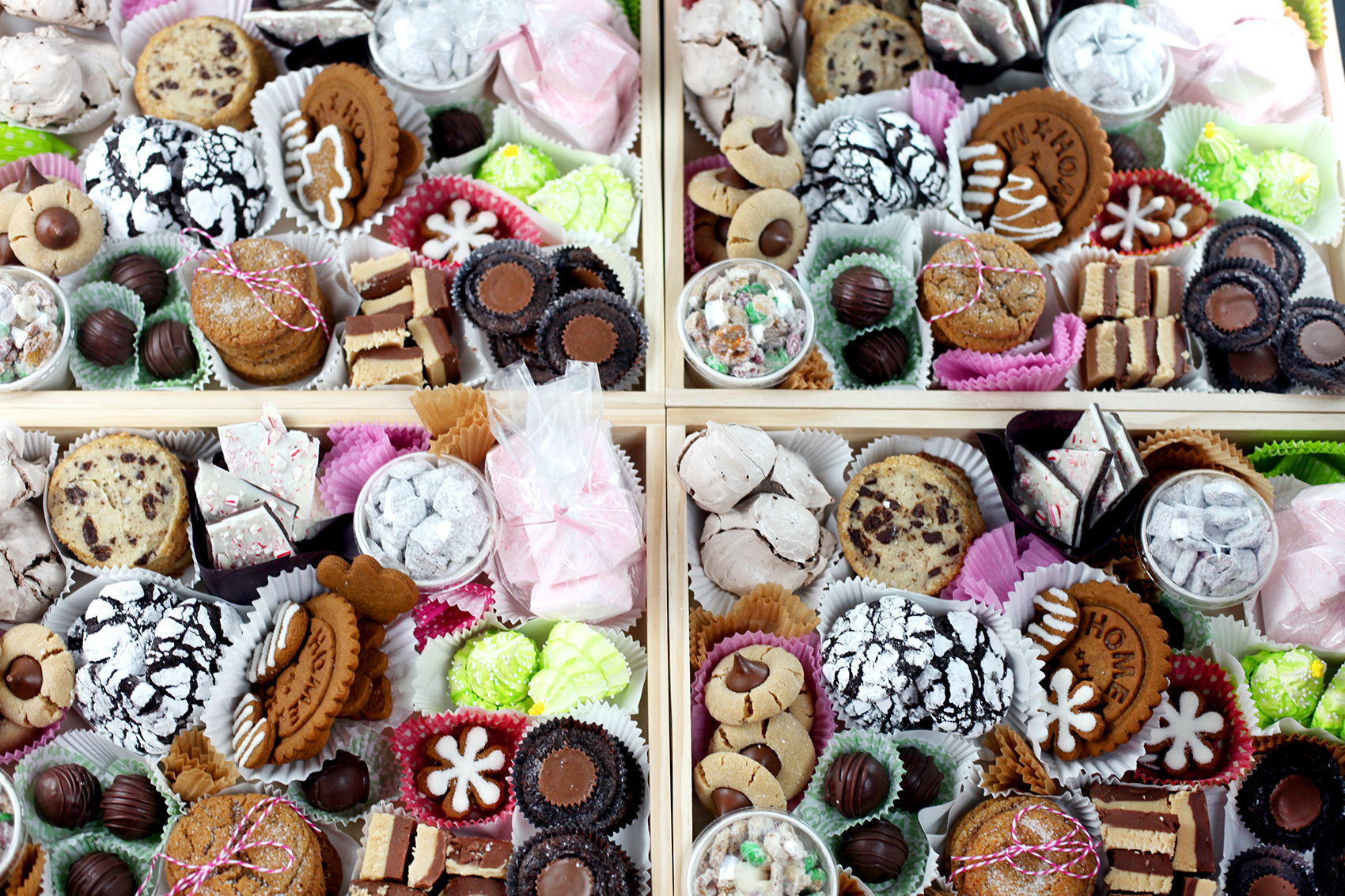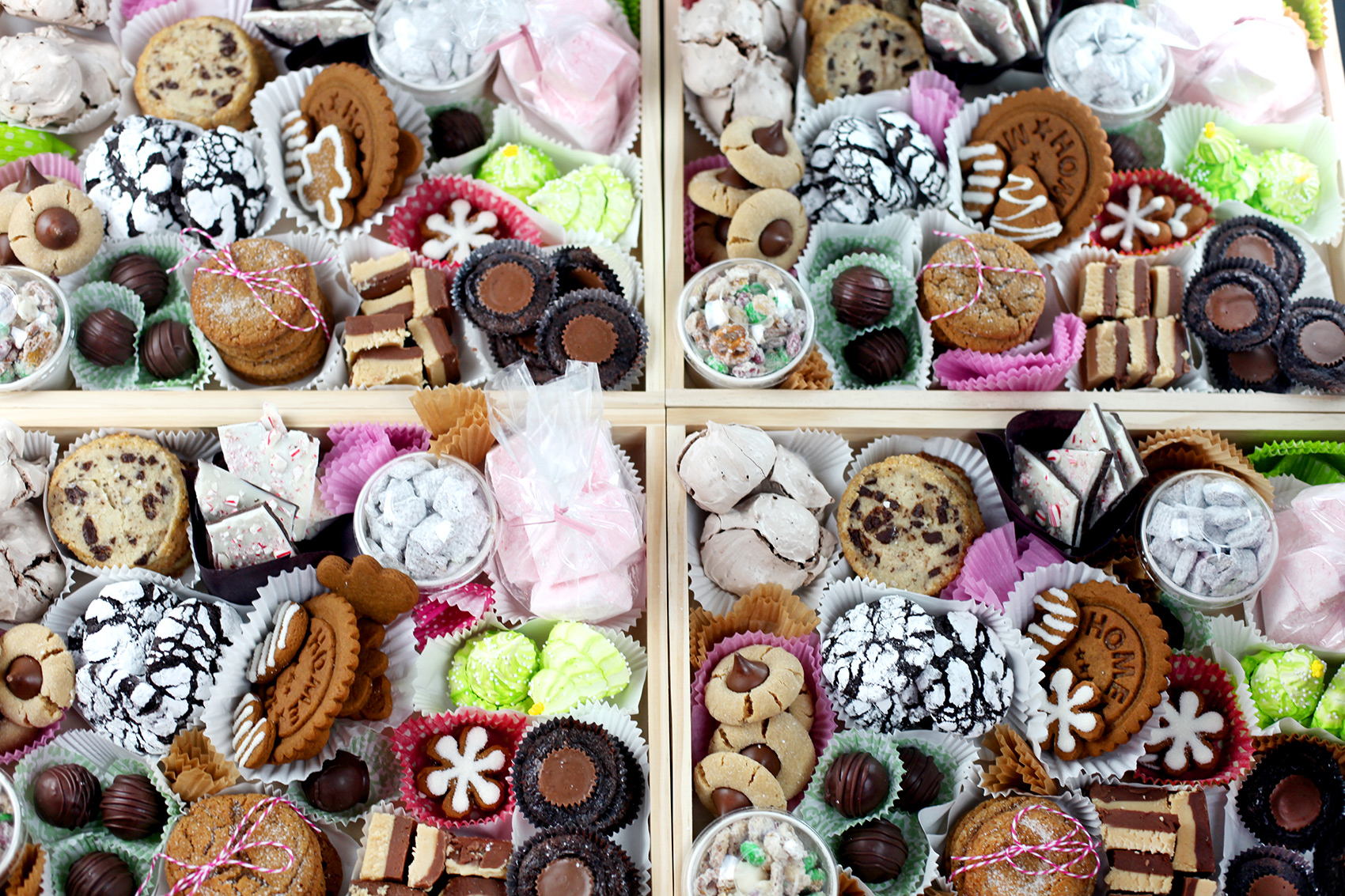 The fourteen, yes 14!!! treats I made were enough to fill up 7 of these 16 X 12 X 2 wooden boxes I found at Target. This was a lot even for one gift, so smaller boxes or containers would still be great and of course yield more gifts.
Here's the order I made things for maximum freshness if you're curious
Day 1:
Made the following sweets first since they have a longer shelf-life:
Reindeer Chow
Christmas Crunch
Peanut Butter Fudge
Peppermint Bark
Baked cake ahead of time for cake balls
Day 2:
Prepared cookie doughs and chilled them in the fridge:
Molasses Cookies
Gingerbread Cookies
Chocolate Crackles
Chocolate Chunk Shortbread Cookies
Day 3:
Chocolate Meringues
Christmas Tree Meringues
Marshmallows
Red Velvet Cake Balls
Cutout and baked the Gingerbread cookies
Day 4:
Baked the rest of the cookies saving them for last to be as fresh as possible:
Molasses Cookies
Chocolate Crackles
Chocolate Chunk Shortbread
Made and baked Peanut Butter Blossoms
Made and baked Brownie Candy Cups
Then I packaged everything up and delivered to friends and family the next day.
Here's the wooden box I found at Target for $6.99.
Also, if you want to make treats, but don't like to bake, the following are all no-bake sweets:
Marshmallows
Reindeer Chow
Christmas Crunch
Peanut Butter Fudge
Peppermint Bark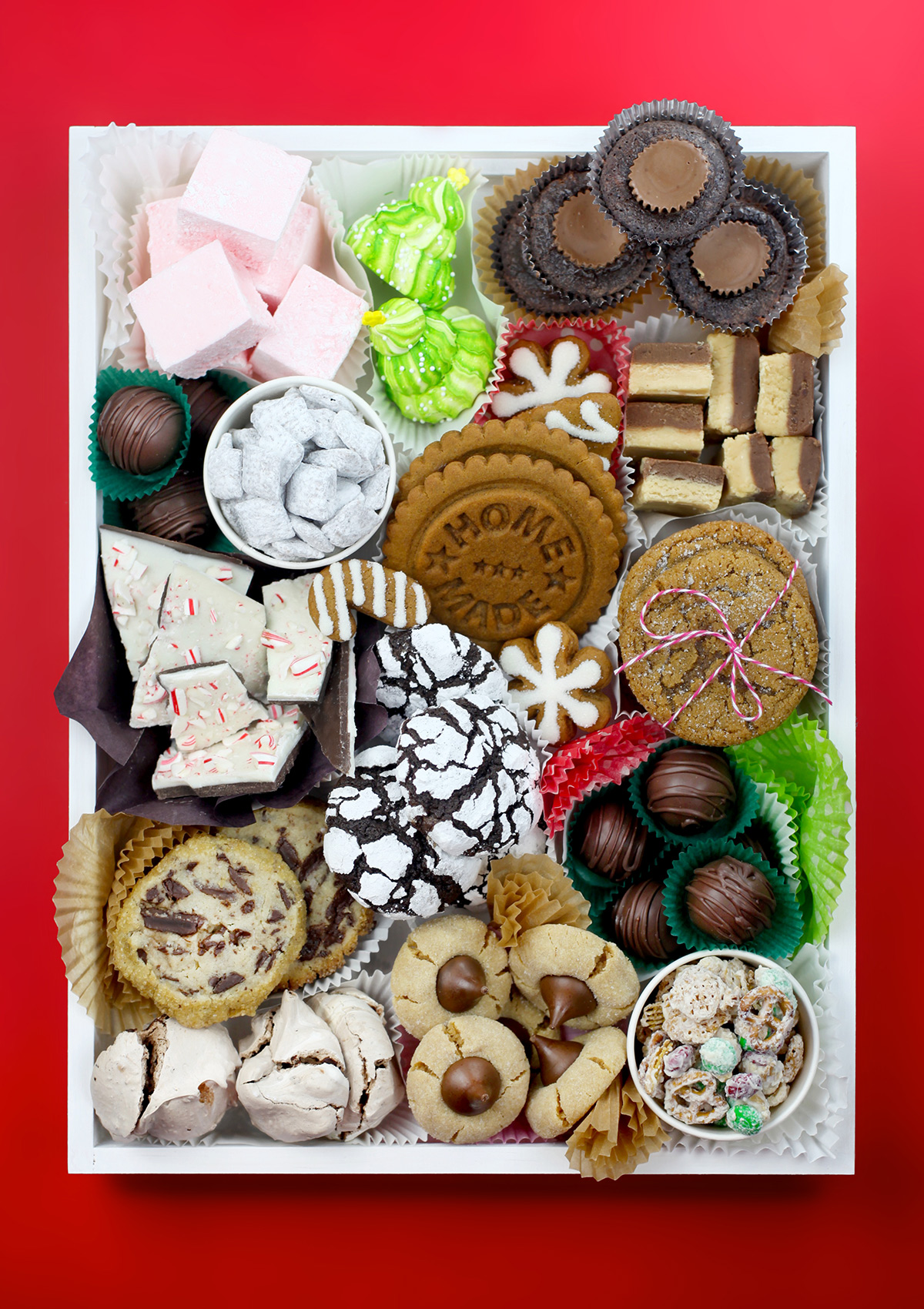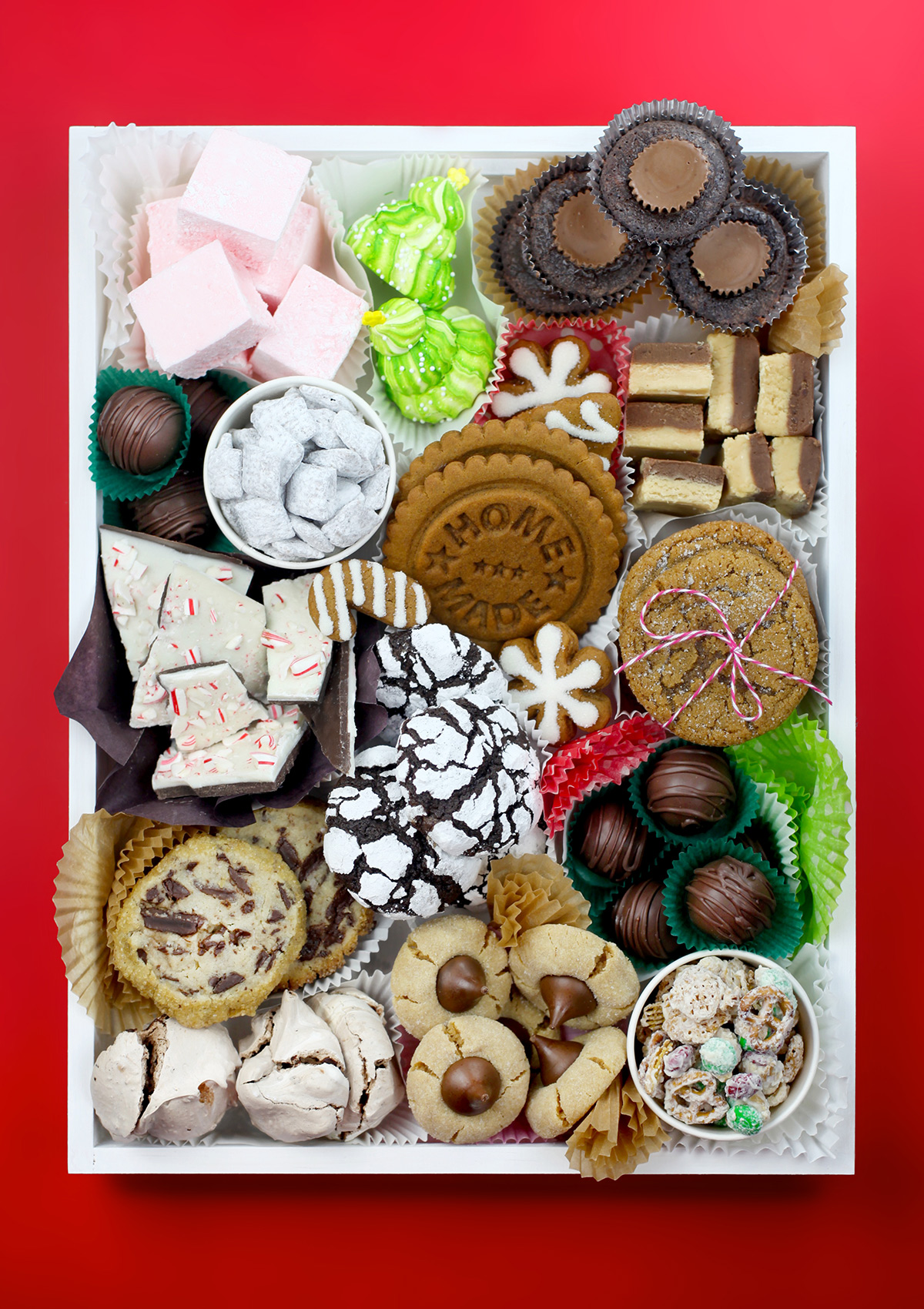 I hope you enjoy these cookies and have a Merry Sweet Christmas!!!!